From burgers and chicken nuggets to pizza and orange chicken, 2021 saw many great vegan dishes brought to major fast food chains!
We can all agree that 2021 has been full of ups and downs, but in the realm of the plant-based food world, things have been pretty positive. This includes a number of new advancements, product launches, restaurant openings, and menu-item rollouts—especially at fast food restaurants! So, we'd like to take a moment to recap the best vegan fast food launches of 2021!
Please note: Since these are fast food restaurants that serve meat and dairy products, cross-contamination may occur. It's always best to ask an employee what is and isn't vegan-friendly before ordering, as items and modifications can vary based on location.
January
The year began with an epic collab between one of the most popular vegan meat alternative brands, Impossible Foods, and the mainstream Mexican food chain Rubio's. The new menu rollout provided vegans and vegetarians with heartier options loaded up with specially seasoned Impossible ground beef. Impossible meat can now be ordered in tacos, burritos, bowls, and salads. Just be sure to request no cheese, sour cream, or dairy-based sauces to make it vegan.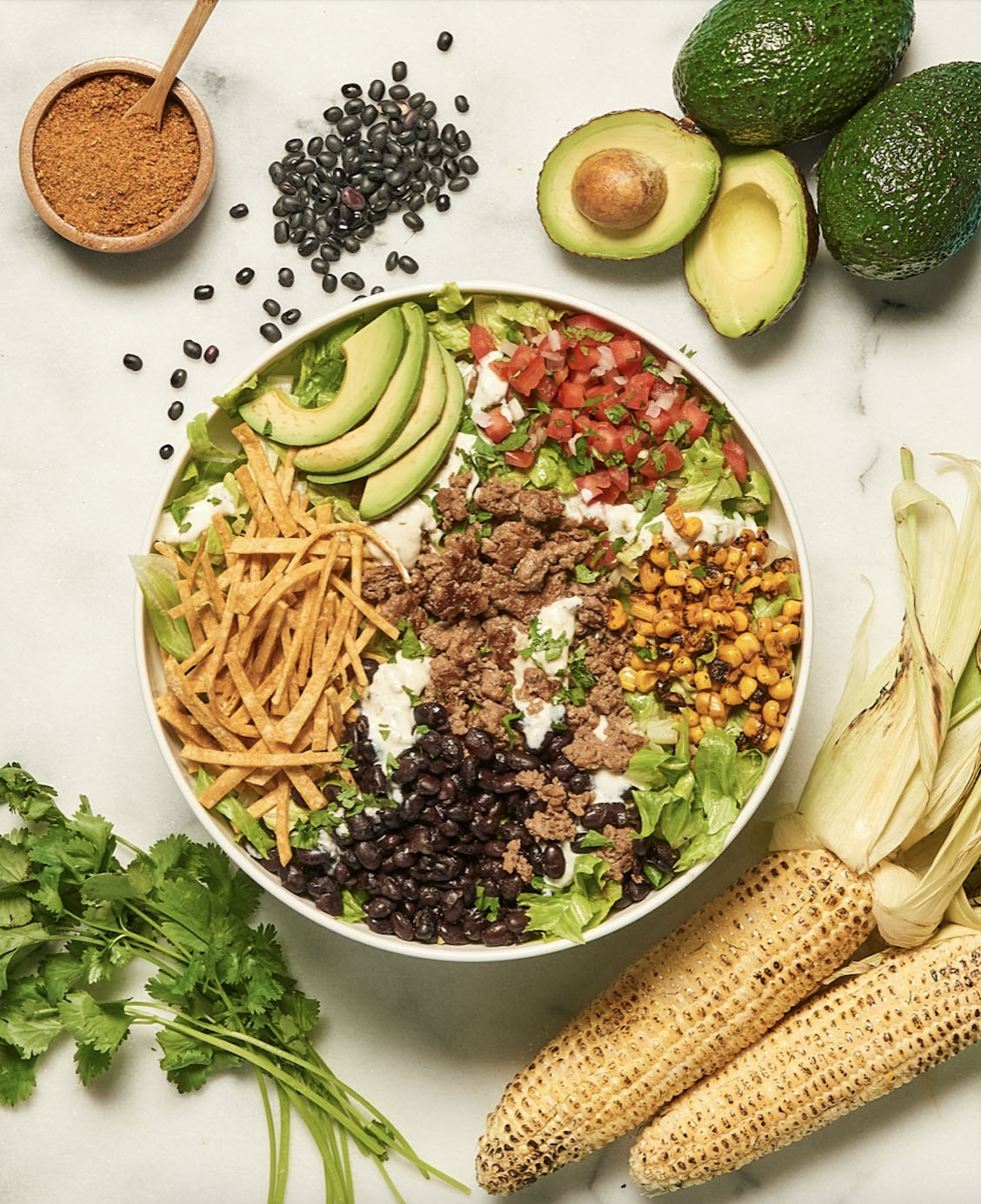 While most mainstream burger joints at least offer a veggie patty of sorts, Fatburger sets itself apart by offering vegan milkshakes. In January 2021, the chain introduced two new vegan milkshake flavors—Chocolate and Maui Banana—made from Craig's Vegan cashew-based ice cream, with a swirl of coconut whipped cream on top. These new drinks are one of the best vegan fast food launches we've seen.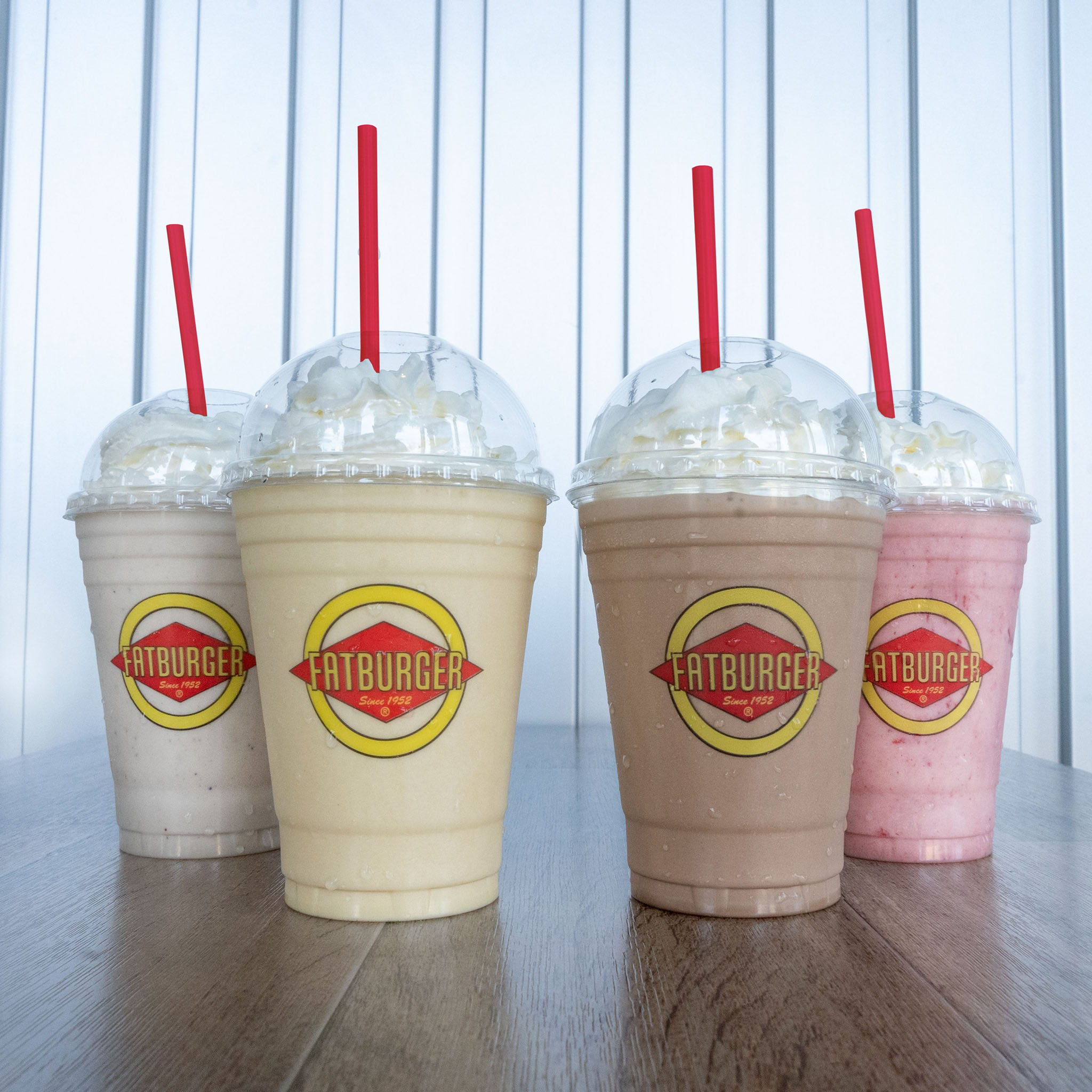 April
In another fast food launch, Shake Shack announced plans to offer a vegan burger in partnership with Pinky Cole, the owner and founder of Atlanta's beloved Slutty Vegan. Sadly, one of the Shake Shack team members tested positive for COVID-19, so the collaboration was postponed.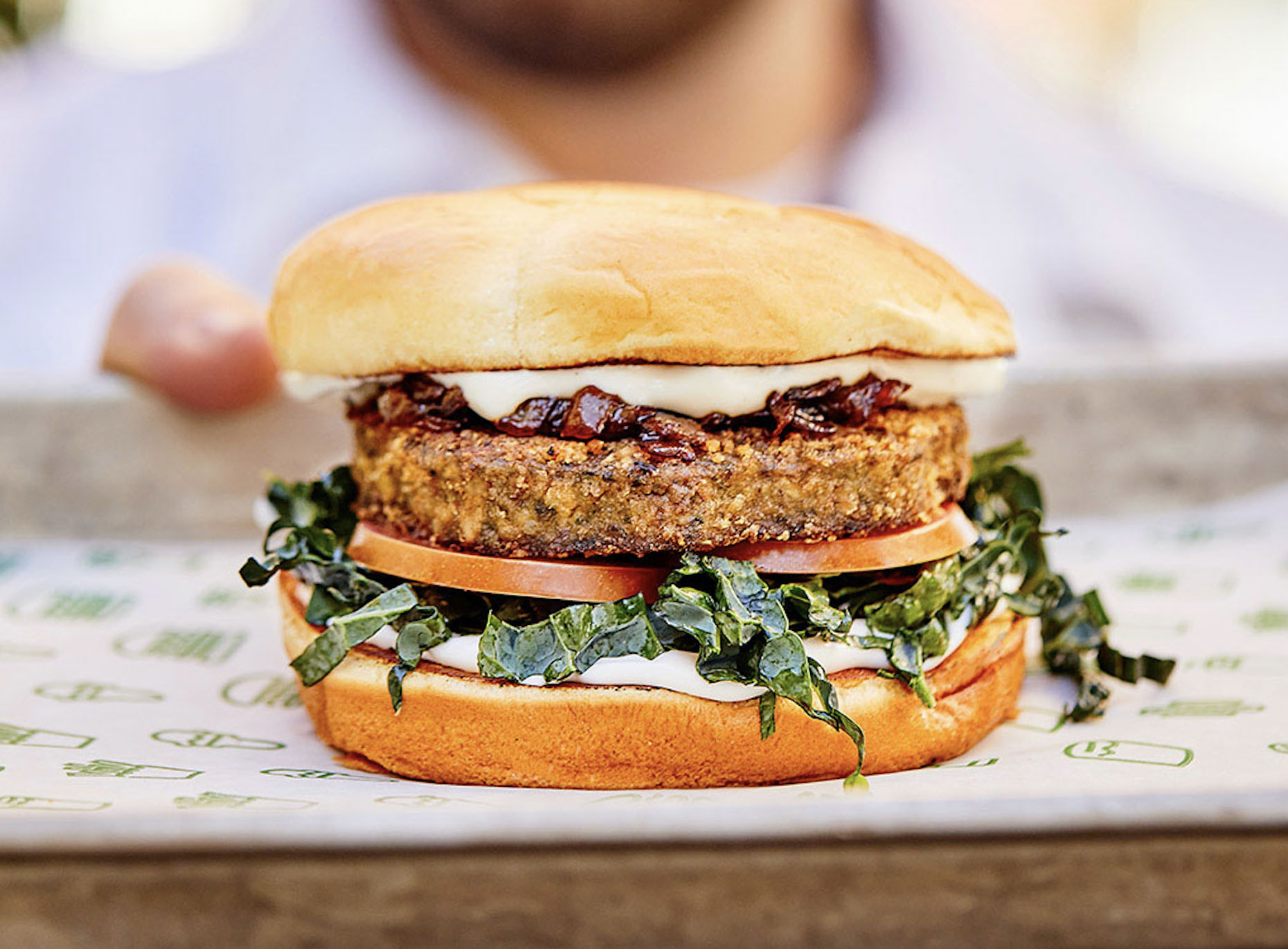 May
Johnny Rockets, an American diner-style burger spot, added a vegan burger and shakes to their menu at select locations. The cheeseburger is made with an Impossible Patty and Daiya cheese, and the line of vegan shakes uses Craig's Vegan ice cream. Unfortunately, the bun isn't vegan, but vegans can order their burger as a lettuce wrap instead. The good news is that the menu items were said to be temporary, but they're still available at the moment. Here's to hoping they'll become permanent fixtures and that we'll also see a vegan bun on the menu soon!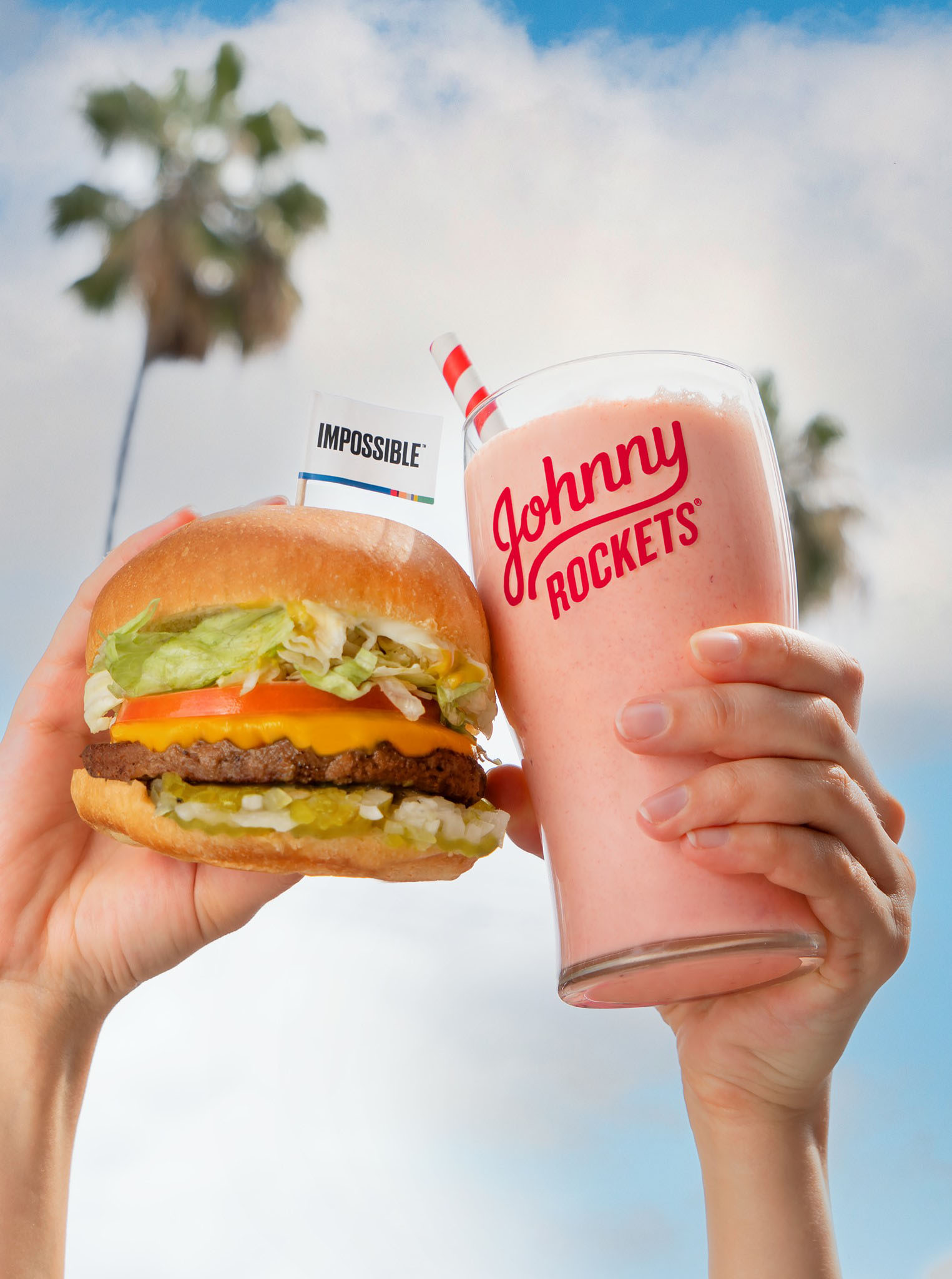 July
In early July, Beyond Meat announced the release of their first vegan chicken product, Beyond Chicken Tenders. That same month, Beyond Tenders launched on the menus of several fast food chains across the nation, including Bad Mutha Clucka, Dog Haus, JAILBIRD, Melt Bar & Grilled, and more.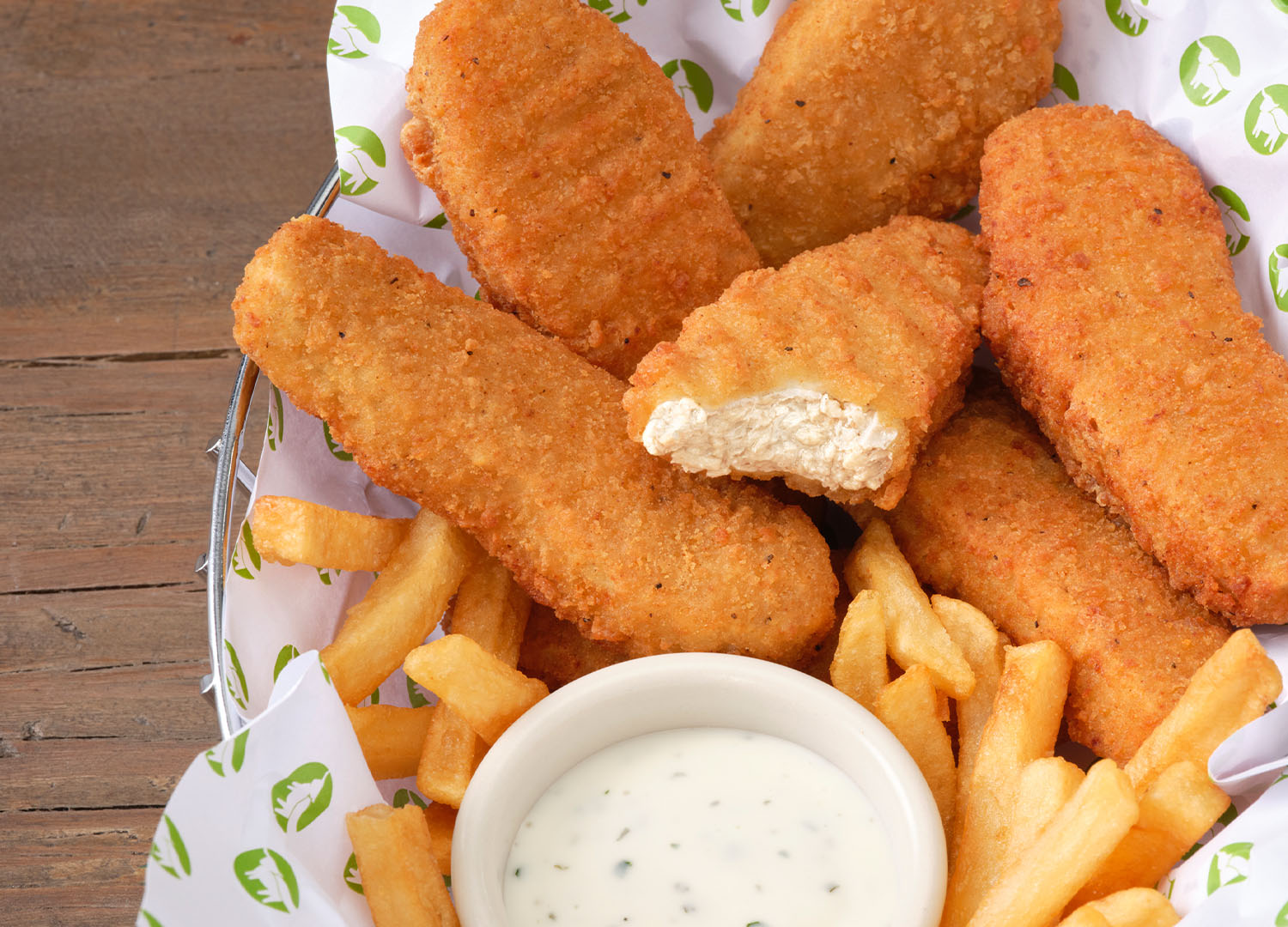 On the heels of Beyond Meat's chicken tender launch came one of their best collabs to date—vegan orange chicken at Panda Express! The exciting menu item was added to the menus of select Panda Express locations in New York and Southern California as a trial. Beyond The Original Orange Chicken is made with crispy breaded morsels of Beyond Chicken that are wok-tossed in Panda Express's signature vegan-friendly orange chicken sauce.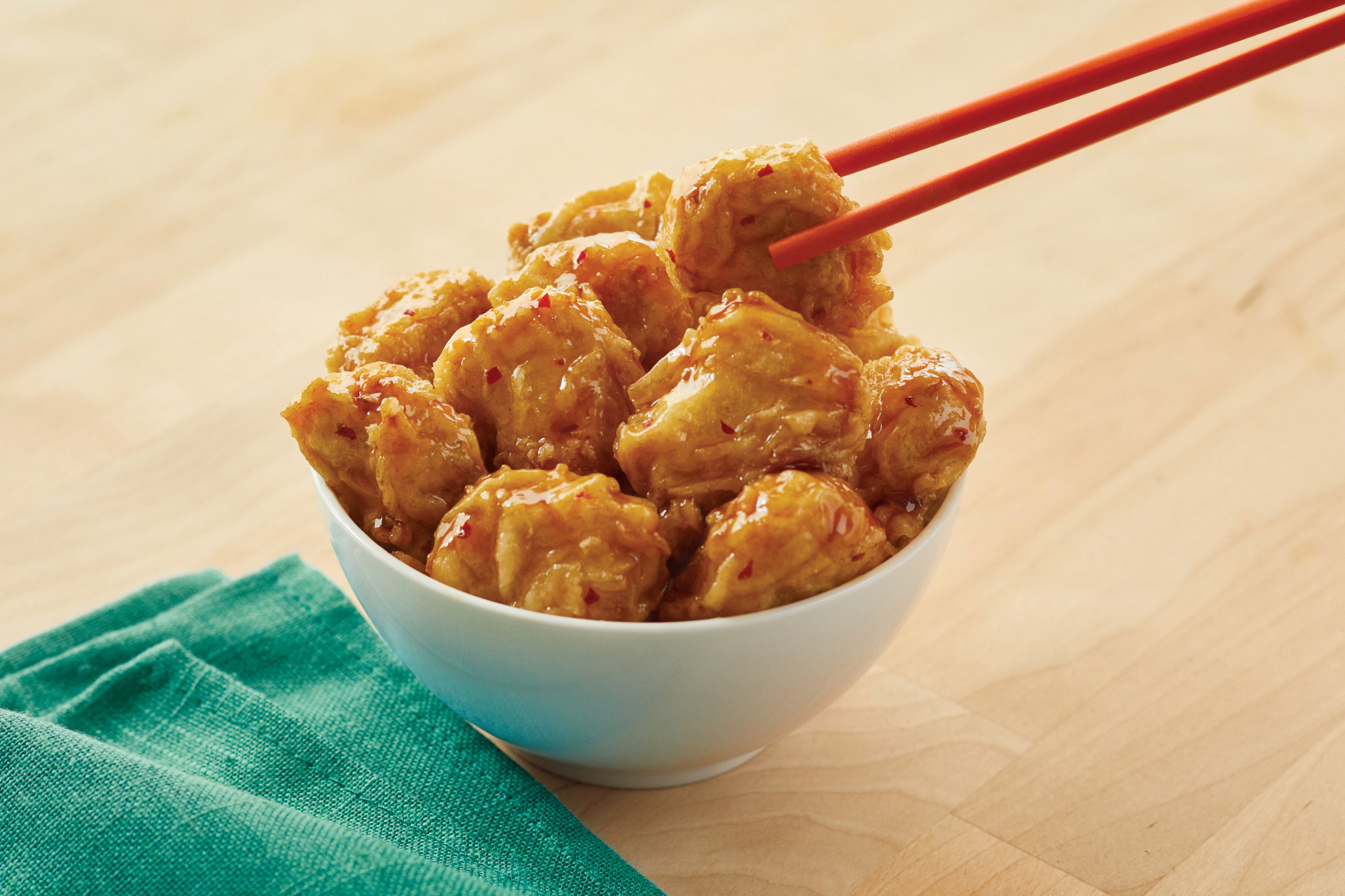 To add to the top vegan fast food launches of 2021, and to begin the vegan pepperoni trend, Little Caesars debuted a limited-edition Planteroni Pizza featuring Field Roast's vegan pepperoni at select locations in the cities and suburbs of Los Angeles, New York City, Miami, San Francisco, Portland, and the chain's hometown of Detroit. As much as we wish the pie included vegan cheese, it did not. However, herbivores could order it without cheese in order to try the pepperoni, sauce, and crust combination.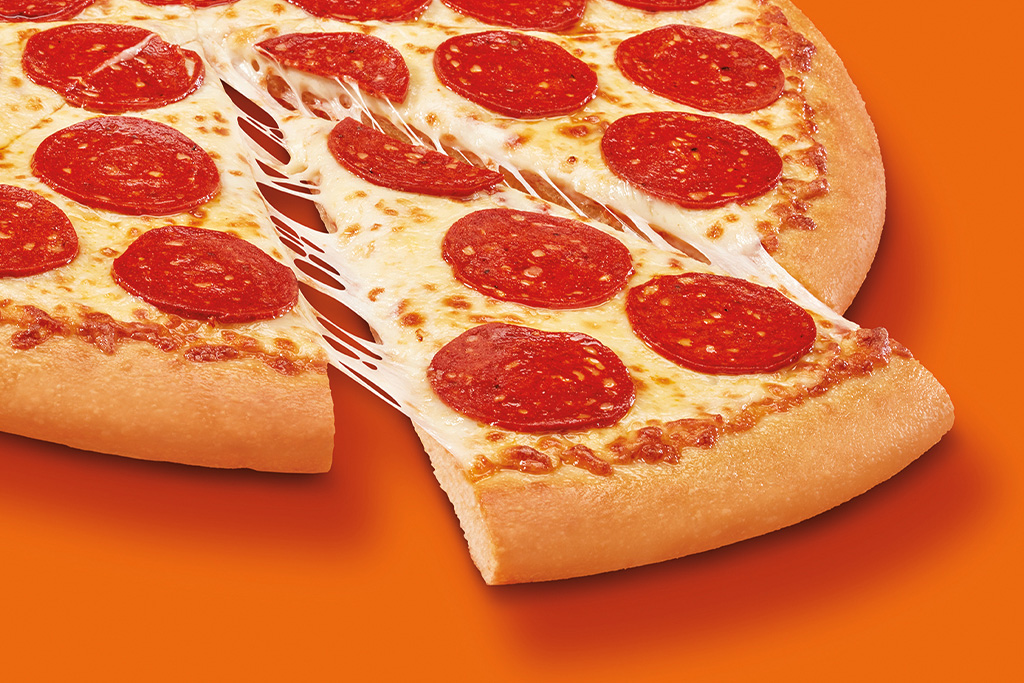 August
Next up is Pizza Hut's Beyond Pepperoni Pizza! We weren't kidding when we said there was a vegan pepperoni trend. In this trial, Pizza Hut partnered with Beyond Meat to test the plant-based brand's pepperoni at 70 Pizza Hut locations in Albany, NY; Columbus and Macon, GA; Houston, TX; and Jacksonville, FL. As with Little Caesars, Pizza Hut did not offer a vegan cheese option.
"We know there is strong consumer demand for pepperoni, and we're thrilled to unveil a game-changing plant-based pepperoni topping as the next chapter in our innovation-focused partnership with Pizza Hut. We're confident fans will love Beyond Pepperoni, as it delivers the crisped edges and savory flavor profile of Pizza Hut's classic pepperoni with the added benefits of plant-based meat," said Dariush Ajami, Chief Innovation Officer at Beyond Meat.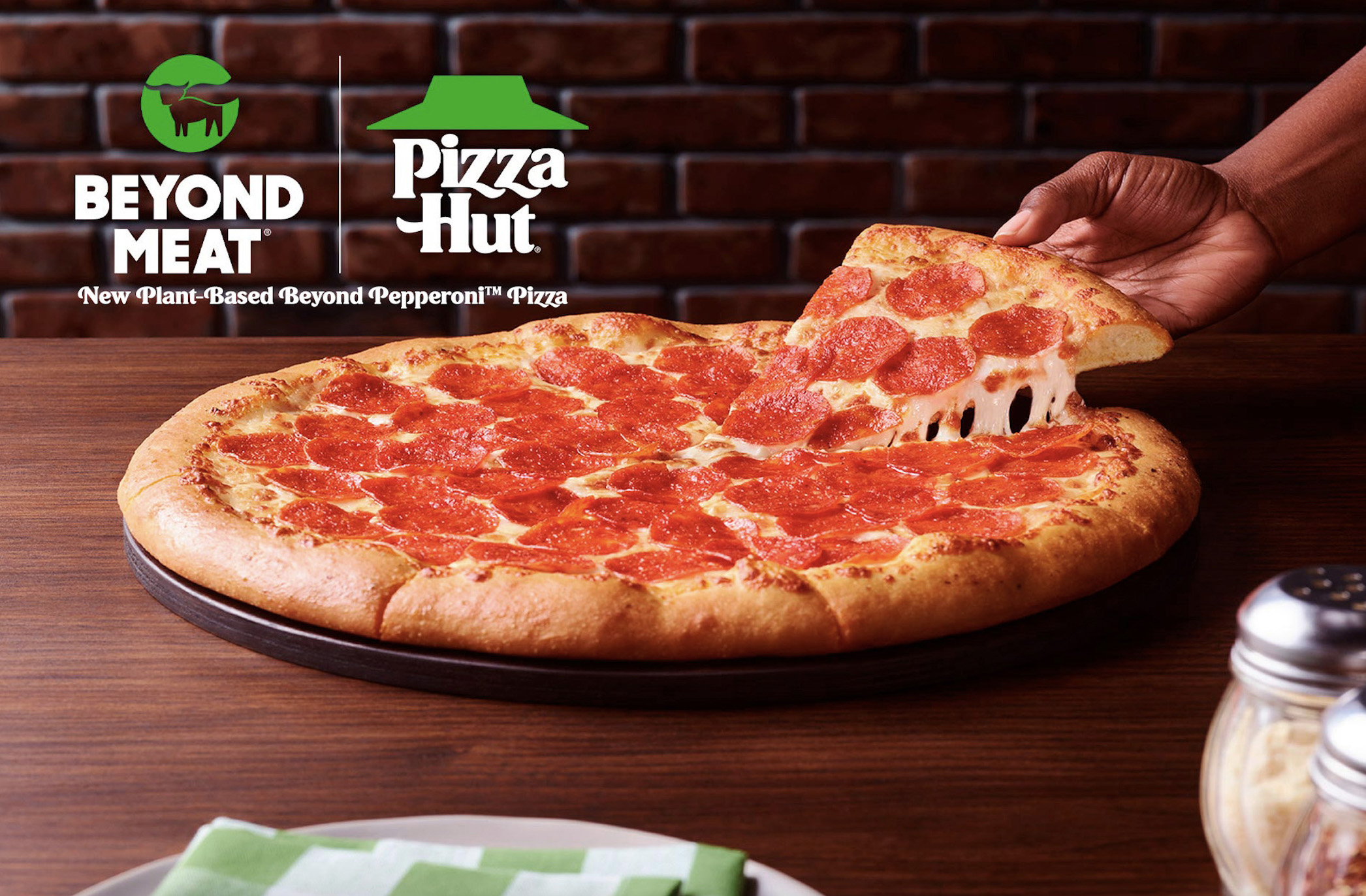 To break up the vegan chicken and pizza product fast food launches, WaBa Grill came out with a mind-blowing new offering—vegan steak made by the popular tofu brand Nasoya. WaBa Grill's Plantspired Steak line includes three dishes that are made from all-vegan ingredients. The Plantspired Steak Bowl, Plantspired Steak Veggie Bowl, and Plantspired Steak Plate. All three items are a part of the restaurant's permanent menu.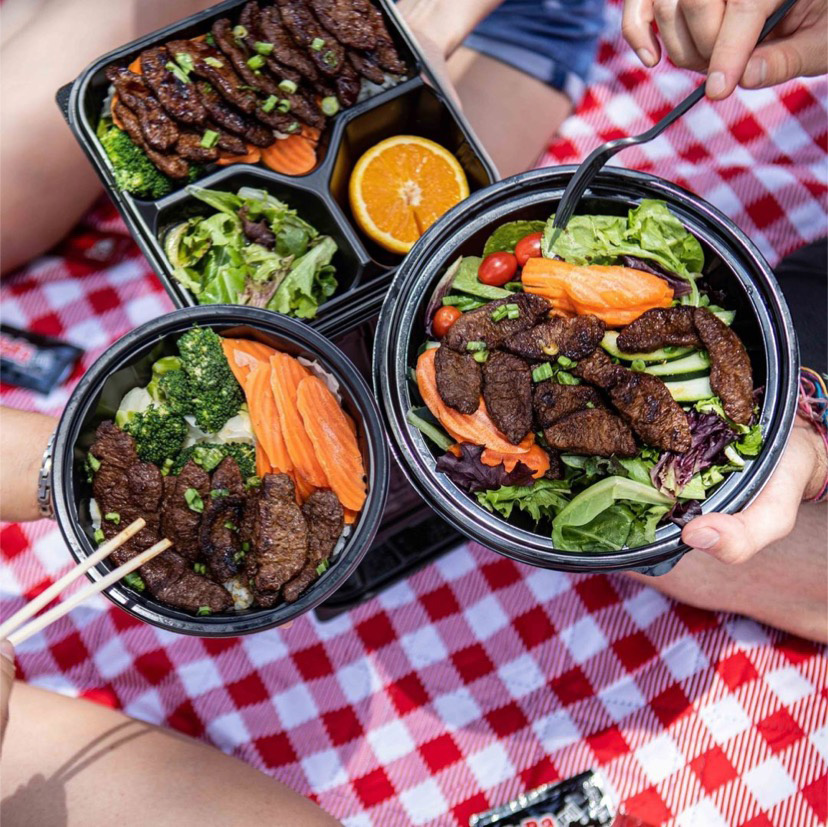 MOD Pizza has been one of the most vegan-friendly pizza chains for quite a while. To keep up that reputation, they launched vegan Italian sausage at all locations this past August. The new vegan Italian sausage was developed exclusively with the plant-based food brand Plantly. The meat alternative is made from non-GMO pea protein and seasoned with ingredients like fennel, oregano, and thyme to achieve a classic Italian sausage taste. And don't worry about the cheese dilemma, MOD has a vegan option!
"We've spent the past two years methodically testing plant-based proteins and simply put, we found Plantly's Italian plant-based sausage to be completely craveable and far superior in both taste and quality—and were immediately drawn to the real ingredient list. We're excited to bring our customers a product that is not only delicious but an easy swap or add, if they want to go meatless or simply have more flexible choices," said Mark Shambura, Chief Marketing Officer of MOD Pizza.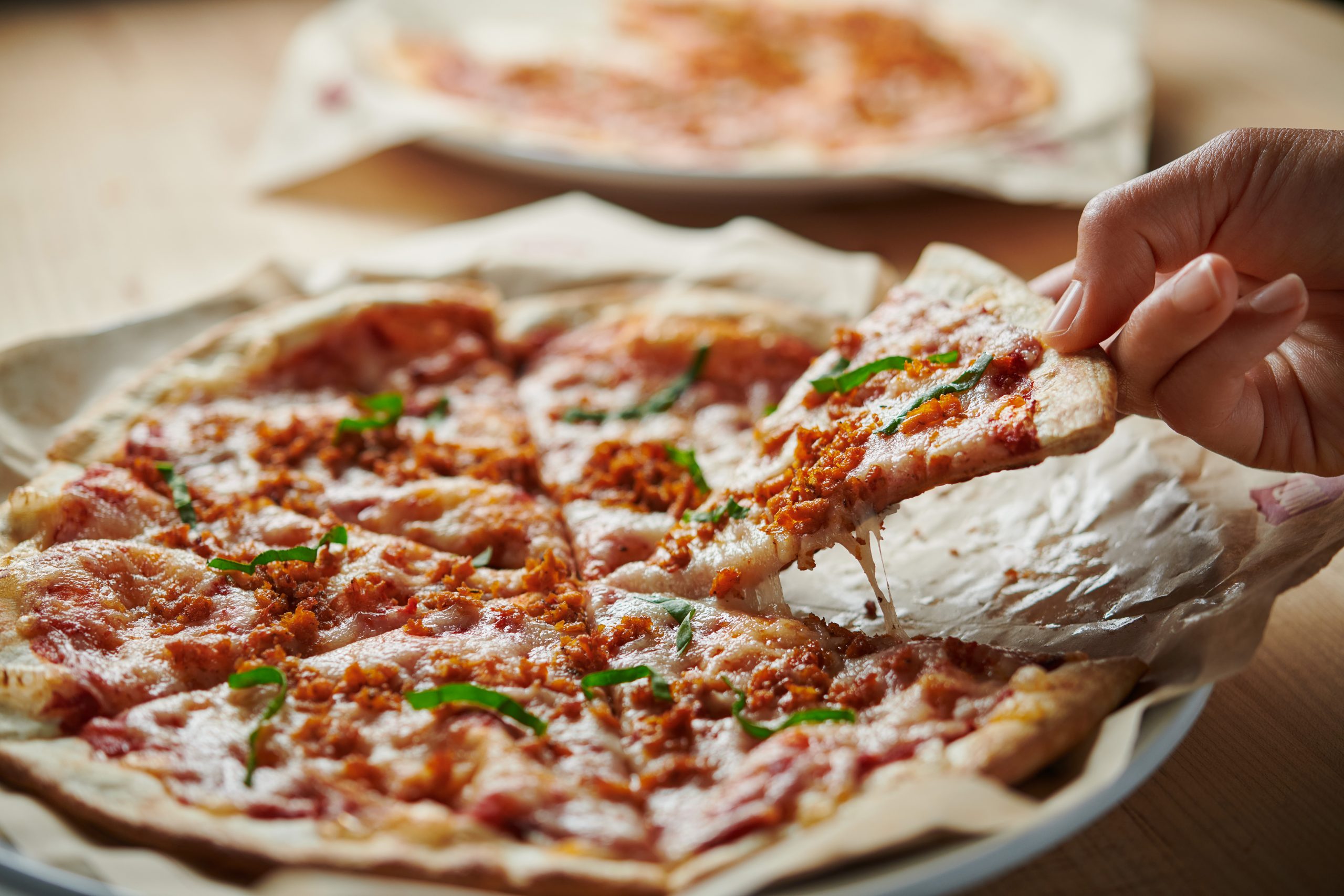 As promised, Shake Shack rescheduled their collaboration with Pinky Cole for August 11. On that date, the Shake Shack in Harlem served a limited-edition burger called the SluttyShack. It's made with a Shake Shack veggie patty topped with Pinky's secret Slut Dust, lemon ginger kale, caramelized onions, vegan ranch, and vegan mayo on Slutty Vegan's signature toasted Hawaiian bun. Proceeds from the SluttyShack were donated directly to ROAR, a community of hospitality leaders advocating for New York City's independent restaurant industry and creating a path to a sustainable future. It's no surprise this made our best vegan fast food launches of 2021 list.
"Our mission isn't to tell people to go vegan but rather to inspire guests to open up horizons with something new and different. Partnering with Shake Shack is a natural way of furthering this mission—enjoy one of America's most beloved burger spots, but try it with a twist," Pinky Cole, Founder and CEO of Slutty Vegan, told VegOut. "Philanthropy is the core of who I am, and I'm encouraged by Shake Shack's aligned outlook on giving back to its communities. Our goal with this collab is to build support for communities and industries close to our hearts."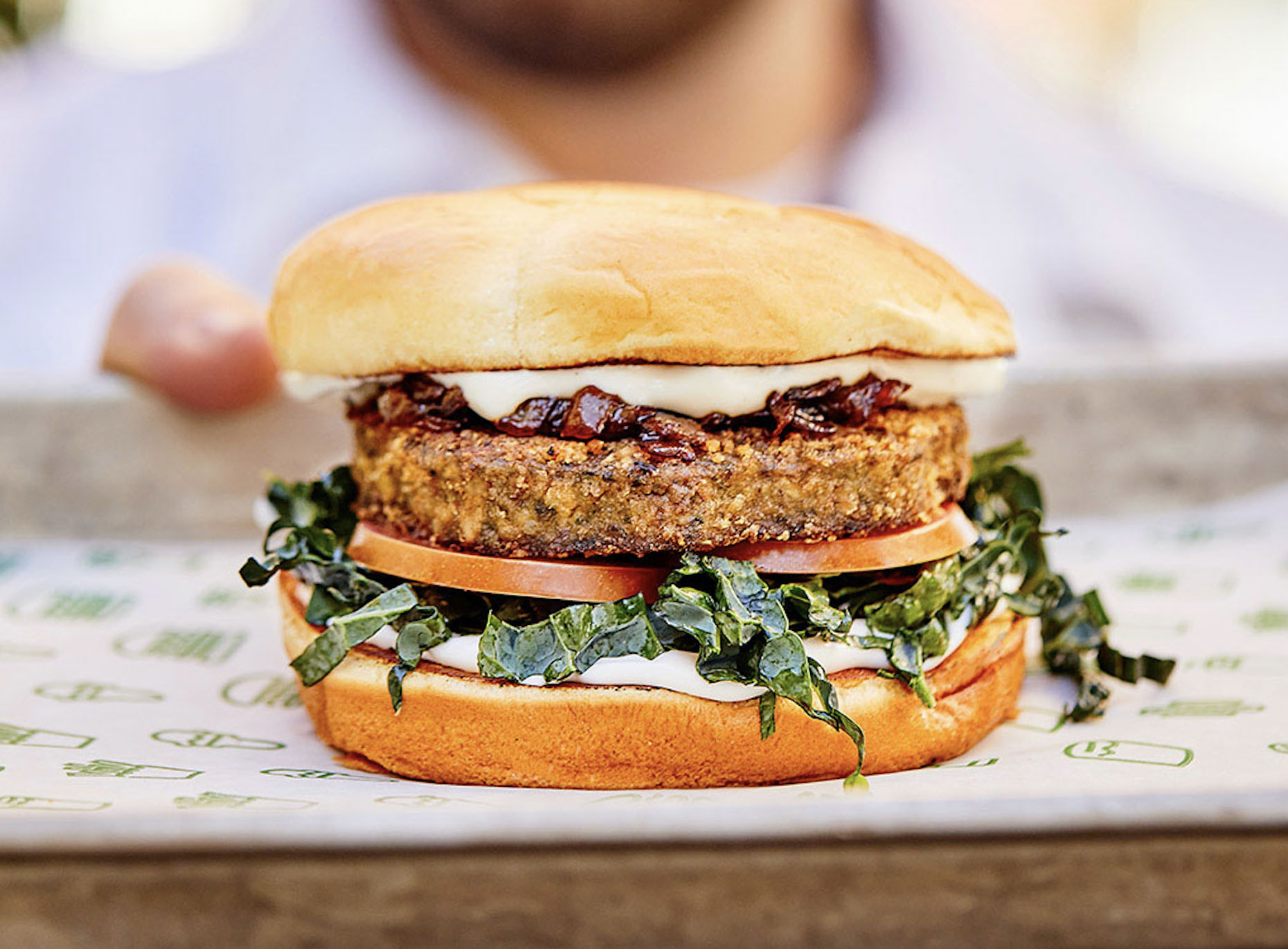 September
Plant-based powerhouse Impossible Foods launched vegan chicken nuggets! Before the products were launched in retailers, the plant-based food brand teased their vegan nuggets at a few restaurants—two of which were the popular burger joint Fatburger and the hot dog spot Dog Haus. With a crispy breadcrumb coating and a juicy meat-like center, Impossible Chicken Nuggets quickly gained popularity!
When asked what the most exciting part of launching at fast food restaurants is, an Impossible Foods representative told VegOut, "Every single restaurant launch gets us closer to our mission of addressing the urgent threat of climate change caused by animal agriculture. Plus, we're seeing more creative menu items than ever before being made with our products."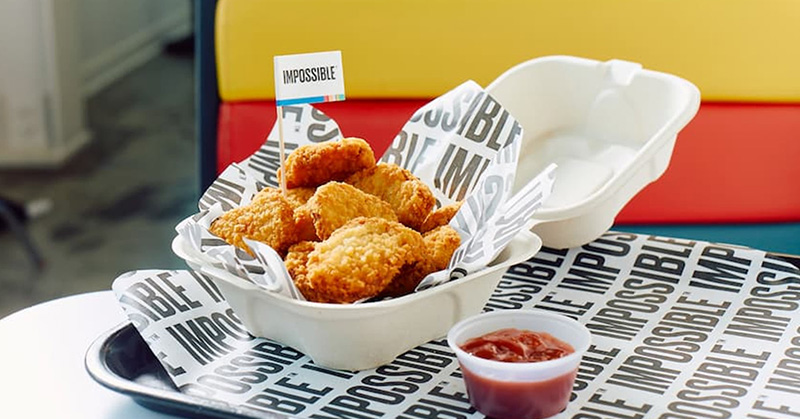 October
Since Panda Express' Beyond The Original Orange Chicken trial was all vegans could talk about, the fast food chain took it as a hint to bring the vegan orange chicken back. This time, the limited-edition dish was made available at 70 locations across 10 states. The states participating in this launch include California, Washington, Texas, Illinois, Pennsylvania, Georgia, Florida, Virginia, Maryland, and New York. As of this writing, the plant-based orange chicken is still available at the trial locations.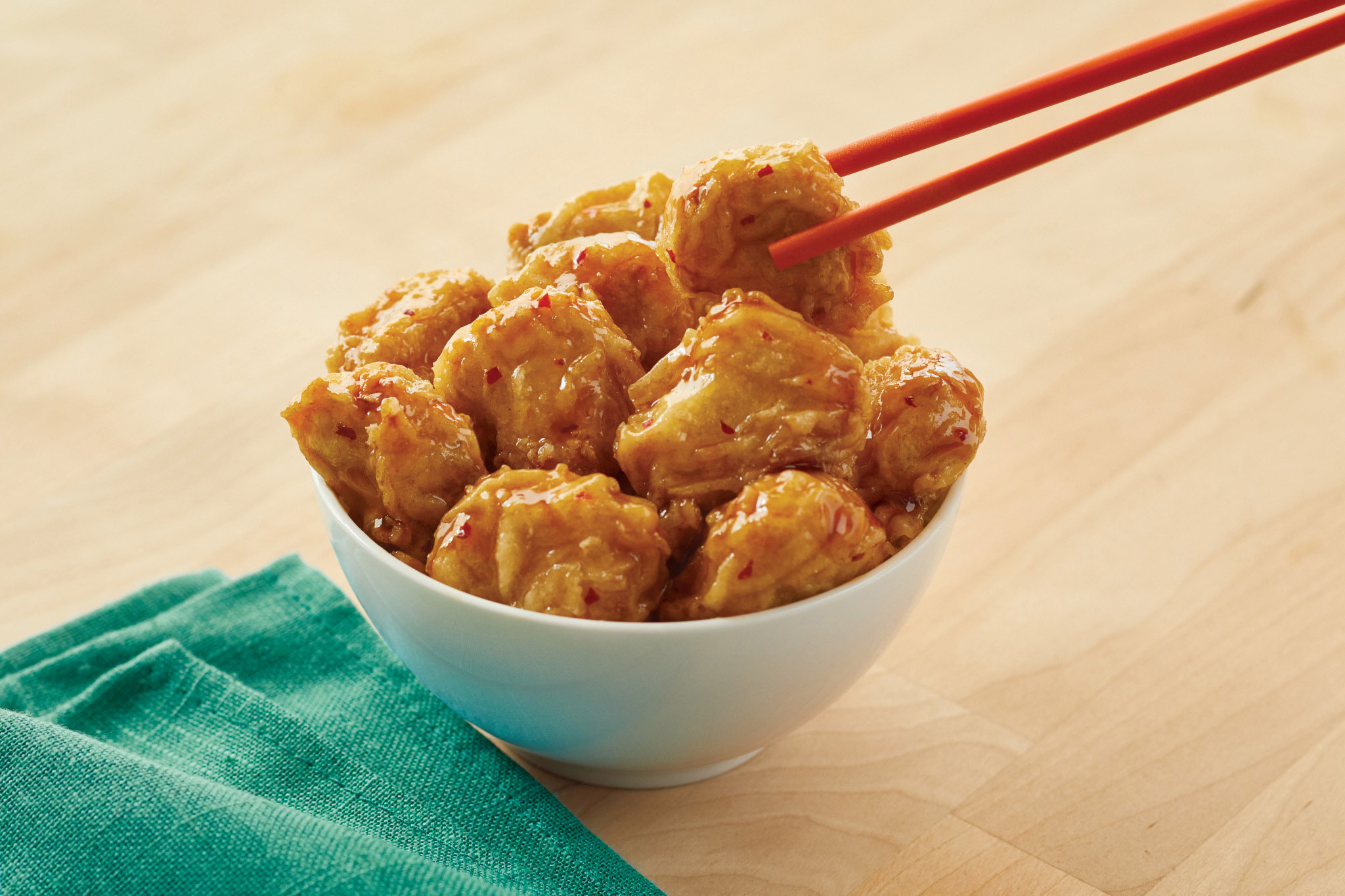 While it was exciting that Fatburger and Dog Haus debuted Impossible Nuggets, vegans lost their minds when Burger King announced they'd be testing the plant-based nuggs. The trial run kicked off on October 11 in three cities, including Des Moines, Boston, and Miami. From what we can tell, the nuggets are still available but aren't a permanent menu fixture yet. That being said, if the trial is a success, we can hopefully expect to see a more extensive release nationwide.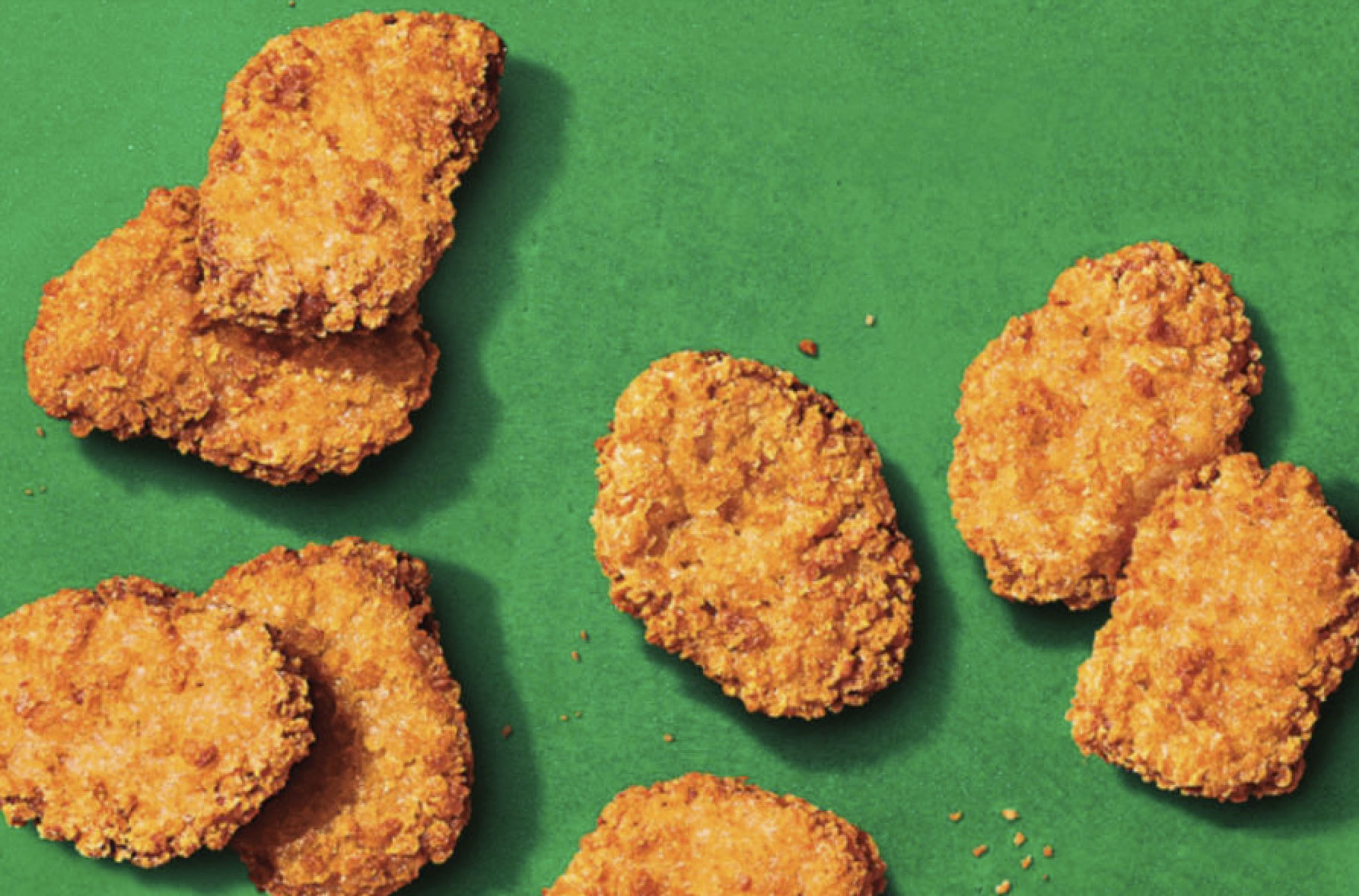 Following the trend of other mainstream burger chains, Jack in the Box experimented with serving Impossible Burger patties at participating restaurants in Phoenix, Arizona! The vegan beef patty was able to be substituted in any burger on the chain's core menu for an additional cost. The trial is now over, so stay tuned for more updates on whether or not Jack in the Box will roll out the Impossible Burger across the country.
"Restaurants are some of the best venues for reaching meat-eaters who might be curious or even skeptical about the taste or quality of our products, and these customers often become long-term Impossible fans after trying our products for the first time," stated a representative of Impossible Foods.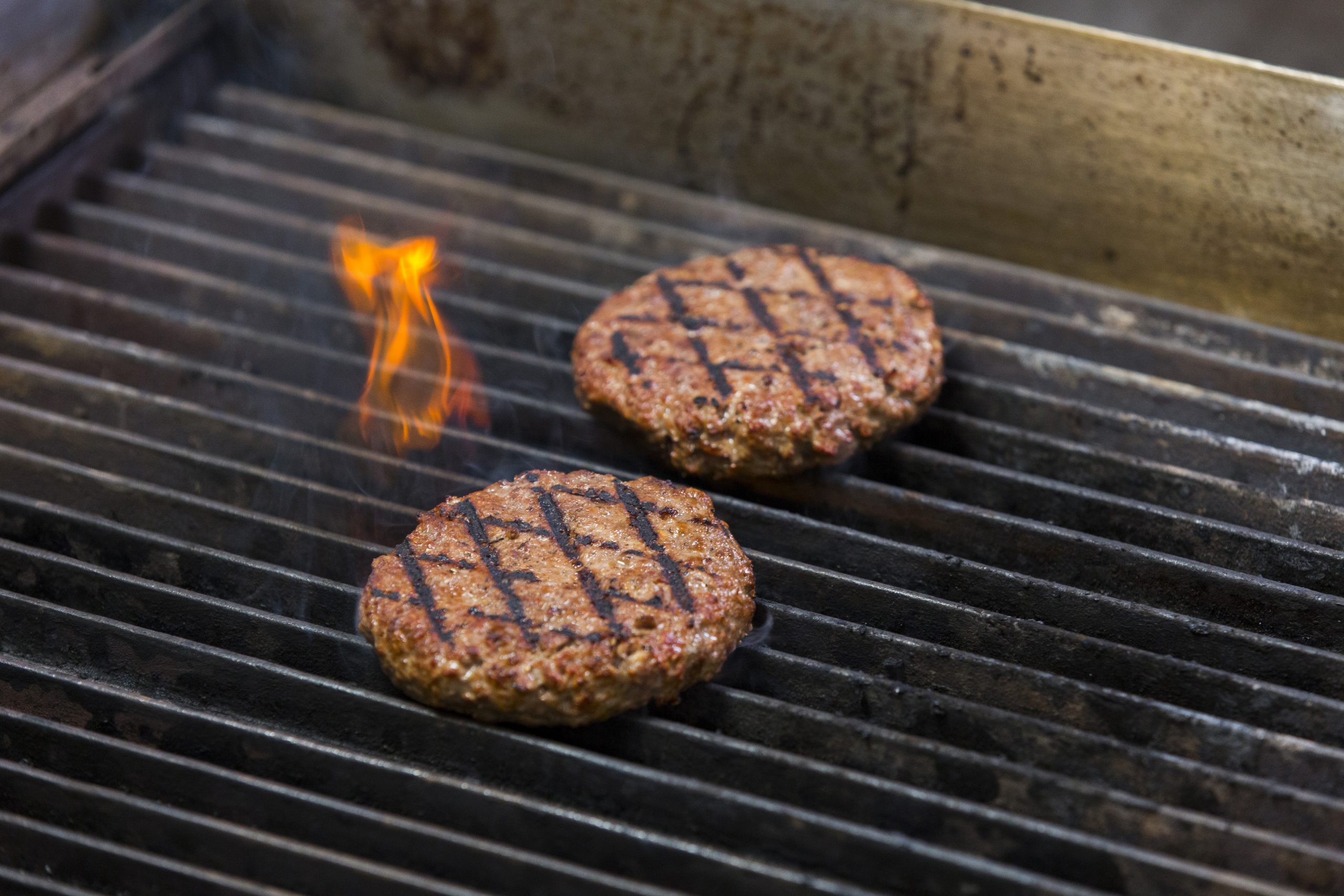 November
What's one thing missing in the fast food world? Vegan BBQ and Buffalo chicken pizzas! The restaurant chain &Pizza filled that void this past November with the launch of Daring Foods' vegan chicken as a topping at all stores. The soy-based chicken can be found on the fully vegan Hot in Here (Buffalo chicken) and Thee Sheriff (BBQ chicken) pizzas as well as build-your-own options. What a way to make the cut for best vegan fast food launches.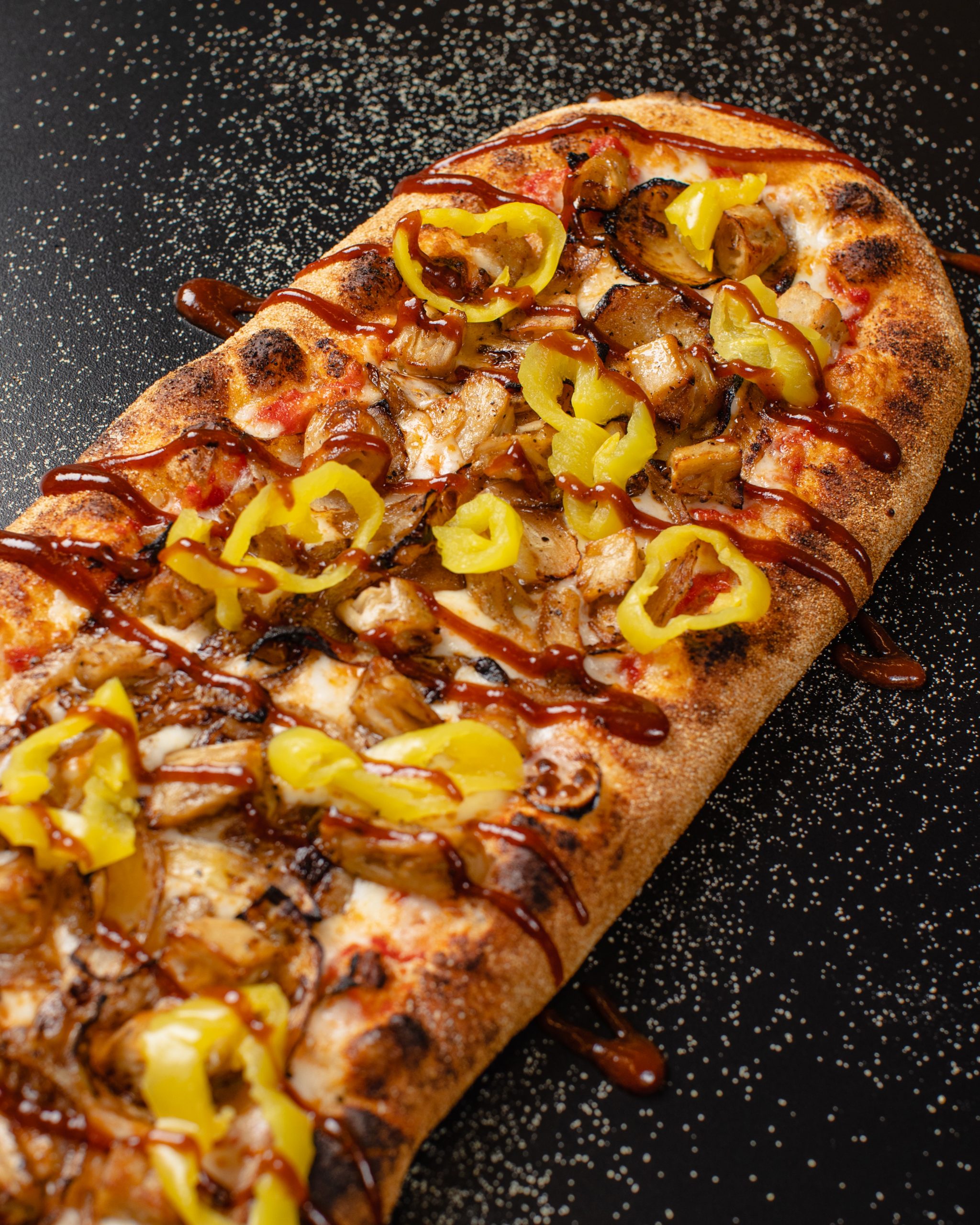 And last but certainly not least among the top vegan fast food launches of 2021, arguably the most shocking—McDonald's testing its vegan-friendly McPlant Burger at select locations in the US! The burger features a classic vegan Beyond Meat patty on a sesame seed bun with tomatoes, lettuce, pickles, onions, mayonnaise, ketchup, mustard, and American cheese. When ordered without cheese and mayonnaise, the burger is vegan-friendly, but as with all other fast food restaurants, there is cross-contamination. The trial began November 3 at restaurants in El Segundo and Manhattan Beach, California; Jennings and Lake Charles, Louisiana; Carrollton and Irving, Texas; and Cedar Falls, Iowa.
Corporate Restaurant Chains Offer Vegan Options
We hope you are as excited as we are that big corporate restaurant chains offer vegan options and are making baby steps toward a more sustainable and compassionate future. While some vegans find it frustrating that these plant-based menu items come from large corporations that continue to support animal agriculture and neglect to prepare vegan items separately, it's important to look at the bigger picture. When plant-based options are made available for low prices at convenient places, it encourages more people to try a plant-based diet. While we understand some vegans prefer to support entirely vegan restaurants, not everyone has access to those kinds of restaurants or the financial means to dine there.
"Our mission is to be everywhere, in every market globally, and to offer a full range of products for every culture and cuisine. Partnering with restaurant chains that have an established brand, customer base, and network of locations allows us to quickly bring our products to more people in a way that's affordable and accessible. It's not uncommon for consumers to become repeat customers after first trying Impossible Burger at Burger King or White Castle, or Impossible Sausage at Starbucks or Jamba. In fact, 84% of customers who order the Impossible Burger said they are likely to order it again within the next three months. Making our products available where consumers already eat and shop decreases the barrier to entry and gives consumers a great first impression," shared an Impossible Foods spokesperson.