These plant-based pepperonis were made for homemade pizzas, antipasto salads, and charcuterie boards alike!
Looking for a pizza topping to add a little pep in your step? This vegan meat is giving us major 'za inspo! These plant-based pepperonis are perfect for more than just pizza creations. Hello, charcuterie platters, Italian subs, and homemade Lunchables—we'll just call it an everything topping. If you are ready to top everything with this salty, plant-based sausage, check out our list of the best vegan pepperoni brands below.
The Classic Pizzeria Plant-Based Pepperoni Slices are a must-buy! Like other Field Roast meats, this pep is made with a variety of protein-rich ingredients and a bounty of flavor-enhancing herbs. We like this product on homemade pizza bagels and beyond! Find Field Roast products at a variety of grocers throughout the US.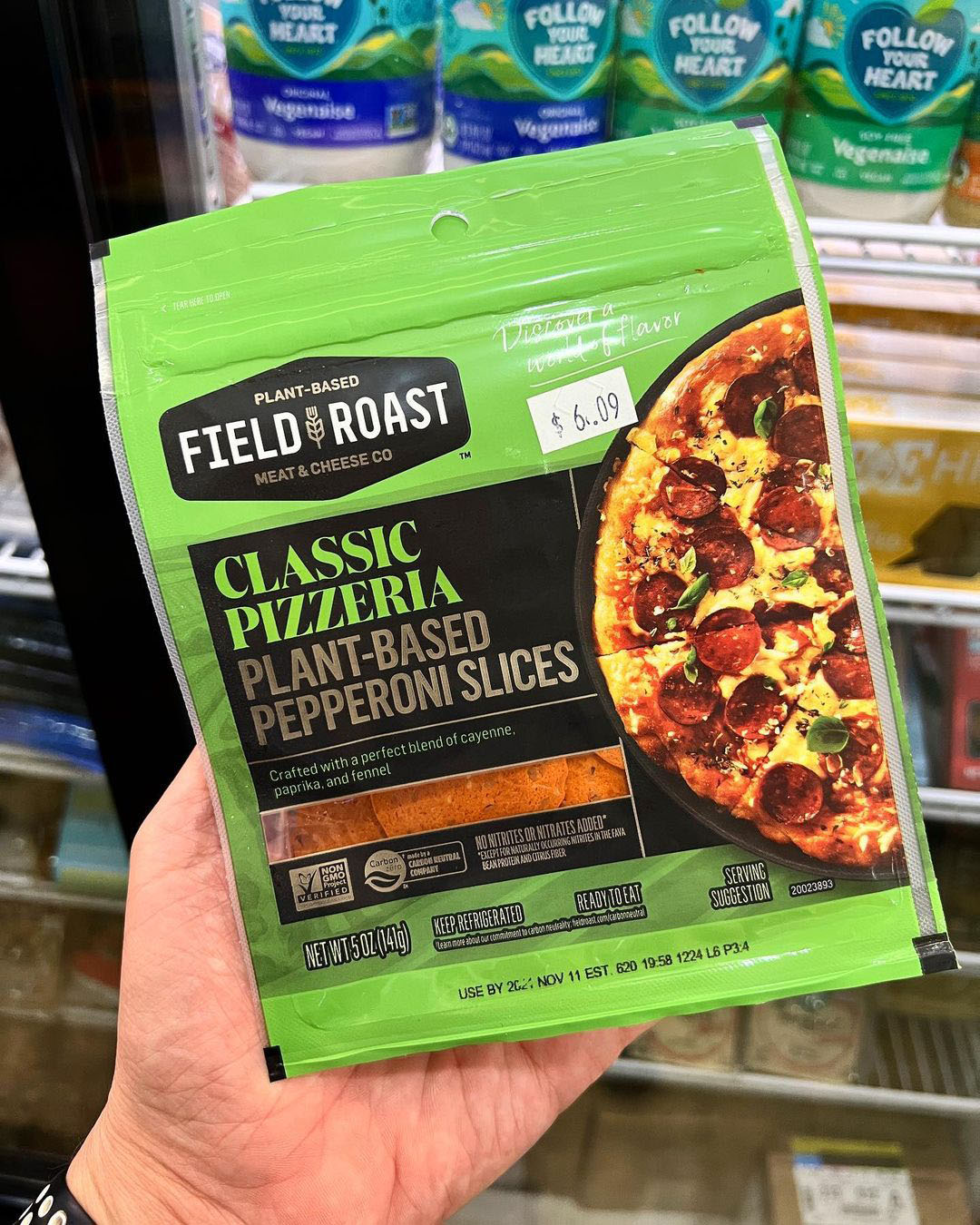 Photo credit: @bigboxvegan on Instagram
This seitan-based sausage is what your charcuterie boards and homemade calzones are missing—it's the sundried tomatoes and fennel for us! The Be-Hive Plant-Based Pepperoni comes from a Nashville-based market and deli. The company has expanded its reach, so Be-Hive products can be found on GTFO It's Vegan and in a variety of smaller markets.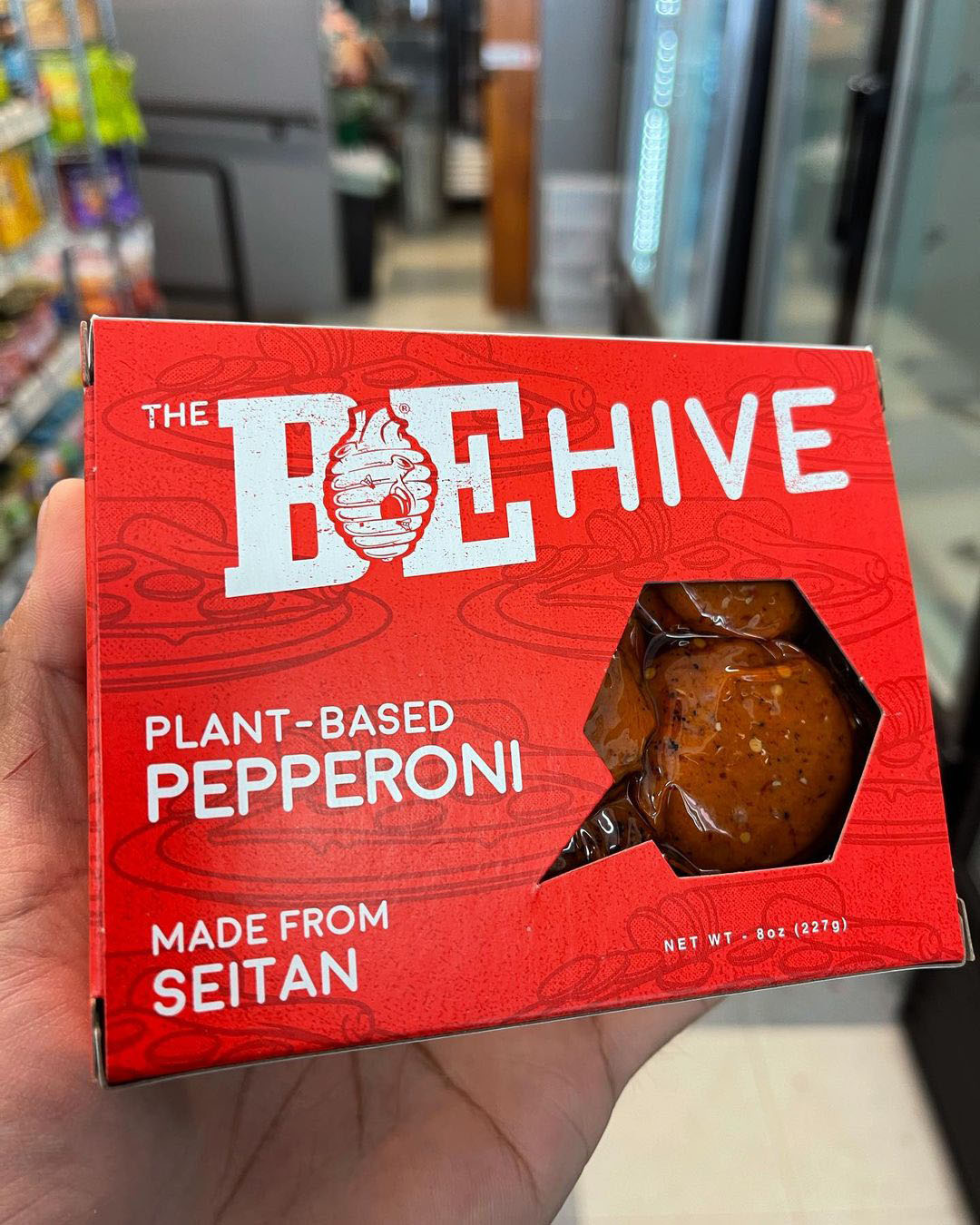 Photo credit: @noochveganmarket on Instagram
Made with soy protein, wheat gluten, and tofu, the Yves Veggie Cuisine Veggie Pepperoni is packed with plant-based protein. Try these great-tasting pep slices on an Italian-inspired cold-cut sandwich with melty vegan cheese. Say what?! Yves products can be purchased at select grocery stores as well as on online platforms. We see you, Vegan Essentials!
Photo credit: @bombveganfinds on Instagram
We love a vegan butcher moment! The Vegan Pepperoni from The Very Good Butchers is made for DIY pizzas, calzones, charcuterie boards, and straight-from-the-package nibbles alike. The adzuki bean-based sausage packs the rich and salty flavors that we want in a pepperoni. Find The Very Good Butcher products online and at a variety of vegan-friendly markets in the US and Canada.
Photo credit: @eastwest.market on Instagram
The Sweet Earth Italian-Style Vegan Pepperoni Slices are ready to eat—bring on the party time snack platters! Try these slices in a pressed panini handheld, on a grilled pizza pie, or chopped into a pasta salad. This vegan pepperoni is giving us major plant protein vibes from wheat gluten and chickpeas. Sweet Earth products can be spotted in major grocery stores.
Photo credit: peakbagging_vegan on Instagram
Hot and zesty plant-based pepperoni, coming right up! The Pepperoni Style Plant-Based Slices from Mia Green Food are a product of Italy. Mamma Mia! These cured 'ronis are made from wheat gluten, chickpea flour, olive oil, and cultured sourdough. Find Mia Green Food products at Whole Foods and virtual vegan shops like Vejii.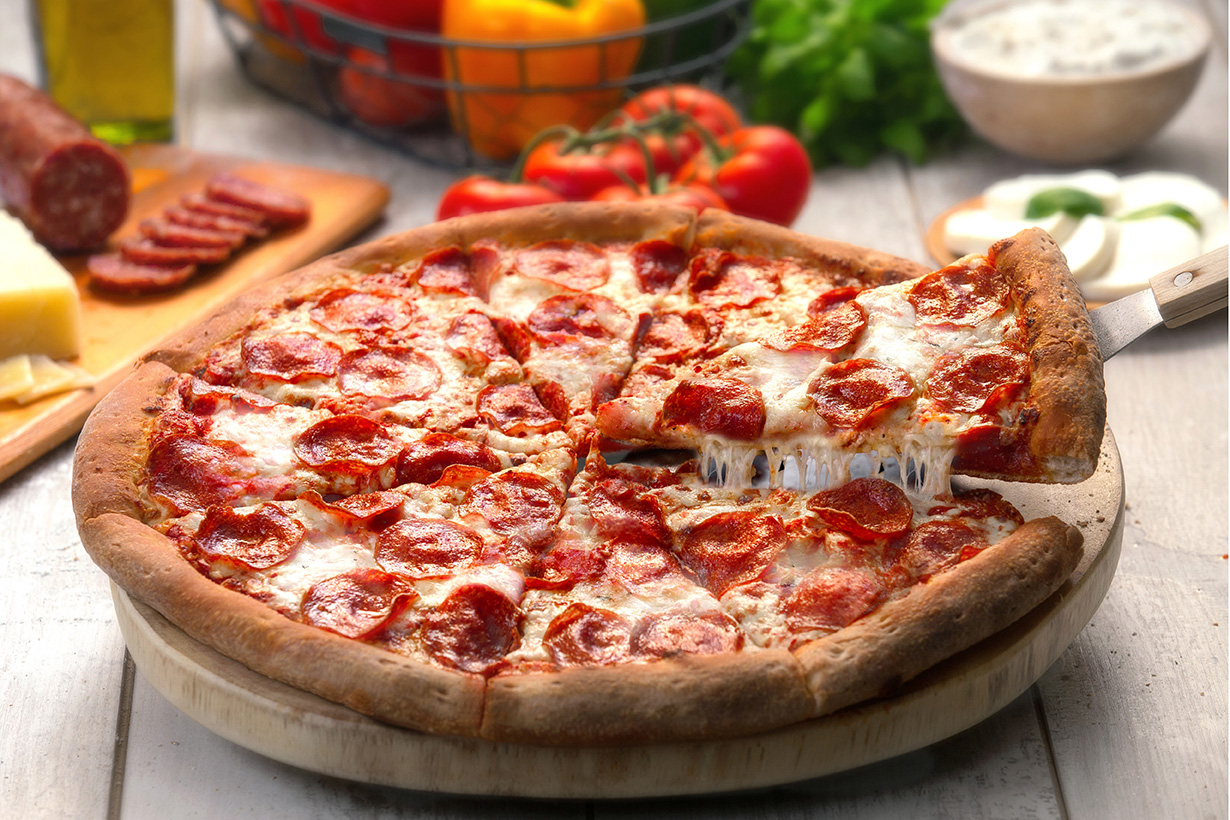 Chef salad? On it! The Toppins' Pepperoni Bits from Louisville Jerky Co. are the perfect addition to pizzas, pastas, and salads. The Jerky Co. also offers a Perfect Pepperoni Jerky for on-the-go snacking—yes, eating pepperoni straight from the bag is recommended here. Find Louisville Jerky Co. products online and at a variety of grocers.
The smoky, peppery taste of cruelty-free pepperoni is our favorite. Antipasto flatbread, anyone? The Feed Your Head Vegan Pepperoni is made from simple ingredients like vital wheat gluten, soy sauce, and maple syrup. Although the company began at Chicago farmers markets, the brand can now be found at Whole Foods, a variety of smaller markets, and online.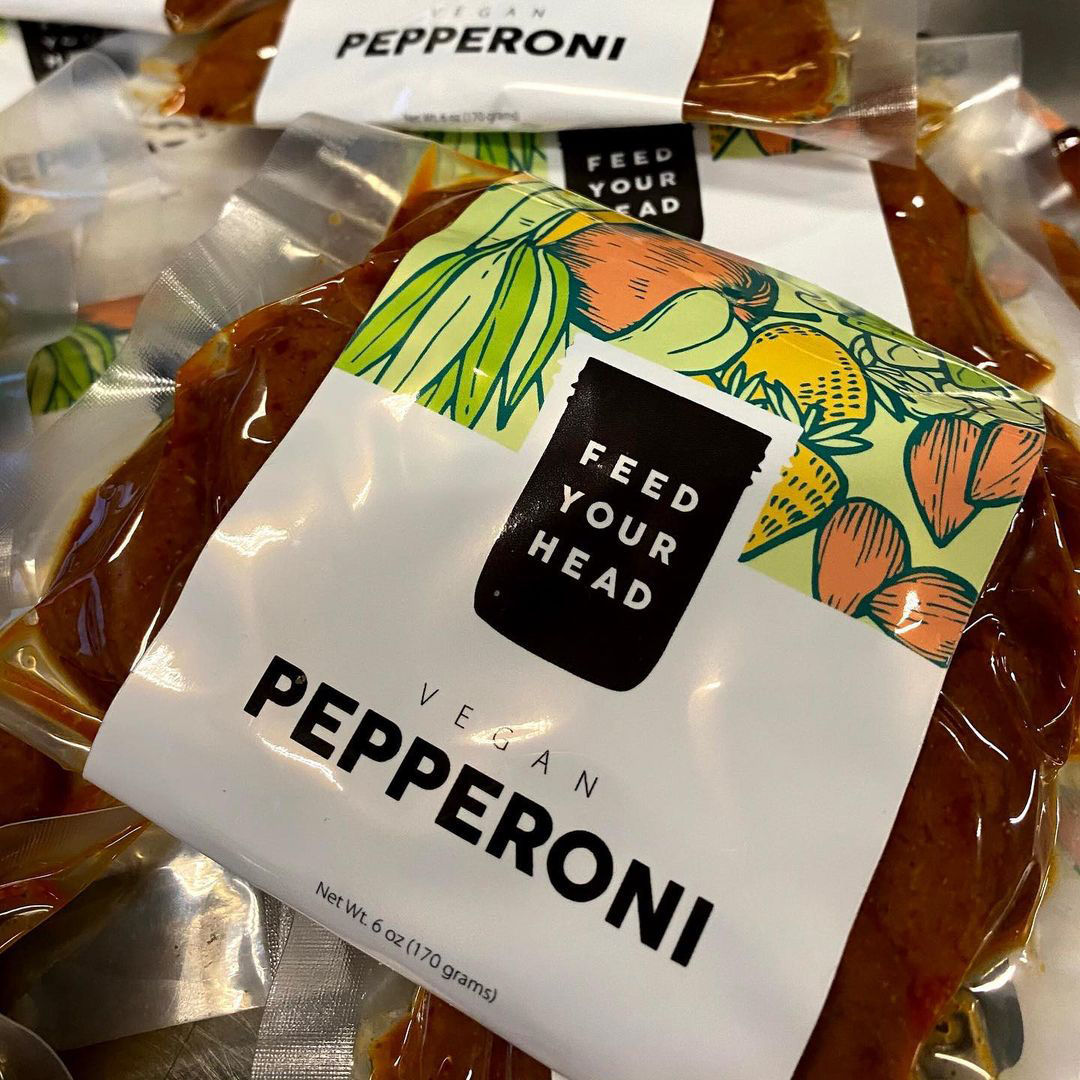 Photo credit: @veganessentials on Instagram
The pepperoni from Herbivorous Butcher is made with umami-rich ingredients such as miso and soy sauce, creating that salty richness that we love in a sausage. This vegan butcher offers a wide range of plant-derived meats, perfect for meat lovers pizzas and calzones. Products can be found online and at a wide variety of local health food stores.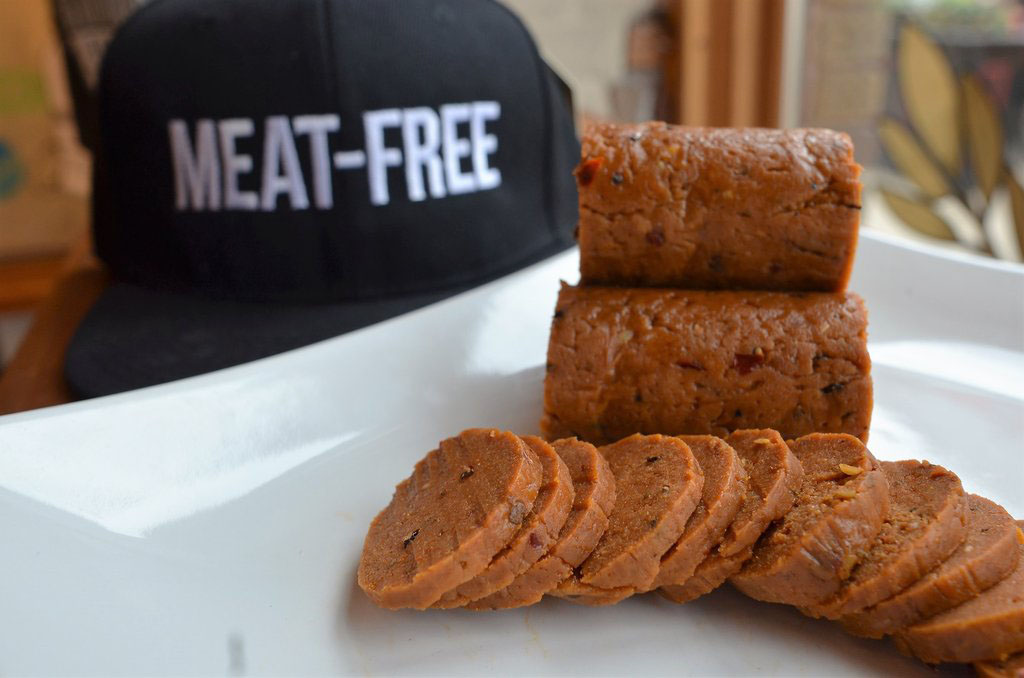 Feature image photo credit: Field Roast