Here's a list of all the best vegan products at Kroger-owned grocery stores.
Whether you call it Ralphs, Dillons, Smith's, Harris Teeter, Mariano's, or Kroger, the grocery store chain has some of the tastiest (and cheapest) vegan products out there! The generic Kroger line, Simple Truth, is continuing to roll out amazing vegan products. And no, we're not talking about common items like produce, pasta, chips, hummus, and bread—we mean cream cheese, sausage, burger patties, cookie dough, and ice cream. Here's our vegan guide to Kroger.
Refrigerated Items
Simple Truth Meatless Grind and Burgers
In this day and age, plant-based meat alternatives are popping up left and right, so it's only fitting that Kroger jumps on the bandwagon with their Emerge Plant-Based Meatless Grind and Burgers. Both of the pea protein-based beef alternatives pretty much speak for themselves—the burgers can be used for … well, burgers, and the ground can be used to make meatballs, sliders, sloppy joes, and more.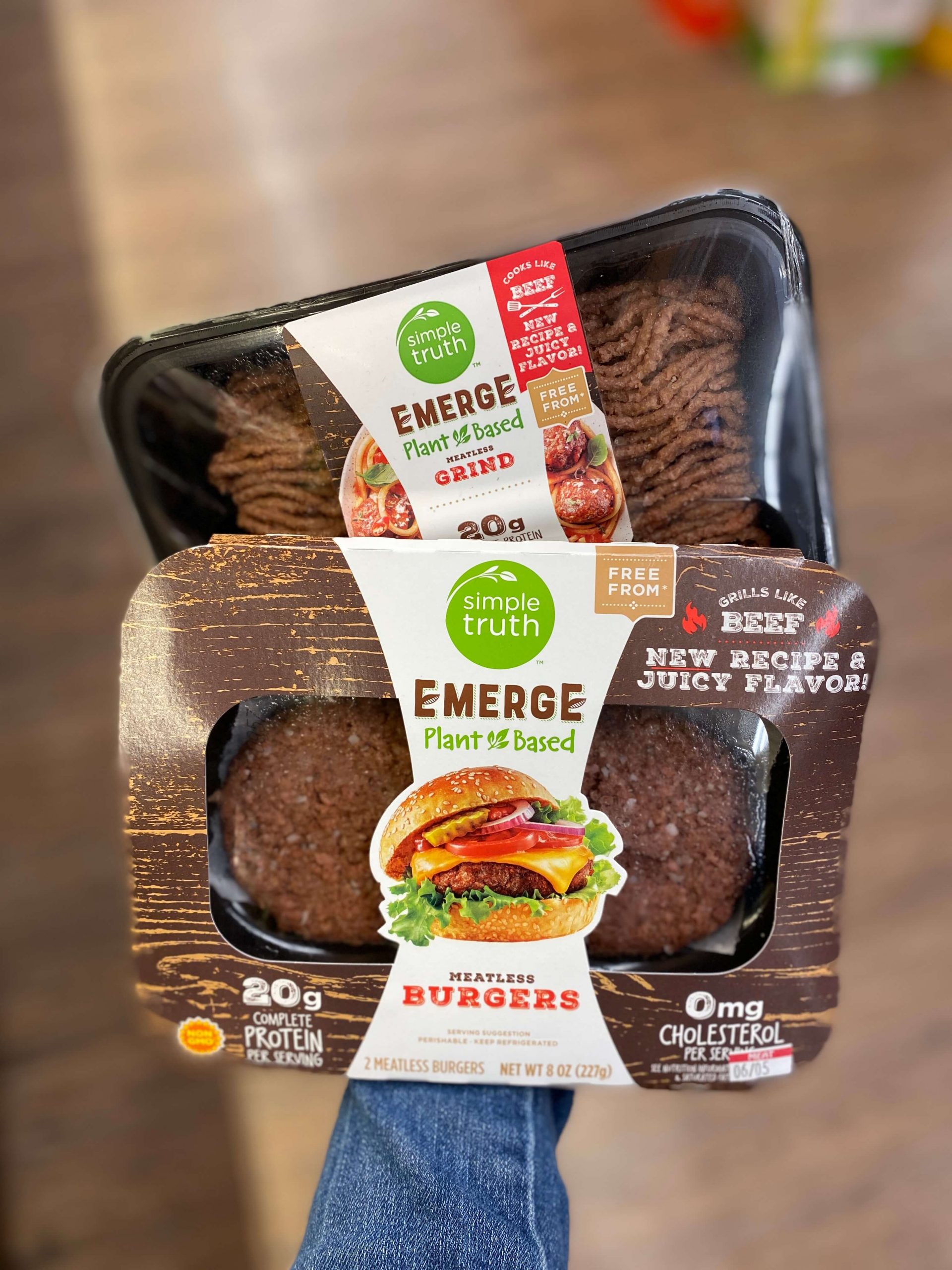 Simple Truth Chick'n Grind and Patties
While we're on the topic of plant-based meats, we've got to talk about their Chick'n Grind and Patties! Whether you want to make a copycat of your favorite fast food chicken sandwich or a couple of tacos, these meat-like products offer a stellar taste and texture that will fool all your non-vegan friends. Best of all, these products are free from GMOs, dairy, and soy—and they come in at a whopping 20-21g of protein per serving.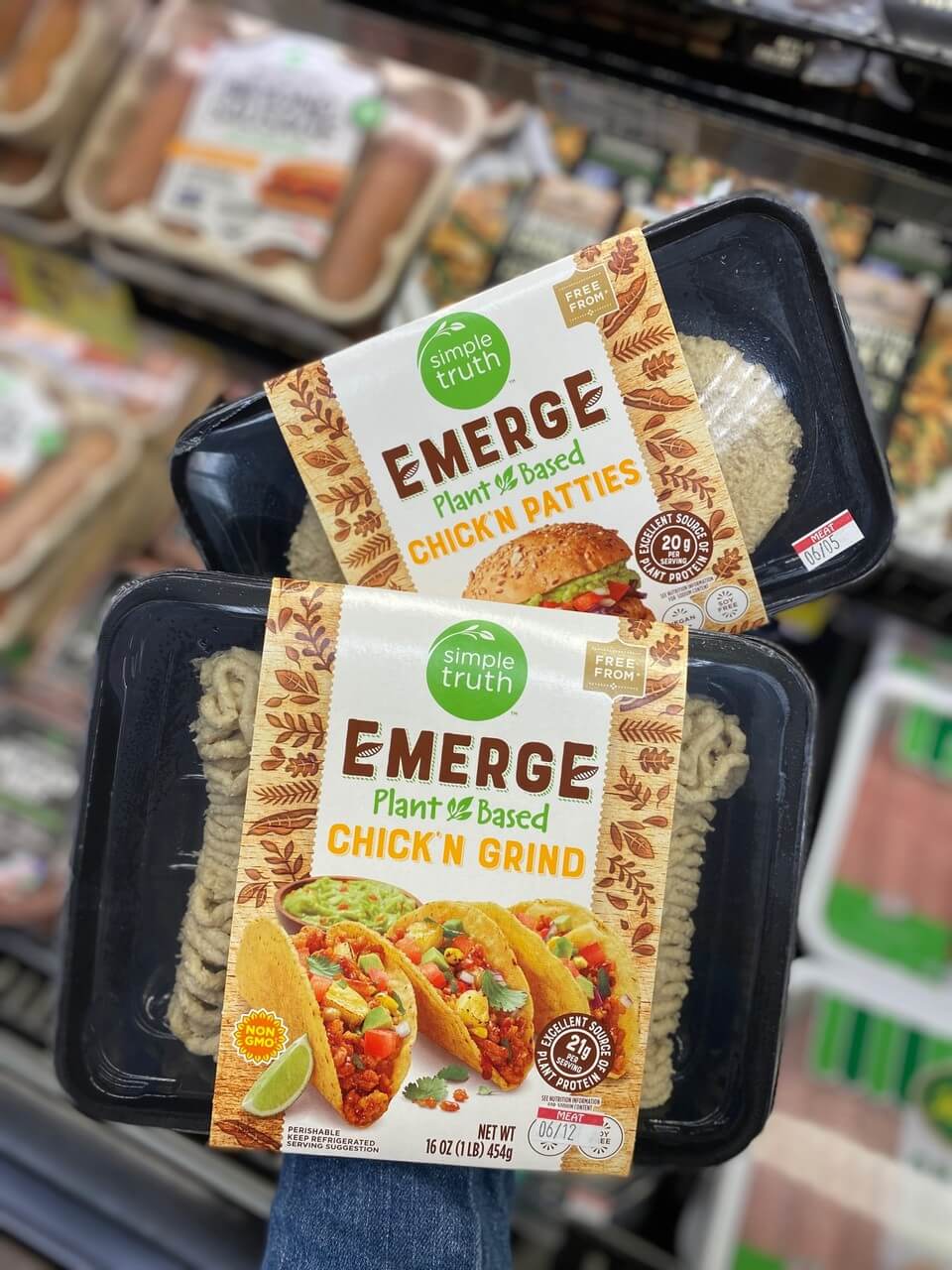 Simple Truth Vegan Cream Cheese
When it comes to bagels, this vegan cream cheese is a MUST! This version by Simple Truth is made primarily out of butter beans, oats, agave, and coconut oil. It's great on bagels, crackers, pizza, pasta, and even dessert recipes like frosting and cheesecake to name a few.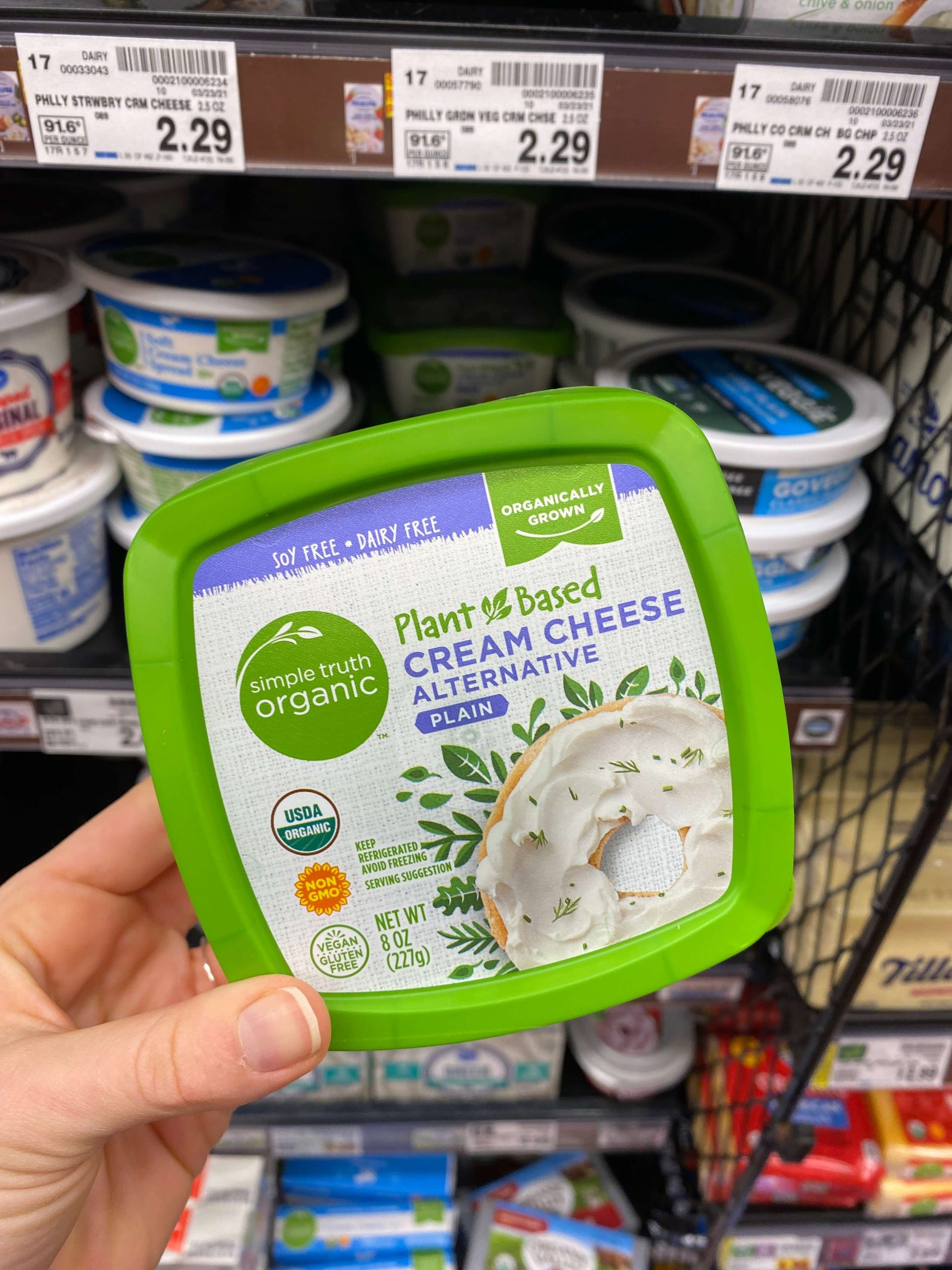 Simple Truth Turkey and Ham Vegan Deli Slices
Sandwiches are one of those meals that will never go out of style. If you agree, you'll want to grab these turkey and ham vegan deli slices the next time you're at the grocery store. Simple Truth's Plant-Based Black Forest Ham and Salt & Pepper Turkey Slices will take any sandwich from good to great!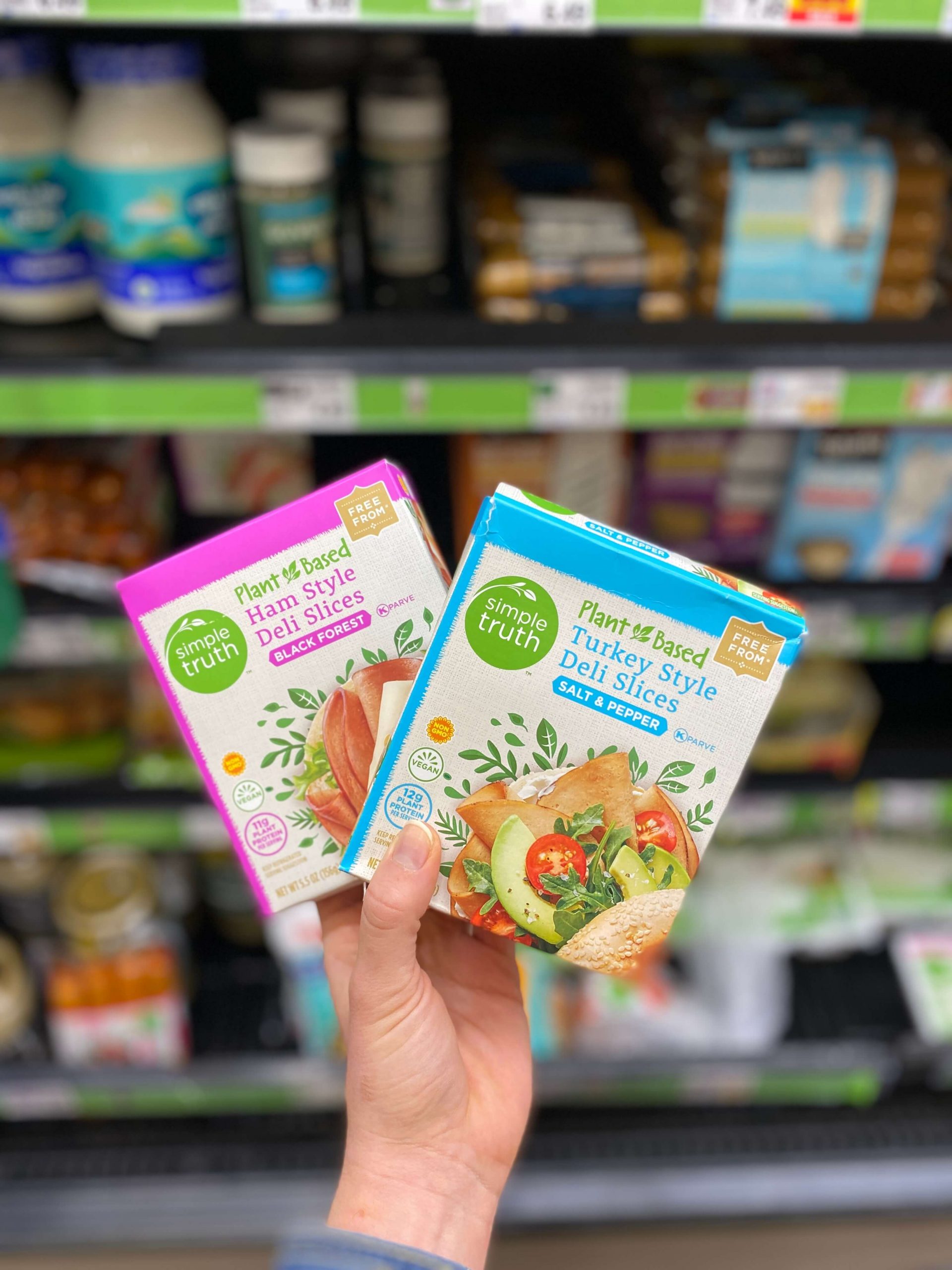 Simple Truth Vegan Kielbasa Sausage
How many times have you come across vegan kielbasa sausage? Before reading this article, it was probably zero. Now, you can make that one! And not only does Kroger carry meatless kielbasa sausage, but they also have meat-free chorizo. Load up the shopping cart!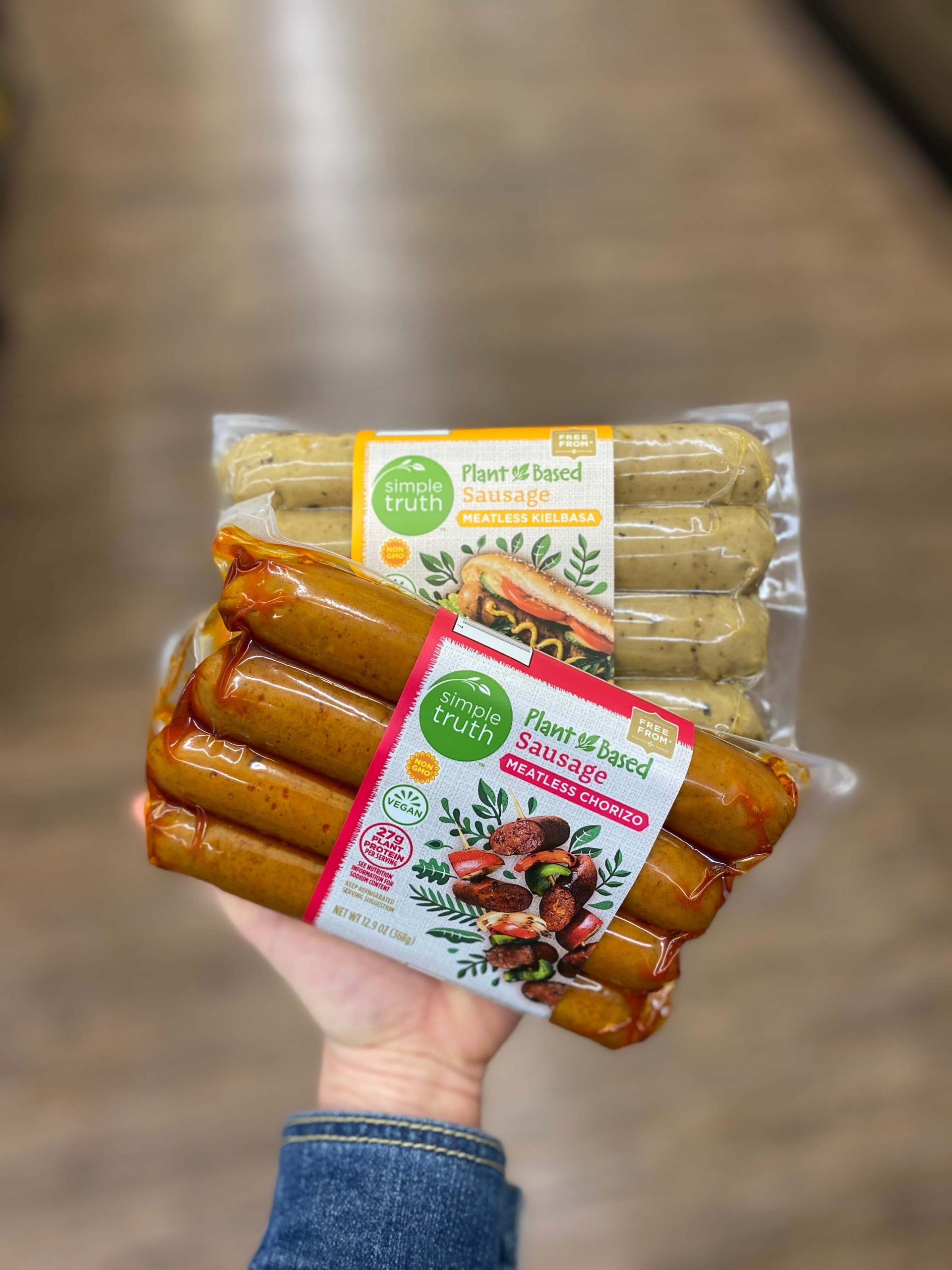 Simple Truth Non-Dairy Cheddar and Hot Pepper Cheezy Slices
Anyone down for grilled cheese sandwiches, cheese and crackers, or burgers? If you answered "yes" to any of those options, then you'll want to cop a pack or two of these non-dairy cheddar and hot pepper cheezy slices! For those of you craving a classic cheese flavor, grab the Cheddar Style Slices. For those of you wanting to spice things up a bit, we'd recommend the Hot Pepper Cheezy Slices.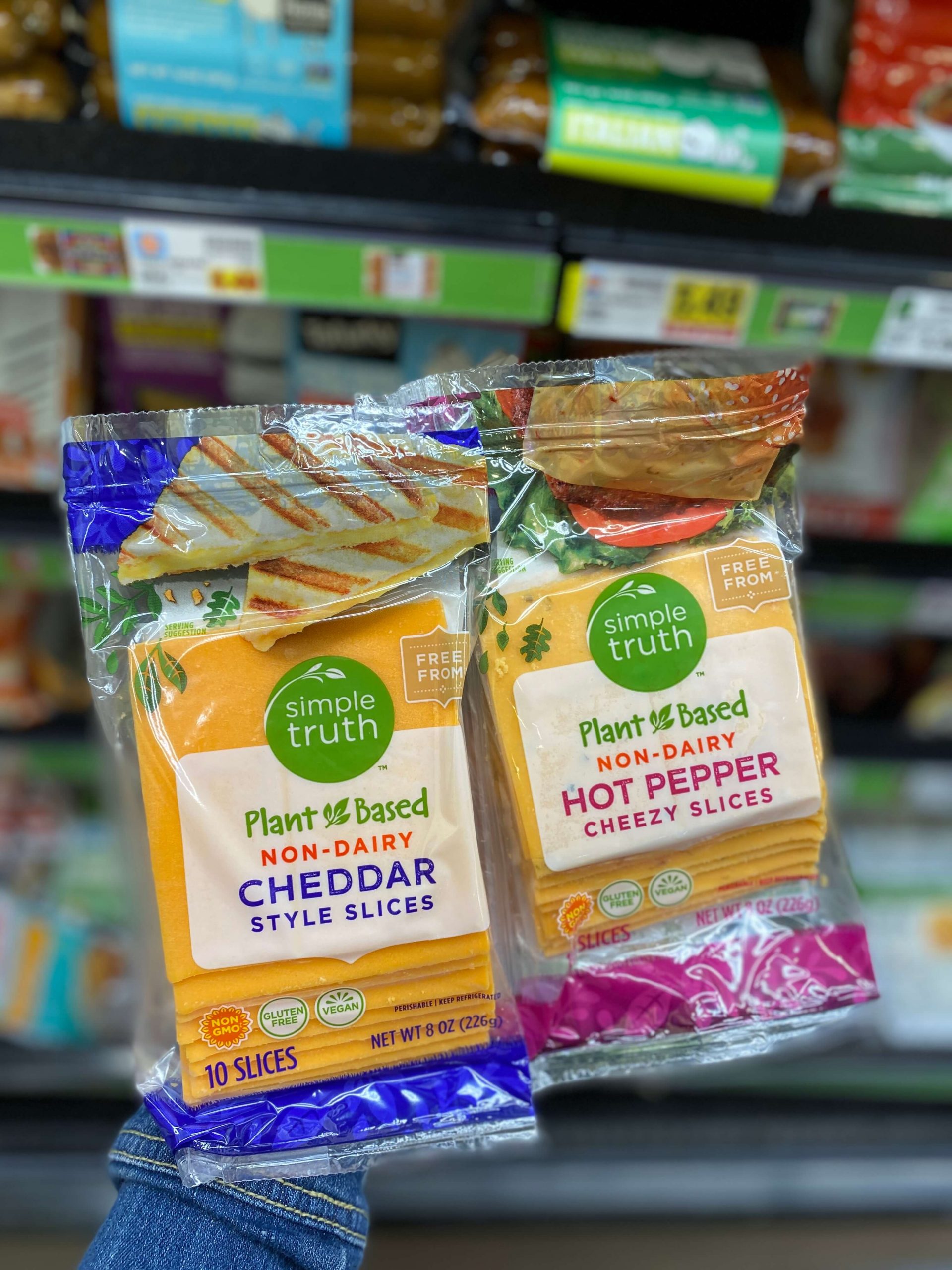 Simple Truth Non-Dairy Cheddar and Mozzarella Style Shreds
Shredded cheese is always great to have on hand. You never know when you'll need a sprinkle to top your chili, tacos, lasagna, or whatever else you whip up at home. The Non-Dairy Cheddar and Mozzarella Style Shreds by Simple Truth melt nicely, taste great, and look realistic, too.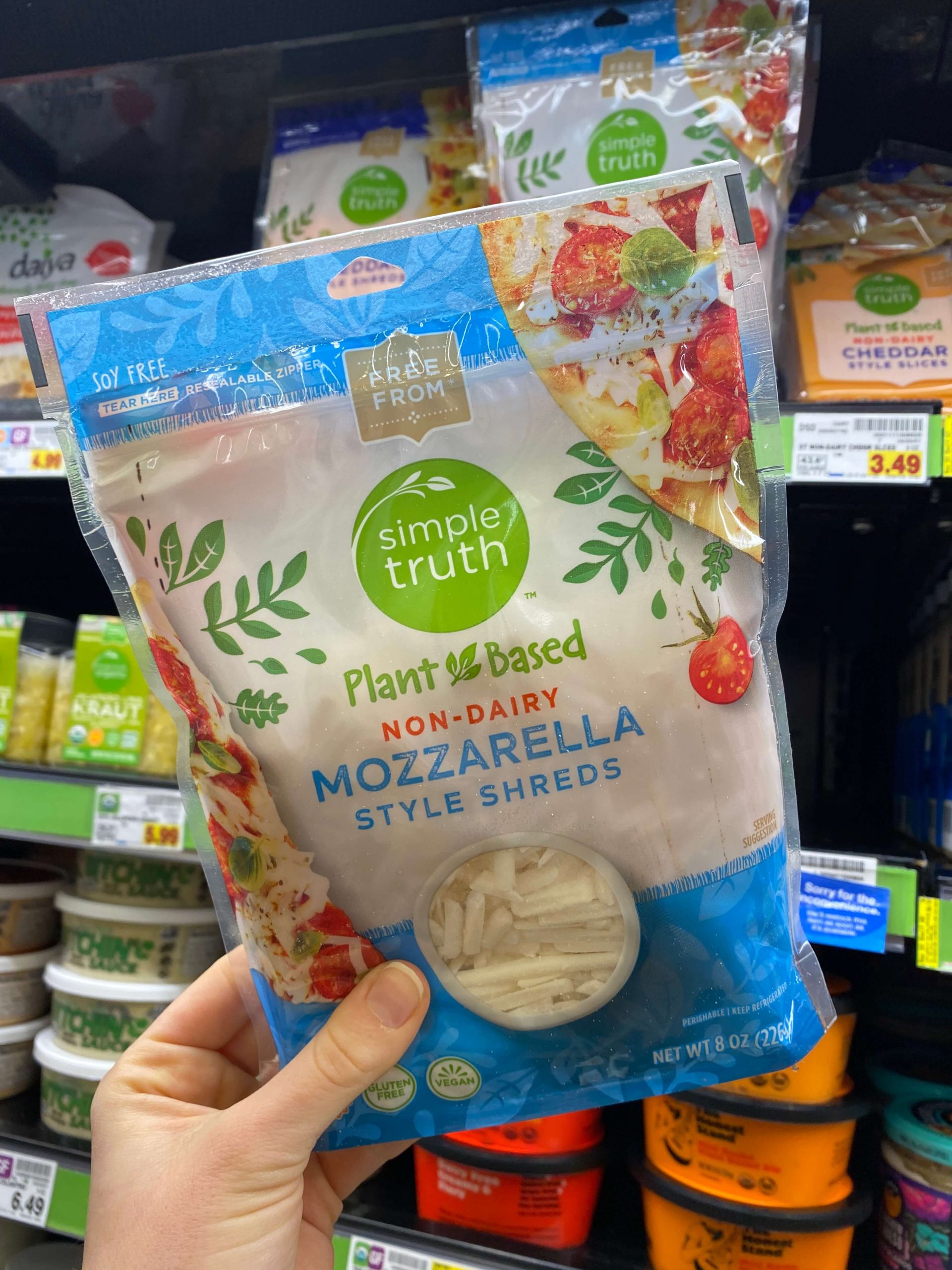 Simple Truth Sour Cream Alternative
Snatch up a container of this sour cream alternative for your next Taco Tuesday, Nacho Wednesday, Potato Thursday, or whatever other food holiday you make up as an excuse to eat good food. Three cheers for another versatile vegan item by Simple Truth!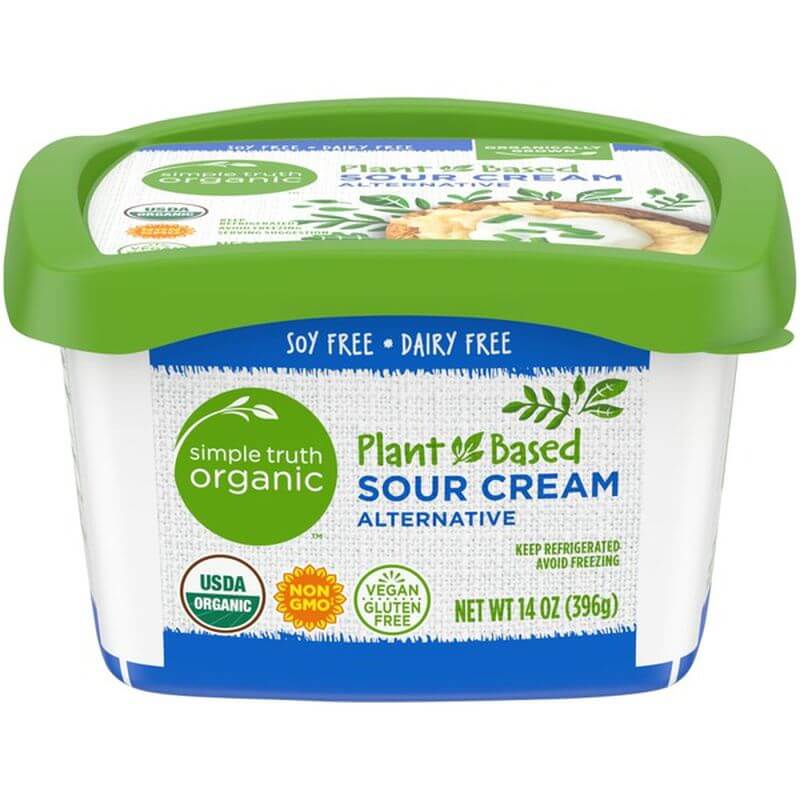 Simple Truth Plant-Based French Onion and Queso Style Dips
The Simple Truth brand carries variations of plant-based French onion and queso style dips—say whaaa? Yep, this is for real! We love scooping up the French onion dip with ridged potato chips. When it comes to the queso, we slather that on everything—tacos, nachos, burritos, you name it, queso is going on or in it!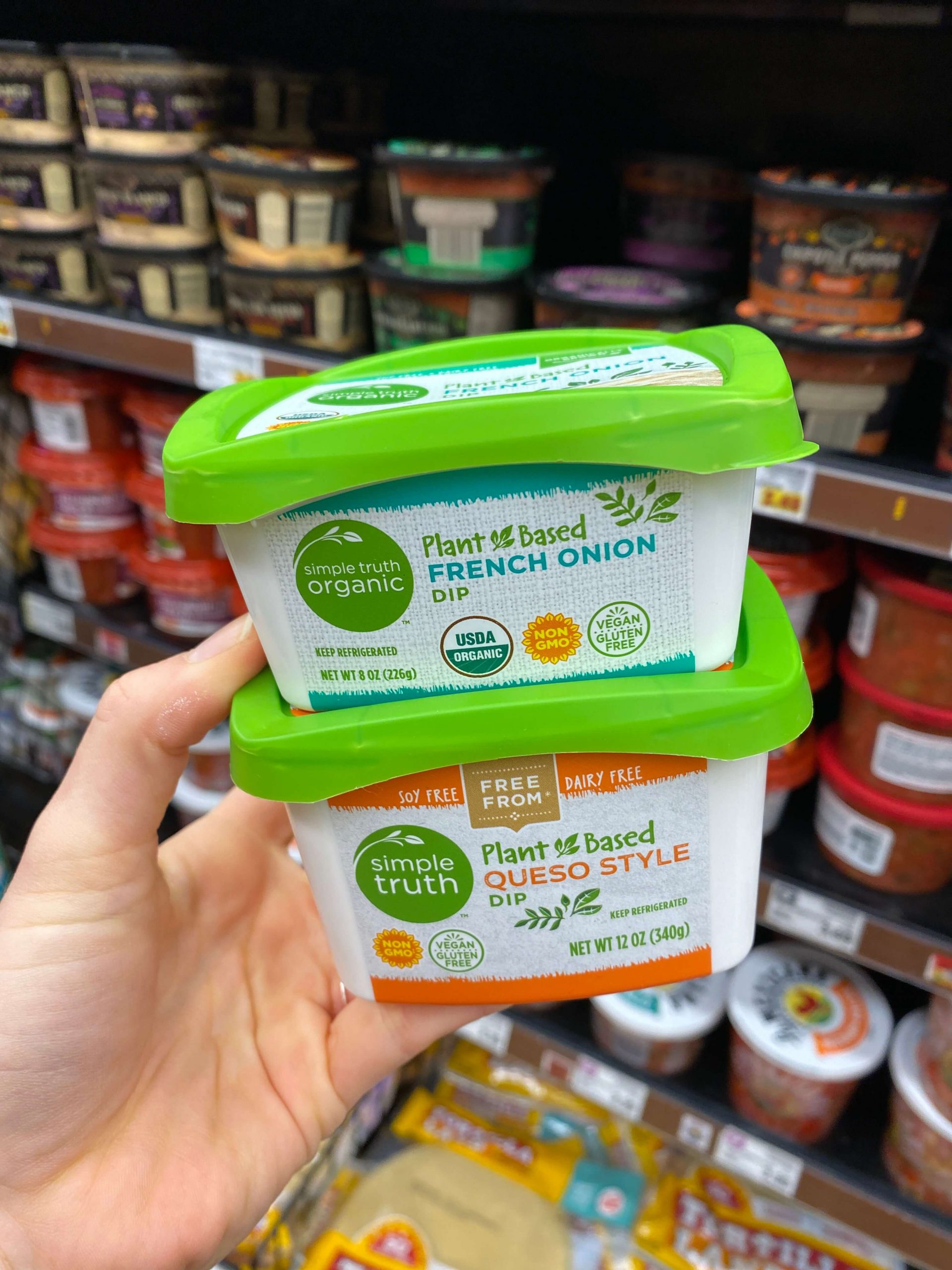 Simple Truth Cauliflower Dips
If you're not already impressed by the dip game at Kroger, wait until you hear this: The grocery chain makes four delicious cauliflower dips in the style of Tzatziki, Buffalo, Spicy Queso, and Cilantro with Jalapeño. What a lineup! Grab your favorite veggies and chips, and get ready for a flavor-bursting snack experience.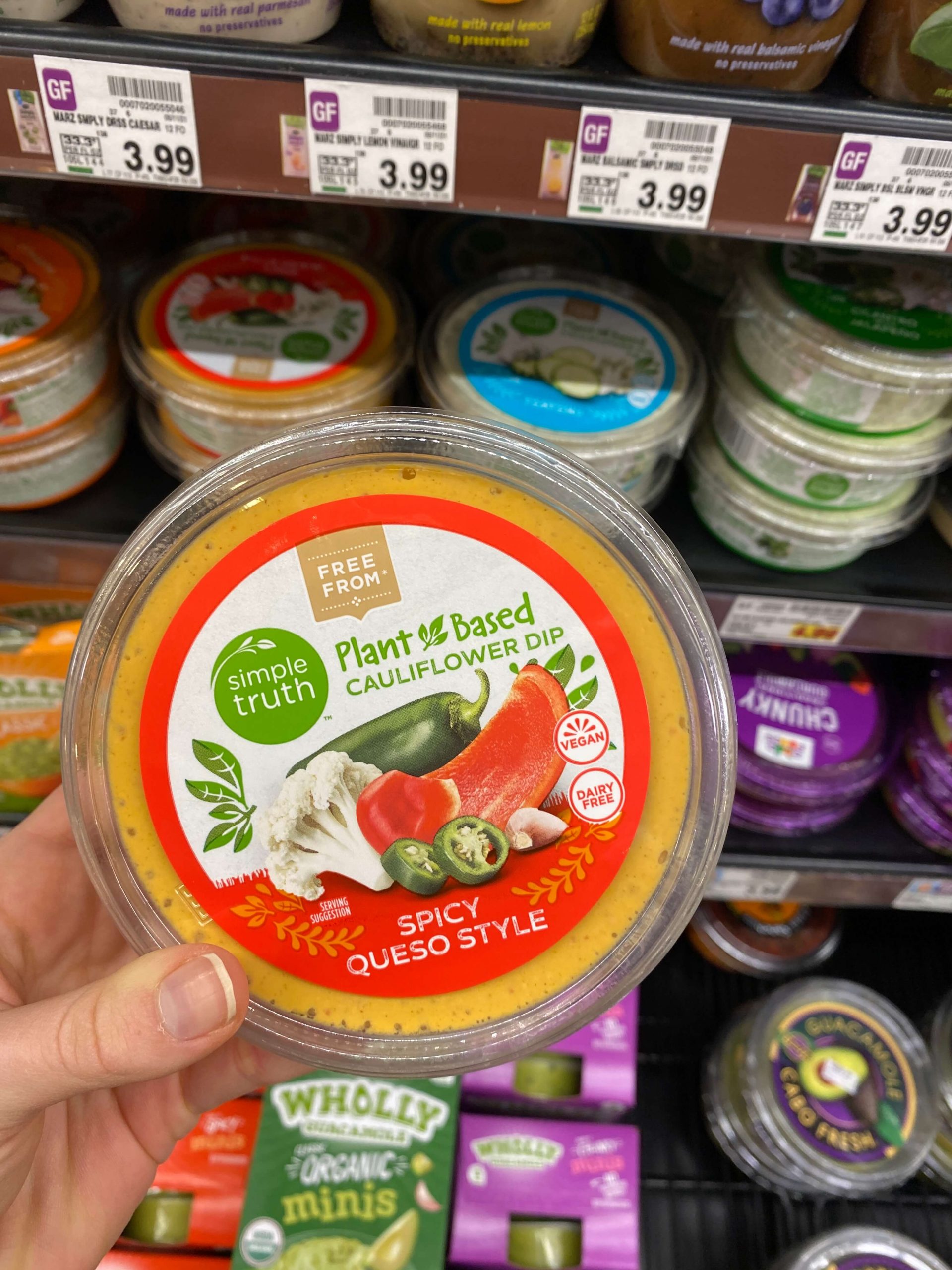 Simple Truth Vegan Salad Dressings
Gone are the days of scouring the aisles for a creamy vegan salad dressing. Thanks to Simple Truth's line of plant-based dressings, we'll never need to thoroughly read a label, spend a wickedly insane amount of money on a bottle of dressing, or wonder if it tastes any good. Their Caesar, ranch, and blue cheese flavored dressings are sure to take your salad to the next level.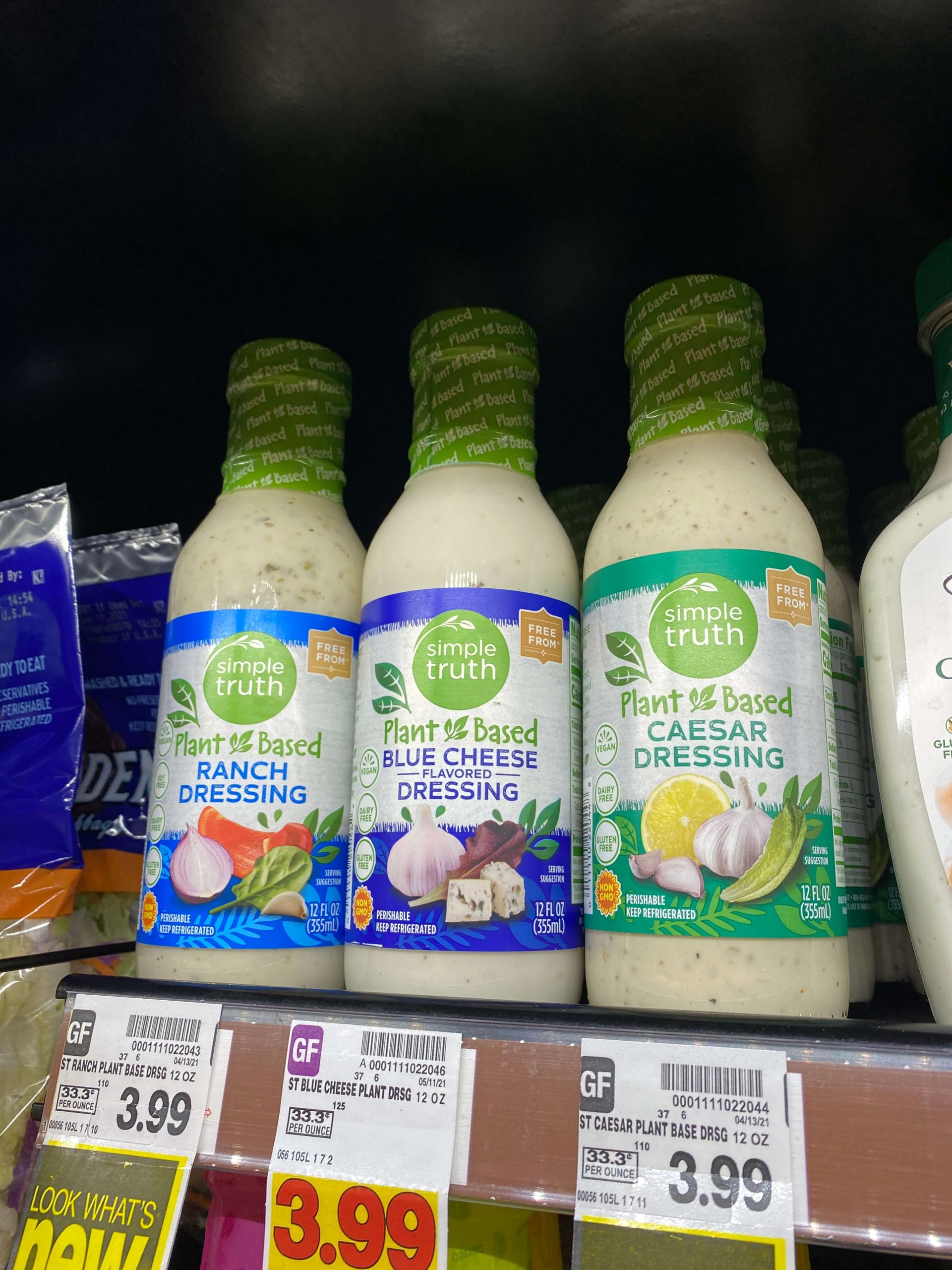 Simple Truth Plant-Based Chocolate Chip Cookie Dough
Money can't buy happiness, but it can buy you a pack of this Plant-Based Chocolate Chip Cookie Dough (for just $2.99). This item might win the award for the best vegan item at Kroger. Why? It's affordable, pre-made vegan cookie dough that turns into stellar cookies—that is, if it even makes it to the oven! And who doesn't love cookie dough?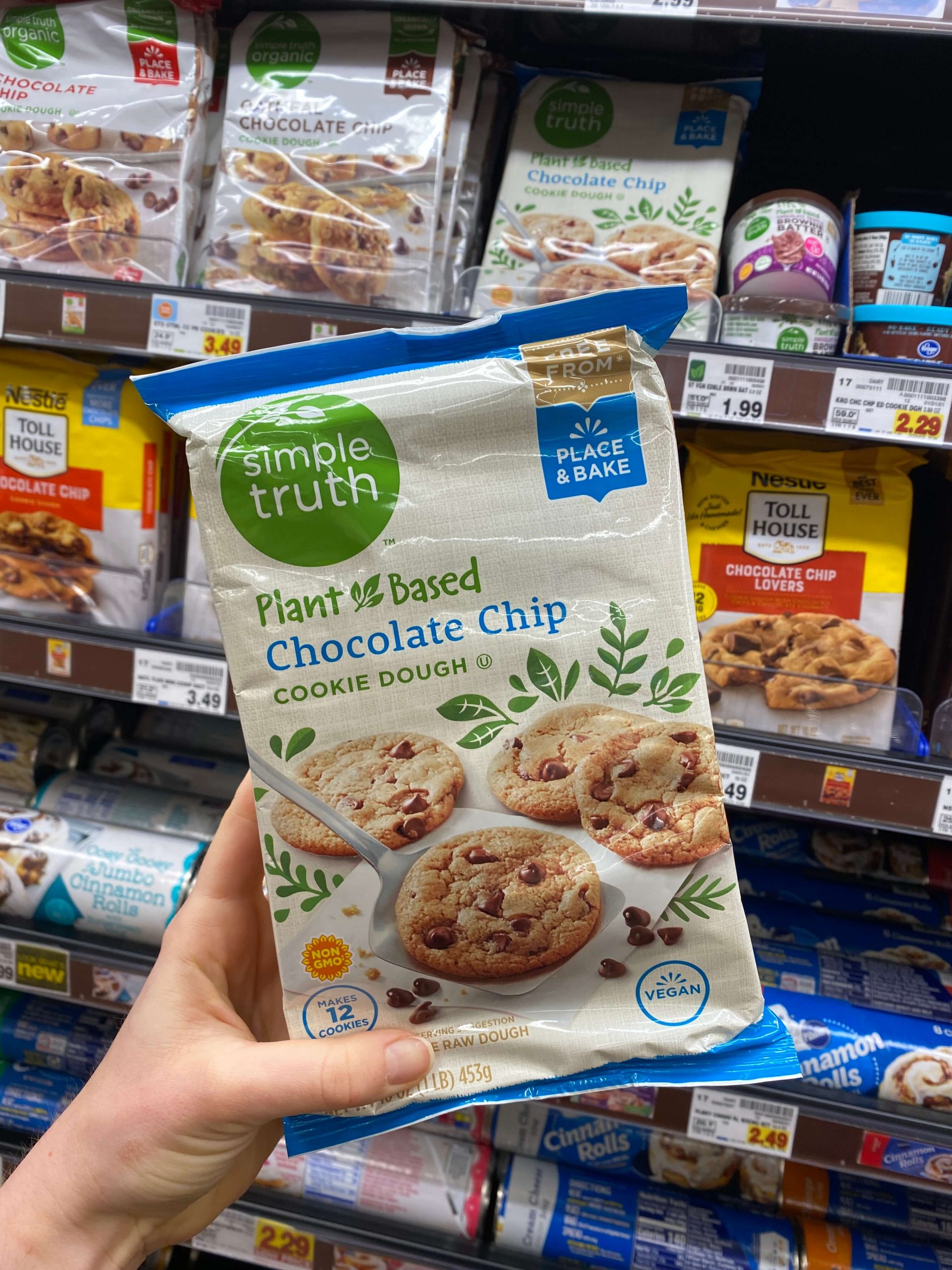 Simple Truth Chocolate Truffle Brownie Batter
Where are our chocoholics at? This Plant-Based Chocolate Truffle Brownie Batter is right up your alley! The best part about this is it's the perfect portion for you to just grab a spoon and dig in! There's no baking required—which, to be honest, we all know the batter is the best part about baking desserts anyway.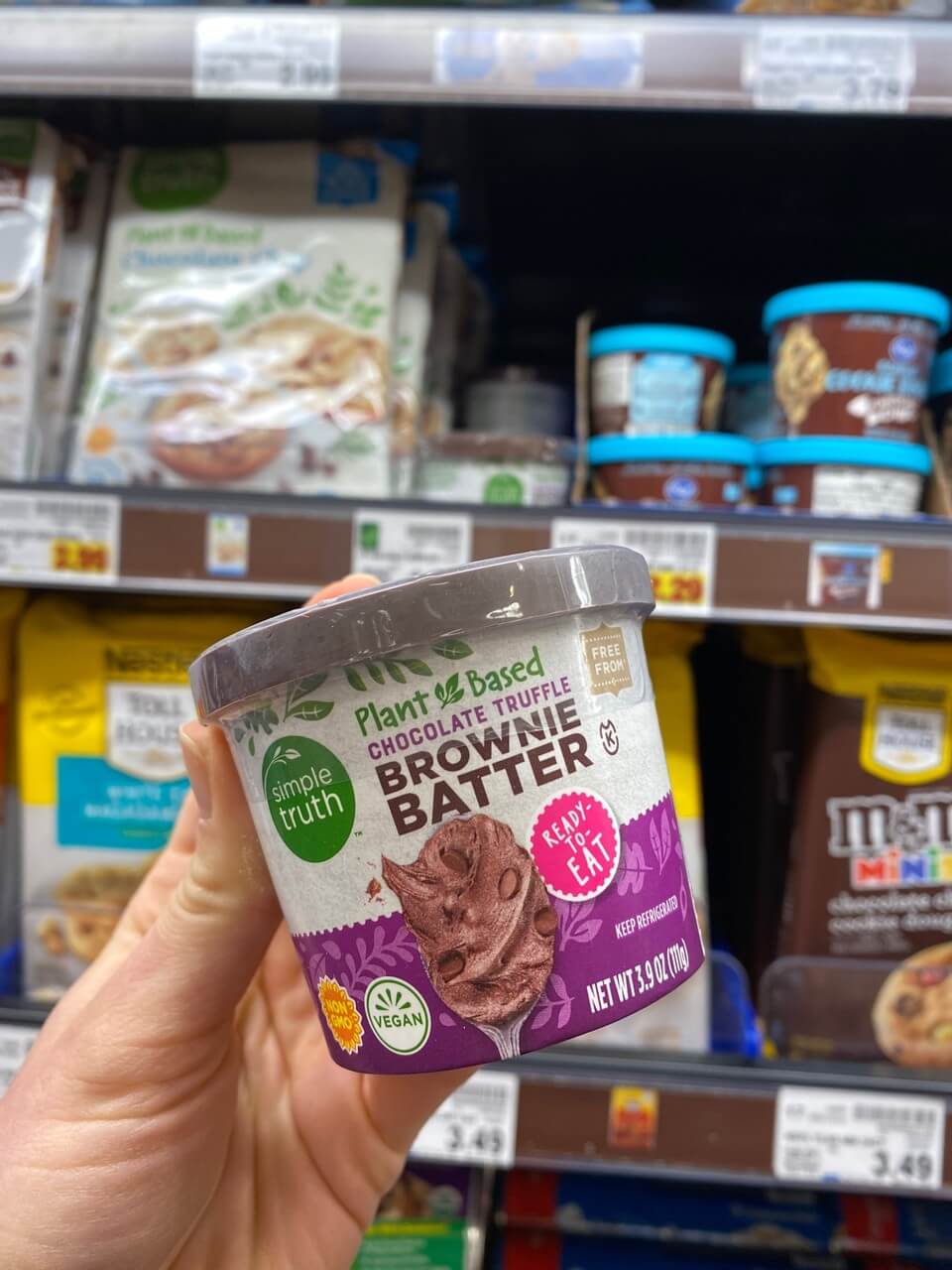 Frozen Items
Simple Truth Cinnamon French Toast Sticks
Most French toast isn't vegan, as the bread is dipped in an egg-based batter. But once again, Kroger is showing the world that there can be a vegan version of anything. Their Cinnamon French Toast Sticks are accidentally vegan, which means the box isn't explicitly labeled as vegan, but all of the ingredients are. C'mon, who doesn't love an easy heat-and-eat meal?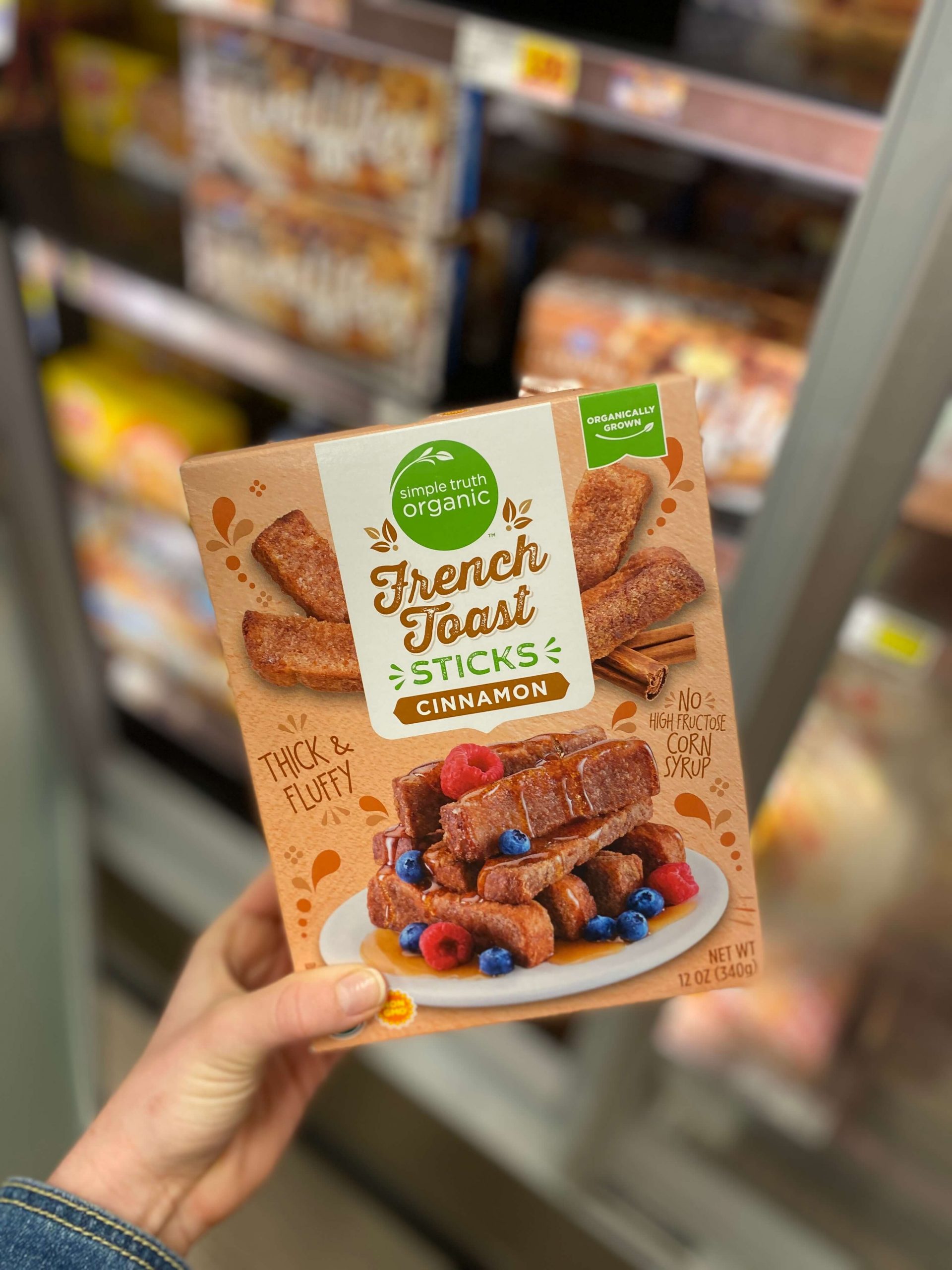 Simple Truth Meatless Breakfast and Burger Patties
While we're on the topic of breakfast foods, let's venture over to the savory realm with Simple Truth's Meatless Breakfast Patties. These vegan circles of deliciousness make for a great addition to any breakfast sandwich or platter. Next to the sausages, you should see packs of Meatless Patties that are great for burgers, too.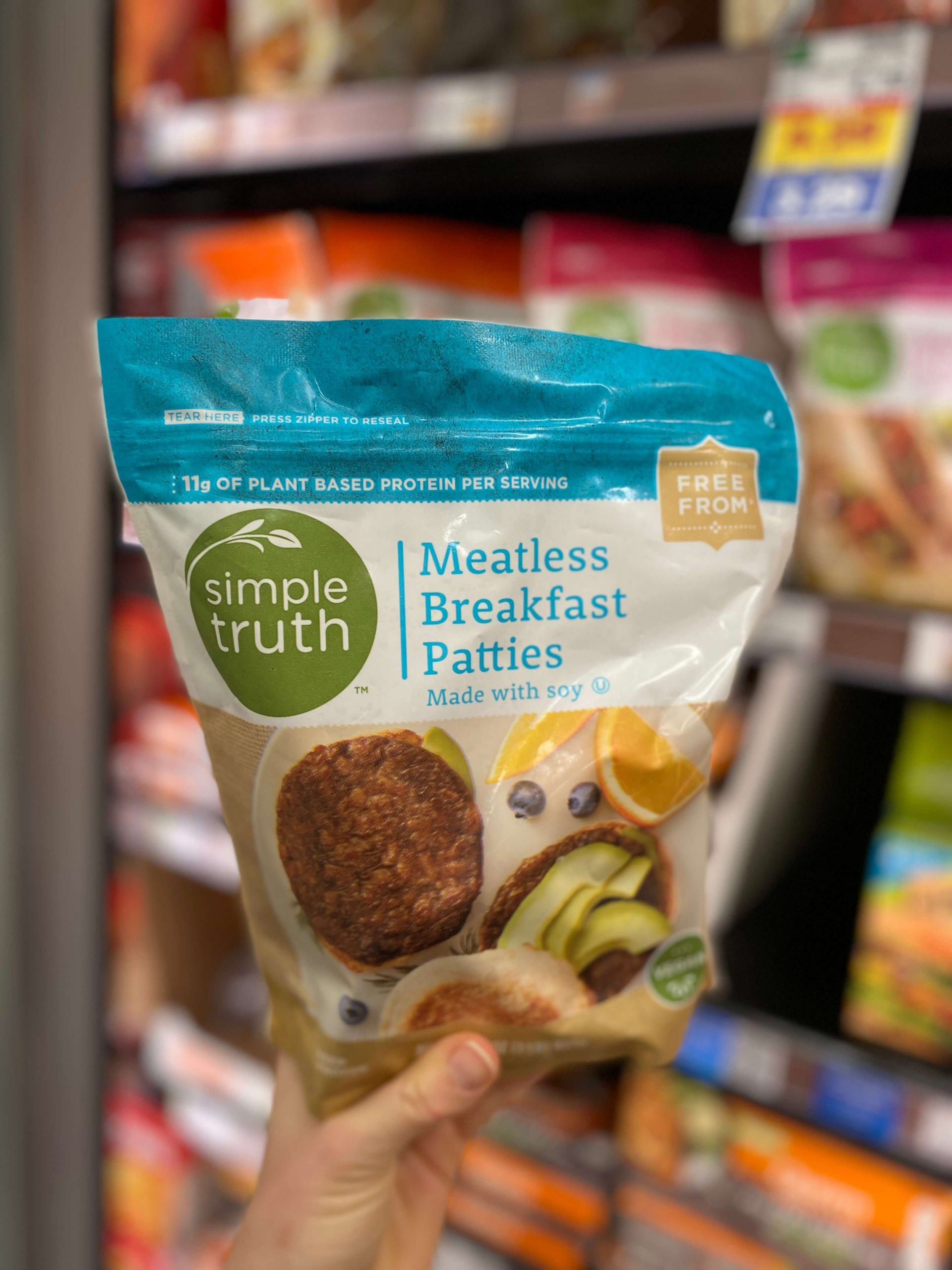 Simple Truth Meatless Crumbles
Another great meat alternative in the frozen section are these beef-like Meatless Crumbles. You should already know the drill by this point, but add these protein-packed bits of flavor to whatever recipe suits your fancy. Maybe an enchilada casserole or a burrito?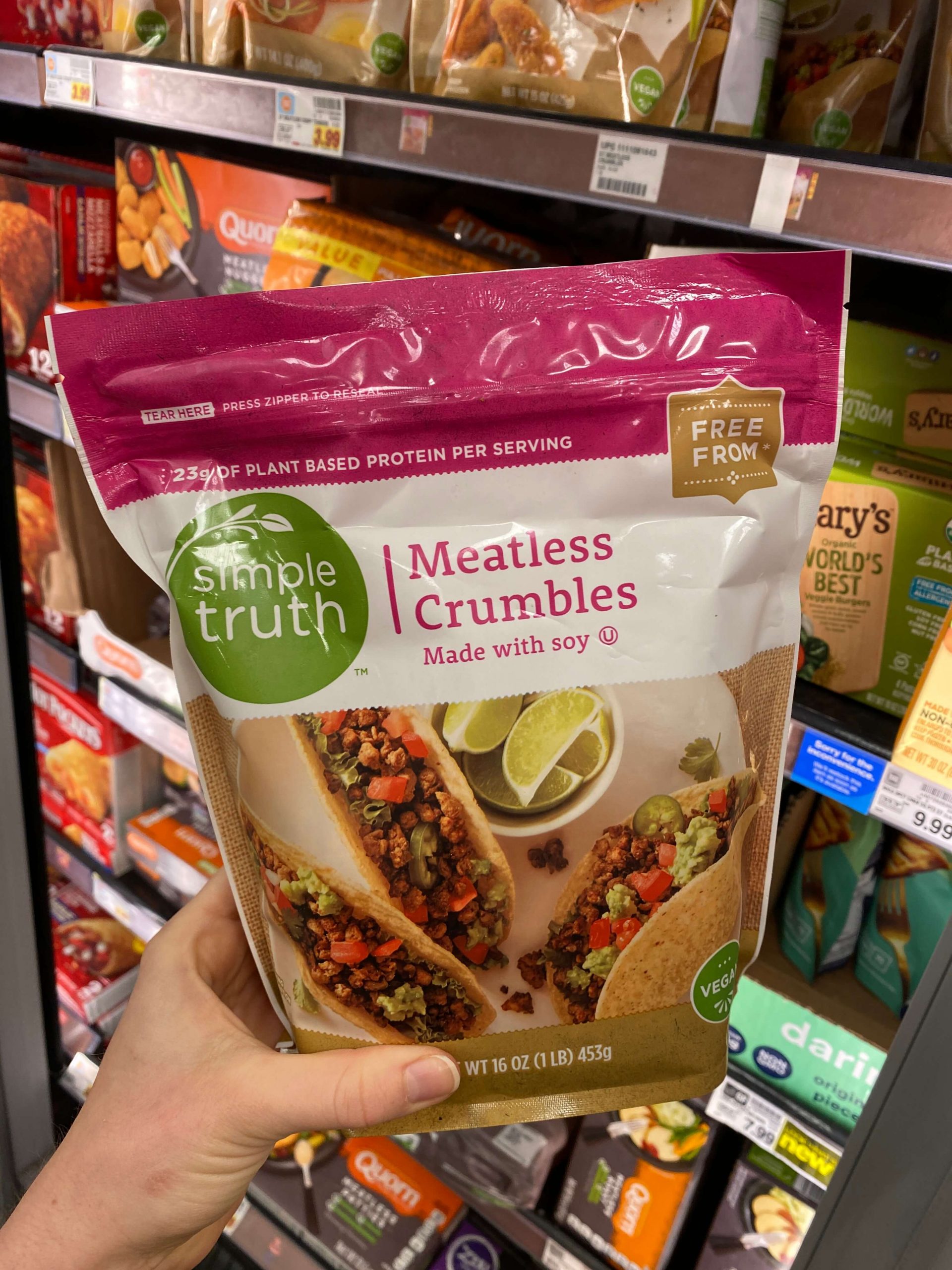 Simple Truth Meatless Crispy Tenders and Patties
No grocery store is complete without vegan chicken tenders or nuggets. While Kroger offers name-brand vegan chicken options like dinosaur-shaped nuggets, they also stock their own version of Meatless Crispy Tenders and Patties! We're craving a chicken sandwich with slaw and pickles—anyone else?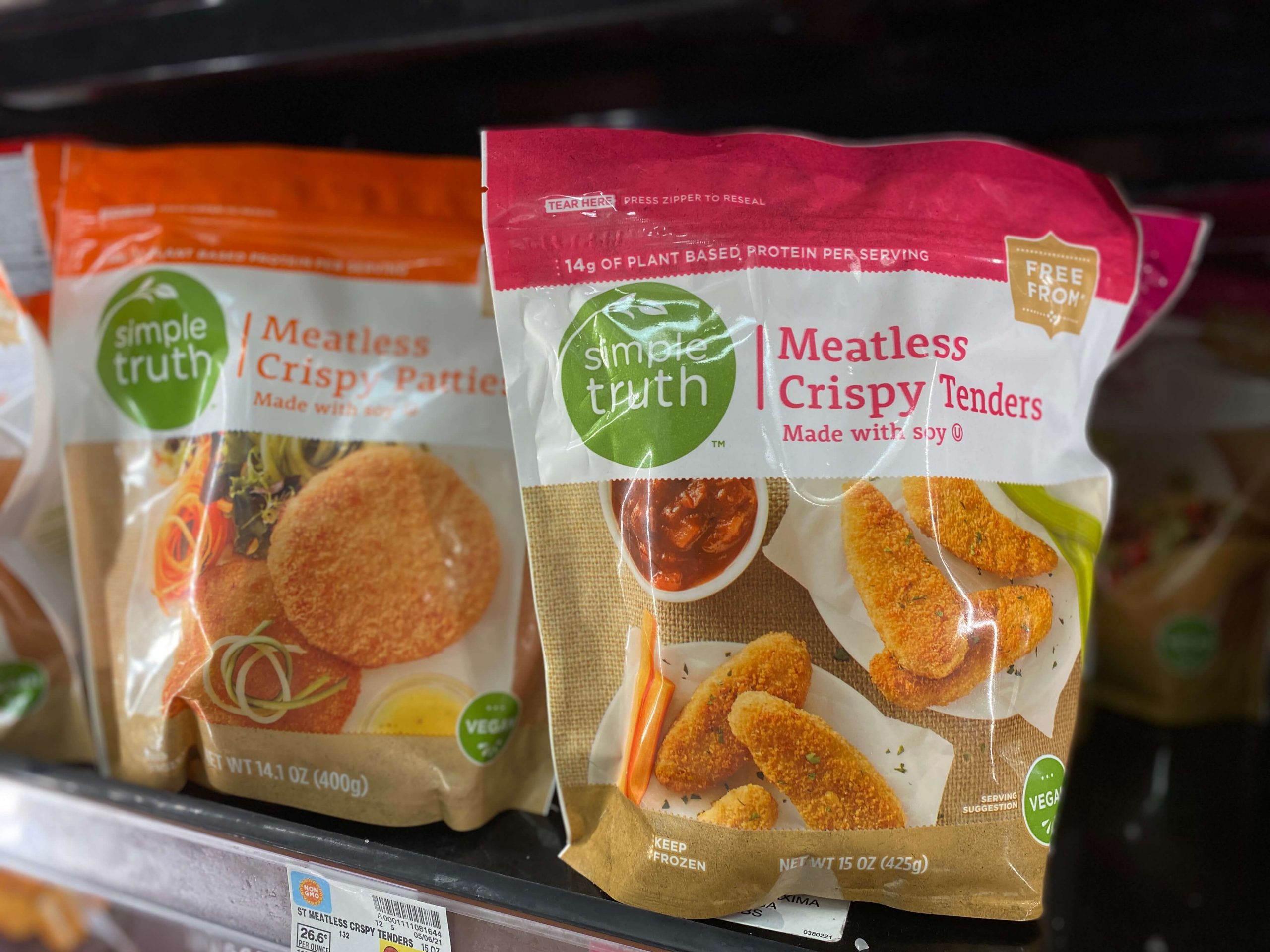 Simple Truth Non-Dairy Frozen Dessert Pints
With hot summer days approaching, we'd recommend grabbing some vegan ice cream to stay cool. If you're at a Kroger brand supermarket, take a peek at the Non-Dairy Frozen Dessert line by Simple Truth! There are a variety of bases and flavors to choose from, including Vanilla, Peanut Butter Strawberry, and Chocolate Brownie Swirl.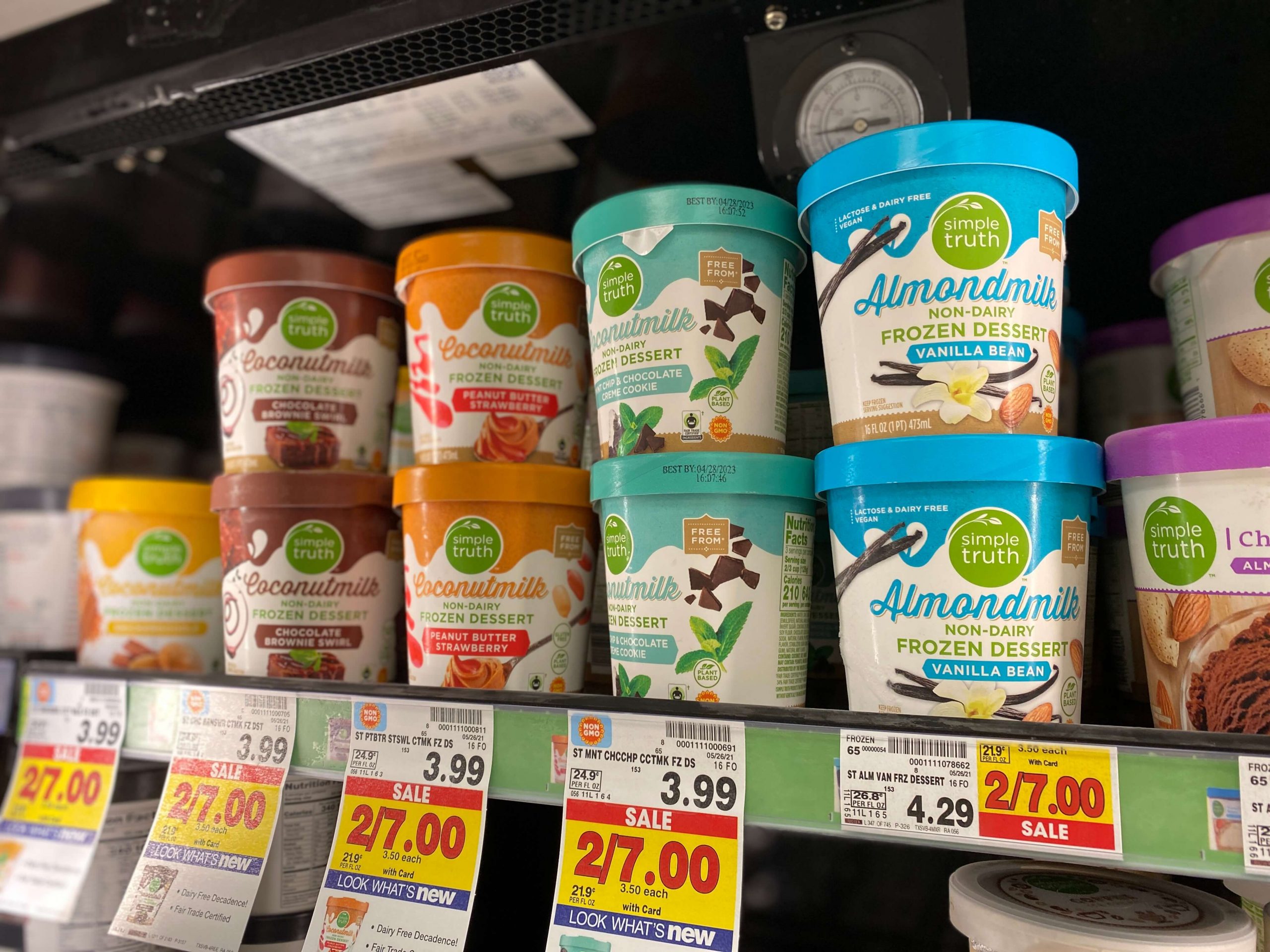 Simple Truth Dairy-Free Frozen Dessert Bars
One of Simple Truth's newest and most delicious plant-based products are these Dairy-Free Frozen Dessert Bars. The decadent treats come in two show-stopping flavors—Chocolate Raspberry and Chocolate Cookie Crunch. Both varieties are vegan, gluten-free, and made with sustainable dark cocoa.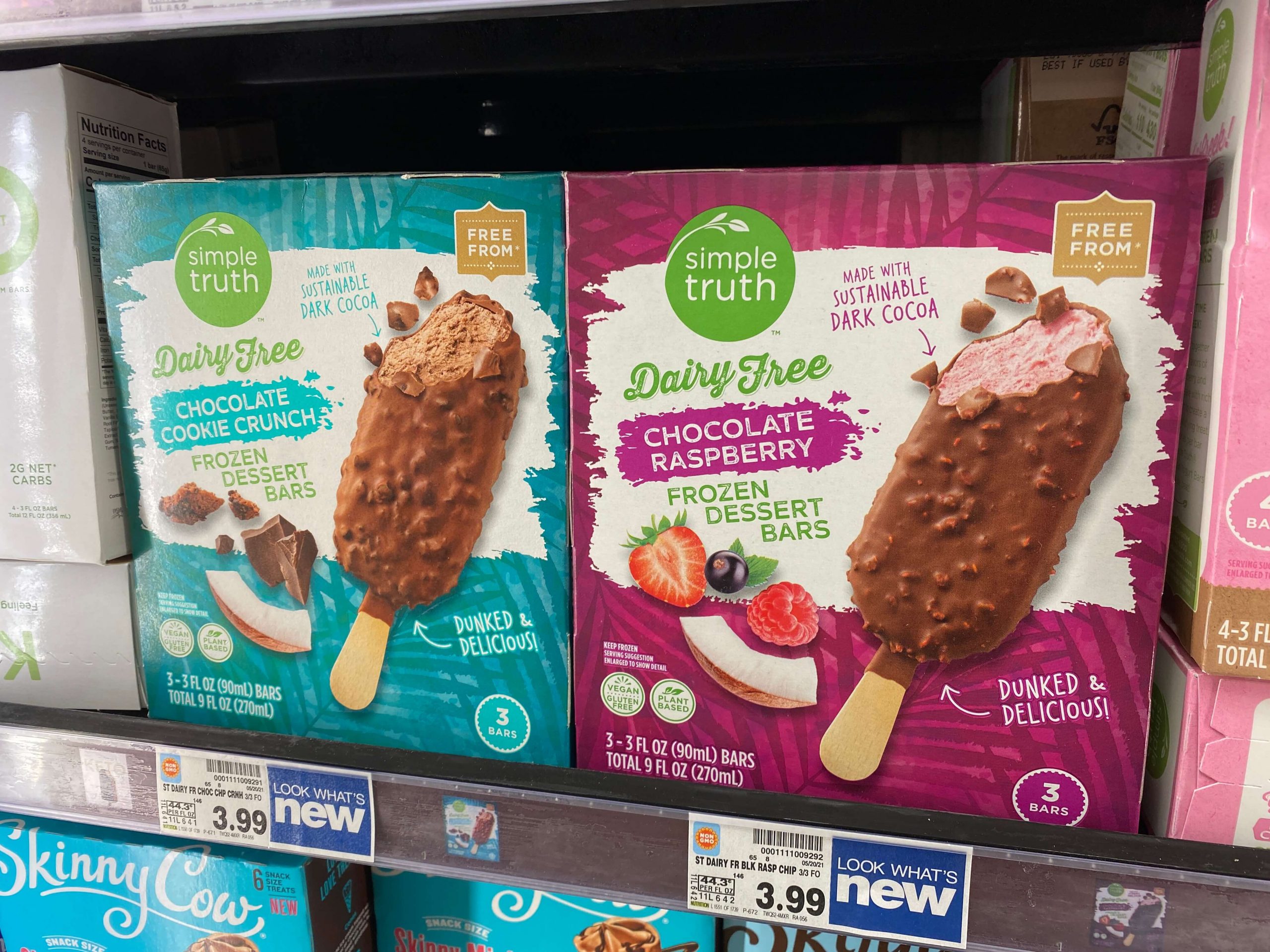 Shelf Stable Items
Simple Truth Vegan Pasta Sauce
What's every vegan's go-to meal? Pasta! Any pasta-centered dish is filling, delicious, and easy to make. It's no secret that most tomato-based pasta sauces are vegan, but using the same vegan pasta sauce over and over again can be a bit mundane. That's why we love the Plant-Based Bolognese and Alfredo Sauce from Kroger. The creamy Alfredo sauce pairs perfectly with fettuccine noodles, and the Bolognese pairs well with rigatoni or spaghetti.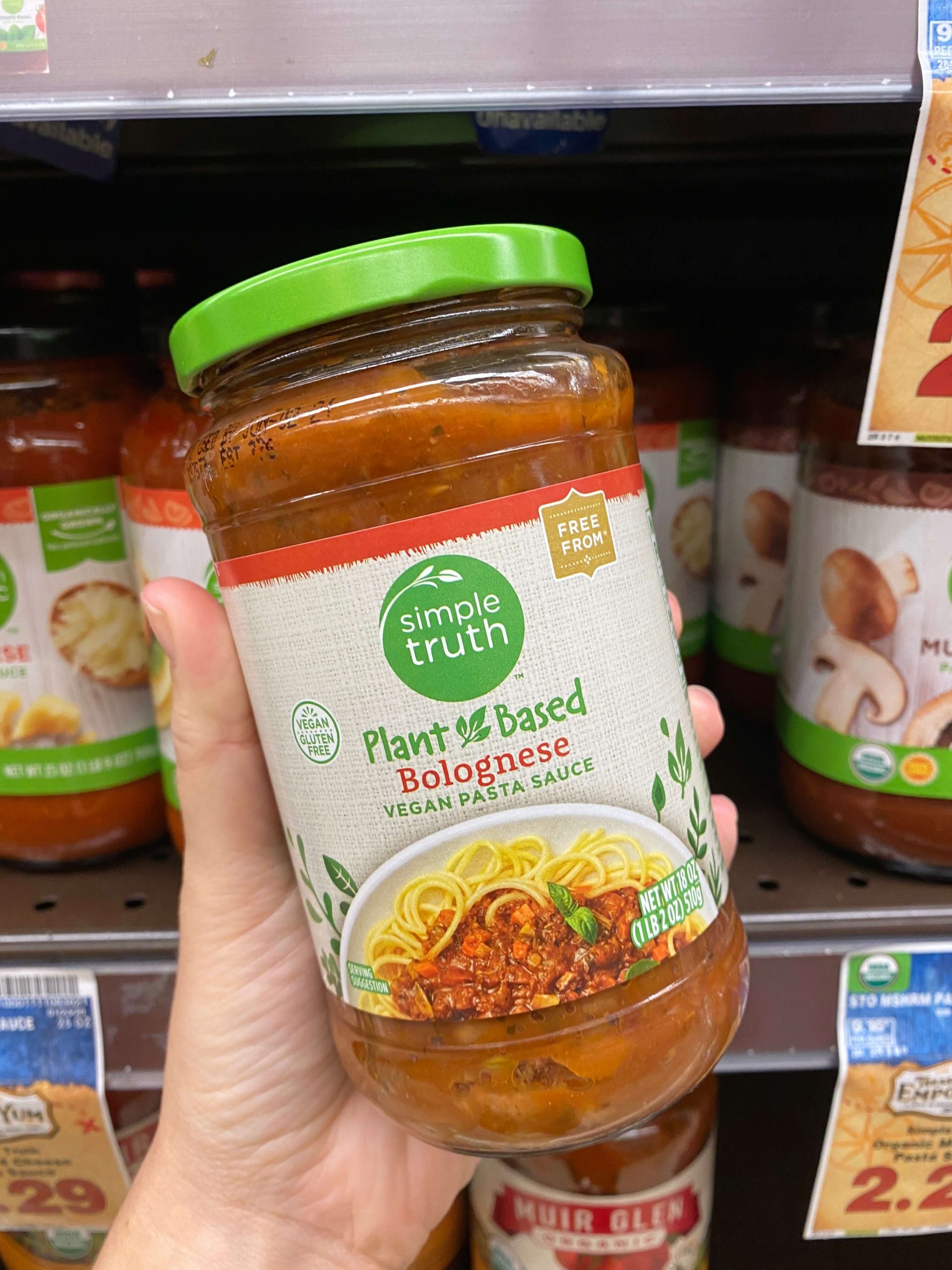 Simple Truth Vegan Soup
You can find a wide variety of vegan soups on the shelves at your local Kroger, but the soup pouches from Simple Truth are at the top of our list! The Mushroom, Spicy Curry, Butternut Squash, Vegetable, and Creamy Tomato varieties are all vegan and thickened with coconut cream. Yum!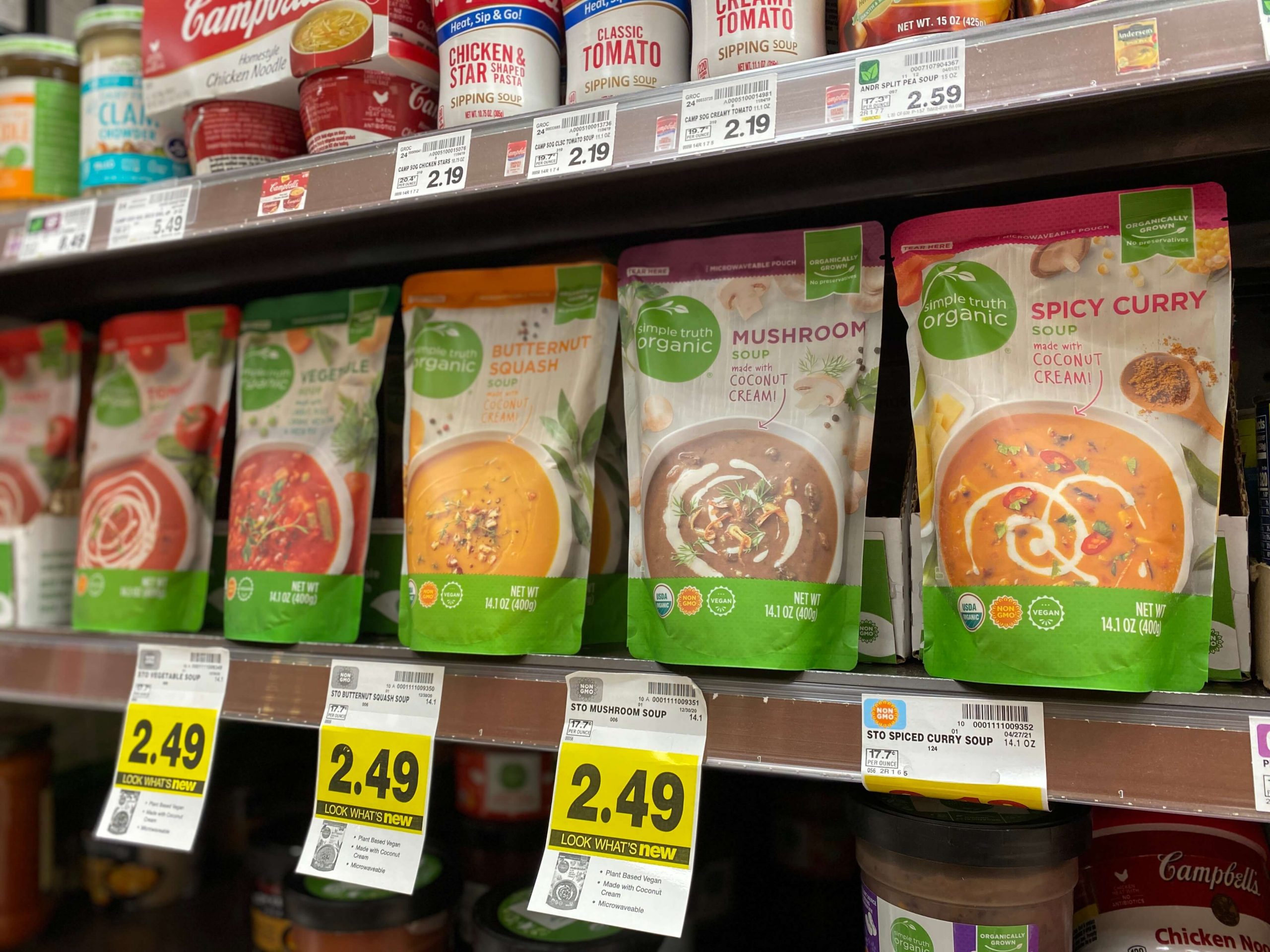 Simple Truth Nutritional Yeast Seasoning
What's the key to veganism? Nooch! Okay, well, there are many other tips, tricks, and products pertinent to the lifestyle but these nutty and cheesy flakes are just about every vegan's staple item. The Nutritional Yeast Seasoning from Kroger tastes just like all the others—the only difference is the price! Yay for accessible veganism!
Simple Truth Pistachios
It's pretty common knowledge that most nuts are vegan unless they're flavored with milk derivatives. But Simple Truth's pistachios are too good not to include on this list. They're available in Chipotle BBQ, Habanero Lime, and Pink Himalayan Salt & Pepper flavors.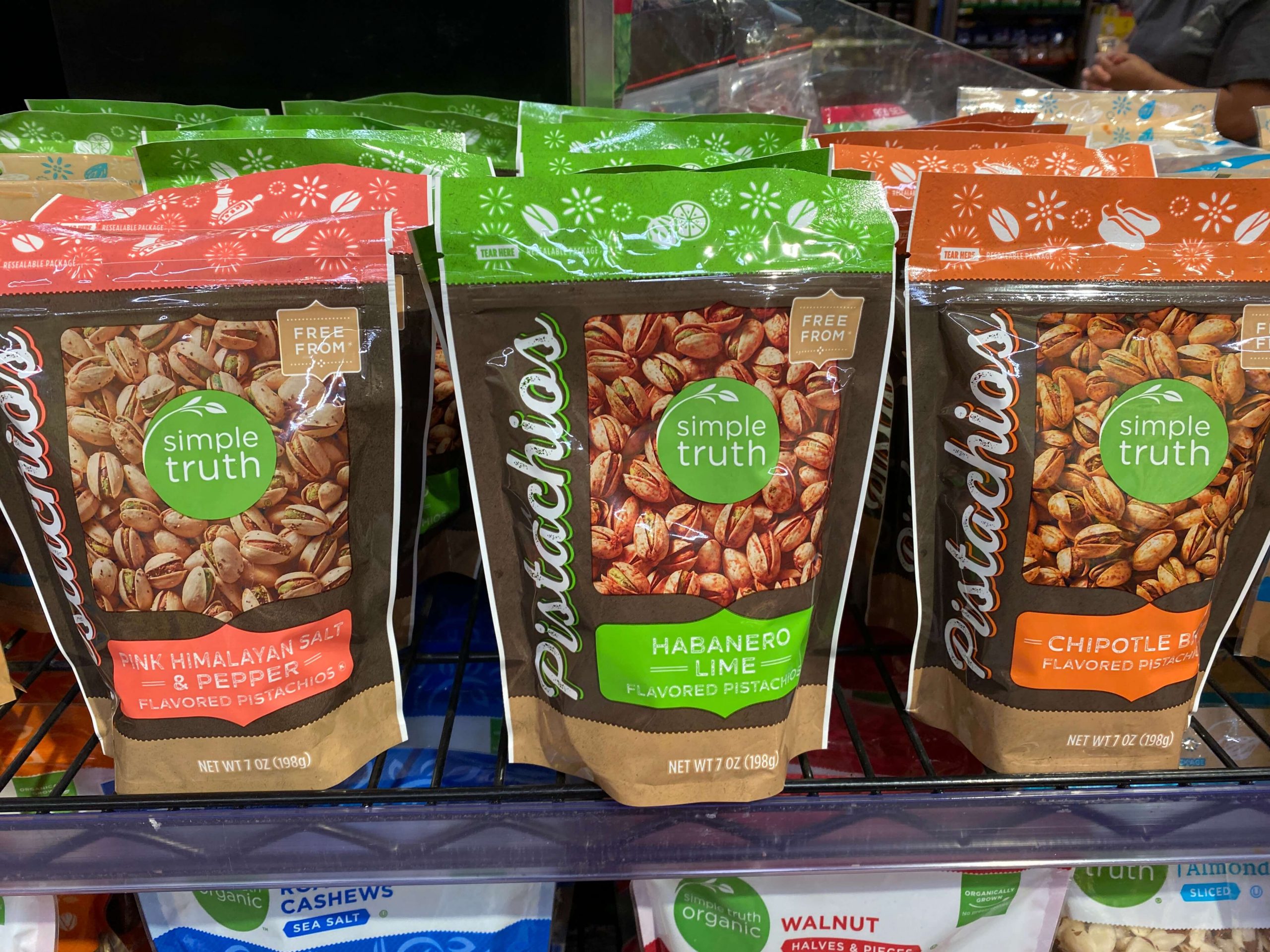 Simple Truth Rice Crackers
Feeling snacky? Grab a few boxes of these rice crackers to try. From Ancient Grains with Sea Salt and Multigrain with Sea Salt to Pico de Gallo and Vegan White Cheddar, all versions of these savory squares are vegan, gluten-free, and absolutely delicious!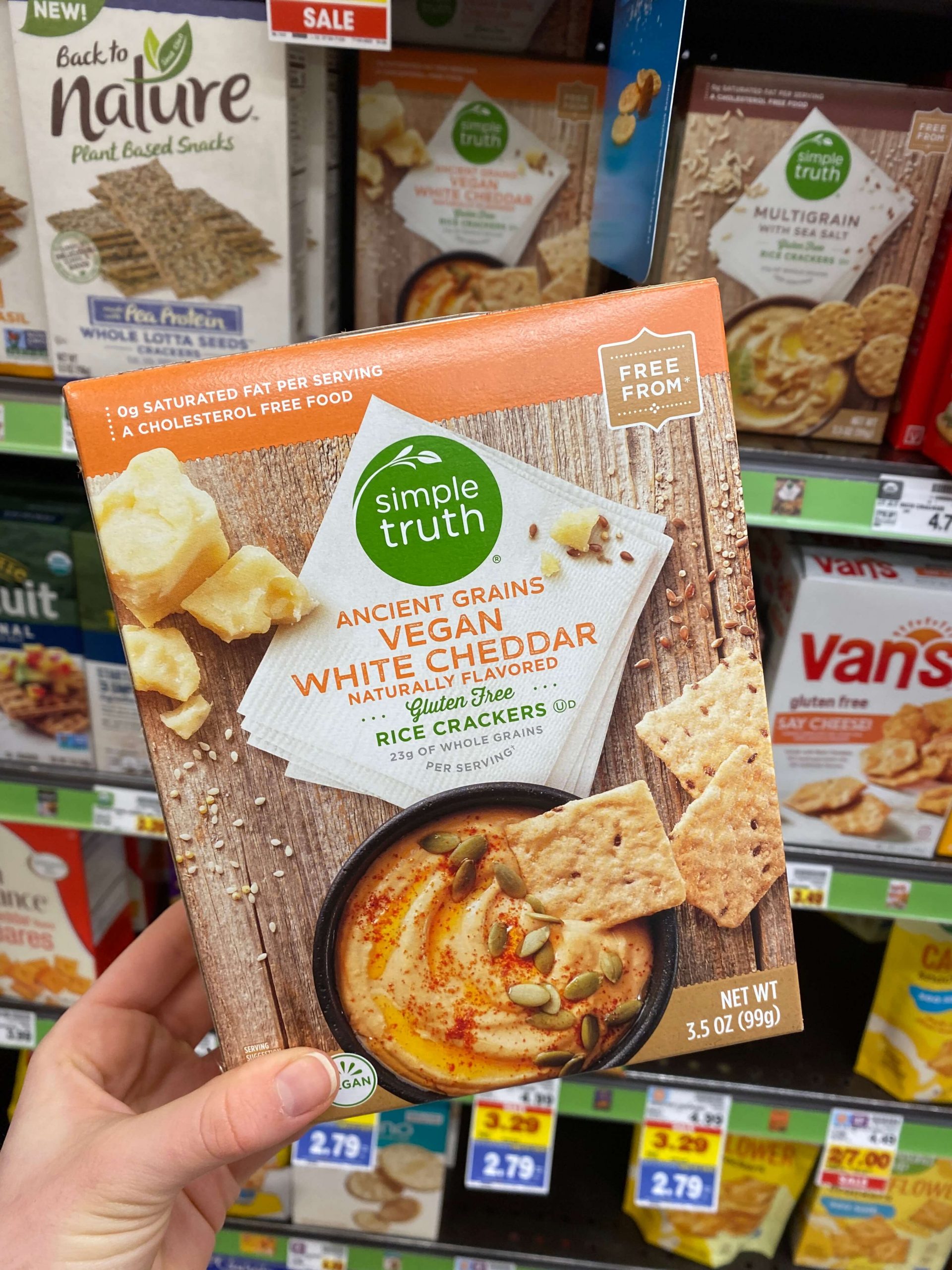 Simple Truth Sandwich Cookies
Oreos are an OG accidentally vegan product, so it's only natural that Simple Truth makes their own version. Their Chocolate Sandwich Cookies and Duplex Sandwich Cookies are both made from vegan, non-GMO, and peanut-free ingredients without any high fructose corn syrup. Oh, and don't forget a carton of oat milk to go with these sweets.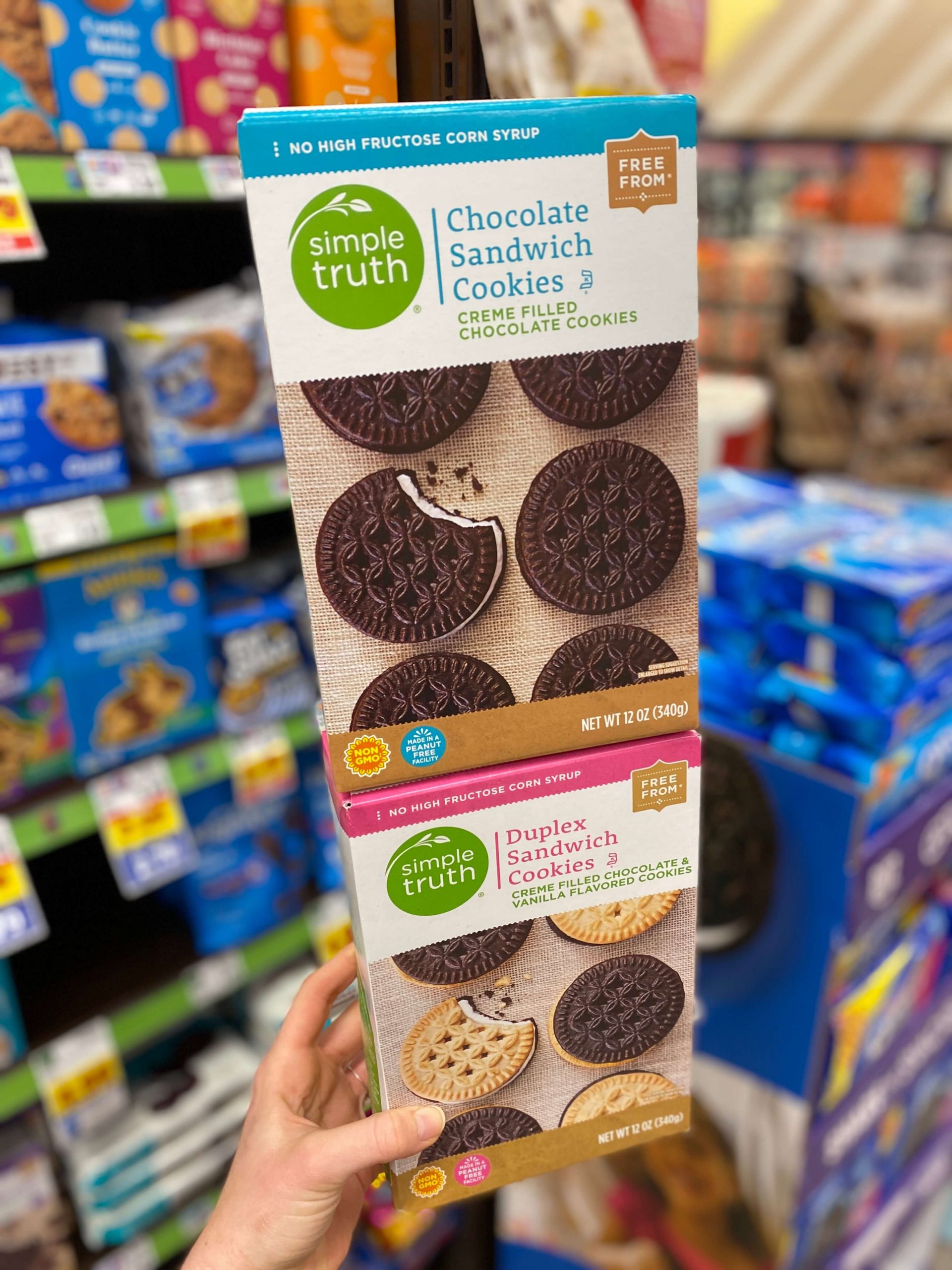 Simple Truth Chocolate Chips and Chunks
Whether you need chocolate chips for a cookie recipe, ice cream topping, or you're one of those people who like to eat them straight out of the bag (isn't that everyone?), Simple Truth has a few vegan options for you. Their Semi-Sweet Chocolate Chips, Allergy Friendly Chocolate Chips, and Dark Chocolate Chunks all pass the plant-based test.