Grab some chips—these plant-based cheese dips are a must-try!
We love a homemade queso moment, but if kitchen DIY is nacho thing, we got you. Made with the plant-based snacker in mind, these pre-made, dairy-free cheese dips pair well with tortilla chips! They also go nicely with crunchy crackers, homemade fries, fresh crudite, and so much more. Check out our list for the nine best store-bought vegan queso dips.
This store-bought vegan queso dip is plant-based, gluten-free, kosher, non-GMO, and USDA organic. In addition, the Simply Organic Dairy-Free Jalapeno Queso Blanco Mix is super easy to prepare! Just mix with dairy-free milk and cook on the stove with vegan butter. Next, serve with your go-to tortilla chips and enjoy. Be sure to also check out their Dairy-Free Cheddar and Dairy-Free White Cheddar mixes.
Made with pumpkin, cashews, and a variety of Southwest spices, Core & Rind Cashew Cheesy Sauce belongs on your shopping list! These founder-made and women-owned products are found in three varieties—Bold & Spicy, Rich & Smoky, and Sharp & Tangy. The jarred sauces are shelf-stable until opened and taste amazing on veggies, noodles, and of course, tortilla chips.
This chef-inspired dip will have you proclaiming ¡Viva la Queso! The Fabalish Queso Plant-Based Dip is made from aquafaba (aka chickpea water) along with tomatoes, spices, and nutritional yeast. Try this as a dip, spread, and condiment for chips, sandwiches, veggies, and fries. Fabalish also makes other aquafaba dips like ranch and tzatziki—chef's kiss.
Available in both Blanco and Nacho cashew dips, Siete Dairy-Free Queso deserves a place in your plant-based kitchen. These spicy dips contain cashews, carrots, peppers, nooch, and a variety of queso-y spices. Snag a jar or two of these store-bought vegan queso dips. Next, add a bag of tortilla chips from this inclusive Mexican American food brand and enjoy!
We're always blown away by the ingredients in Good Foods products and these cheesy dips are no exception. The Good Foods Queso Style Dips contain cauliflower, peppers, and almonds as their first major ingredients. We love to see it. These dips were made for nachos, fajitas, and burrito bowls.
From big get-togethers to parties of one, you don't want to miss this tasty cheese dip! The Field + Farmer Vegan Queso Party Dip contains better-for-you ingredients like cannellini beans, cauliflower, and turmeric. The company utilizes vegan ingredients grown on small, Midwestern farms for their plant-based dips, dressings, and juices.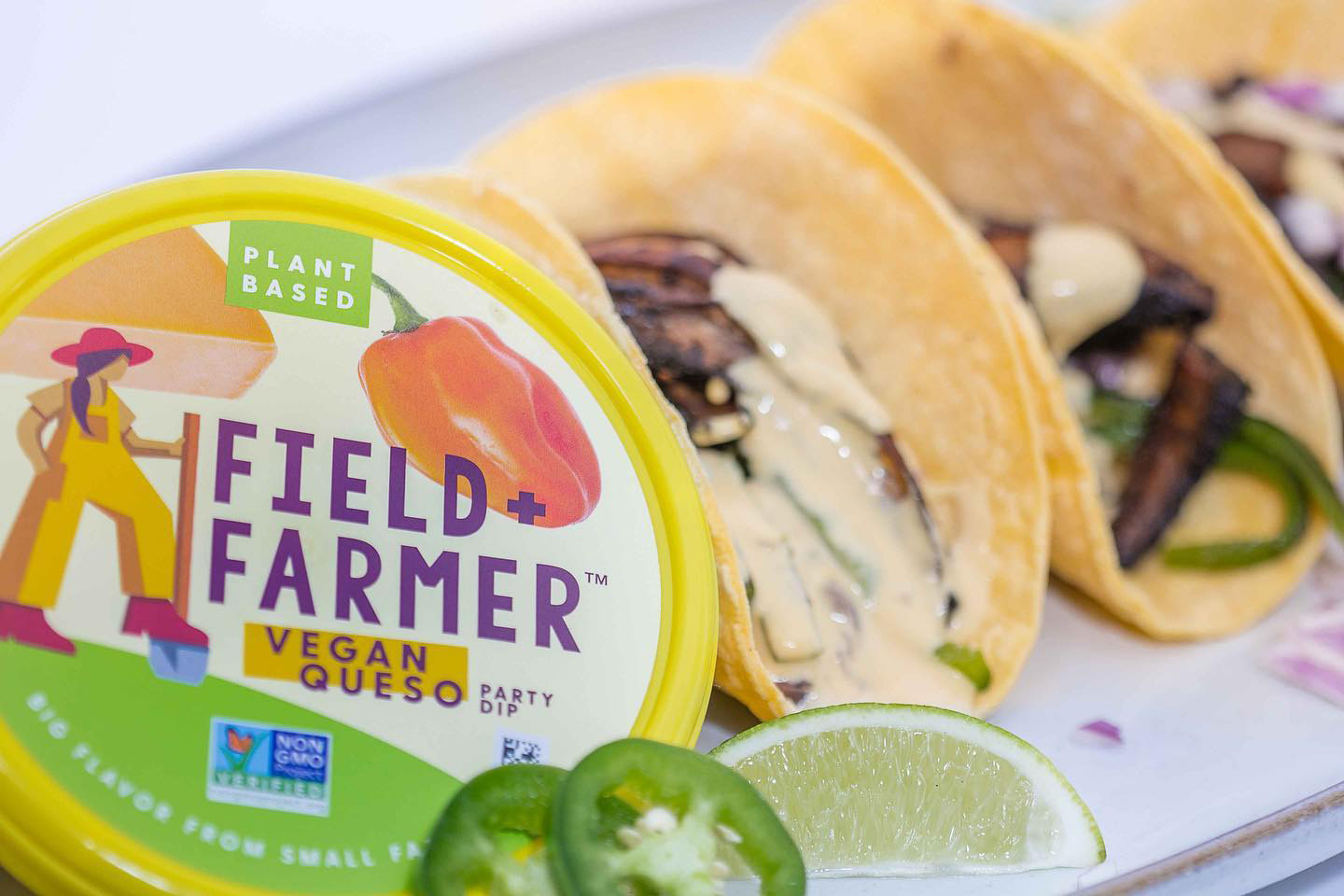 Made with almond milk, tomatoes, coconut oil, bell pepper, and jalapeño, Kite Hill Creamy Vegan Queso is bold and irresistible. Move over boring dips, it's time to spice it up with this tempting and tangy queso alternative! The all-vegan brand also offers Ranch, Tzatziki, and French Onion dips to enjoy.
This Primal Kitchen No-Dairy Queso Style Plant-Based Dip has us seriously impressed. Not only are we loving the ingredients, but the cheesy flavor is amazing. This store-bought vegan queso contains tomatoes, pumpkin seed butter, carrot puree, red bell pepper, nutritional yeast, and more plant-based goodness. Pair with chips, pretzels, or your favorite raw veggies.
Ten ounces of cheesy, store-bought vegan queso dip coming right up! We truly cannot put the Fresh Cravings Kickin' Queso Cashew Dip down. Seriously, when paired with chips it makes for the best snack. In addition, it's easy to create a snack platter with Fresh Cravings salsa and store-bought guacamole for your next gathering.