Back
12 Gluten-Free Vegan Snacks to Order Online
There's no reason you can't get your graze on just because you don't get down with the grains!
Dear Wheat Averse Guy or Gal,
You walk several times a day to your pantry hoping there will be something, anything to curb your snacky yearnings, but alas, there inside lies your Mt. Everest—a profusion of forbidden treats purchased by your unknowing (but well-meaning) roomie. Wheat Thins, Triscuits, Table Water Crackers, and Oreos fill the cupboards and stare back at you, taunting you. I understand your struggle. That's why I've created this list of 12 gluten-free vegan snacks you can order online.
Pulp Chips
Made from the pulp of fresh vegetable juice, these chips are ridiculously addicting and hard to put down. Finally, a chip that's good for you and the planet. These babies keep 38 gallons of water from going to waste in the way they are produced. Coming in hot in all the classic chip flavors—Salt N Vinegar, Barbeque, Salt, and Jalapeno Lime—they taste great submerged in your favorite plant-based dip, or straight outta the bag as you walk around your apartment thinking about all the grand plans you have after quarantine. This is a snack you could actually basically call a salad, as you are getting 4g of fiber per serving without any grains, corn, or potatoes. A munchie that tastes too good to be true while saving water and croplands means zero pangs of guilt when we say we "accidentally ate all our quarantine snacks."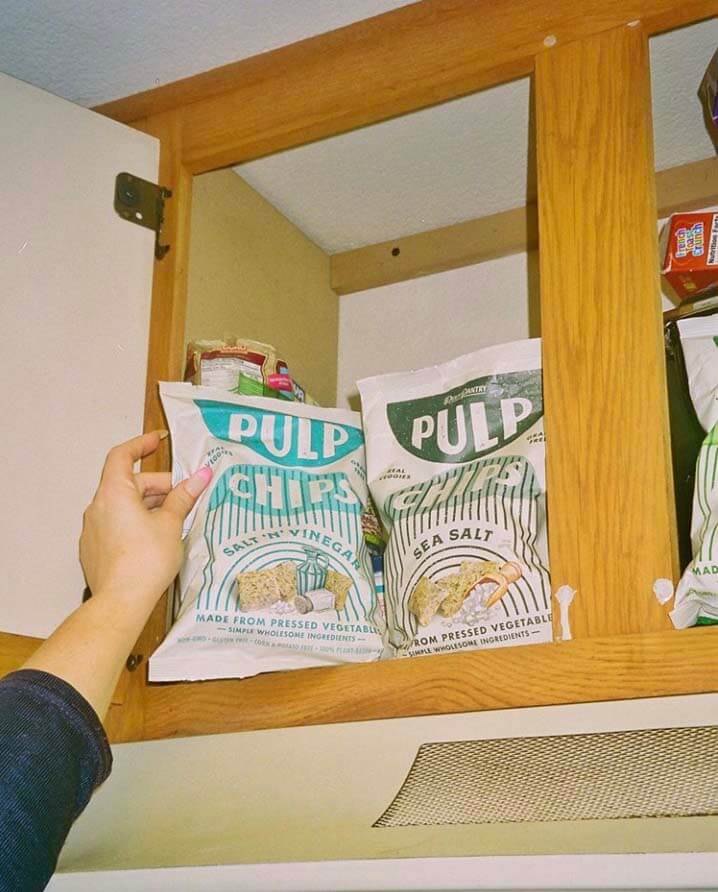 Popped Water Lily Seeds
Wind in your hair, legs swinging freely over the edge as you look out onto the ocean without a care in the world. That's how you'll be feeling when you throw one of these Popped Water Lily Seeds into your piehole. Well, first of all, what the heck IS a Water Lily Seed? These little Ayurvedic super seeds have been used for centuries to aid holistic living as they are alkaline and beneficial to your mind and body. Grown on an ethical and sustainable farm in Bihar India, this Shark Tank-famed brand is less than 120 calories per serving with an added 3g of plant-based protein. Choose from vegan flavors Himalayan Pink Salt or Soulful Spice and be on your way to ommm snack heaven.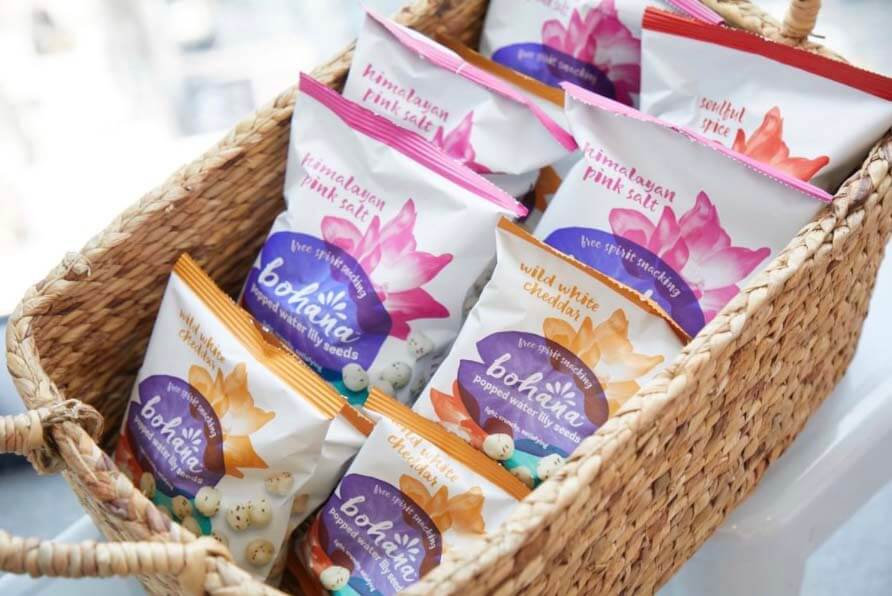 Gourmet Popcorn
Hallelujah, just what we need to get us through all the hours of good ol' fashioned Netflix binging we've been doing. Not only do the bags have cooler Warhol-esque art than most of the museums any of us have ever been to, the flavors of these little popped kernels of perfection are what you'd normally see on a fancy schmancy plate in a five star restaurant. Air popped using non-GMO corn, weighing in at only 47 calories per cup, this snack will level out all that overly ambitious vegan baking you've been doing. Choose between their mouth-tingly vegan offerings of Rosemary Truffle, Hawaiian Sea Salt, Dill Pickle Vegan Ranch, or Seaweed Sesame, and your all day movie game will be elevated to next level status.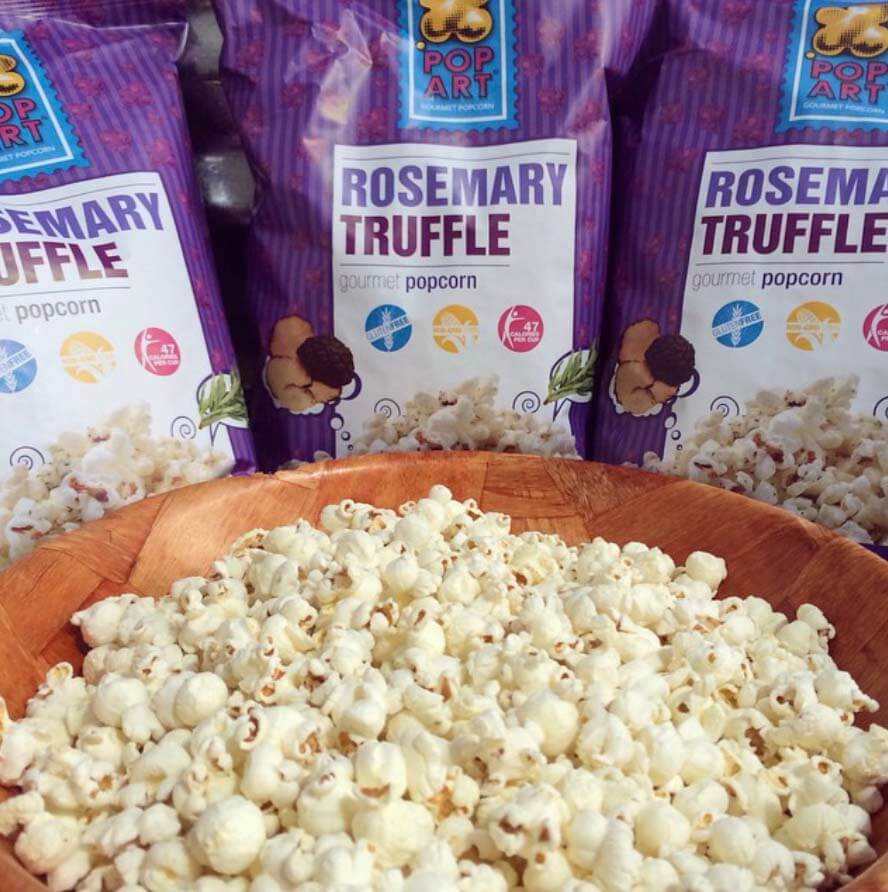 Truffle Brie
We've all got that one vegetarian friend who says they would "love to be vegan but just CAN'T give up cheese," right? Give. Them. This. CHEESE. Jule's Foods practices skillfully laborious cheese-making techniques, aging the cheeses up to 3 weeks to make the dreamiest, creamiest, most decadent cashew cheese to ever bless your taste buds. Throw some slices onto your favorite salad to elevate it to the heavens or arrange the perfect cheese plate alongside olives, nuts, and crackers. Possibilities are literally endless because the taste and texture are so bomb, you'll wonder how anyone could eat regular cheese anymore in the first place. There isn't a carnivore or vegetarian who will know the difference. Ship a wheel nationwide to any of your pals, and let the vegan conversions commence!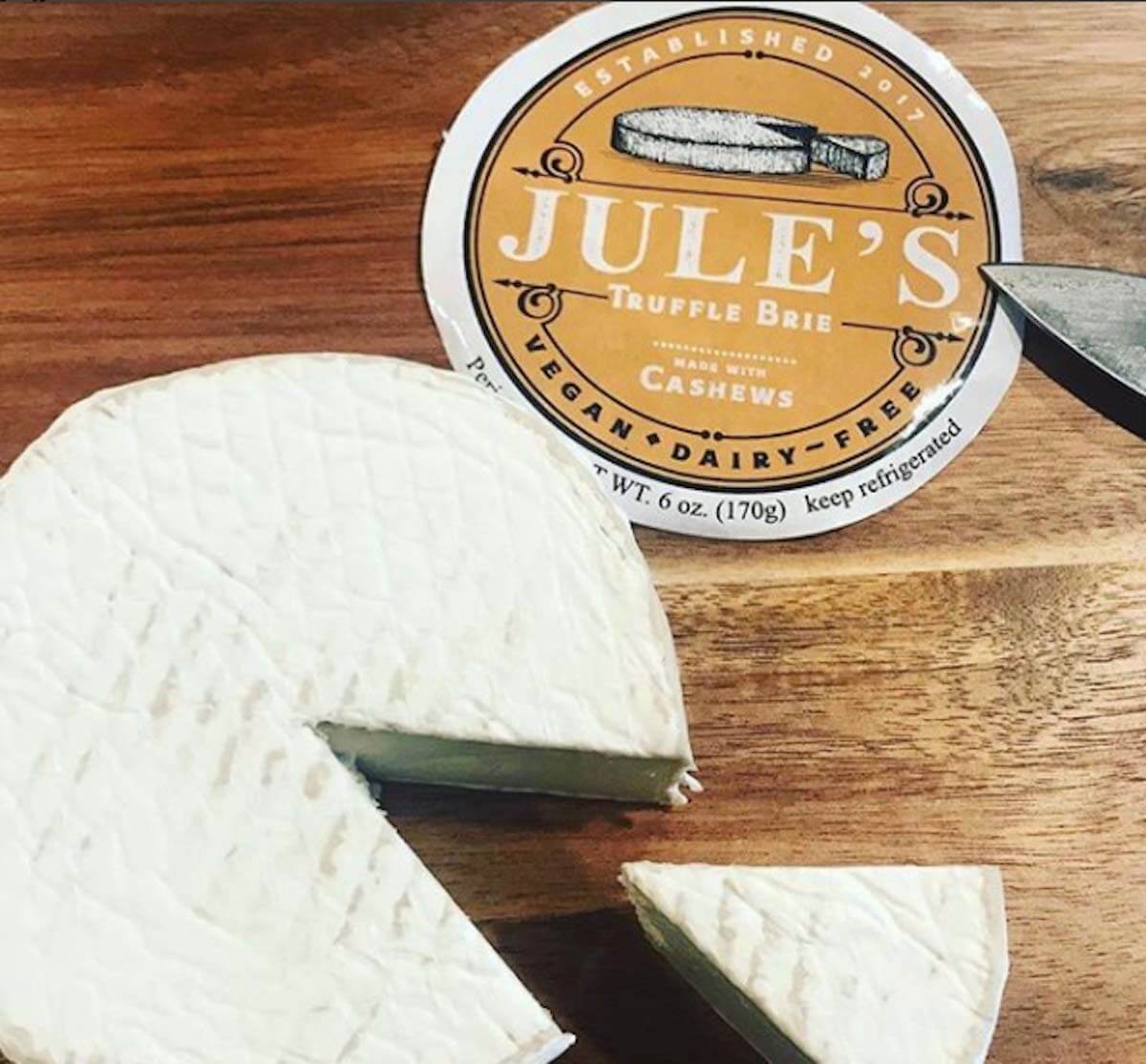 Organic French Onion Dip
The perfect counterpart to that CSA box full of veggies you just ordered. This French Onion dip tastes just like the one your granny made during your summer visits, but even better because it's all natural and animal free! Non-gmo with zero preservatives, this dip is layer by layer of flavor (like an onion, duh!). Made up of health-conscious ingredients like low-glycemic coconut palm sugar, cold-pressed extra virgin olive oil, hemp seeds, organic minced onion, and unfiltered apple cider vinegar, this is one French Onion dip that actually won't make you gain the freshman fifteen. Mother Raw sticks true to their name, using every earth-made ingredient in it's true form, "never heated, depleted, or mistreated." Everything is cold blended, maintaining all their nutritional value and delightful taste!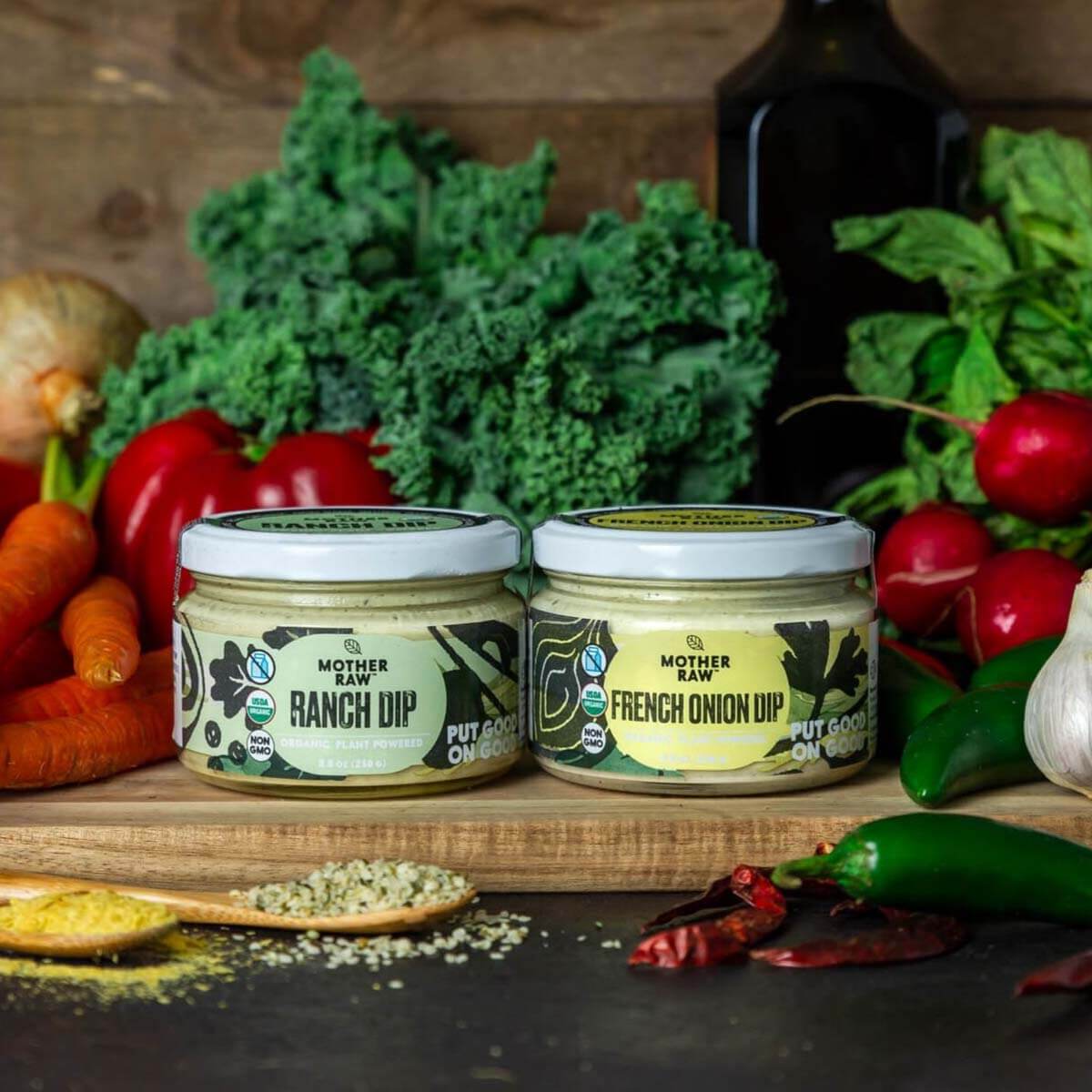 Cheesy Cauliflower Popcorn Florets and Crispy Almond Butter Brussel Sprouts
Sometimes simplicity is key, and when it comes to DADA Daily, they only include the nutritional essentials in these little travel-friendly snack pouches. DADA "brings decadence to the table," where you can snack from the living room to the bedroom to the office and back to your bed. The company aims to bring play and humor into the world through snacks and elevate your taste bud experience. With crispy flavors like Cheesy Cauliflower Popcorn Florets and Crispy Almond Butter Brussel Sprouts, your mouth will never tire of these corn-free superfood-powered bits. Detoxifying, high in B12 and fiber, and great for gut health, these brain-boosting crisps will have you feeling totally justified in eating that second helping of Banana Bread later!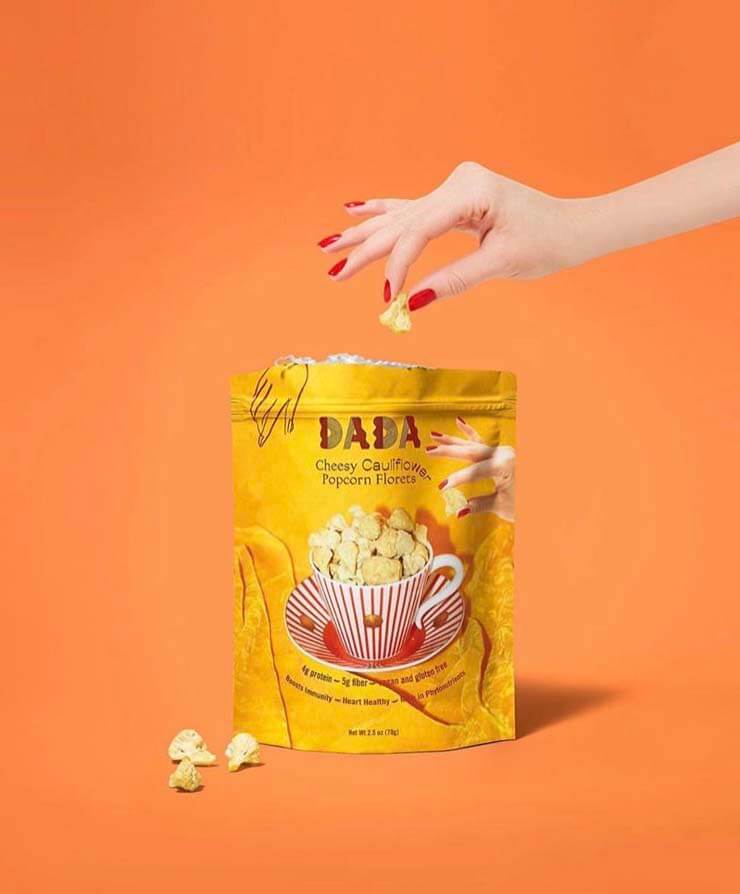 Clusterbucks
Get ready for the raw, grain-free snack of your dreams with only healthy AF adaptogens and ingredients. Clusterbucks are buckwheat clusters made up of super LA ingredients like reishi, cacao nibs, and cacao powder, providing the perfect semi-sweet clean taste. Chuck them in a bowl of oat milk in the morning or eat 'em straight out of the bag 24/7 for a sprouted treat that works to preserve your state of wellness, the planet, and those hunger pangs! Buckwheat has proven to promote farm crop diversity, healthier souls, and a more sustainable food system. Reach for decadent Chocolate Reishi or tangy Tumeric Lemon Myrtle, and you'll be maintaining ultimate fit fam goals throughout this entire quarantine.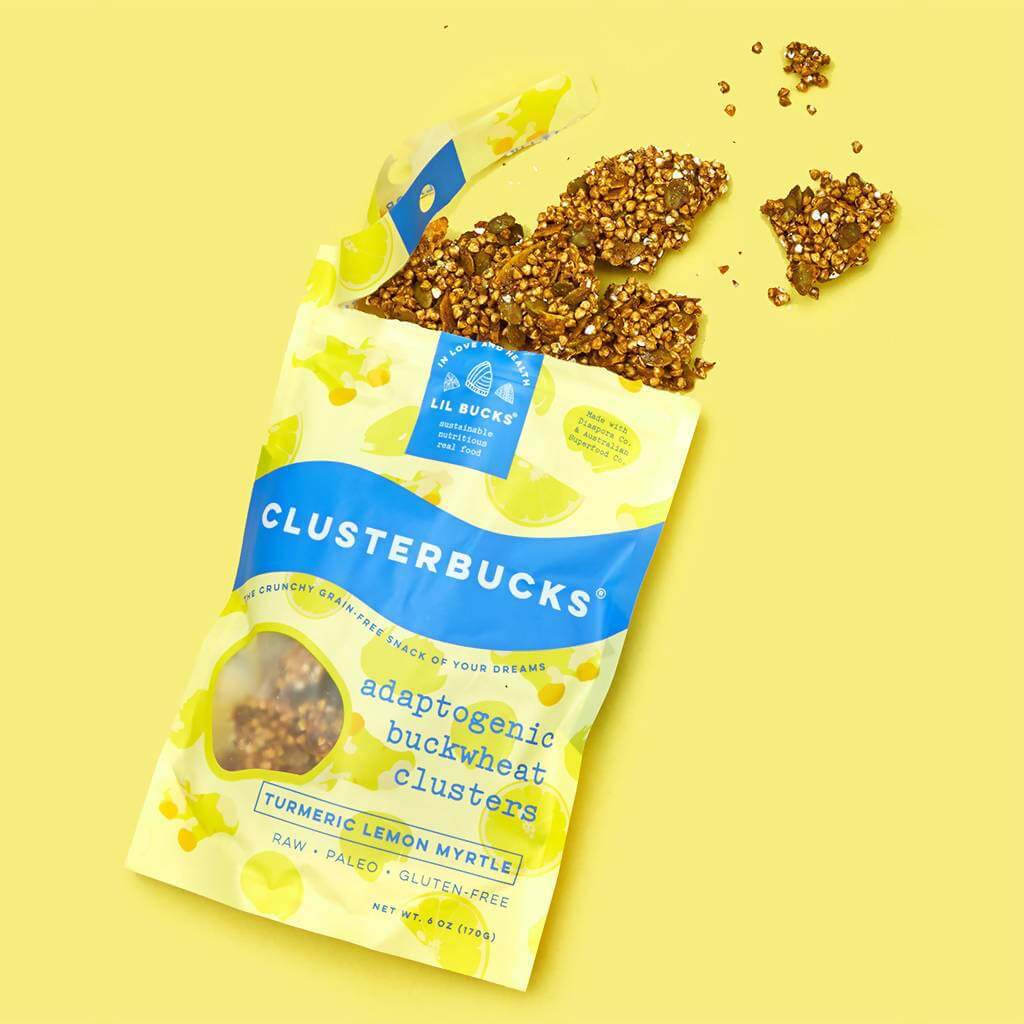 Paleo Puffs "No Cheese" Cheesiness
Look up the word "happiness" in the dictionary and more than likely there will be a picture of LesserEvil's Paleo Puffs. Nutrient dense and packed with cassava and potato flour, you can nosh easy knowing these baggies are only 130 calories and filled with organic, body-beneficial ingredients. Trust us, these grain-free, coconut oil-tumbled puffs will take you back to your childhood summer that you spent sitting poolside at your bestie's house munching on Cheetos Puffs watching their hot older sibling sunbathe. Only it's 2020 and this is even better because they're vegan, non-GMO, actually good for you, and your childhood bestie's older sibling probably isn't hot anymore. The cheesiness is on such a level of its own, we're surprised if Chester the Cheetah doesn't show up and steal 'em away. Bite into one, and it'll be the crunch heard 'round the world.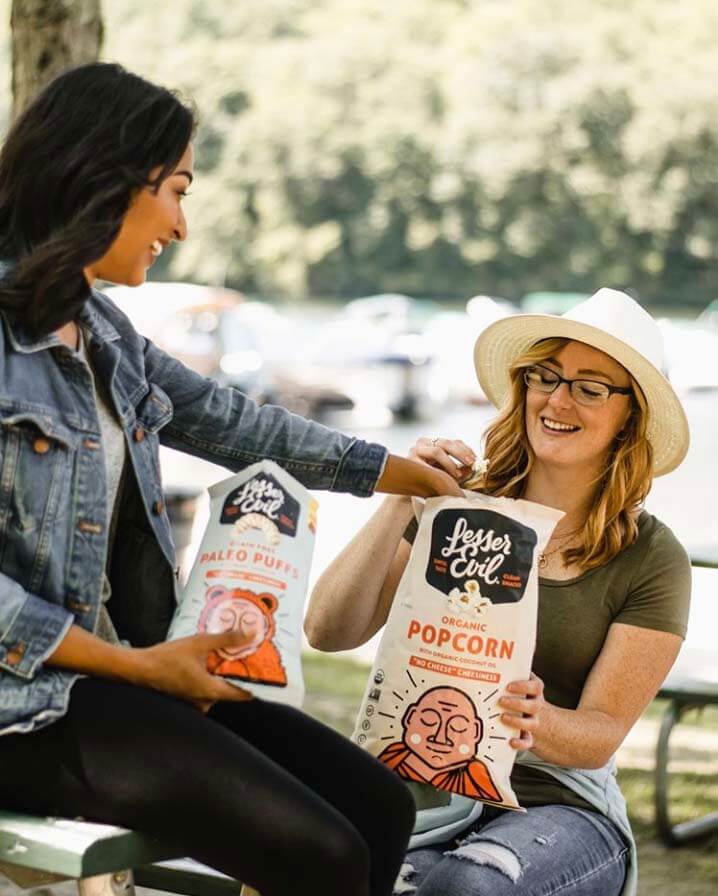 Spicy Nacho Dip
Just the kick you need to elevate those "everything in your pantry" nachos! Made with only natural and organic ingredients and zero hard-to-pronounce preservatives, this zesty dip has only 20 calories per serving. As a bonus, the containers are BPA free, microwaveable, and recyclable, meaning easy prep, easy clean up, and more time to spend attempting to learn how to knit booties for your foster pup. In addition, every delightful dip you buy creates jobs in the Honest Stands community with the operation of their very own GMP manufacturing facility. The company even donates all their extra product to local food banks, only uses eco-friendly shipping containers, and in addition to being gluten-free, every dip is also soy, lupine, corn, yeast, MSG, and sulfite free.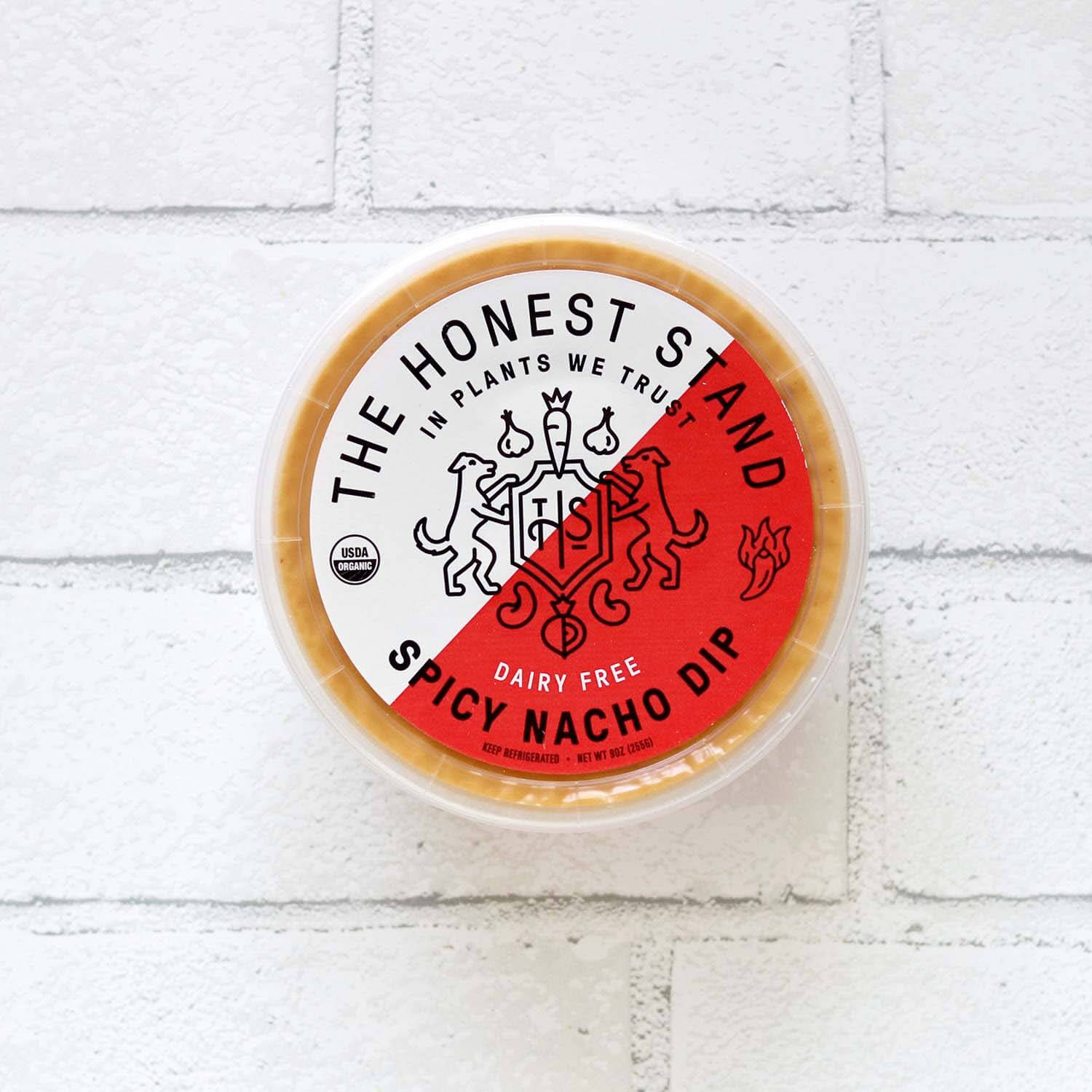 Veggie Crisps
The heroes of the vegetable community, Dirt Kitchen, "rescues" unwanted veggies and air dries them, and turns them into delightfully crunchy veggie crisps. The integrity of each vegetable is kept, so you'll instantly recognize which little plant baby you're noshing. Created by chefs who are self-proclaimed "veggie obsessed," these chips elevate the snacking experience from the ho humdrum of celery sticks and carrots. Enjoying variations like Blushed Pepper, Grape Tomato, and Zucchini, seasoned only with extra virgin olive oil and a dash of sea salt, you'll be able to snack to your heart's content and still emerge from this quarantine lookin' like a snack yourself!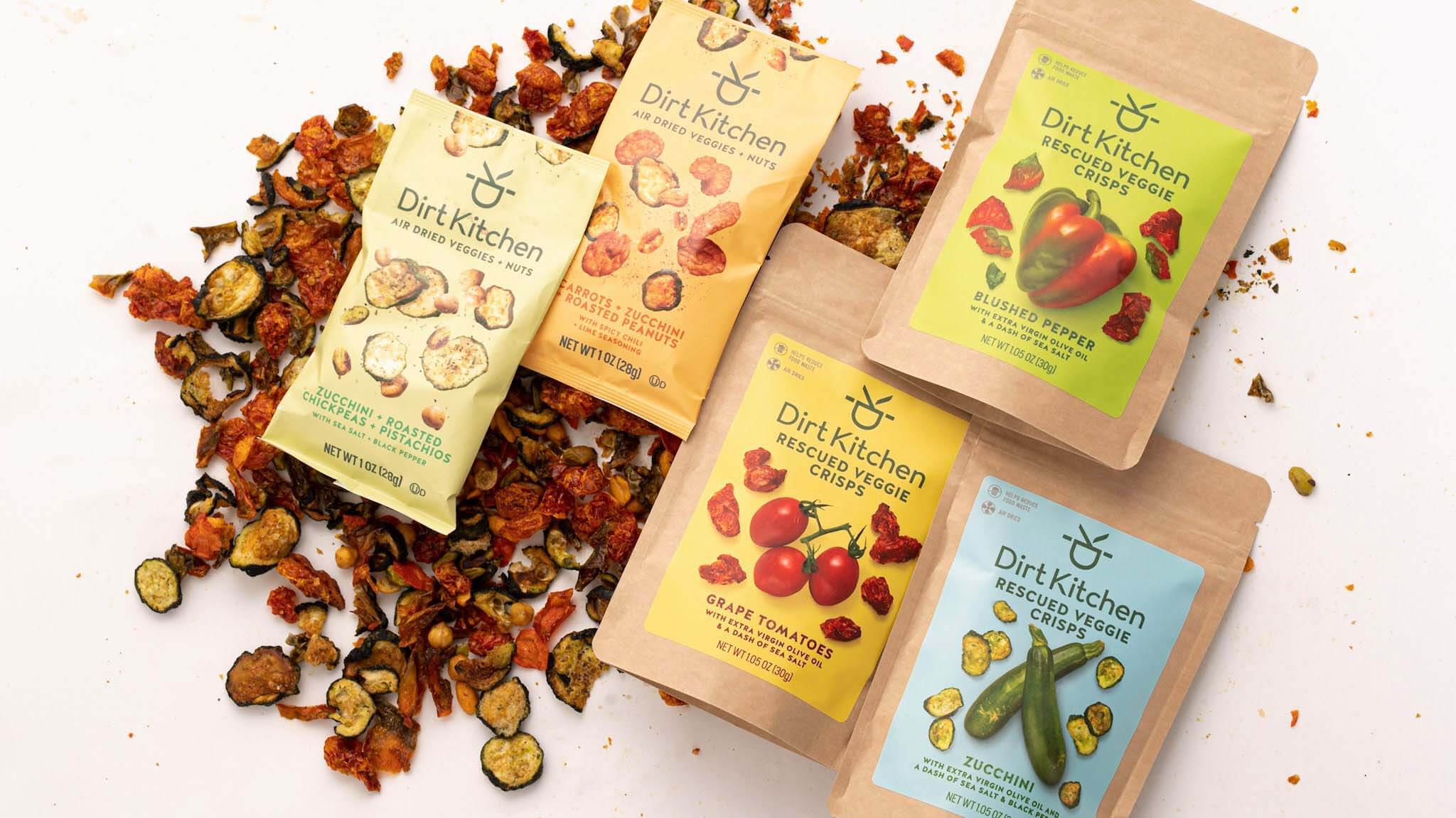 Crunchy Chocolate Chip Cookies
OG snack company Simple Mills has been rollin' out the vegan gluten-free hits for a while now. One of their greatest hits, their Crunchy Chocolate Chip Cookies, are so good—they're like cookies to be left out for Santa on Christmas Eve good. Sweetened with coconut sugar and made with only simple whole foods, three whole cookies can be enjoyed for just 110 calories and 12 carbs. Made up of nut and seed flours, all the ingredients are Organic, all-natural, and pronounceable. They are top allergen friendly free from soy, corn, grains, and non-GMO, are nutrient dense, and the perfect "one bite" takedown size. Dunk 'em in your favorite plant-based milk while you think about how glad you are that you aren't currently making quarantine sourdough.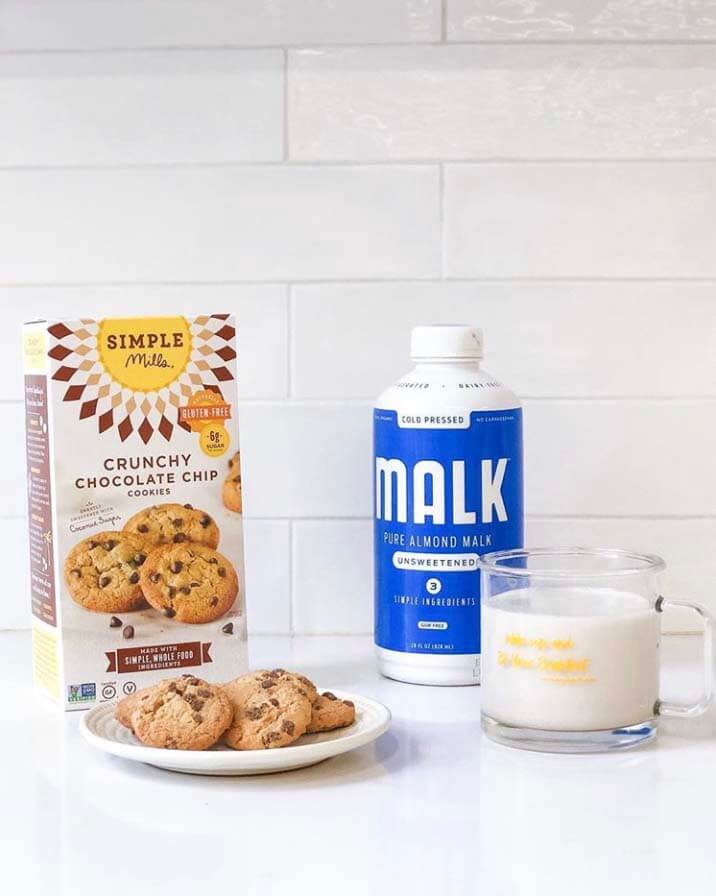 Pigless Pork Rinds
As dogs everywhere say, "I can't believe it's not bacon!". Outstanding Foods has done it again with their newly arrived Pork Rinds that are 100% pigless and 100% trickery and deceit. Coming atcha in four cracktastic flavors (Nacho Cheese, Original, Texas BBQ, Hella Hot) each packs a punch with 7g of pea grit derived protein, and only wholesome, good for you, plant-based ingredients. They're crafted to be "tasty as hell" by renowned Chef Dave Anderson. In addition, every product sold goes toward aiding the welfare of farm animals and taking care of Mama Earth. Now move those little fingers to that ever glorious "add to cart" button, and you'll be devouring your way to pork rind heaven.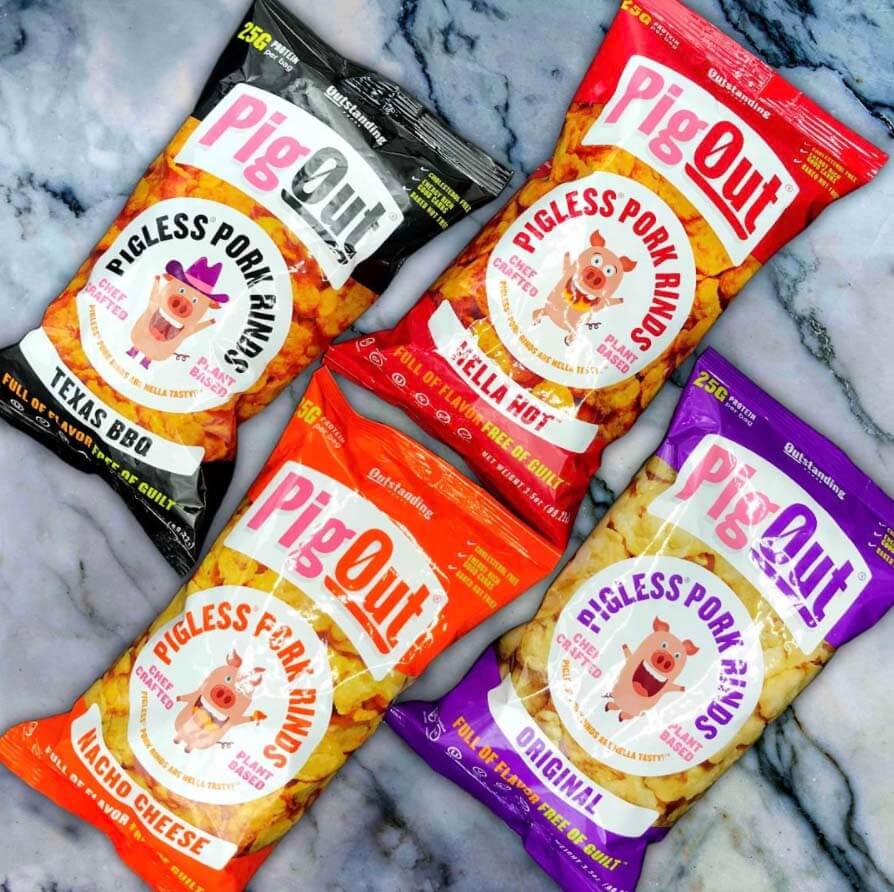 RELATED: Top 15 Nostalgic Vegan Snacks
---
Want even more vegan food, news, and lifestyle content? Subscribe to VegOut LA Magazine or VegOut NYC Magazine!
Cat Limket
@catlimket
Cat is a vegan actress, model, and activist. She is passionate about healthy and holistic living, cruelty-free beauty, and the benefits of a plant-based lifestyle. When she's not on set or hugging puppies, you can find her on the hunt for vegan ice cream.
Articles by Cat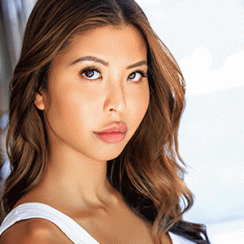 More from VegOut
Subscribe Now
Get the premier vegan food and lifestyle magazine delivered to your door (or inbox!)
Order the magazine!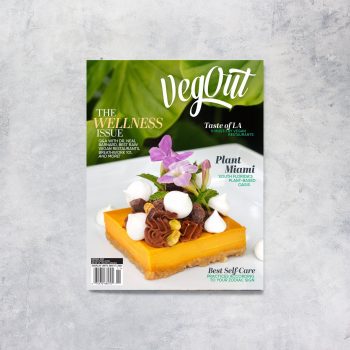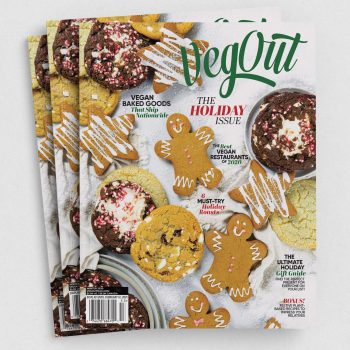 Navigation