Back
Vegan Baked Goods That Ship Nationwide for the Holidays
Need some fresh baked cookies for your next dinner party, or perhaps a box of plant-based goodies to gift to a friend? Great news! There are many vegan-friendly bakeries that ship nationwide, so you can impress family and friends with tasty plant-based treats—no baking required! From chewy, chocolaty cookies to creamy peanut butter layer cakes, it can all be yours with just a click of a button. Here are 10 companies that ship vegan baked goods straight to your door!
RELATED: 8 Vegan Mixes for Easier Holiday Baking
---
Want even more vegan food, news, and lifestyle content? Subscribe to VegOut Magazine!
Whether you're hosting a special event or just need to switch up your breakfast routine, this vegan-friendly, LA-based company is your answer. Sconely offers a variety of—you guessed it—scones, and scone crisps. While their scones are only available for local LA pickup, their scone crisps ship nationwide! The holiday-inspired crisps are perfect for snacking—their vegan varieties include Lucky (sweet potatoes, cranberries, and rosemary) and Chuckles (raisins, warm spices, espresso-infused chocolate), which can be eaten on their own or dipped in your favorite dessert hummus!
The first all-vegan French bakery in the United States, L'Artisane offers a variety of croissants, macarons, brownies, and cookies. Get fancy with the Les Croissants Box, which comes with five croissants in flavors like Strawberry-Balsamic & Cream Cheese, Pain Au Chocolat, Guava & Cream Cheese, and more—you choose! The Madeleines Box (including twelve vegan chocolate filled Madeleines) is also perfect for gifting to a friend or for serving at your next dinner party.
This holiday, Maya's has put together beautiful tins with delicious seasonal flavors. Choose from three gourmet vegan combinations, including Deluxe (2 Gingerbread, 2 Classic Sugar, 2 White Chocolate Cranberry, and 2 Chocolate Peppermint S'mores flavors), Gingerbread (includes 8 cookies total), and Classic Holiday (4 Gingerbread and 4 Classic Sugar Cookie flavors). Each is perfect for gifting to a loved one or offering at a secret Santa gift exchange! Use promo code VEGOUT10 for 10% off your purchase!
Remember sitting in Grandma's kitchen as she baked you a warm, tasty batch of cookies? Well, don't tell Grandma, but this bakery has her recipe! Fat Badger is a certified vegan bakeshop that offers a variety of cookies, like Cinnamon Sugar and Toasted Coconut, as well as good ol' Chocolate Chip. The head baker also creates a new box of limited-time treats for each season!
If you are what you eat, we want to be cookies—especially if we're talking about a gluten-free, vegan chocolate chip cookie from this Midwest bakeshop. If fruity treats are your jam, you'll also find a gluten-free, vegan Oatmeal Blueberry Cookie as well as a Vegan Variety Pack with Oatmeal Blueberry, Chocolate Chip, and Some'More Chocolate Chip cookies!
We think everything tastes better when it's 100% cruelty-free, and Karma Baker's vegan treats are no exception. Incorporate some light-hearted humor into your next holiday party with the Santa's Butt Donuts, or go the more traditional route with the Holiday Cookie Gift Box (includes a dozen winter-themed sugar cookies and gingerbread men). The bakery also offers a Gingerbread House Kit, so you can build the home of your holiday dreams! Use promo code VEGOUT10 for 10% off your purchase!
Inspired by the flavors of Jamaica, Tubby's Taste offers vegan cookies that will make you feel like you're on a tropical holiday vacation with just one bite. Choose from flavors like The Speakeasy (oatmeal rum raisin), Island Spice (ginger, molasses, and cinnamon), Tropical Surprise (hibiscus, ginger, and lime), and The Ascension (coffee, chocolate, and oats). Each flavor makes for the perfect holiday dessert or a late-night snack with a cup of hot cocoa!
Planning a special event, or just in need of some tasty vegan treats? No matter the occasion, LushLife has your dessert needs covered! This delicious plant-based bakery hails from Madison, WI and offers a variety of cakes, cookies, and pastries, like the mouthwatering frosted cinnamon rolls. If you suffer from serious peanut butter cravings, opt for the PNut Butter Layer Cake. There is also an option to customize your order, so you can create the perfect cake for your special day.
This Texas-based bakery recreates Southern classics with a twist—all of their treats are plant-based! To celebrate the season of giving, Southern Roots is offering The Holiday Cookie Bundle, which includes four chocolate chip cookies, four sugar cookies with sprinkles, four oatmeal raisin cookies, and four double chocolate chip cookies. For that special someone who likes a variety of treats, choose the Mary Lee's Favorites Bundle, which was inspired by owner Cara Pitts's 97-year-old grandmother Mary Lee, and includes a half-dozen chocolate chip cookies, two chocolate brownies, and two slices of moist lemon bundt cake!
This Miami-based bakery specializes in vegan and allergy-friendly baked goods that are perfect for sharing at birthday parties, sending to a friend, or for snacking when you're craving a sweet treat! Bunnie Cakes offers Vegan Mini Cupcakes that can be made gluten-free, and come in flavors like Banana Chip, Key Lime, Cookies and Creme, and more! Best sellers include their chocolate chip cookies, brownies, and mini loaves (Vanilla, Carrot, Banana Chips, and Vanilla Chocolate Marble), all of which can be ordered by opting for The Bunnie Delight Sampler Pack (includes 4 mini cupcakes, 2 mini loaves, 2 chocolate chip cookies, and 2 brownies)—happy snacking!
Kayla Pasko
@kaylapasko
Kayla, a Midwest girl living in NYC, is a writer with a background in media sales. When she's not scoping out trendy vegan spots, she's usually taking a yoga class, shopping at Trader Joe's, or catching a Packers game.
Articles by Kayla
More from VegOut
Subscribe Now
Get the premier vegan food and lifestyle magazine delivered to your door (or inbox!)
Order the magazine!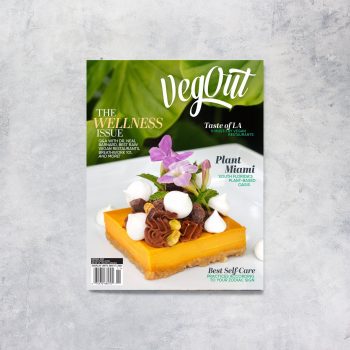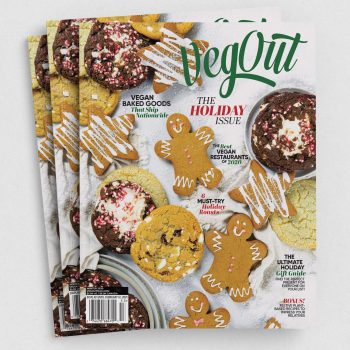 Navigation