Skip the hassle of cooking all day and pick up a vegan Thanksgiving feast from one of these LA spots! Whether you celebrate the holiday or just want to eat some dank comfort food on a November Thursday evening, here's a list of restaurants and pop-ups where you can order festive and flavorful fare––from vegan turkey and stuffing to mac 'n' cheese, green beans, and pumpkin pie.
RELATED: 21 Vegan Thanksgiving Items from Trader Joe's
---
Want even more vegan food, news, and lifestyle content? Subscribe to VegOut Magazine!
Sage Plant Based Bistro
Echo Park, Culver City, Pasadena, and Agoura Hills
This sustainably delicious restaurant is known for serving up authentic home-cooked meals, and they keep up that reputation with their Holiday Catering Menu! Whether you'd like à la carte items, individual plates, or a family meal for four, build your ideal Thanksgiving fare at Sage. For the main dish, choose from a seitan turkey, lentil meatloaf, or gluten-free tamales with verde sauce. Side dishes include collard greens with kale, macaroni 'n' cheese, mashed maple yams, mashed potatoes, gravy, cranberries, and cranberry apple stuffing. And for the grand finale, indulge in a peach cobbler, apple crisp, sweet potato pumpkin pie, or a mini pumpkin pie. Orders can be placed online for pickup at the location of your choice between Monday, November 23rd and Wednesday, November 25th. There is also a delivery option for those who live within a 3-mile radius of the restaurant.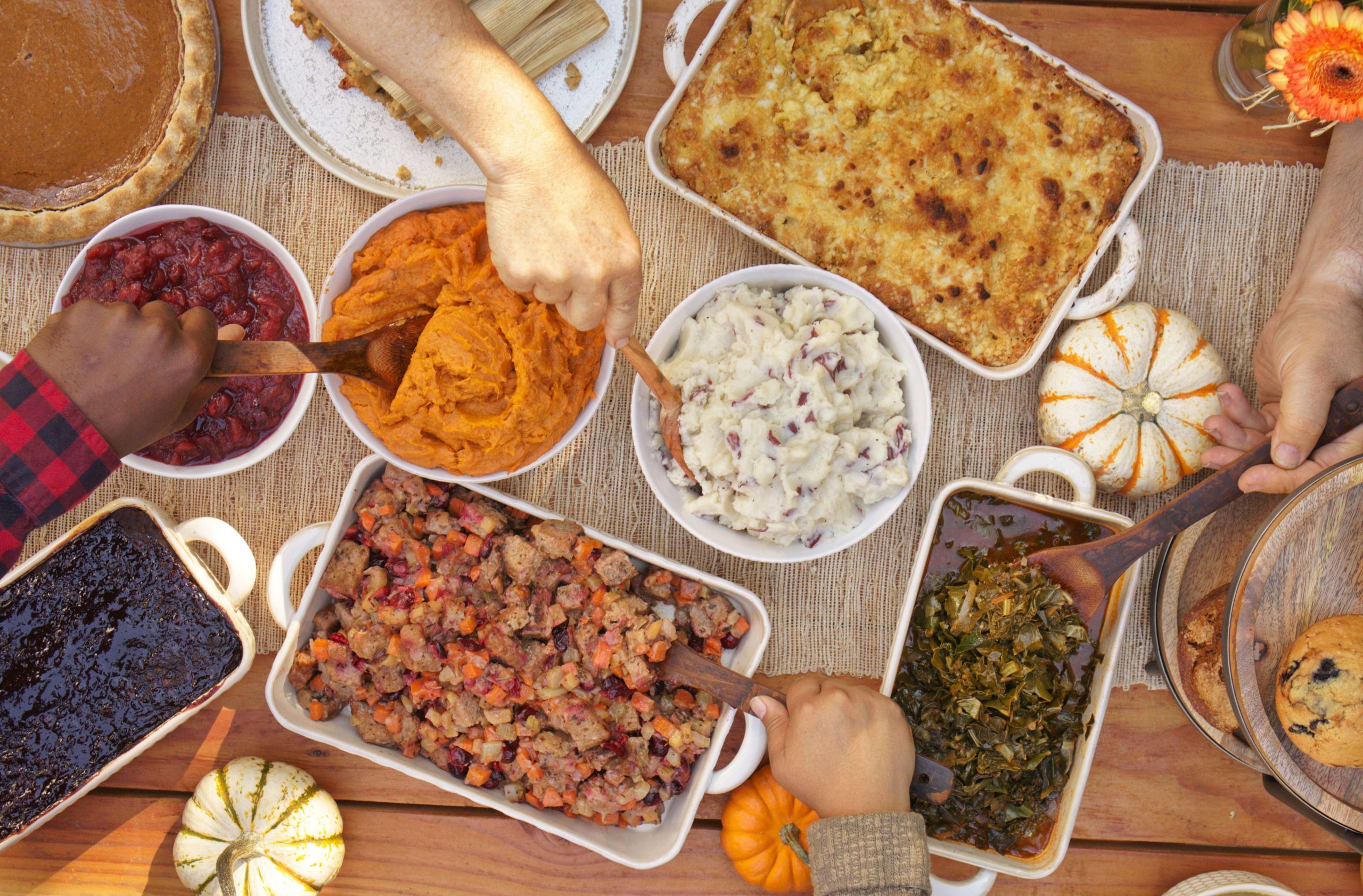 Crossroads Kitchen
Beverly Grove
Want to impress your family with an upscale vegan spread? Crossroads Kitchen has your back! Their Thanksgiving menu showcases some of the most sophisticated versions of holiday classics. The feast begins with an autumn chopped salad dressed in a pomegranate white balsamic vinaigrette. It's followed by your choice of a holiday spiced lentil tempeh or scallopini alongside mashed potatoes and gravy, stuffing, Brussels sprouts with crispy shallots and currants in a maple mustard glaze, and sweet potato biscuits. Lastly, treat your tastebuds to Crossroads Kitchen's pumpkin mousse cheesecake or cranberry sorbet. Well, what are you waiting for? Email reservations@crossroadskitchen.com or call 323-782-9245 to place an order today! Orders must be received at least 72 hours in advance.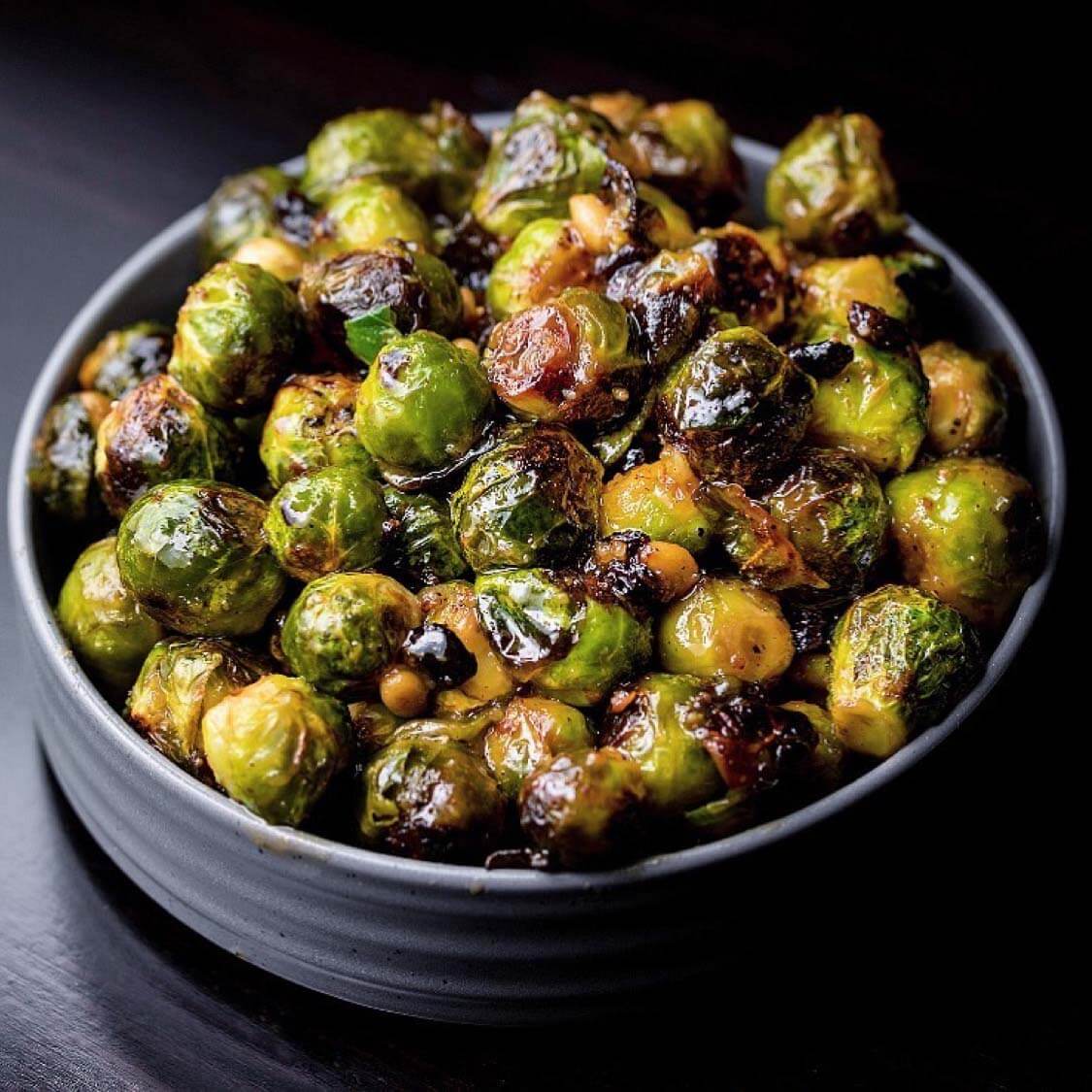 Joi Cafe
Westlake Village
From vegan meatloaf and stuffing to cauliflower mash green bean casserole, baked mac 'n' cheese, and butternut squash soup, Joi Cafe takes the word "feast" to a new level! On the sweet side, they've got a pecan crunch sweet potato casserole with marshmallows, take & bake cinnamon rolls, and a selection of pies and cakes from Yvonne's Vegan Kitchen. Oh, and these aren't your typical, boring old cake flavors––we're talking chocolate creme de menthe and vanilla spice with sunflower date caramel. Pre-order your food online at JoiCafe.com by 8pm on Friday, November 20th for pickup on Wednesday, November 25th between 10am-3pm.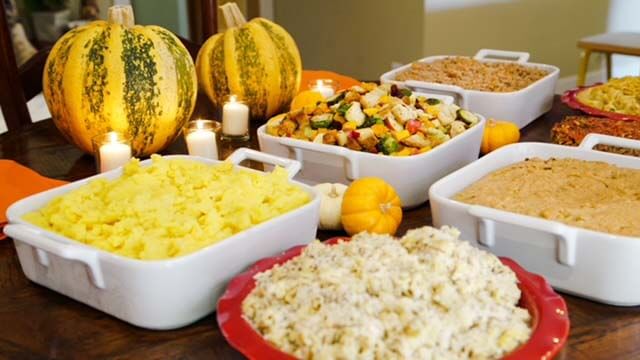 Avocadamama
Pop-up
This fan-favorite vegan mac 'n' cheese pop-up is bringing the flavors and savors with their Thanksgiving Meal Box. Each plate includes meaty lentil stuffing balls, garlic mashed potatoes, quinoa broccoli casserole, a salted bread roll, roasted warm butternut squash salad, mushroom gravy, pumpkin bread pudding, and the star of the show––Avocadamama's OG mac. SO MUCH YES! Visit Avocadamama.com/Thanksgiving to order this drool-worthy feast from now until Thursday, November 19th for pickup on Wednesday, November 25th.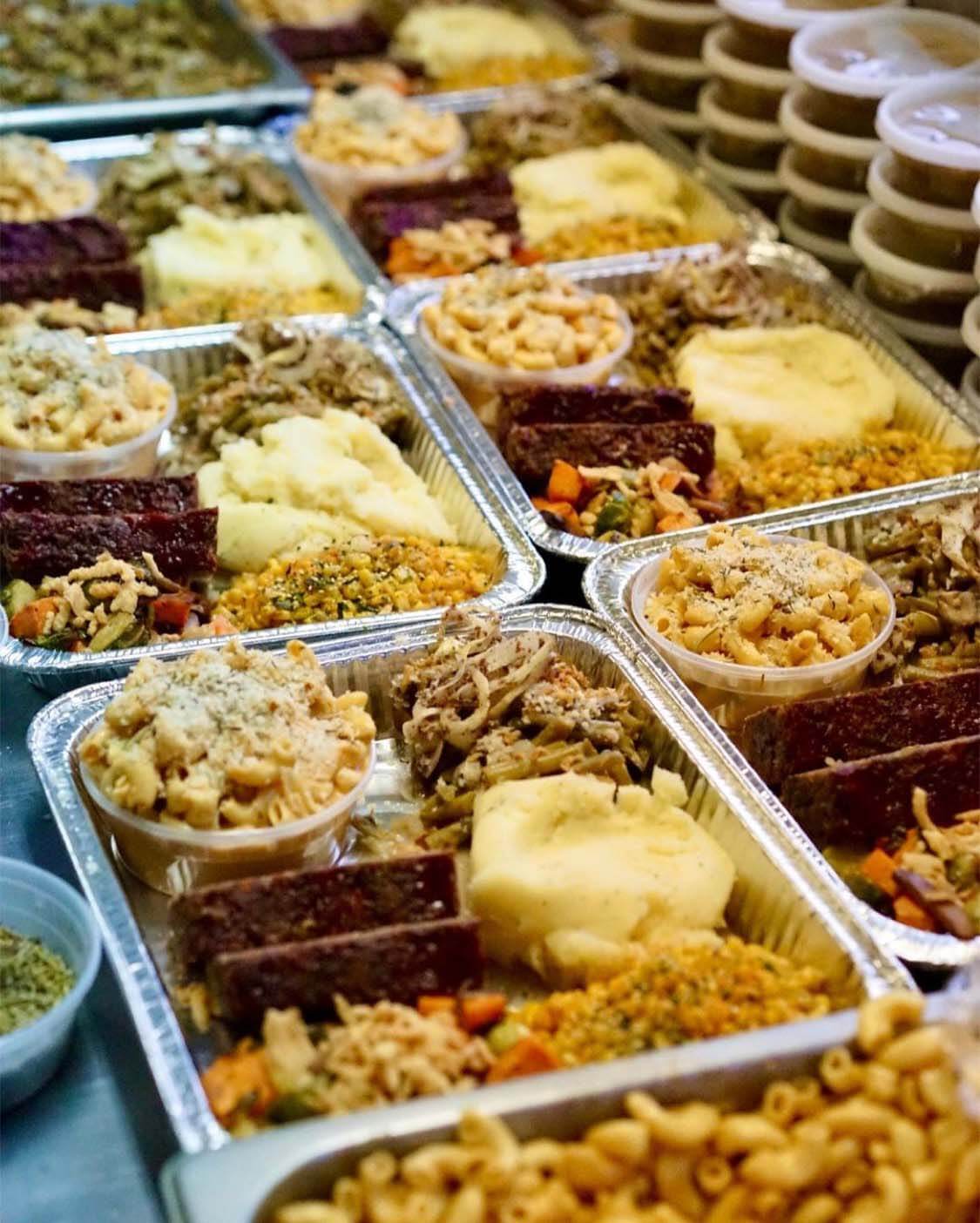 Pura Vita
West Hollywood
Pura Vita is going above and beyond with their Thanksgiving Catering Menu! You can mix and match any of the following: candied Brussels sprouts, roasted garlic whipped potatoes, smokey potato chowder with shiitake bacon bits, roasted cauliflower, sage apple ciabatta stuffing, applewood smoked maple jackfruit, porcini mushroom gravy, cranberry sauce, and spiced iced ginger cookies. But wait––isn't this an Italian restaurant? It sure is! Large portions of their classic dishes can be ordered off the regular catering menu for an Italian-inspired Thanksgiving. Call 323-688-2303 by 8pm on Sunday, November 22nd to place an order for pickup on Wednesday, November 25th.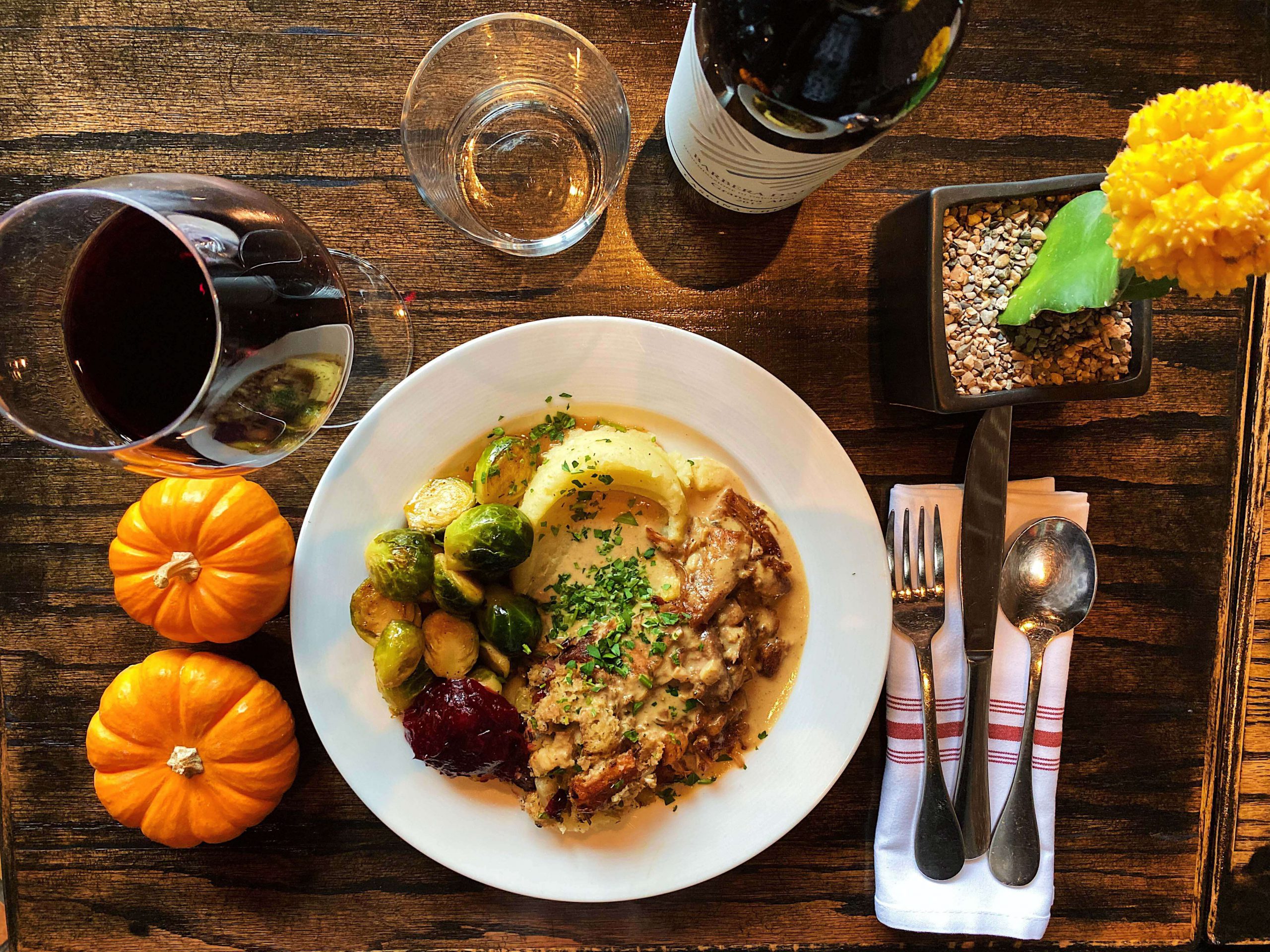 Veggie Grill
Multiple Locations
Veggie Grill pulls through once again this year with their Thanksgiving Pot Pie Feast! Created by Chef Kajsa Alger, the seasonal menu features individual "turkey" and shiitake mushroom pot pies, mashed yukon gold potatoes and gravy, glazed rainbow carrots, and a holiday salad with baby spinach, cranberries, candied pecans, balsamic onions, and feta cheese. For dessert, you have the option to add mini shareable pumpkin pies. The Thanksgiving Holiday Feast is $69.95 and serves four. Veggie Grill is accepting pre-orders through Wednesday, November 18th or while supplies last. Orders are available for pickup the Tuesday and Wednesday before Thanksgiving.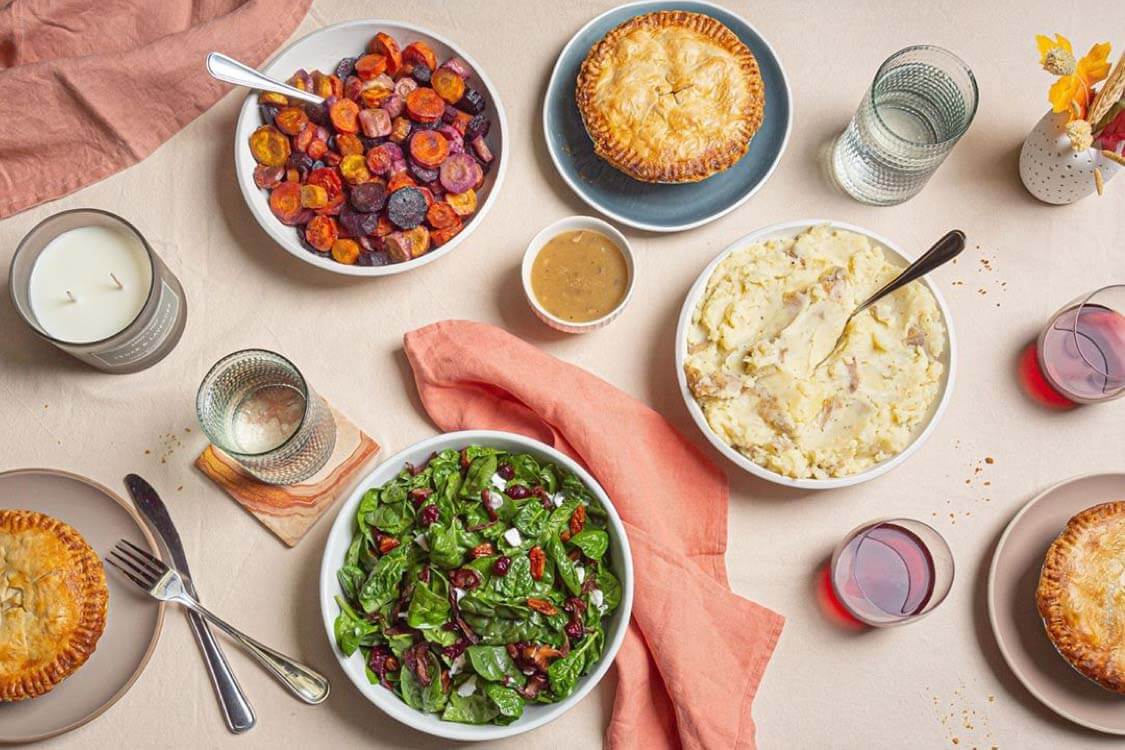 Follow Your Heart Market & Cafe
Canoga Park
Follow Your Heart (aka the brand responsible for making Vegenaise) has a marketplace in LA with a Heat & Eat Thanksgiving Menu. Piece together your dream feast by mixing and matching delectable dishes like their vegan turkey pot pie, gluten-free harvest loaf, fresh rosemary & thyme stuffing, glazed oven-roasted yams, mashed potatoes, gravy, mac 'n' cheese, steamed green beans, and cranberry relish to name a few. Can't decide? Get the Complete Thanksgiving Dinner which includes a little bit of everything––and it's only $22.99 per person! There's also a family-sized option for four. Follow Your Heart's desserts range from cranberry bread and fruit tarts to cheesecake and pumpkin pie. Email cafe@followyourheart.com to place your order before Saturday, November 21st for pickup between Tuesday, November 24th and Thursday, November 25th.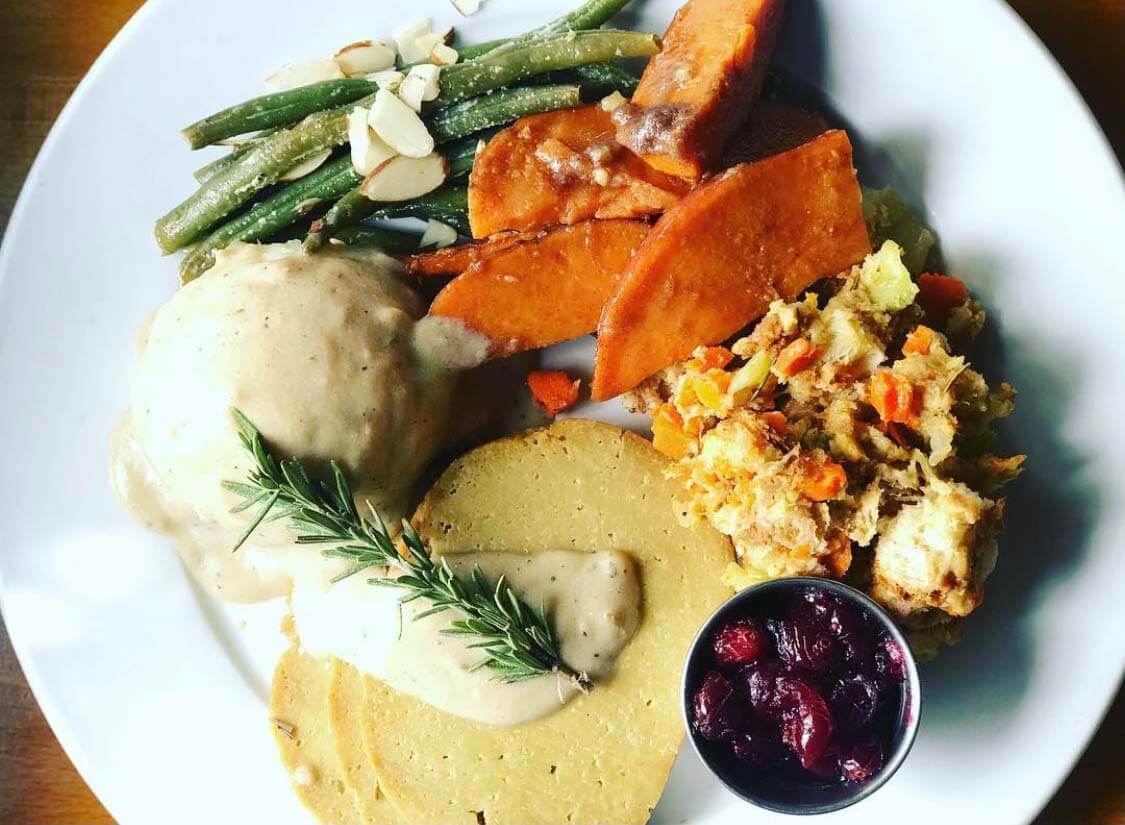 Real Food Daily
Pasadena and West Hollywood
Real Food Daily is serving up quite the satisfying spread this November. When you order their Thanksgiving To-Go menu, you'll get to dig into roasted vegetables, cranberry sauce, pecan praline yams, mashed potatoes and gravy, sage walnut corn stuffing, butternut squash or potato leek soup, hickory-smoked maple-carved jackfruit, and pumpkin pie. Need extra sweets? This all-vegan restaurant also makes whole pumpkin, apple, and pecan pies, pumpkin cheesecakes, and pumpkin cupcakes. Oh, and did we mention their desserts are gluten-free? Score! Place your order by Wednesday, November 25th.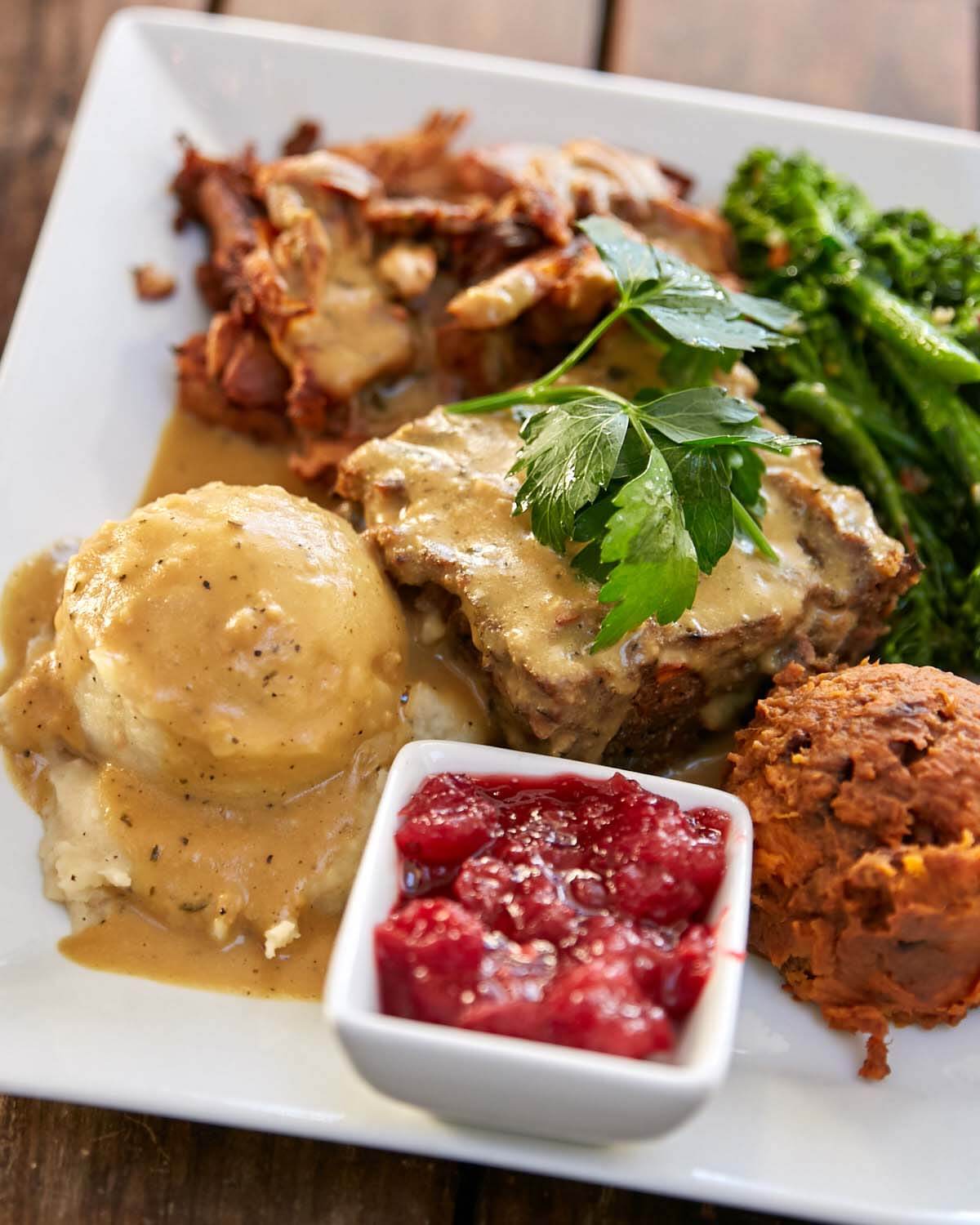 Erewhon Market
Multiple Locations
Erewhon has an abundance of holiday offerings available for pickup. Their vegan options include a fall salad, eggplant lasagna, vegan lasagna, green beans & almonds, roasted Brussels sprouts, sourdough roasted veggie stuffing, wild rice stuffing, yam puree, cranberry relish, and mushroom gravy. For a sweet finale, snag a vegan pumpkin pie or strawberry rhubarb pie. Place your order online before Sunday, November 22nd for in-store pickup or delivery on Wednesday or Thursday!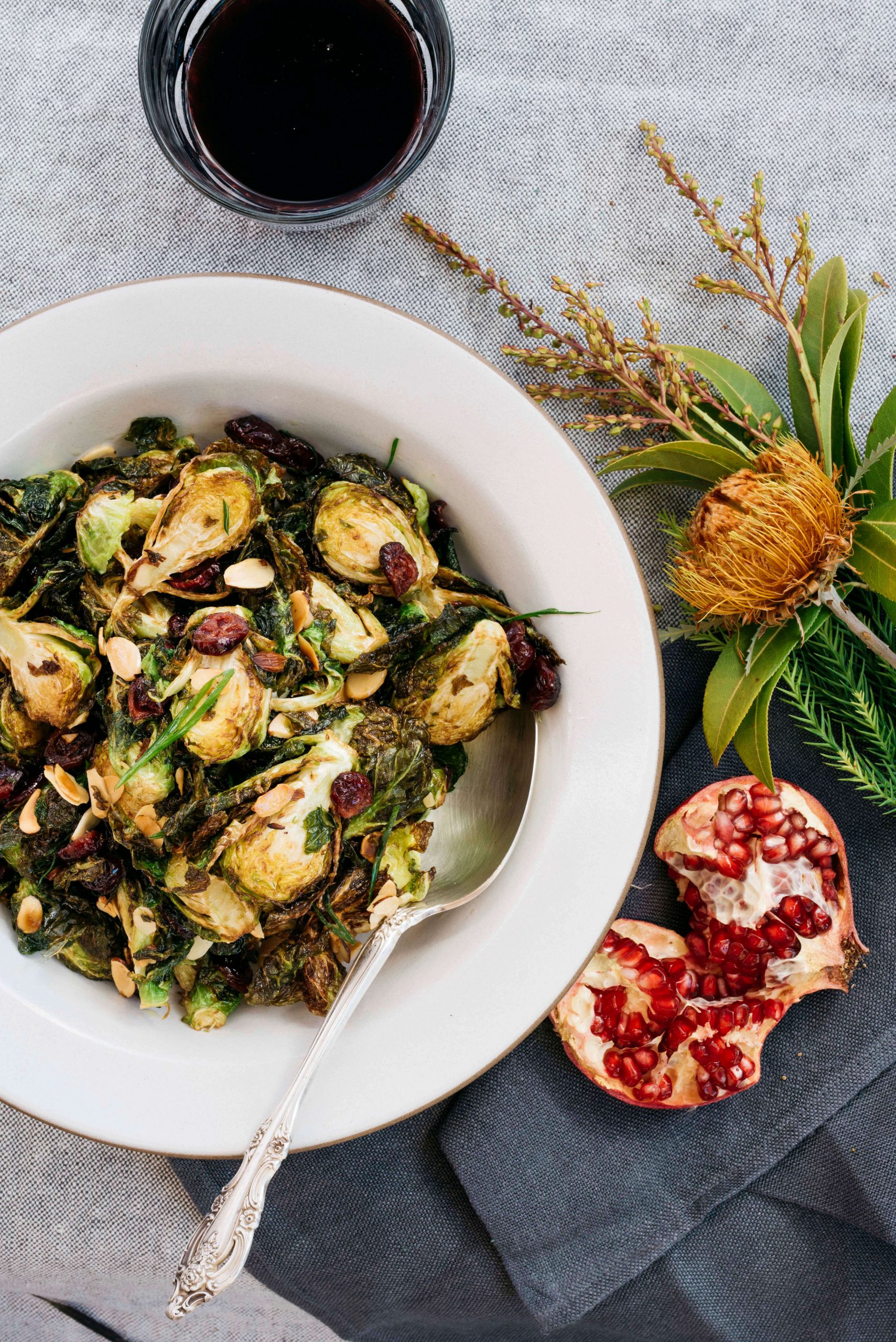 Whole Foods
Multiple Locations
Elevate your dinner plate with Chef Chloe Coscarelli's Vegan Meal for Two from Whole Foods. The feast consists of a cremini mushroom roast, miso creamed greens, coconut sweet potato casserole, jalapeño cornbread dressing, mushroom gravy, and pumpkin soup. Whole Foods also sells individual vegan holiday dishes like Mac & Yease's famous vegan mac 'n' cheese, spinach artichoke puffs, pumpkin pie, and more! Pre-order yours today on the Whole Foods E-store for pickup between 11/19-11/26.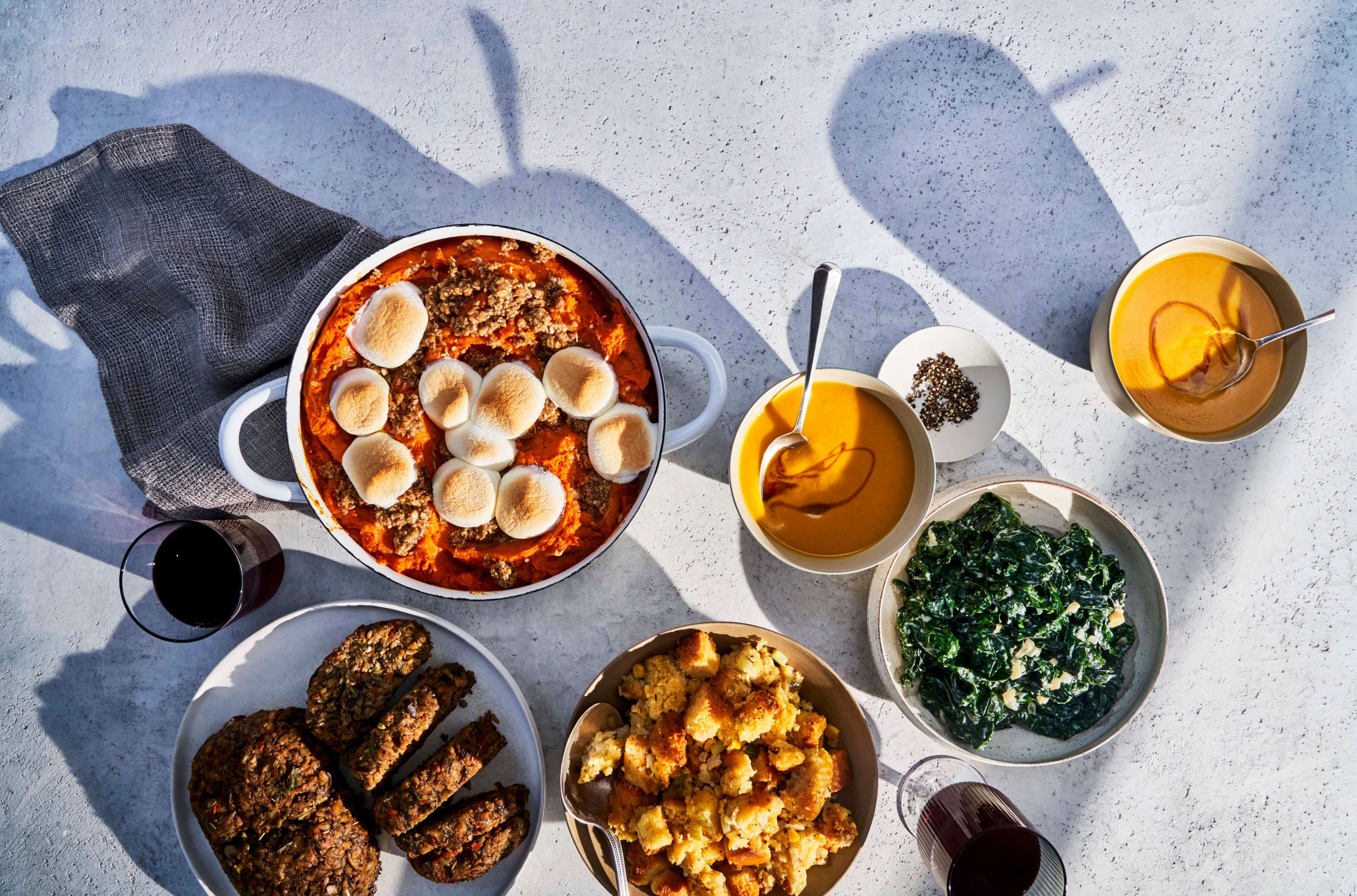 Vinh Loi Tofu
Reseda and Cerritos
Are you in need of a show-stopping entreé? Vinh Loi Tofu's realistic vegan turkey and ham will blow the minds of everyone at the dinner table––vegan and non-vegan alike! The turkey is made from a soy and gluten base, while the ham contains soy but is gluten-free. Both items can be pre-ordered online or over the phone until Thursday, November 19th. Want some sides to pair with? You can always request to add salads, steamed buns, fried rice, or any other menu item that you're craving.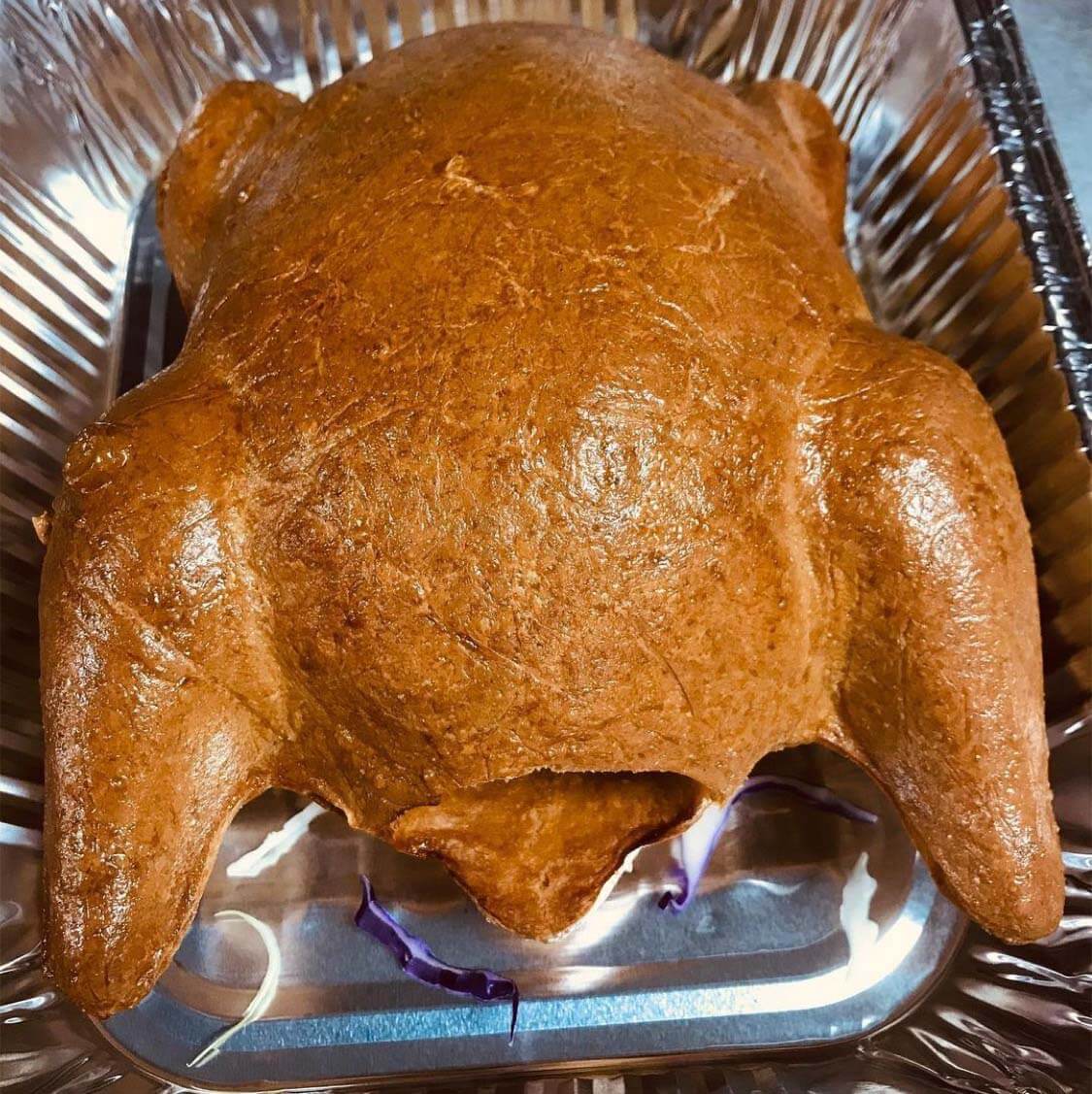 Shojin
Culver City and DTLA
Shojin's holiday platter comes with a meatloaf Wellington alongside maple glazed Brussels sprouts, mashed potatoes with cranberry sauce, kabocha pumpkin croquettes, crispy potat-o-"fish," and a baked "crab cake" hand roll. This limited-edition Thanksgiving plate is available for pickup and delivery from Wednesday, November 25th through Sunday, November 29th. If you want to save some coin, pre-order your meal by November 19th to get it for $38 instead of $45! Oh, and how could we forget dessert? Apple pie, pumpkin pie, pumpkin raspberry pie, matcha coconut cream pie, and strawberry shortcake are Shojin's seasonal sweets.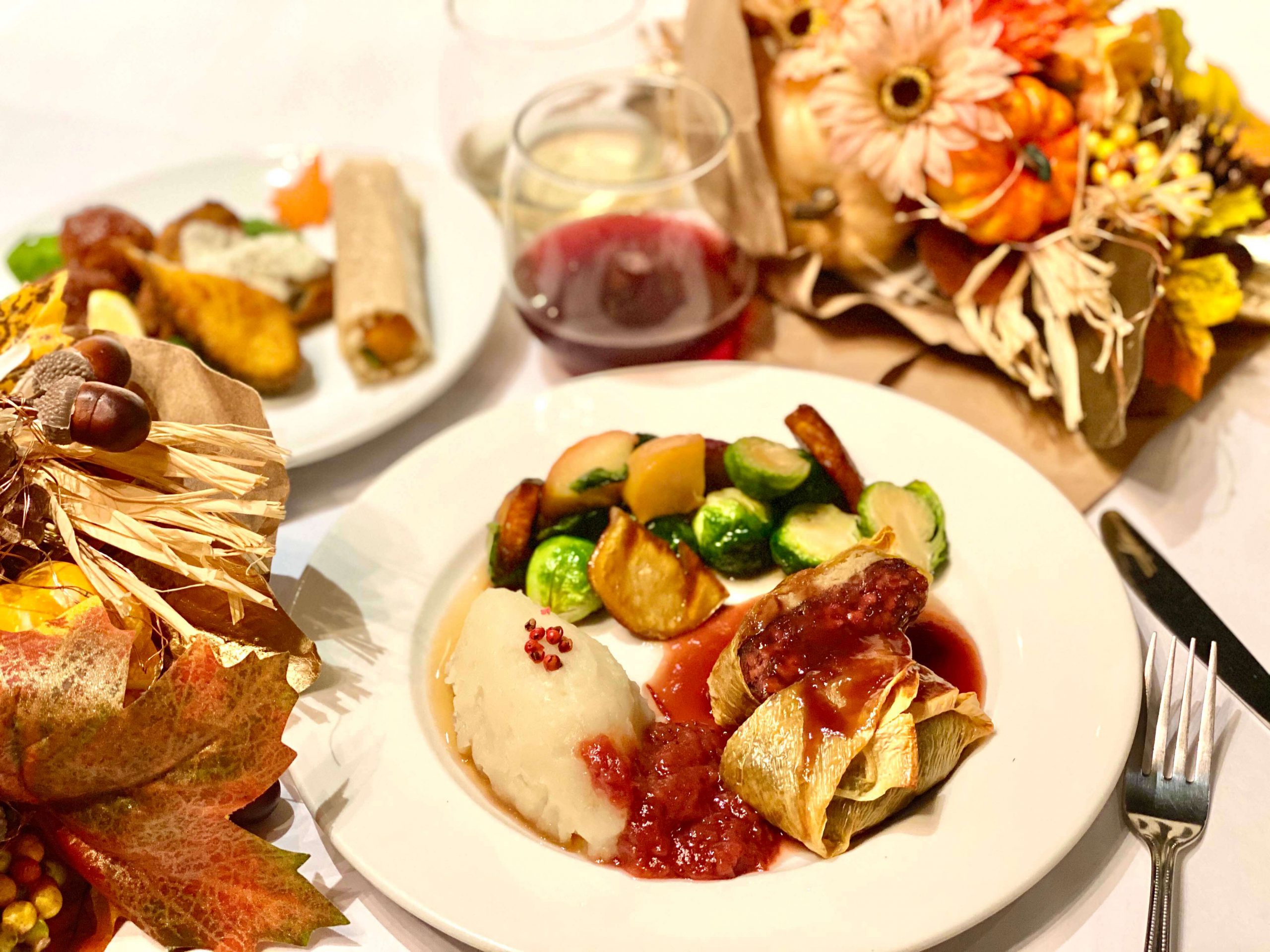 The Grain Cafe
Mid-City, Culver City, Long Beach, and Redondo Beach
Want the nourishing flavors of a home-cooked meal without having to make it yourself? The Grain Cafe is one of our favorite spots for satisfying, authentic vegan dishes that taste like they're straight out of Grandma's kitchen! When you order the Holiday Feast Meal, you can binge on vegan turkey, mashed potatoes and gravy, stuffing, garlic vegetables, and cranberry sauce. The Grain Cafe is also serving up pozole if you're in the mood for Mexican cuisine. Oh, and don't forget to grab a pumpkin cheesecake for dessert! Pre-orders are accepted until Wednesday, November 25th for pickup on November 25th or 26th.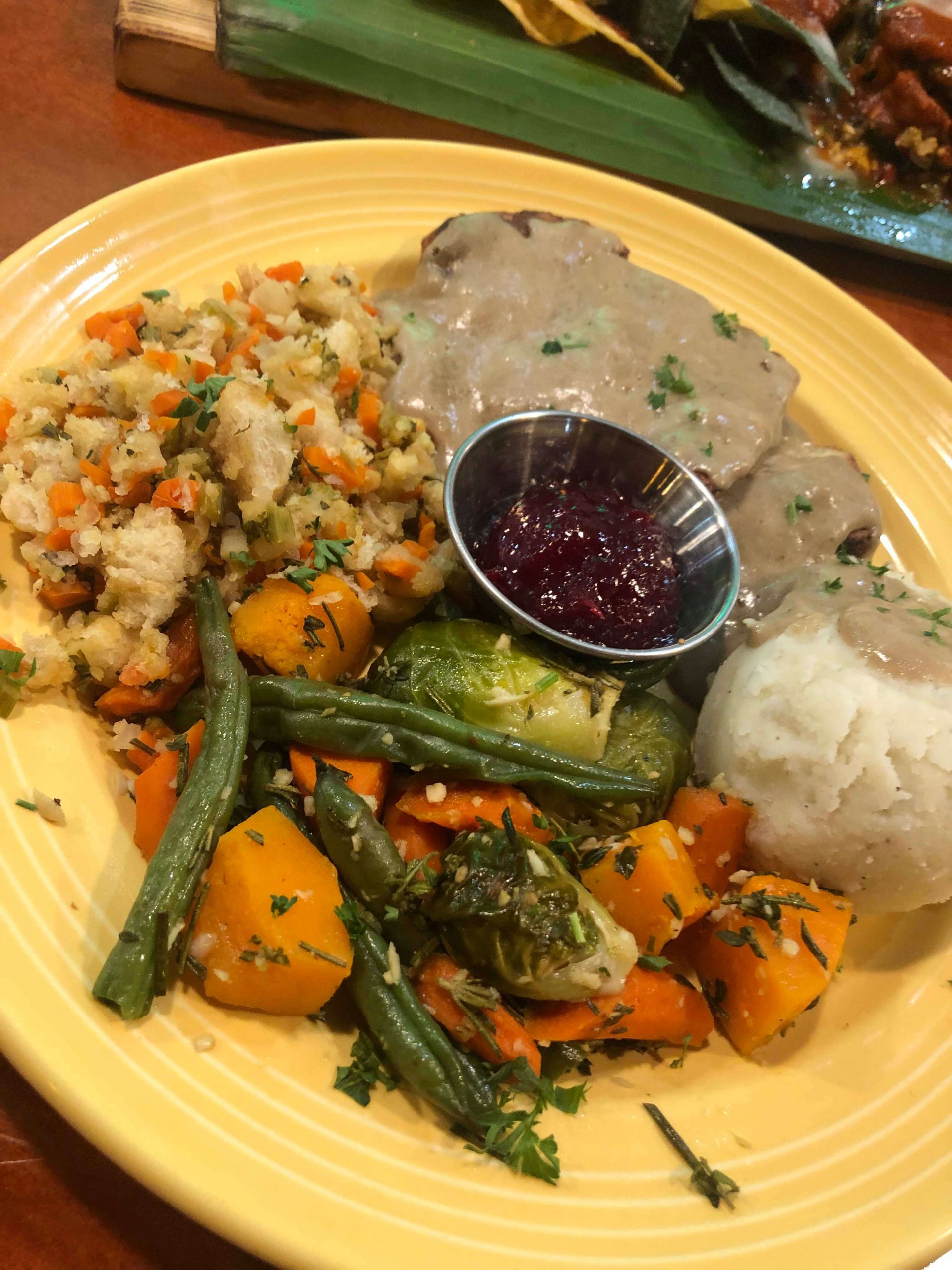 SunCafe
Studio City
SunCafe's Vegan Thanksgiving Meal Box includes your entrée of choice (marinated tempeh steak or savory stuffed squash), a mixed green salad with candied nuts and pomegranate seeds, green bean casserole, candied sweet potatoes with vegan marshmallows, pumpkin stuffing, mushroom gravy, cranberry sauce, and pumpkin pie! The box serves two and can be ordered online at SunCafe.com for $70 by Monday, November 23rd for pickup on Wednesday, November 25th between 12pm and 6pm.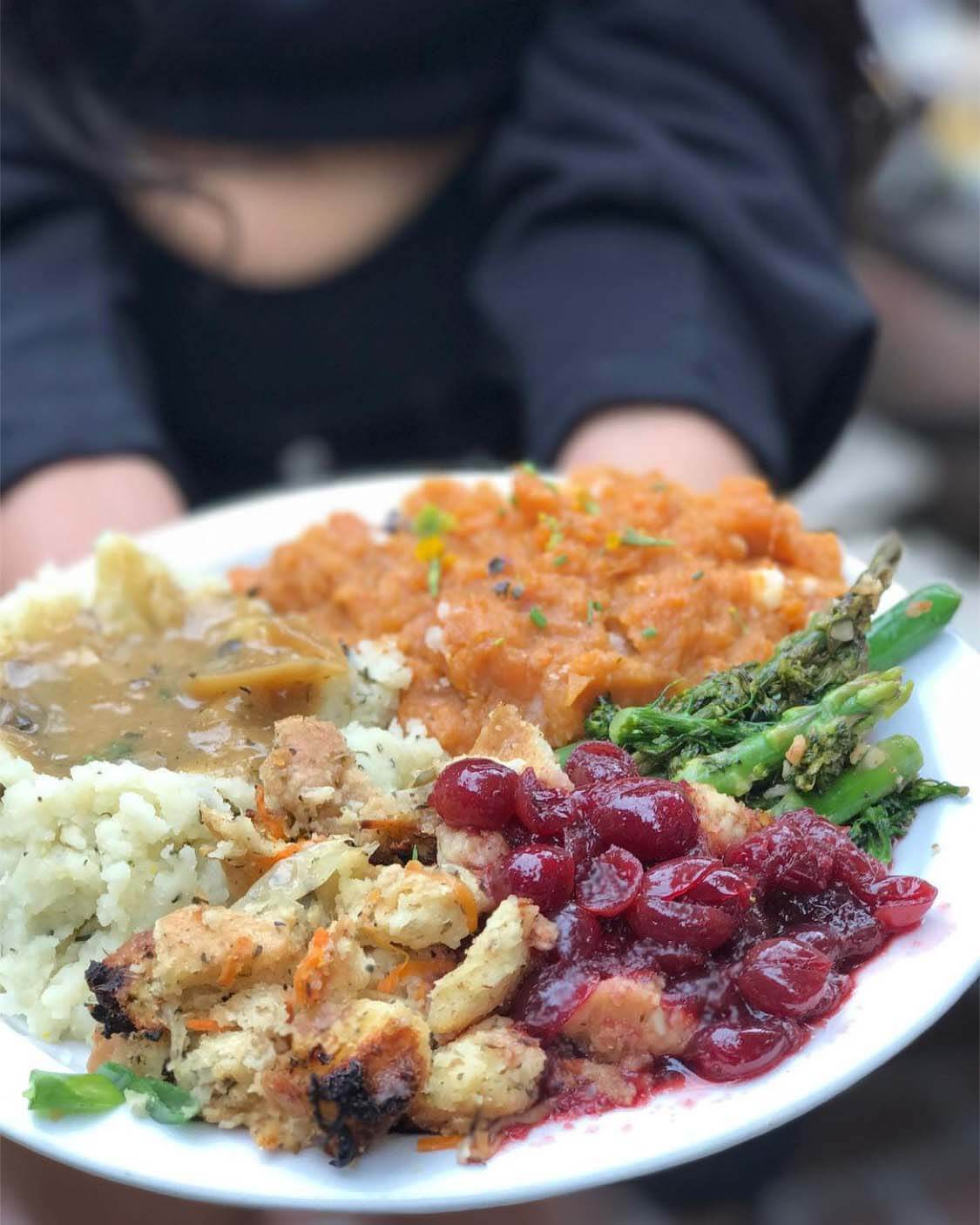 Word Of Mouth
Food Truck
This vegan food truck is known for serving up finger-licking comfort food year-round, so you know their Thanksgiving feast will be one to remember. Word Of Mouth's Holiday Menu for Two contains butternut squash soup, citrus maple bacon Brussels sprouts salad, mashed potatoes and mushroom gravy, roasted cauliflower, stuffing, bread and butter, and apple spice cupcakes. YUM! Order yours online for $85 at WordOfMouthTruck.com before Sunday, November 22nd at 8pm for pickup on Wednesday, November 25th from 12-7pm.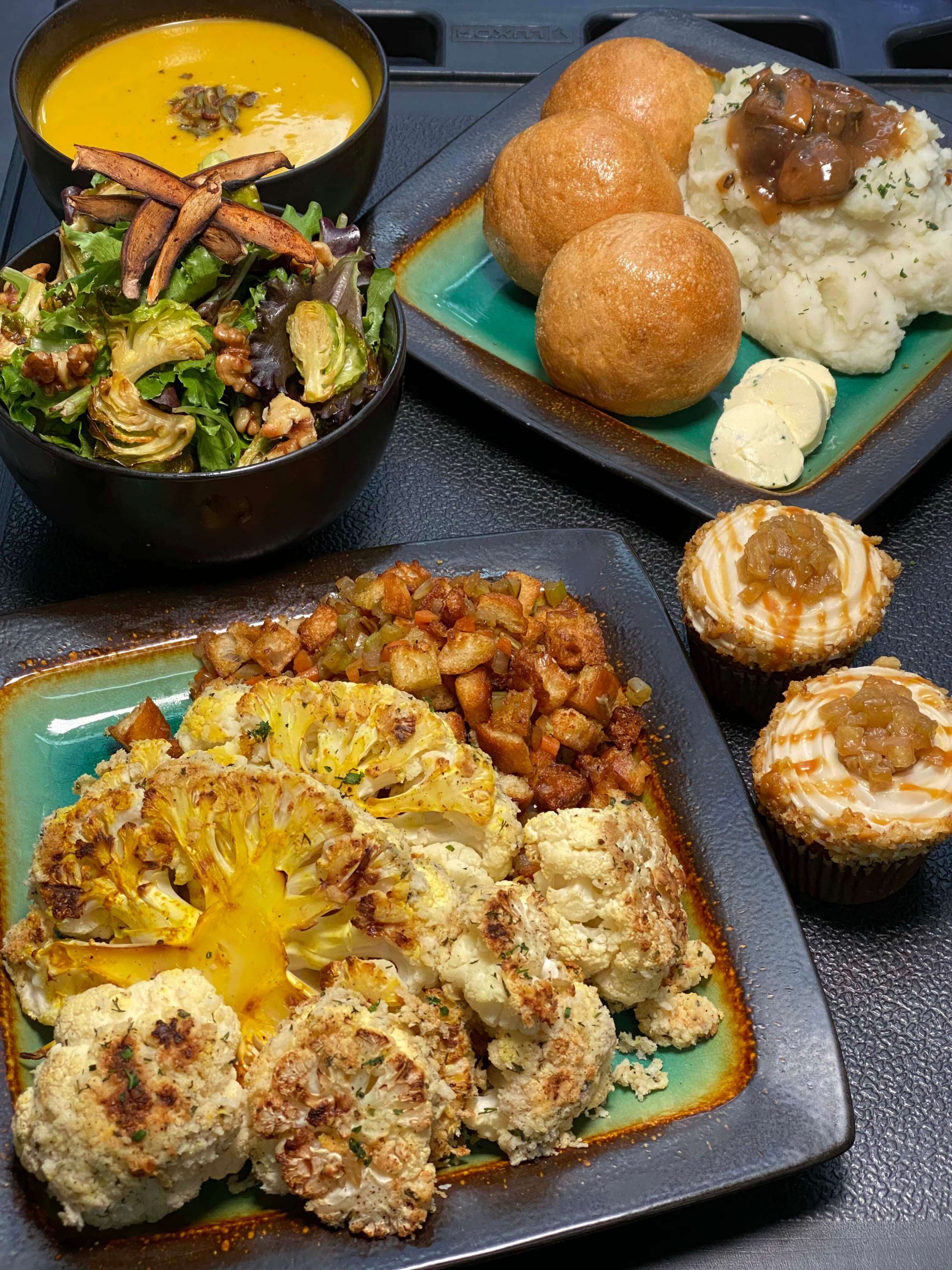 M Cafe
Melrose
If you'd like a full Thanksgiving feast or just a few solo items, M Cafe has it all––they've even got soy-free, gluten-free, and nut-free options! Entrée options include a seitan turkey roast or beet barbecued tempeh loaf. butternut squash & apple bisque, green goddess salad, mashed sweet potato, herbed bread stuffing, and roasted Brussels sprouts are just a few side dishes you can add on. If you're craving the whole shebang, M Cafe's Individual Packaged Thanksgiving Dinner is $38 per person. Orders must be placed by 7pm on Monday, November 23rd for pickup on Wednesday, November 25th.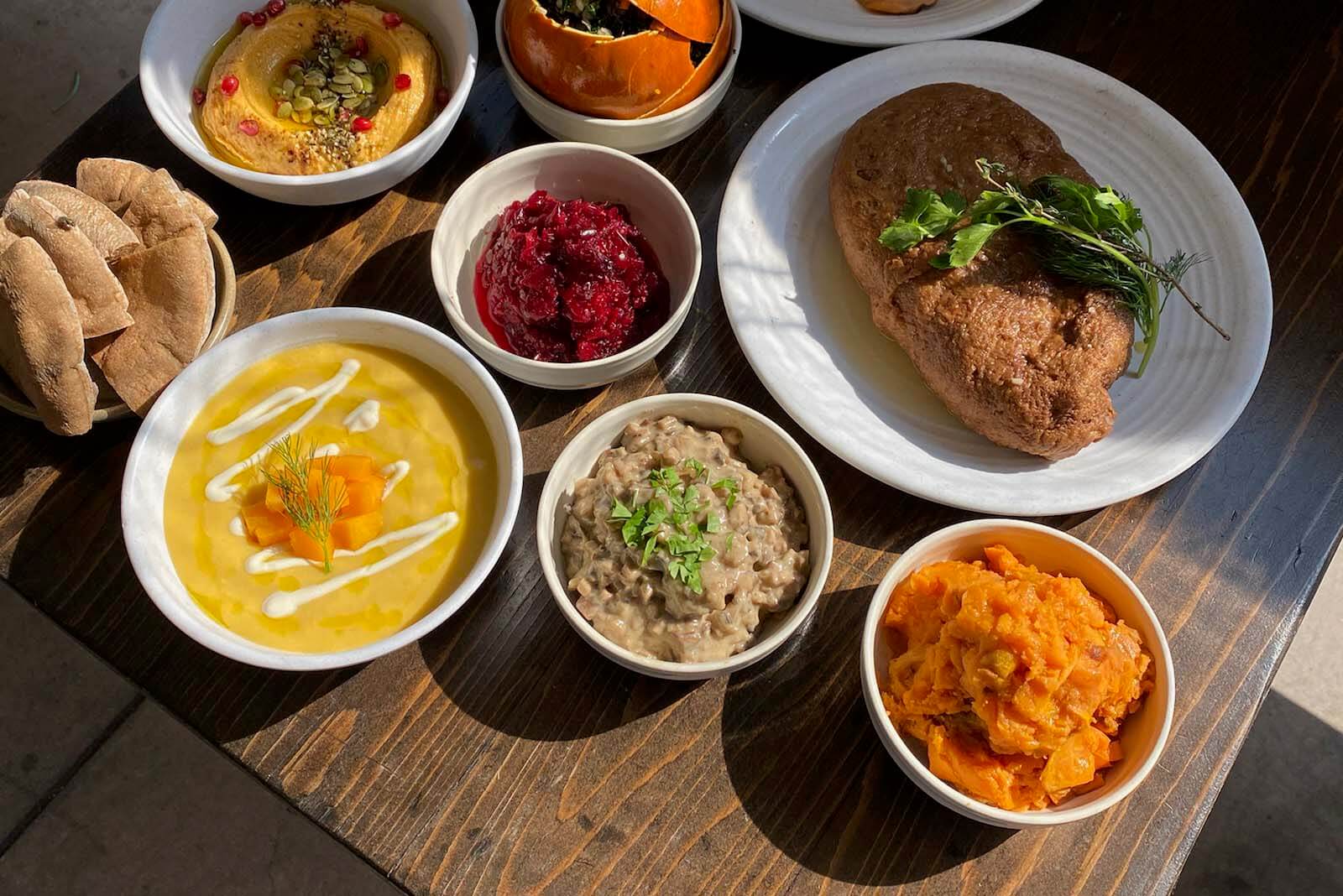 Mama's Tamales
Westlake
Not into the faux turkey trend? Take part in another holiday tradition and order a tamale feast this Thanksgiving! Mama's Tamales has six vegan tamale flavors to choose from––mole with cactus & potatoes, sweet corn, black bean & herbs, jackfruit verde, "cheesy" jalapeño, and jackfruit rojo. You can order these flavors by the dozen or get the holiday mixed dozen that contains two of each variation. For some other appetizing nosh to add to your spread, we'd recommend a tray of beans, rice, pupusas, and plantains.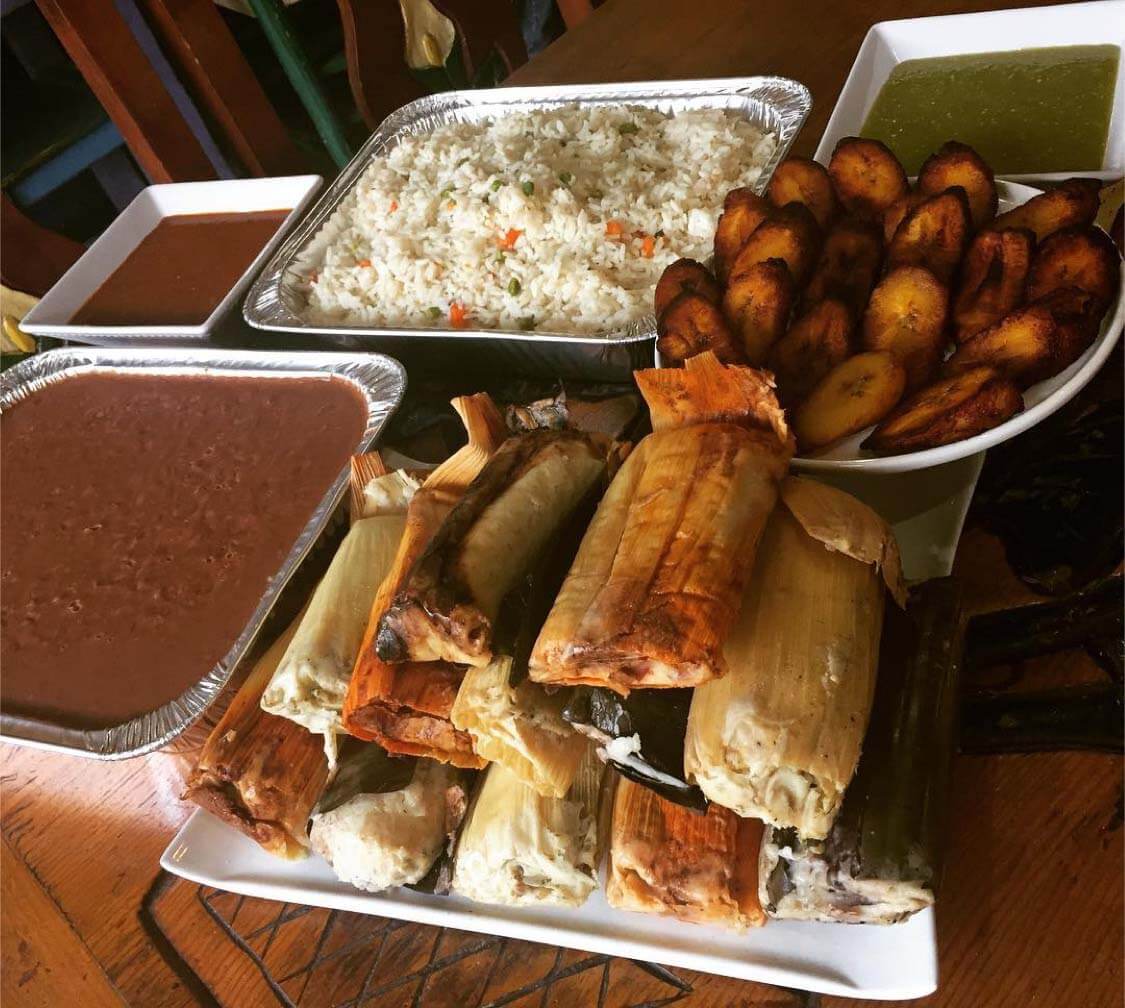 Compton Vegan
West LA
No one does vegan comfort food quite like Lemel Durrah of Compton Vegan. This November, the vegan hotspot is offering a Family & Friends Holiday Catering Menu with four customizable package options of entrées and sides. From wings, ribs, and jambalaya to potato salad, collard greens, and stuffing, the flavors and textures of Compton Vegan's dishes will satisfy your belly and soul. Orders must be submitted via text or email by Sunday, November 22nd. You'll have the choice to pick up your feast at their West LA location or at Grocery Outlet in Compton on Wednesday, November 25th. Want to pay it forward? When you purchase a Compton Vegan Cares T-Shirt, the proceeds will be used to donate Thanksgiving meals to families in need. To nominate a family or nominate your own, email your story to comptonvegancares@gmail.com. Recipients will be notified Tuesday, November 24.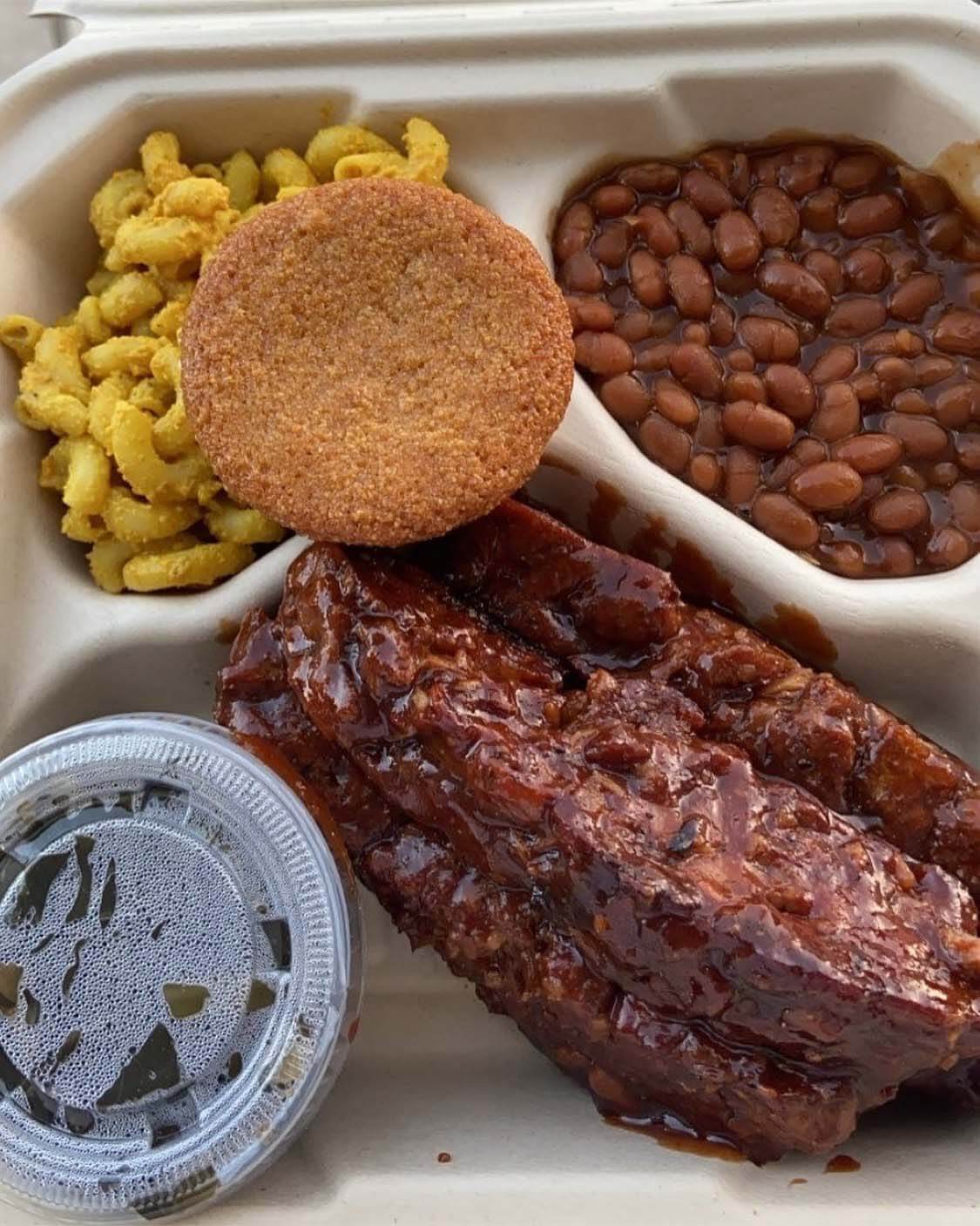 Photo credit: @herbmanknows on Instagram
Lobo Cuban
Pop-up
Craving something a bit more innovative than vegan turkey and mashed potatoes? This vegan pop-up is serving their oh-so-popular Cuban fusion dishes for a fresh and unique holiday meal. Fill up your table with a tray of potato salad, six-pack of potato balls, and for dessert, a six-pack of guava pastries! Check out @lobocubanfood on Instagram for more information.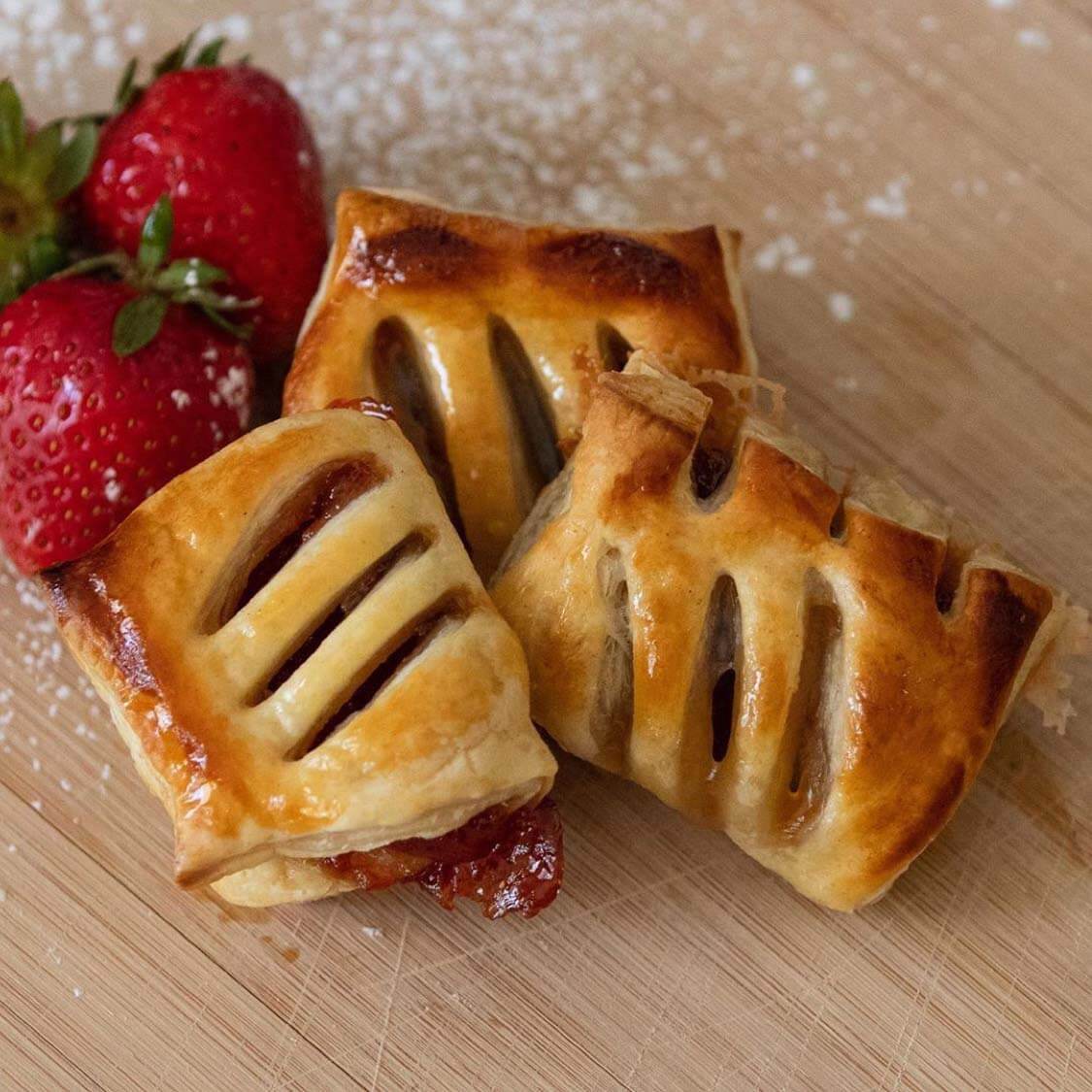 Native Foods
Multiple Locations
The best thing about Thanksgiving is all of the jokes about how sad it must be to only eat kale as a vegan––NOT! Show those haters the wealth of flavors and textures that are possible with a plant-based diet when you pick up the Thanksgiving Feast from Native Foods! From their Wellington and apple cider-braised Brussels sprouts to garlic mashed potatoes, stuffing, and mushroom gravy, Native Foods Cafe has you covered this Thanksgiving. Place an order online or through the app for pickup on Wednesday, November 25th.