Check out our list of plant-based grocery products from Target's store brands.
A Target run is basically an adult field trip. Not only can you find cruelty-free personal items, this one-stop shop carries a wide variety of plant-based eats. The store lines, Good & Gather and Favorite Day, have recently stepped up their animal-friendly game and now offer non-dairy creamers, chick'n tenders, vegan mayo, and more. Check out our list of plant-based grocery products from Target's store brands.
Refrigerated Items
We're obsessed with this creamy non-dairy milk in oatmeal, coffee, smoothies, sauces, and creamy soups. This fortified, dairy-free Original Oat Milk is hard not to love, but if this grain-based milk isn't your go-to, Good & Gather offers vegan-friendly almond milk varieties, too. Find cartons of almond milk in vanilla, original, and unsweetened.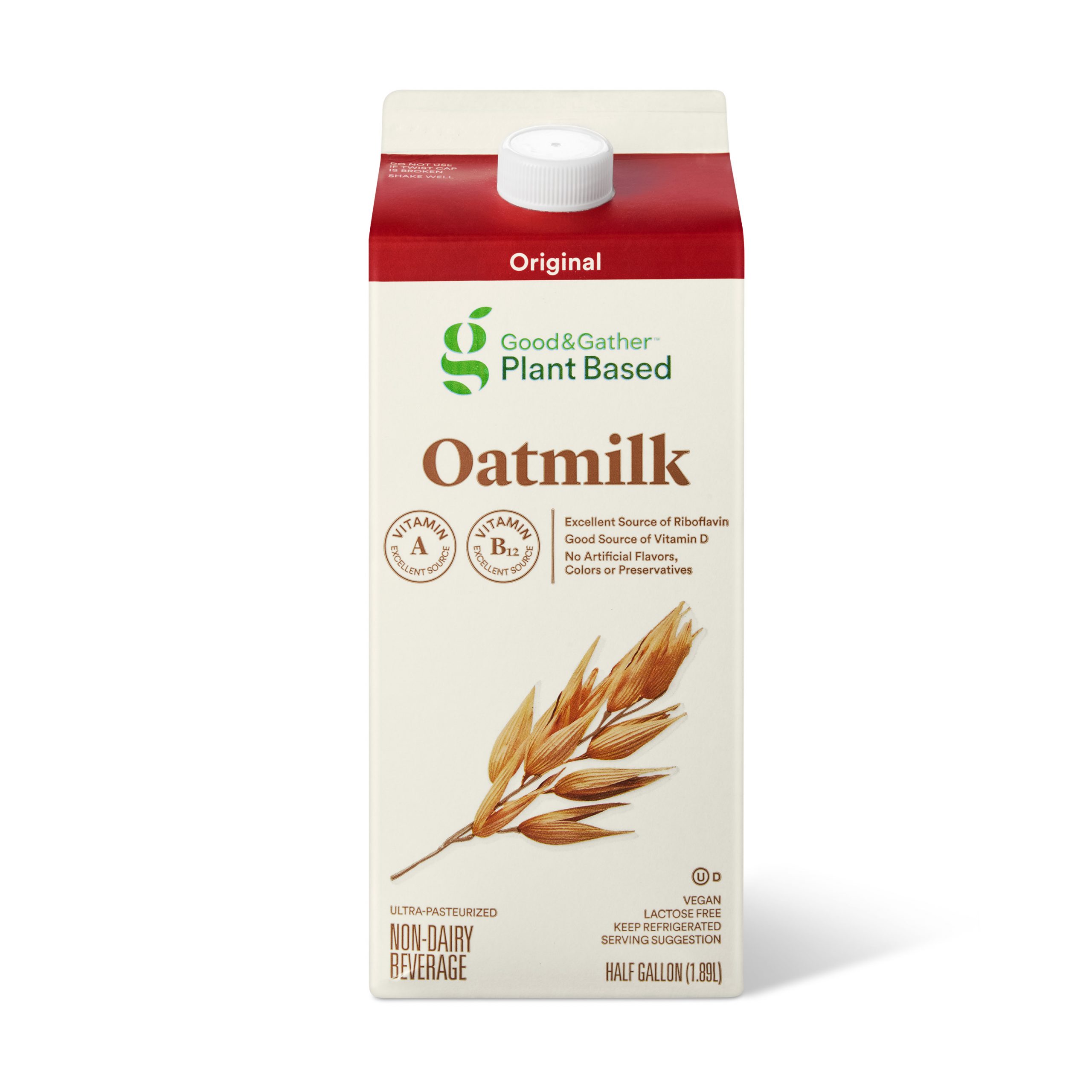 These veganized Salad Kits are not skimping on flavor, and we just love to see it! Target offers three plant-based salad kits to choose from for your cruelty-free lifestyle. Try out the Vegan Chipotle Ranch with Black Beans, Ranch & Avocado with Corn Flaxseed Chips, and Tangy Thai-Style Curry with Quinoa & Chickpea for easy side dishes.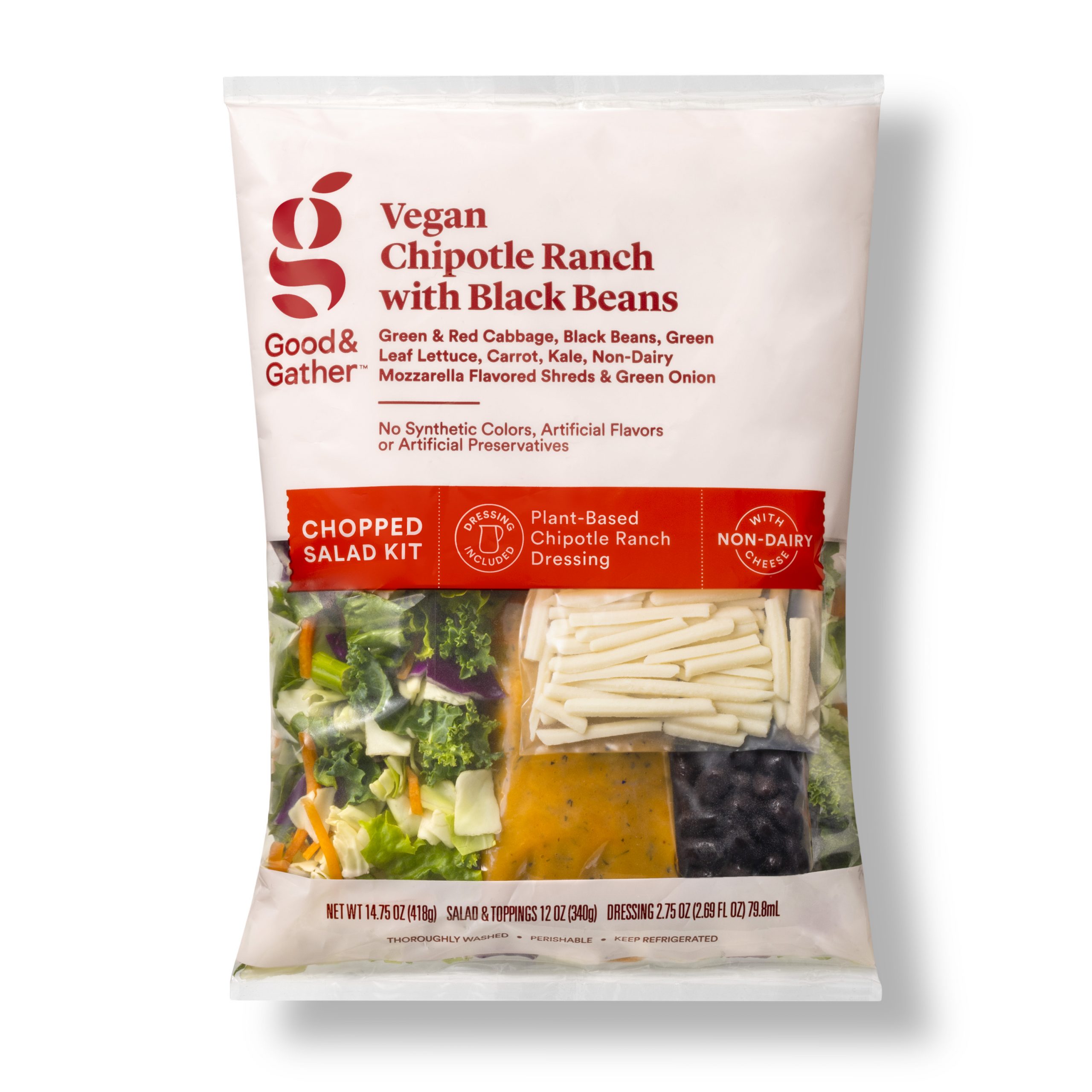 From basic buttered toast to homemade vegan biscuits, these Plant-Based Organic Non-Dairy Salted Buttery Sticks from Good & Gather are a great ingredient to keep in the fridge. The store brand also offers tubs of Non-Dairy Buttery Spread made from coconut oil, perfect for sweet corn, frozen waffles, and vegan grilled cheeses.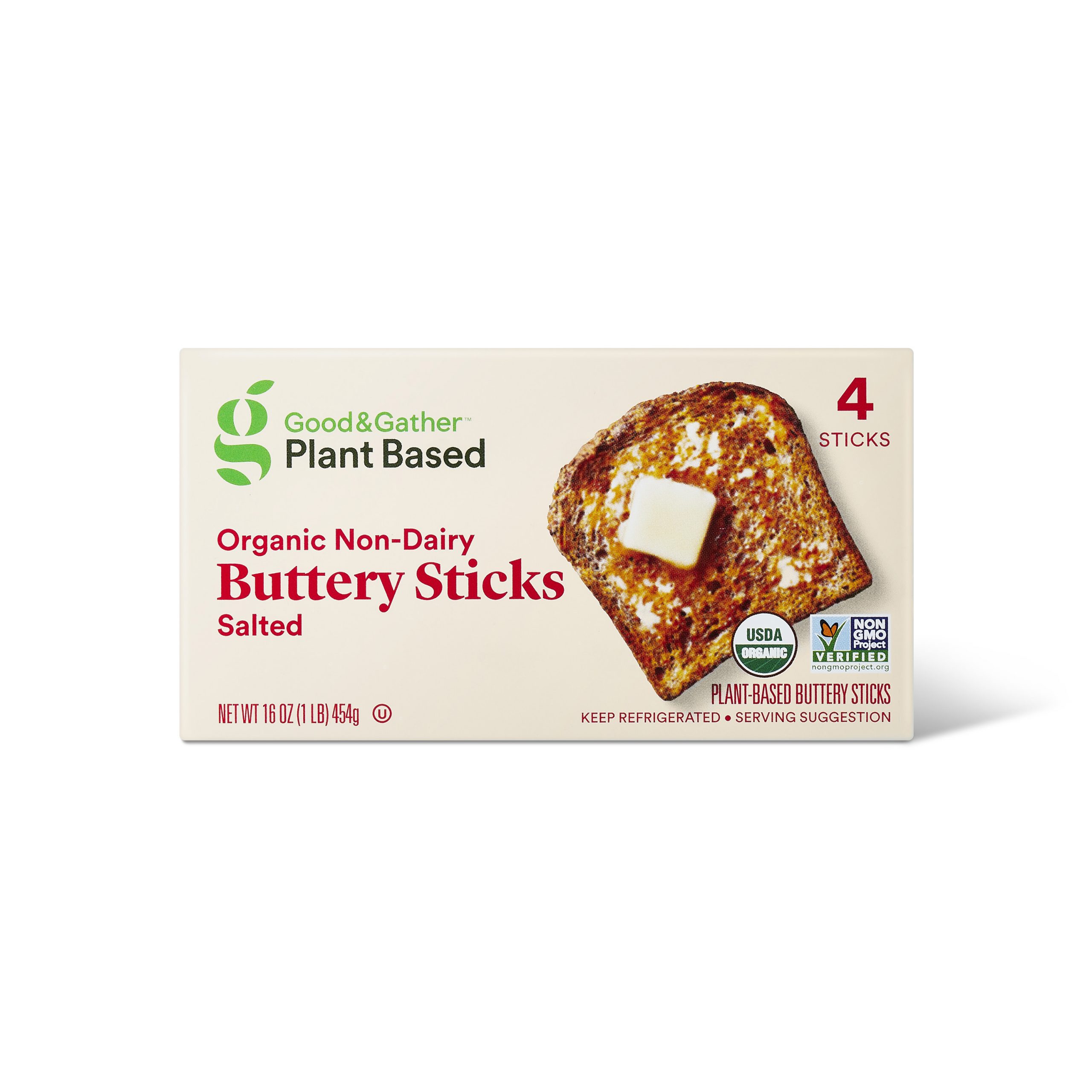 For the plant-based chefs out there—this one's for you! This Organic Extra-Firm Tofu from Target is rich in protein and calcium and is made with organic, non-GMO soybeans. It is perfect for homemade nuggets, protein-packed stir-fries, cheesy breakfast scrambles, and more. The naturally mild flavor makes this plant-based product very versatile.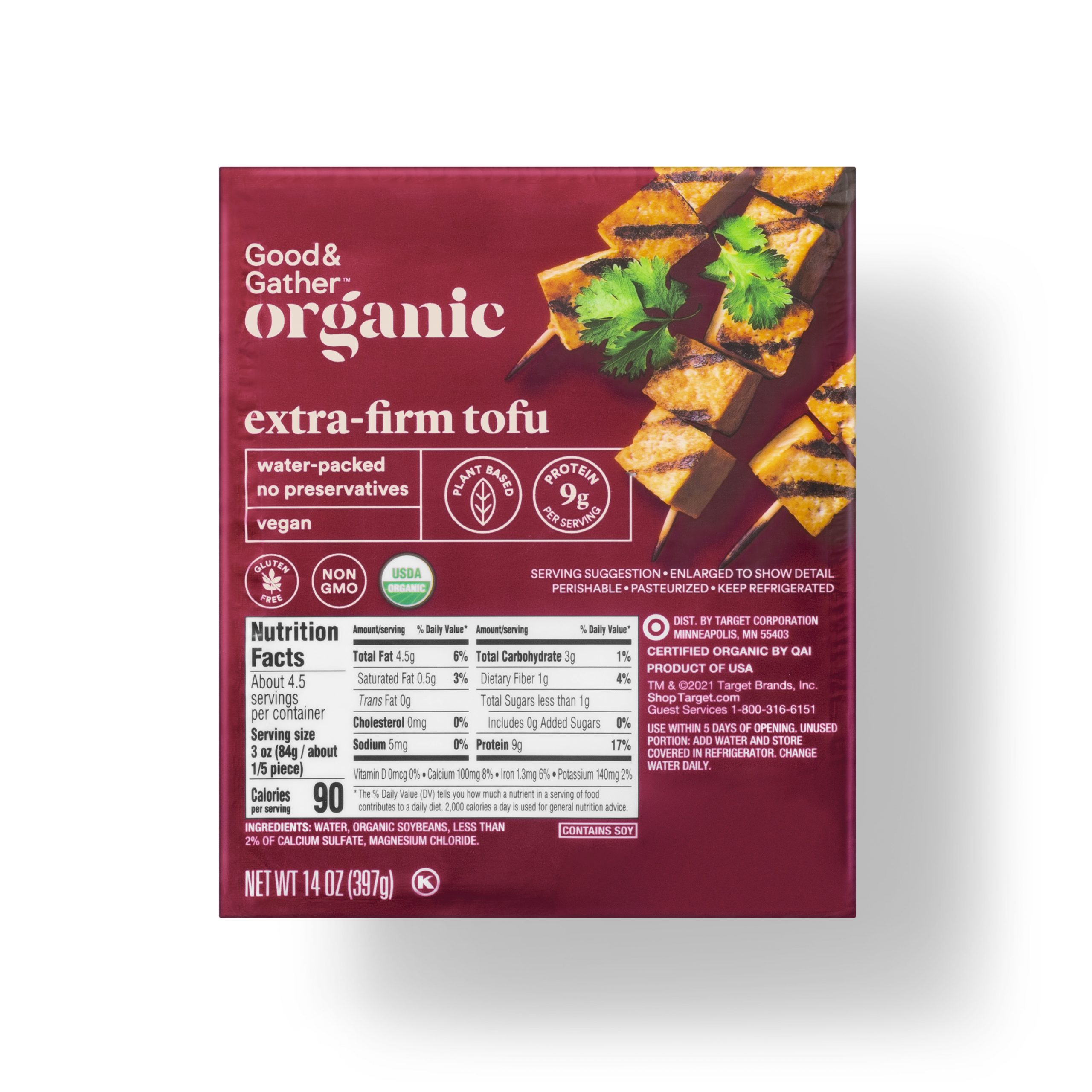 We love to get creative with this one! The Plant-Based Meatless Ground from Target was made for herbed meatballs, cheese-stuffed burgers, homemade meatloaf, loaded tacos, meaty spaghetti, and more—the recipe ideas are endless. The protein-packed ground is made from pea protein and is totally free of both gluten and soy.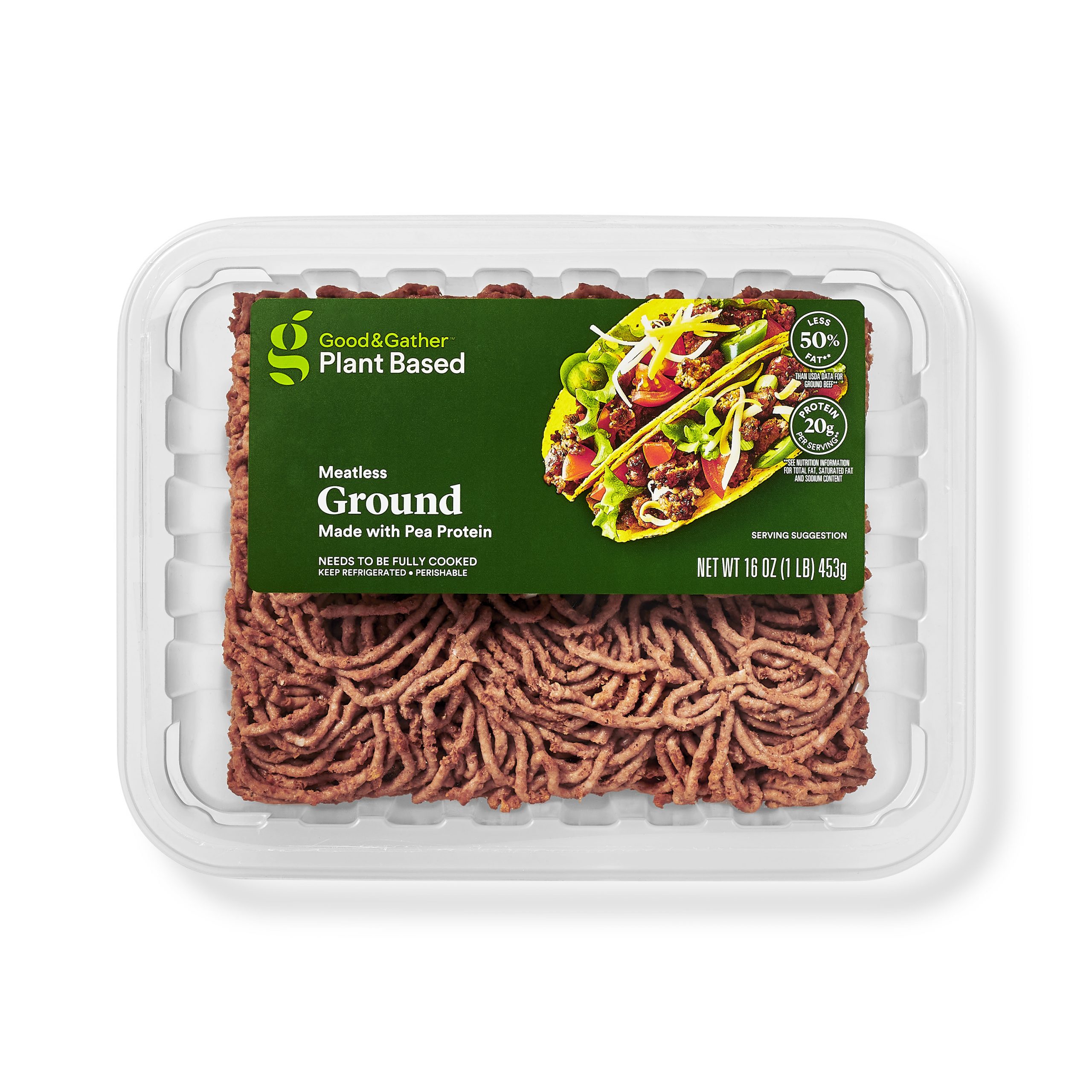 These Non-Dairy Creamers were specifically made for spicing up boring cups of morning joe. Choose from the caramel almond milk, vanilla almond milk, and sweet and creamy oat milk creamers next time you find yourself at Target. Or have your coffee and drink it too by snagging all three flavorful coffee lighteners.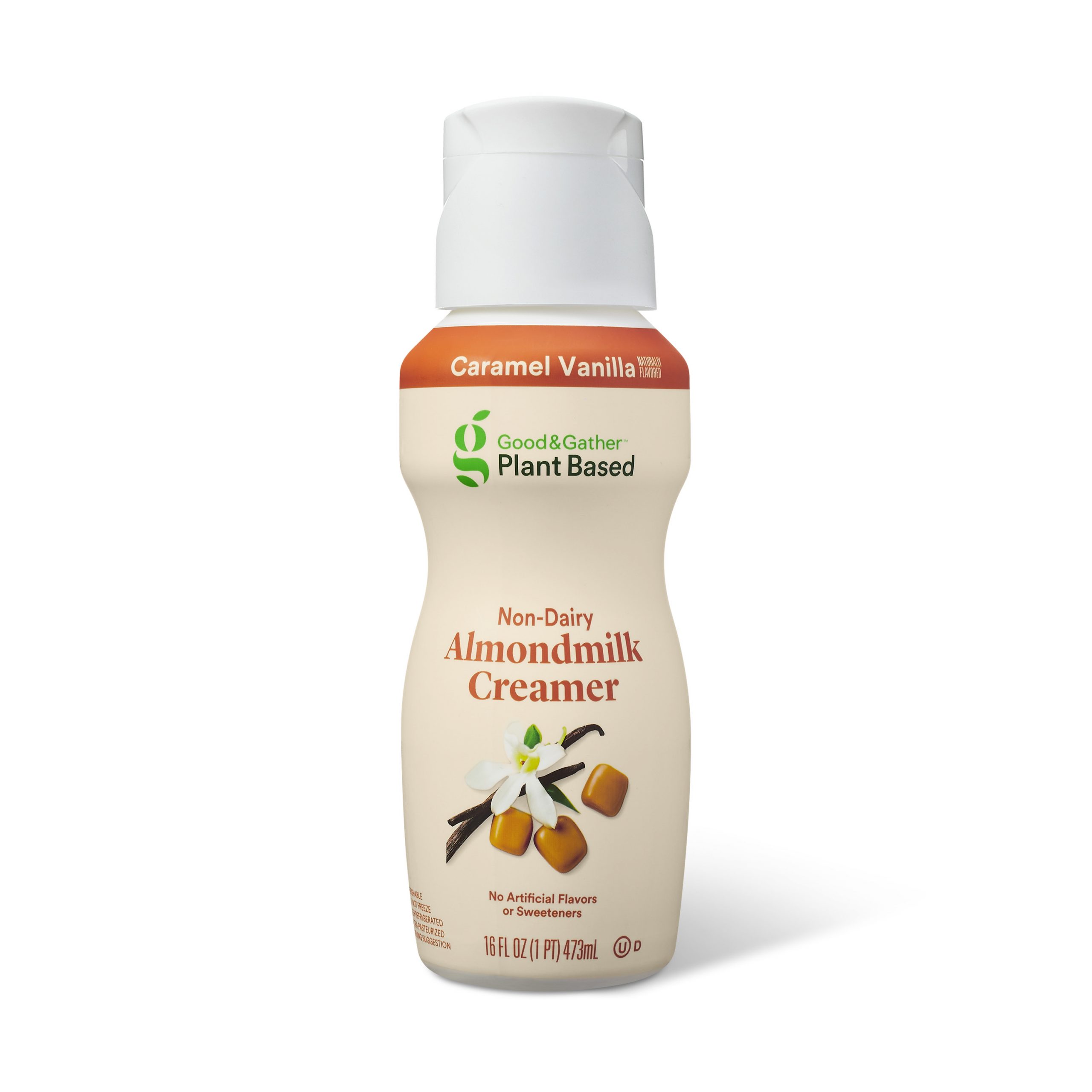 If we didn't mention this plant-based staple, would we even be vegan? Good & Gather offers a wide variety of our favorite dip, spread, and secret ingredient—hummus! From Classic, Olive Tapenade, and Jalapeno Avocado to Red Pepper, Garlic, and Roasted Artichoke & Spinach, Target is not playing games with this legume-based dip.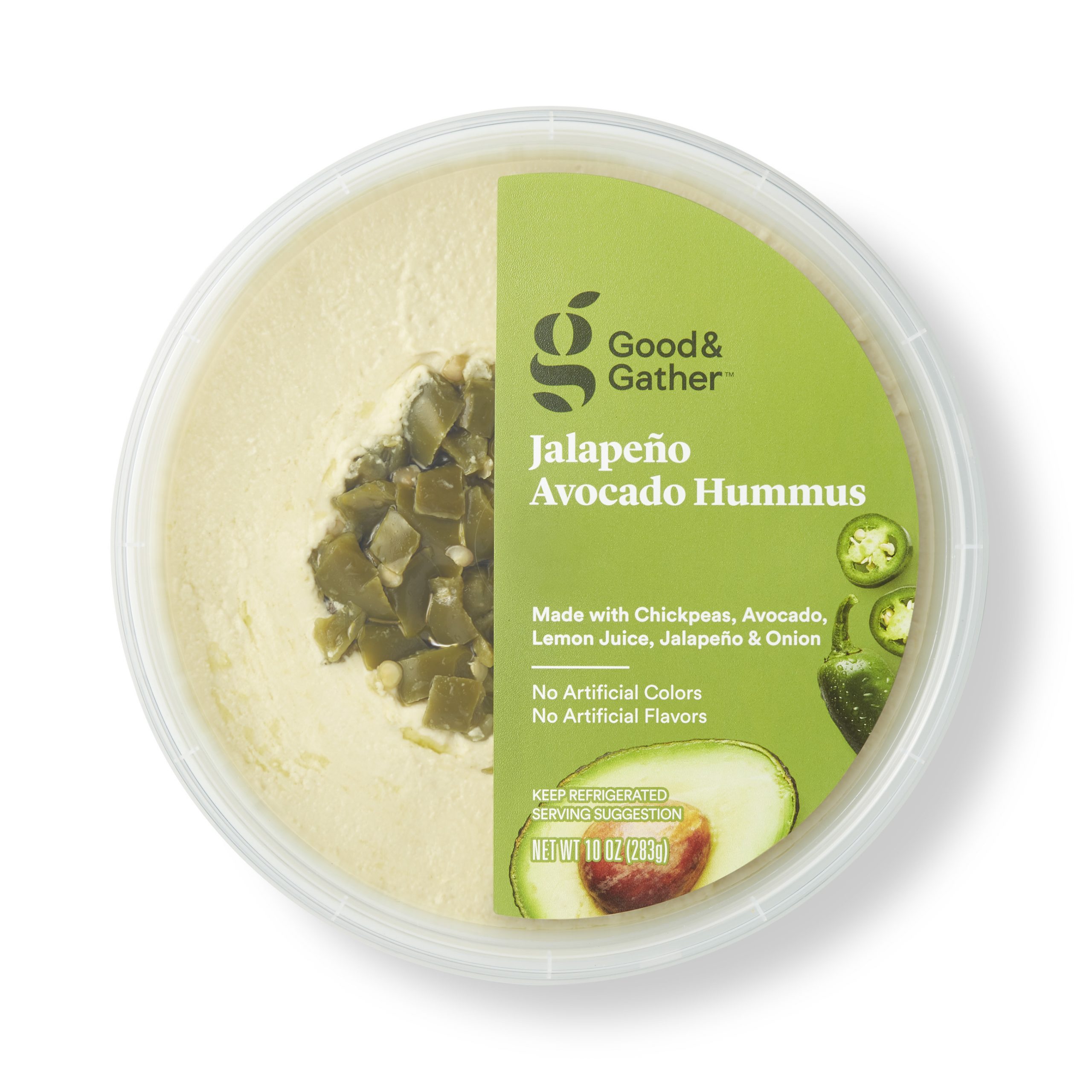 From French Onion to Pizza Flavored to Everything Seasoned cashew-based spreads, Target has the hookup on creamy dips. You'll find these tasty spreads next to the hummus and guac. We love enjoying these on sandwiches, using them as a veggie dip, serving with crackers, and getting creative with creamy pasta dishes.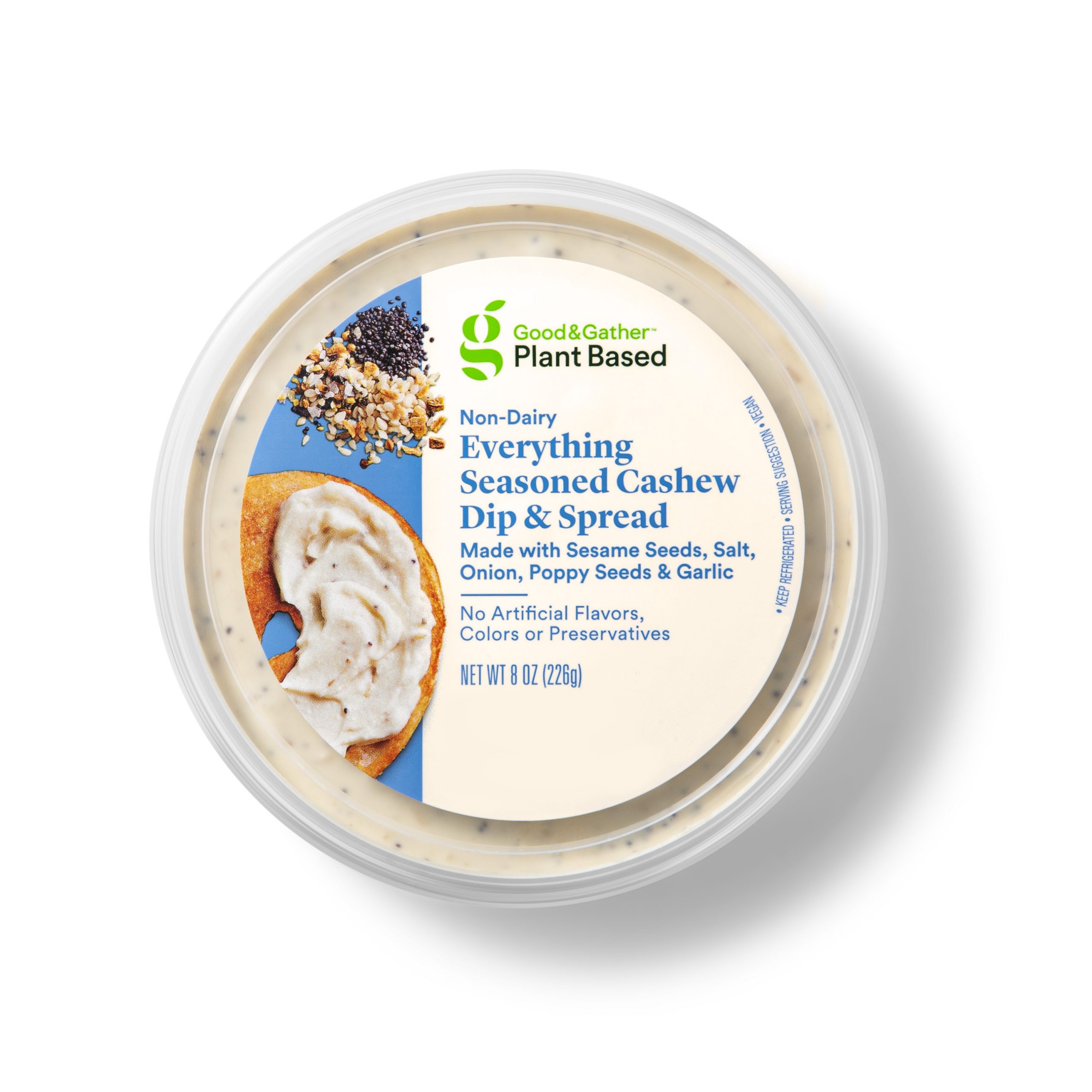 Frozen Items
Target shoppers can find the Favorite Day Oat Based Frozen Dessert Bars in three different flavors—"Vanilla, Salted Caramel, and Macadamia Nut," "Forest Fruit and Raspberry," and "Peanut Butter." We understand what a tough choice this is, so we suggest going in with the intention of snagging all three varieties of dairy-free ice cream bars.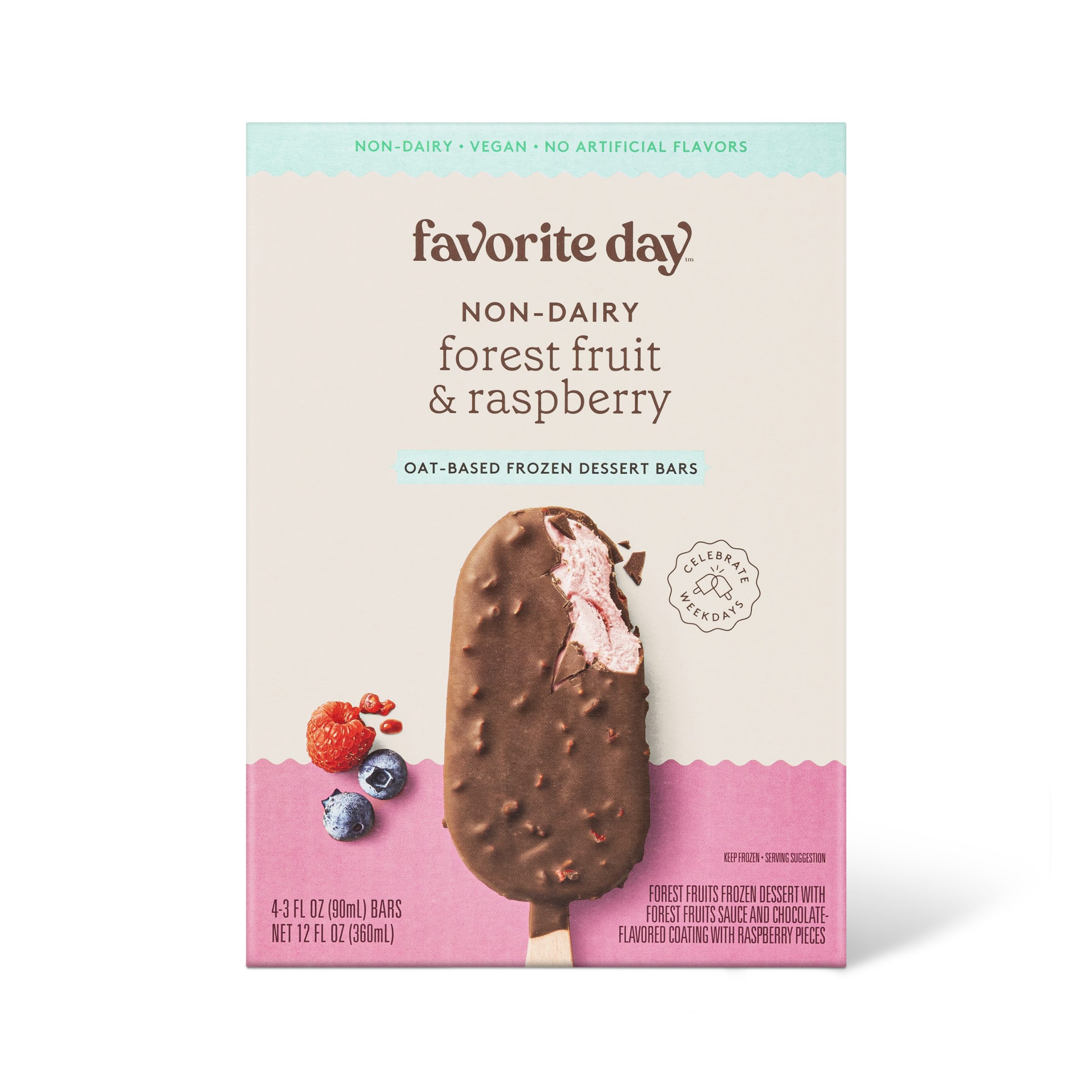 These plant-based balls of chickpea goodness can be found in the freezers of Target, and we are all in favor! The Good & Gather Frozen Vegan Falafel with Tahini Sauce is the perfect last-minute appetizer, salad topping, and pita filling. We love dipping falafel in Target brand hummus—it's basically chickpea inception.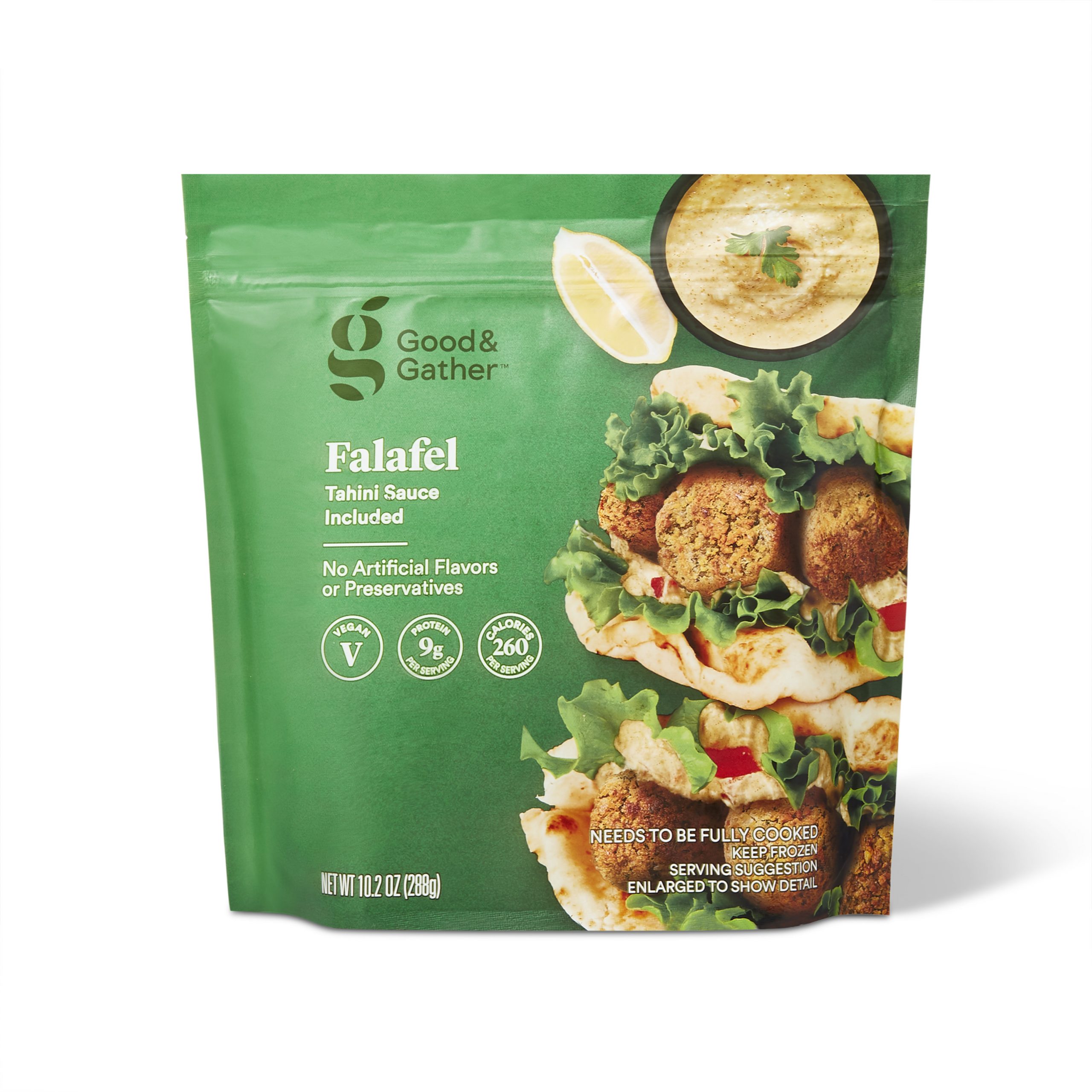 A freezer packed with vegan tenders is adulting at its finest. These Frozen Plant-Based Meatless Chick'n Tenders contain both soy and wheat proteins along with a variety of grain-based flours and spices to bring that chicken flavor sans the cruelty. These tenders were made for dipping, dunking, and of course eating!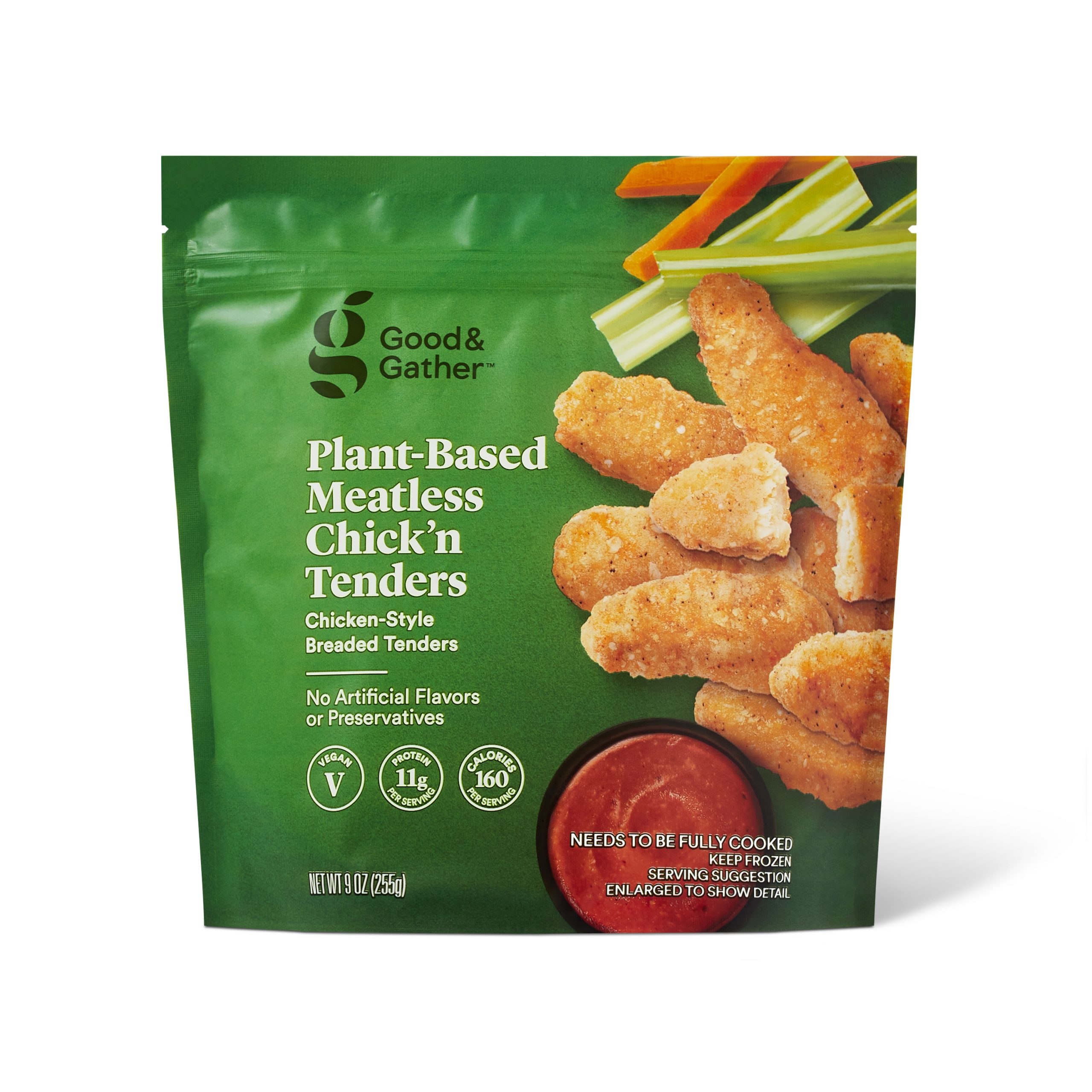 ICYMI: Target has given us six varieties of vegan Frozen Dessert to enjoy! We're talking "Vanilla Bean," "Vanilla Cake and Cookie Dough," "Cashew Caramel," "Caramel Brownie," "Mocha Almond Fudge," "Peanut Butter and Chocolate," and "Strawberry and Fudge." The almond milk ice creams are an entire vibe. Gotta try 'em all!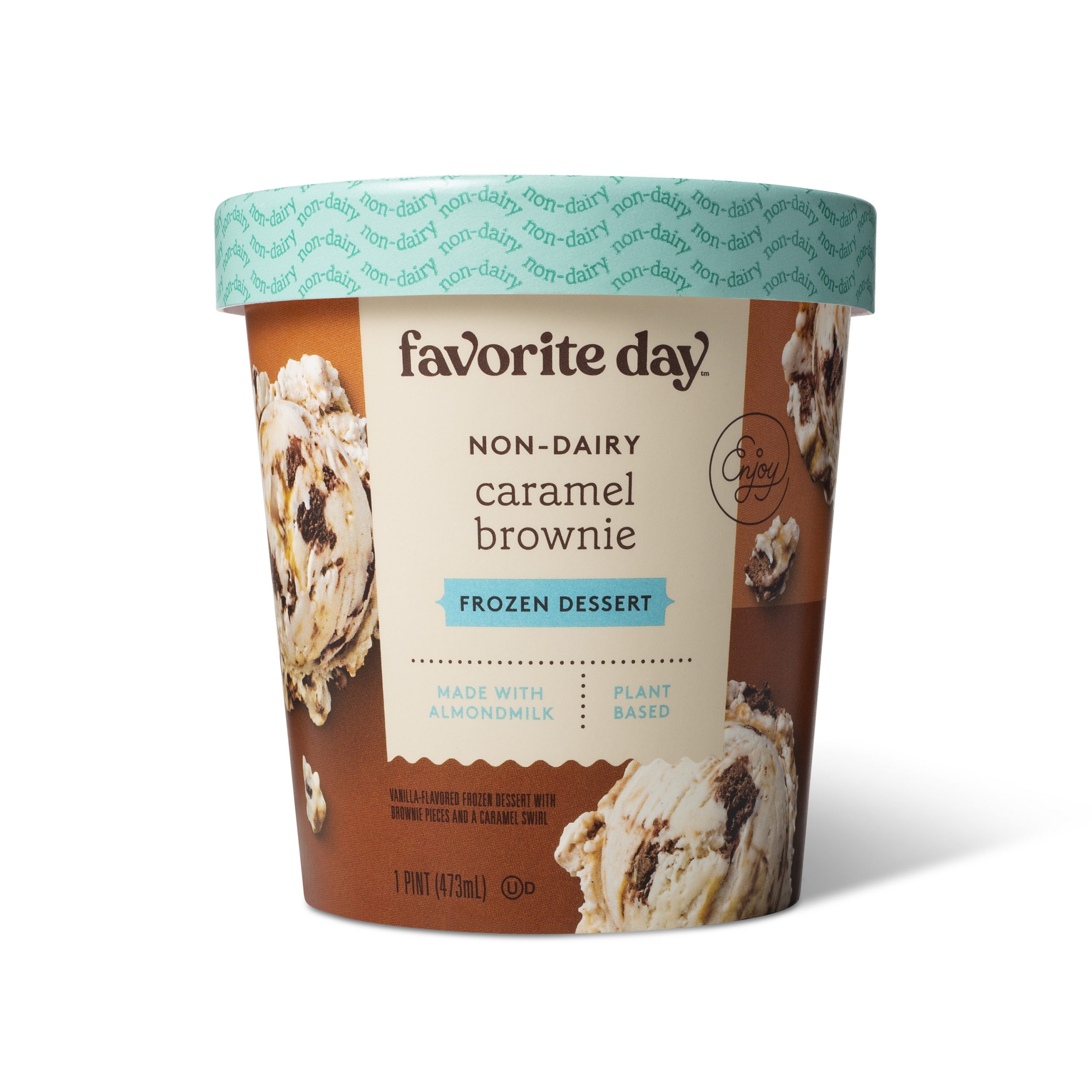 These accidentally vegan spring rolls are our newest freezer staple! Filled with cabbage, carrot, onion, edamame, tofu noodles, and more, the Vegetarian Frozen Vegetable Spring Rolls make for a tasty appetizer, quick side dish, and last-minute oven-baked snack. They even come with a tangy, premade sweet chili dipping sauce—yum!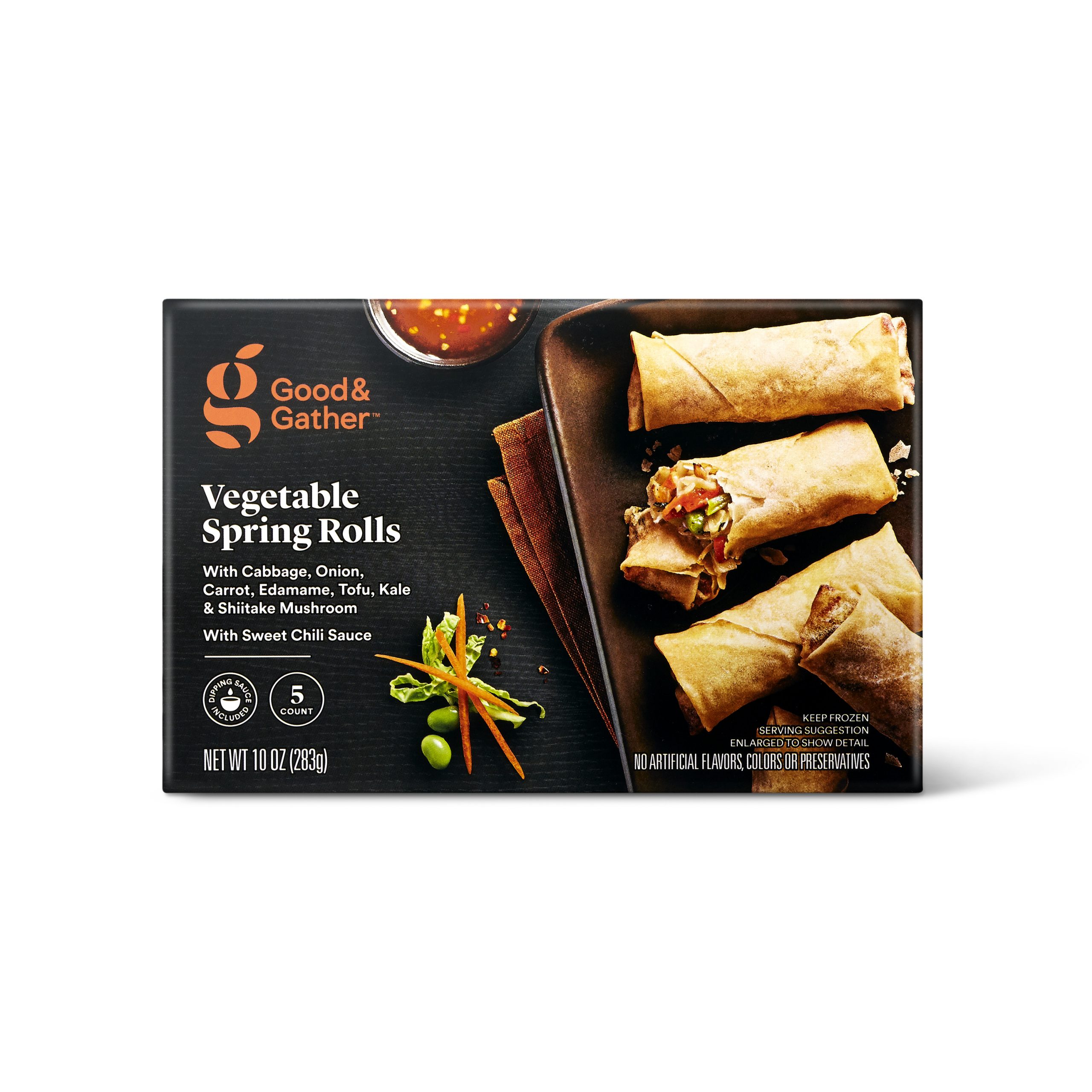 Plant-based and gluten-free? These inclusive waffles are a great option! We love warming these Gluten-Free Homestyle Waffles for a traditional breakfast. Looking for a creative way to enjoy? What about a brekkie sandwich? Snag some veggie breakfast sausage, vegan egg, and use the waffles as your bread selection.
Shelf-Stable Items
Calling all lovers of creamy dips, homemade dressings, and veggie sandwiches, this Target brand offers Vegan Dressing. The Good & Gather mayo-like spread is made with canola oil, vinegar, and pea protein. No eggs here, folks—this mild, yet tangy, dressing is vegan AF. Find it in the pantry area near other condiments and salad dressings.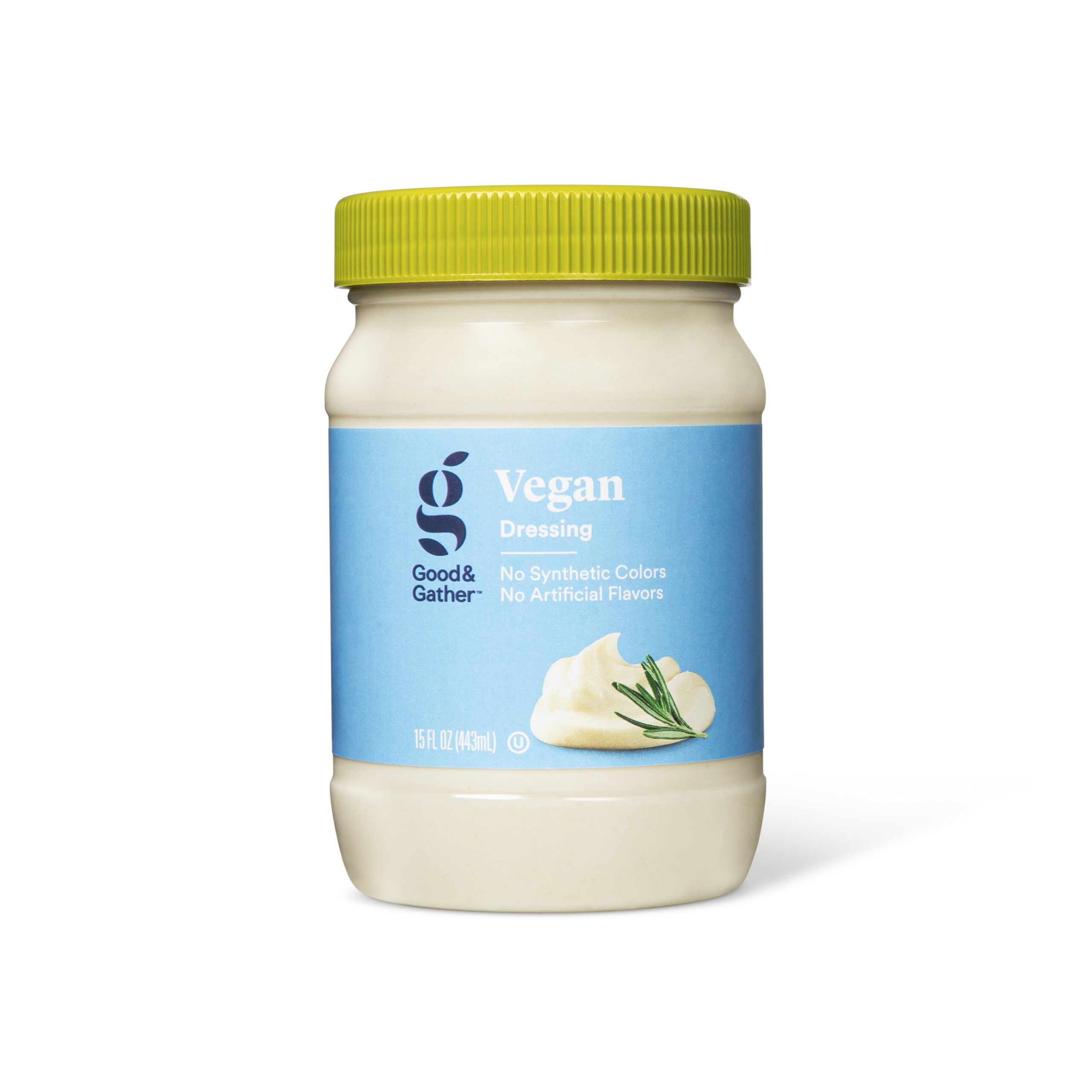 Made for hikers, roadtrippers, and plant-based snackers, these nutrition bars are a nourishing snack option. The makers of these bars kept things super simple, and each bar contains minimal ingredients. We're loving the Cashew Cookie Date & Nut Bars, but other flavors like Apple Pie and Chocolate Chip Cookie Dough can also be found lining the shelves of Target.
Unleash the snack attack. The Sea Salt Veggie Straws from Target are such a fun, tasty, and crunchy snack to enjoy. These potato crisps contain veggie powders for fun colors without artificial dyes. Think vibrant tomato, spinach, beet, and turmeric. We love to pair these with a creamy vegan spread like the Good & Gather Pizza Flavored Plant-Based Dip.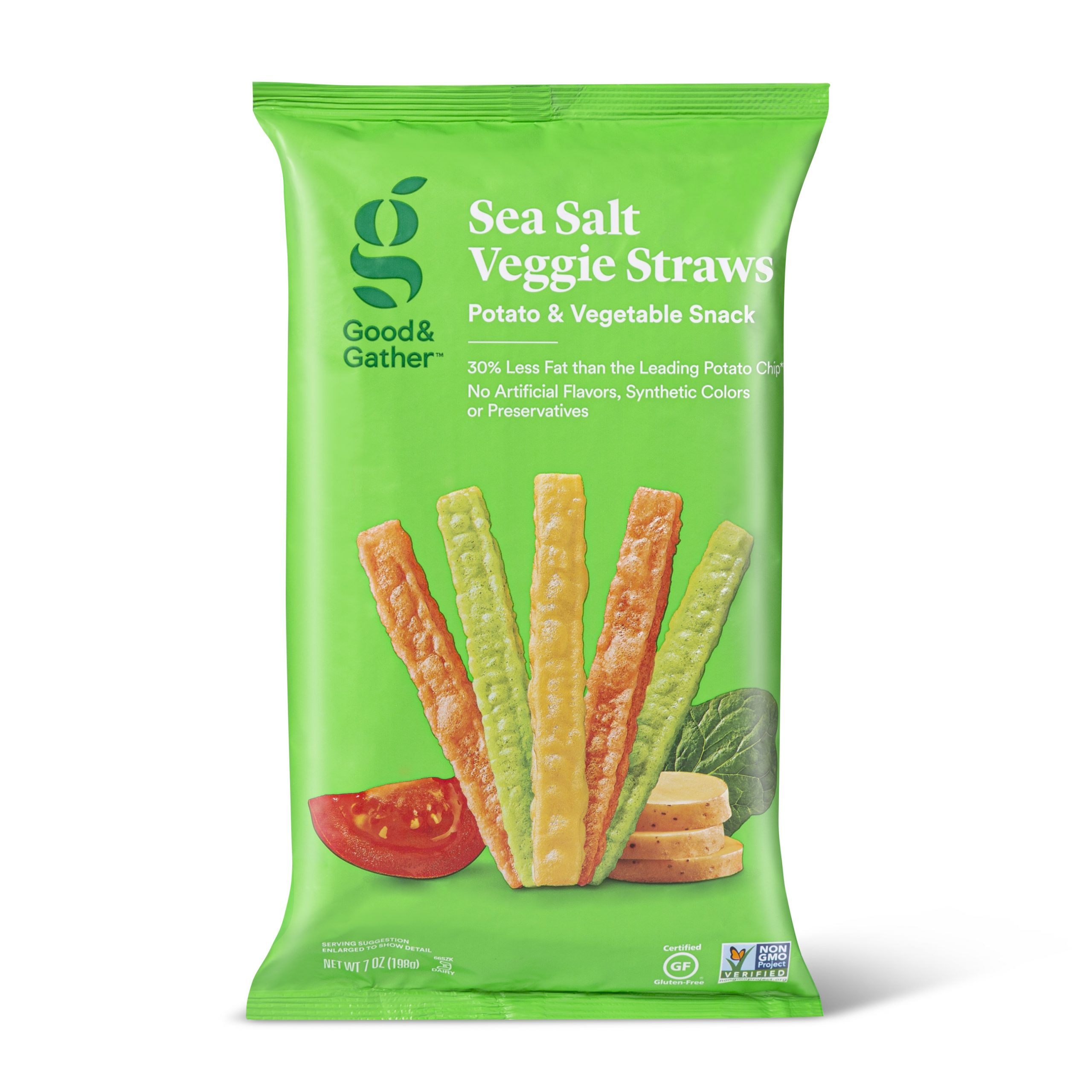 Soft, chewy, accidentally vegan cookies? We're grabbing the car keys ASAP. Target's new exclusive brand Favorite Day specializes in sweet treats. While not all products are vegan, these Chewy Chocolate Chip Cookies are a plant-based option to enjoy. We like to pair ours with scoops of the brand's almond milk frozen desserts.