Trader Joe's sure has a lot of condiments in their refrigerated section. And it turns out, a lot of them are vegan friendly. So, here's a list of some vegan dips, spreads, sauces, and more you should pick up next time you swing by your local TJ's. Most are free of gluten and soy too.
Black Bean Dip
This black bean dip is a mashed bean dip flavored with jalapeño, serrano, and habanero peppers. But despite these spicy flavorings, the spice level is more on the mild side. It's obviously great as a dip for chips and veggies, but also good as a taco or burrito filler, in quesadillas, and more.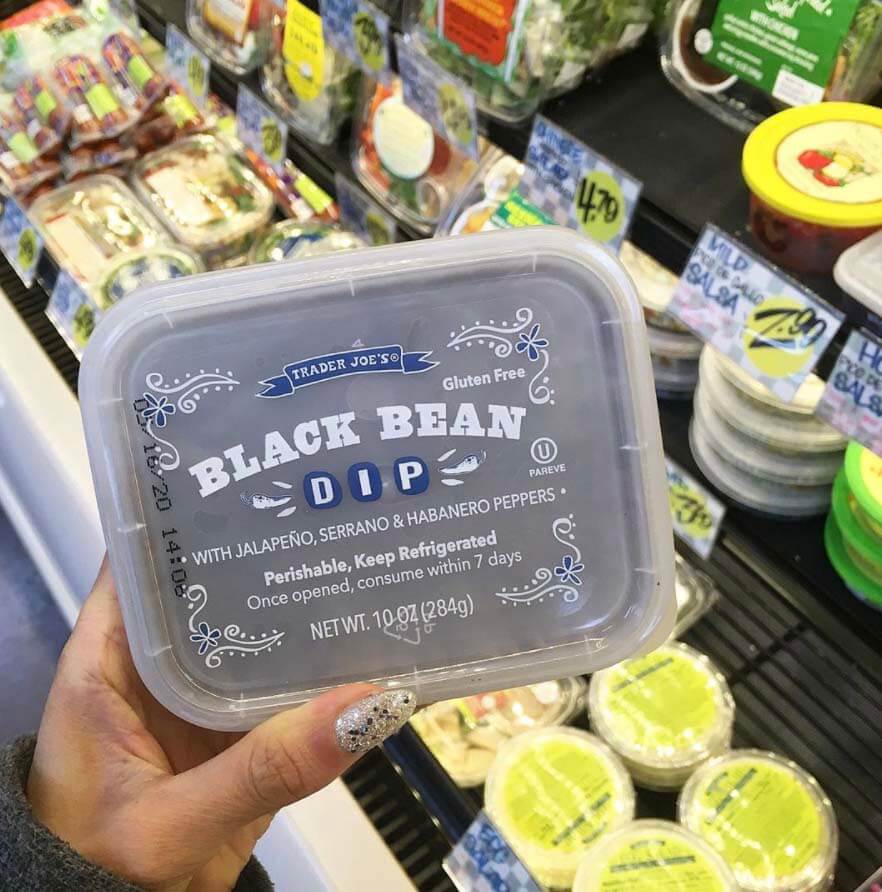 Photo credit: @mylifemoni
Vegan Cream Cheese
This is a perfect vegan alternative for cream cheese. Coconut and soy-based, the spread has that same familiar texture, and the flavorings are on point to give it that old traditional flavor. You can totally use it just like you'd use it's dairy-based counterpart—on bagels, in frosting recipes, with crackers, in a wrap, you name it.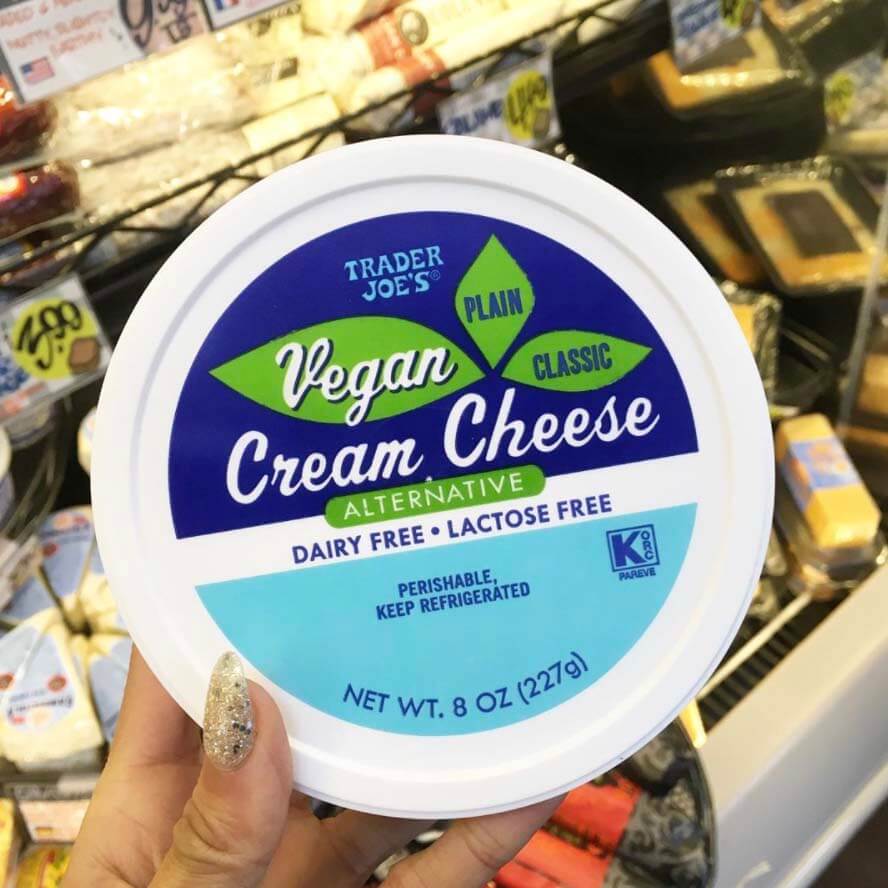 Photo credit: @mylifemoni
Organic Creamy Cashew Fiesta Dip
Clearly labeled vegan, this dip is a great alternative to nacho cheese. It's made from a base of cashews, potatoes, and carrots, and spiced with onions, green chile peppers, and more, plus it's oil-free. Use it cold or warmed up for all your vegan nacho cheese desires.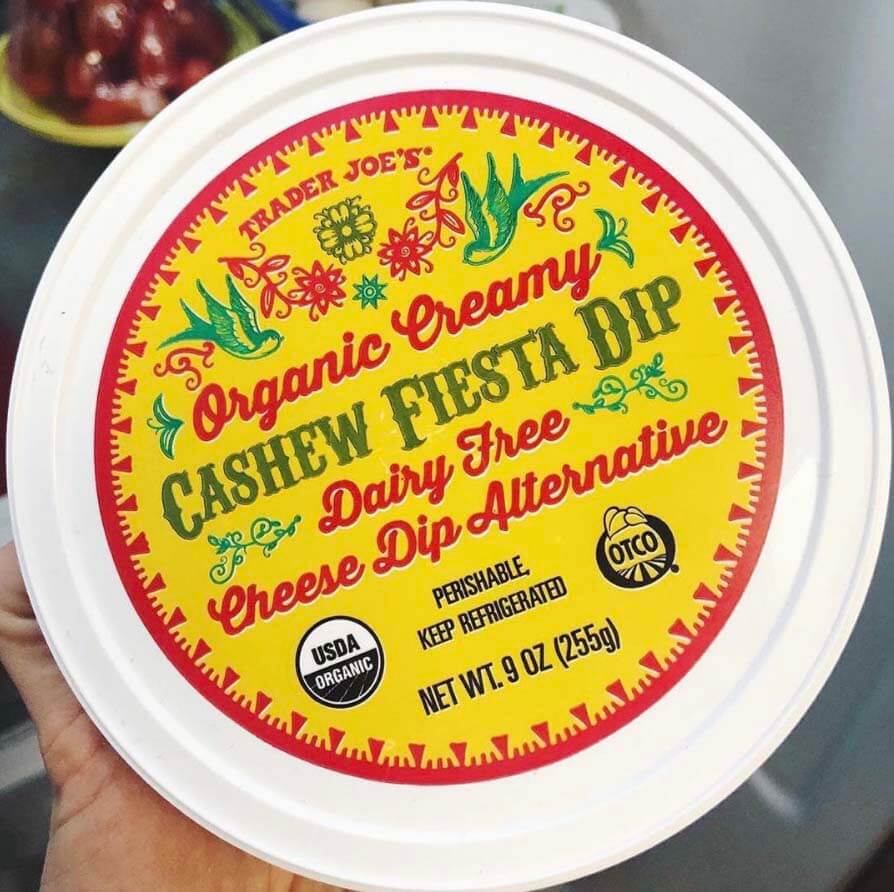 Fresh Bruschetta
A chunky blend of Roma tomatoes, olive oil, basil, and garlic, this bruschetta sauce is basically like an Italian salsa. Use it like a regular bruschetta topping and put it on some bread, replace your pasta sauce with it, or even dunk some chips in it—any way you want a little taste of Italy in your dish.
Garlic Spread & Dip
Flavored lightly with lemon juice, this garlic dip spread is surprisingly creamy, although it's completely free of any dairy. Garlic aficionados will love using it for any meal—from slathering it on burgers to plunging some pita bread in it, or even just eating it by the spoonful.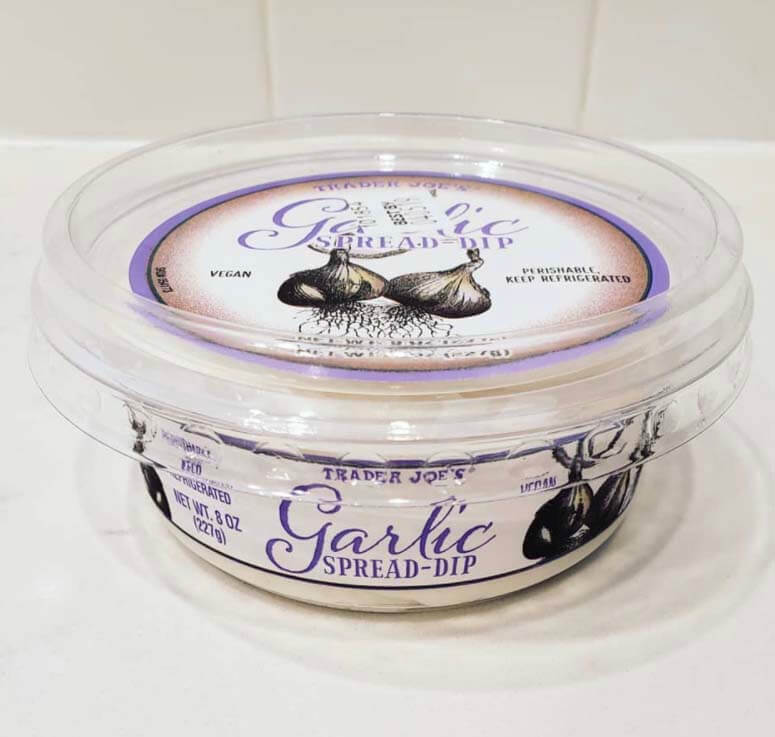 Photo credit: @bethanybuysthings
Jalapeño Lime Almond Dip
Add it to your sandwich or burger, use it to dip some crackers in, or go for a dollop on some rice—this almond-based dip is versatile. The almonds give it a crumbly texture, the jalapeño gives a little bit of a kick, and the lime adds that hint of refreshing citrus, making for a unique savory condiment.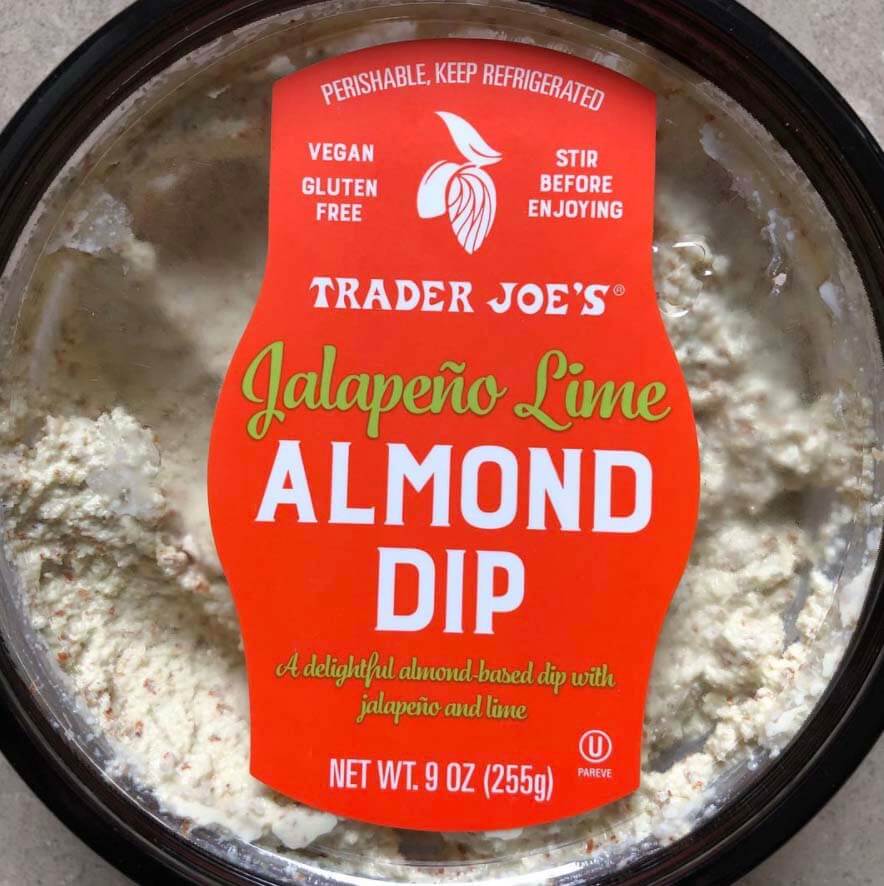 Photo credit: @nicolepiercetyo
Pizza Sauce
This basic pizza sauce makes it easier for you to create some pizza at home. It's perfect for topping Trader Joe's refrigerated Plain Pizza Dough or one of their vegan-friendly frozen crusts. Then you just toss on your toppings of choice. Or, use it as a dip for sides like French bread, mozzarella sticks, garlic bread, and more.
Vegan Ranch Dip
A coconut cream-based ranch, this dip is a perfect vegan version of its traditional counterpart, great for any of your ranch desires. Slice up some cucumbers and grab a bag of baby carrots, or spread some in a wrap. You can also use it as a dip for your buffalo cauliflower, or thin it out a bit with some liquid, and you've got ranch dressing for a salad.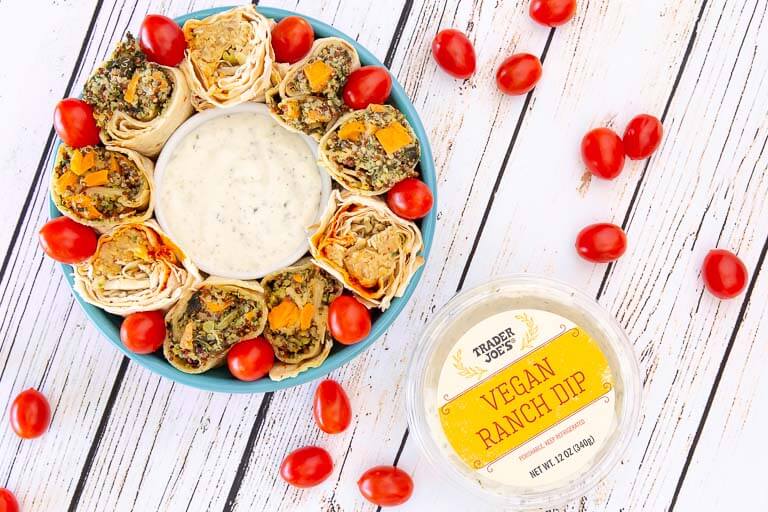 Guacamole
Trader Joe's offers a few different vegan-friendly guacamole options, like their Avocado's Number Guacamole and their Chunky Spicy Guacamole Auténtico. They're perfect for those times you're too lazy to make your own homemade version, or if your avocados are taking too long to ripen.
Hummus
Trader Joe's has stacks on stacks of vegan-friendly hummus, including, but definitely not limited to, their Roasted Garlic Hummus, Dill Pickle Hummus, Edamame Hummus, Organic Buffalo Style Hummus, Eggplant Hummus (oil-free), Organic Spicy Avocado Hummus, and Chocolate Hummus. There's something for every hummus fan to love.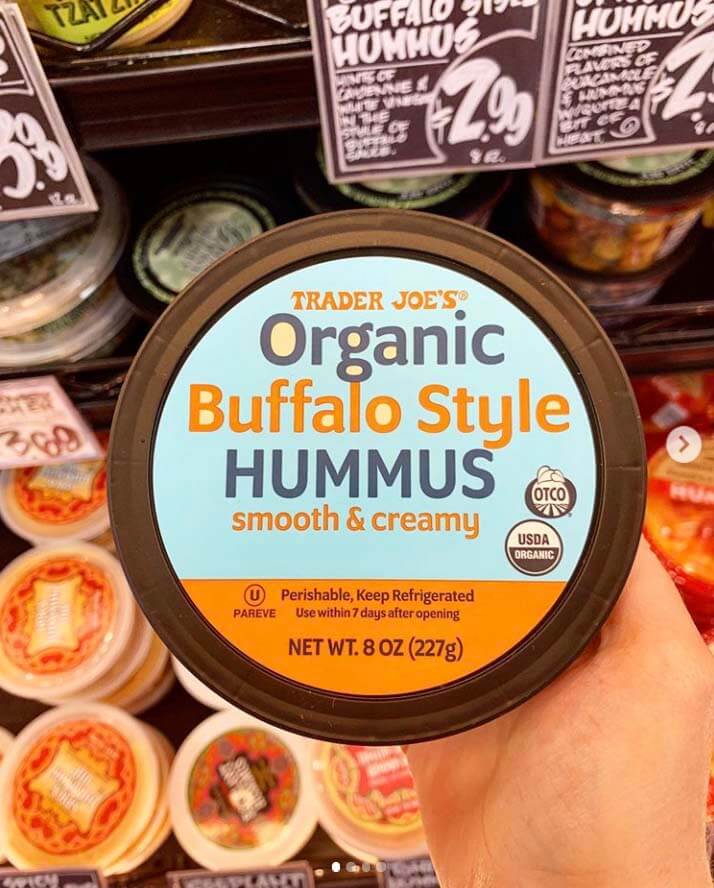 Photo credit: @traderjoesveganitems
Salsa
There are a good amount of vegan-friendly salsas at Trader Joe's, such as their Mild Homestyle Salsa, Mild Pico De Gallo Salsa, and Serrano Fresca Salsa, just to name a few. Add a bit of pizzazz to your burritos, bowls, tacos, chips, and quesadillas.
Vegan Kale, Cashew & Basil Pesto
As a great vegan pesto alternative, try this cashew-based version. Use it mixed in pasta, toss some potatoes in it, or include some on your sandwich. It can replace traditional pesto in any way you like.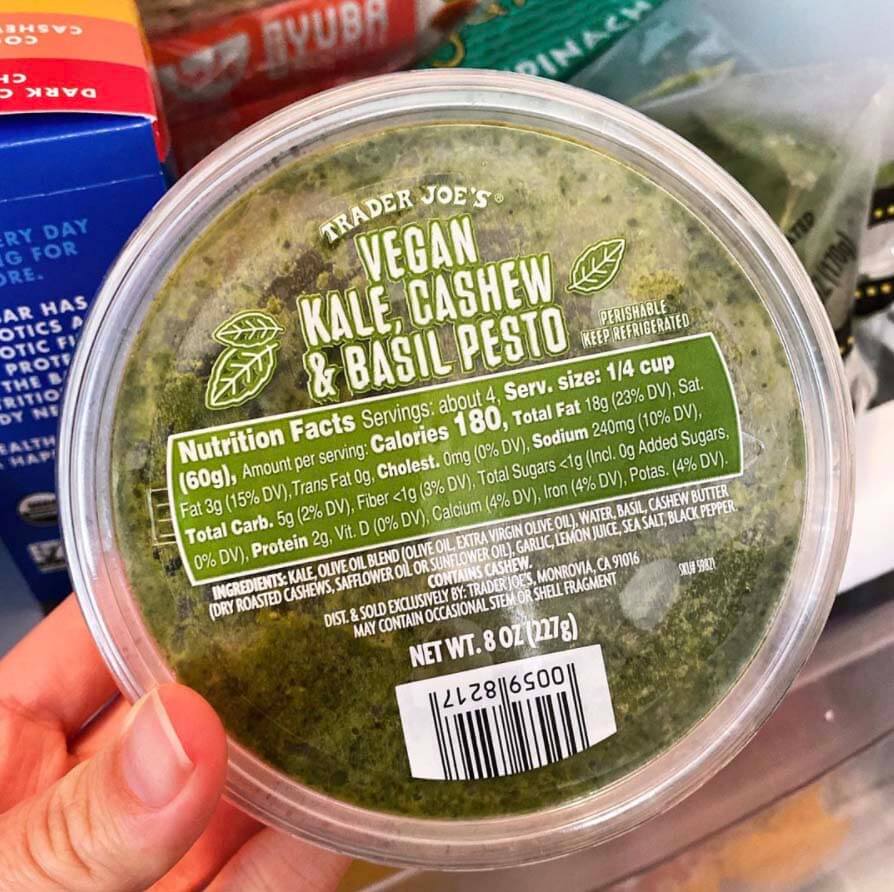 Zhoug Sauce
If you're looking for something spicy, check out Trader Joe's Zhoug Sauce, which is actually literally labeled "very spicy." A blend of cilantro, canola oil, jalapeño peppers, chile flakes, garlic, cardamom, sea salt, and cumin seeds, it's got a strong taste. Try it as a dip for veggies, use it to season some vegan meat, or mix some in your pasta or rice—wherever you crave some punchy flavor.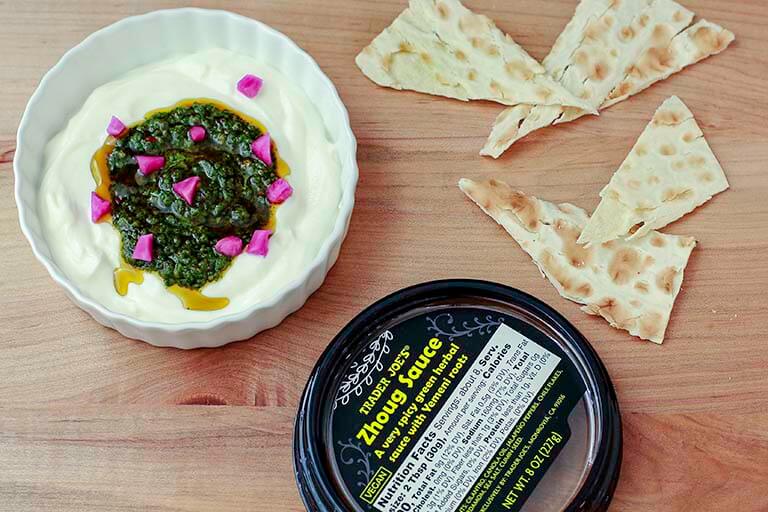 RELATED: 15 Best Vegan Items at Trader Joe's
---
Want even more vegan food, news, and lifestyle content? Subscribe to VegOut LA Magazine or VegOut NYC Magazine!