Keep your eyes peeled for these new products!
With food and product expos back in full swing, we're here to keep you updated on what's hot and new on the vegan scene! Earlier this week, we attended the 2022 Winter Fancy Food Show in Las Vegas and got a sneak peek at some buzzworthy products that just launched or are about to launch very soon. Without further ado, here's a list of 32 new vegan products we discovered at the Winter Fancy Food Show.
Gluten-Free Unicorn Cupcake Kit
The most adorable product we discovered at Winter Fancy Food Fest was by far this Gluten-Free Unicorn Cupcake Kit! It comes with nearly everything you need to make cupcakes—cake mix, buttercream mix, vegan sprinkles, decorating sugar, cupcake liners, a piping bag, and unicorn toppers. The only things you need are oil, vegan butter, and non-dairy milk!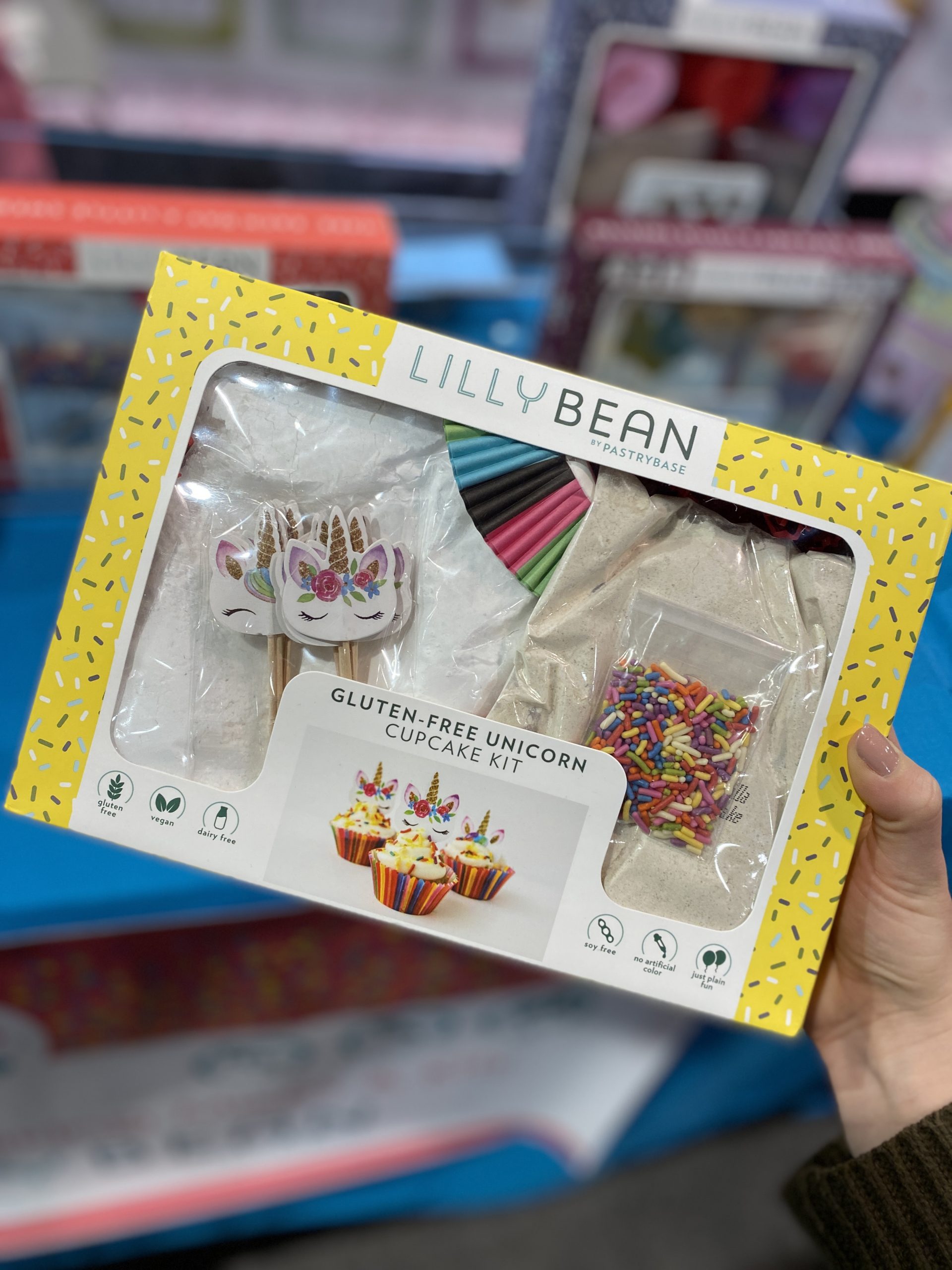 Organic Coconut Milk Chocolate
Hemp Love just launched a new line of sustainably made, creamy organic coconut milk chocolate bars in the flavors of roasted almonds, espresso, and coconut. These bars are organic, vegan, paleo, naturally sweetened, and free from gluten, soy, palm oil, refined sugar, cane sugar, and artificial flavors.
Flavored Sparkling Water
If you aren't stocking your fridge with Liquid Death, WYD? The edgy canned water brand just released a line of flavored sparkling water in Berry It Alive, Mango Chainsaw, and Severed Lime varieties. Complete with the most epic packaging, these cans make drinking water fun.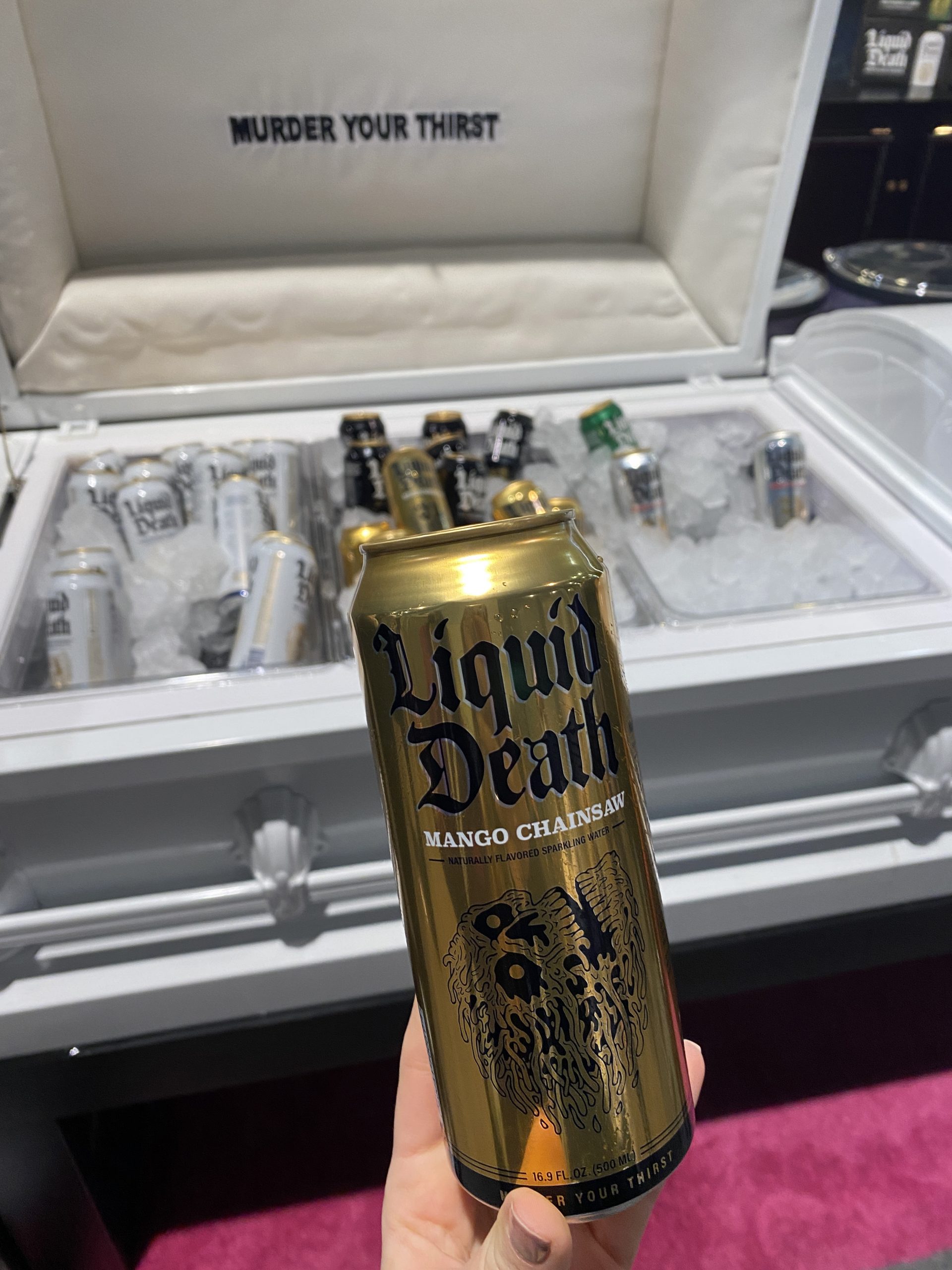 Bakon Strips
Still on the lookout for the perfect vegan bacon? Thrilling Foods' Bakon Strips might be right for you! These tofu-based slices of meat are made using traditional salting and smoke curing processes. With the same taste and mouthfeel as animal-based bacon, this realistic plant-based bacon will win over the most stubborn skeptic.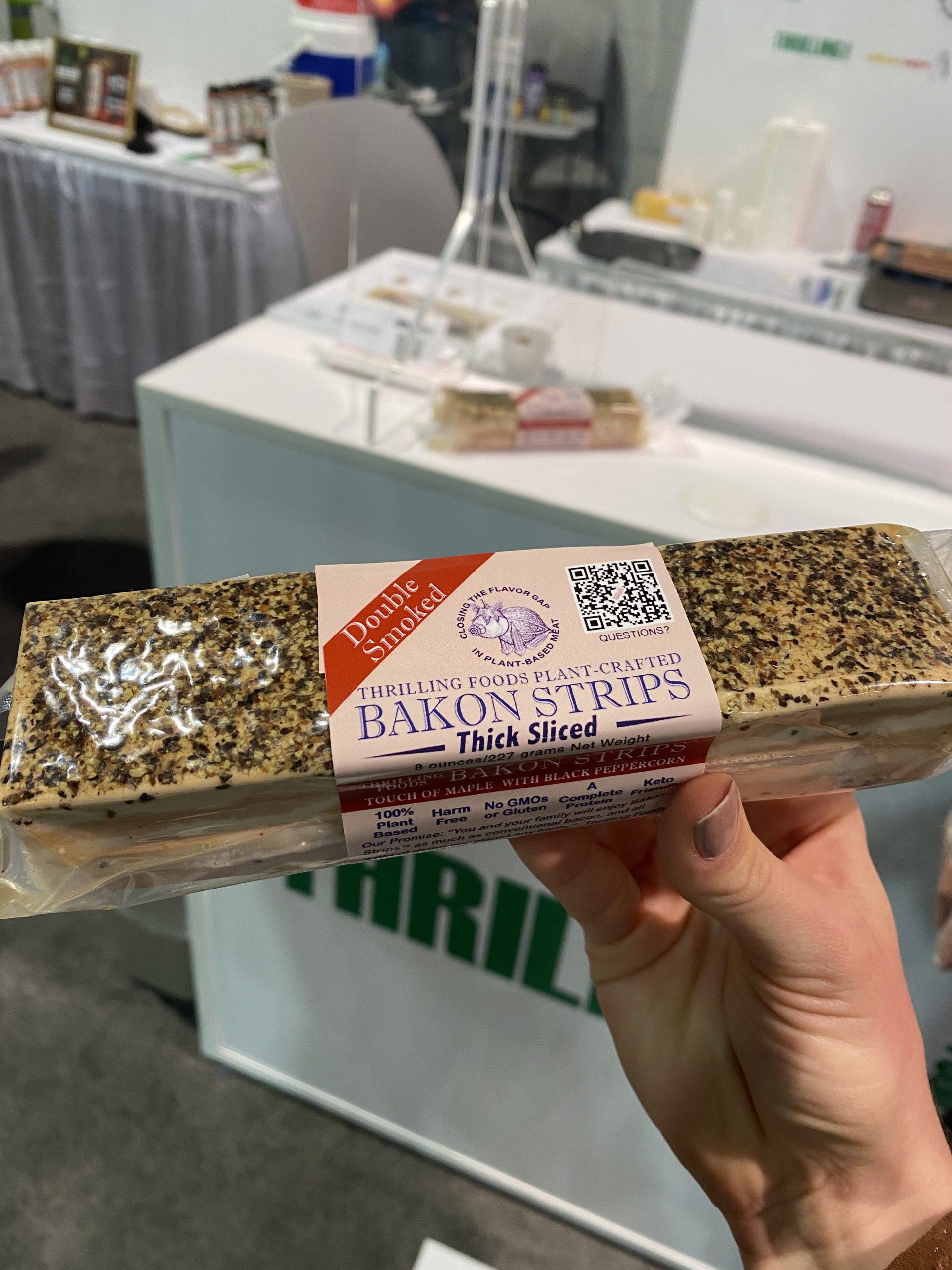 Cactus Grain-Free Tortilla Chips
You may have had cactus tacos, but have you had cactus grain-free tortilla chips? Tia Lupita Foods makes several flavors that taste great solo or with your favorite dip. Get a few bottles of hot sauce if you're looking to add some extra heat!
Raspberry Dark Choc & Lemon Cheesecake Vegan Energy Balls
Frooze Balls recently dropped two new flavors of their insanely delicious vegan energy balls, and we can't wait for you to try them! In Raspberry Dark Choc and Lemon Cheesecake, these bite-sized snacks are bound to be a household staple in no time!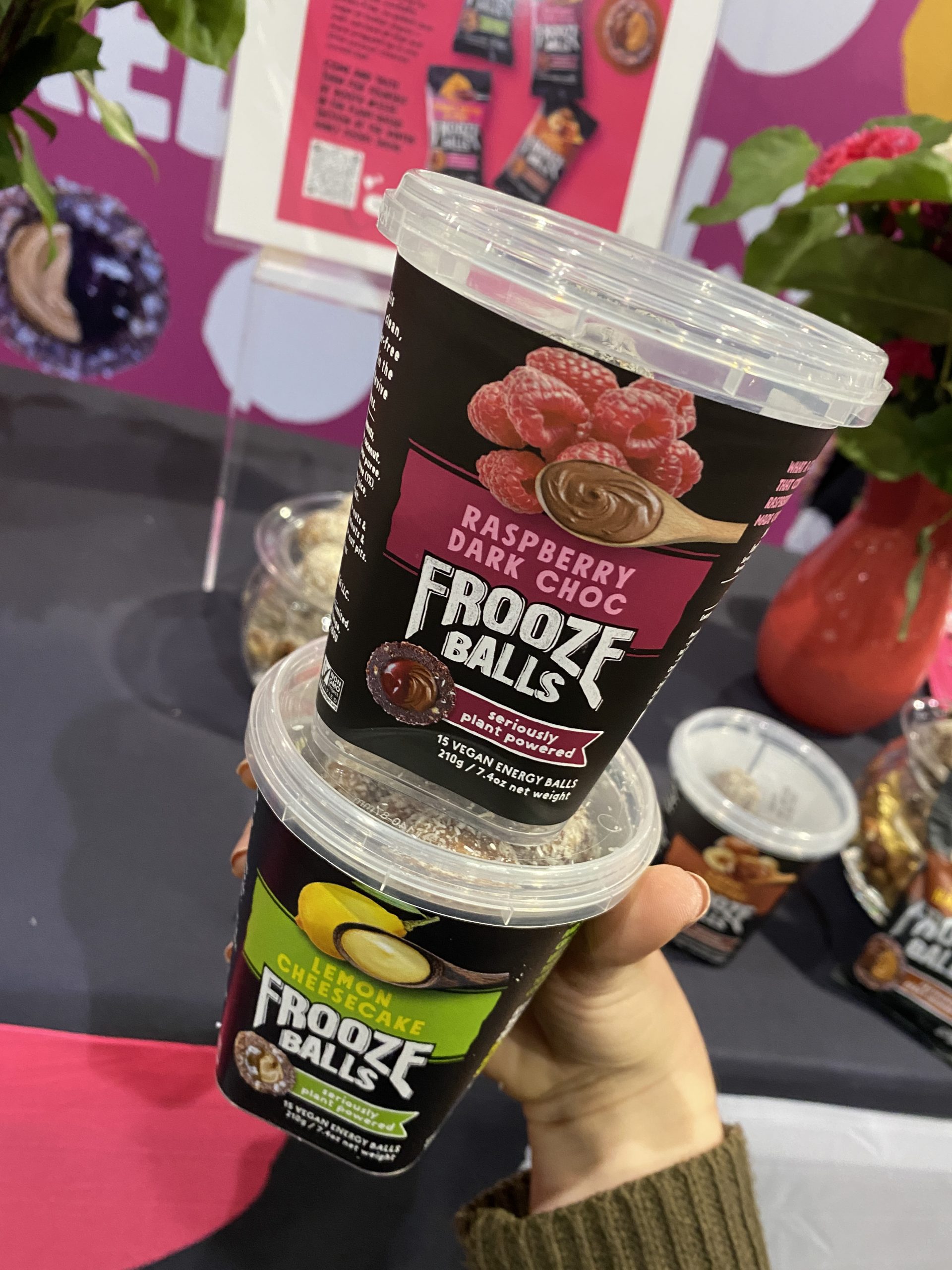 Barley Milk
What's new in the plant-based milk world? Golden Wing's barley milk! One cup contains 50% more calcium, 60% less sugar, and twice as much vitamin D3 as a cup of 2% cow's milk. Not to mention the taste and creaminess of this milk is off the chain!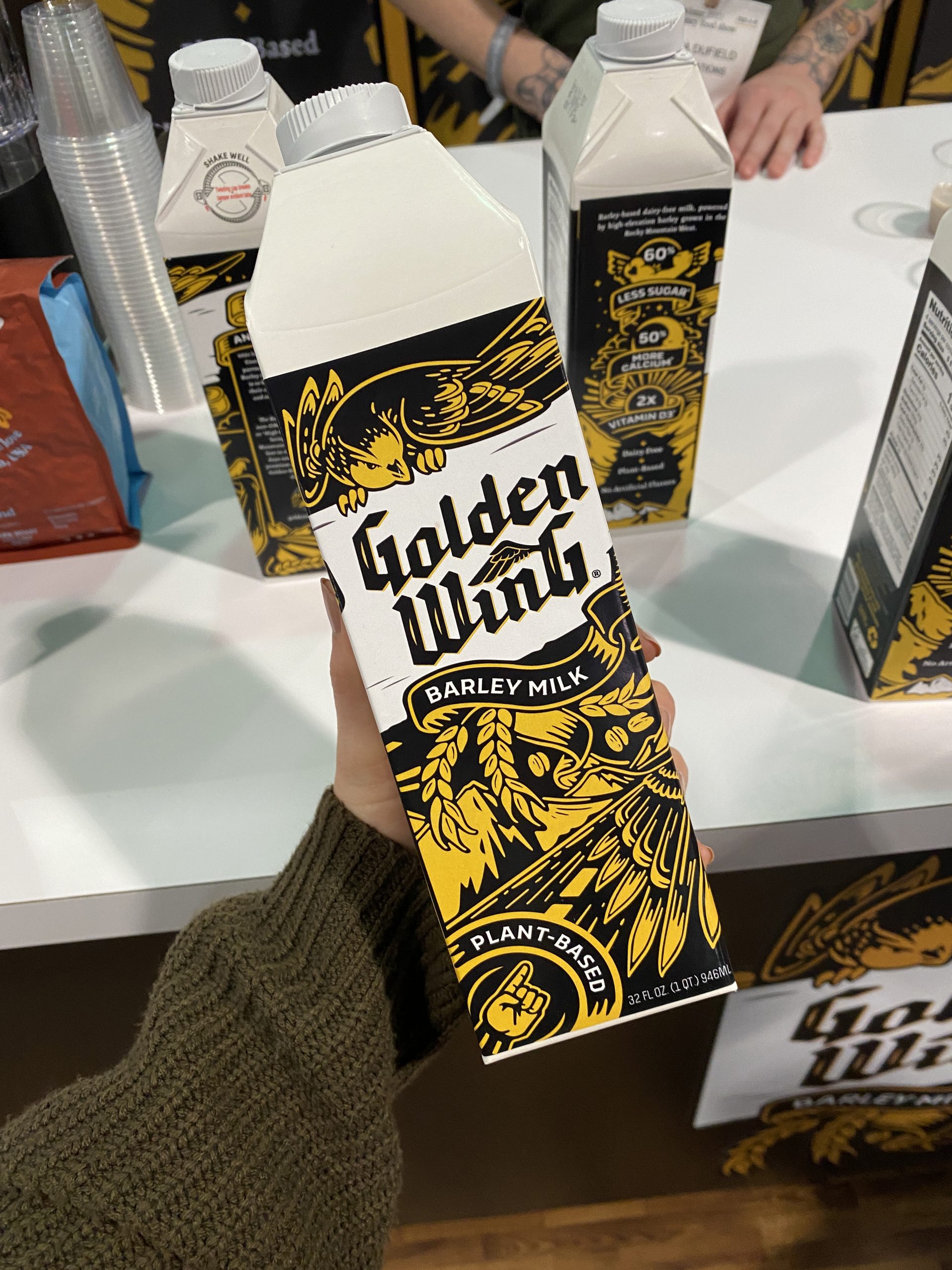 Raw Vegan Edible Cookie Dough
This raw vegan edible cookie dough company offers the perfect balance of classic and unique flavors. From Strawberry Confetti and Chunky Choco Banana to Brownie Delight and Chocolate Chunk, each scoop will make you want to come back for more.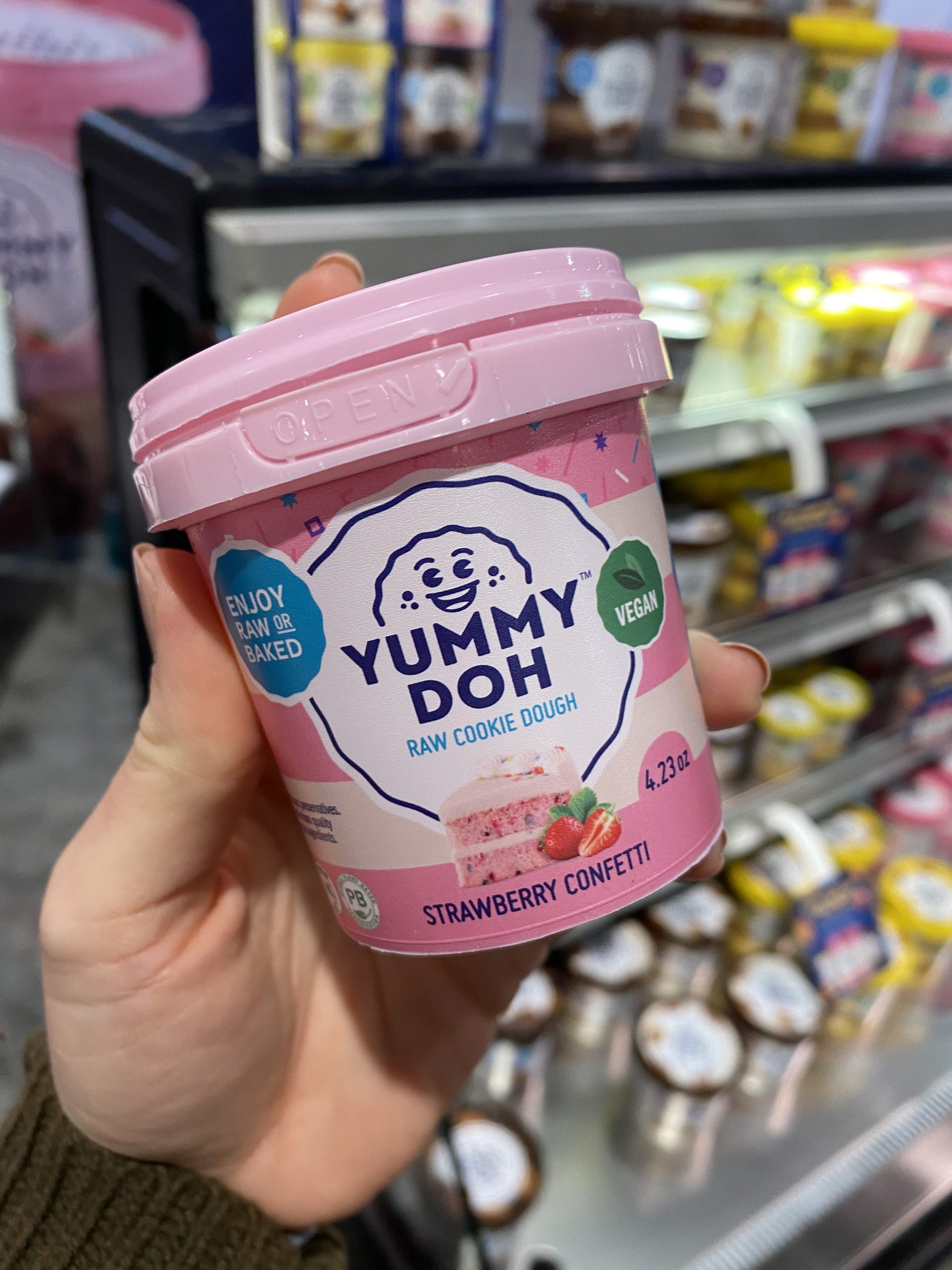 Frozen Bagels
From Francesca's Little Shop of Bagels comes this innovative frozen bagel brand, Wake-N-Bagel. Whenever you want a fresh-baked bagel, just grab one from your freezer, bake it, deck it out in your favorite toppings, and enjoy! The Plain, Onion, and Hiker (Everything) varieties are all 100% vegan.
Dairy-Free Gelato
The food distribution company World Finer Foods brings international products to the US market—which we love! One of the brands on their roster is Valsoia, an Italian brand that makes dairy-free gelato cones and bars. So if you can't make it overseas right now, you can at least get a taste of what it's like!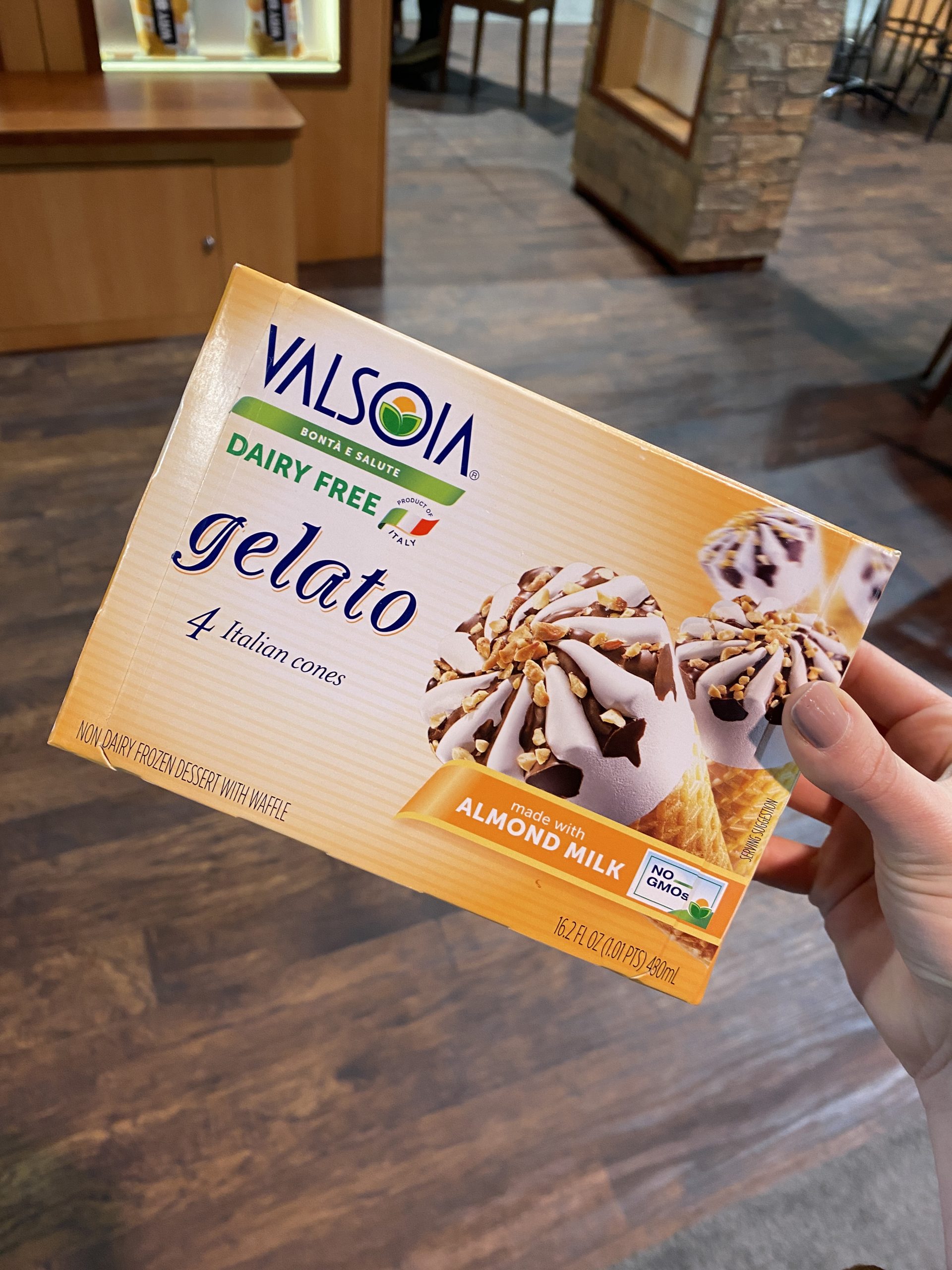 Plant-Based Kabob-Filled Flatbread
This family-owned company makes a plethora of vegan flatbreads and sauces that will blow your mind! Their newest launch is a Plant-Based Kabob-Filled Flatbread featuring Beyond Meat. Warm it up and serve it with one of Bolani's vegan pesto or hummus dips to maximize your eating experience.
Vegan Gummies & Chewy Candy
Jelly Belly still hasn't made vegan jelly beans but they do have jelly bean-shaped vegan gummies and chewy candy, and that's a step in the right direction! The brand's newest vegan launch is a chewy candy line featuring three succulent sweet and sour flavors.
Vegan Arrabbiata Sauce
This brand launched last March with a delicious lineup of classic Italian pasta sauce flavors. We got a chance to try their Arrabbiata sauce—and it hit the spot. Based on the recipe served at Carbone restaurants, this sauce is made from tomatoes imported from Italy, onions, garlic, basil, sea salt, olive oil, oregano, and the perfect amount of crushed red pepper flakes that will give your pasta dish a kick!
Do Bites 2-Pack
Better Bites Bakery's Dō Bites are chocolate-coated cookie dough bites made from allergy-friendly ingredients. Each drool-worthy flavor is vegan and free from gluten, soy, peanuts, and tree nuts. You've probably seen them at Whole Foods in cute 6-pack trays or 1-pack bags, but the brand just launched a 2-pack bag that is great for those times you want more than one bite on the go—which is all the time for us.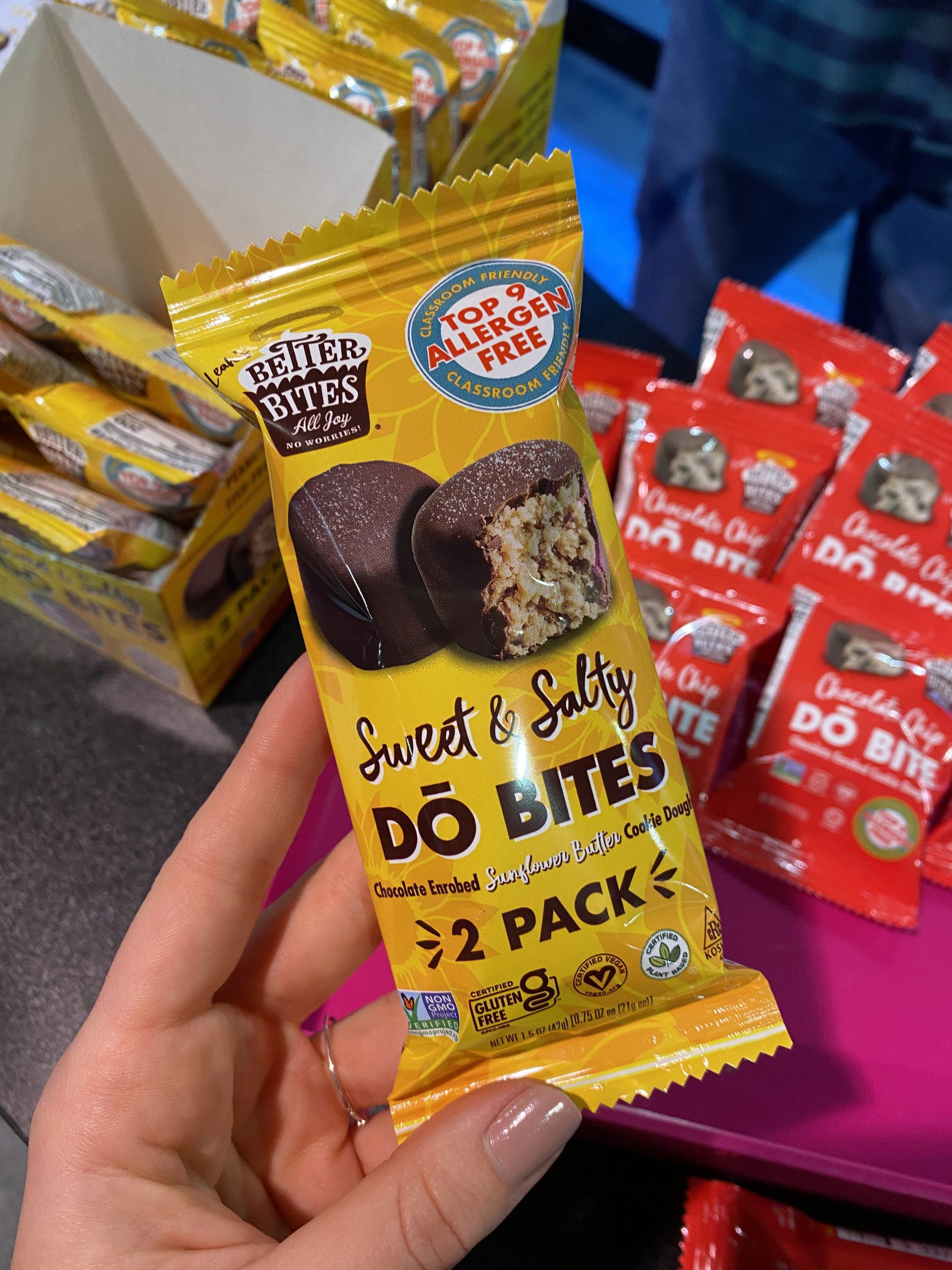 Freeze-Dried Veggie Chips
Whether you're not a fan of grocery shopping, are always on the go, or never finish your produce before it spoils, check out Sow Good's shelf-stable products. From smoothies and snacks to granola, the brand uses freeze-dried fruits and vegetables, so you don't have to worry about things going bad. The new Freeze-Dried Beet Chips are what we're snacking on first!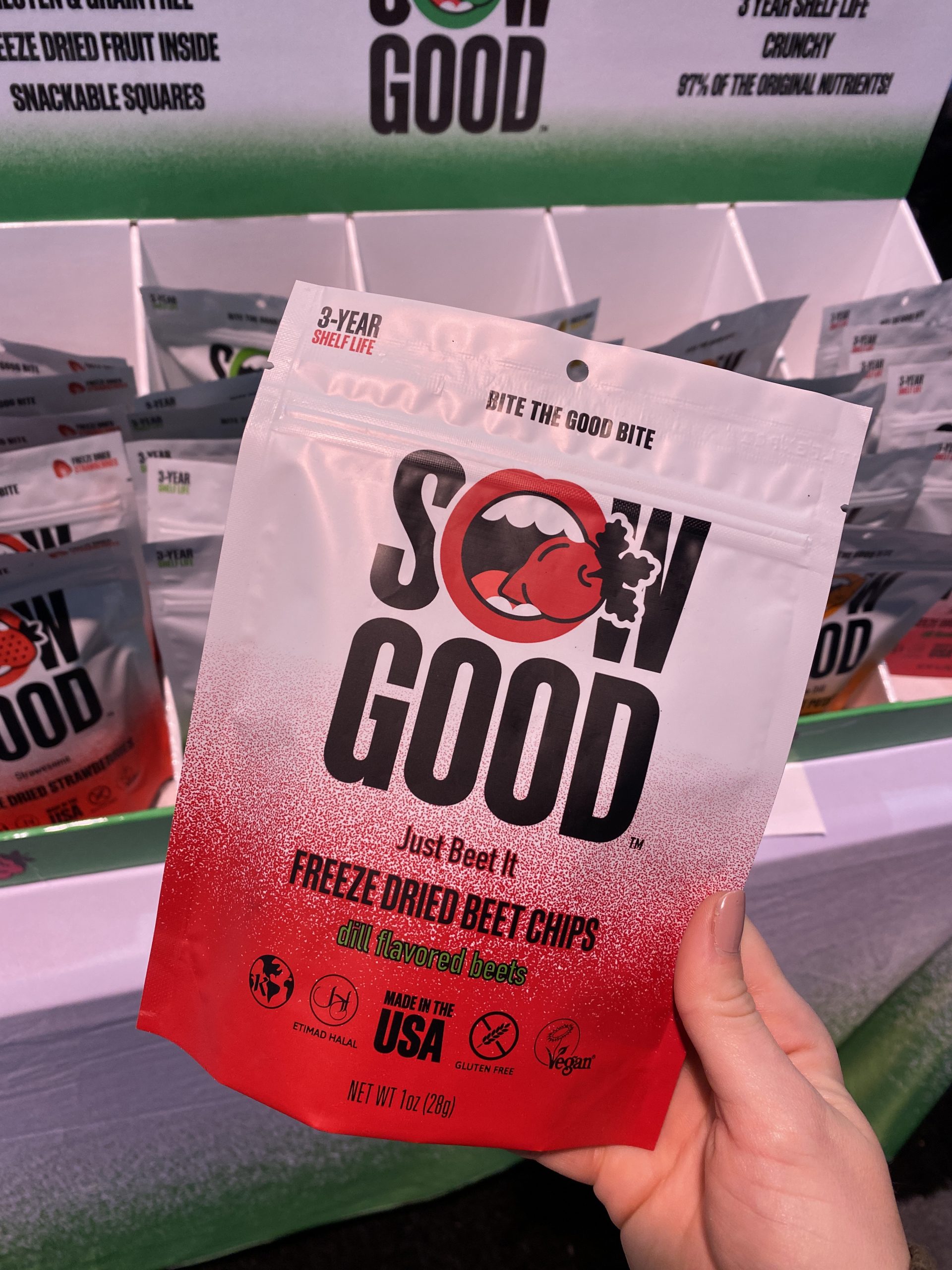 Dark Chocolate Mint Créme Bites
Mint and chocolate make a great combination! If you agree, grab a few bags of Chocolove's Dark Chocolate Mint Créme bites. Each piece is the perfect amount of cool, creamy, and decadent. They taste just like classic peppermint patties—but vegan!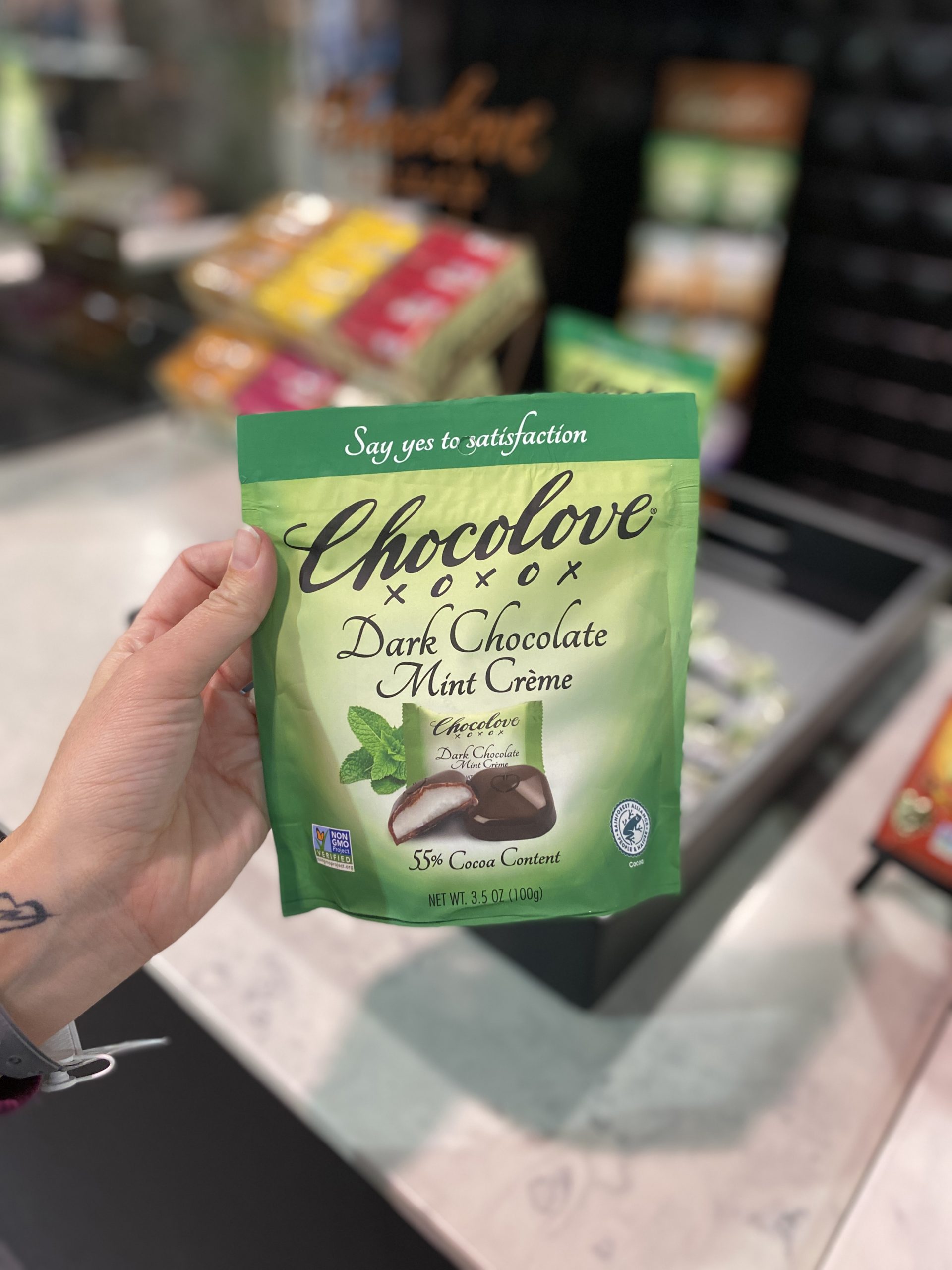 Brownie Batter Bars
Whoa Dough's snack bars are essentially a hybrid between protein bars and edible cookie dough. Sounds like a dream, right? The flavors consist of Chocolate Chip, Peanut Butter Chocolate Chip, Peanut Butter, Sprinkle Sugar Cookie, Sugar Cookie, and the newest—Brownie Batter.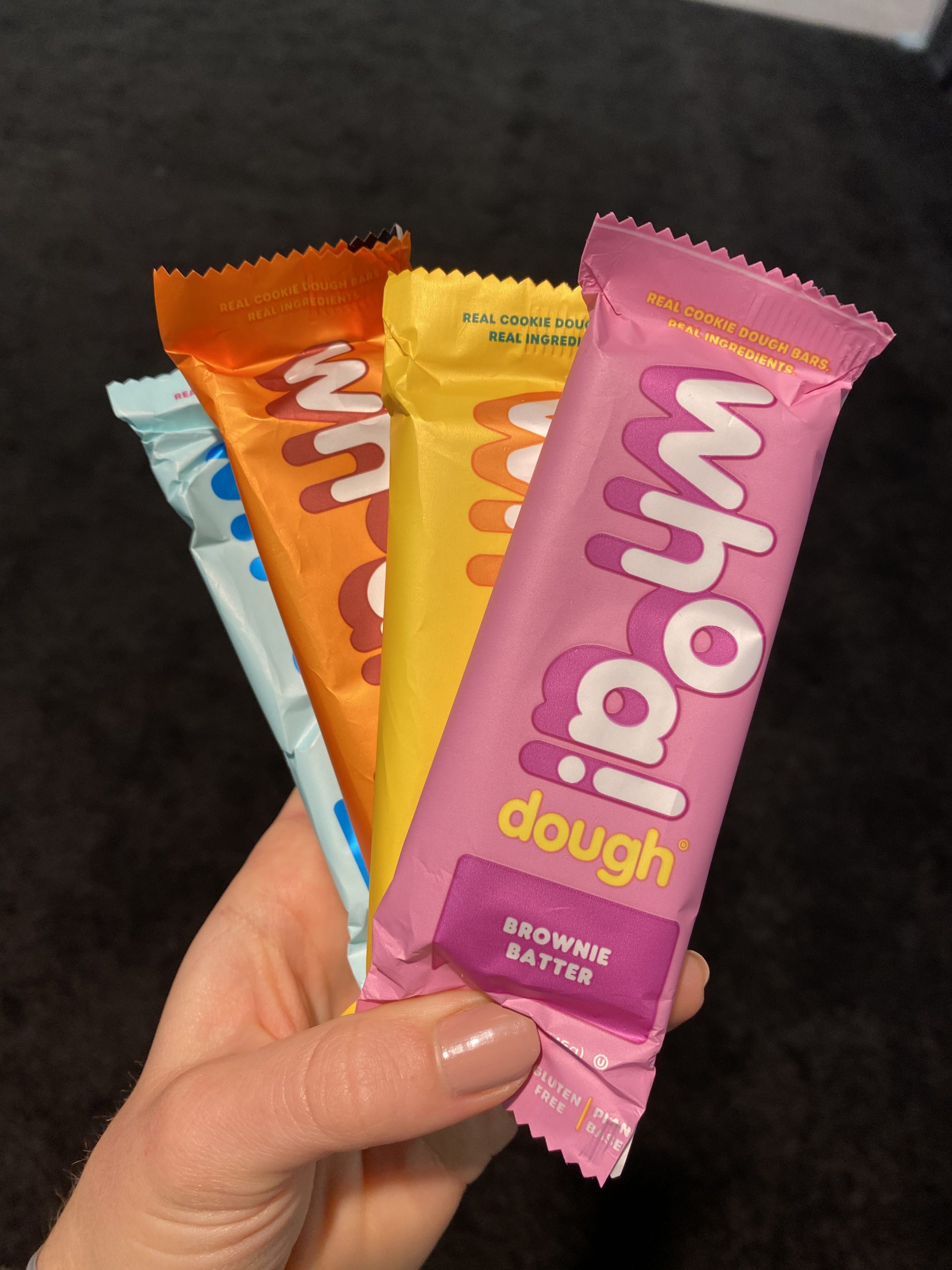 Vegan Almond Milk Cheese Cubes
There are plenty of vegan cheese slices and shreds on the market these days, but cheese cubes are still pretty sparse. This is why we were excited to try Armored Fresh's vegan almond milk cheese cubes! The portfolio features plain, cheddar, and blueberry cubes that all taste just like their dairy-based counterparts. These products haven't launched in the US yet but are expected to later this year.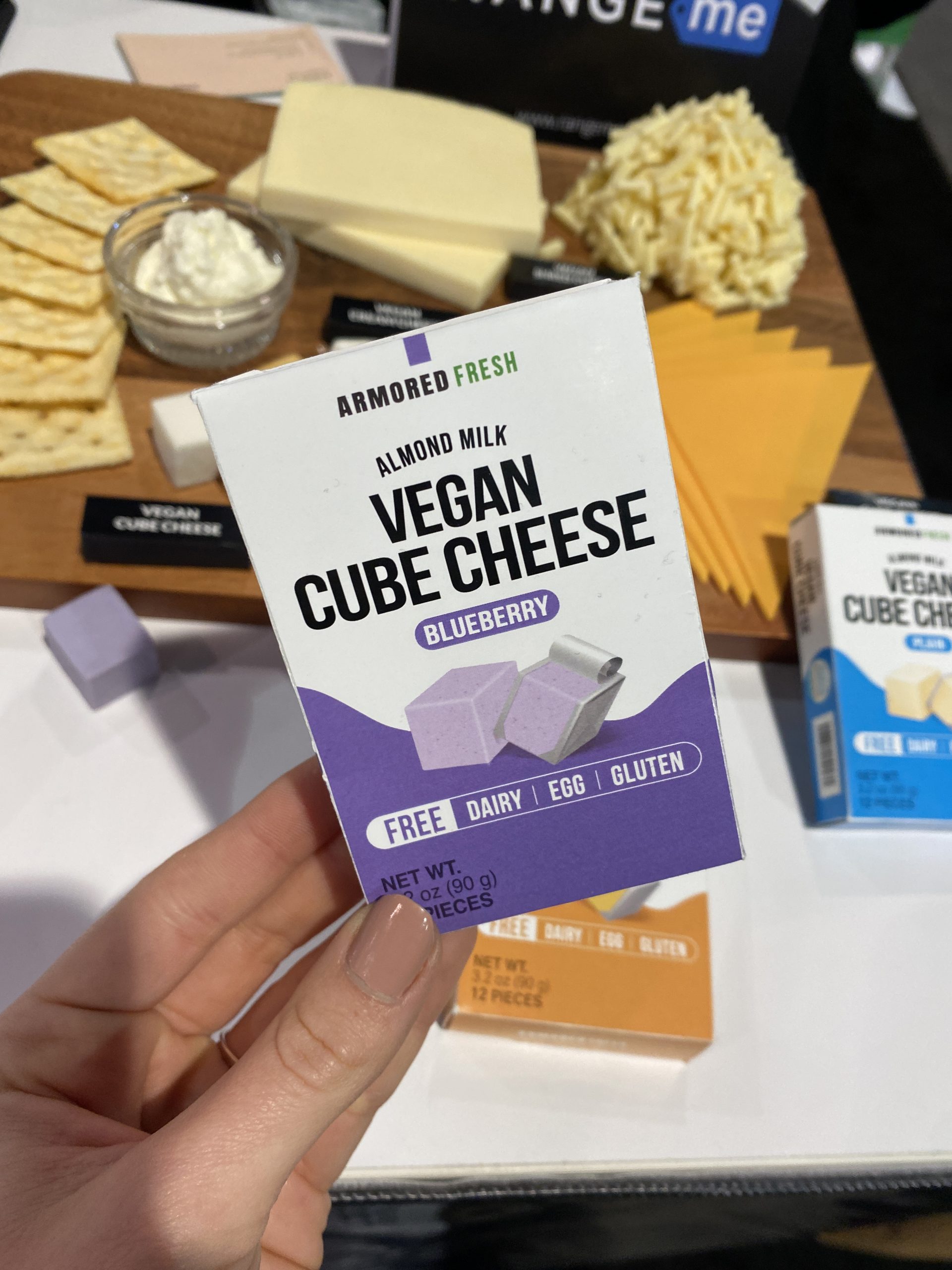 Hemp-Based Meat Alternatives
With so many plant-based meats out there, it can be hard to make a selection, but for those who prioritize sustainability, Planet Based Foods has an epic lineup of hemp-based meat alternatives to check out. From burger and sausage patties to meaty crumbles, everything is made from hemp—a sustainable, regenerative ingredient that's packed with protein.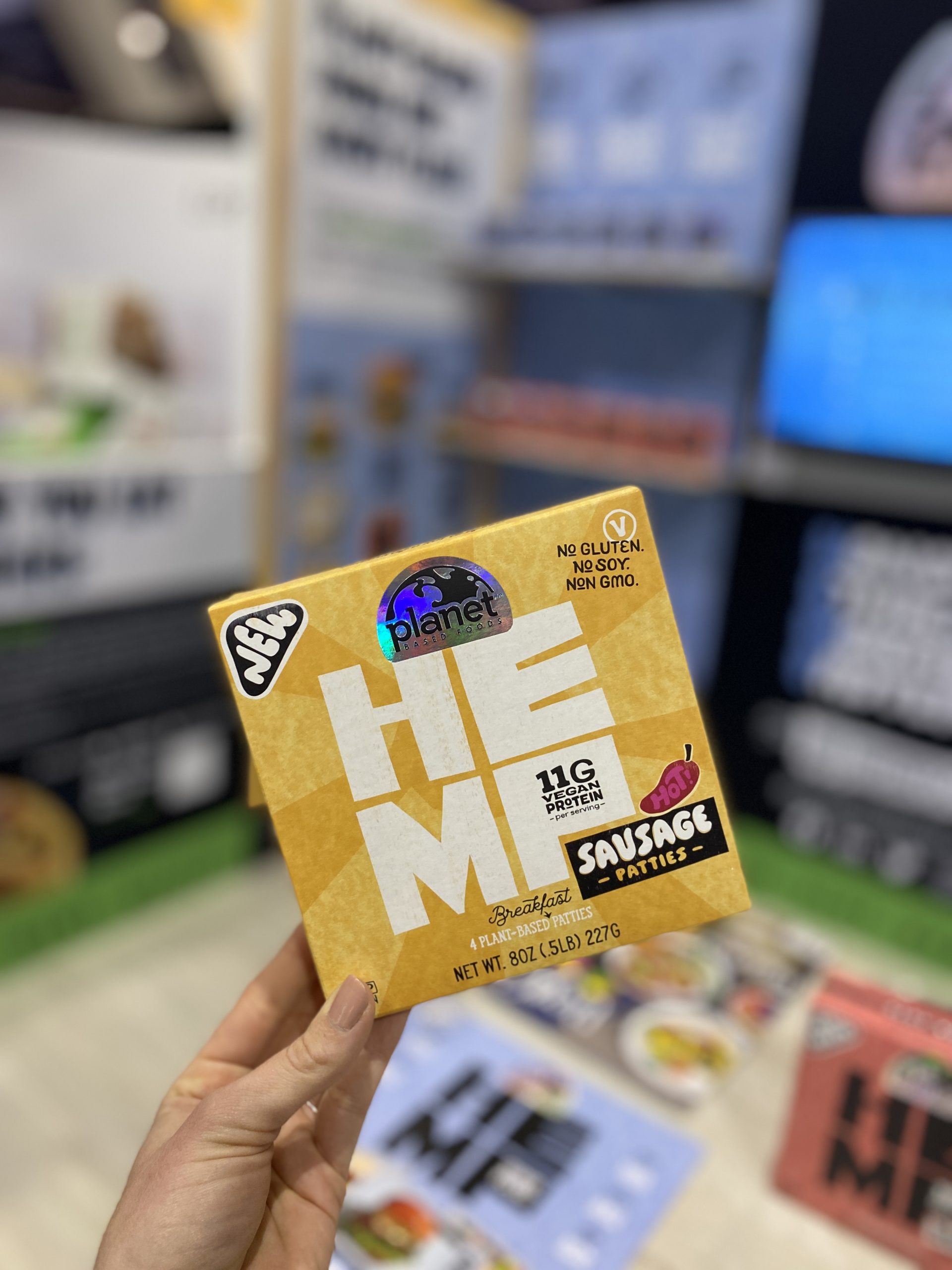 Trayless Seaweed Snack
If you find yourself obsessing over Emily Mariko's TikTok recipes and want to try them out at home, one of the first things you'll need is seaweed! Typically, bite-sized seaweed snacks come in plastic trays, but Ocean's Halo just released a trayless seaweed snack. It uses less plastic and takes up less space than the traditional containers, which is a win all around!
Watermelon Bites
Want to spice up your vegan gummy game? Check out Chili Chew's cayenne- and chili-laced candies! The Watermelon Bites, Peach Bites, Sour Buds, Strawberry Bites, Strawberry Belts, and Mango Belts are 100% vegan.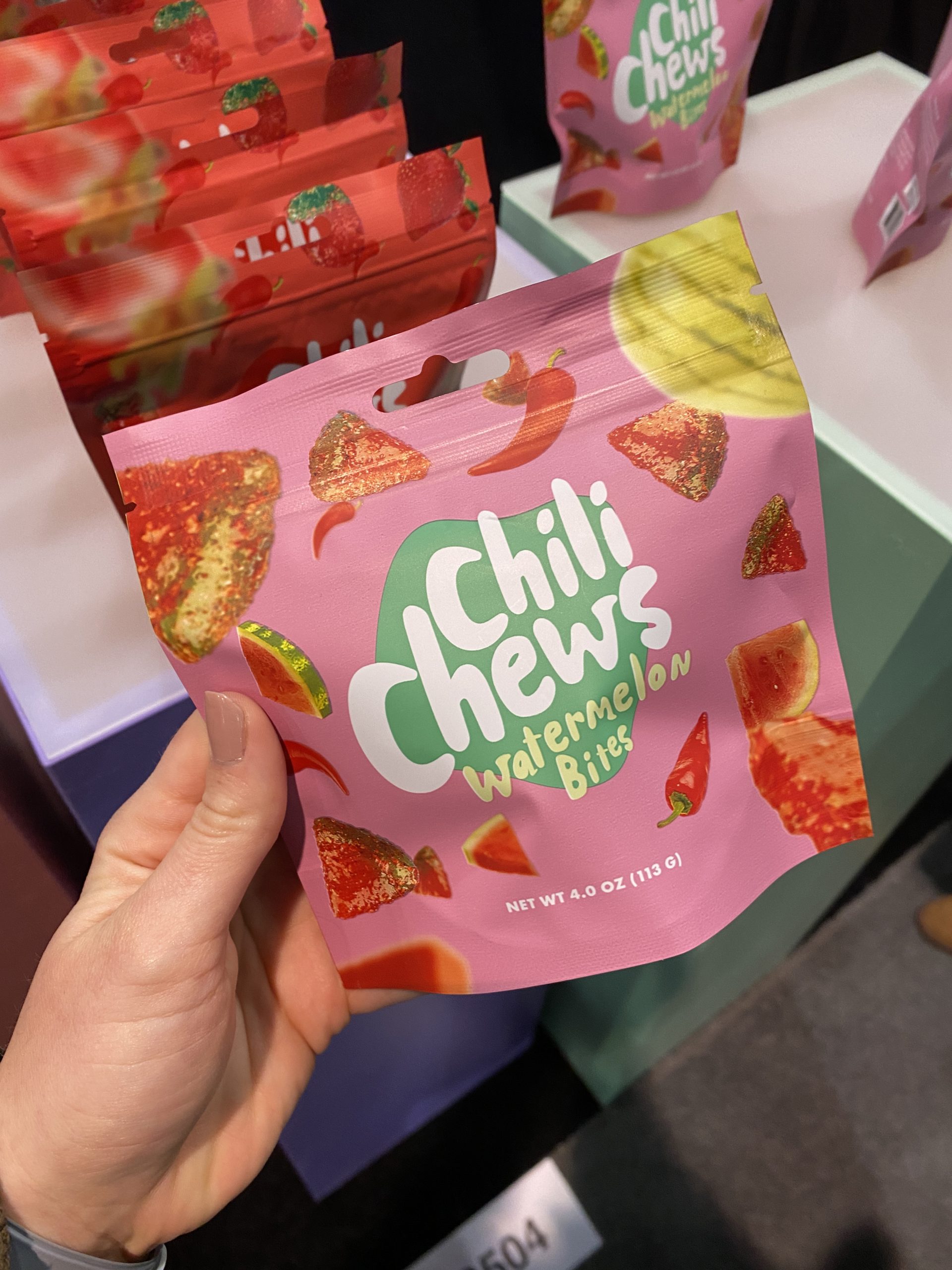 Mushroom Crisps
If you like Root Foods' veggie chips, just wait until you try the snacks from its new spinoff brand, N+. Made from sustainably grown vegetables like mushrooms and corn that are enhanced with flavors like BBQ and chipotle, these crunchy bites are a must-try!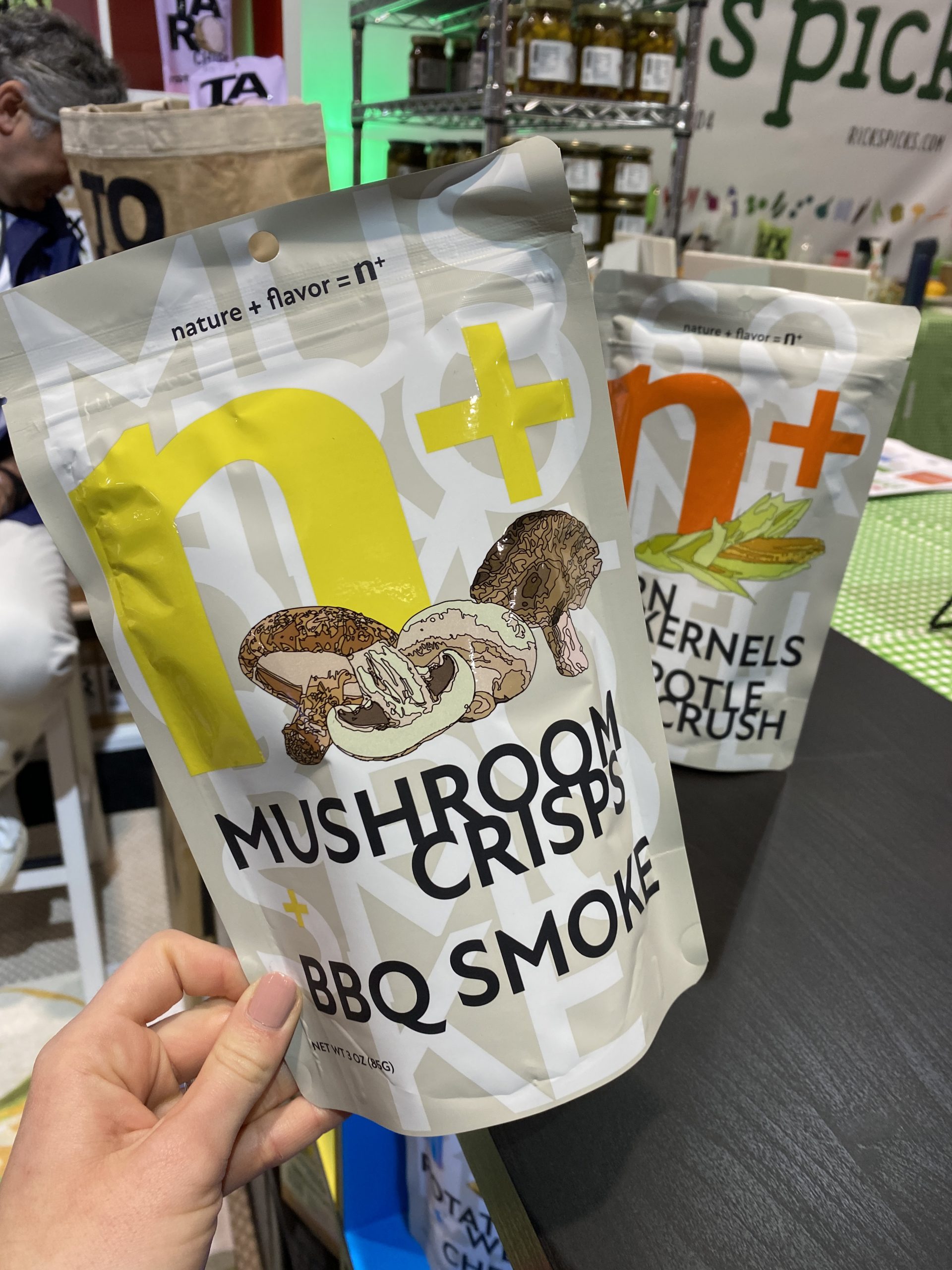 Heat-and-Eat Side Dishes
Specializing in heat-and-eat side dishes like noodles, rice, and flavored beans, Sideaway Foods makes cooking easy! Their vegan portfolio includes Moroccan Tagine, Three Sisters, Monday & More, Spicy Thai Rooster, Riced Cauliflower, and Riced Broccoli, with more products on the way!
Vegan White Cheddar Crisps
It's always sad to pick up a bag of chips and read a nutrition label loaded with palm oil, dairy, and other unnecessary ingredients. But when you pick up a bag of Nova Crisps, you'll be delighted to read a clean nutrition label featuring cassava flour as the first ingredient. Best of all, these snacks are 100% vegan. And can we take a moment to acknowledge the fact that there's a vegan white cheddar flavor?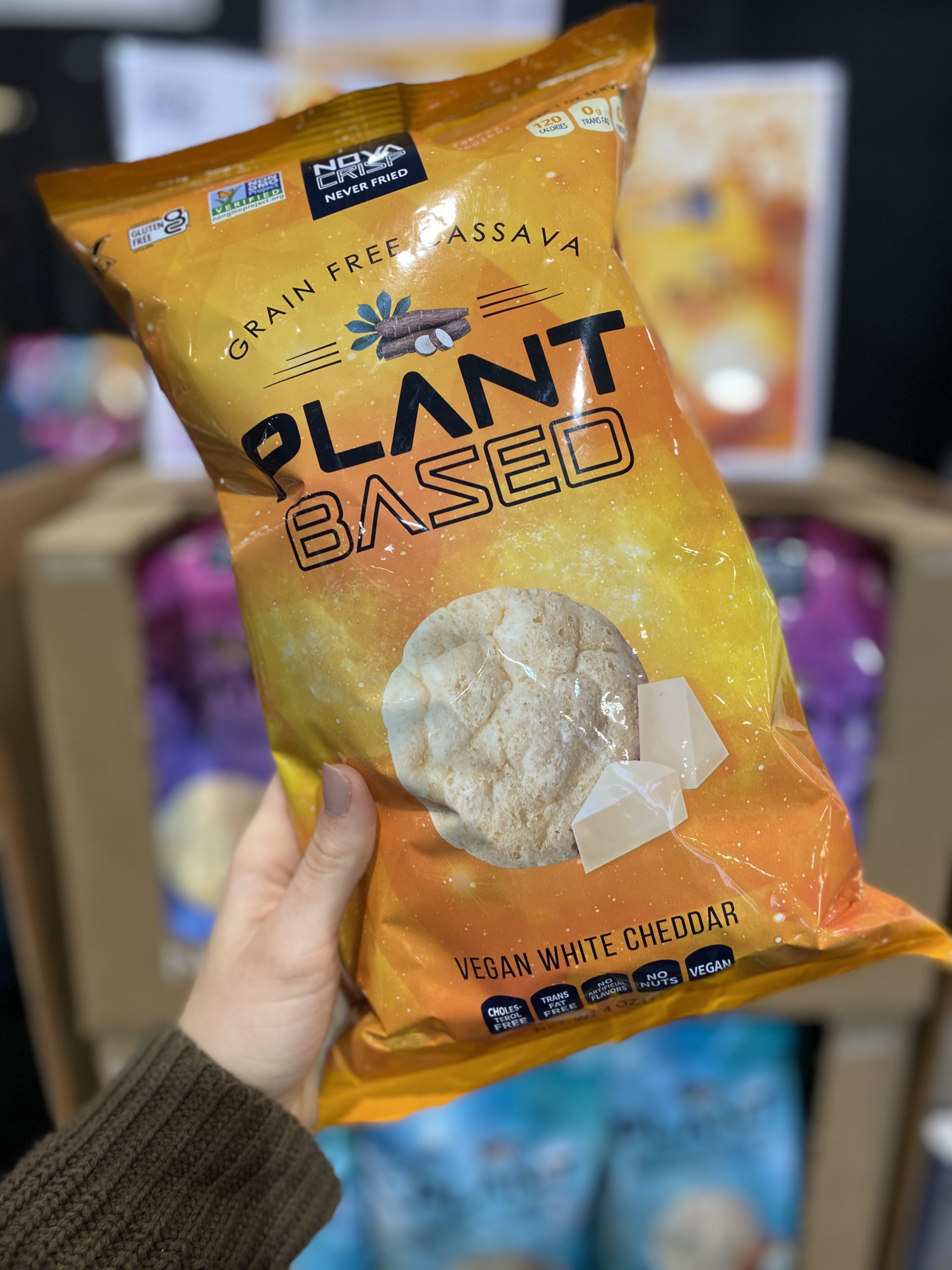 Superfood PB&Js
Chubby Snacks is revolutionizing classic peanut butter and jelly sandwiches by making them more nutritious, cuter, and more convenient than ever before! Whether you prefer peanut, almond, or sunflower butter with strawberry or grape jam, these pre-made Superfood PB&Js come in all of the best flavor combinations. They're high in protein and fiber, low in sugar, and shaped like a cloud. How adorable!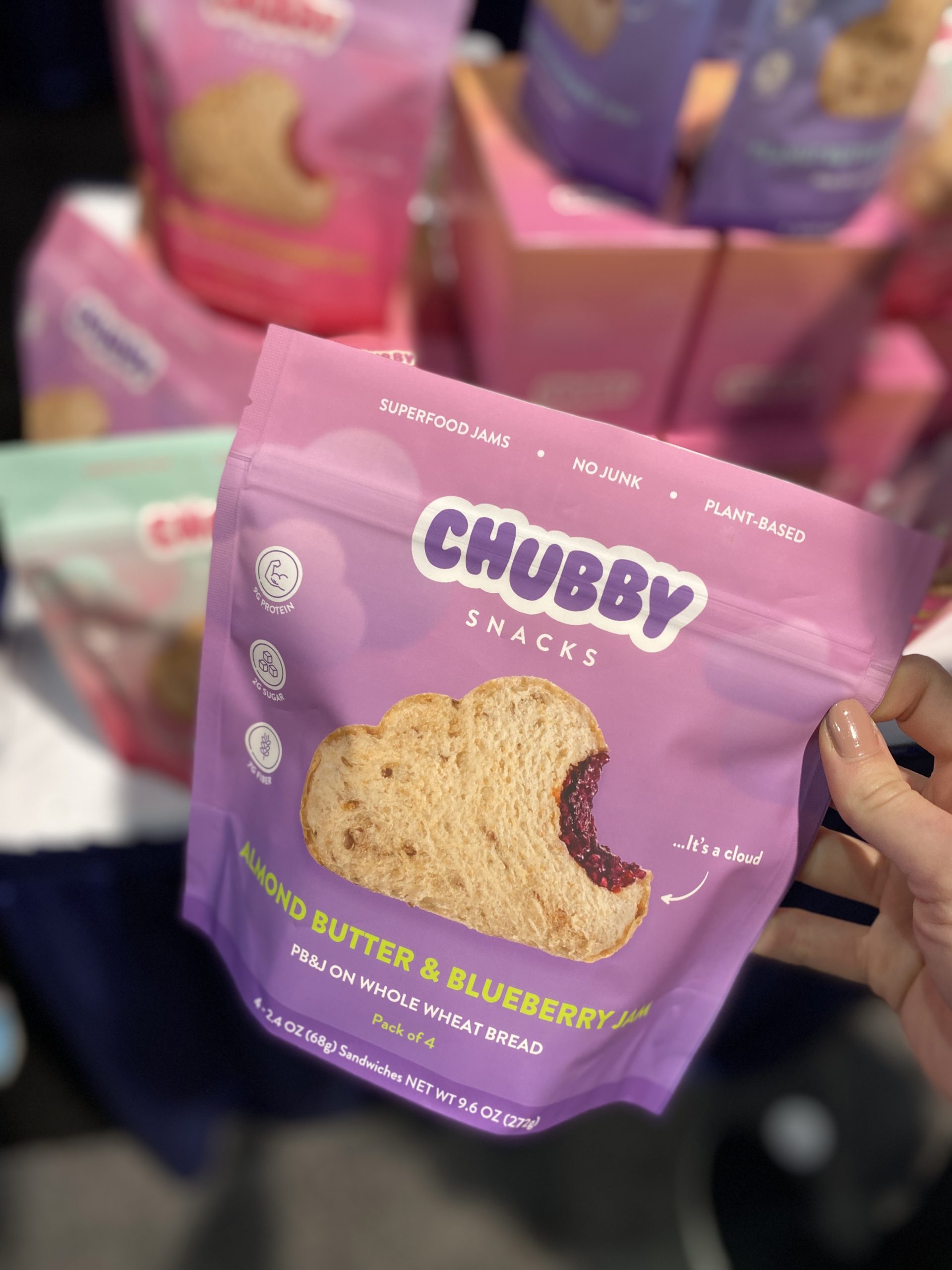 Dill Pickle Bloody Mary Mix
Although Jack Link's isn't the most vegan-friendly brand, their new Dill Pickle Bloody Mary Mix is made from vegan ingredients, and we thought it was pretty darn tasty! Who knew pickles, tomatoes, and spices could come together to make something so appetizing?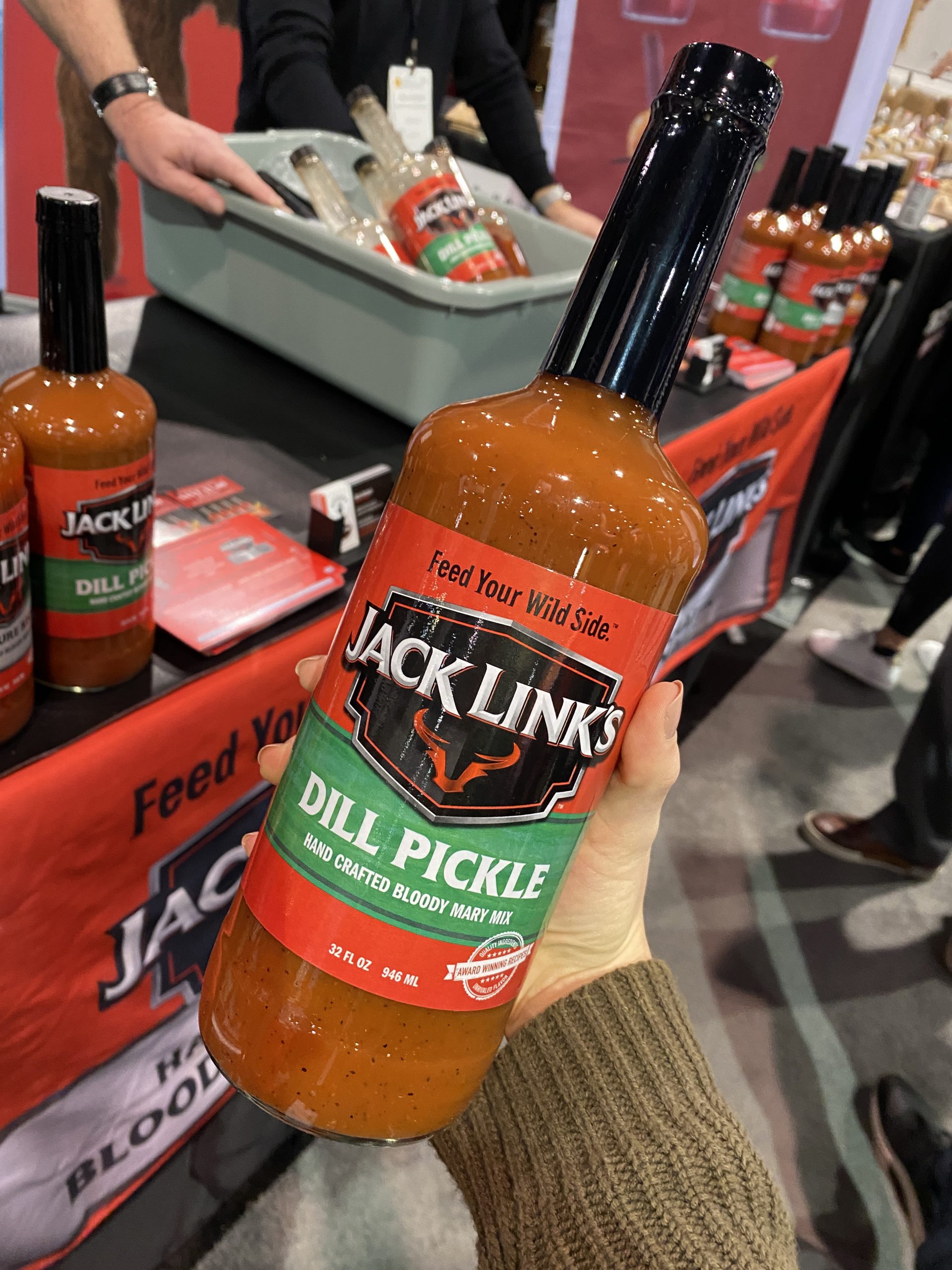 Street Taco Size Cassava Flour Tortillas
For those obsessed with Coyotas, just wait until you see their new Street Taco Size Cassava Flour Tortillas! Featuring the same great recipe as Coyotas' regular-sized tortillas, this smaller version works well for making tacos, quesadillas, and taquitos at gatherings—like Super Bowl watch parties!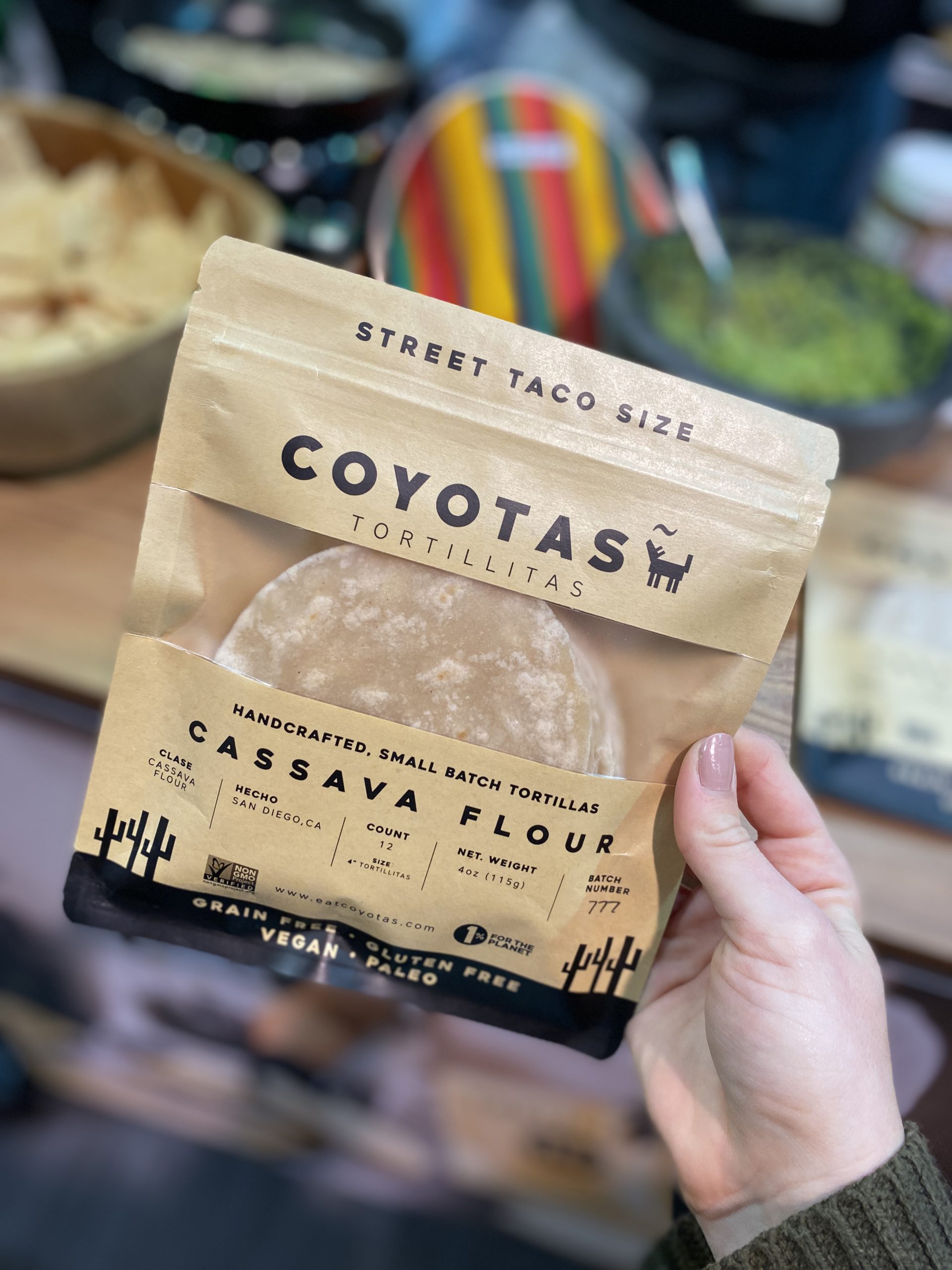 Birthday Cake Hot Cocoa
This vegan instant hot cocoa mix is flavored to taste like a birthday cake! Whether it's your big day or not, making a cup of Coconut Cloud's Birthday Cake Hot Cocoa is a sweet, festive way to warm up. Don't forget the vegan marshmallows!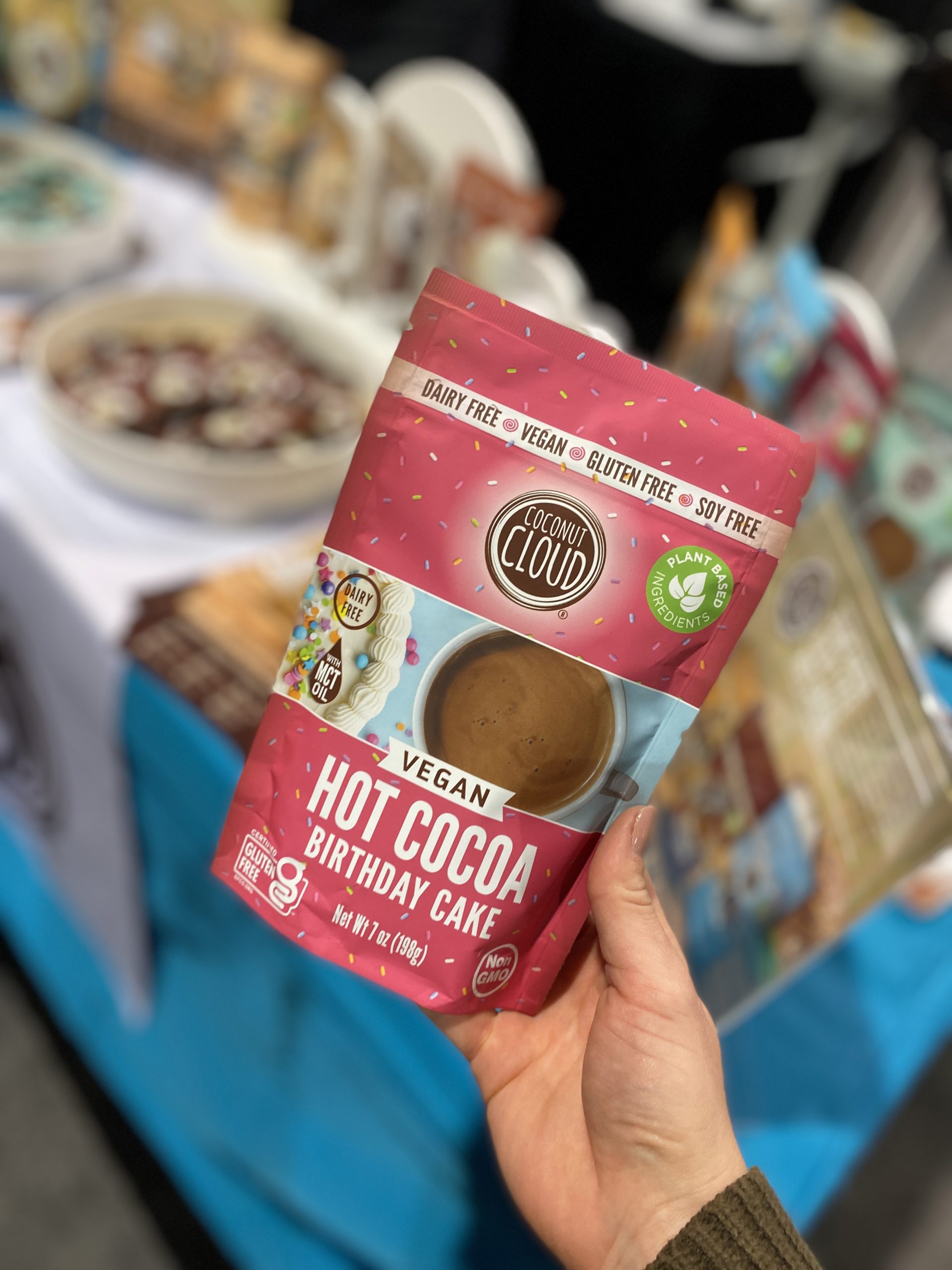 Chocolate Covered Raspberry Cashew Dips
Nuts, fruit, and chocolate all join forces to make these Chocolate Covered Raspberry Cashew Dips! Touched by Nature hasn't launched in the US quite yet, but their vegan-friendly snacks should be debuting here very soon.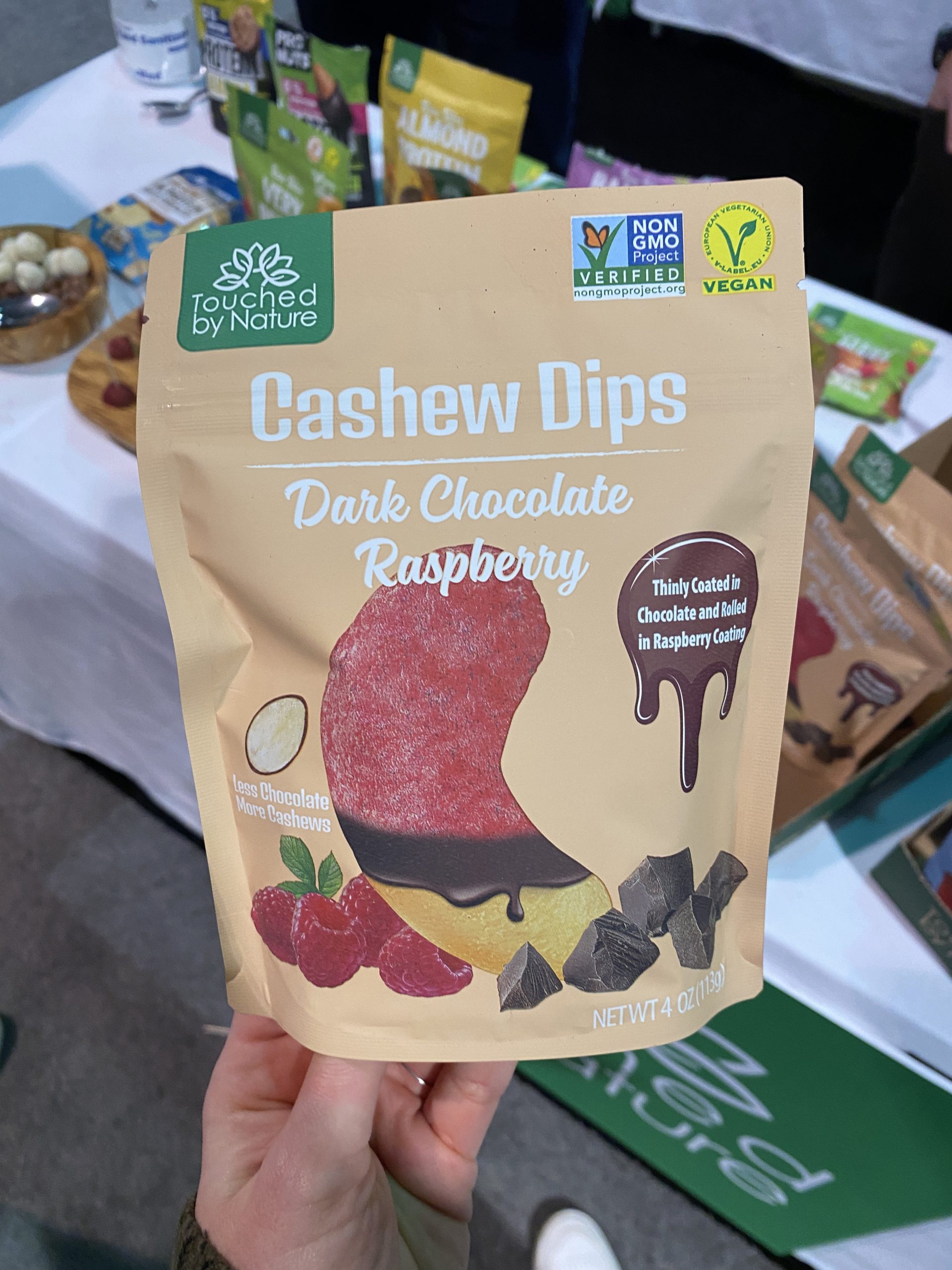 Protein Cookies
This AAPI woman-owned vegan baking company is changing the way cookies are made for the better. Love + Chew's protein cookies are made from minimal ingredients that are vegan, gluten-free, soy-free, paleo, and non-GMO. Now here's the question—are you going for Banana Bread, Cherry Almond, Chocolate Chia, or Mocha Chip first?
Vegan Teriyaki Jerky
Vegan jerky and mushrooms are two of the most popular trends in the plant-based world right now. So, why not combine the two? Pan's Mushroom Jerky uses shiitake mushrooms and umami to mimic beef jerky. Their Vegan Teriyaki Jerky is one of the newest product launches. We got the chance to try a bite and it made us do a double-take!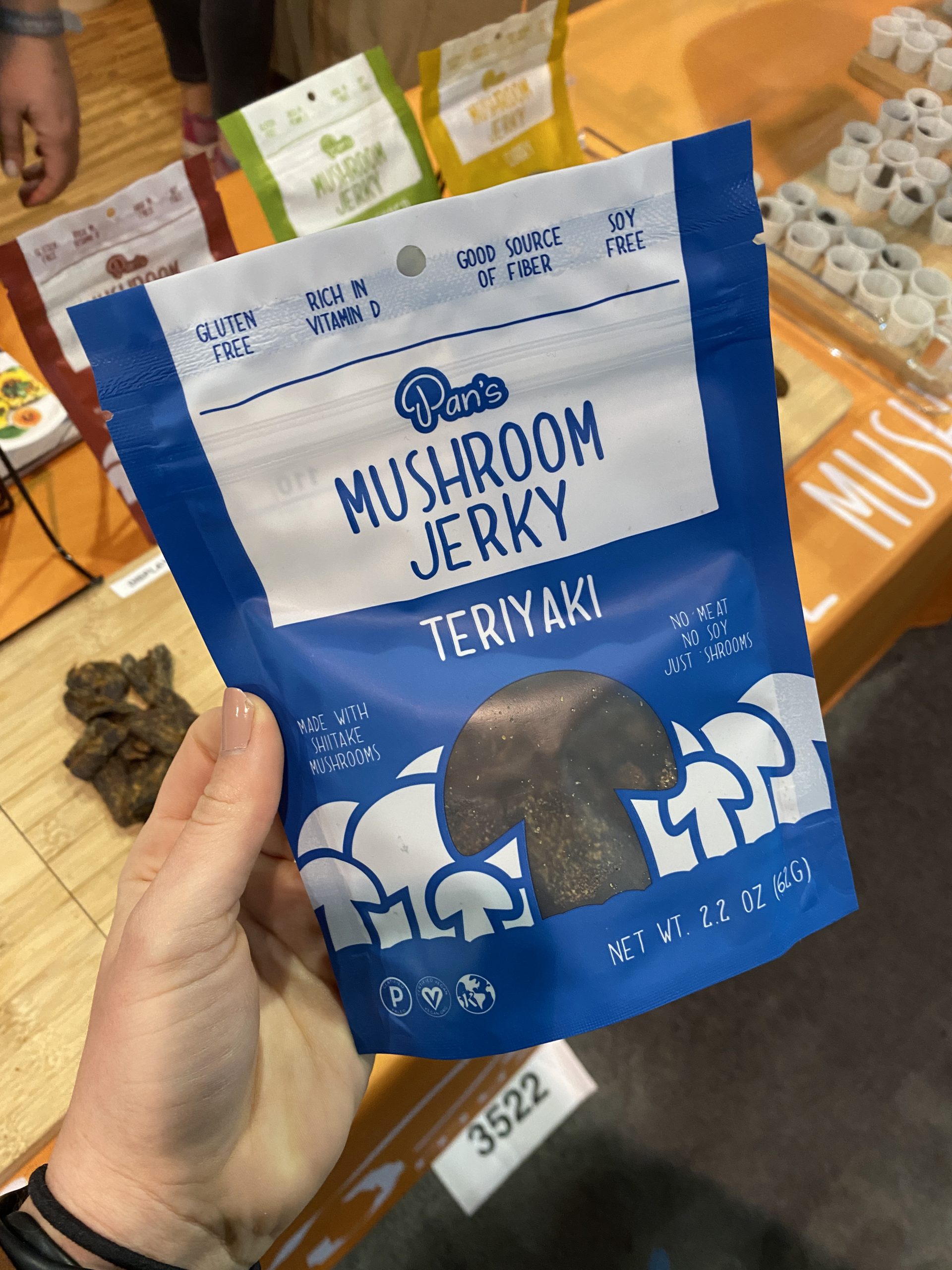 Queso-Style Plant-Based Dip
In the mood for nachos? Grab a jar of Primal Kitchen's Queso-Style Plant-Based Dip! With a hint of jalapeno, this creamy, cheesy dip will take your recipe to the next level. Although it might taste indulgent, this cheese sauce is vegan, sugar-free, keto-certified, and Whole30 approved.