Tacos aren't just for Tuesdays! They're for every day of the week. We're rounding up 10 vegan and vegan-friendly restaurants in Chicago serving this delicious handheld. You're welcome!
Vegan Street Food is a local pop-up in Chicago run by Juan Lisandro Ramirez. The menu consists of Al Pasto, Soy Chorizo, and Tinga tacos, along with specialty items like Tacos Dorados and Golden Tacos (fried tacos stuffed with mashed potato and mixed vegetables). Toppings include cilantro, red onions, pineapple, and more. Visit their website to pre-order tacos for pickup at Vegan Paradise Farmers Market on Sundays.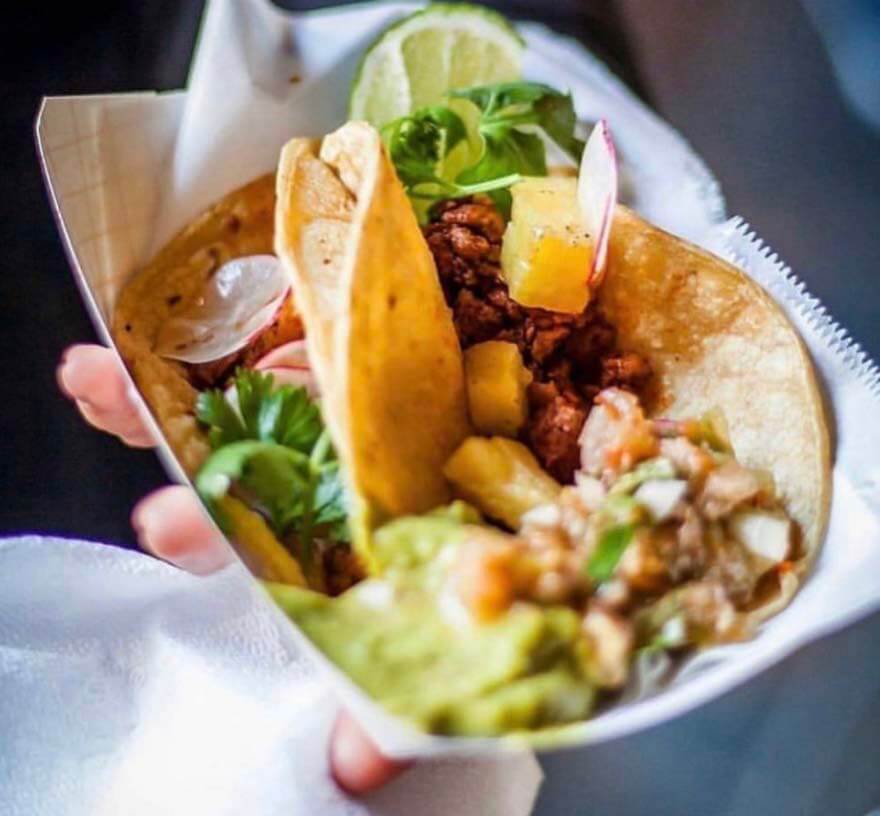 Quesadilla La Reina Del Sur serves authentic Mexican cuisine using vegan-friendly soy proteins. The menu has over 12 tacos to choose from including Pollo de Soya, Vegetables, and Tinga de Soya—vegan cheese is extra. Don't forget dessert! Try their vegan tres leches cake.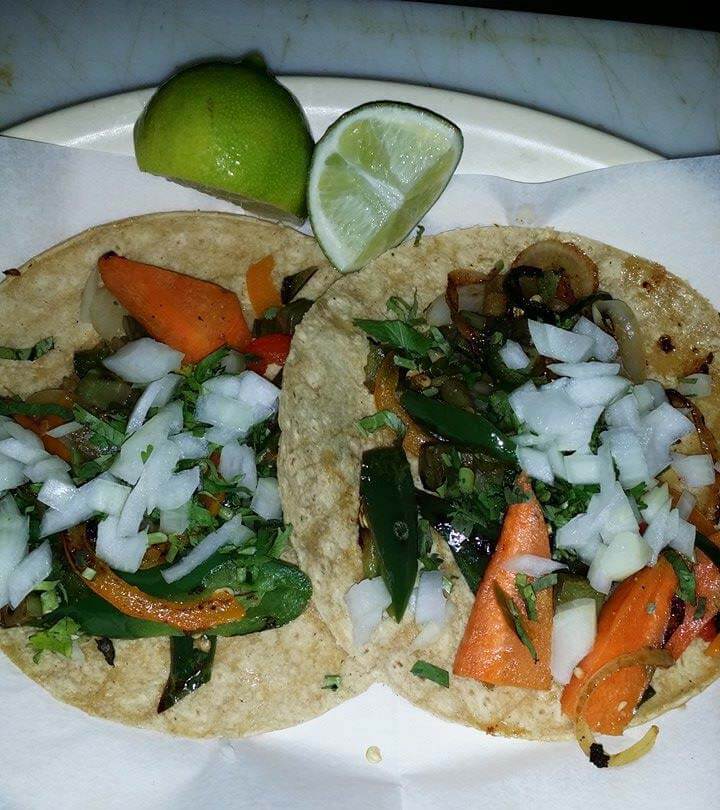 There's a new vegan pop-up in town, and they serve tacos! Check out their page for a rotating menu consisting of Al Pastor Tacos (guajillo salsa, pineapple, onions, and cilantro), a veganized version of a cheezy gordita crunch, and more. Visit their website to pre-order for curbside pickup on select dates.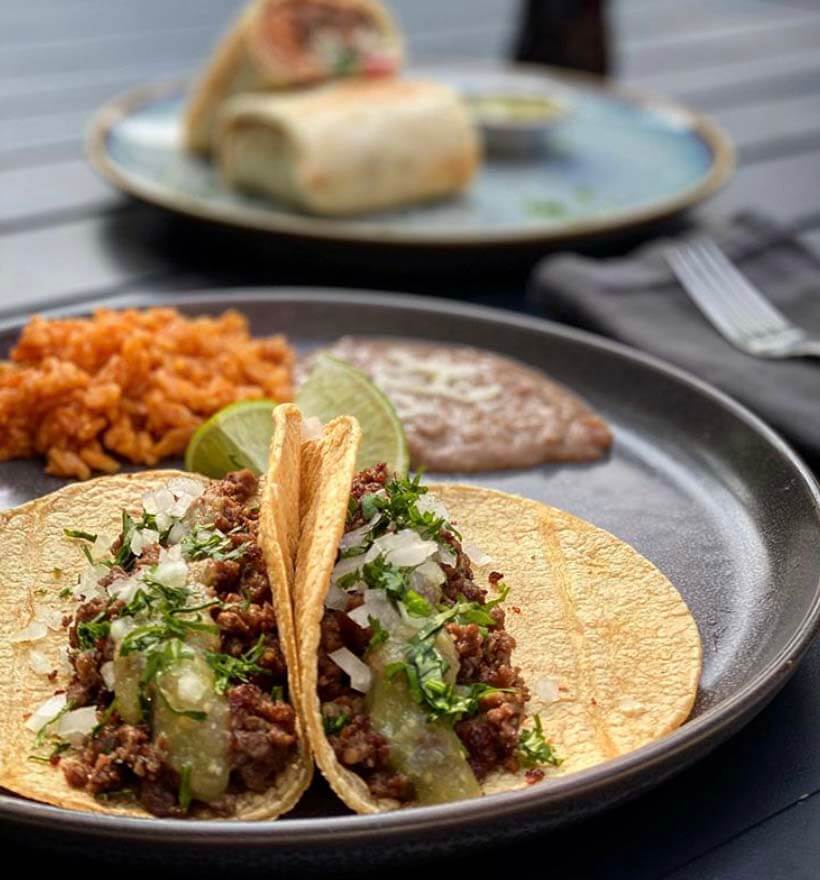 Kale My Name is a globally inspired vegan joint in Albany Park, Chicago. Plant-based tacos on the menu include jackfruit, fried avocado, seitan, and Beyond Meat—all topped with chopped kale, chipotle aioli, pico de gallo, and black beans. We'll take a side of guacamole, please!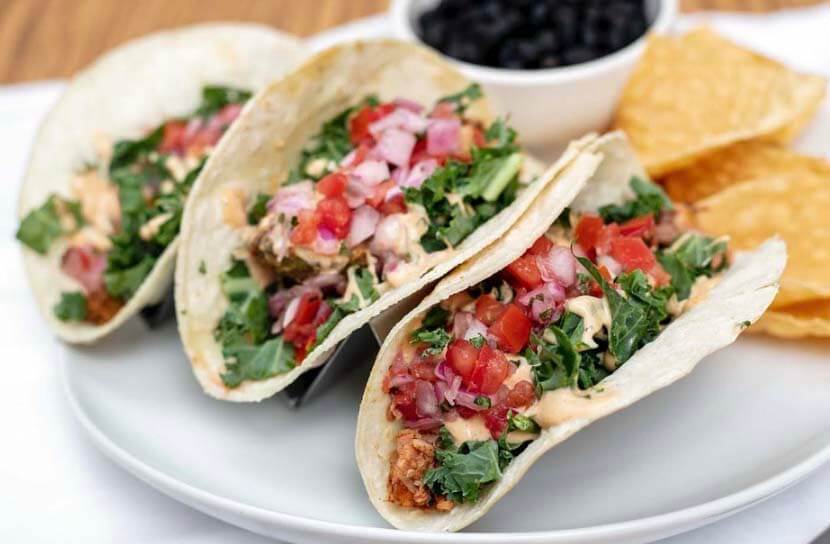 Handlebar is a vegetarian restaurant with numerous vegan dishes on the menu, including the Fried Avocado Tacos (cabbage slaw, tomatoes, refried beans, and house-made ranch on flour tortillas) served with brown rice and salsa. Menu items can be customized to be gluten-free and dairy-free.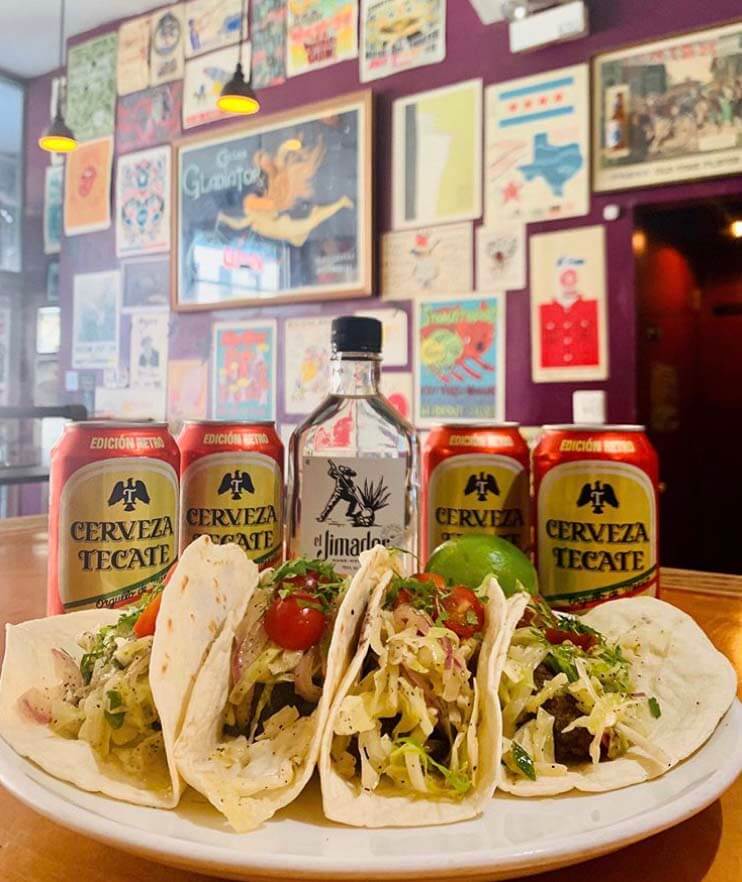 Upton's Breakroom is known for their indulgent soft serve, but they also offer savory options including the Korean Tacos filled with Chick Seitan, housemade kimchi, and avocado. The vegan meats used in their dishes are from Upton Natural's.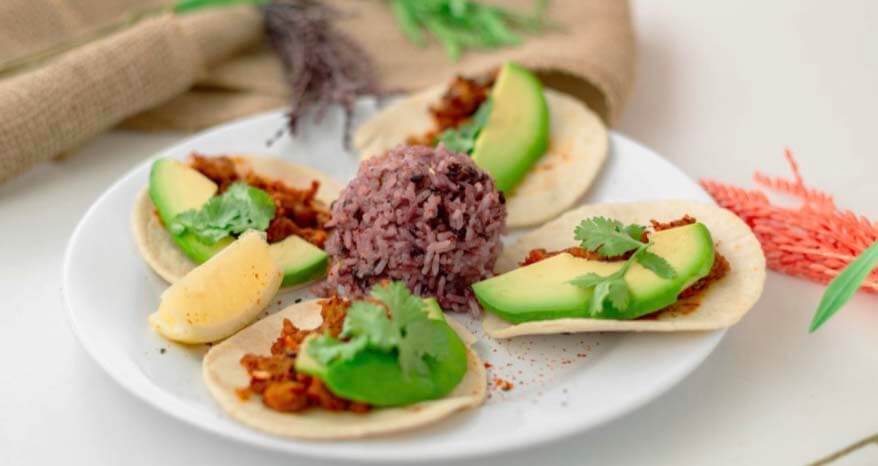 Manna Kitchen is located in Lisle, a suburb of Chicago. The family-owned restaurant serves tacos with seitan chorizo as an appetizer and stocks a gluten-free option as well (substitute the vegan meat for tempeh chorizo). We'll take an order of tacos with a Rainbow Quinoa Salad and lemonade for a balanced dinner. Manna also offers a Taco Salad!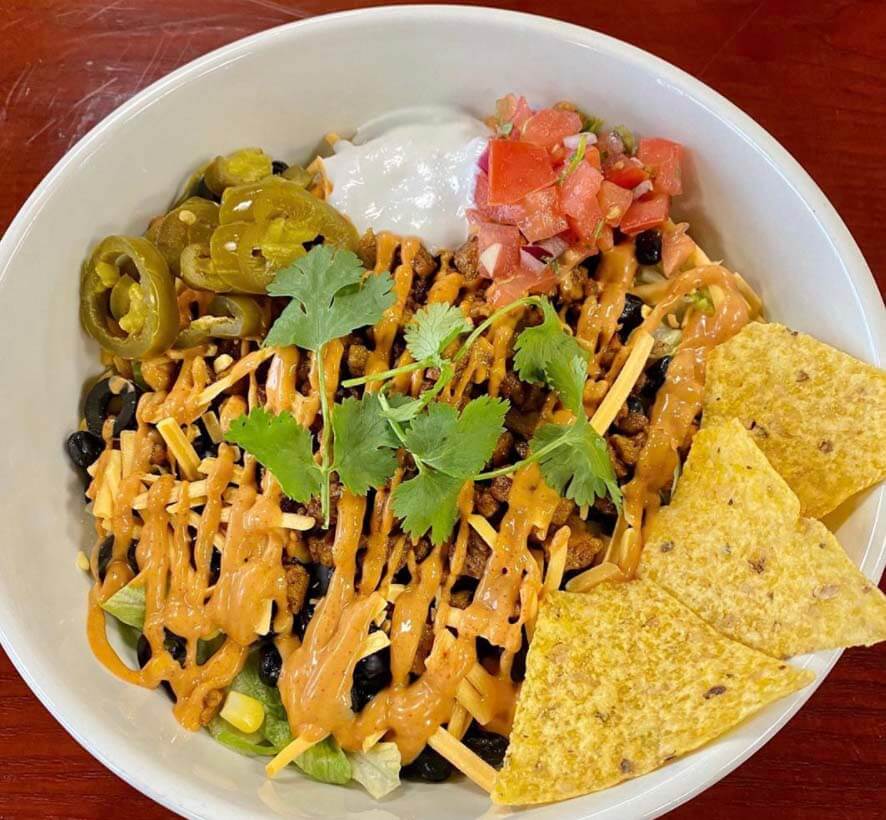 Healthy Substance serves plant-based Impossible Carne Asada and Al Pastor tacos. The vegan-friendly establishment provides an extensive menu of desserts and smoothies in addition to burritos, sandwiches, and more.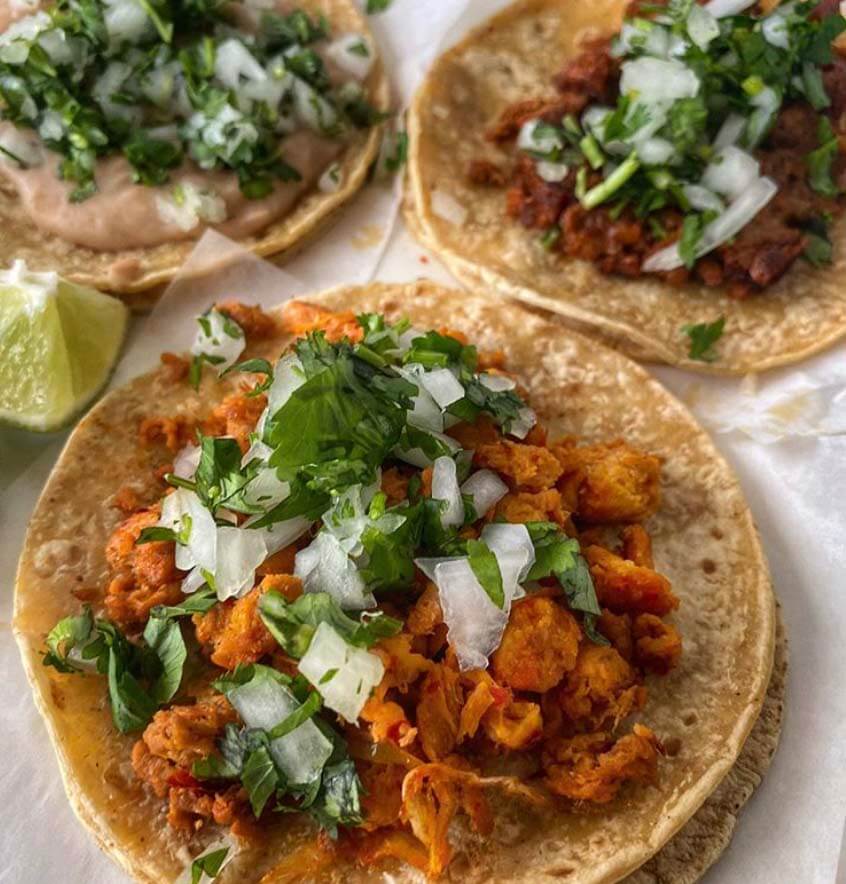 El Faro Restaurant features a vegetarian section on the menu with vegan-friendly tacos—including the Taco de Soya Pollo (chicken-style soy cooked with tomato, onions, and olive oil) and the Taco de Soya Asada (textured soy-style steak with onions and cilantro). Be sure to specify vegan when ordering, as some options contain dairy.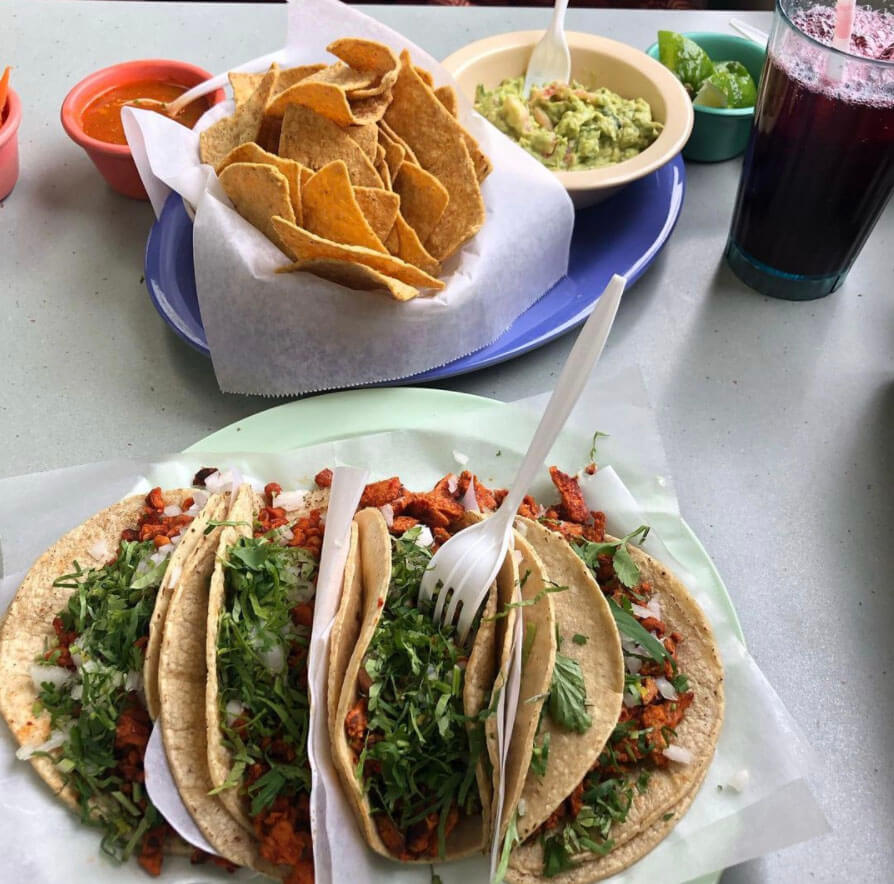 Photo credit: @plant_killer_773 on Instagram
Casa Yari is known for its vegan-friendly versions of exquisite Puerto Rican and Honduran dishes! The Dobladas (crispy tacos) can be ordered vegan, and they even have Vegan Paella! The vegan Honduran-style crispy tacos are filled with sautéed soy curls, topped with fresh red cabbage, and doused in locally crafted queso fresco from Cheeze & Thank You.