Check out this lineup of the 10 best places to find delicious vegan burgers in Metro Detroit.
When you're craving a burger, you don't want a soggy microwave veggie patty. You want a juicy beef-less burger loaded with extra cheese, special sauce, and all the fixins! But, does this vegan burger unicorn exist in Metro Detroit? You better believe it does! Check out this delicious lineup of the 10 best places for vegan burgers in Metro Detroit.
Dearborn
Make sure you come hungry to this vegan burger joint! UnBurger Grill's house-made vegan burgers are fully loaded with a variety of sensational toppings, like fake bacon, mac 'n' cheese, grilled pineapple, house-made sauces, and so much more. And, if all those ingredients sound too over the top, no worries, they also have a Basic Style with mayo, lettuce, onion, and tomato. If you decide not to add mac 'n' cheese to your burger, make sure you add it on as a side—it's crafted with their house-made cheese sauce and doesn't disappoint.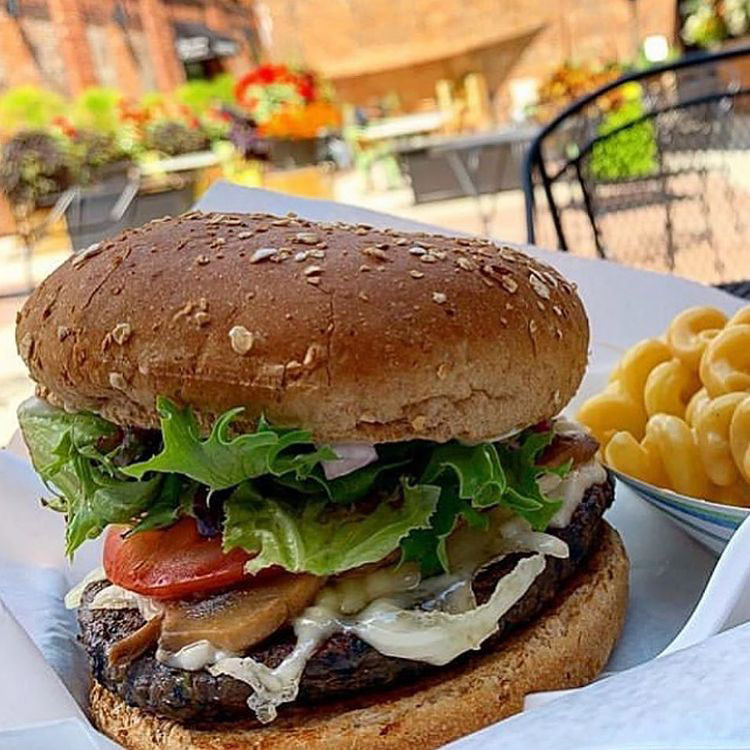 Midtown Detroit
The only Coney Island restaurant in Detroit that is straight-up vegan and home to some of the best comfort food inspired by mainstream fast-food giants is Chili Mustard Onions. Check out their addictive Big Mock (two Beyond Meat patties loaded with their house-made special sauce, lettuce, cheese, and onion all on a sesame seed bun)! And, if that's too filling, try their CMO King which is a simple burger without all the bells and whistles and only one Beyond patty. All burgers come with a side of fries, but if you're feeling extra, then add a side of vegan cheese sauce as well.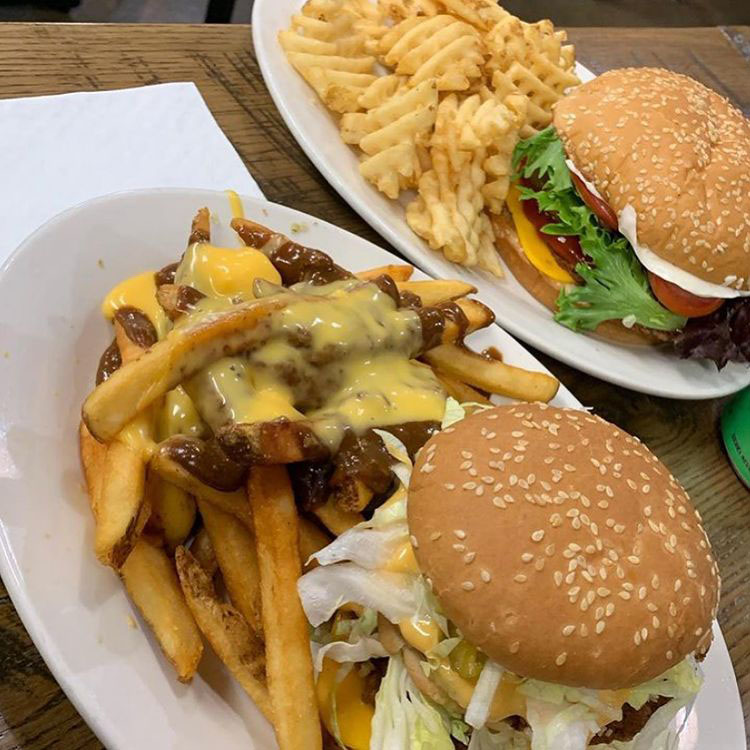 Royal Oak
You can never go wrong with one of the delicious burgers at this vegan comfort food hot spot! The creative minds behind Nosh Pit have cooked up some incredible creations. Check out The Kaz Burger topped with aioli, cheese, and green apple slices! For our gluten-free friends, try The Iris (house-made potato, beet, and carrot burger topped with Thousand Island, cheese, mustard, and pickles). While you're there, be sure to add on an order of crispy mozzarella sticks—you'll thank us.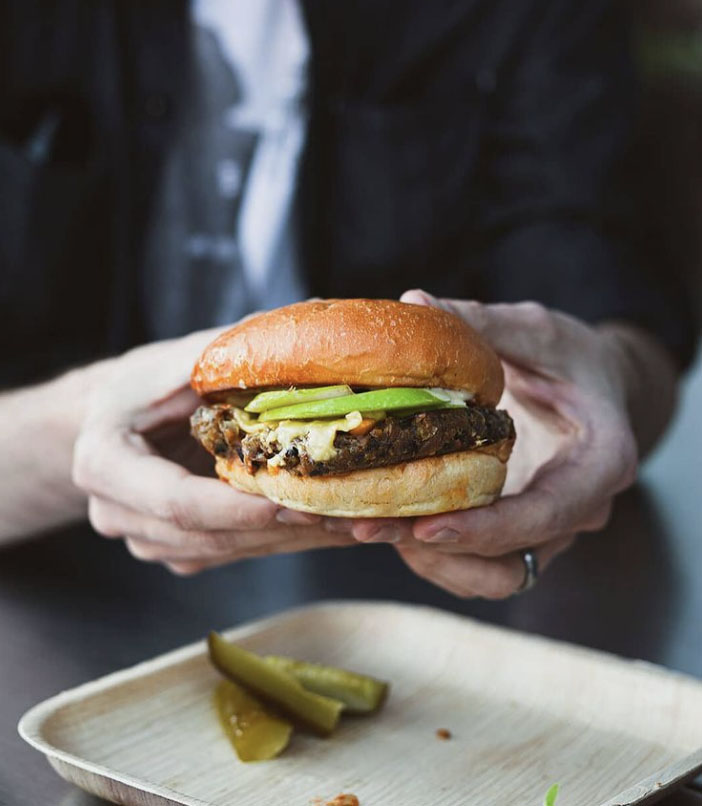 Plymouth
This 1950s-inspired diner is 100% gluten-free and vegan. They cook up a variety of classic American fare, but you definitely can't miss their house-made burgers. For American nostalgia, try their Classic burger with cheese, lettuce, tomato, and pickles. If you're super hungry, make it a double and load that burger with a second patty! Want something a little south of the border? Try their Southwest burger crafted with a house-made black bean and rice burger and topped with guac and salsa.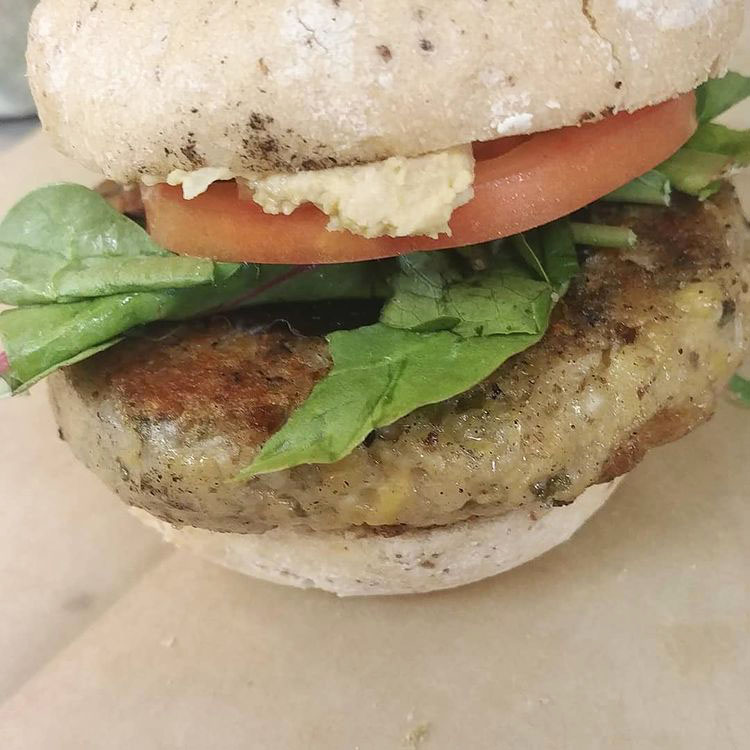 Detroit
Soul food isn't the only thing on the menu at this Detroit favorite. While Detroit Vegan Soul is well known for its Southern favorites, their house-made veggie millet burgers are worthy of their own recognition. The DVS burger comes in a few variations. Just looking for something simple? You'll enjoy their traditional DVS burger with pesto aioli on a pretzel bun. But if you're craving something a little juicier, then don't miss the DVS Bacon Cheeseburger. This burger is loaded with cheese, coconut bacon, and pesto aioli. Don't forget to save room for their sweet yam fries. We think they are even better than regular fries!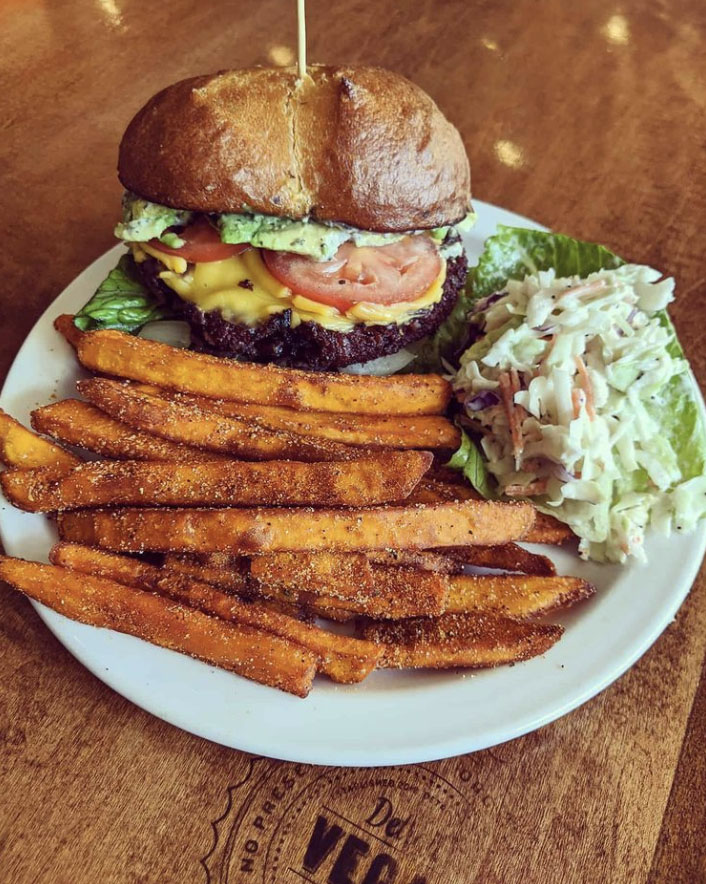 Ferndale
Vegan-Friendly (100% Vegetarian)
Right in the heart of funky Ferndale, this vegetarian café is the place to go for lunch, specifically to try out one of their delicious burgers. You'll be blasted out of this world with Spacecat V-stro's Black Hole Burger (house-made black bean, mushroom, and lentil burger topped with caramelized onions, garlic greens, and vegan cheese). Or try their magic sauce on the Red Dwarf Burger (house-made beet, rice, and lentil patty topped with their smoky tempeh, special magic sauce, vegan cheese, purple cabbage, and avocado). All burgers come with a salad or greens, but we recommend adding an order of their Cosmic fries—they are out of this world!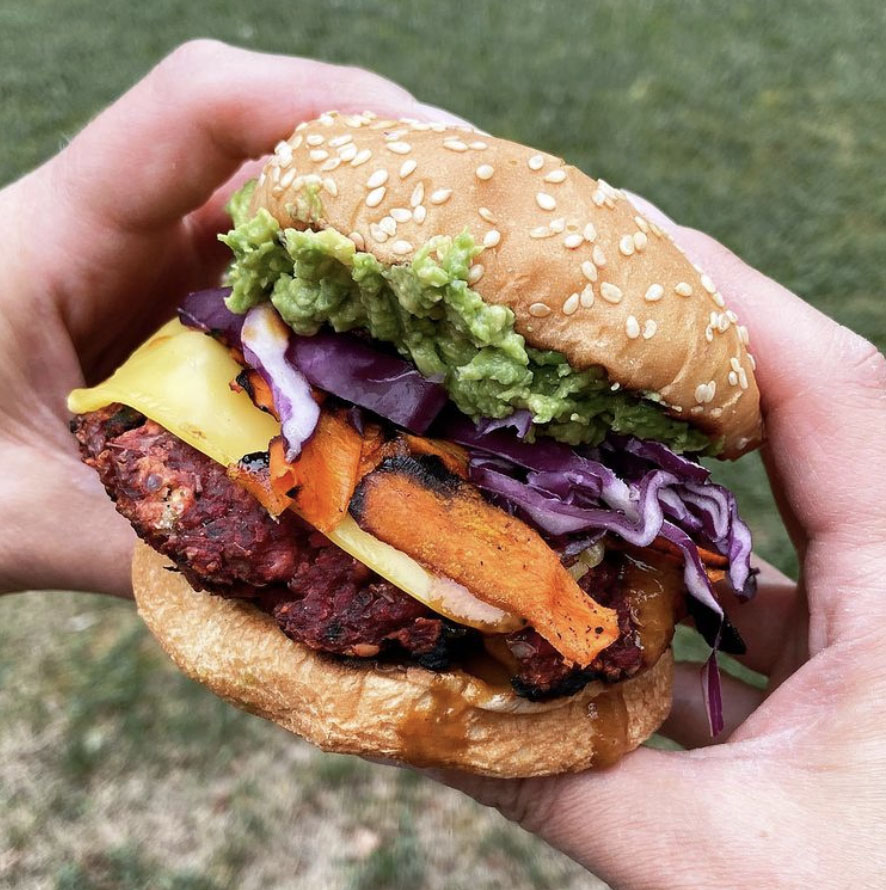 Royal Oak
Vegan-Friendly
This vegan-friendly beer hall has a full vegan menu that includes an all-star lineup of burgers. Ale Mary's carries the Impossible Burger, Beyond Burger, and a house-made black bean burger—talk about selection! It's hard to decide between their Southwest Burger topped with avocado, Follow Your Heart provolone, and house-made chipotle aioli or The McMary topped with Thousand Island, McClure's pickles, and Follow Your Heart provolone. Whatever you decide, make sure you finish with one of their vegan shakes such as the Cookie Monster or S'mores.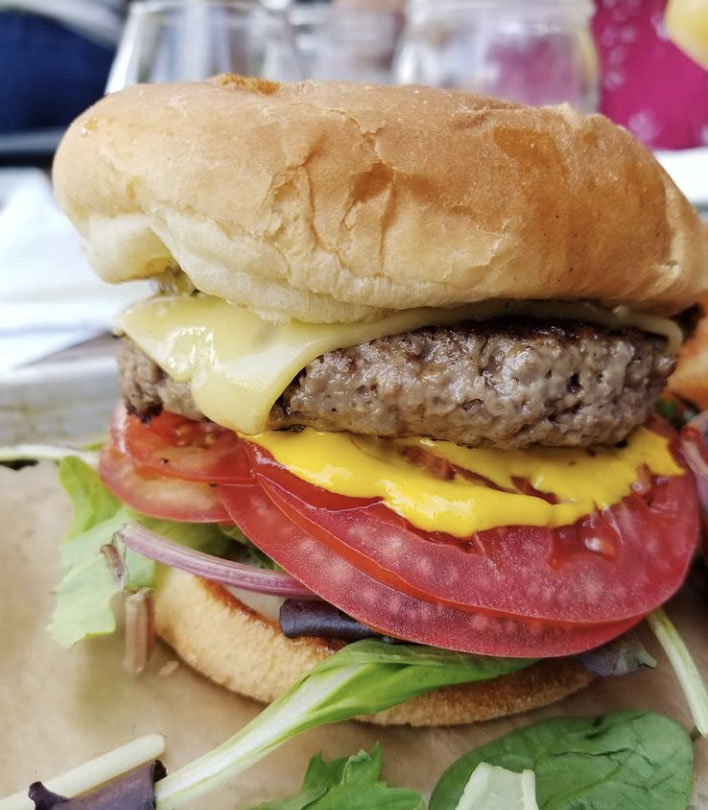 Photo credit: @mandipants15 on Instagram
New Center, Detroit
Vegan-Friendly
The team behind The Kitchen aims to show diners that healthful eating can be simple and delicious with their vegan-friendly menu. If you're in the mood for a greener burger, you gotta check out their Oh Kale Yeah Burger (Beyond Meat burger topped with sautéed kale and mushrooms, vegan cheese, mayo, and tomato on a pretzel bun). The burger comes served with a side salad for a little extra green kick, but if your sweet tooth is talking, then be sure to grab one of their vegan trail mix cookies!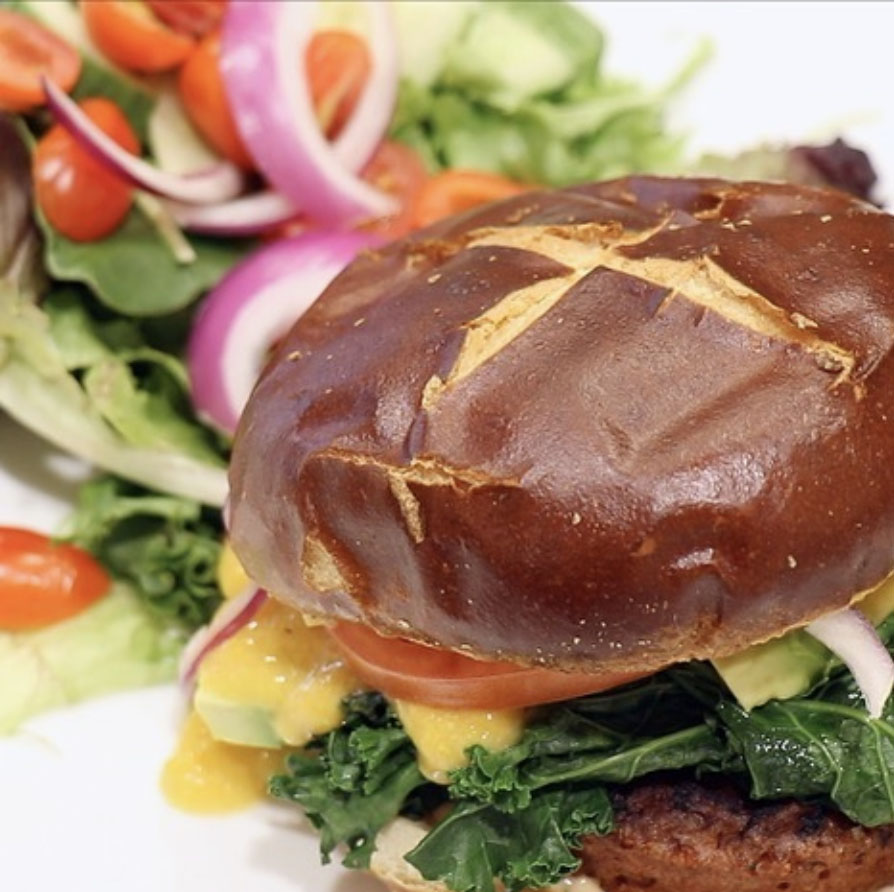 Rochester
Vegan-Friendly
This family-owned café in the heart of Downtown Rochester is ready for plant-based diners with a great vegan menu of burgers and more. If you're looking for something traditional, try Chomp's Impossible burger with vegan cheese on a pretzel bun, or if it's a dish with a little more zip you want, then grab their SPQB (house-made sweet potato and quinoa burger loaded with avocado, cucumber, sprouts, arugula, with sriracha mayo on ciabatta). Wash down your burger with one of their raw juices or sweet smoothies—we're particularly fond of the Almond Joy smoothie.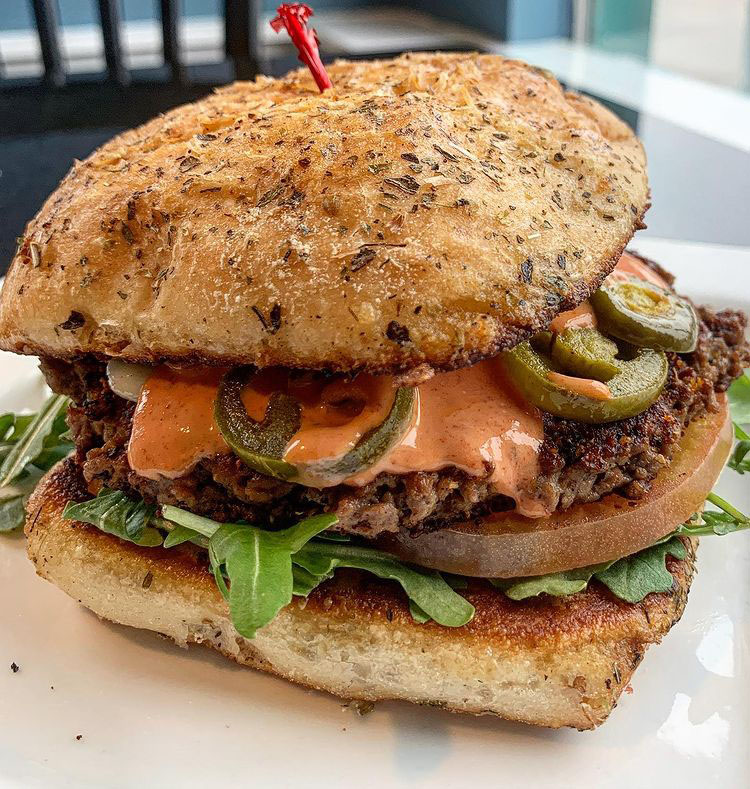 Berkley
Vegan-Friendly
Even though this popular spot on Woodward Ave isn't vegan, they still know how to make an amazing vegan burger. Vinsetta Garage's EV1 vegetarian burger has been a menu staple for years and for good reason. The house-made patty is topped with coal-fired tomatoes, arugula, sprouts, and shiitake bacon. To make it vegan, simply lose the mayo, add vegan cheese, ask for a pretzel bun, and enjoy!
Feature image: UnBurger Grill