Happy Ice is opening a brick-and-mortar on Melrose Avenue, and we couldn't be more thrilled! Founded in 2017, this vegan food truck was made popular by serving refreshing and colorful water ice. What's water ice? An iconic frozen treat from Philadelphia that fuses the creaminess of ice cream with the light, fruity flavors of sorbet––it's the best of both worlds! At Happy Ice, they use clear biodegradable cups that showcase their vibrant rainbow scoops of goodness.
RELATED: Black-Owned Vegan Restaurants to Support in Los Angeles
---
Join VegUP and Using My Privilege to take a stand against racism. Click here to learn more and donate now.
Happy Ice was founded by entrepreneur and Philadelphia native, Lemeir Mitchell. After his father was incarcerated with a life sentence in prison and his brother unexpectedly passed away, Mitchell realized how short life really is. He decided to head west and pursue his dream of becoming a notable tattoo artist in Los Angeles. Mitchell began tattooing at a shop on Melrose Avenue––where he would sleep on the floor at night to make ends meet. It was during this time that he discovered a passion for the LA food truck scene. Mitchell came up with the concept of Happy Ice as a way to introduce one of his favorite East Coast staples to the West Coast!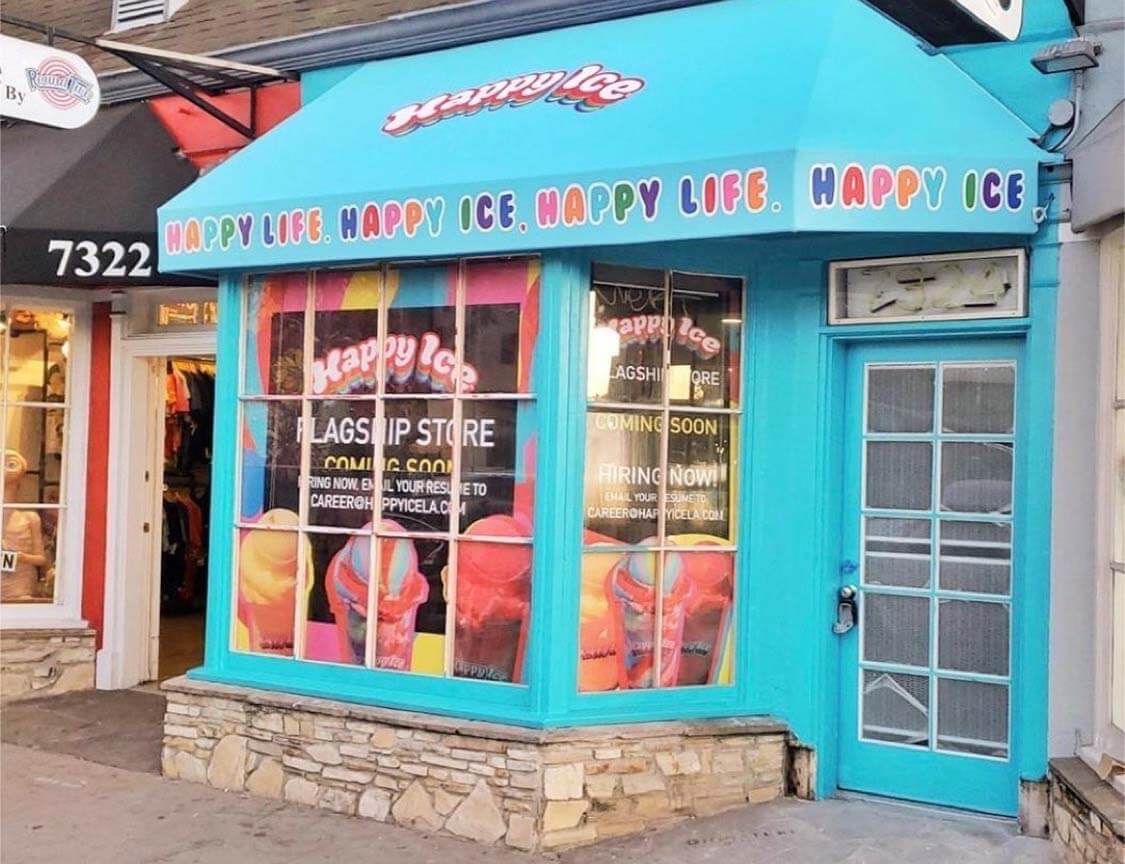 Using a 40-year old Philadelphian recipe and an eye-catching truck wrap design, Mitchell launched his first food truck in 2017. These brightly colored water-based desserts caught the attention of many, including customers Angelina Jolie, Post Malone, Deshaun Watson, The ACE Family, Devin Booker, Kehlani, and Lil Uzi Vert. One year after the launch of Happy Ice, Mitchell was approached by Ted Foxman who invested nearly one million dollars to expand the brand. This led to a fleet of food trucks––and now, a storefront on Melrose Avenue!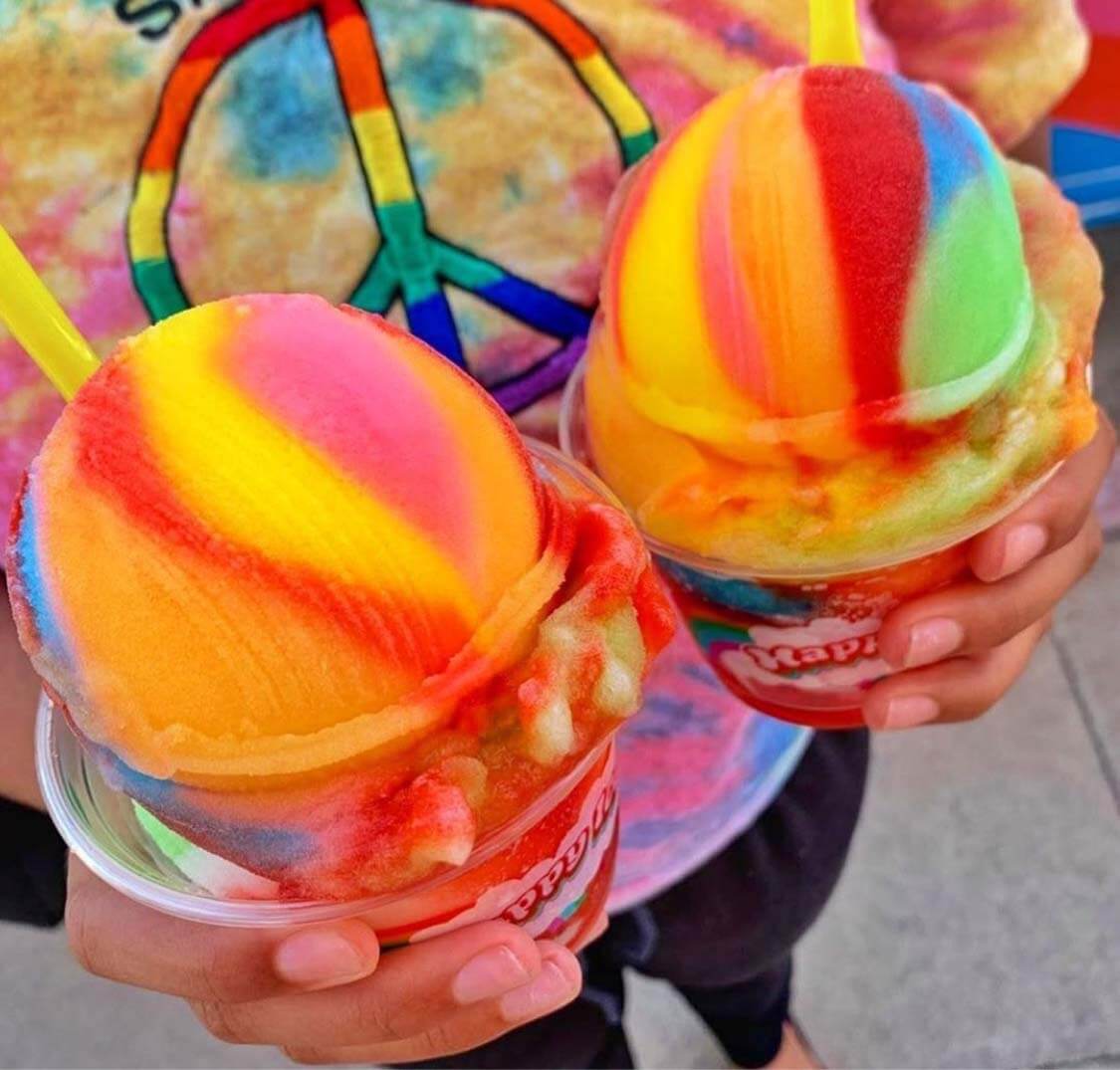 Photo credit: @firstdateguide on Instagram
The brick-and-mortar is set to open this month after many difficult delays and challenging obstacles. Most recently, Mitchell stood guard in front of his new store and passed out Happy Ice during the LA protests! "I want Happy Ice to be a symbol of unity and a better future," Mitchell said, "our vision is for this shop to be a place of peace, happiness, and laughter. We are so excited to welcome Angelenos into our doors."
Stop by the new Happy Ice location at 7324 Melrose Avenue for their grand opening celebration this Saturday, June 20th from 2 to 10pm––the first official day of summer! Introduce your taste buds to their mouthwatering flavors of Lucky Lemon, Blueberry Blast, Cherry Bomb, and more! They'll also be serving up limited-edition flavors, Cotton Candy Crush and Strawberry Banana Lush. Can't pick just one? No worries! You can choose up to three flavors in a single cup––and make sure you have your camera ready because these scoops are Insta-worthy! And word has it, they'll be releasing a vegan soft serve flavor very soon––holla!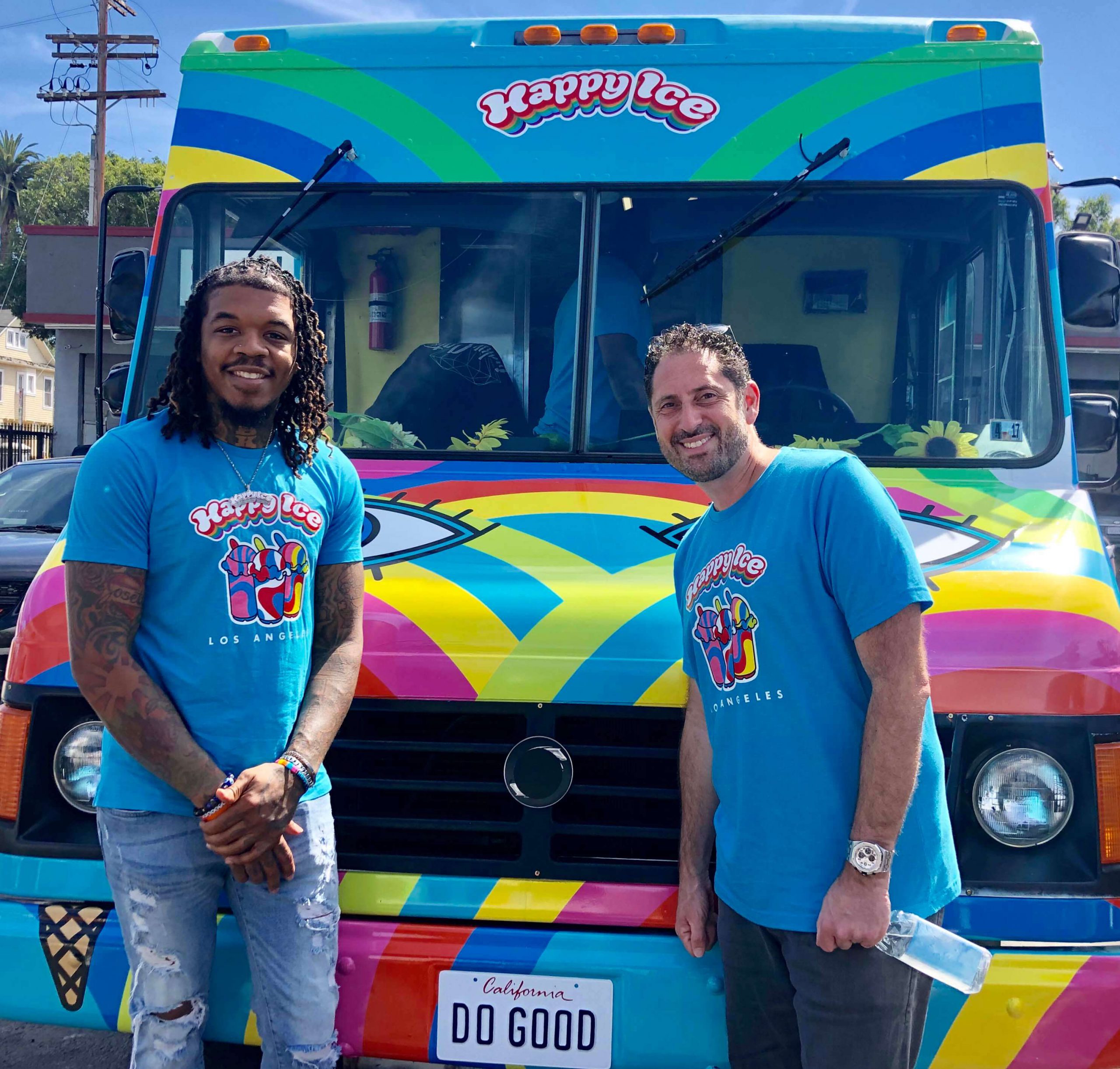 If you can't wait for the grand opening, track down a Happy Ice food truck to get your fix! This Friday, June 19th, they'll be serving a special edition Black Lemon flavor for just $5 to commemorate Juneteenth. The flavor was created to symbolize the sour history of the Black community in America and the hope for a refreshing new start moving forward. 100% of the profits made on June 19th will be donated to Black organizations.
For more information on Happy Ice, visit the happyicela.com or check out @happyice on Instagram.