This perfect snack comes in all the flavor options!
The days of "road trip, gas station" jerky being the only option are behind us. In 2021, there's no shortage of these plant-based, meat-like snacks. We're talking mushroom jerky, sweet Southern jerky, and even pineapple jerky. Whether you're in the mood for Zesty Thai, Smoky Carolina BBQ, or anything in between, there's a vegan jerky option out there just for you. If you're wondering where to begin, here's a list of vegan jerky you need to try.
In 2012, the founder of Louisville Vegan Jerky Co., Stanley Chase, accidentally overcooked his BBQ soy protein recipe. This little mistake led to a purposeful mission to provide the world with artisan quality jerky that is non-GMO and made by hand in small batches. Louisville Vegan Jerky comes in various flavors, including Maple Bacon, Smoked Black Pepper, Perfect Pepperoni, Buffalo Dill, and Smoky Carolina BBQ. Louisville Jerky also offers "toppins'" consisting of Bacon Bits, Pepperoni Bits, and Taco Fiesta Bits. Louisville's jerky is gluten-free and made primarily from soy in a nut-free facility. You can find Louisville Vegan Jerky in stores and online.
Michael Pan launched Pan's Mushroom Jerky in 2018 in four flavorful options that were all inspired by his family's recipes. Pan's Mushroom Jerky is organic, gluten-free, soy-free, kosher, and of course, vegan! The company credits shiitake mushrooms for the meaty texture that Pan's Jerky is famous for. Pan's Mushroom Jerky is available in over 100 stores nationwide and includes flavors such as Zesty Thai, Applewood BBQ, Salt & Pepper, Teriyaki, Curry, and Original. In addition to being found in stores, Pan's Jerky can also be purchased online.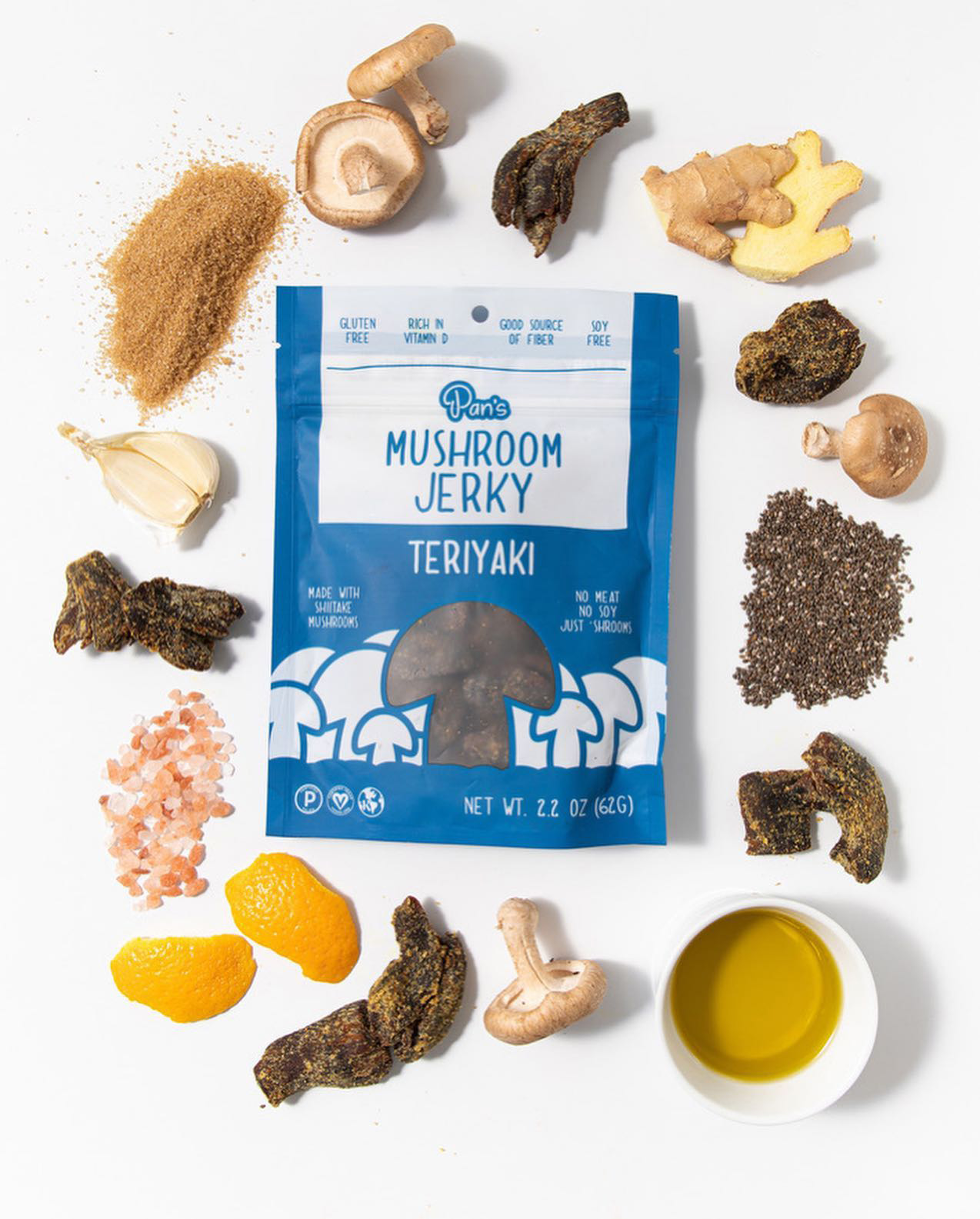 Noble Jerky isn't your ordinary plant-based jerky company. In fact, for generations, they weren't even plant-based. When co-founder Stefan Urbani and the Noble team realized that sustainable agriculture was not feasible when raising animals for food production, they restructured their business to a 100% plant-based model. Noble Jerky flavors include Sweet BBQ, Teriyaki, Hickory, Original, and Chipotle. It's non-GMO and provides up to 14g of plant-based protein per serving. Noble Jerky can be purchased online through select retailers and on their website.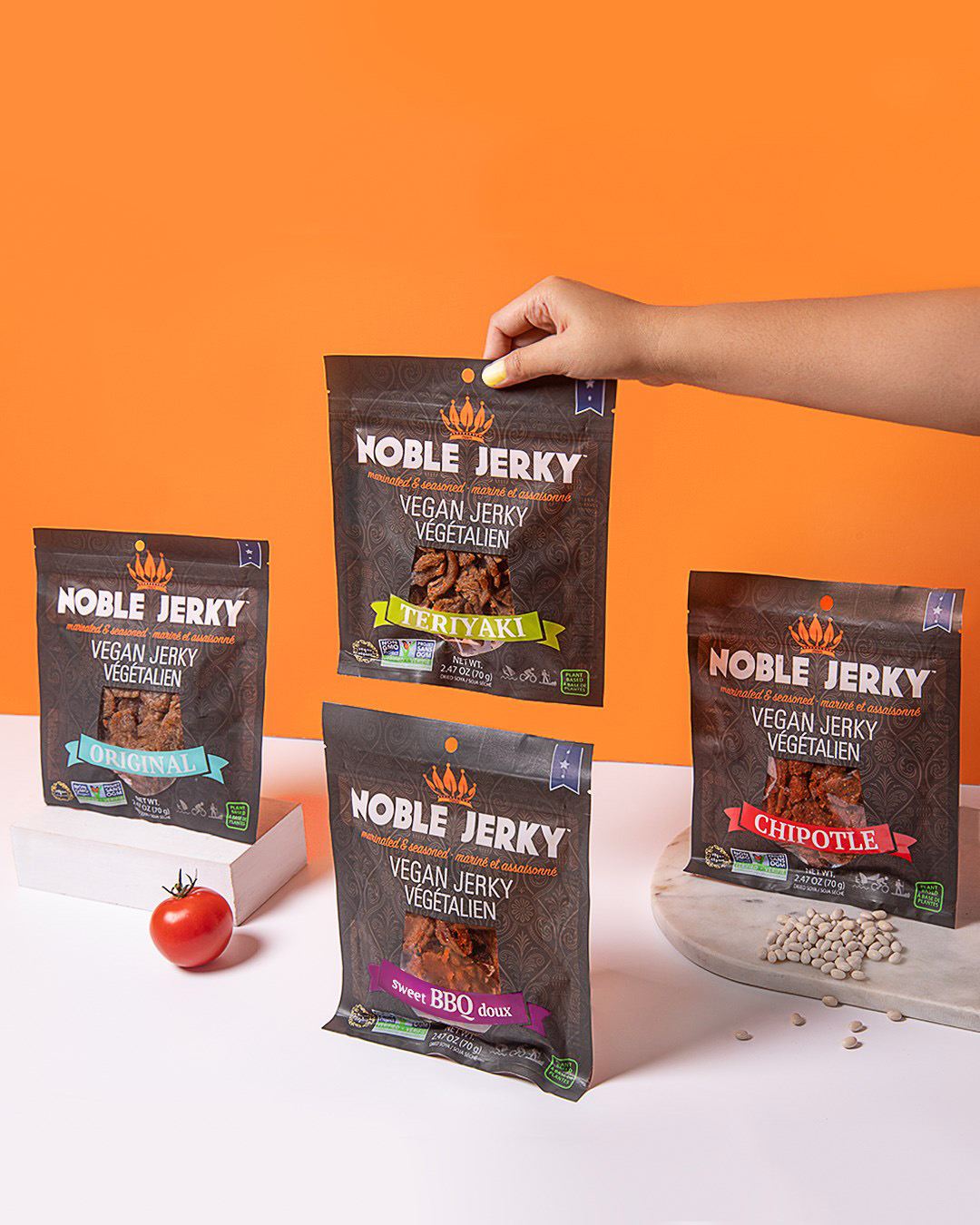 If you're looking for a convenient, quick snack that's packed with protein and flavor, then look no further than Primal Strips Meatless Vegan Jerky. Made from seitan, shiitake mushrooms, and soy, Primal Strips are low in fat, high in protein, and off the charts in delicious flavor! Primal Strips options include Thai Peanut, Mesquite Lime, Teriyaki, Hot & Spicy, Hickory Smoked, and Texas BBQ. They can be found in select retailers nationwide.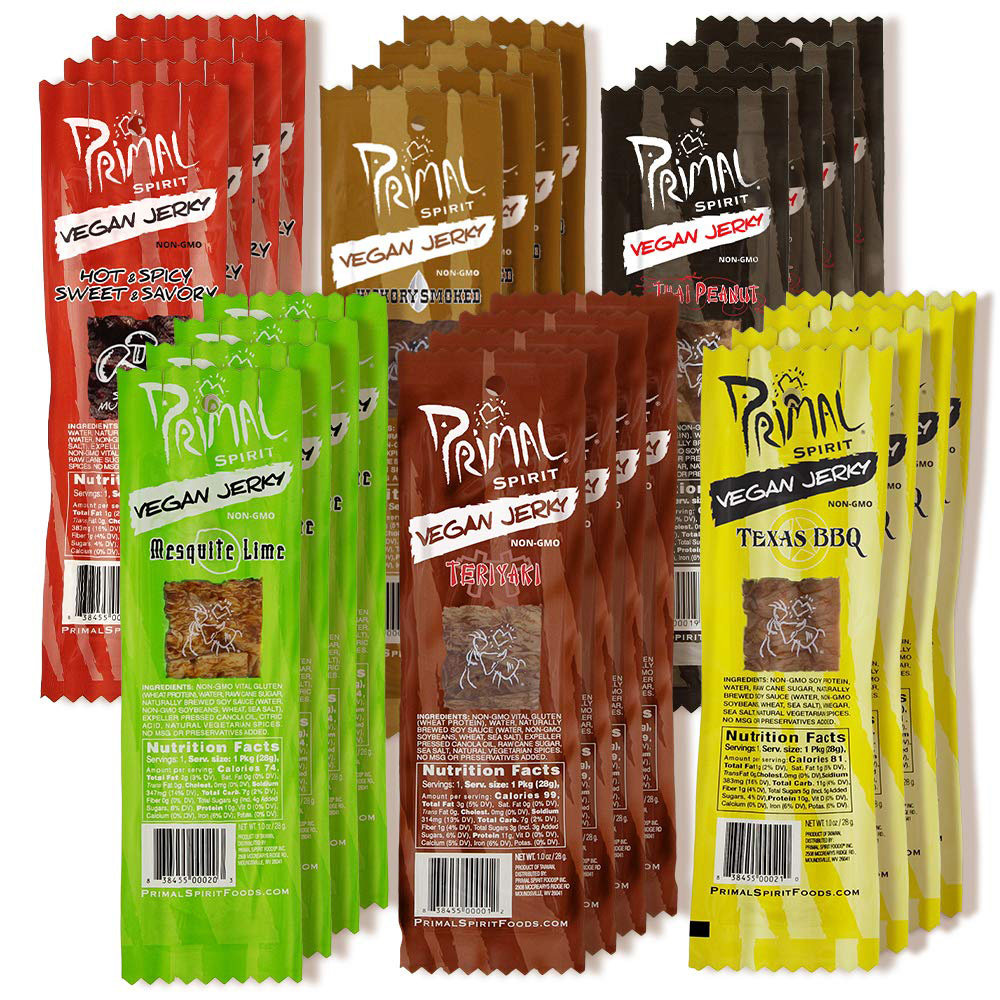 Yes, you read that right—Gardein has jerky! This key player in the plant-based meat space took it a step further in 2020 when they began offering vegan jerky. Made primarily from vital wheat gluten and soy, Gardein jerky consists of three flavors: Original, Teriyaki, and Hot & Spicy. Gardein jerky has 10g of plant protein per serving and is non-GMO. You'll find it in select retailers nationwide and online.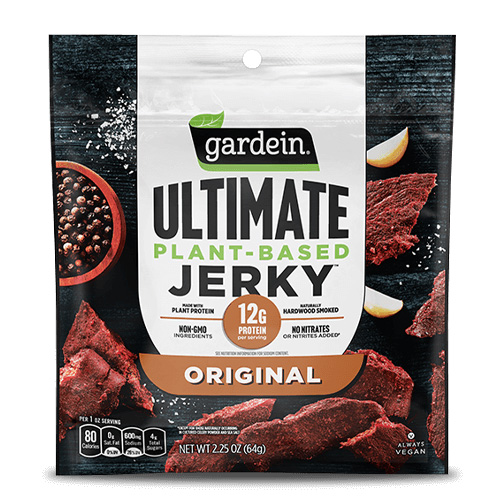 Solely Fruit Jerky takes a unique approach, offering jerky made from only one ingredient! You can choose from Pineapple, Banana, or Mango, all three of which are organic. The pineapple flavor packs in half of an organic pineapple, while the mango and banana flavors contain the whole fruit in each bar! Solely was founded to help children gain access to fresh fruit. In doing so, their mission created healthy snacks that replaced sugar-filled, highly processed, unhealthy ones. Solely Fruit Jerky is available online and in select retailers nationwide.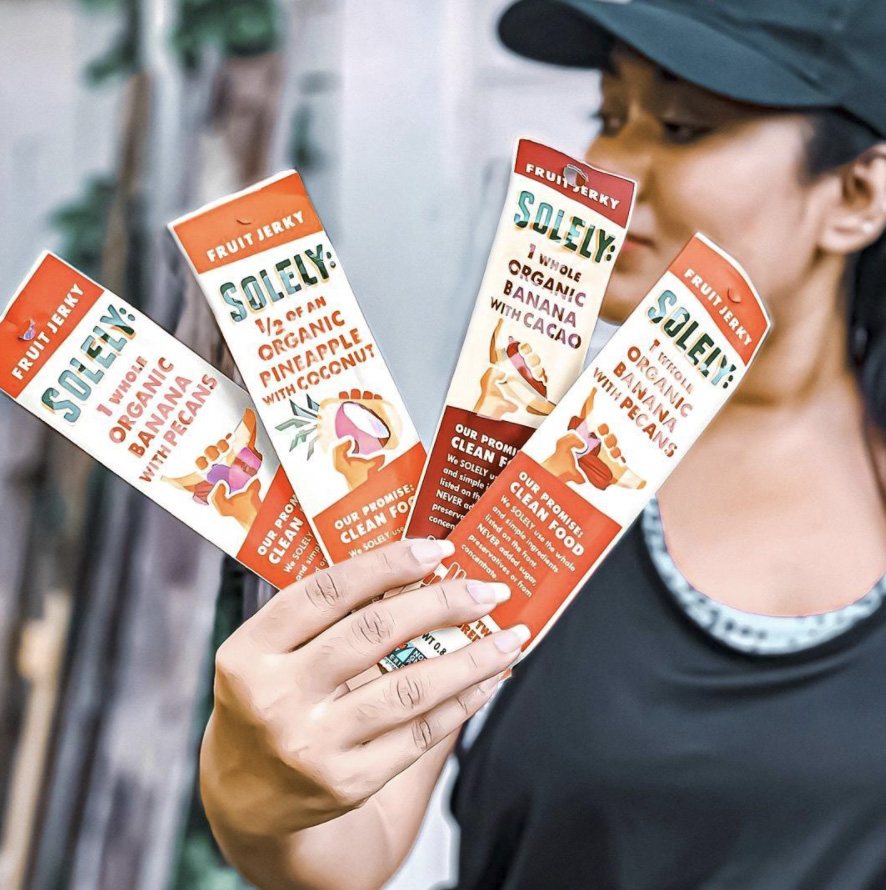 This mushroom jerky has a rich history of 90 years of mushroom cultivation behind them. Today, they use those same mushrooms to deliver a clean-ingredient portabella jerky. Savory Wild Plant-Based Portabella Jerky comes in a variety of flavors, including Smokehouse Bacon, Hot & Spicy Cajun, Sesame Ginger & Korean, and Roasted Garlic & Black Pepper. Savory Wild does not use artificial flavors and all of their jerkies are non-GMO, gluten-free, and available for purchase online.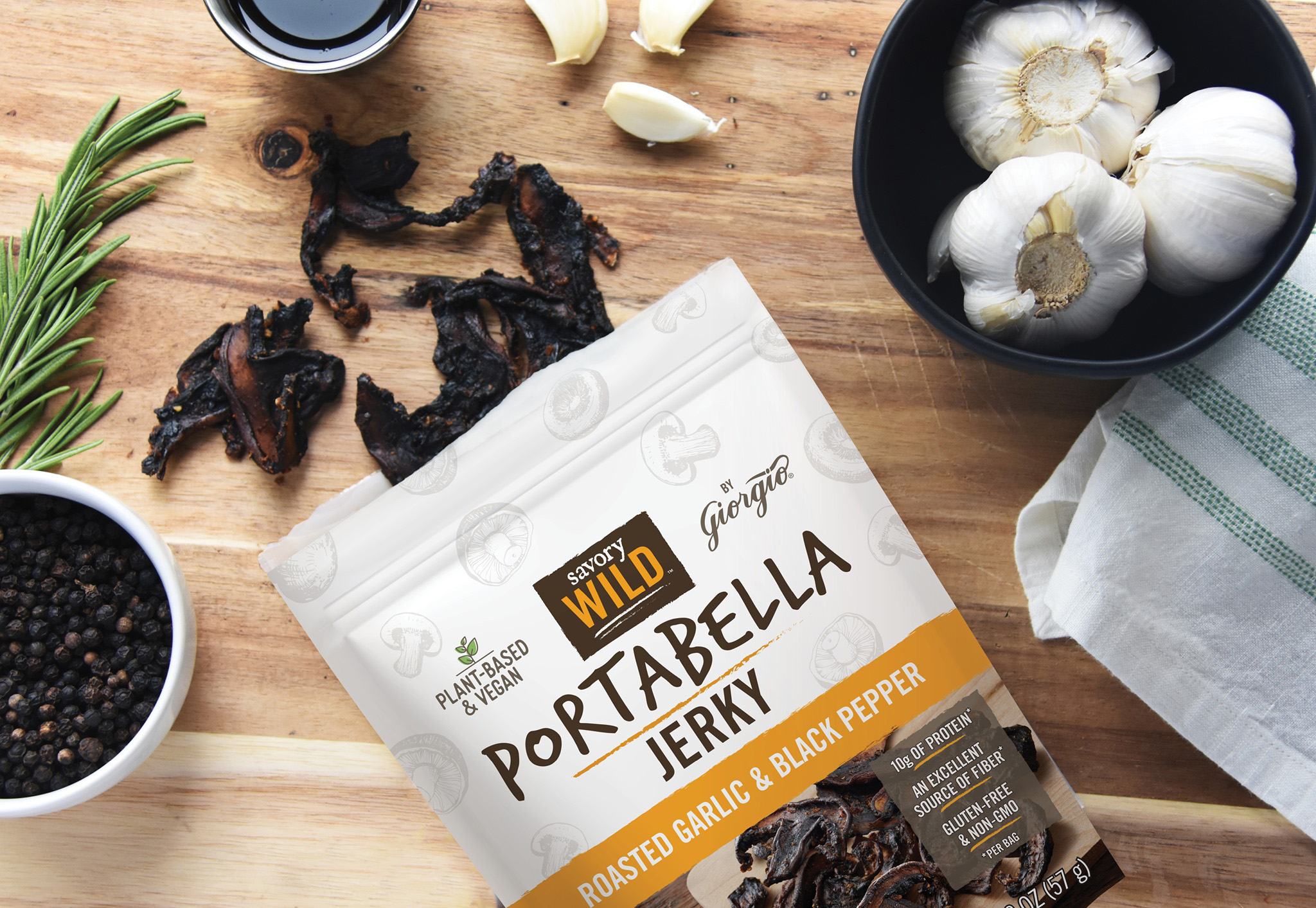 Chef Michael Antonorsi started Wild Joy Goods, fueled by innovation with a desire to impact the world. Made primarily from fruit, Wild Joy Goods Jerkies consist of mango, coconut, and banana. Flavors include Chili Lime, Thai Curry, Original Coconut, Original Banana, Ginger Teriyaki, and Chipotle Lime. Wild Joy Goods sources their bananas from small farmers in Nicaragua to inspire consumers to become agents of change by supporting a sustainable supply chain. All of their ingredients are organic, fair trade, and non-GMO certified. You can find Wild Joy Goods Jerky at select retailers nationwide.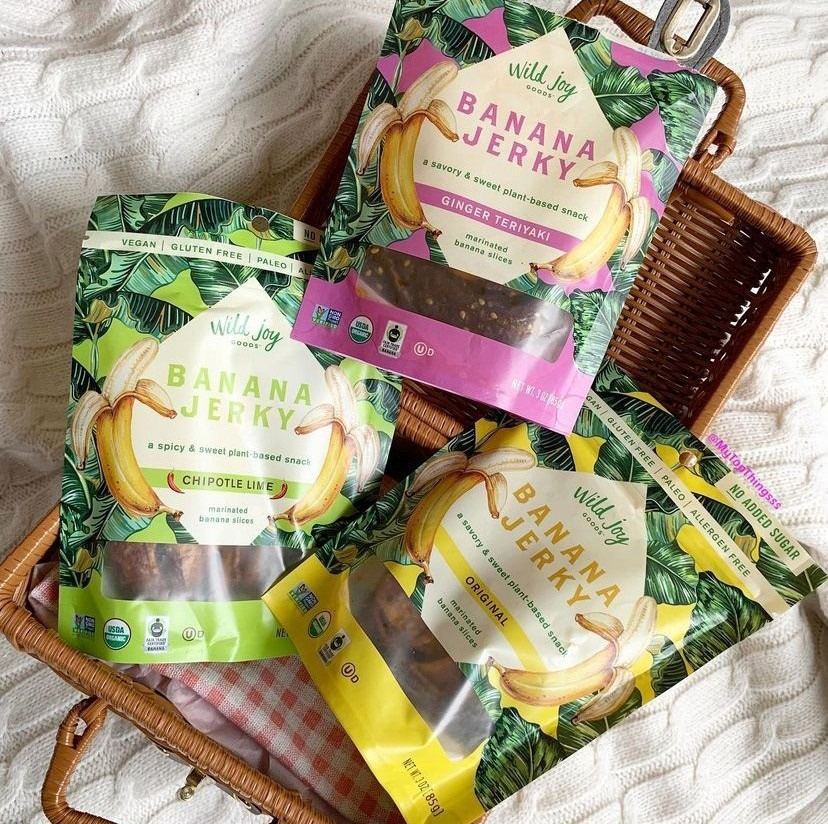 After 40 years of eating meat, All Y'alls founder Brett Christoffel realized that cows were no different than cats or dogs, and he stopped consuming meat. As a Texas native, Brett knew that one of the most substantial contributions to America is beef, so Brett decided to support changing that by launching All Y'alls Foods—a plant-based food company. All Y'alls's "Jerky Y'all" flavors consist of Black Pepper & Sea Salt, Prickly Pear Teriyaki, and Prickly Pear Chipotle. Additionally, All Y'alls Foods offers Bacony Bits! All Y'alls Jerky is non-GMO, gluten-free, and available for purchase online.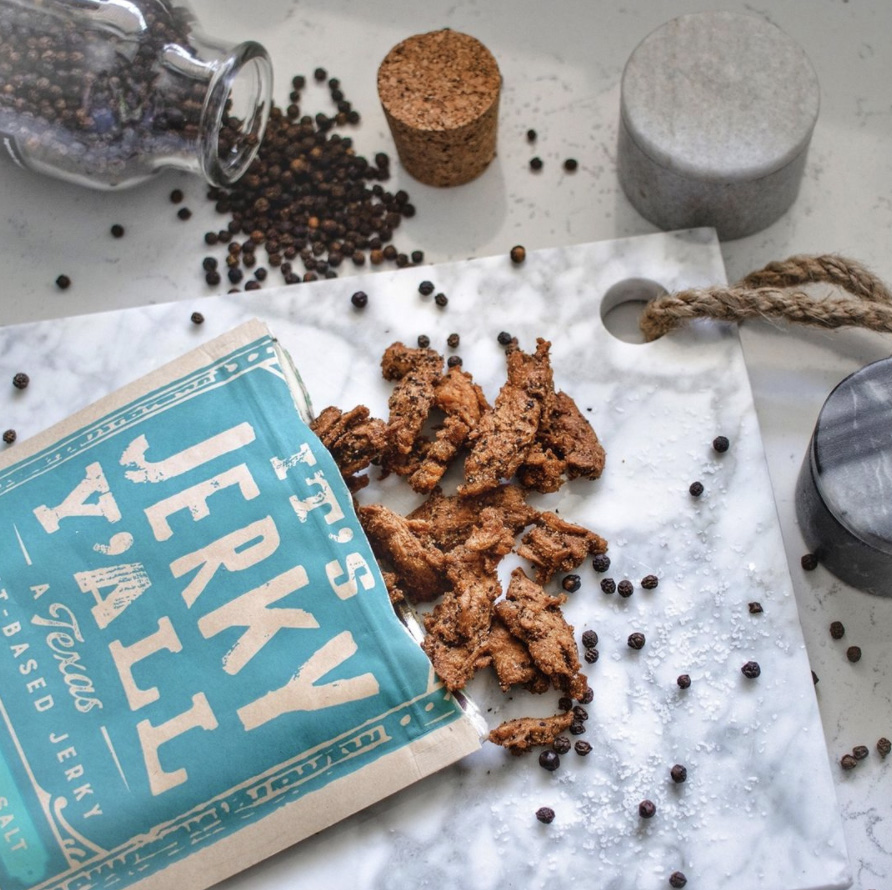 All of AKUA's products are made from ocean-farmed kelp, a zero-input crop that requires no fresh water, no fertilizer, and no land to grow. Founded by a team of Kelp "Queens and Kings," AKUA curates foods that are delicious and sustainable. AKUA Kelp Jerky offers four flavors—Sesame & Nori Sea Salt, Rosemary & Maple BBQ, Spicy Chili & Lime, and Hibachi Teriyaki. AKUA Kelp Jerky is available for purchase online.