From Japanese, Peruvian, and Cambodian to Italian, Armenian, and Ethiopian, Los Angeles offers a variety of delicious vegan meals from cuisines around the world.
Looking to switch up your routine of burgers, salads, and sandwiches? Then you've come to the right place! This list contains a variety of vegan and vegan-friendly restaurants and pop-ups that serve rich, flavorful dishes from global cuisines. Here's our guide to eating vegan around the world in LA!
Culver City & Downtown LA
Aside from fresh, flavorful sushi rolls, this sophisticated restaurant offers a variety of probiotic Japanese dishes. From Garlic Maitake Steak, Shiso Gyoza, and Spicy Miso Bolognese to Crispy Potato-O-"Fish" and—one of our all-time favorites—the Crab Cake Hand Roll, Shojin's innovative offerings are 100% vegan and made without any gluten, refined sugar, or table salt. To make things even better, there are a number of epic desserts and drinks that complete the dining experience.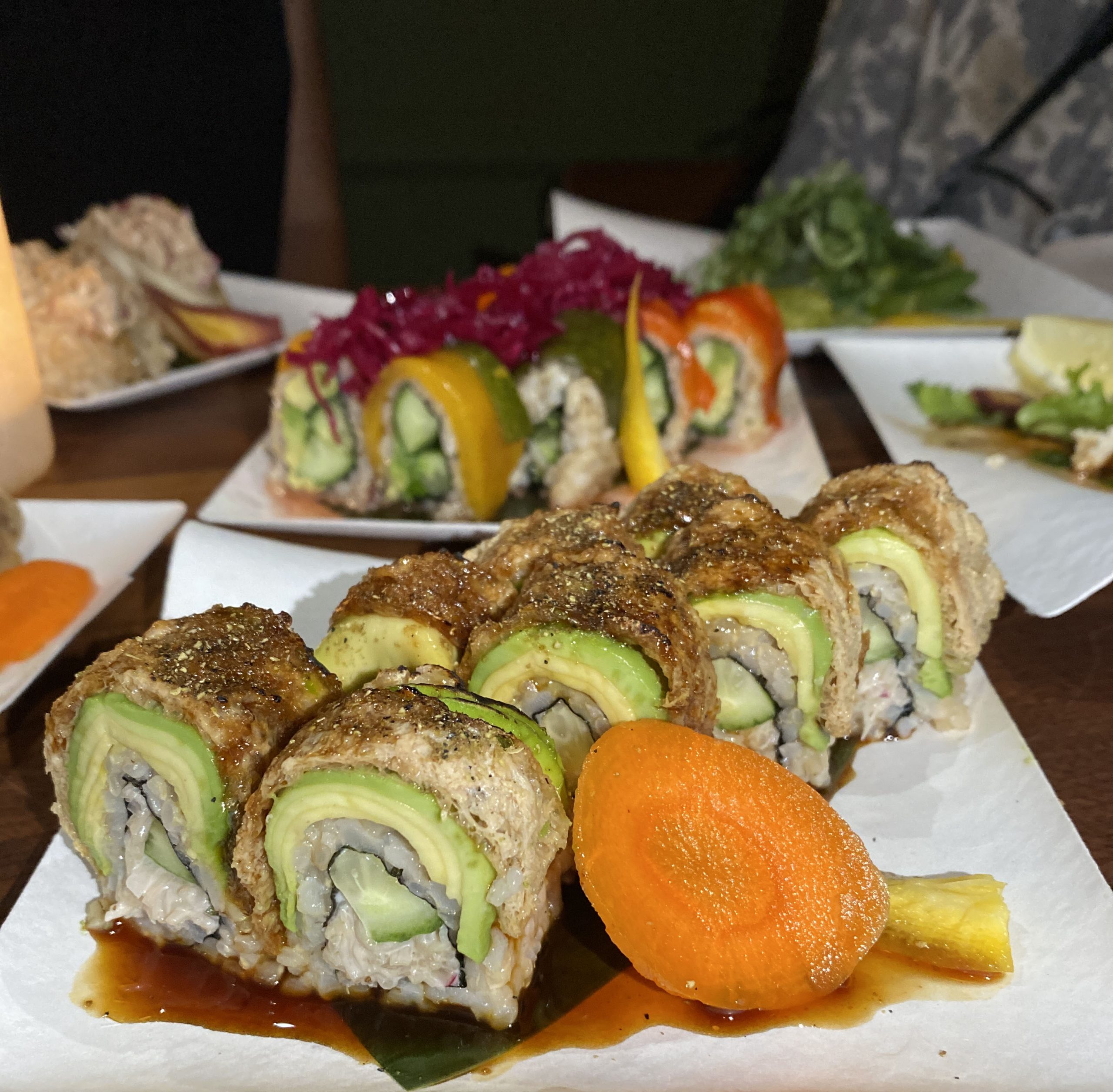 Long Beach
Gone are the days of longing for vegan Chinese Dim Sum. Thanks to Morning Nights, plant-based peeps can enjoy Dan Dan Noodles, Mapo Tofu, Scallion Pancake Rolls, Daikon Cakes, Xiao Long Bao, and other insanely tasty vegan eats. To drink, there's beer, wine, sake, and nonalcoholic beverages.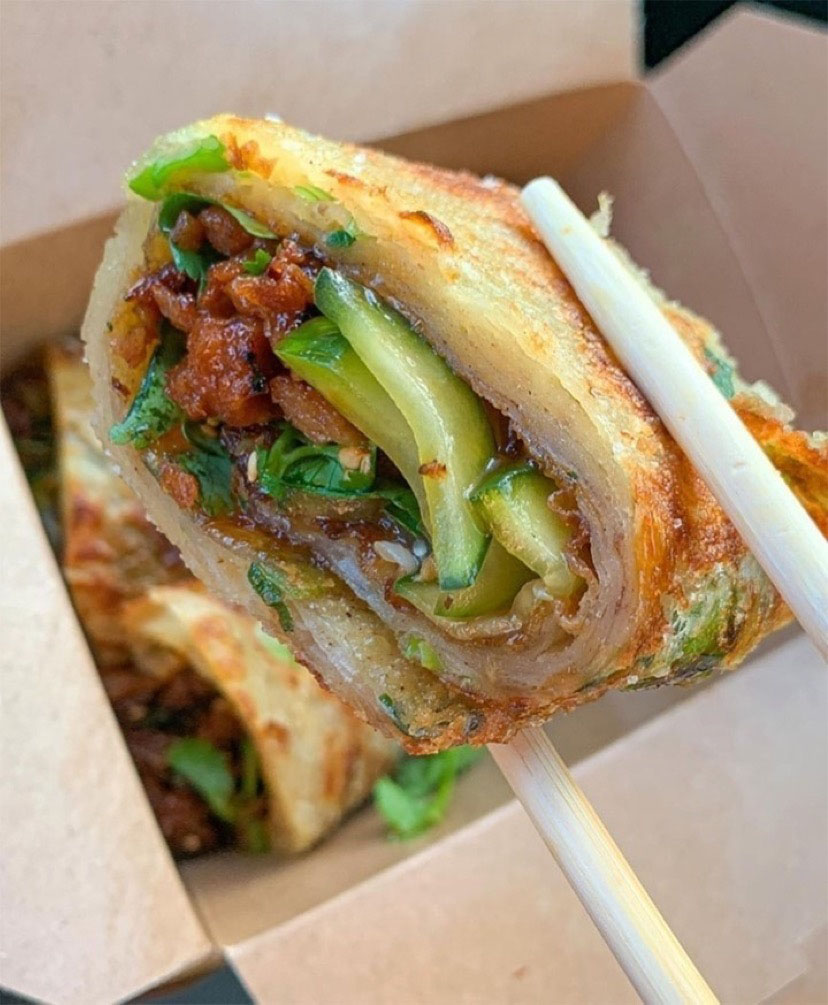 Photo credit: @veganfoodplug on Instagram
Beverly Grove
This plant-based joint is a Los Angeles staple! The menu at Araya's Place boasts Thai appetizers, salads, soups, curries, stir-fries, noodles, fried rice, and desserts galore. Stop by for lunch to score one of their amazing midday specials and stay for a Fried Banana with Coconut Milk Ice Cream dessert.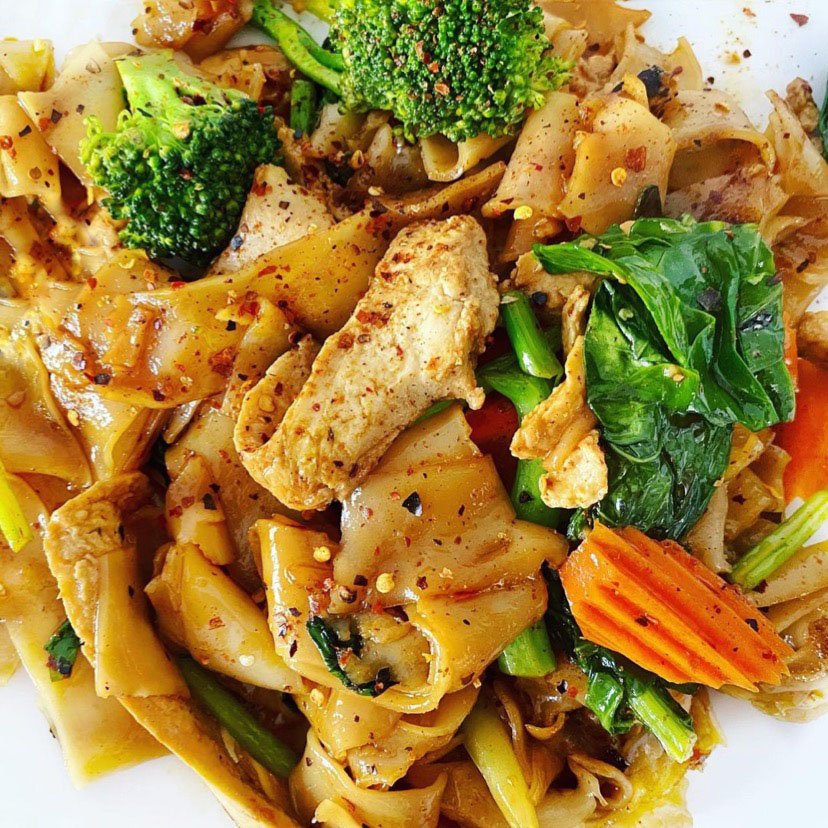 Photo credit: @joesveganfoodgram on Instagram
Pop-Up
You haven't lived until you've tried Srey Vegan's Pineapple Walnut Shrimp Bowl! This women-owned pop-up offers a unique variety of plant-based Cambodian food in the realm of Orange Shrimp, LokLac, Garlic Rice, and—more recently—dishes that feature OmniPork, like Pork Egg Rolls and Pork Fried Rice.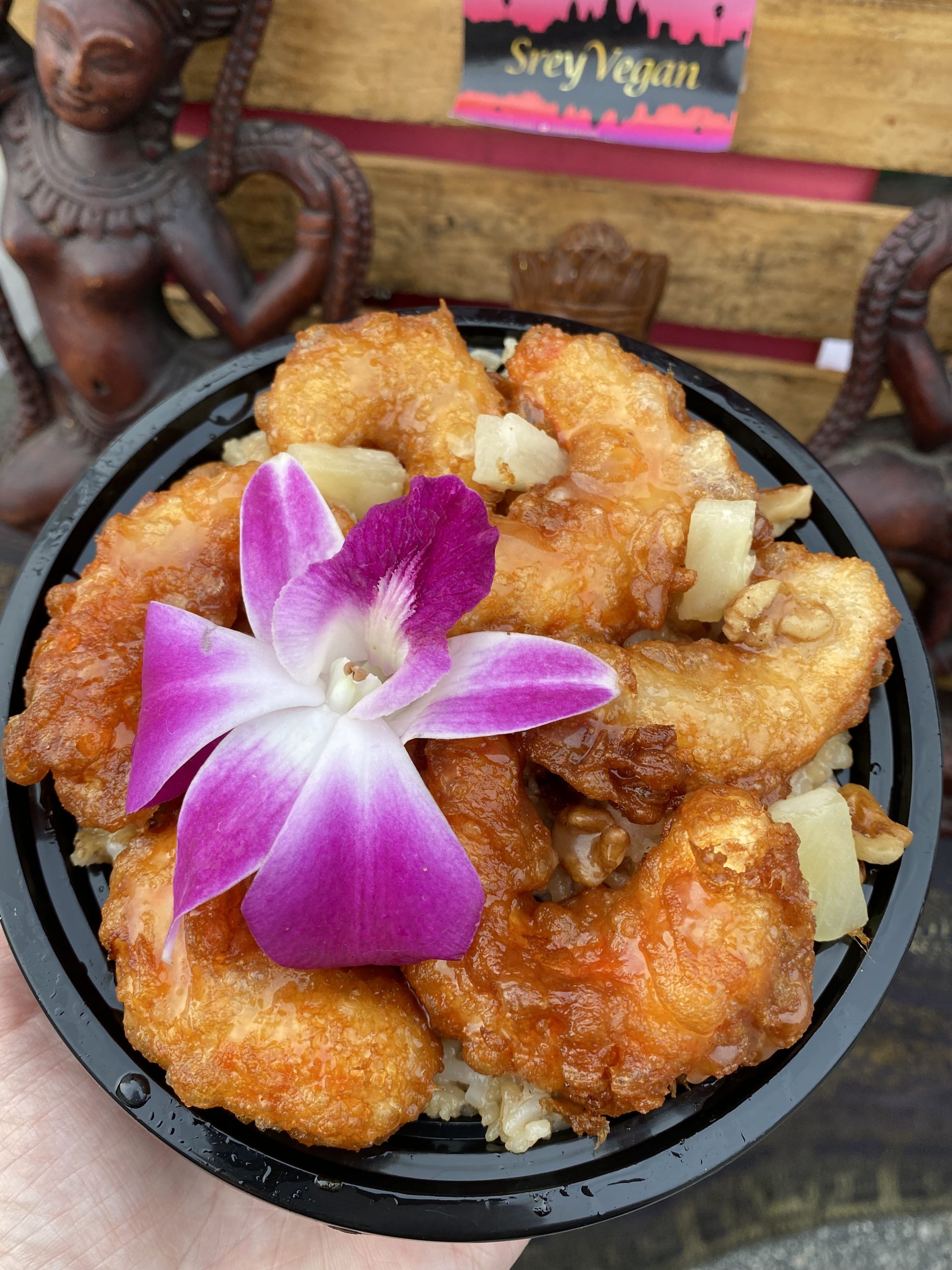 East Hollywood
What started as a gluten-free vegan bakery has now turned into a full-fledged cafe with a killer breakfast and lunch lineup! Sweet and savory oats, grain bowls, and mushroom melts are just a few of the amazing Armenian-inspired meals to try at this establishment. The Good Good LA team makes fresh Matnakash, a traditional Armenian flatbread, and even uses mushrooms and vegetables to make their own flavorful meat substitute.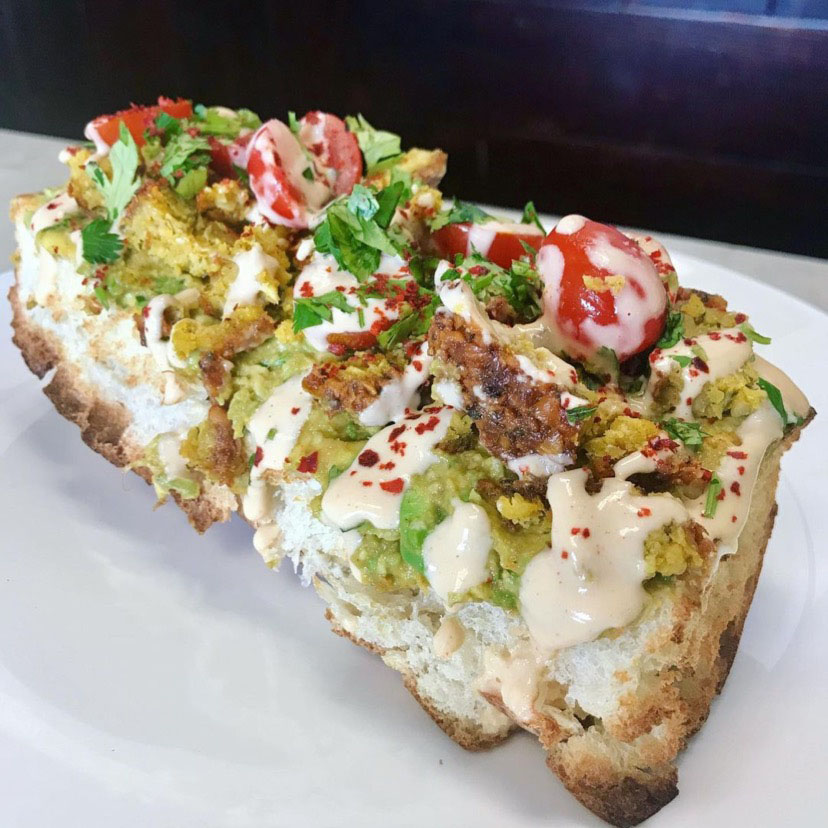 Santa Clarita
Man'oushée is recognized as the first fully vegan restaurant in the Santa Clarita Valley—and boy, is it a good one! This restaurant offers veganized versions of the most popular Lebanese dishes—Lamb Shawarma, Lebanese Chik'n Wings, Fattoush Salad, Grape Leaves, Baba Ganouj, Baklava … and the list goes on.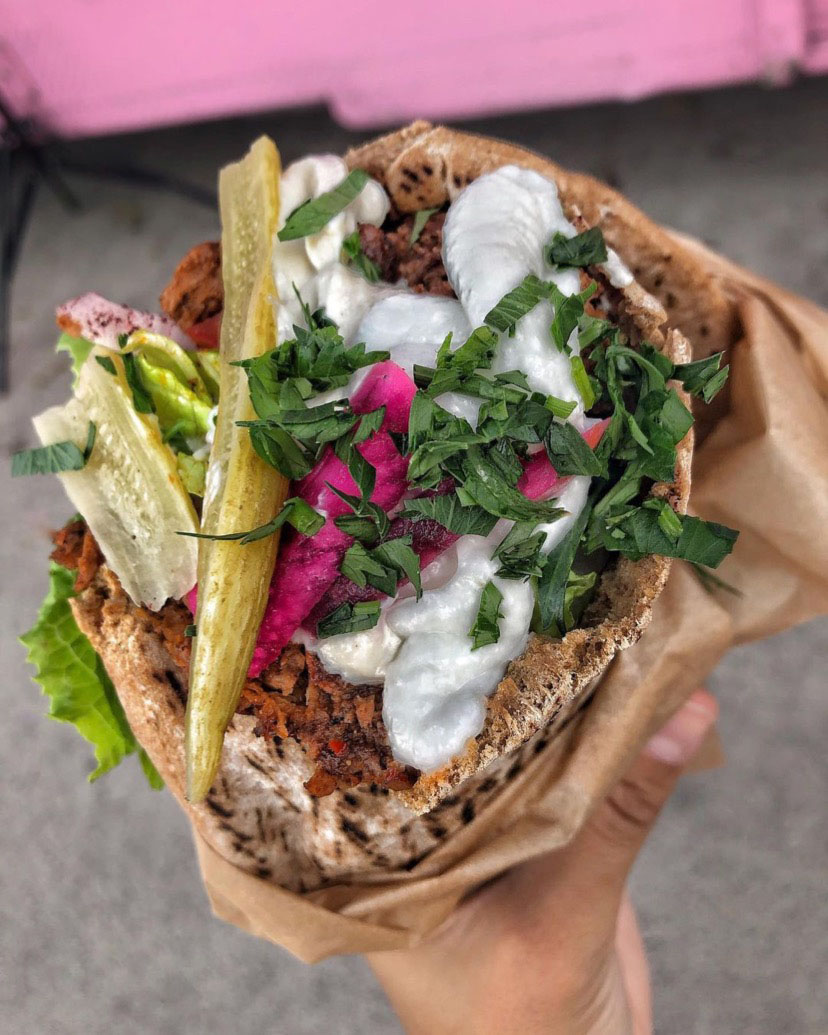 Photo credit: @veganstreetfair on Instagram
Little Ethiopia
When you order the Vegan Feast from Rahel's, you'll get to try a little bit of everything. The spread comes with a variety of stews (cabbage, whole lentil, split lentil, split pea, and zucchini), string beans, chopped kale, chopped tomatoes, and sunflower seeds—all on a layer of injera!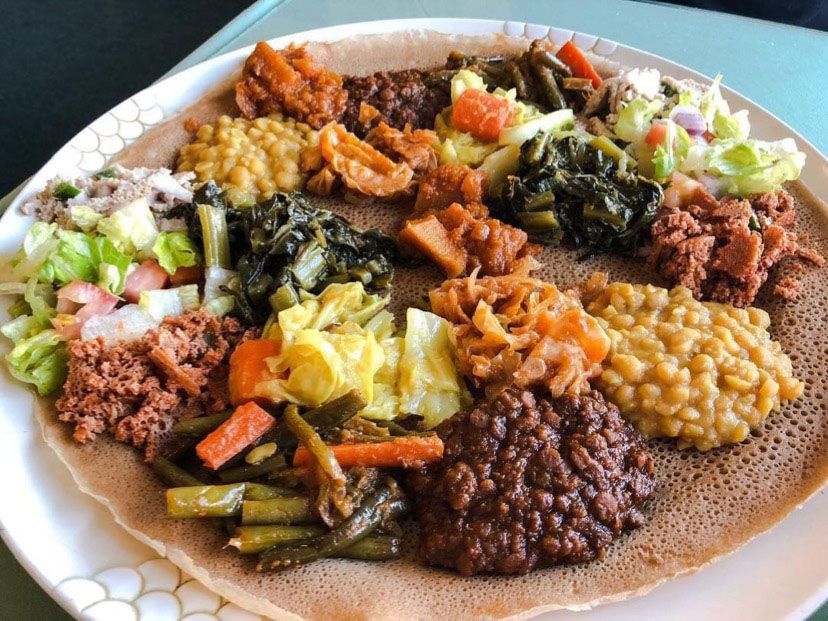 Photo credit: @tiffanybennicke on Instagram
Sawtelle
While we love indulging in vegan fried chicken, cheesy pizza, and ice cream decked out in chocolate sauce, sometimes we crave something on the fresher side. That's why we're so glad to have Llama Love. The vegan ghost kitchen, which operates out of Qusqo, specializes in plant-based Peruvian eats made from fresh ingredients. The Yucca Fries are our favorite appetizer to order alongside the Inka Bowl and Saltado De Vegetales!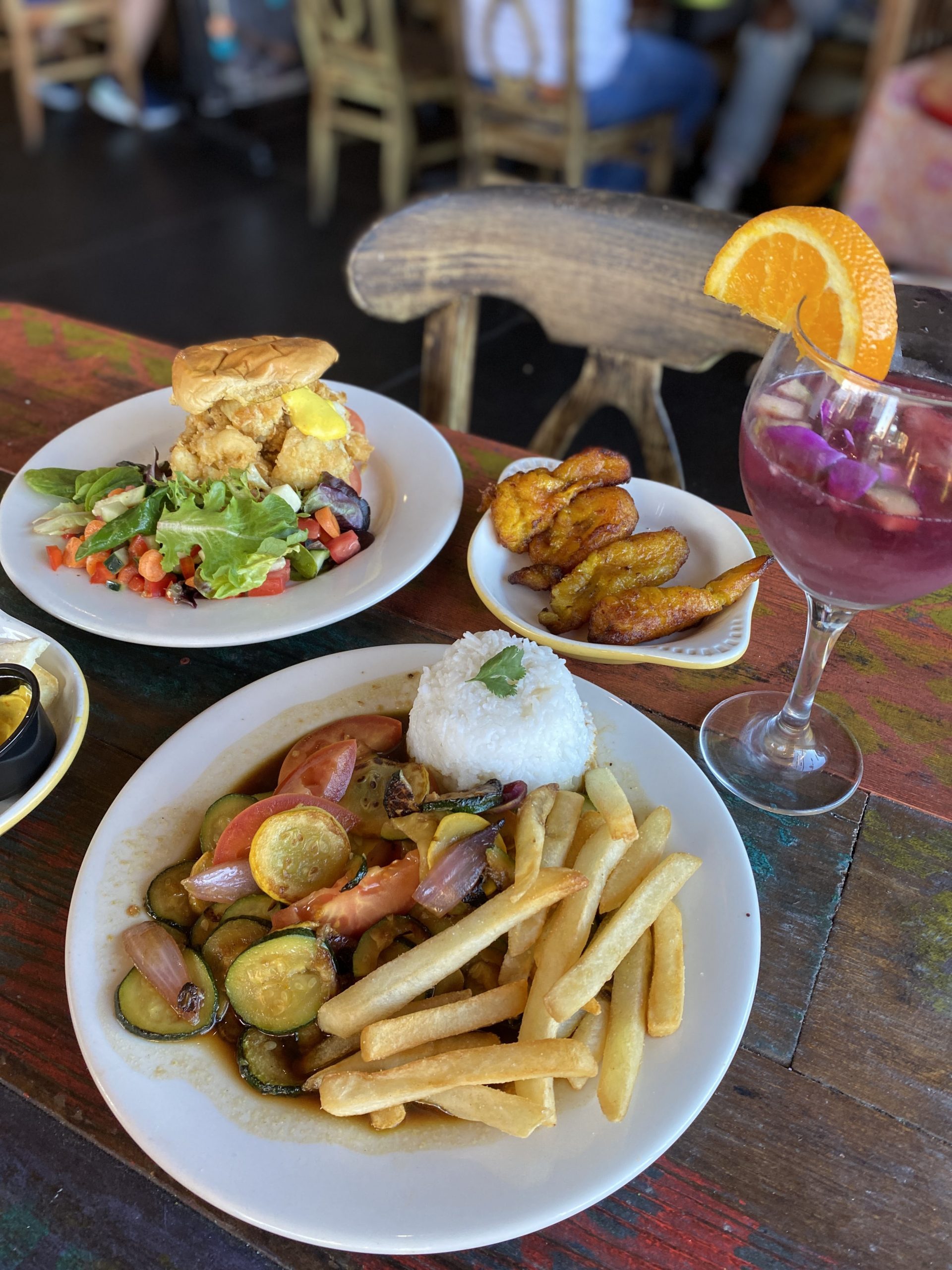 Pop-Up
The Loaded Tostones from this vegan pop-up is the perfect hybrid between nachos, loaded fries, and Cuban food! It features a bed of crispy plantains packed with ropa vieja (jackfruit), guacamole, a dollop of seasoned crema, and a sprinkle of onions. A few other dishes we'd recommend trying include the Cuban Sandwich, Guava French Toast, and Lobolitos.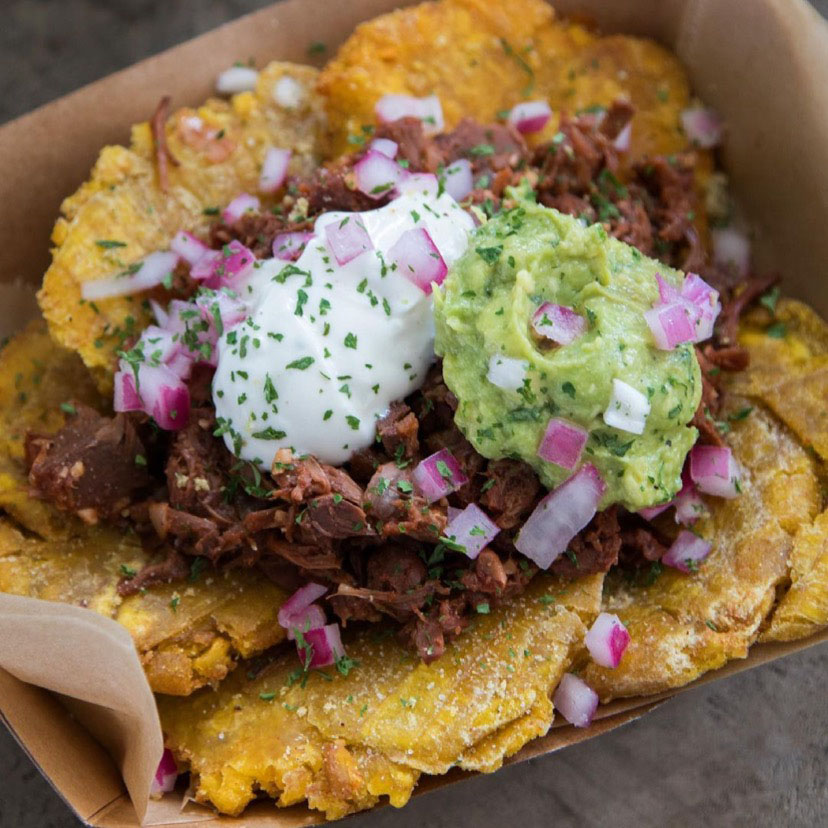 Canoga Park
You can taste the rich flavors of the island in each and every plate at Jamin Vegan. Their plant-based meat lineup includes coconut curried tofu, curried chicken, shrimp, jerk drumsticks, jerk chicken, and jerk nuggets. With mix-ins like plantains, pineapples, and rice, you can't go wrong with whatever you order.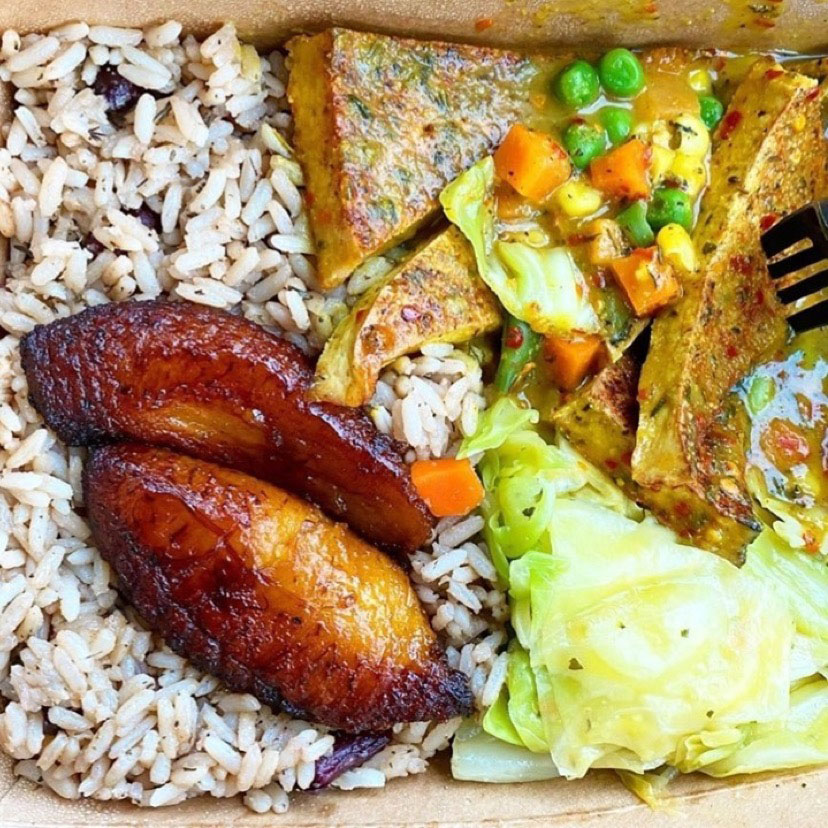 Westlake
Tamales, pupusas, and tortas—oh my! Mama's Tamales is your one-stop shop for vegan Salvadoran eats. Each flavorsome meal is made by hand with Latin spices and a whole lotta love! Whether you're looking for a quick and easy bite for you and your roomie, a holiday feast for the whole fam, or just a meal for one, Mama's Tamales has your back.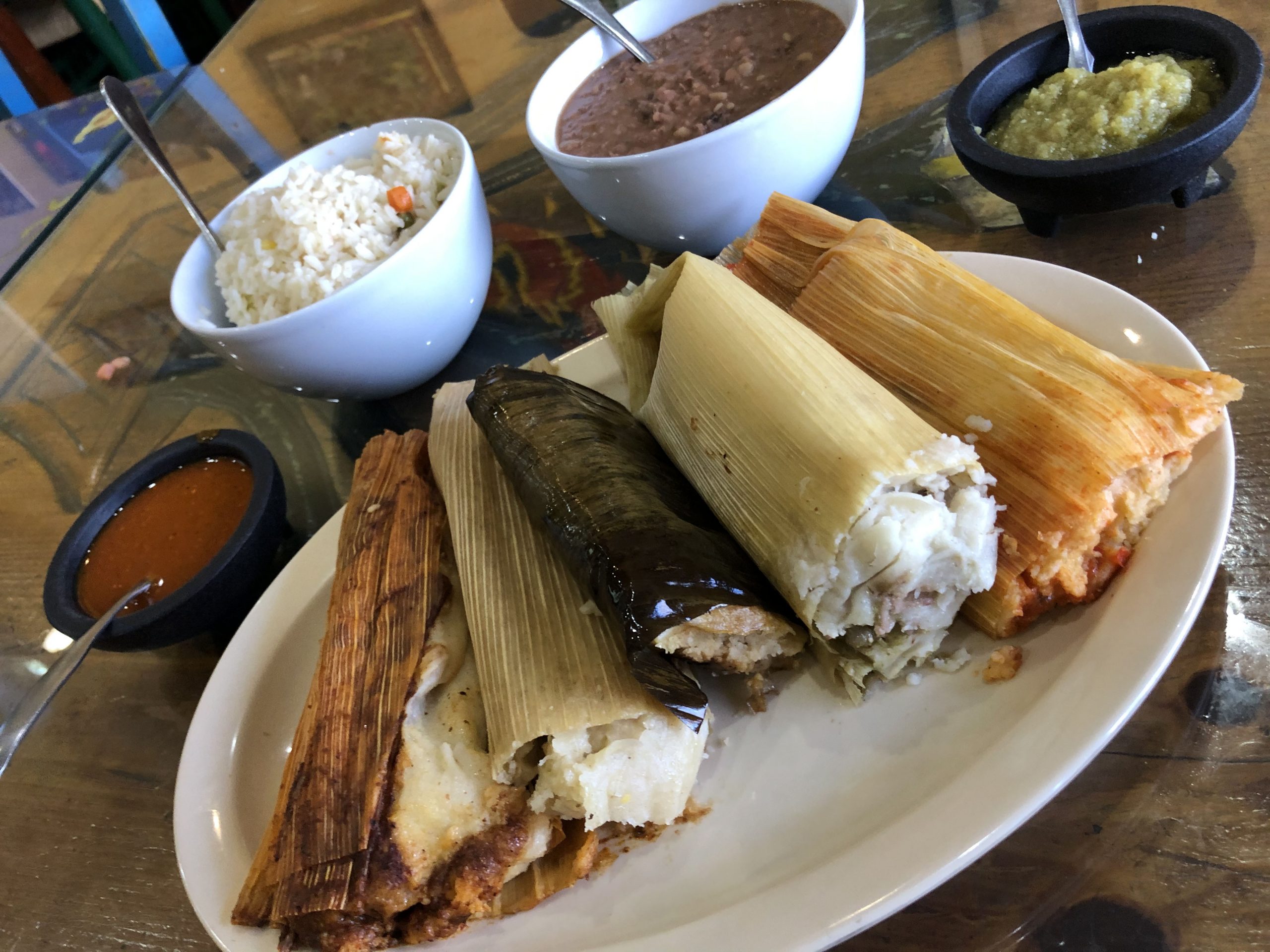 Pop-Up
All you OG vegans know Cena Vegan was around before veganism took off in LA. They're recognized as the first business in LA to veganize Mexican street food in the most authentic way. Their nachos, burritos, and tacos are loaded with house-made meat in the style of carnitas, barbacoa, birria, al pastor, pollo asado, and carne asada. Don't forget to order an extra side of guac!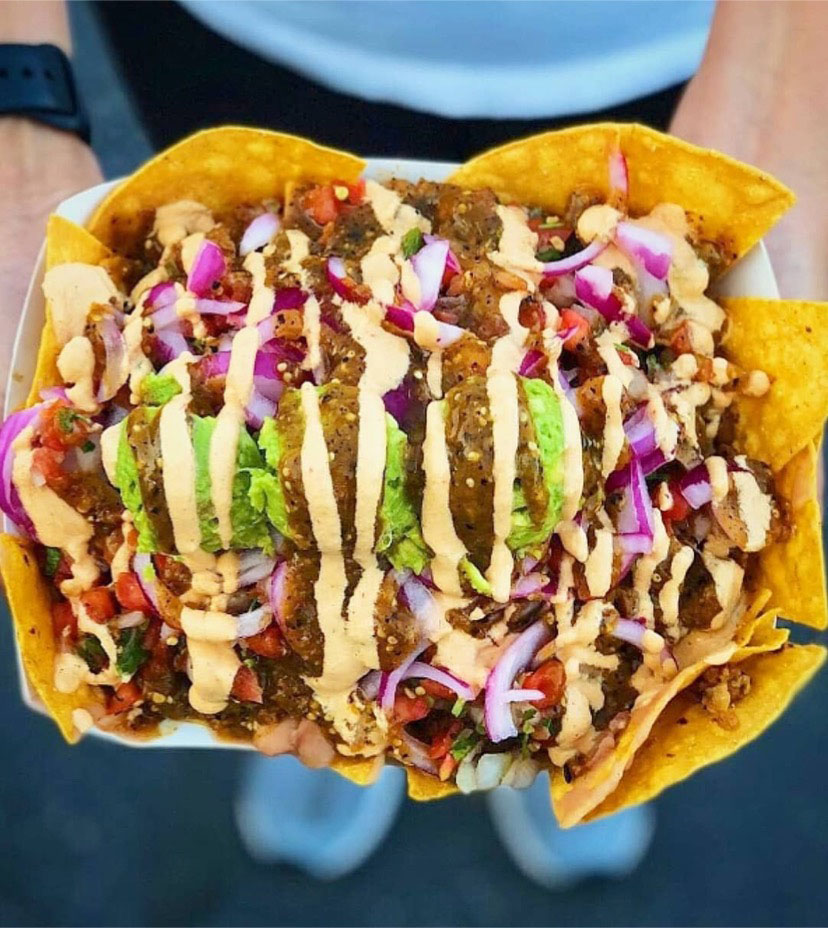 West Hollywood & Redondo Beach
There are plenty of vegan and vegan-friendly pasta and pizza destinations in LA but if you're looking for the most extensive, authentic Italian menu, we'd recommend visiting Pura Vita. The women-owned restaurant has so many great dishes to try—like the mozzarella sticks, carbonara, and baked ricotta.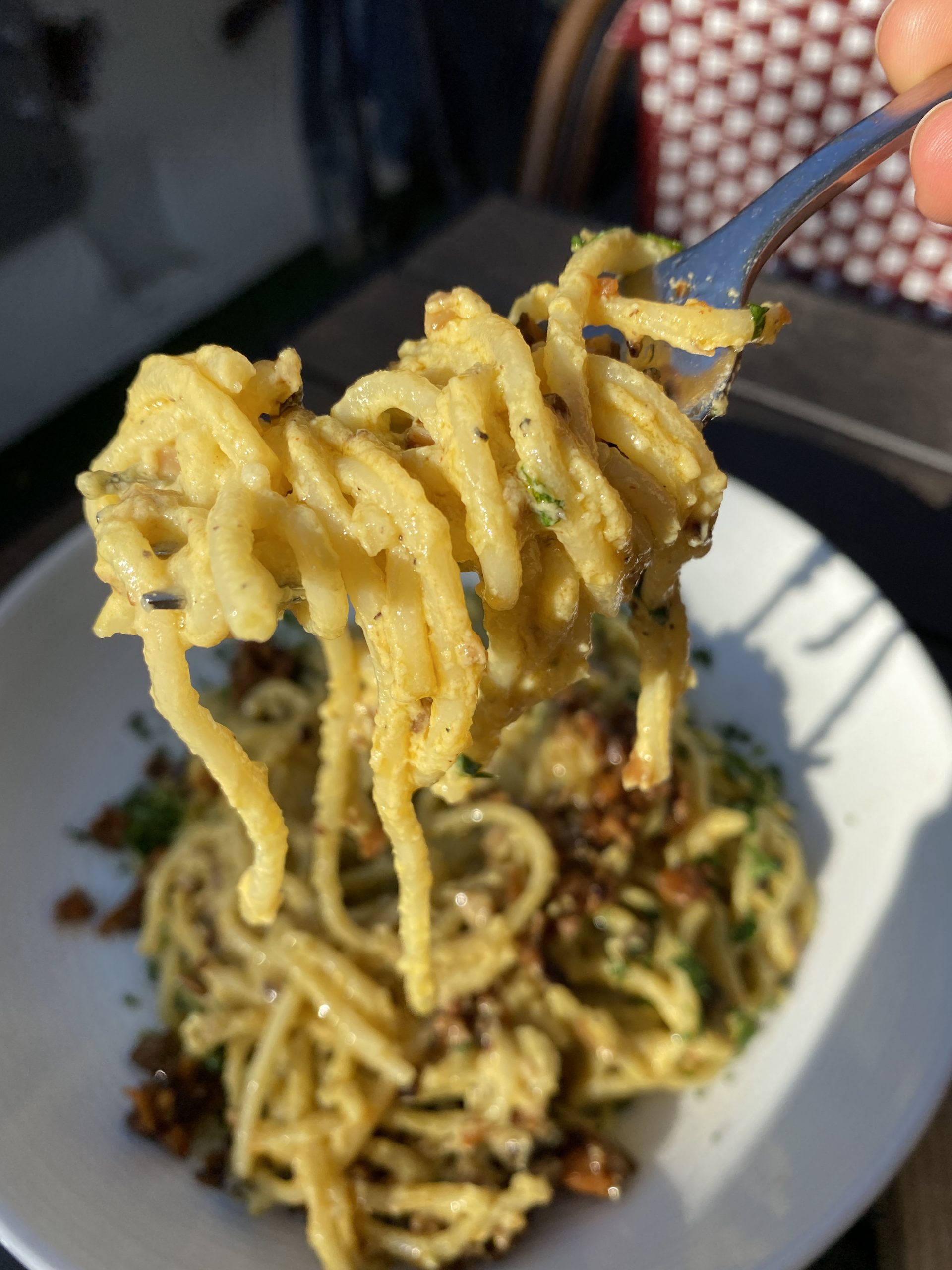 Beverly Hills
While vegan croissants are becoming more and more available in Los Angeles (shout-out to Whole Foods), there's still a lack of croissants in different flavors as well as other French pastries. Enter: Chaumont Vegan. This all-vegan bakery and cafe opened earlier this year and has already made it to our list of faves with its wide selection of vegan pastries.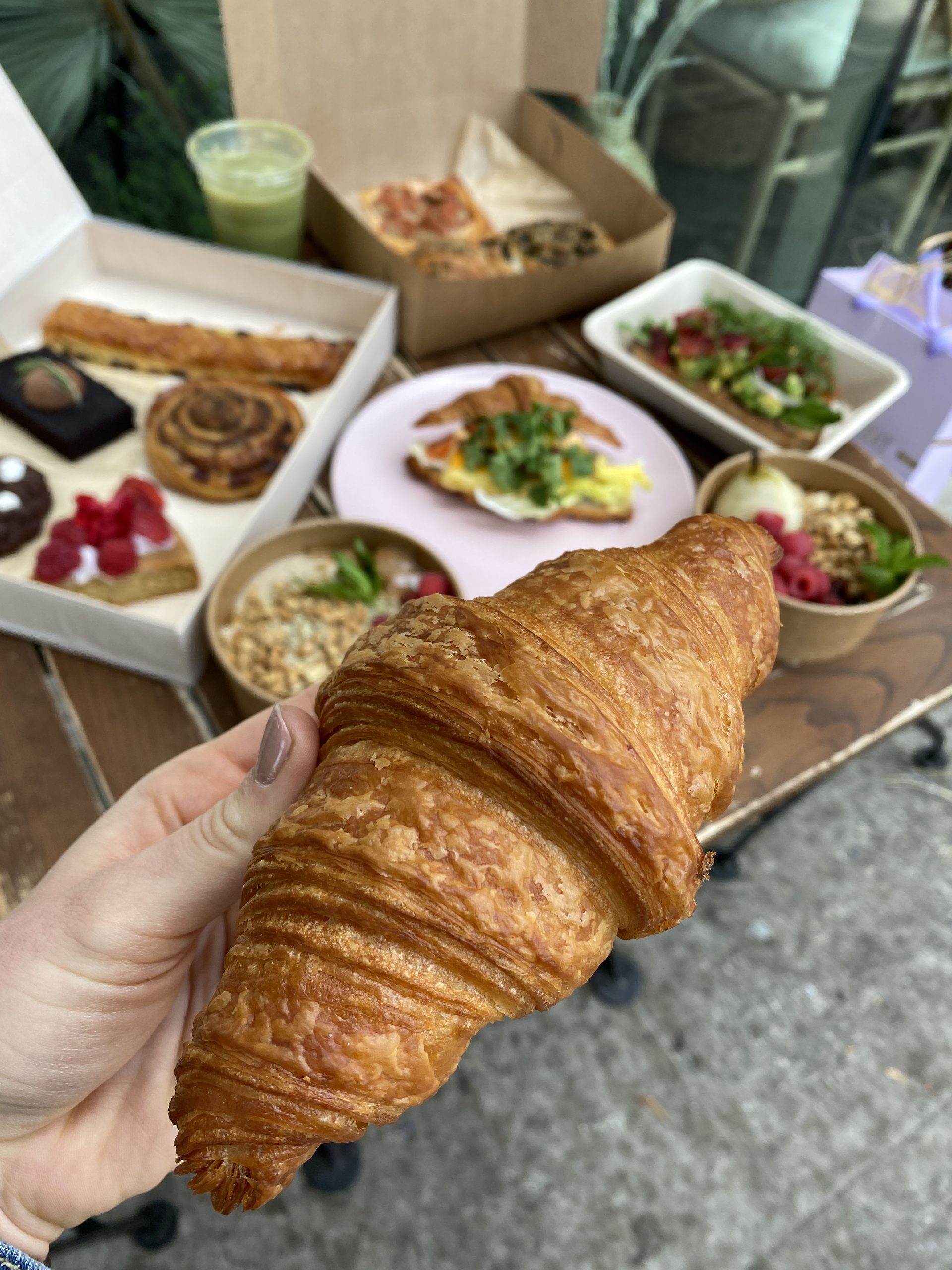 Highland Park
Vegan-Friendly
This cute, quirky cafe serves a wide range of breakfast and lunch dishes inspired by multiple cultures. But their limited-edition Full English Breakfast is our top pick! The classic English-style platter, which is currently available on special holidays only, can be ordered vegan. The plate comes with tofu scramble, poblano hash, vegan sausage, tempeh bacon, baked beans, tomatoes, mushrooms, and toast. Mmm!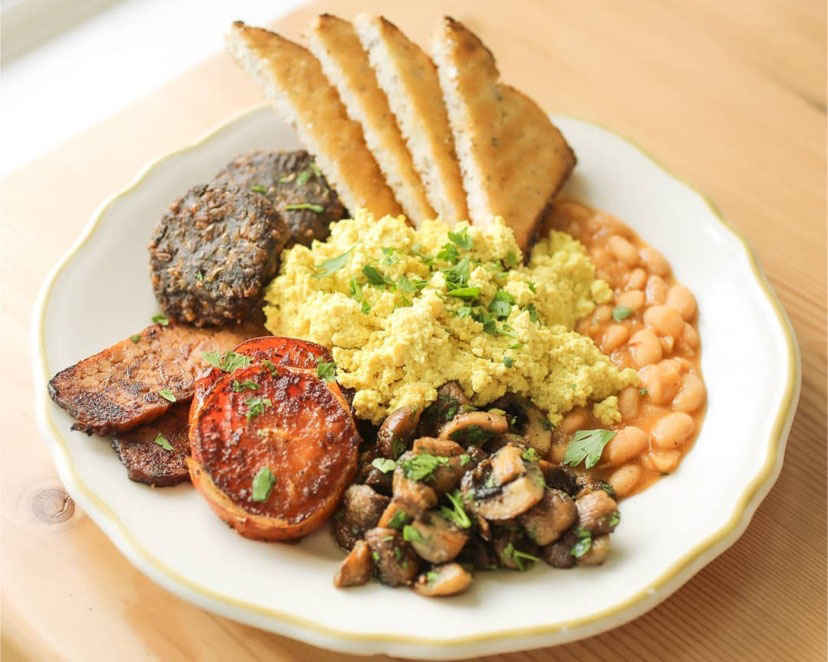 West Adams & Hollywood
Vegan-Friendly
Where are all our falafel fanatics at? This vegan-friendly Mediterranean joint will make your falafel dreams come true! From pita sandwiches and salads to hummus plates and orders a la carte, there are so many ways to enjoy Mizlala's vegan Israeli falafel.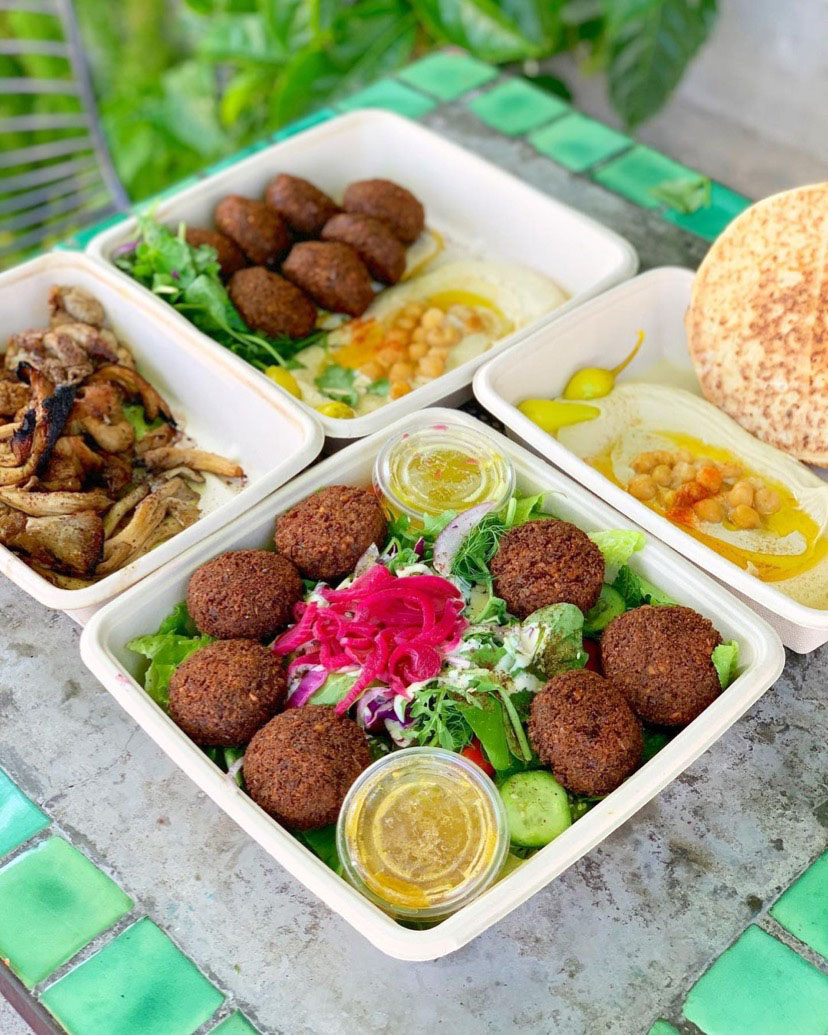 Photo credit: @yolandi_eats_la on Instagram
Culver City, Santa Monica, & El Segundo
Vegan-Friendly
This popular vegetarian joint is the perfect destination if you love Indian food—or want to try it out for the first time. Some of our favorite vegan items to load up on are the cauliflower pakora, jackfruit, aloo curry, daal lentils, brown rice, and chapatis. Be sure to let one of the employees know you're vegan, and they'll be able to assist you in ordering.