Back
Black-Owned Vegan Restaurants to Support in NYC
In the mood for some cheesy garlic sticks, or perhaps a fresh-pressed juice? Check out these Black-owned vegan spots for all of your vegan cheese cravings, smoothies, and more!
Harlem
Inspired by her family's New Orleans roots, chef and owner Brenda Beener serves delicious soul food with a twist—it's all plant-based! Ingredients like fried yams, fried burdock root, lotus root, and fermented soy are used to create dishes such as Po'Boy sandwiches, BBQ riblets, baked mac 'n' cheese, sweet potato souffle, and more. You'll also find tasty desserts like assorted cupcakes, which can be ordered in red velvet or vanilla flavors.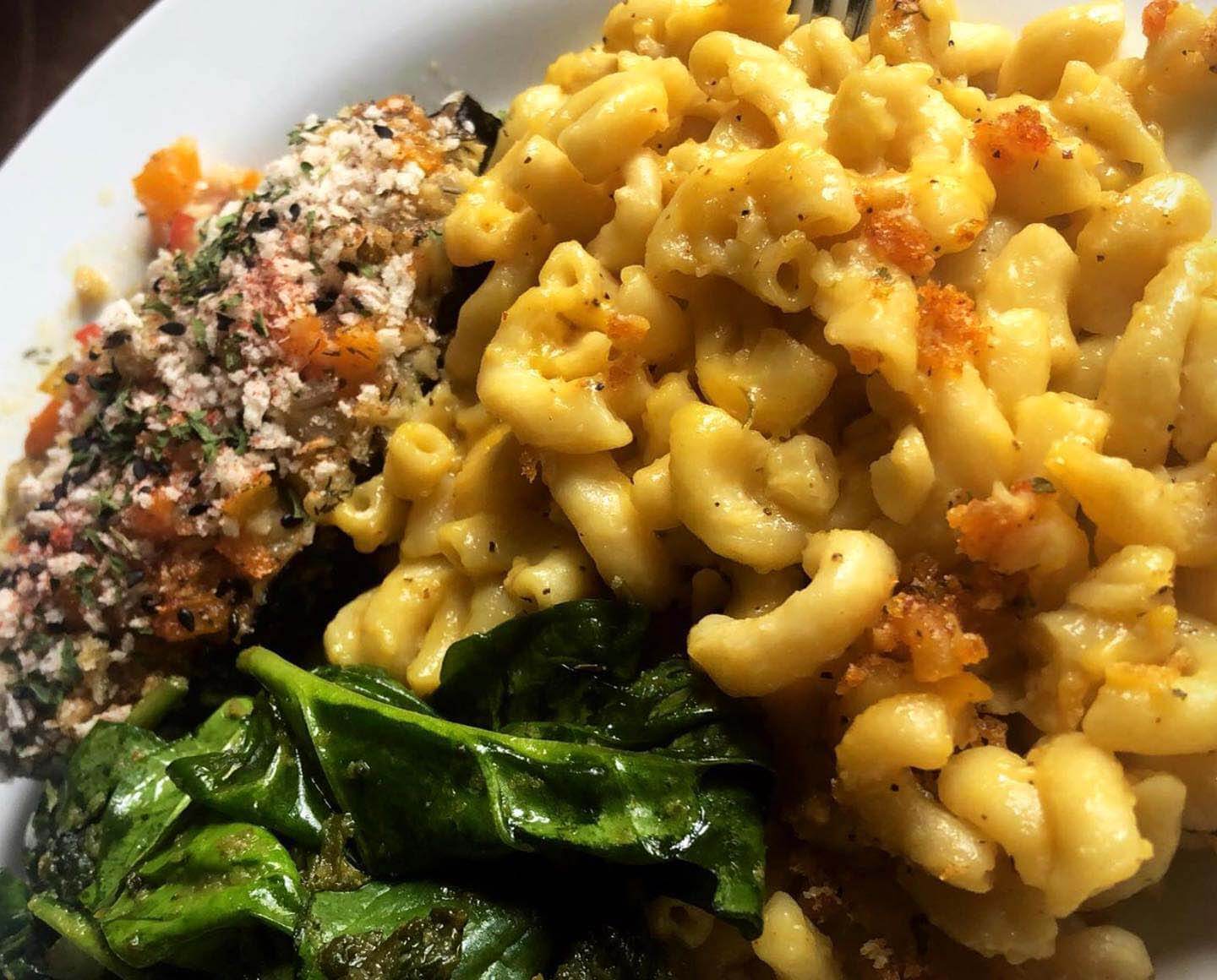 Brooklyn (Bedstuy & Crown Heights)
Founded by fashion adept and lifelong vegan Latisha Daring, Greedi Kitchen offers 100% plant-based cuisine that draws on Caribbean, African, and Southern flavors to create diverse and great-tasting dishes. The menu has everything from loaded fries to mini beef sliders, all of which are made with fresh ingredients from local farmers markets and organic distributors. Your seafood-loving friend just might be fooled by the Greedi crab cake sliders (three mini crab cake sliders topped with chipotle cabbage carrot slaw, fresh avocado, and sweet onions)—all made from plants!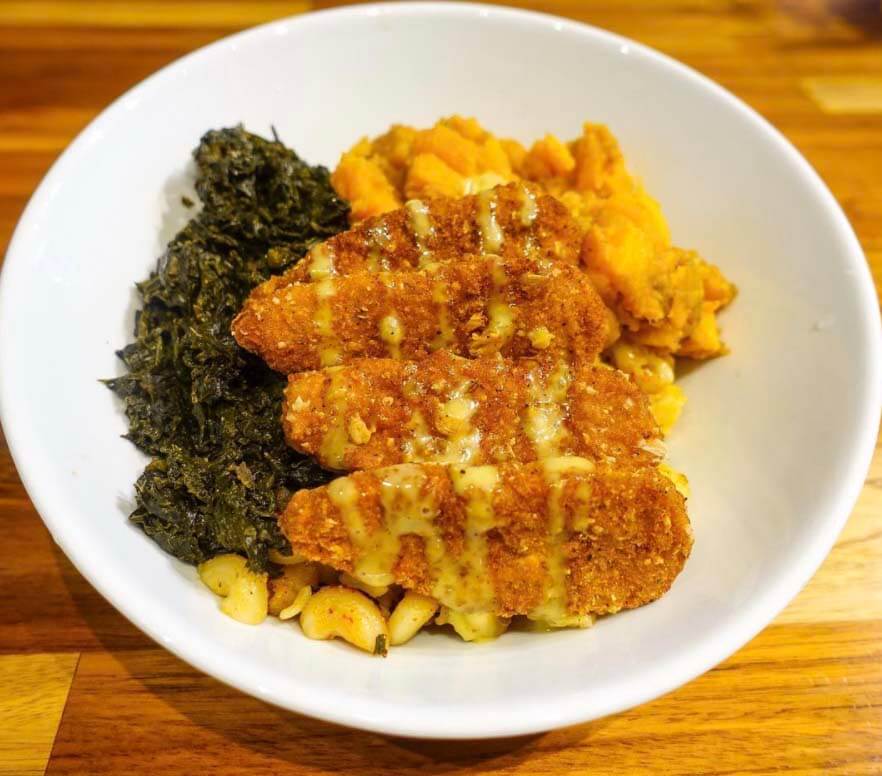 Photo credit: @leafygreenthings on Instagram
Queens
A vegan gem in the Rockaways, Veggie Castle has become a fan favorite with both locals and plant-based foodies alike. The owner Viburt Bernard serves vegan-friendly Caribbean fare as well as New York staple dishes like chopped cheese sandwiches (made with a cheese alternative, of course!). Bernard opened the eatery as a way to make fresh, vegan food accessible to lower-income communities. In addition to burgers and sandwiches, the restaurant also offers a variety of soy meats, such as ginger chicken, BBQ drumsticks, jerk chicken, and curry beef. Veggie Castle is currently offering curbside pickup only.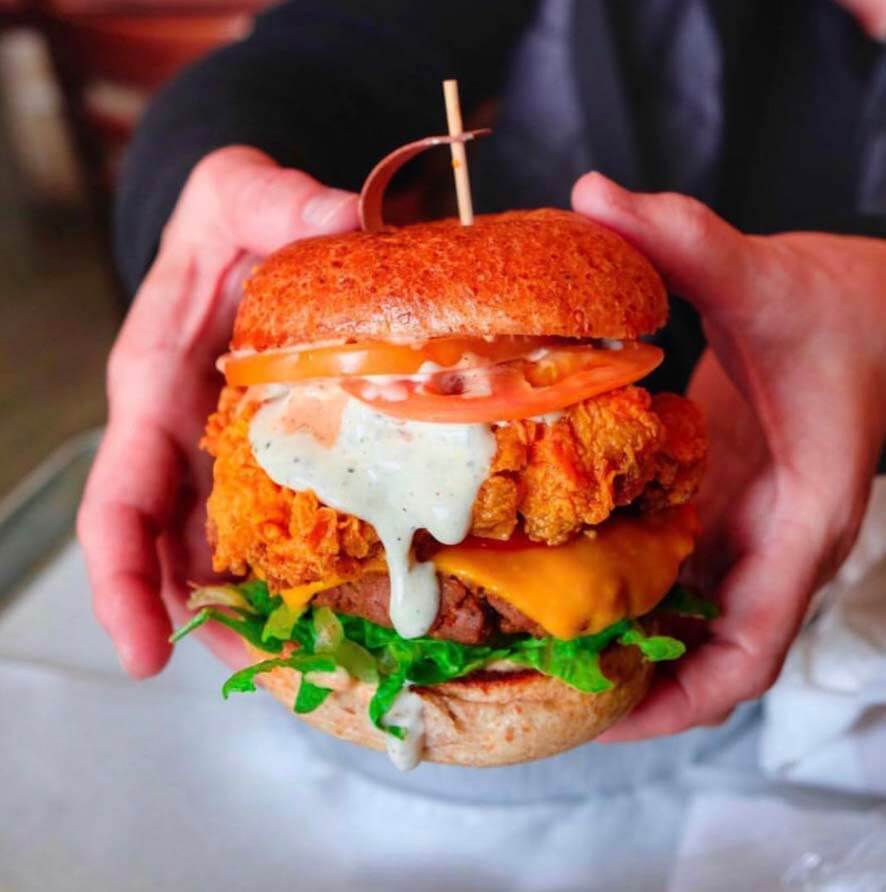 Photo credit: @veganeatsnyc on Instagram
Manhattan
Looking for Southern comfort food in the Big Apple? Urban Vegan Kitchen is your answer! This 100% vegan spot was opened in 2016 by Pamela Elizabeth, who also founded the popular Blossom restaurant chain in NYC. The eatery serves comfort food classics like chick-un & waffles and mac 'n' cheese, as well as unique bites like the Dirty Green Quesadilla, which comes stuffed with garlicky kale, broccoli, onions, and cashew cheese sauce. Don't forget to also check out the beer, hard kombucha, wine, and cocktails! In addition to tasty vegan bites, merchandise such as t-shirts with cool vegan phrases on them are available and can be ordered on urbanvegankitchen.com.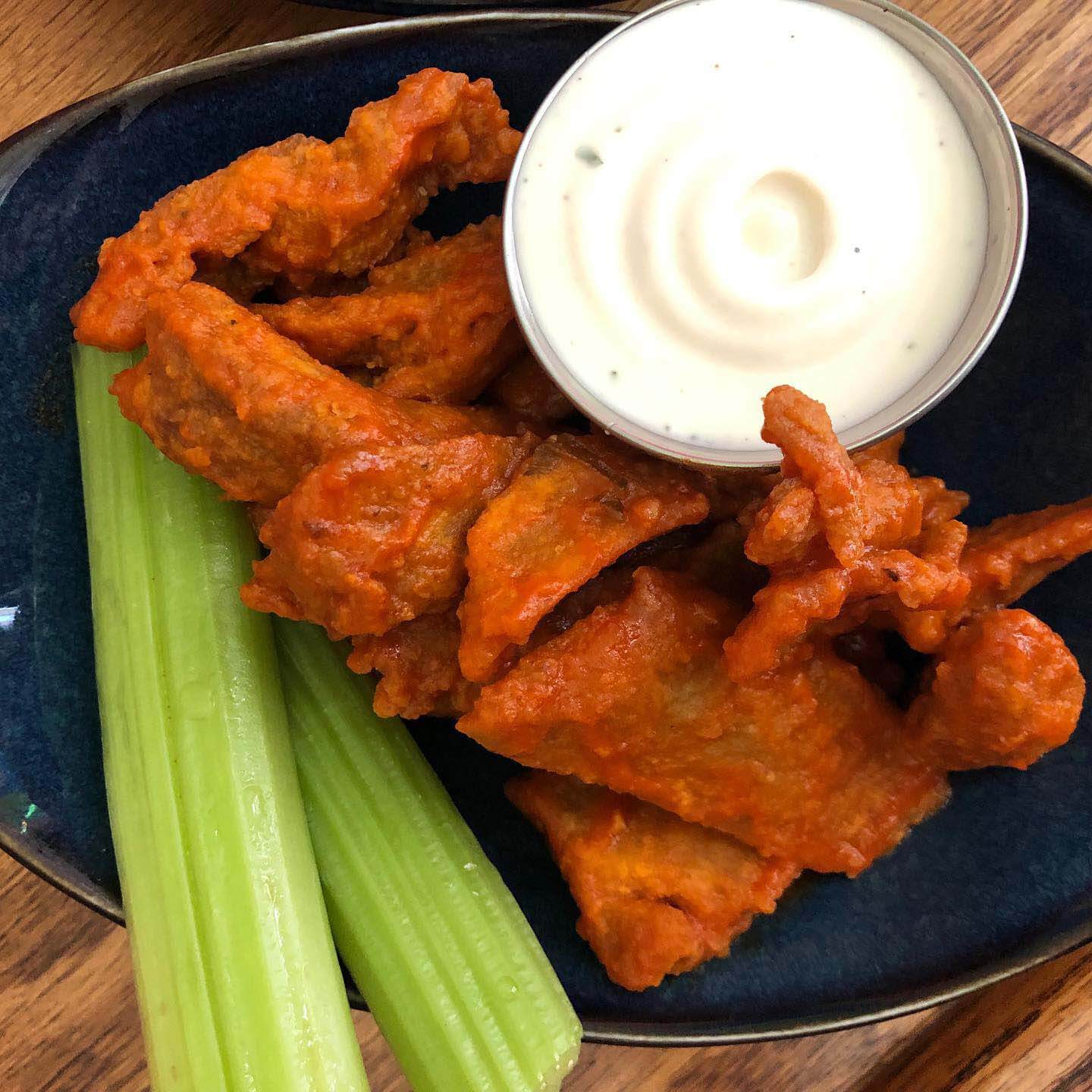 Brooklyn
At the age of 22, Francesca Chaney opened Sol Sips, a community-centered vegan cafe that focuses on making plant-based eats accessible for all. The restaurant offers grab-and-go bites like cheesy garlic sticks, lentil patties, and the NYC classic bacon egg and cheese. Of course, you can't forget about the sips, like the Buddha Blue Smoothie, which blends blueberries, mango, and lavender to create a sweet, earthy, flavor-packed drink. Be sure to check out the pay-what-you-can meal kits (now shipping nationwide!), which can be ordered in 3-day packs and come with breakfast, lunch, and dinner entrees, so everyone can eat well no matter their income level. For every three meal kits ordered, one is also given away free of cost to someone who is in need due to the pandemic. We think that's pretty awesome, Sol Sips!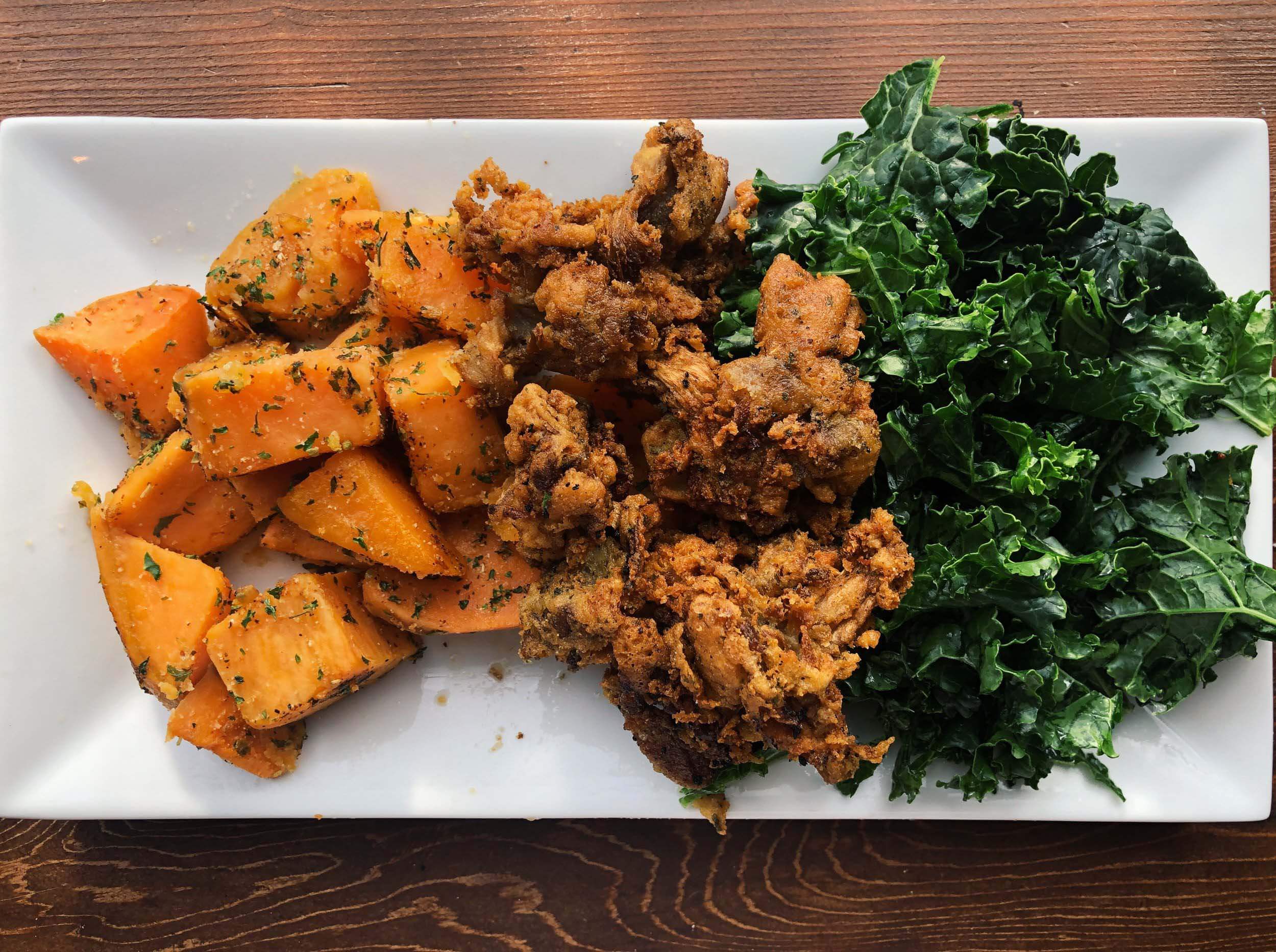 New Jersey
Need a cake for your loved one or a cobbler to bring to a cookout? How Delish has all of your vegan dessert needs covered! After ditching dairy and noticing the lack of dairy-free sweets, founder Laiquan Harvey-Davis opened the dessert shop as a way to provide a delicious alternative to dairy-packed treats. Cake options include gluten-free PB&J cheesecake, chocolate brownie cheesecake, and banana pudding cheesecake to name a few. Be sure to check out their Instagram @howdelishhd for the latest scoop on the goods!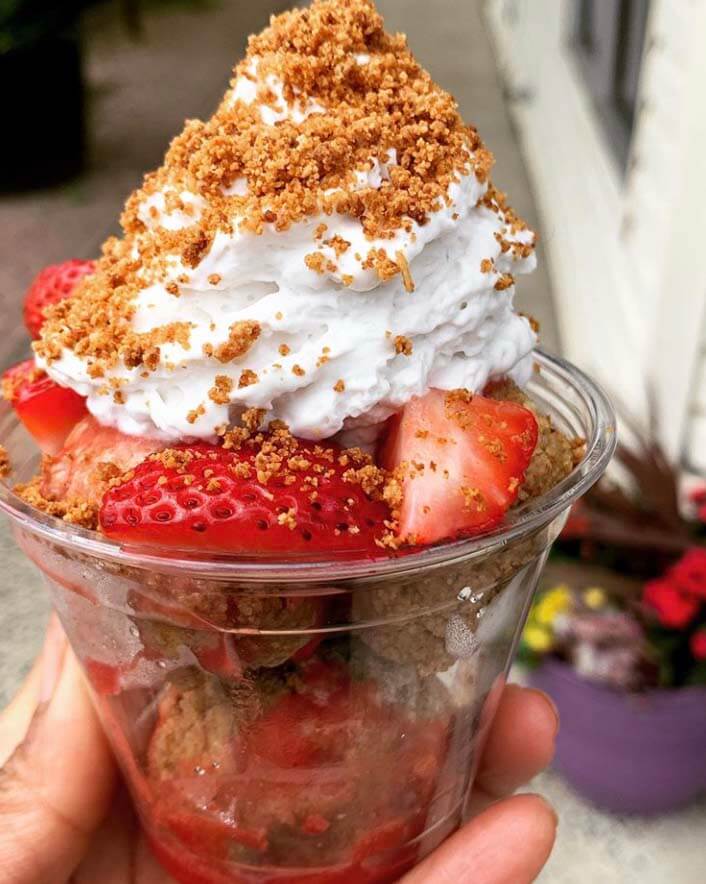 Brooklyn
Inspired by their vision to create an Ethiopian culinary experience, Romeo and Milka Regalli founded Ras Plant-Based, which fuses modernity with age-old recipes to create delicious one of a kind cuisine. The menu features dishes like missir (a slow-simmered red lentil stew served with fiery berbere sauce), as well as mushroom tibs (button mushrooms, tomato, jalapeno, onion, and rosemary), and sambusa (flaky pastry shell stuffed with a choice of savory mixed vegetable or lentil filling). Wash it all down with Ethiopian Kemem chai tea or kombucha.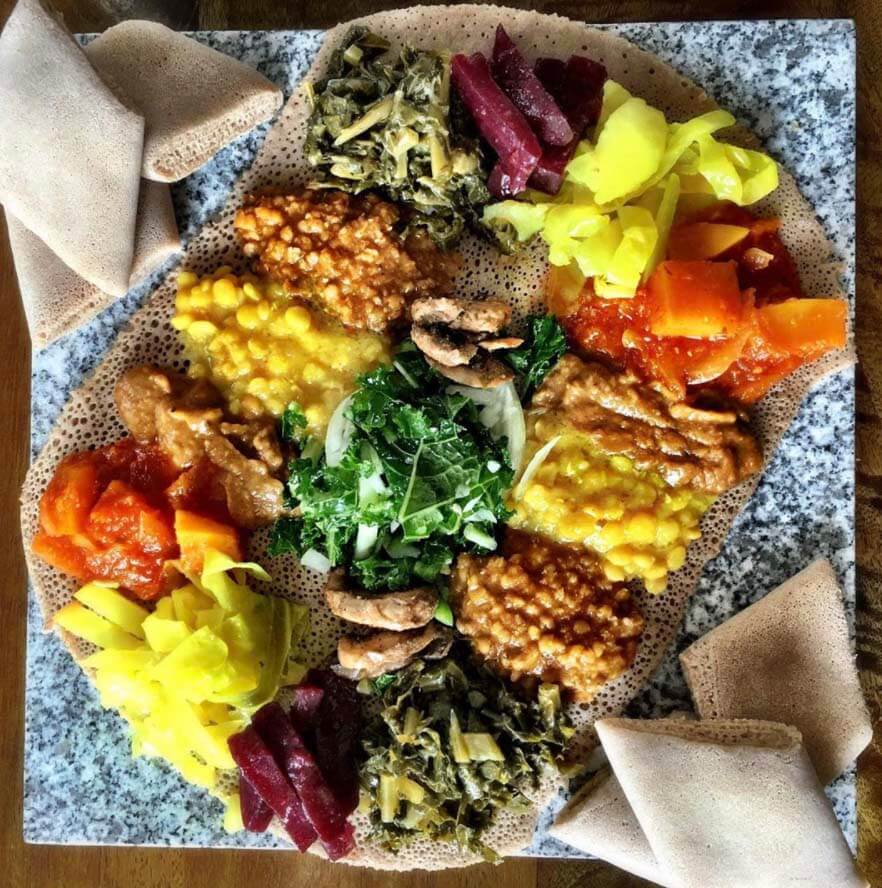 Brooklyn (Multiple Locations)
Co-owned by Deonne Wallace and his brother Dave, Natural Blend is a mostly vegan cafe with Caribbean vibes. Do wonders for your body with the miracle juice, which blends carrot, beet, celery, and lemon, or grab a taste of the islands with a tropical blend smoothie, which combines pineapple, strawberry, banana, and mango. Vegan sandwiches, salads, bowls, and treats are also on the menu, including coconut sweet bread, blueberry muffins, and much more!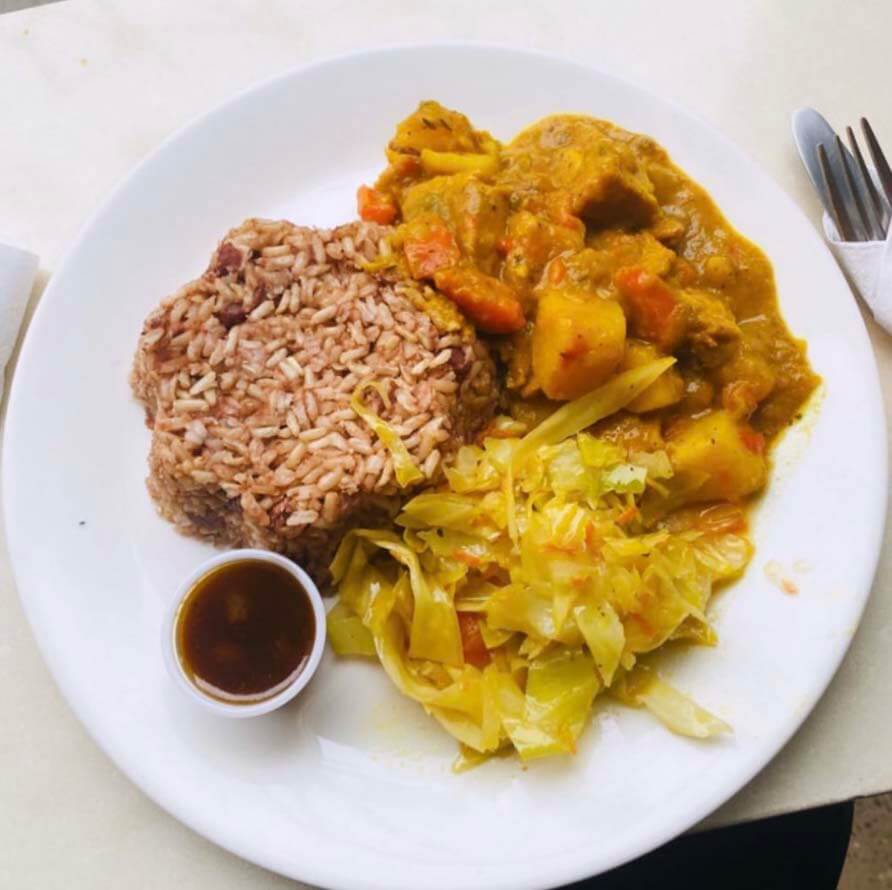 Photo credit: @mikeskyler
Online Store Based in The Bronx
This vegan bakeshop is putting to rest any misconceptions about plant-based desserts through their delicious treats. The owner, Drea, has always found joy and excitement from baking for friends and family, and thus, The Uptown Vegan was born. Browse the Flavor Menu and you'll find all kinds of delectable sweets, such as Drea's Famous Sweet Potato (spice cake made with sweet potato puree and vegan cream cheese frosting), and Tahiti's Sweetie (pineapple coconut cake with coconut frosting, pineapple compote, and shredded coconut). All flavors are available as a layer cake or cupcakes. Uptown Vegan treats can also be found at Brooklyn Tea, Greedi Kitchen, and Next Stop Vegan restaurants.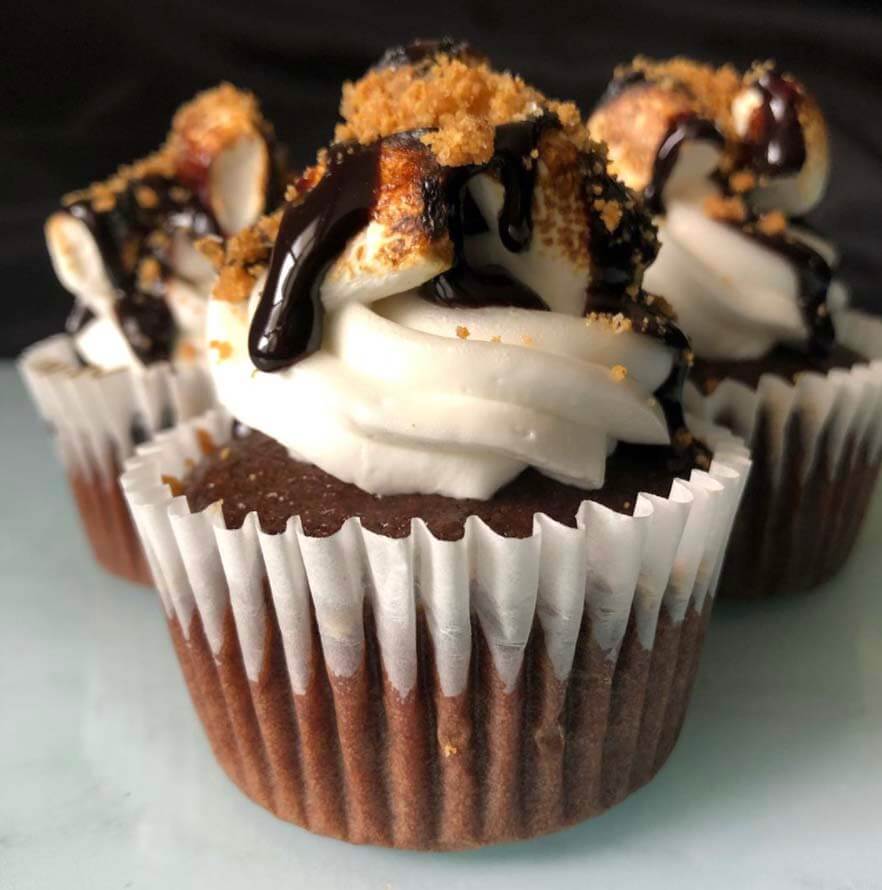 Staten Island
TRI Lounge has been serving up exclusively vegan eats since November 2019. The cafe presents a twist to the usual vegan eatery, as they not only serve tasty plant-based food but also offer performance opportunities for local talent as well as community gatherings such as adult game night. The owner, Javonte Thompson, opened the restaurant as a way to provide a space for performers to be able to get exposure and to also introduce vegan food to the community. The menu features everything from chili cheese fries to buffalo cauliflower wings. Smoothies and desserts are also available, including the fan-favorite whipped banana (frozen banana whipped into a sorbet). While TRI Lounge's performances and gatherings are currently on hold, they are still serving the neighborhood with delicious vegan bites for takeout and delivery.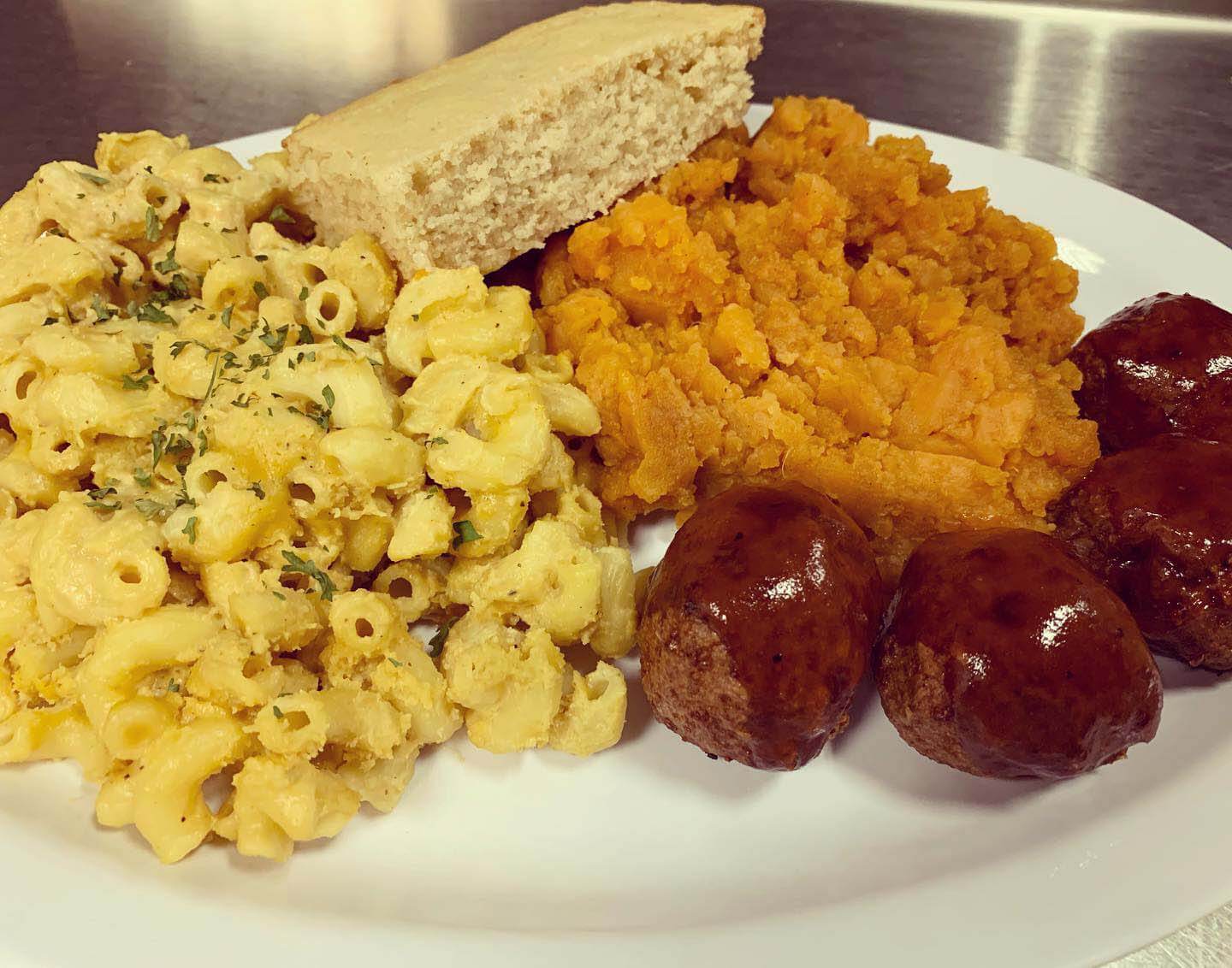 Multiple Locations
Owned by esteemed rappers Styles P and Jadakiss, Juices for Life provides fresh, healthy drinks to the communities of The Bronx and Yonkers. In 2017, DJ and Radio Personality Angela Yee opened a fourth location in Brooklyn's Bed-Stuy neighborhood as a way to provide the community with nutritious food options. Skip the coffee and order a Morning Rush Shake, which blends banana, peanut butter, and almond milk for an energizing breakfast, or show yourself some TLC with an immunity boosting wheatgrass shot.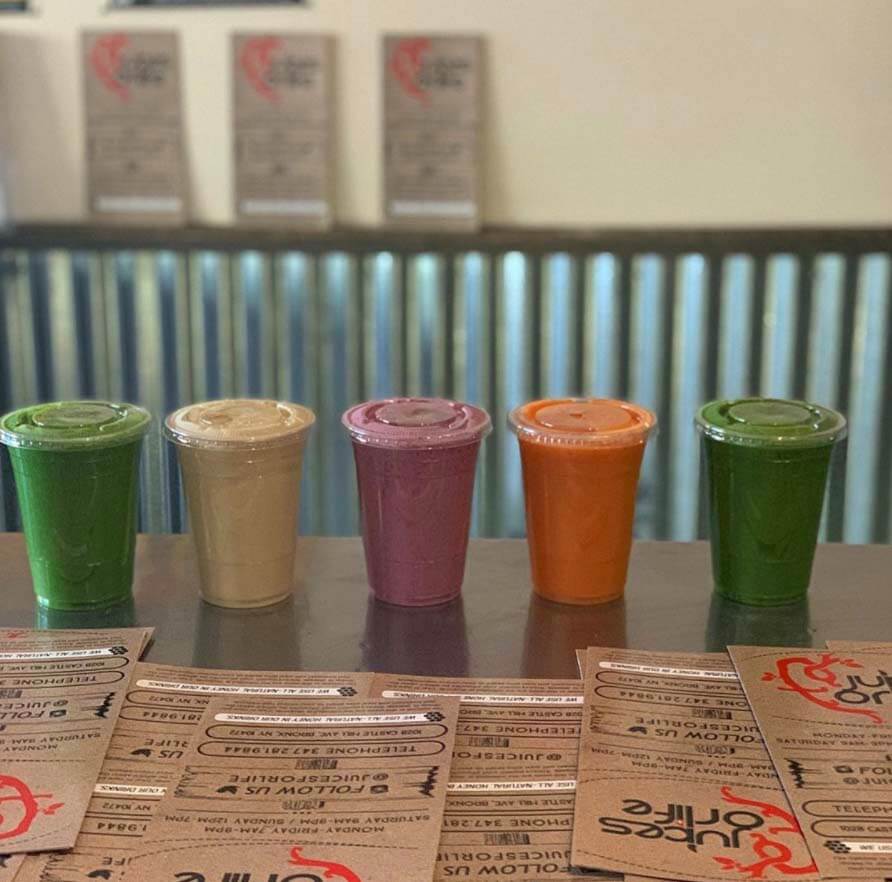 New Jersey
Nestled in the heart of Newark, NJ, Blueberry Cafe offers organic cold-pressed juices and smoothies as well as vegan pasta and soup. The founder, Rashena Burroughs, opened the cafe as a way to bring healthier food options to the community. Fuel those vegan gains with a Body Builder Smoothie (Irish moss, hemp seed milk, seaweed, Ceylon cinnamon, dates, and coconut water), or build your own smoothie with the many fresh fruit options, and add the mushroom nuggets served with BBQ sauce to your order for good measure.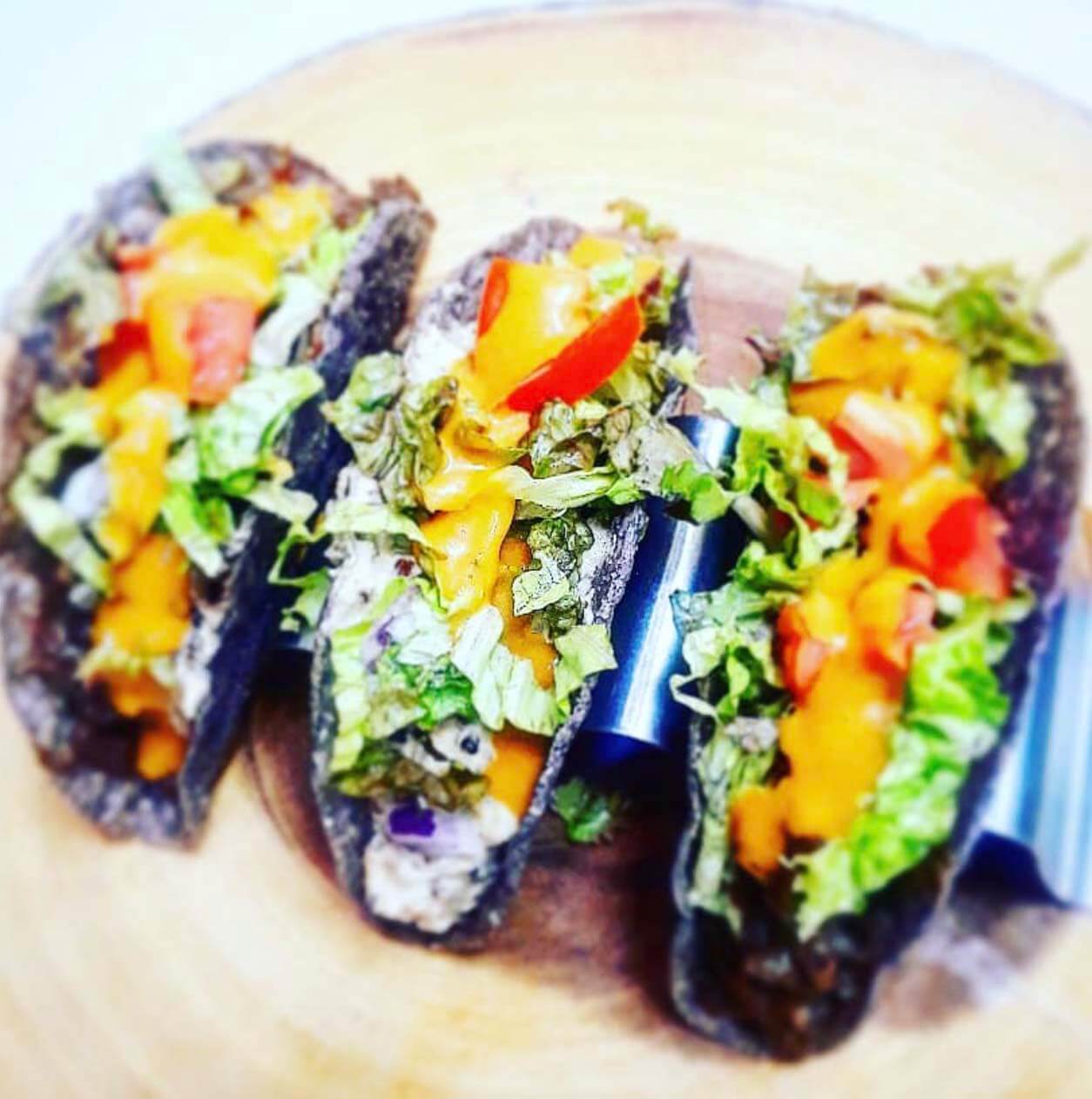 Queens
We're ah, ha, ha, ha stayin' alive at this vegan eatery! Owners Craig Thompson and Steffen Alexander opened the restaurant in January 2019 as a way to offer good, vegan eats to the Laurelton neighborhood, where the two grew up. The menu offers everything from Ital stew to spaghetti and meatballs, so there is an option for every palate. You'll also find a variety of empanadas, such as pizza empanadas, Philly empanadas (think vegan Philly cheesesteak wrapped in house-made dough), and curry jackfruit empanadas. Don't forget to peek at the desserts—cheesecake brownies, anyone?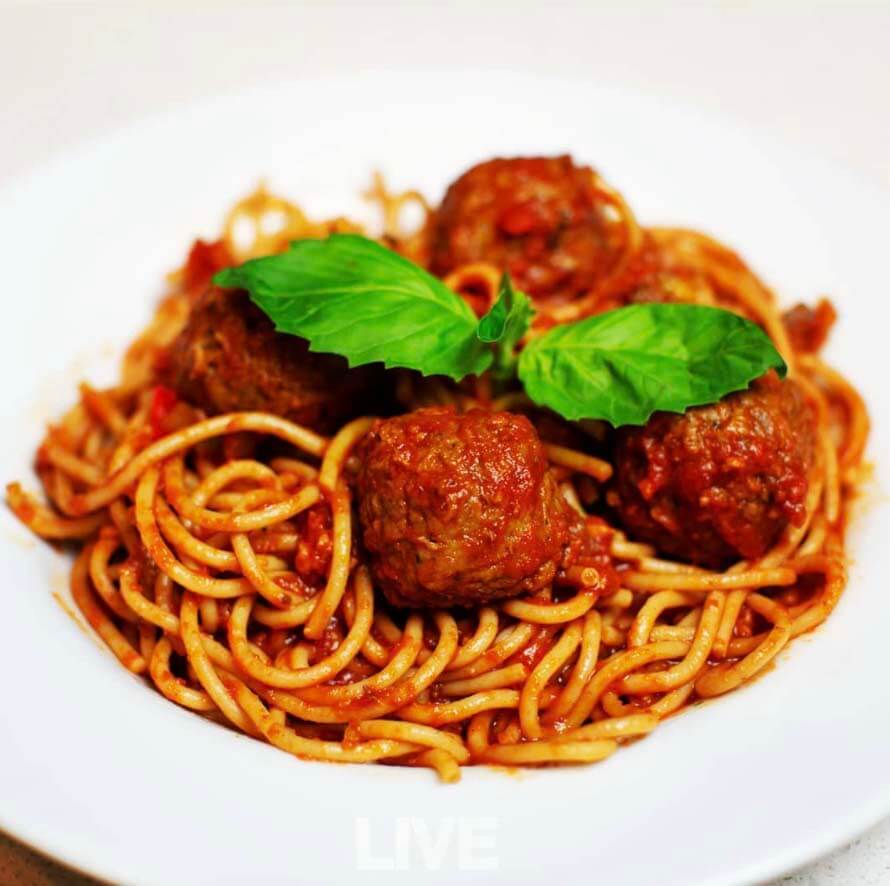 Spring Valley, NY
Get a taste of the Caribbean at Caribreeze Vegan Delight. The 100% plant-based eatery offers Jamaican dishes like curry vegan goat (seitan based), vegan beef patties, and more. Impress your carnivorous friend with the peppered vegan steak, which comes served with brown rice, red kidney beans, and mixed veggies. Of course, the fried plantains are always a must, which can be ordered as a side dish or as an afternoon snack.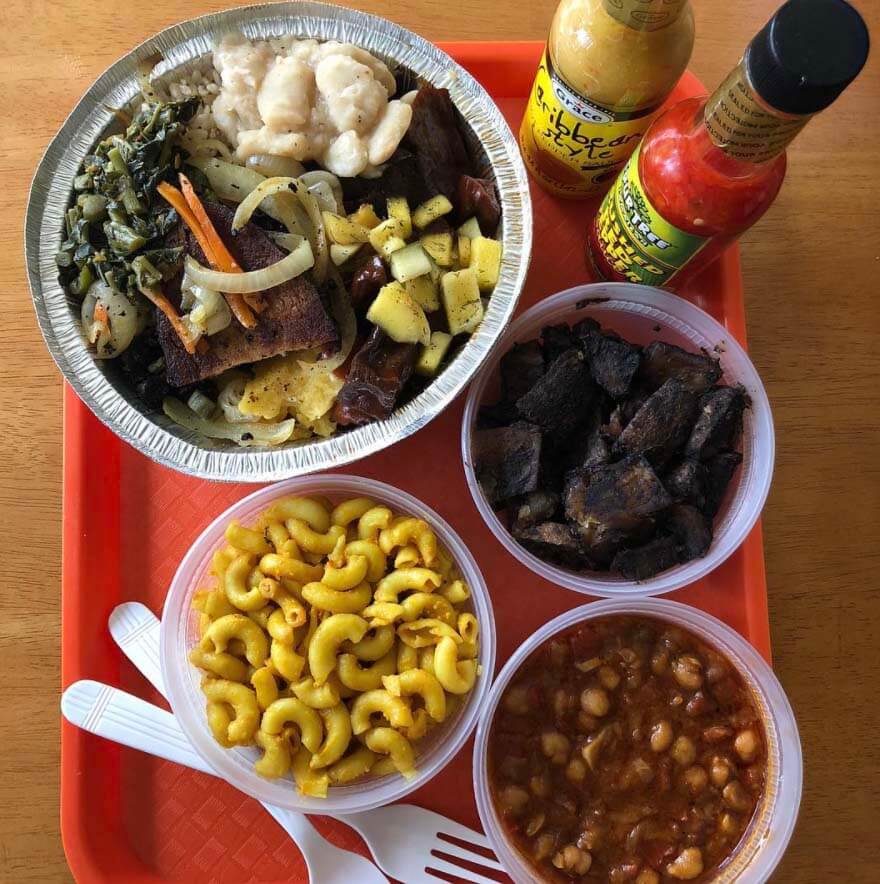 New Jersey
Named after their son Maddox's commentary after tasting his first allergy-free treat—'mo' pweeze (more please), the Allen's opened Mo'Pweeze Bakery as a way to provide delicious, vegan desserts to those who suffer from food allergies. Every item served at the bakery is free from all common allergens, so there is something for everyone on the menu. Enjoy an apple cider donut, or curb your sweet tooth cravings with a funfetti bundt cake.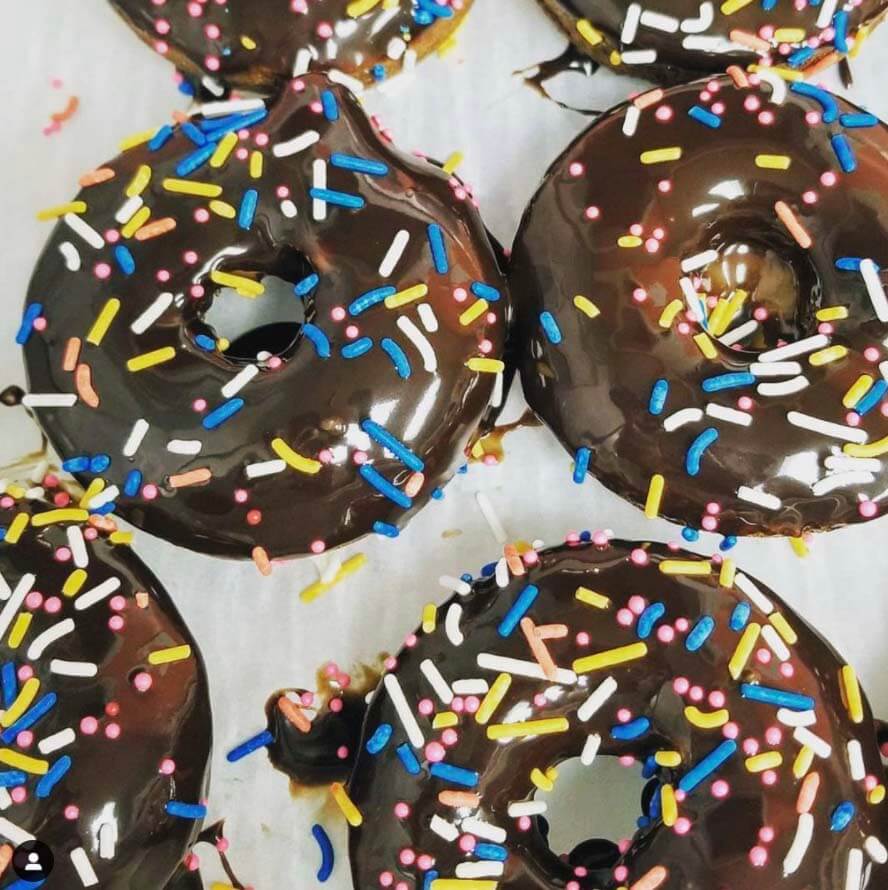 Brooklyn
If you're like us, you probably love vegan cookies, especially ones from Sofia & Grace Cookie Co! Shalonda Vasquez, educator and certified cookie expert, named the company after her four-year-old twins, Sofia and Grace. Choose from a variety of flavors such as red velvet, pear walnut, and matcha chocolate caramel chip to name a few. Our personal favorite is the peanut butter with sangria jelly, which pairs perfectly with a cold glass of vanilla almond milk, or fruity sangria—you decide!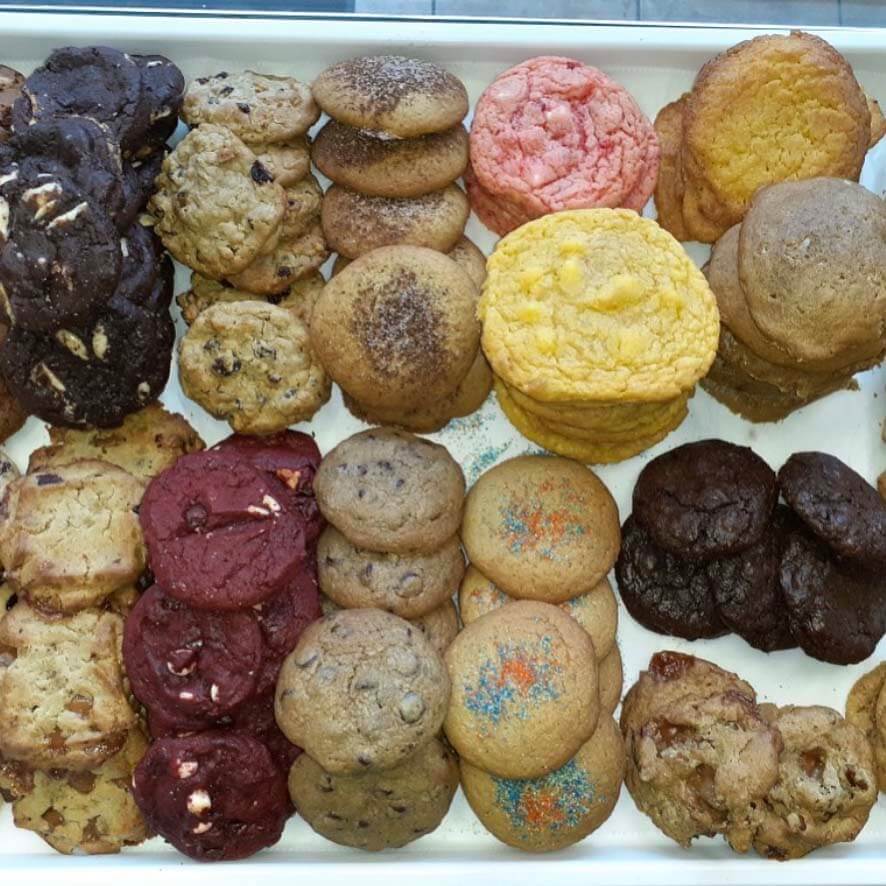 Brooklyn
Turn that frown upside down with delicious vegan cuisine from Ital Kitchen. The owner, Chef Michael Gordon, adopted a plant-based diet after joining the Rastafari religion and movement in his native Jamaica. Now, he's sharing "Ital," a form of cooking that uses no meat or additives, with the Crown Heights neighborhood of Brooklyn. Gordon also incorporates French cooking techniques into his dishes, which he learned from his culinary training at Le Cordon Bleu. Start your meal with the Kale the Queen (kale, raw pear, and walnuts with zesty shallot vinaigrette), and order the Red Stepper (veggie steak chopped with peppers and onions in a mushroom sauce) as your main.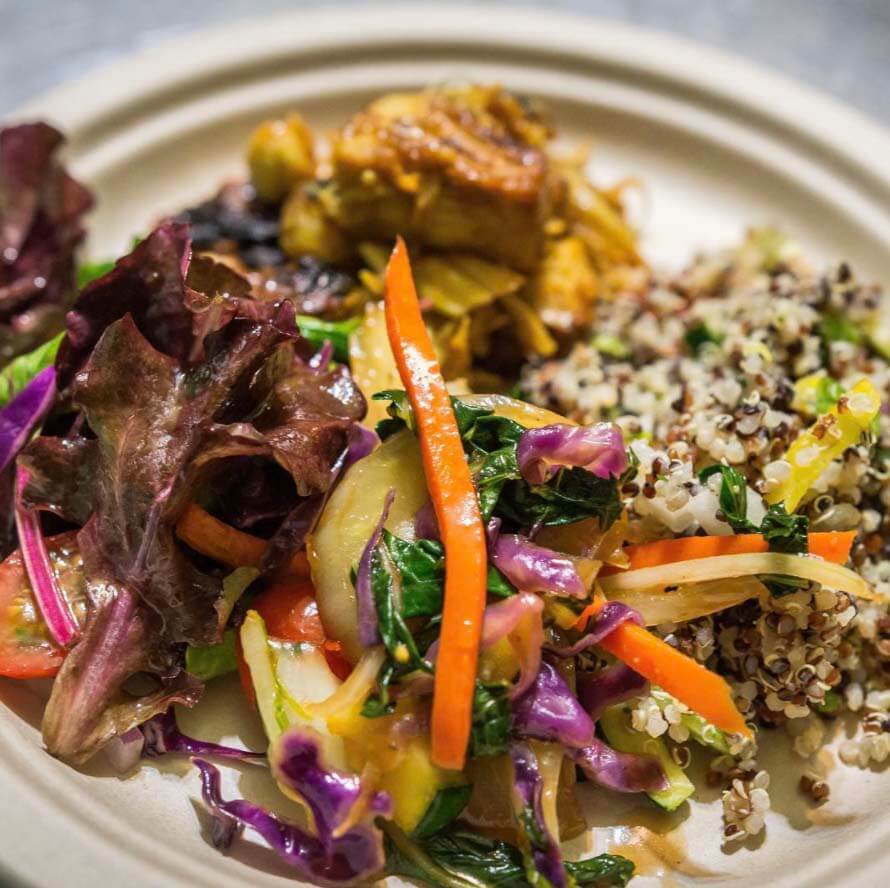 Staten Island & The Bronx
Grace Kelli Cupcakes is bringing Southern charm and delicious baked goods to NYC. Owned by North Carolina native Sandra Mathis and her daughter Grace Kelli, this duo bakes vegan cupcakes that come in vanilla, strawberry, and chocolate flavors. You may have also tried their tasty vegan desserts at Vegandale Festival, which is held annually on Randall's Island every September. Follow @gracekellicupcakes on Instagram for updates on the latest treats this mother-daughter team is whipping up!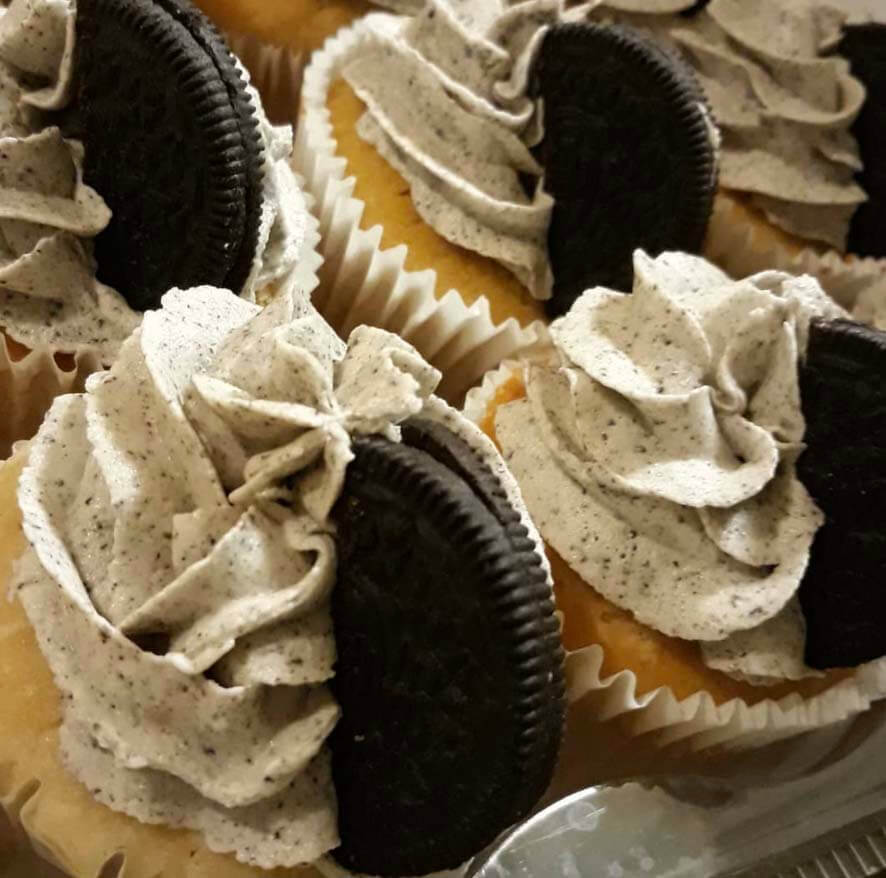 Brooklyn
This past September, husband and wife team Michael and Nicole Nicholas made their vision a reality when they opened Aunts et Uncles, a plant-based cafe and lifestyle spot. The couple both come from large families, where their aunts and uncles have played a positive role in their lives. Now that they too have nieces and nephews, the owners wanted to create a space for both their own family and the community to enjoy quality food and feel at home every time they walk in. The menu features American-style bites as well as flavors of the Caribbean, such as the Au Burger (Beyond Meat patty, caramelized onions, spicy mayo, BBQ sauce, and arugula on a pretzel bun) and Mofongo (mashed green plantains on a bed of mixed greens and topped with salsa). Diners can also browse the lifestyle shop, which features everything from t-shirts to books on self-love and nutrition.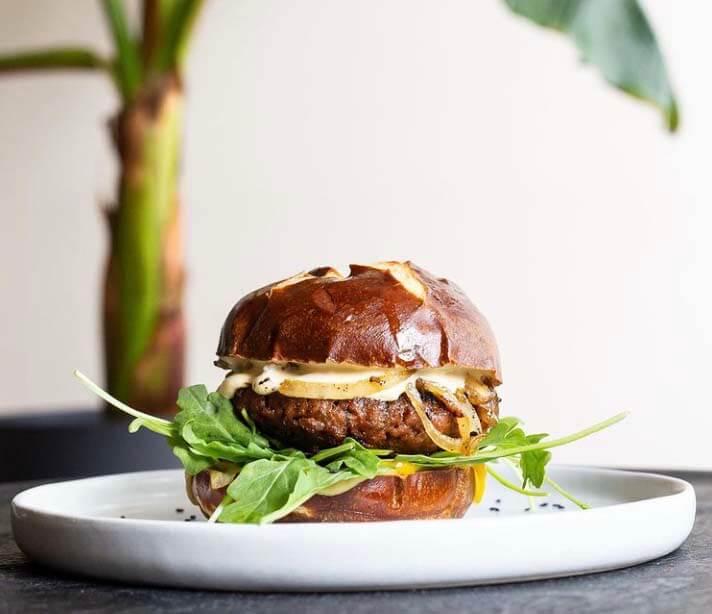 Kayla Pasko
@kaylapasko
Kayla, a Midwest girl living in NYC, is a writer with a background in media sales. When she's not scoping out trendy vegan spots, she's usually taking a yoga class, shopping at Trader Joe's, or catching a Packers game.
Articles by Kayla
More from VegOut
Subscribe Now
Get the premier vegan food and lifestyle magazine delivered to your door (or inbox!)
Order the magazine!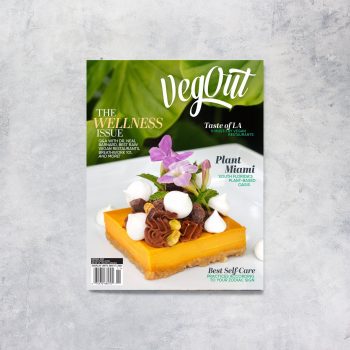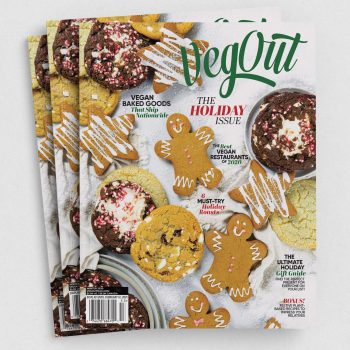 Navigation