Back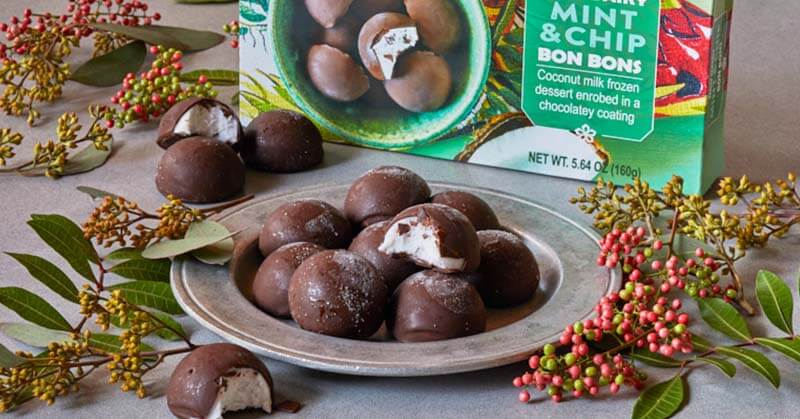 20 Vegan Holiday Products to Buy at Trader Joe's
Grab your favorite reusable tote and coziest scarf and head out to everyone's favorite unique snack grocer, because we're rounding up twenty holiday finds this season at Trader Joe's. After adding these sweet and savory goodies to your basket, be sure to check out their flower section to pick up a glitter poinsettia or cactus to decorate with twinkle lights.
RELATED: 11 Vegan Holiday Products You Can Find at Costco
---
Want even more vegan food, news, and lifestyle content? Subscribe to VegOut Magazine!
Vegan Gingerbread Loaf
We won't be the first or the last to tell you about the seasonal gingerbread loaf. This pairs wonderfully with your favorite fruity spread or vegan cream cheese.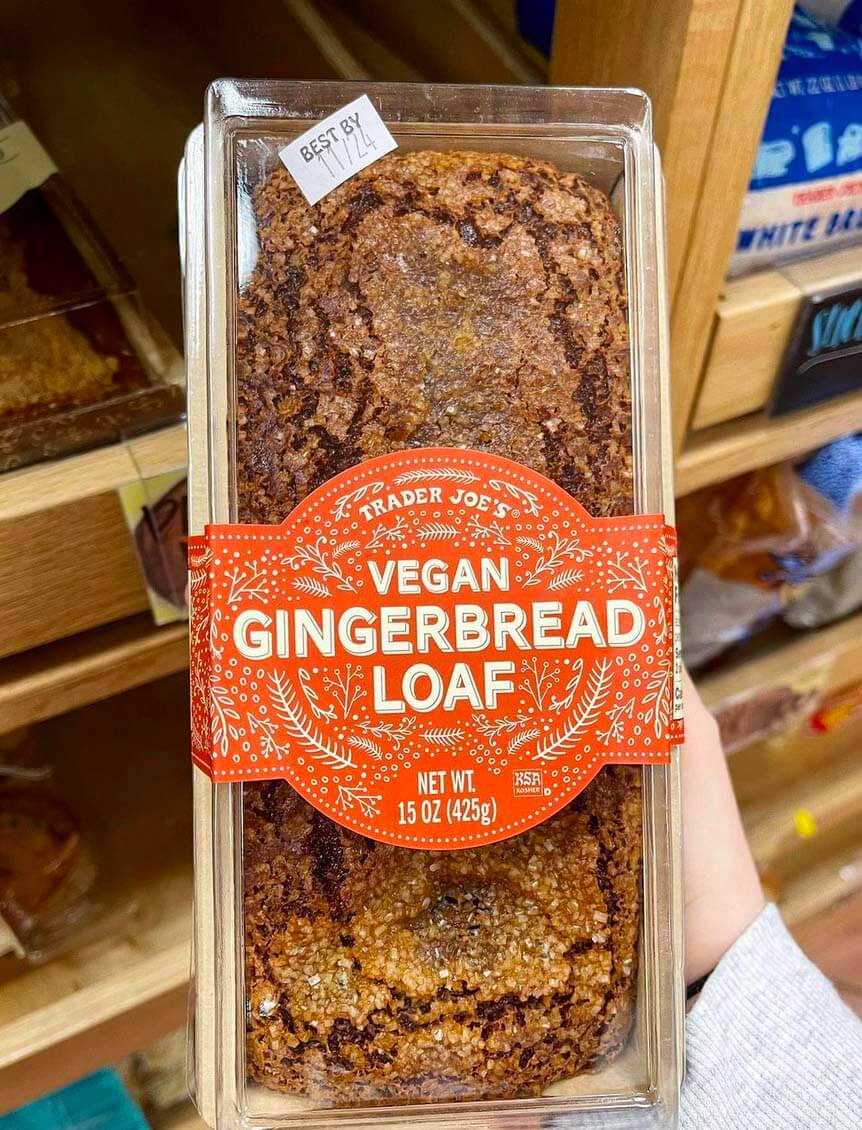 Photo credit: @traderjoesveganitems
Festive Corn Tortilla Chips
Much like their autumn counterpart, the festive chips for the holidays come in seasonal fun shapes including stockings, bells, and trees.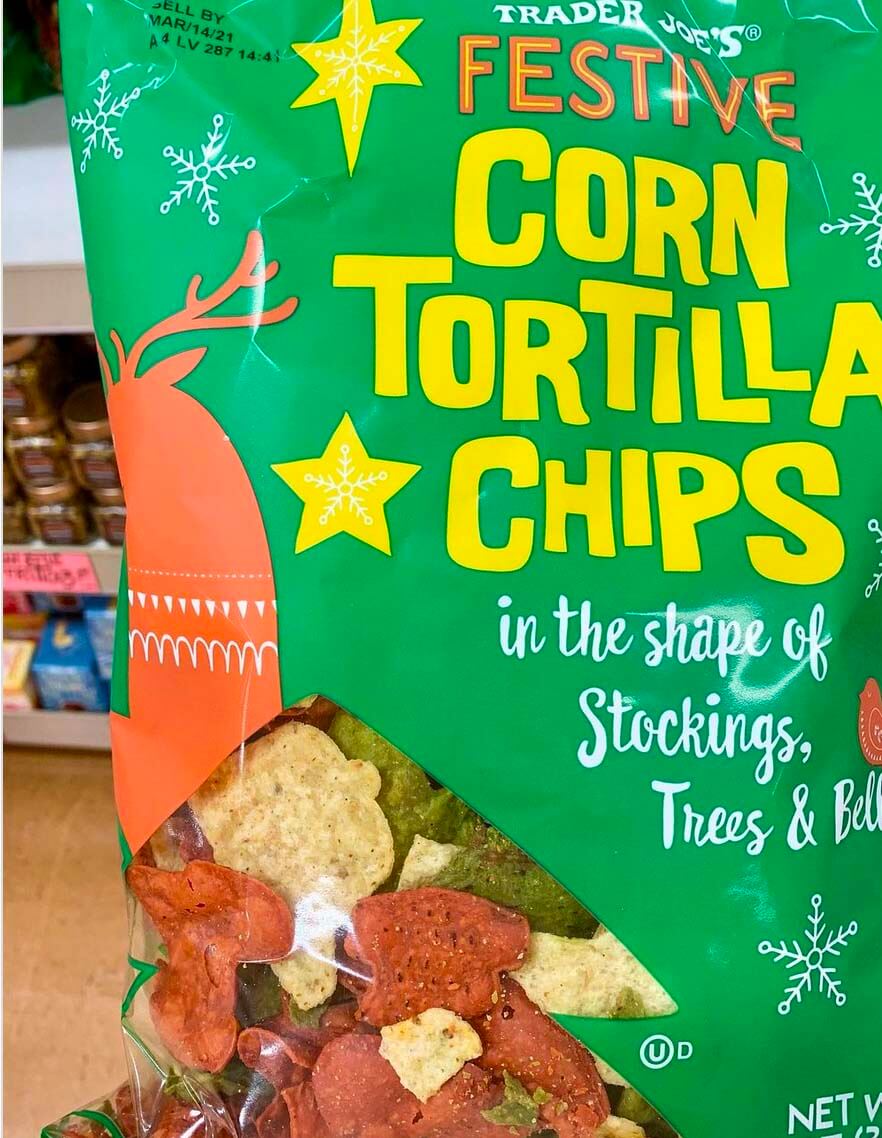 Photo credit: @traderjoesgeek
Candy Cane Green Tea
Enjoy this tea morning, noon, or night without the caffeine jitters. Inspired by the holiday season, the subtle hint of cooling peppermint makes this tea even more refreshing. It goes fast, so stock up!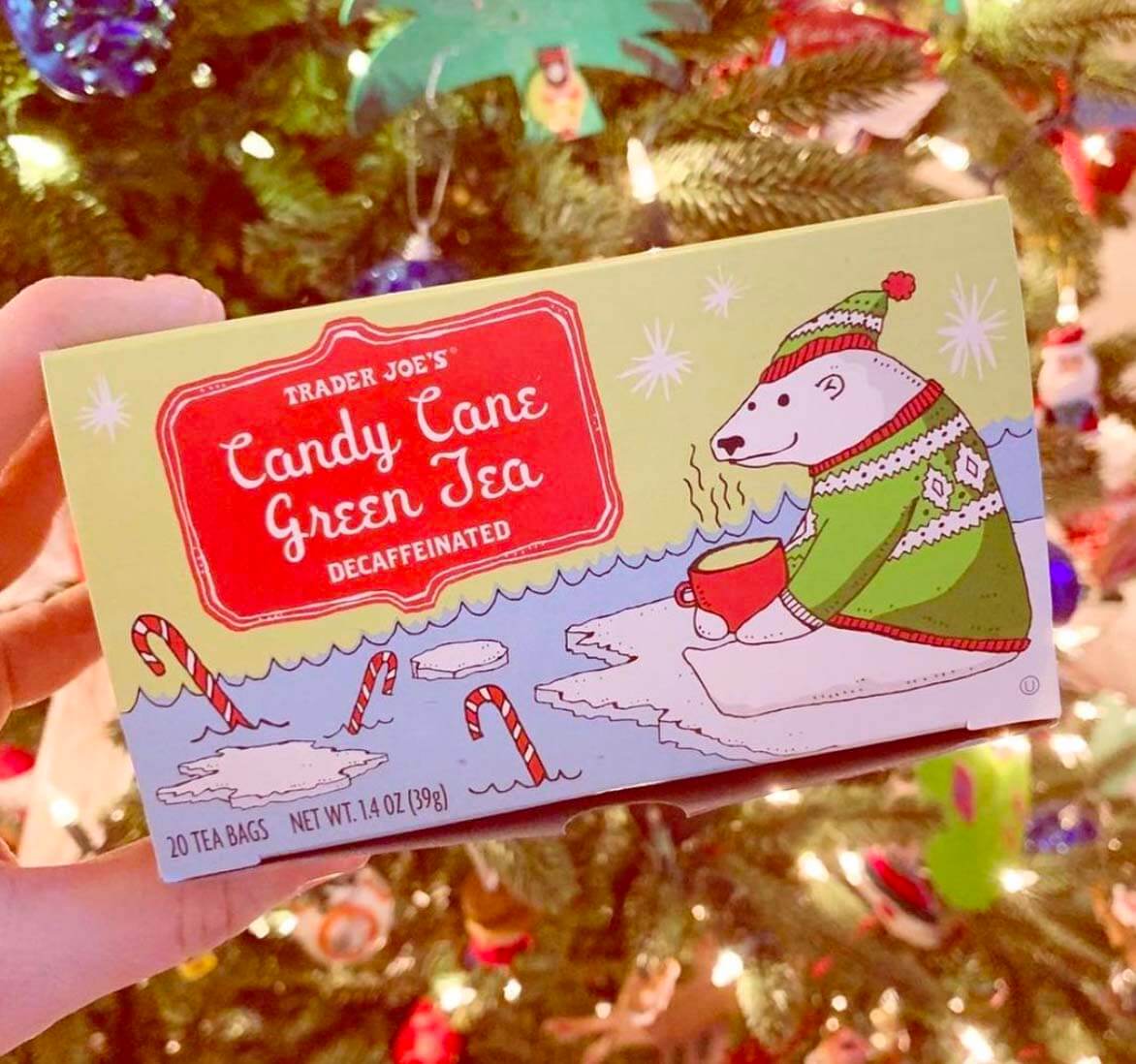 Photo credit: @traderjoeslist
Pfeffernusse Cookie Mix
The main ingredients of these yummy soft baked cookies are molasses, spices, and brown sugar. The mix can be easily made vegan with a simple swap of the required butter and egg with your preferred vegan alternatives.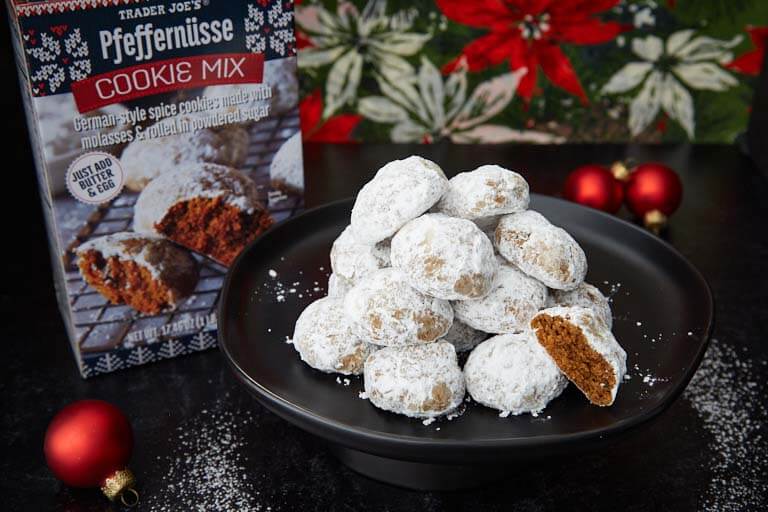 Hot Chocolate Sticks – Dark Chocolate
You can snack on these dark chocolate sticks or stir them into a glass of warm dairy-free milk to make delicious hot cocoa. Top your cocoa with seasonal peppermint mini marshmallows.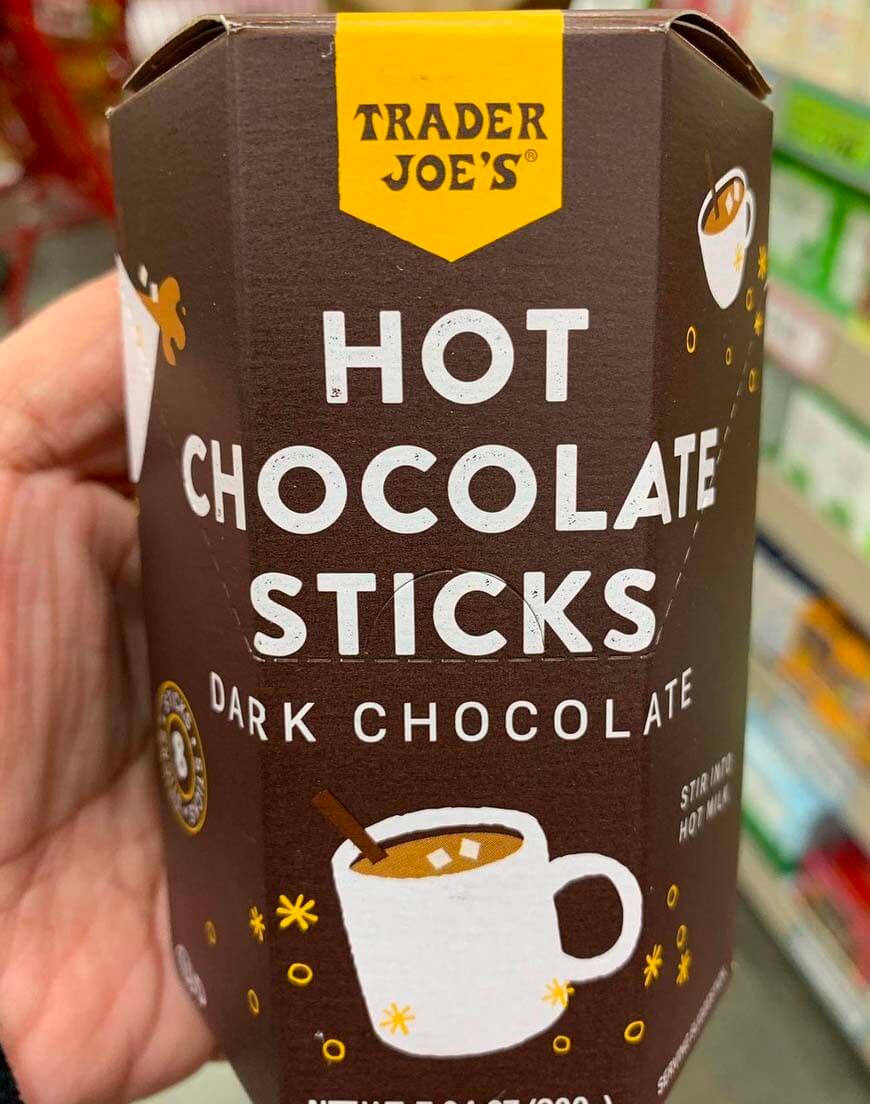 Photo credit: @traderjoesaficionado
Peppermint Mini Marshmallows
No cup of cocoa is complete without these holiday marshmallows! The peppermint-flavored mini marshmallows are sweetened to perfection to level up your holiday drink.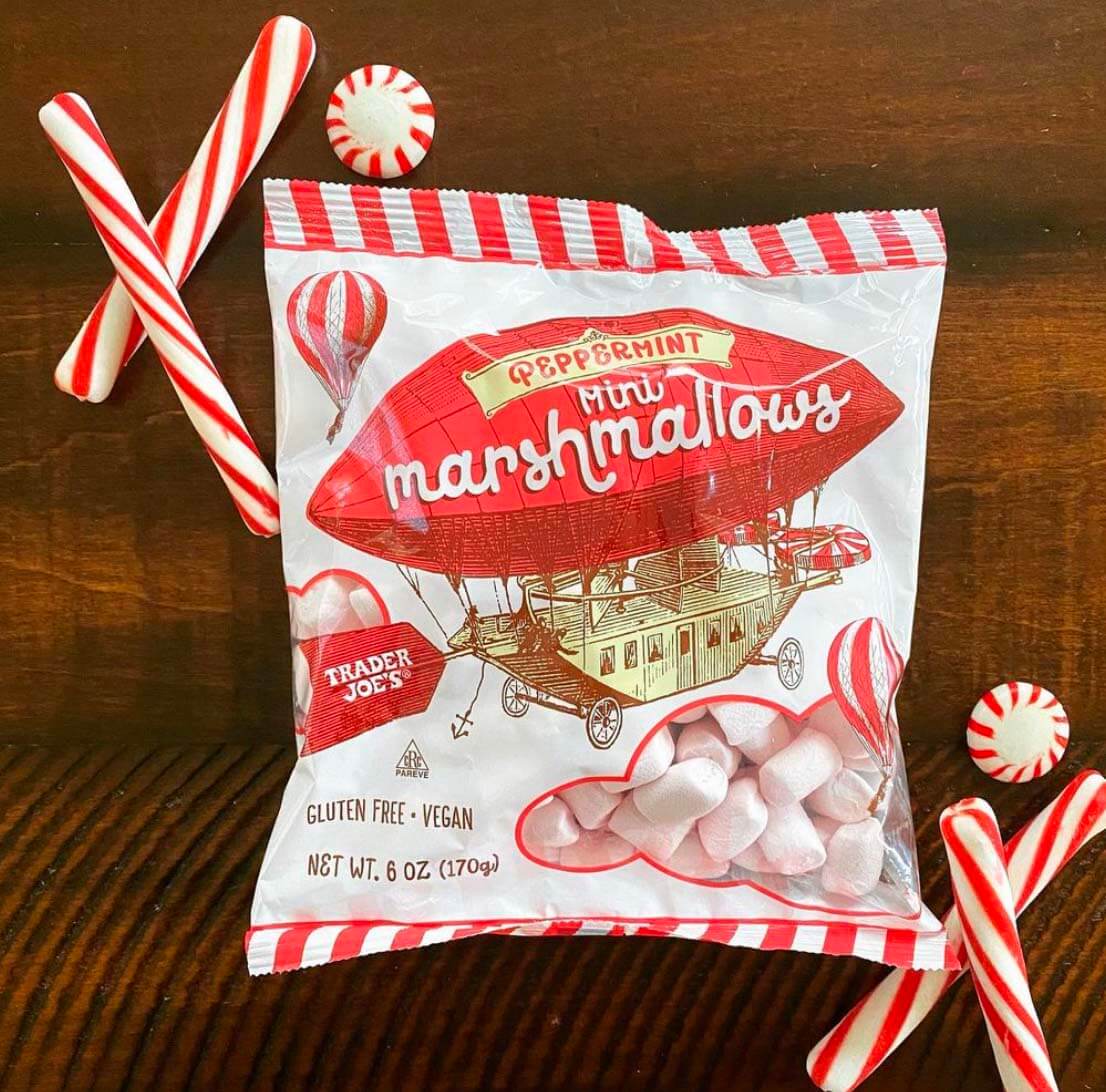 Photo credit: @traderjoestreat
Hold The Corn Appetizer
We don't mean to be corny, but we can't get enough of these mini savory nests filled with sweet corn and other vegetables. The bite-sized crisps in the shape of a cornucopia are a great snack before your holiday meal.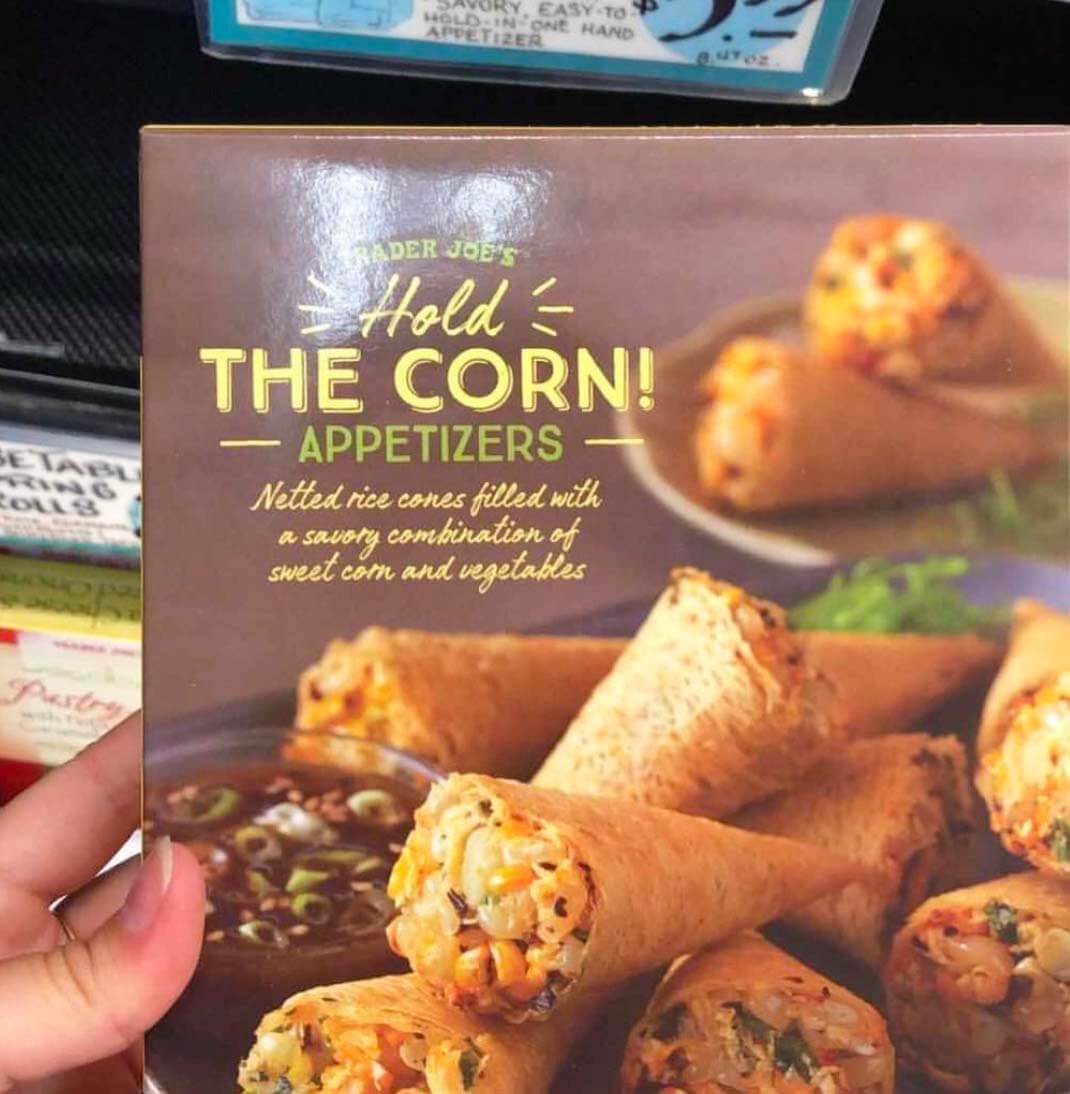 Photo credit: @traderjoeslist
Winter Wake Up Tea
Wake up with some spiced ginger and cinnamon tea with just enough caffeine to help you through those morning Zoom meetings.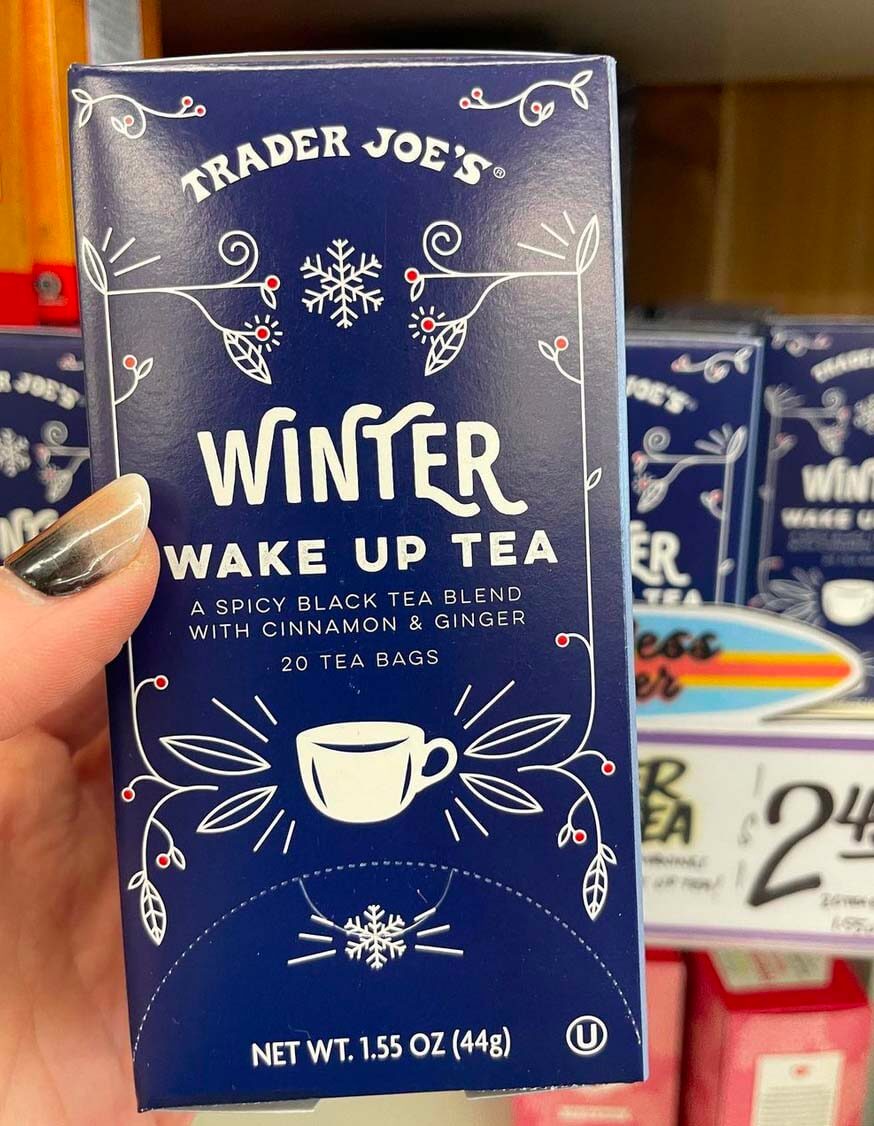 Photo credit: @traderjoeslist
Peppermint Joe-Joe's
The Joe-Joe's are Trader Joe's take on classic Oreos, often with fun seasonal flavors of their own. For the cooler months, pick up the peppermint Joe-Joe's and be sure to dunk them in your non-dairy beverage of choice.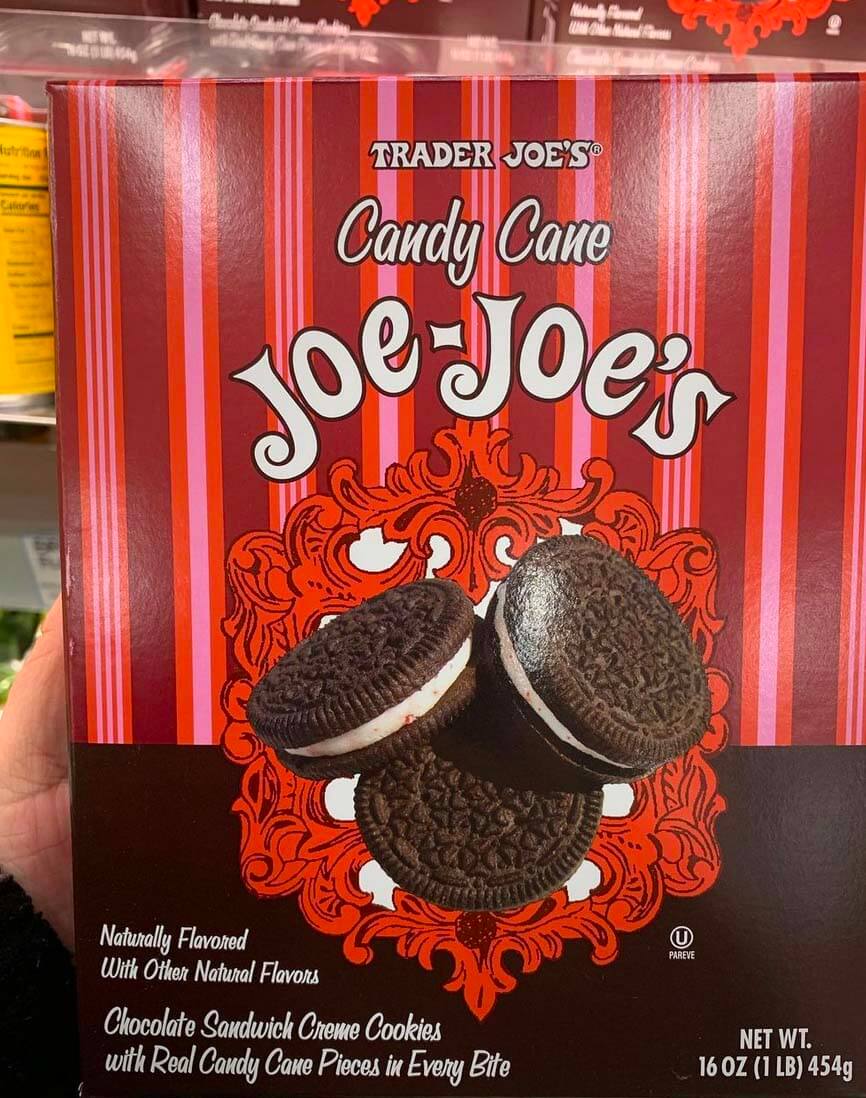 Photo credit: @traderjoesaficionado
Scandinavian Tidings
The seasonal relatives of the year-round snack drawer staple, Scandinavian Swimmers, are back! The bite-sized gummies come in cute themed shapes, such as ornaments (berry), trees (sour apple) and stars (sparkling grape).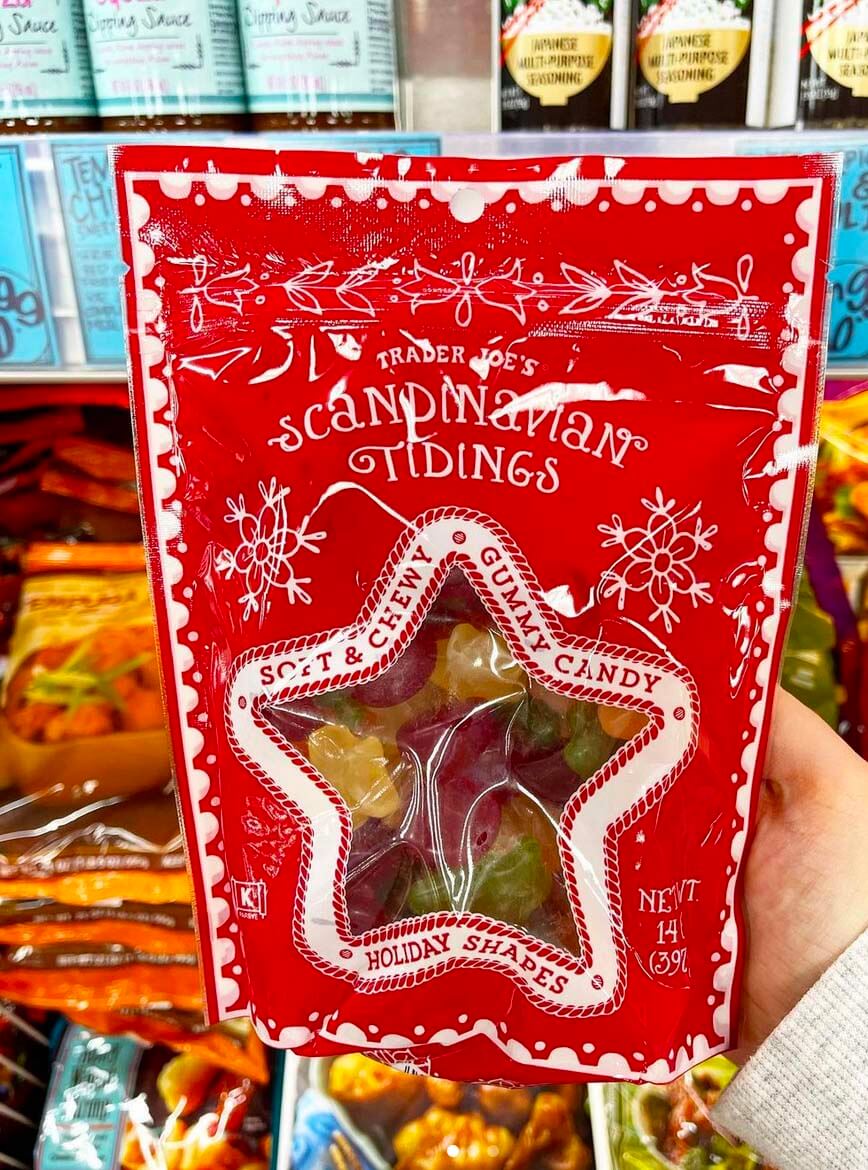 Photo credit: @traderjoesveganitems
Holiday Vegetable Hash
Cooking for the family for the holiday? This vegetable hash is a great addition to an existing recipe or as a starter all by itself.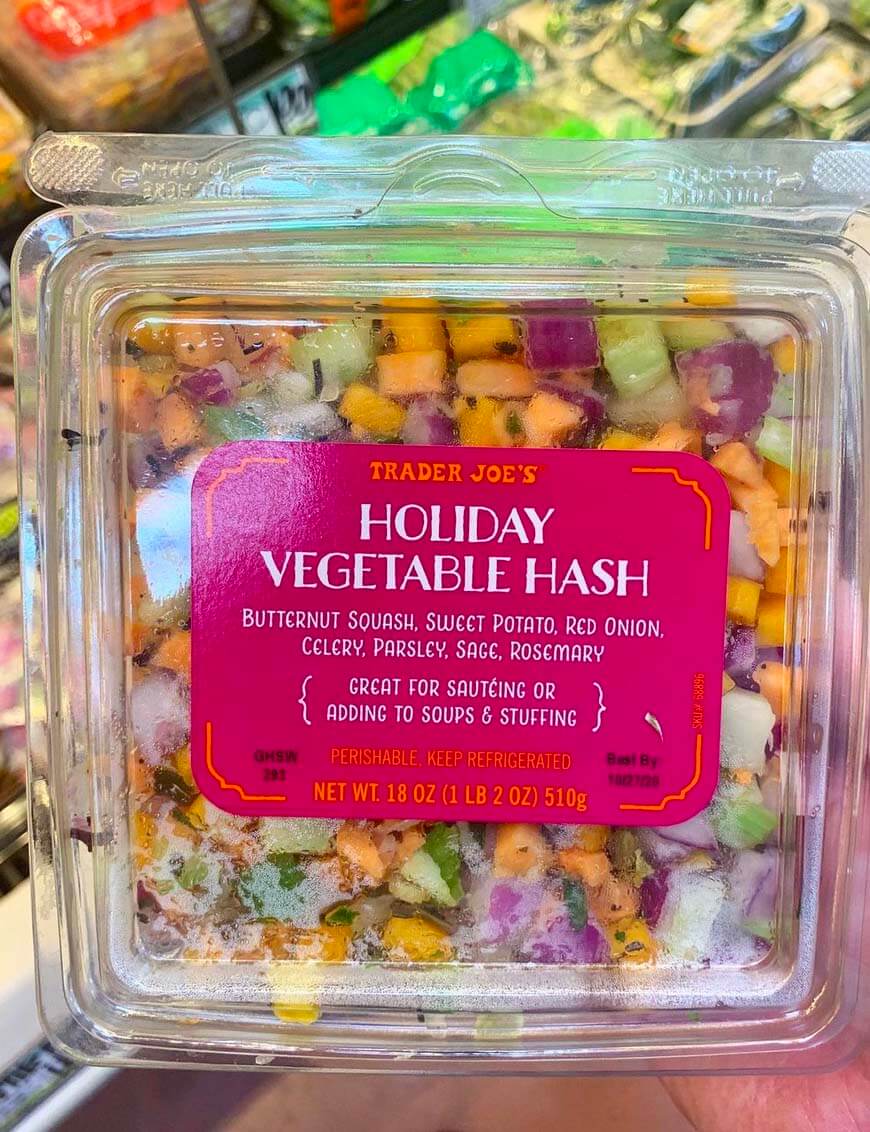 Photo credit: @traderjoesveganitems
Almond Nog
It's impossible to think of nog without thinking of the holiday season. Add this non-dairy almond-based version of the classic drink to your cart for some seasonal spice. Delicious as a spiked beverage or sipped as is, whichever you prefer!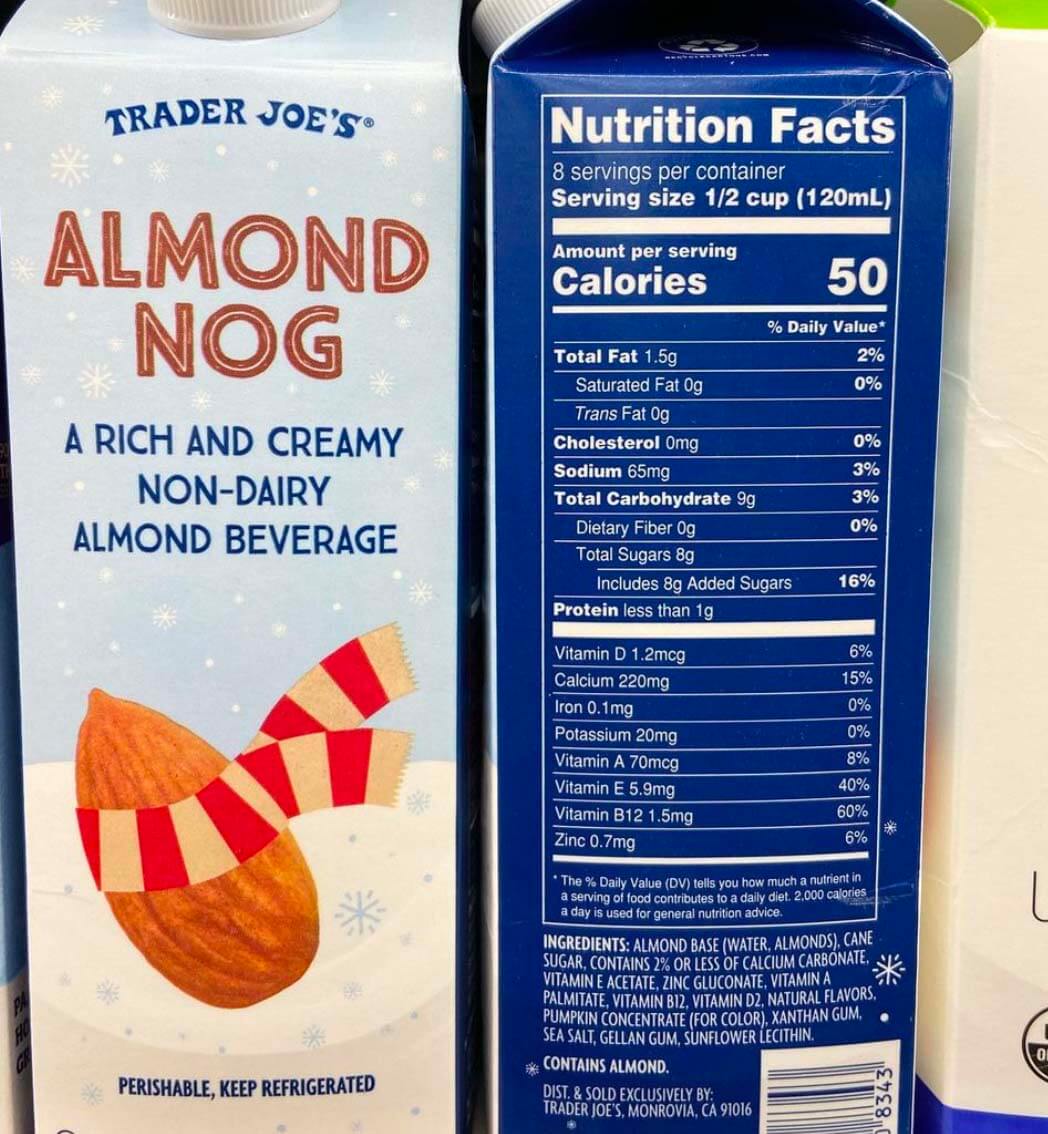 Photo credit: @traderjoesobsessed
Gingerbread Cake Mix
Another customizable and vegan-friendly baking mix (with crystalized ginger pieces in each bite)! This one can be made into cake or soft-baked cookies.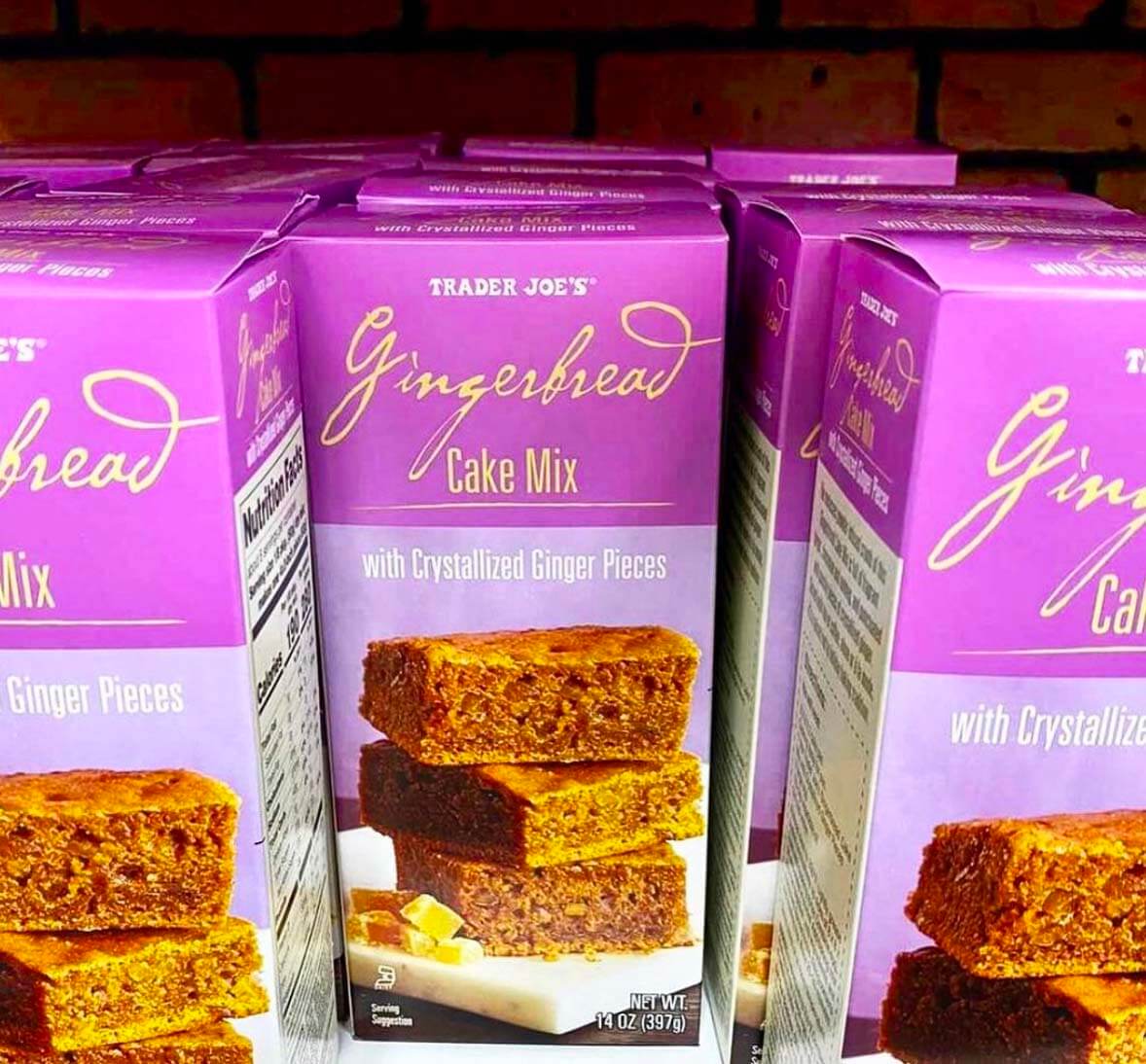 Photo credit: @traderjolene
Winter Wassail Punch
Serve holiday punch at your socially distanced gathering. Pour into a bowl with sliced oranges for added pizzazz.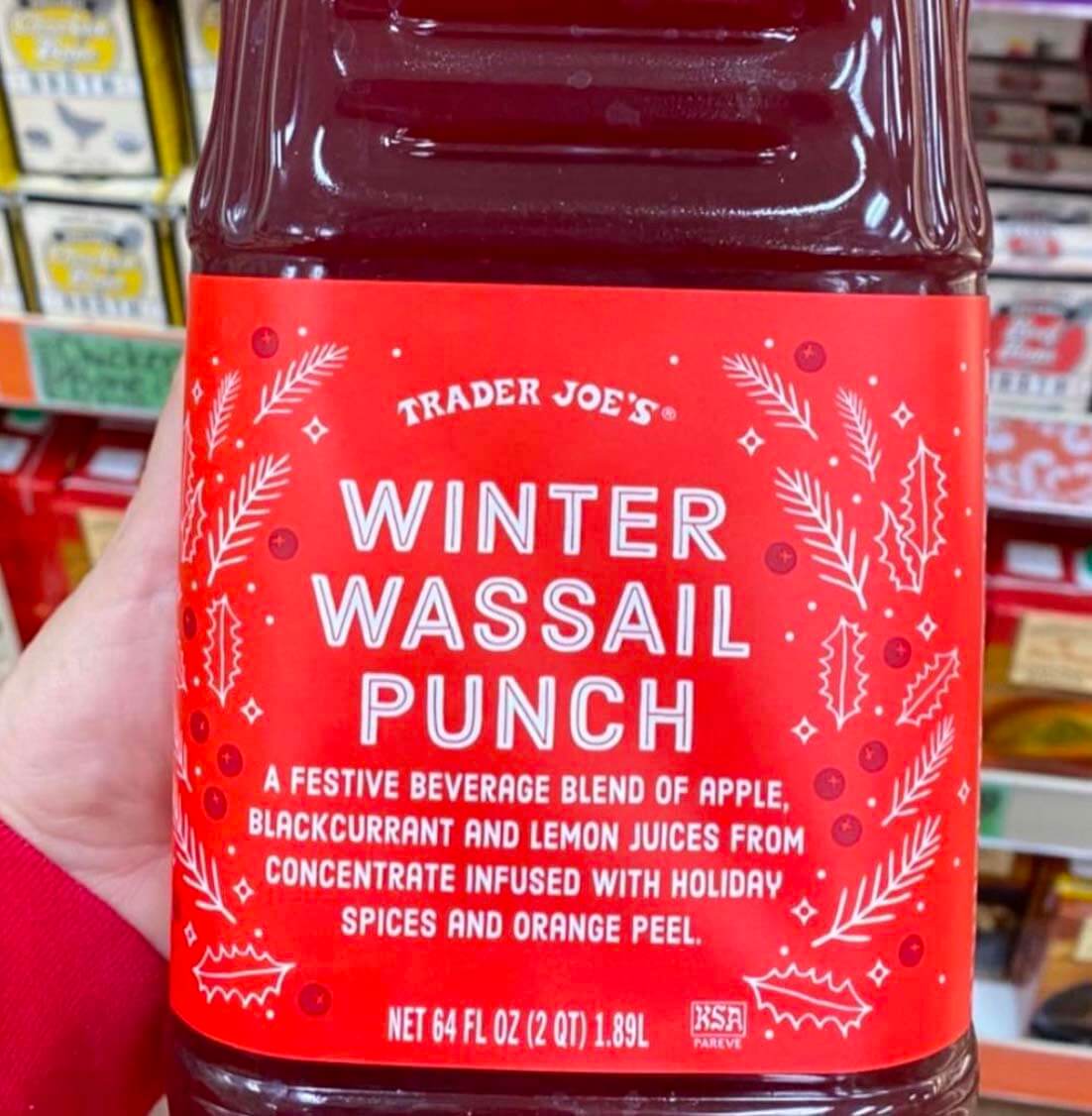 Photo credit: @traderjolene
Marzipan Stollen
Lay out a tray of marzipan cake slices with the gingerbread and let your guests try a sampling of each. These unique German desserts come in two sizes, so always be sure to double check the packages as the smaller version is not vegan.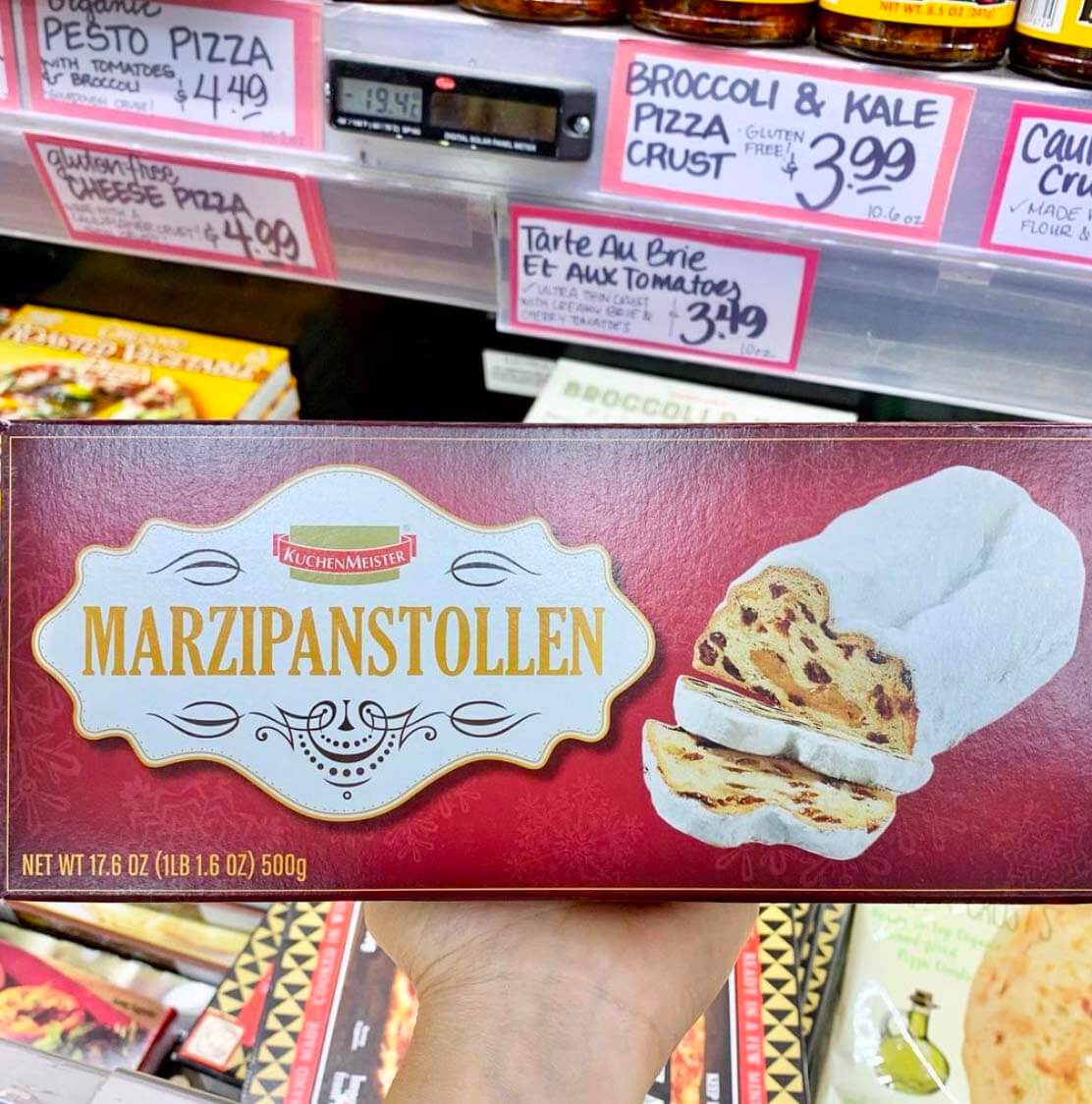 Photo credit: @traderjoesgeek
Maple Espresso Black Tea Blend
You can have the best of both worlds with the seasonal tea/espresso blend. Coffee and black tea combine nicely with a hint of spiced maple flavor.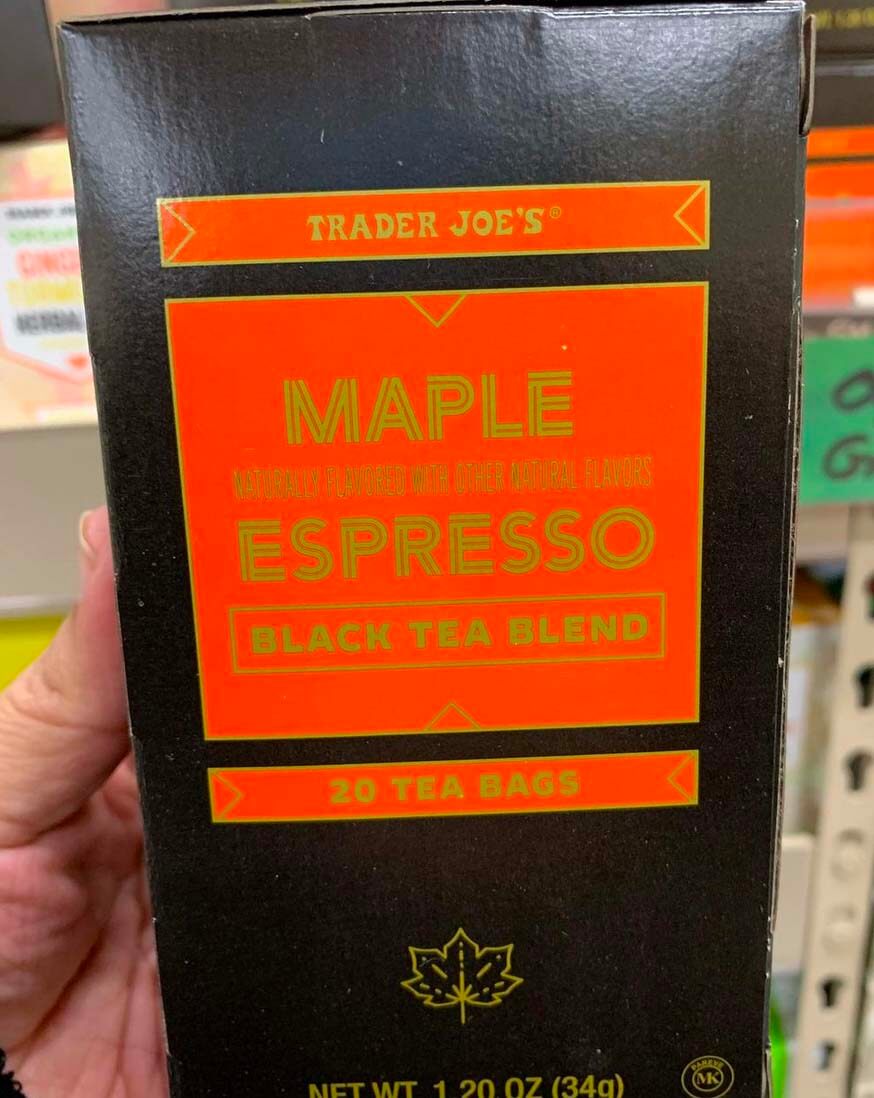 Photo credit: @traderjoesaficionado
Handmade Candy Cane with Cocoa Creme-Filled Center
Hang some of these treats on your tree, and then try not to eat them all before Santa slides down the chimney. It's the classic candy cane we all know and love but with a delicious chocolate center. Yum!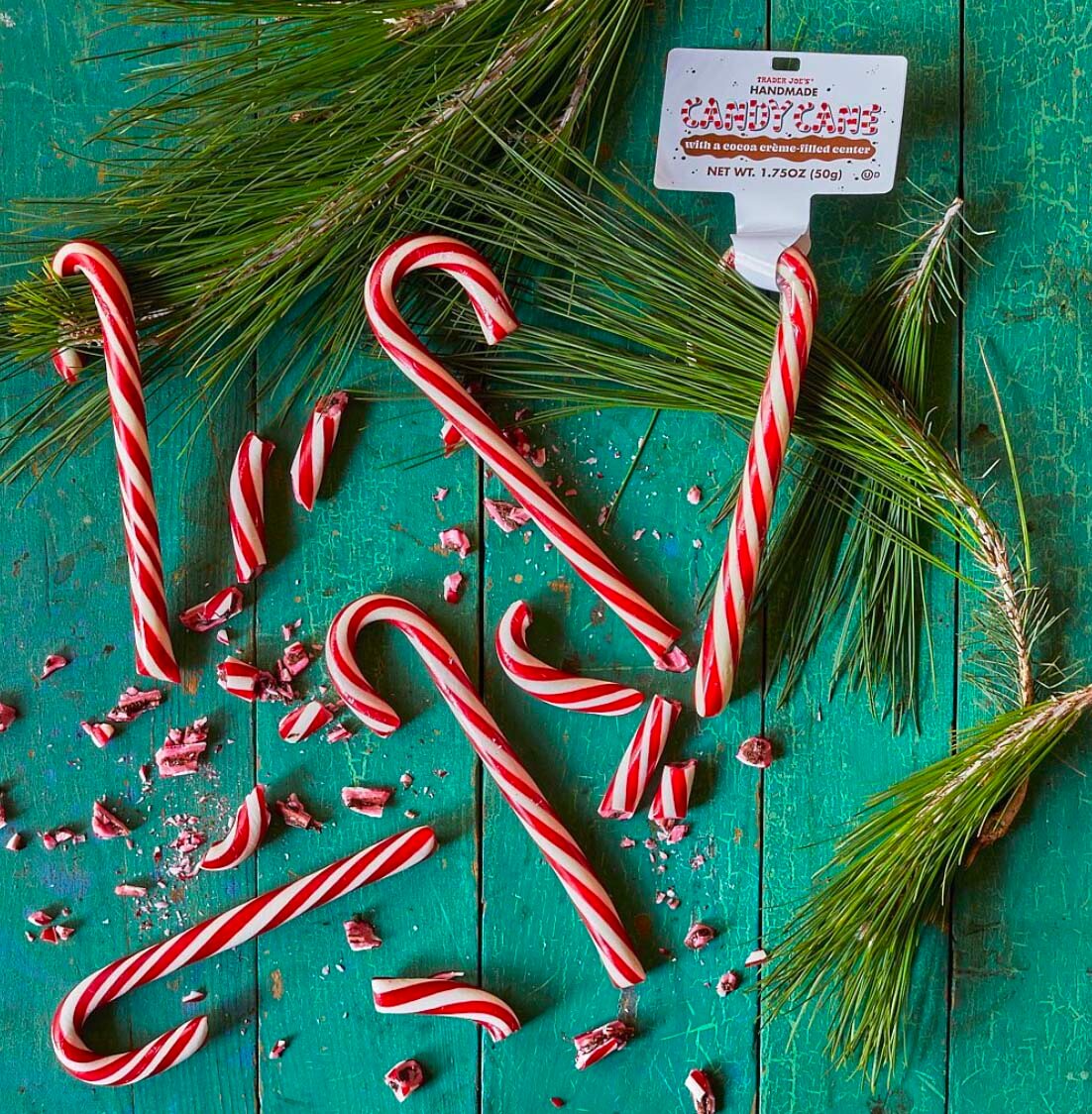 Sugar Plum Sparkling Beverage
Cheers to kicking 2020 back to where it came from with this yummy seasonal sparkling beverage. Drink as is for a non-alcoholic sweet treat, or spike with a spirit to ring in the new year.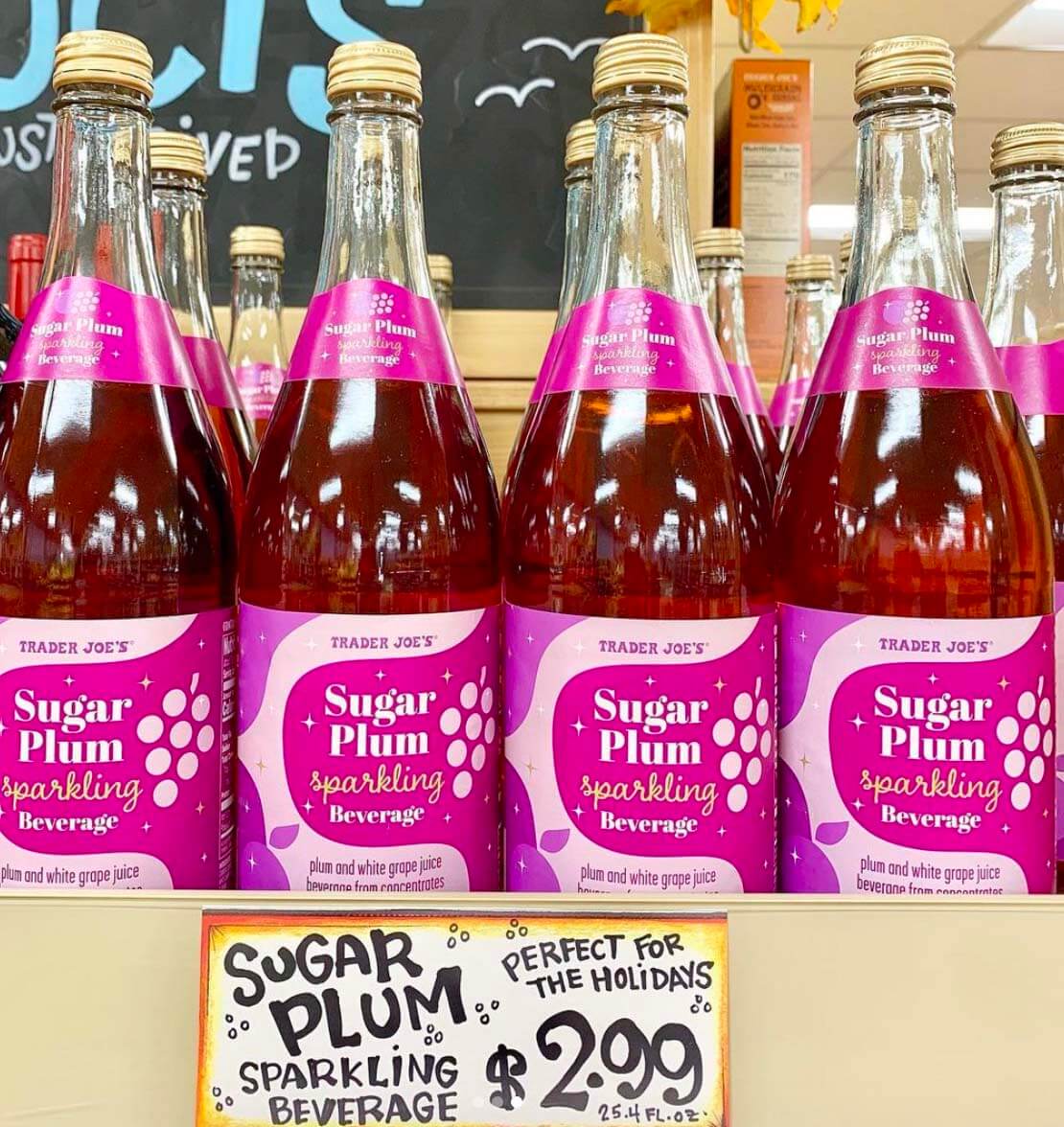 Photo credit: @traderjoesgeek
Cocoa Peppermint Almond Creamer
If you're looking for a little holiday cheer in your morning cup, pick up this yummy cocoa peppermint creamer and taste the season in every sip.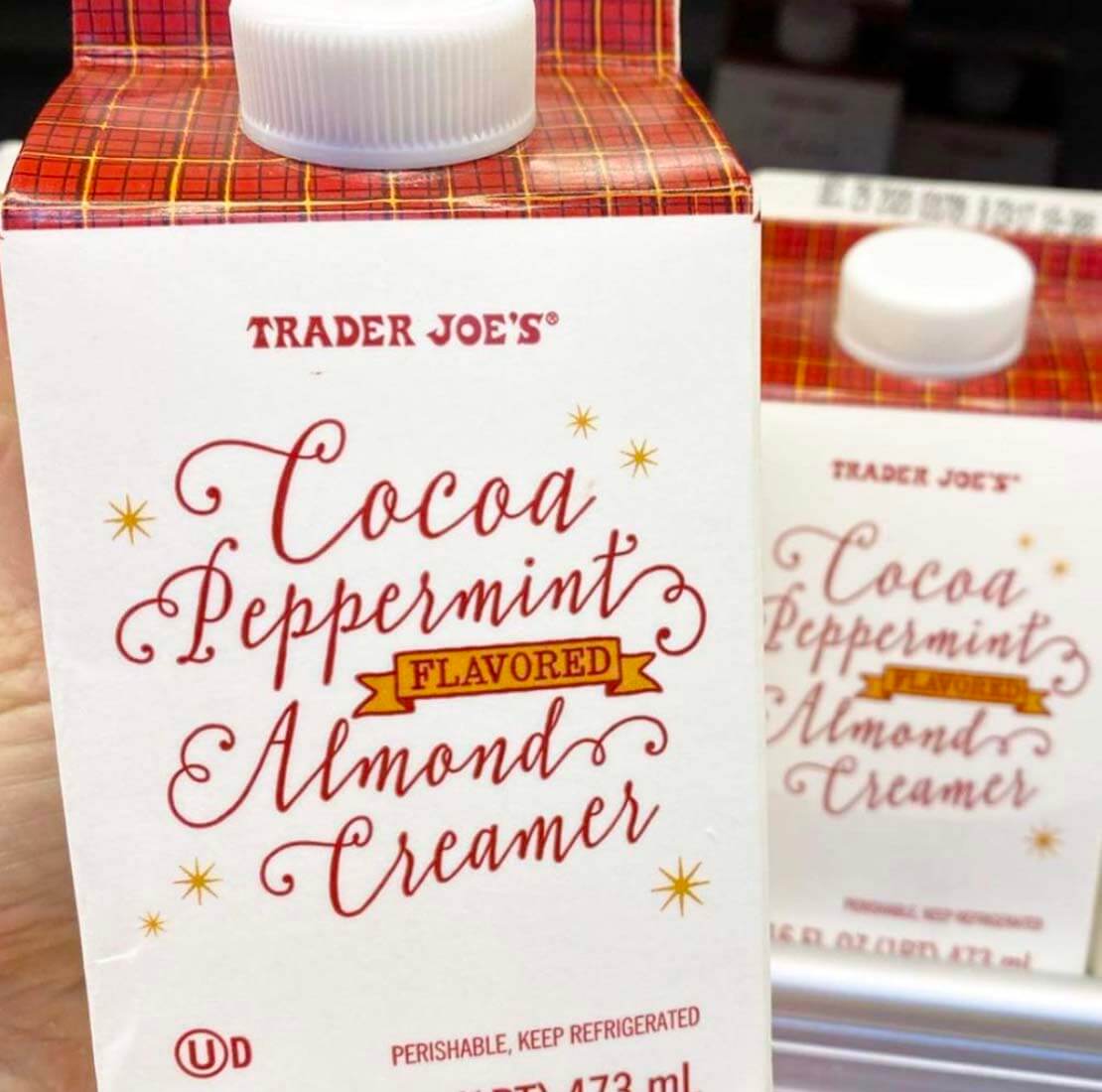 Photo credit: @traderjoeslist
Mint Chocolate Bon Bons
Last but certainly not least, TJ's ever expanding vegan dessert options now include mint chocolate bon bons. Bite-sized and absolutely delicious, these need to be in the freezer section year round!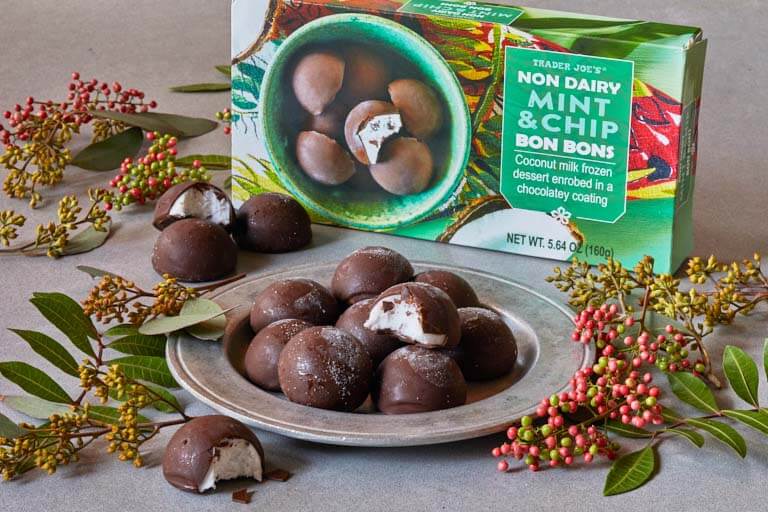 Melissa Nowakowski
@extra.vegan
Melissa has been vegan for three and a half years and is a self-proclaimed pizza and doughnut enthusiast. Has anyone tried combining the two yet? A public relations executive—when she's not scouring New York City and beyond for the next great vegan food and beauty finds—she donates her time to HIT Living Foundation dog rescue and spoiling her cat, Waffles.
Articles by Melissa
More from VegOut
Subscribe Now
Get the premier vegan food and lifestyle magazine delivered to your door (or inbox!)
Order the magazine!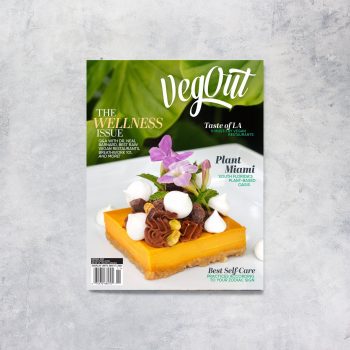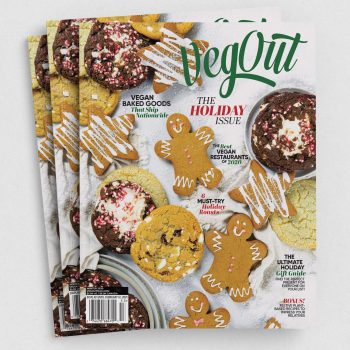 Navigation