Boost your plant-based parfaits and fruit smoothies with these tasty dairy-free yogurts.
Hey, yogurt lovers—this one's for you! Whether you're a yogurt purist or like to get a little fancy with DIY parfaits or savory dips and sauces, you'll want to start with a delicious plant-based yogurt. Made with a variety of non-dairy milk bases and offered in a plethora of delicious flavors, there's seriously a probiotic-rich choice for everyone. So, what are you waiting for? Here are the 14 vegan yogurt brands you need to try!
With plain coming soon and blueberry, strawberry, peach, and vanilla flavors already on the shelves, Ayo is a vegan yogurt brand you don't want to miss! Made with organic almonds, fresh fruit, chicory root, and vegan live active cultures, each yogurt cup adds a boost of both protein and fiber to the diet—oh, and the taste is on point!
This OG brand is making far more than soy milk these days! And dairy-free yogurt is just the tip of the vegan iceberg. Silk features yogurts made with almond, soy, and oat milks in many flavor varieties. They also offer a protein-packed Greek-style yogurt made with coconut. From parfaits to smoothies, the possibilities are endless with this vegan yogurt brand.
This craft-fermented yogurt is thick, tangy, and totally vegan! Because they are made with simple ingredients like organic coconut, agar, probiotic cultures, fresh fruit, and organic maple syrup, the Culina yogurt varieties taste amazing on their own. With such careful attention to ingredients, this vegan yogurt brand knows how to make great-tasting yogurt.
Looking to add a little pizzazz to your dairy-free yogurt routine? So Delicious is one of our favorite vegan yogurt brands! The cruelty-free company features containers of plant-based yogurt paired with crunchy mix-ins like almonds, toasted coconut, and chocolate bits. So Delicious also offers more traditional dairy-free yogurt options in a variety of flavors.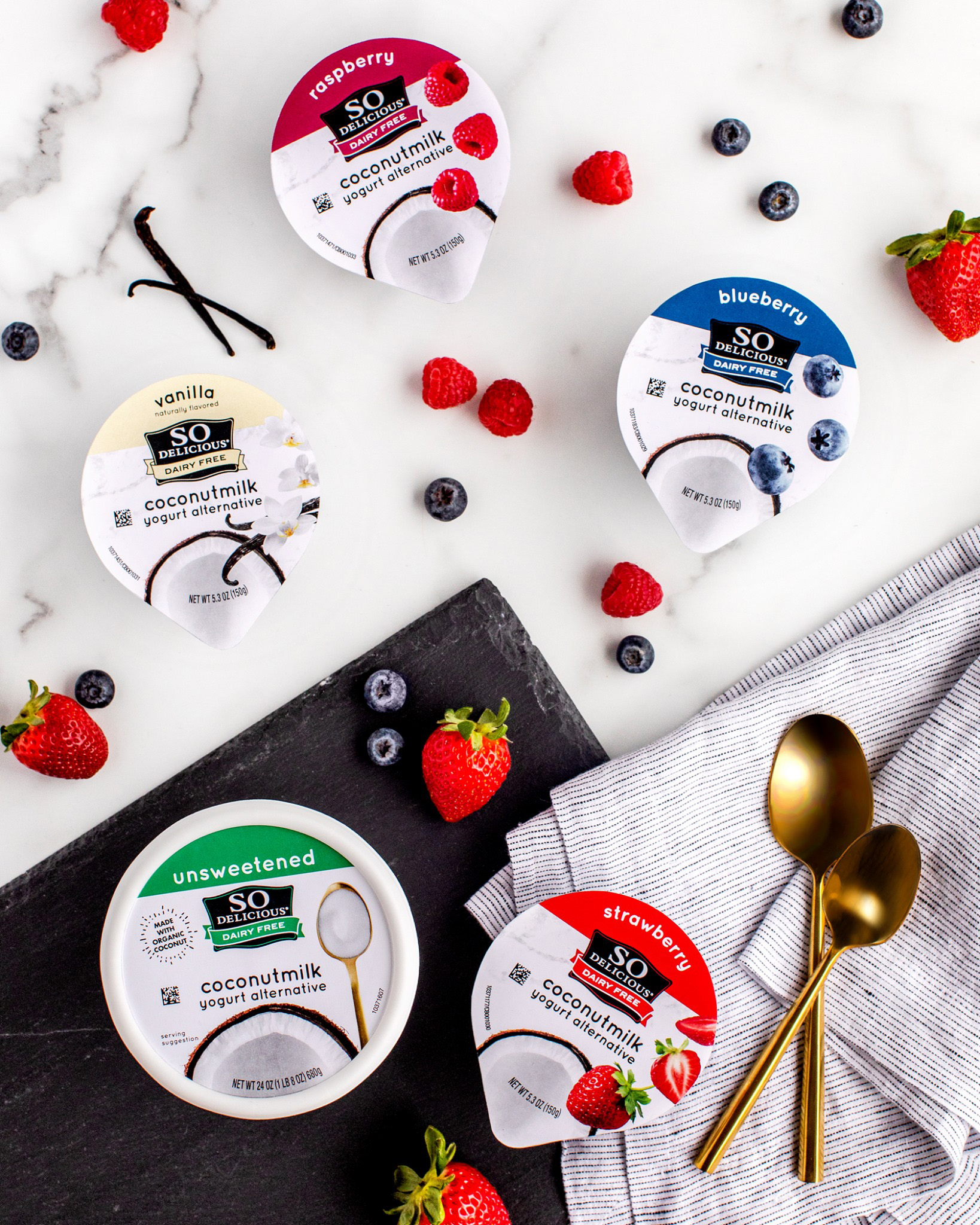 Made with coconut, fresh fruit, active vegan cultures, and pili nuts (the lowest carb nuts on the planet), Lavva provides a unique vegan yogurt experience to enjoy. Find this plant-based yogurt in original and a variety of berry flavors to use in homemade fruit smoothies and loaded yogurt parfaits alike.
These cashew milk probiotic yogurts are such a vibe! Find their original line in Vanilla, Unsweetened Vanilla, and Unsweetened Plain. We love the plain variety in homemade spicy sauces and creamy dips. Forager Project also offers several fruit-flavored options such as Blueberry, Strawberry, and Peach—it's the Strawberry flavor for us!
Looking for a gourmet vegan yogurt brand? Then check out LeGrand! This high-quality, organic yogurt comes in some seriously tasty flavors like Cold Brew, Chai Latte, Matcha Tea, Cherry & Rose Crumble, and Muesli—not us getting overly excited about these flavorful offerings. Made with coconut cream, cashews, and cocoa butter, this plant-based yogurt is seriously creamy too!
Just like their vegan cream cheese, these dairy-free yogurts always have a spot in our fridge! While made with live active cultures, Kite Hill yogurts are packing the creamy tang we crave. Find traditional almond milk, protein-packed almond milk, and Greek-style yogurt varieties from one of our favorite vegan yogurt brands.
This one reminds us of rich and fluffy whipped cream. Also, don't even get us started on the fancy flavor combos—chef's kiss! Peep these slow-cultured coconut yogurts in Lemon Elderflower, Strawberry Rhubarb, Vanilla Chamomile, and Pure Coconut varieties from Cocojune. Additionally, the friend-owned business offers prepackaged overnight oats made with their vegan yogurt.
Founded by Middle-Eastern natives, there's a new yogurt on the block! This vegan yogurt brand uses chickpeas, our favorite legume, as a base for its creamy yogurt alternatives. So, why chickpeas? Not only are they packed with protein, but they're an environmentally sustainable choice! CHKP yogurt comes in plain, vanilla, blueberry, and strawberry flavors.
Vegan-Friendly
Gut-friendly, probiotic-rich plant-based yogurt from this iconic Icelandic Skyr brand? Sign us up! Siggi's offers several varieties of plant-based yogurt cups with more protein than sugar! That's right, protein-rich yogurt in flavors like Toasted Coconut, Mixed Berries, and Mango. Customers can also enjoy drinkable plant-based yogurts in several fruity varieties.
Vegan-Friendly
This almond milk yogurt is seriously DAH!-licious. Inspired by Indian food culture, these yogurts undergo a slow-culturing process to yield both a smooth and nutritious product. Find DAH! yogurts in Alphonso Mango, Field Strawberry, Madagascar Vanilla, Wild Blueberry, and of course, Plain varieties. Each cup contains a whole serving of almonds and loads of probiotics.
Vegan-Friendly
Vegan-friendly French-style yogurt? Oui! So, keep those fancy glass jars coming. This yogurt brand stocks dairy-free options within their Yoplait Oui line. Just look for the "dairy-free" verbiage on the label. Also, the tasty non-dairy yogurt is made with coconut cream. The cruelty-free flavors include Coconut, Mango, Raspberry, Strawberry, Vanilla, and a seasonal favorite, Pumpkin Caramel.
Vegan-Friendly
Probiotic-packed oat milk yogurt in a lineup of delicious flavors? Well, it's music to our ears. From Strawberry Hibiscus and Passionfruit Banana to Blueberry and Vanilla, Nancy's probiotic-rich yogurt options have us super obsessed. Also, let us not forget the versatile plain variety available in single and shareable sizes.