Some days all you want to do is reach for a quick frozen meal in your freezer, pop it in the nearest kitchen appliance, and let technology do the rest. Unfortunately, most frozen meals are packed full of wheat, flour, and all the glutens. If you are not currently in a relationship with gluten, we've got you covered with these super satisfying 10 Vegan Gluten-Free Frozen Foods You Need to Try!
Wholly Veggie
Buffalo Cauliflower Wings
One of Canadian-based Wholly Veggie's newest products, the Buffalo Cauliflower Wings, will remind you of your favorite late-night drunk food dish at your local esteemed vegan spot, only without the guilt or the hangover (depending on your nightly activities). This tangy buffalo-sauced snack is the sneakiest way to incorporate more vegetables into your (or your kids') diet without sacrificing flavor or texture. Dunk 'em in your favorite ranch, blue cheese, or alternative vegan sauce, and you'll be in crispylicious heaven.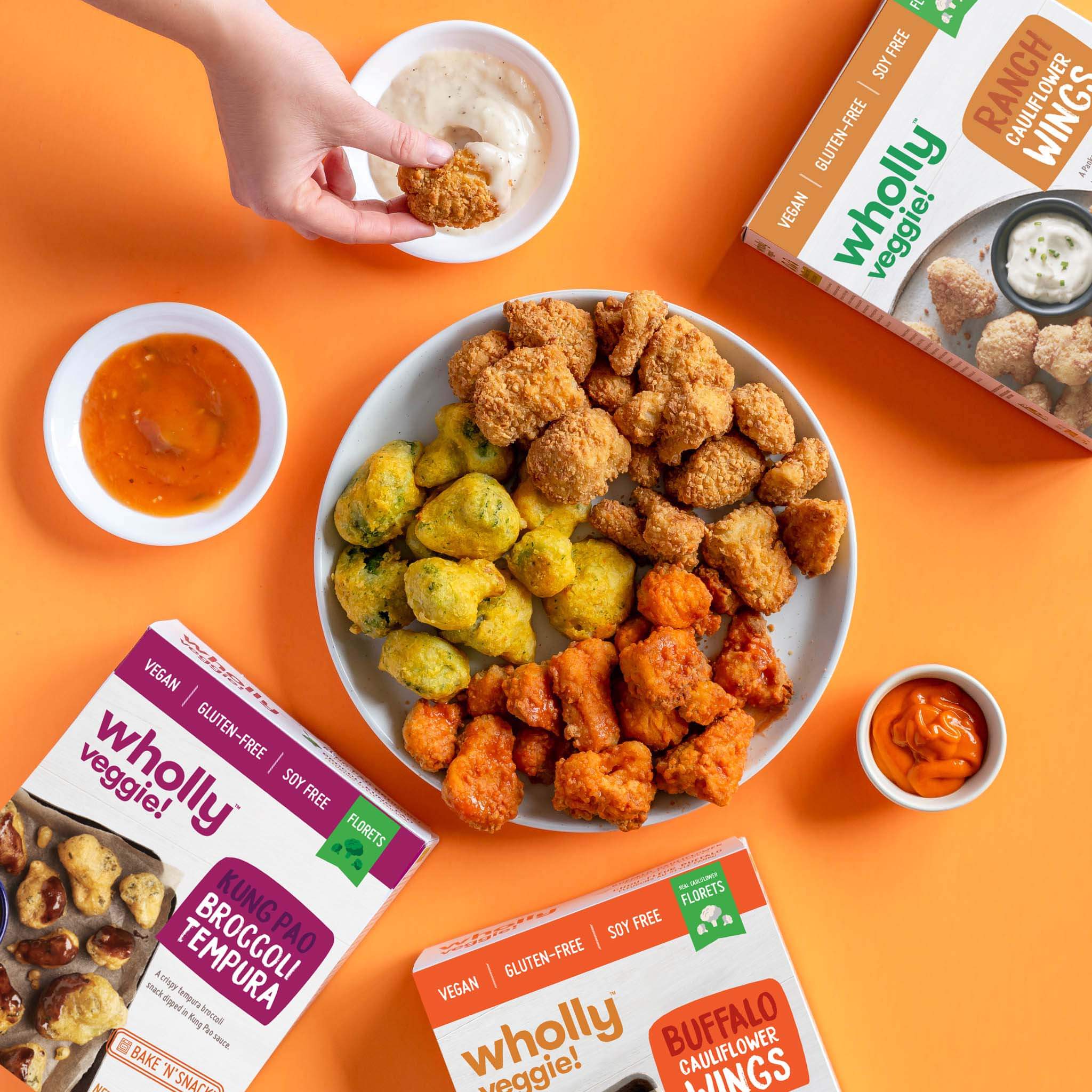 Amy's Kitchen
Vegan Rice Mac & Cheese
After years of testing their tried and true Mac and Cheese, Amy's Kitchen bestowed upon the world the gift that is their ooey-gooey, perfectly cheesy, vegan and gluten-free Mac and Cheese. Organic rice pasta noodles slathered with creamy, rich, and smooth cheddar-style cheese sauce will satisfy the cravings of even the most gluten-loving of individuals. Additionally, this comfort dish is kosher and soy-free, sure to be your new guilty pleasure. Make sure to stock up on several trays, because you won't be able to stop yourself from eating just one!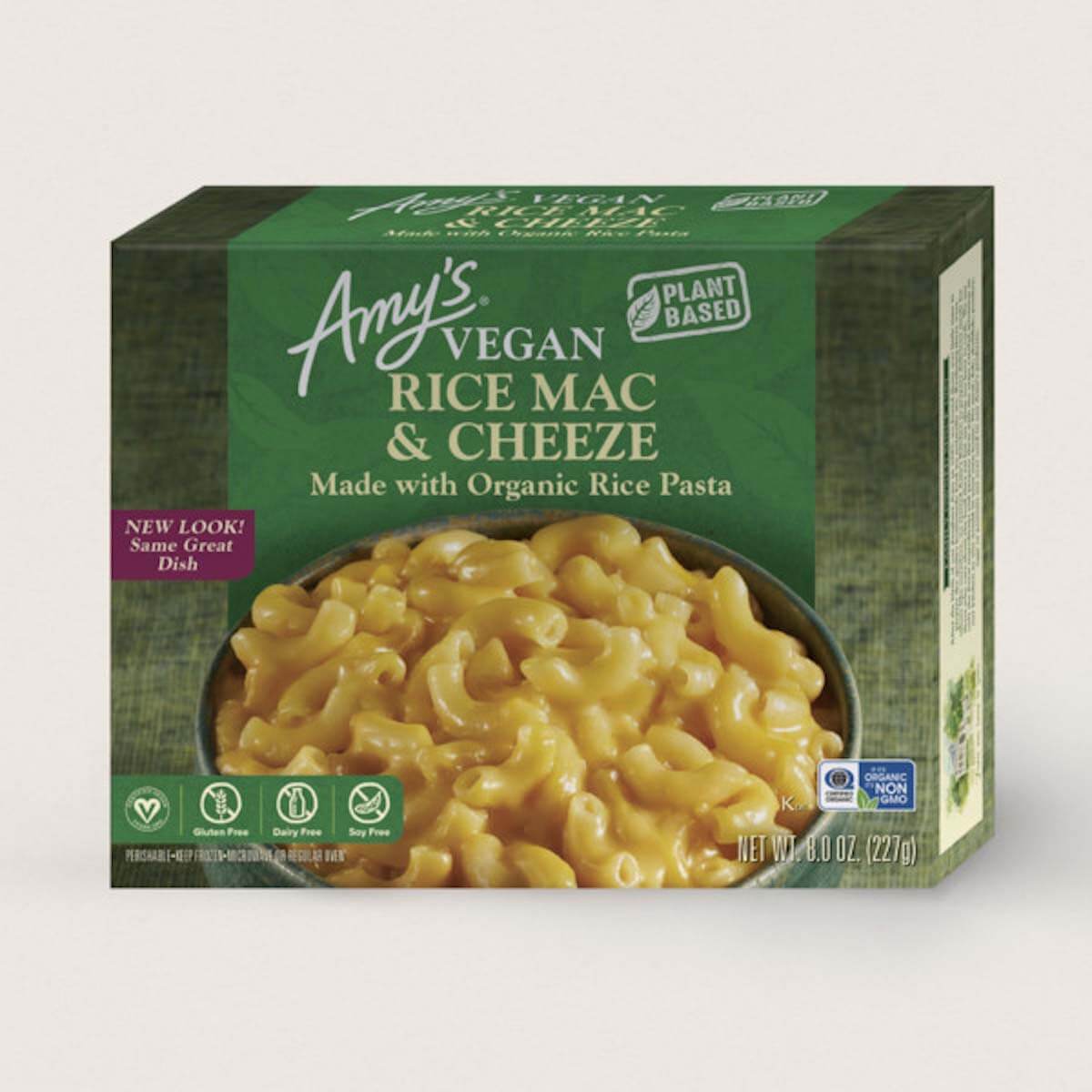 Gardein
Chick'n Scallopini
One of the OG's in the vegan meat game, Gardein's lightly seasoned Chick'n Scallopini is one of their only gluten-free products and is a serious contender for the real thing. Tender, juicy, and chef approved, one serving packs a whopping 12g of plant-based protein at only 120 calories. Perfect to pop in a stir-fry, on the side of an eggplant parmesan, or on top of your vegan recreation of your momma's famous alfredo pasta, this little four-pack of cutlets will have dinner ready in just five easy minutes.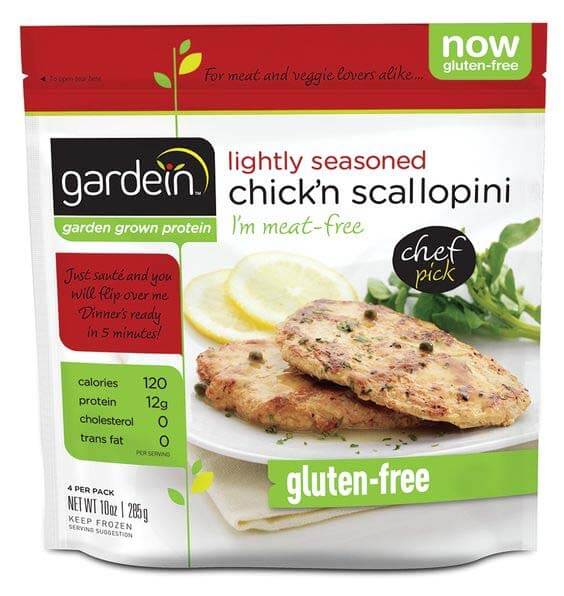 Oh Yes! Foods
Gluten-Free Vegan Cheese Pizza
Created out of a need to incorporate more fruits and veggies in their daughter's diet, the founders of Oh Yes! Foods crafted a pizza that's good for those taste buds and good for that body! With the nutritional value of 12 veggies and fruits like kale, carrots, broccoli, cauliflower, beets, and guava, you'll satisfy that pizza fix all while packing in your daily recommended dose of vitamins and minerals. Even those avoiding soy can enjoy one of their all natural and non-GMO 7.5 personal or ten-inch pies. Follow Your Heart gives these their believable cheesy taste, and the gluten-free crust provides just the perfect chewy, crispy texture we all love in our pies!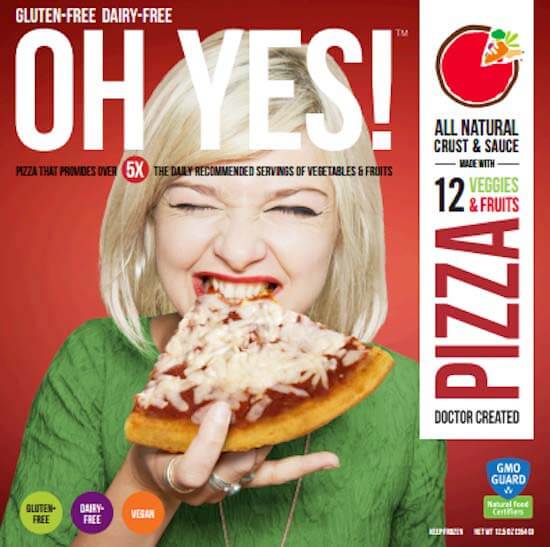 Fry Family Food
Rice Protein & Chia Nuggets
Trust us when we say, these nuggets will blow your mind. Crispy on the outside, with that perfectly soft chewy inside, they mimic everything you miss about nuggets. At first bite, you'll be wondering how these little morsels are gluten-free, and as you chew, your mouth will be questioning how in the world these are vegan. With added rice protein and chia seeds rolled in Fry Family's signature gluten-free crumbs, these little babies are way too easy to pop in your mouth, and before you know it, the NugLife will have chosen you. Dip them in some ketchup, mustard, or devour them on their own. Give 'em to your wheat-loving carnivorous friends, and watch their brains explode!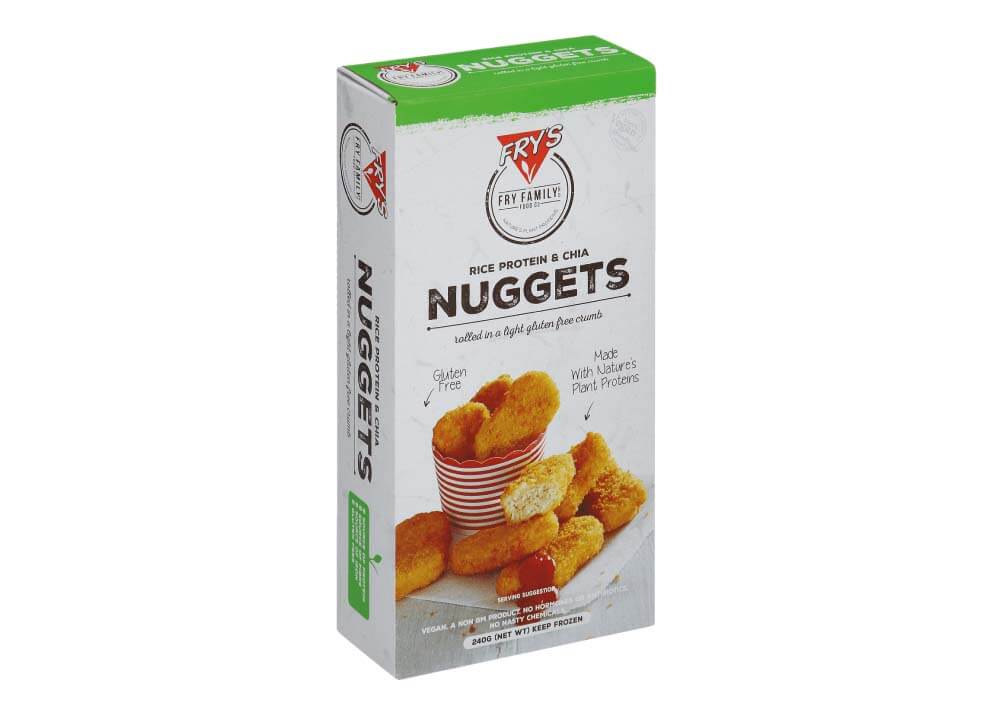 Van's
Waffles
There was nothing better than the smell of Eggos waffles wafting into your room in the morning before school. You can recreate these mouthwatering nostalgic memories with Van's waffles which are vegan, gluten-free, nut-free, and corn-free! Made with whole grain brown rice flour and smartly sweetened with fruit juice, the light and crispy texture makes these taste just like your Nana's homemade. 15g of whole grain goodness and 4g of protein will give you all the pep in your step you need for a jolly good morning. Top with vegan butter and drench in maple syrup or dress up a stack with strawberries and vegan chocolate syrup. Either way you dress 'em up, they are sure to spark joy!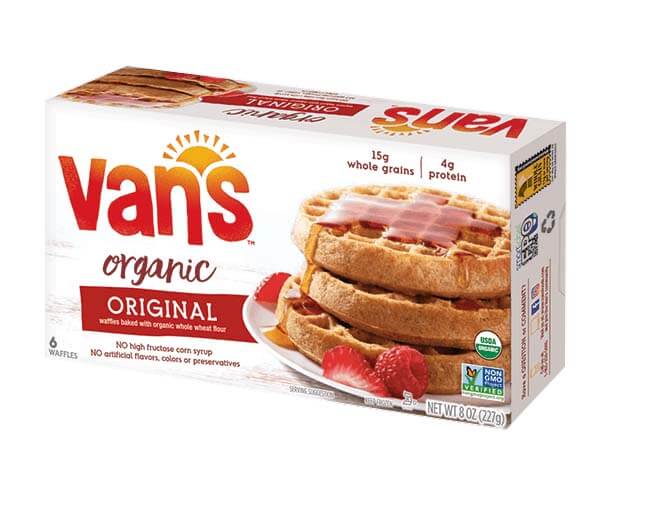 Lucky Foods
Spring Rolls
At just fifty calories per serving and under three minutes, you can partake in the delights of fresh hand-rolled, restaurant quality, vegetable spring rolls. Lucky Foods does all the work for you with their fully-cooked ridiculously flavorful "heat and serve" rolls. A carefully crafted mix of fresh and crisp peas, carrots, cabbage, and tofu are wrapped up in a specially prepared, gluten-free spring roll wrapper made up of fava and garbanzo beans. The result is a light and crispy shell that you'd never guess is grain-free! Lucky Foods has even got you covered with the sauce, because each container includes the perfect sweet and tangy accompaniment, so get ready to drench!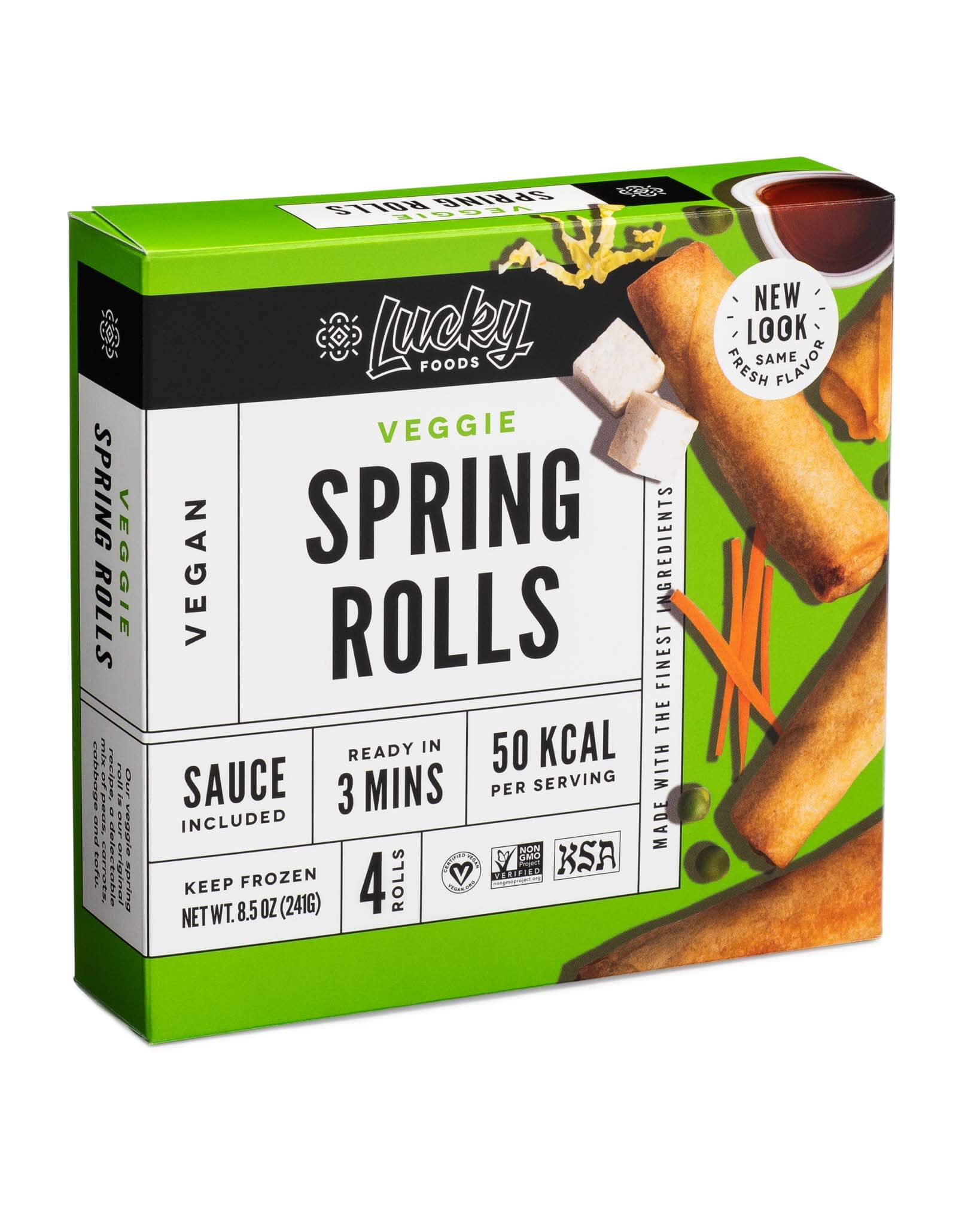 Dr. Praeger's
Kale Veggie Burgers
You can always count on the doctor to roll out the vegan hits! With 10g of plant protein, these Kale Veggie Burgers meet your daily veggie goals and won't break your diet. Non-GMO, soy-free, gluten-free, and only 150 calories per serving, these crispy patties pack in a whopping 10 types of veggies, including a delightful array of sweet potatoes, carrots, corn, red peppers, and more. Toast up the perfect gluten-free bun, and top it off with one of these Kale Veggie Burgers, crispy lettuce, red onion, tomato, vegan cheese, and mayo, alongside a heaping serving of golden french fries for the perfect summer dinner.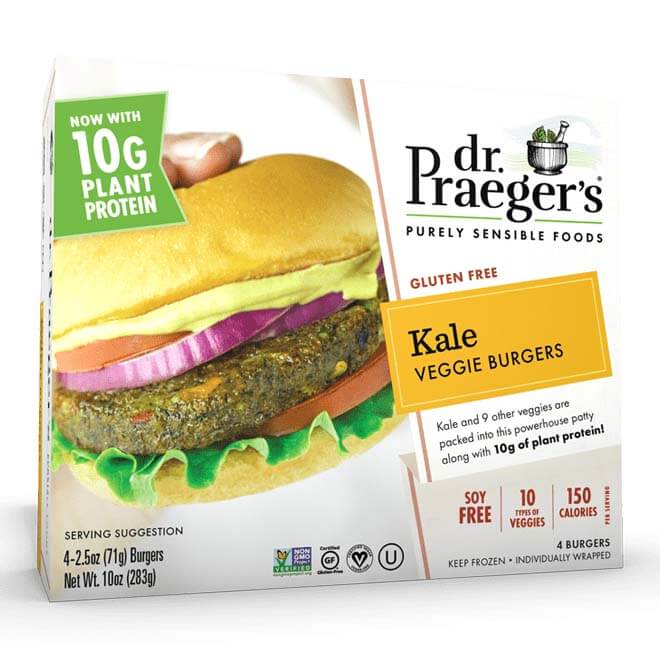 Starlite Cuisine
Vegan Taquitos
Starlite makes it easy to get your Mexican fix with these addictively delicious classic taquitos. These crispy hand-rolled white corn tortillas filled with authentically spiced, seasoned beef, chicken, or chorizo, and beans are soft on the inside with the most satisfying bite. Each of the flavors is deceivingly "meat-like," and will even trick all those Keto bros. Pop them in the oven for that extra crunch or toss them in the microwave if you're feelin' lazy. Either way, they make a fun snack alongside salsa and guac, or will fill you up for dinner paired with a side of rice and roasted veggies.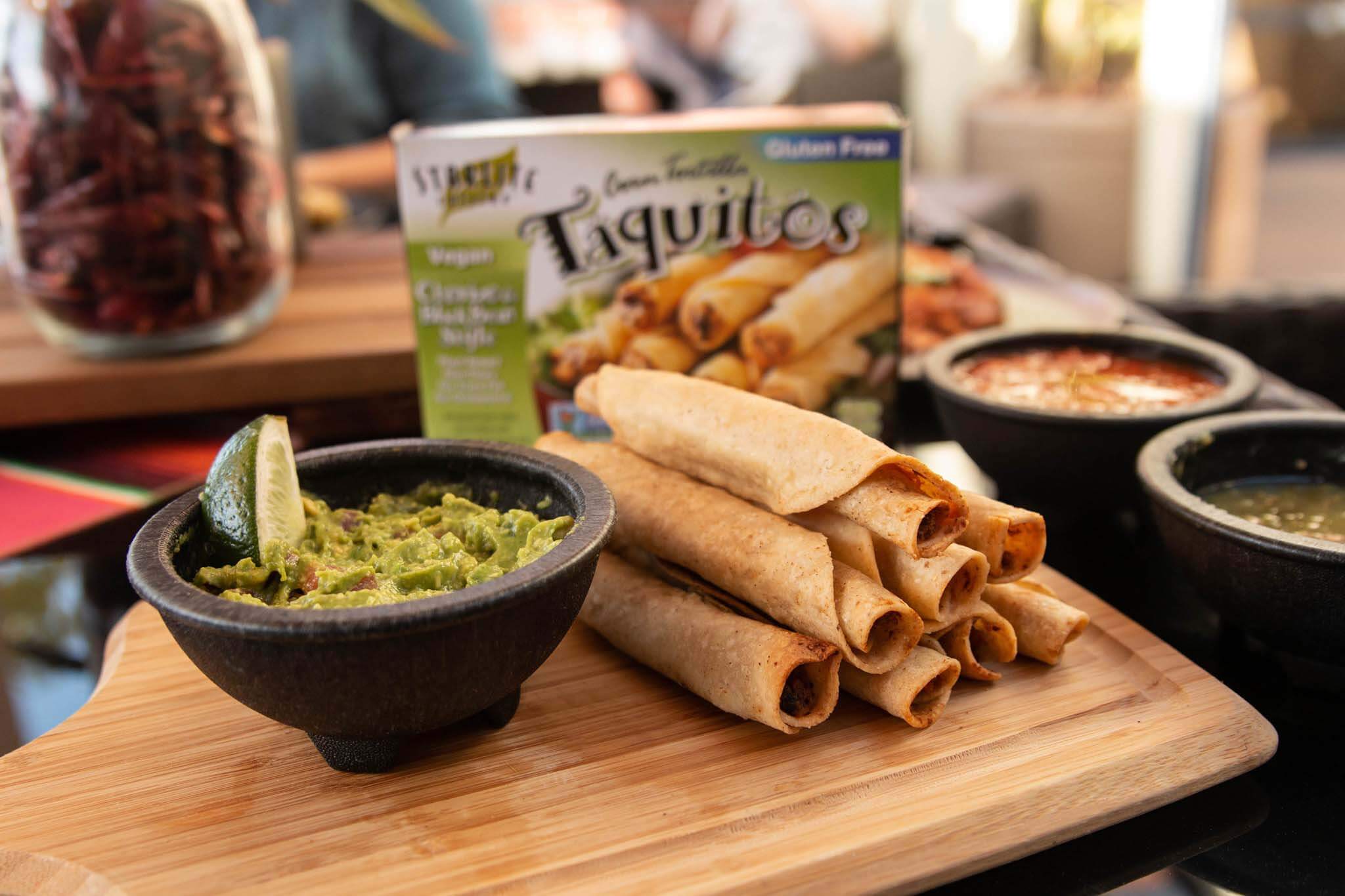 Wild Skinny Clean
Plant-Based Shrimp
Fried chicken, tuna sushi, pulled pork, and now, plant-based shrimp? Vegans have truly perfected the replacement game with incredible creativity, imagination, and skill. Wild Skinny Clean's shrimp is taking things to a new level. Full of superfoods and free of gluten, corn, soy and nasty GMO's, these pink and white konjac powder-based cuties are a serious dead ringer for the real thing, without the cruelty! Copying almost exactly in texture and taste, they are perfect for grilling, baking, frying, and sauteing. Mix them in with your favorite cashew-based alfredo sauce and pasta, or grill 'em up with some veggies. Either way, you'll never guess the difference!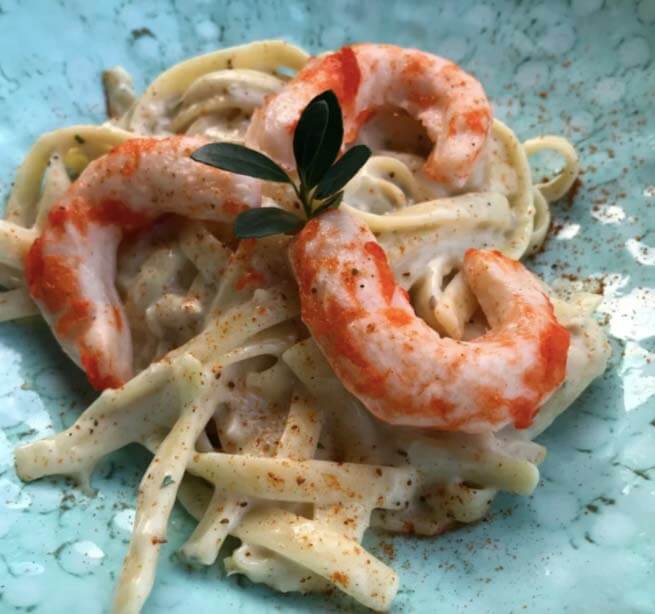 RELATED: 12 Gluten-Free Vegan Snacks to Order Online
---
Want even more vegan food, news, and lifestyle content? Subscribe to VegOut LA Magazine or VegOut NYC Magazine!