The bottled Frappuccinos are available in two new flavors and will be rolling out at retailers over the course of 2022.
Starbucks' bottled Frappuccinos have been a popular and convenient way to get a caffeine boost since their release in the 90s. Now, grabbing a non-dairy coffee at grocery and convenience stores just got easier! Starbucks has just launched ready-to-drink oat milk Frappuccinos.
Dairy-Free Bottled Starbucks Frappuccinos
The coffee giant announced this week two new flavors of its bottled Frappuccinos. Caramel Waffle Cookie and Dark Chocolate Brownie are both made with oat milk and are dairy-free. Find the two new flavors at grocery stores, convenience stores, and gas stations nationwide. The Frappuccinos come in 13.7oz bottles with a suggested retail price (SRP) of $3.40. The rollout will take place over the course of 2022, so check with your local grocers and retailers to find out when they've arrived at stores near you.
This new dairy-free rollout comes on the heels of the wild success oat milk had in Starbucks locations across the country when it was added as a milk alternative last year. In fact, it was so popular that the brand had difficulty keeping up with orders and experienced a supply chain shortage of Oatly oat milk as a result.
The move toward more plant-based options is part of Starbucks' plan to become more environmentally friendly and reduce their carbon footprint by 50% by 2030. This plan includes the addition of even more plant-based options over the next eight years.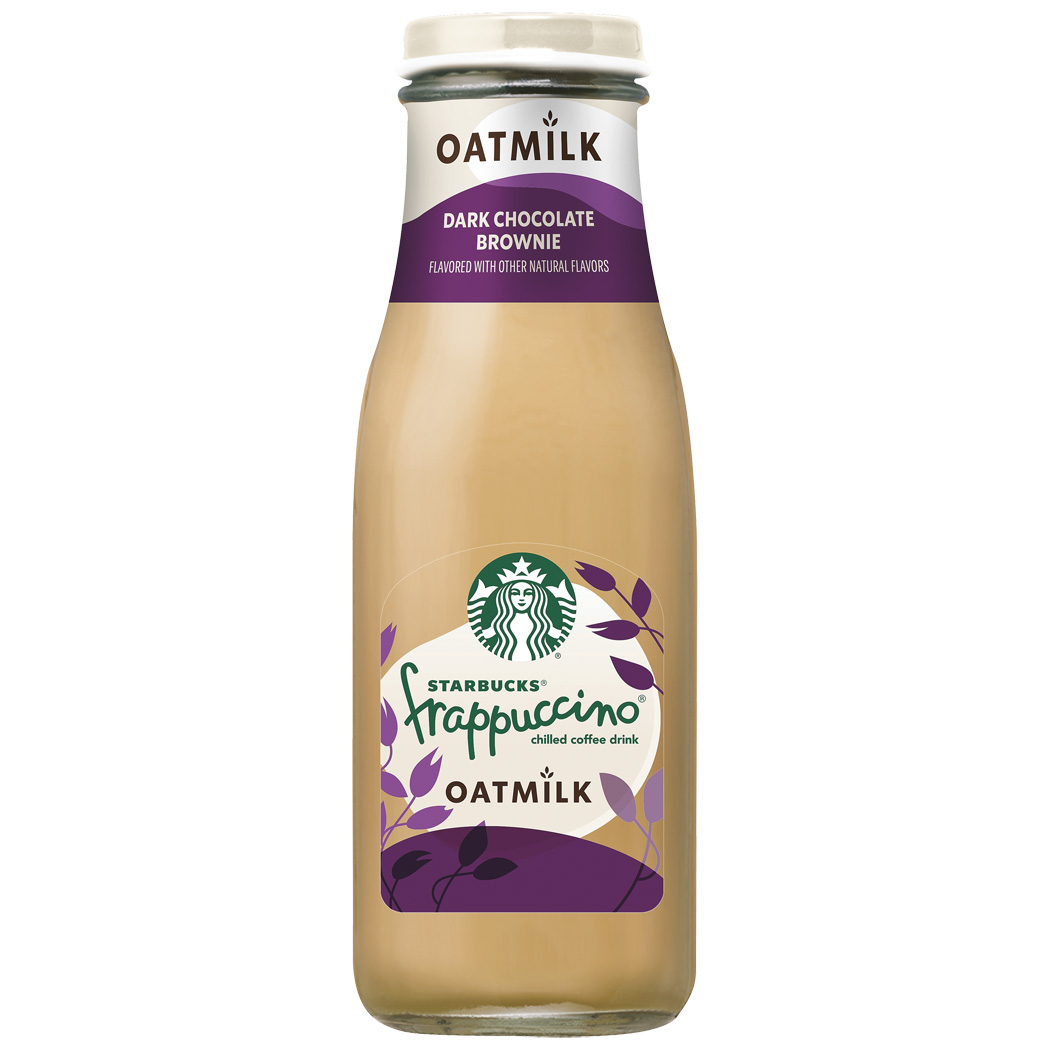 Other New Plant-Based Ready-to-Drink Options from Starbucks
In addition to the two new dairy-free bottled Frappuccinos, Starbucks has also announced the release of a new bottled cold brew made with oat milk and dark chocolate. The 40oz bottle is available at grocery stores and retailers nationwide as of January 25, 2022 for an SRP of $4.99.
Also available in grocery stores as of January 25 is Starbucks' new line of energy drinks: BAYA Energy. Available in Mango Guava, Raspberry Lime, and Pineapple Passionfruit, these energy drinks pack 160mg of caffeine per 12oz can. Find the beverages at grocery stores, retailers, convenience stores, and gas stations nationwide for an SRP of $2.89. Starting March 1, BAYA Energy will also be sold at Starbucks stores across the country.