Okay, so your latest attempt at homemade sushi resulted in something that resembled a cross between a misshapen seaweed burrito and rice log pilaf. Not to fear, our roll-impeded friend. Maybe stick to perfecting that Pinterest banana bread recipe, and reach for that handy delivery app. We got you covered with seven spots offering the sushilicious vegan options of your dreams!
L.O.V.E
West Hollywood
West Hollywood's newest vegan gamechanger, L.O.V.E, is the sister restaurant of beloved healthy hot spot H.O.P.E in Studio City. Opened at the end of February, L.O.V.E is already making waves with 5 stars on Yelp and a bevy of loyal customers for a reason. Serving a range of only fresh, organic, fusion fare from Japanese, Thai, and even South of the Border, cuisines, they've got their own sushi menu that will have you truly questioning what kind of witchcraft goes on in their kitchen. Most of the dishes are gluten-free, and their sushi game is at Serena Williams status, cranking out flavorful hits like Crispy Rice (crispy rice topped with spicy tofu, avocado, jalapeno, green onions, shiitake teriyaki sauce), Mango Avocado Roll (mango, avocado, cucumber, takuan, yamagobo, mild tofu, creamy spicy yuzu sauce), and Tempura Roll (pumpkin, asparagus, carrot). The house-made sauces atop fresh ingredients plus the genius flavor amalgamations of each dish guarantee this will have all your pescatarian friends joining the L.O.V.E fan club. Don't forget to also treat those taste buds to L.O.V.E.'s Thai Tea or their Banana Spring Rolls with Thai Coconut Ice cream to round out that perfectly palpable order.
Delivery or pickup: Postmates
Hours: Mon-Sat 12pm-3pm, 5pm-9pm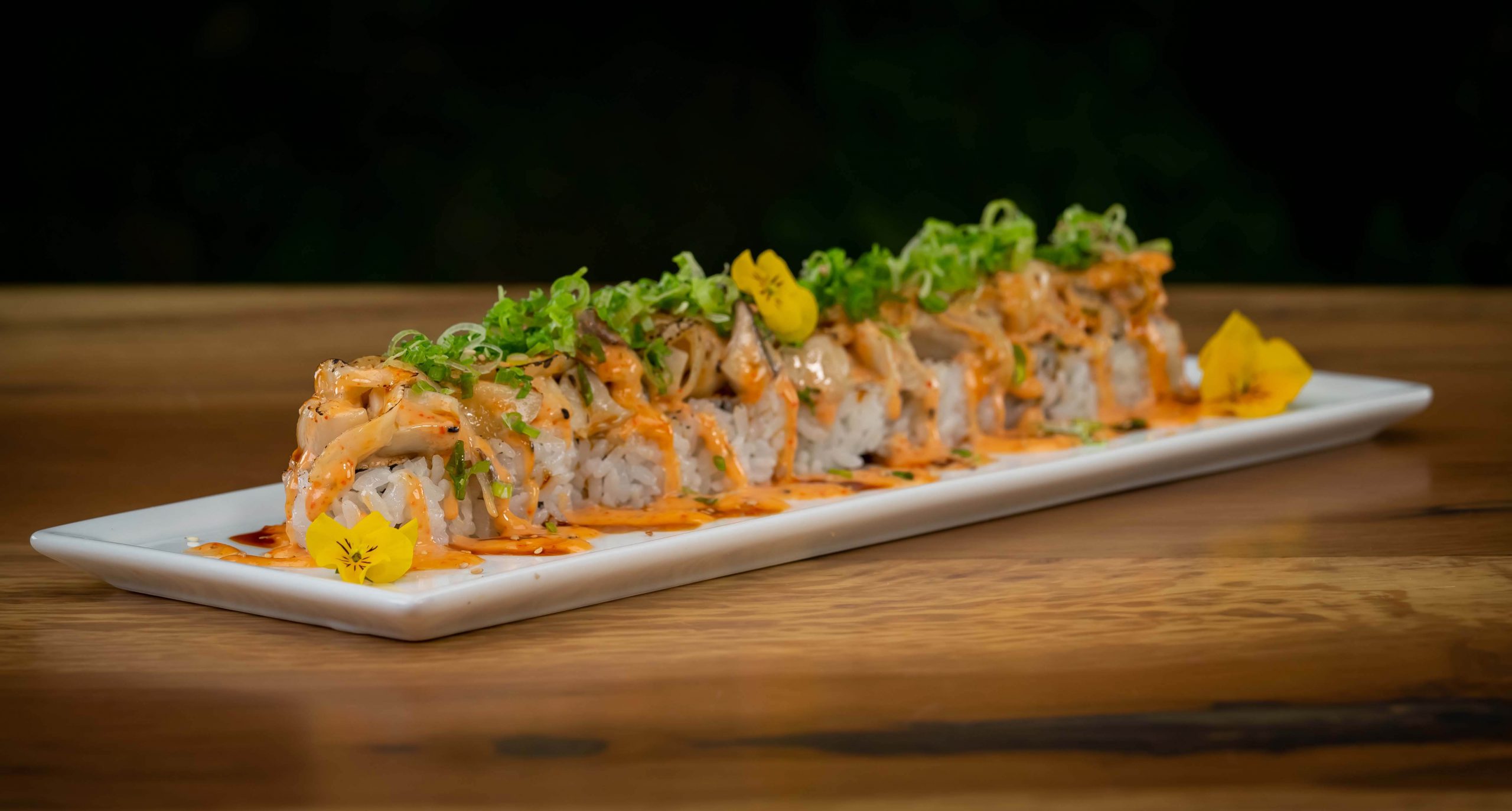 Krispy Rice
Greater LA
Celeb hot spot Katsuya's new delivery-only restaurant stemmed from a single menu item so popular, they decided to create an entire concept around it. Known for their perfectly grilled blocks of sushi rice covered with toppings, this expertly charred fan favorite gave birth to Krispy Rice. The brand delivers their sushi treasures in super Instagrammable portable bento containers too cute not to reuse after you've devoured all your bounty. Titan SBE's brainchild allows you to customize your box with all the vegan options they offer, including fancy favorites like Truffle Avocado Krispy Rice, Truffle Avocado Handroll, and the Truffle Avocado Cut Maki Roll, or classic fresh satisfiers like the Avocado Cut Maki Rolls, Cucumber Cut Maki Rolls, and Edamame. The flavors are high-end, clean, comforting, and will transport you to a wonderful time of four-inch heels, crisp button downs, and being closer than six feet. Bonus: no LA traffic or chances of running into paparazzi!
Delivery or pickup: Postmates, Uber Eats, DoorDash, Grubhub, and Caviar
Hours: Daily 11am-11pm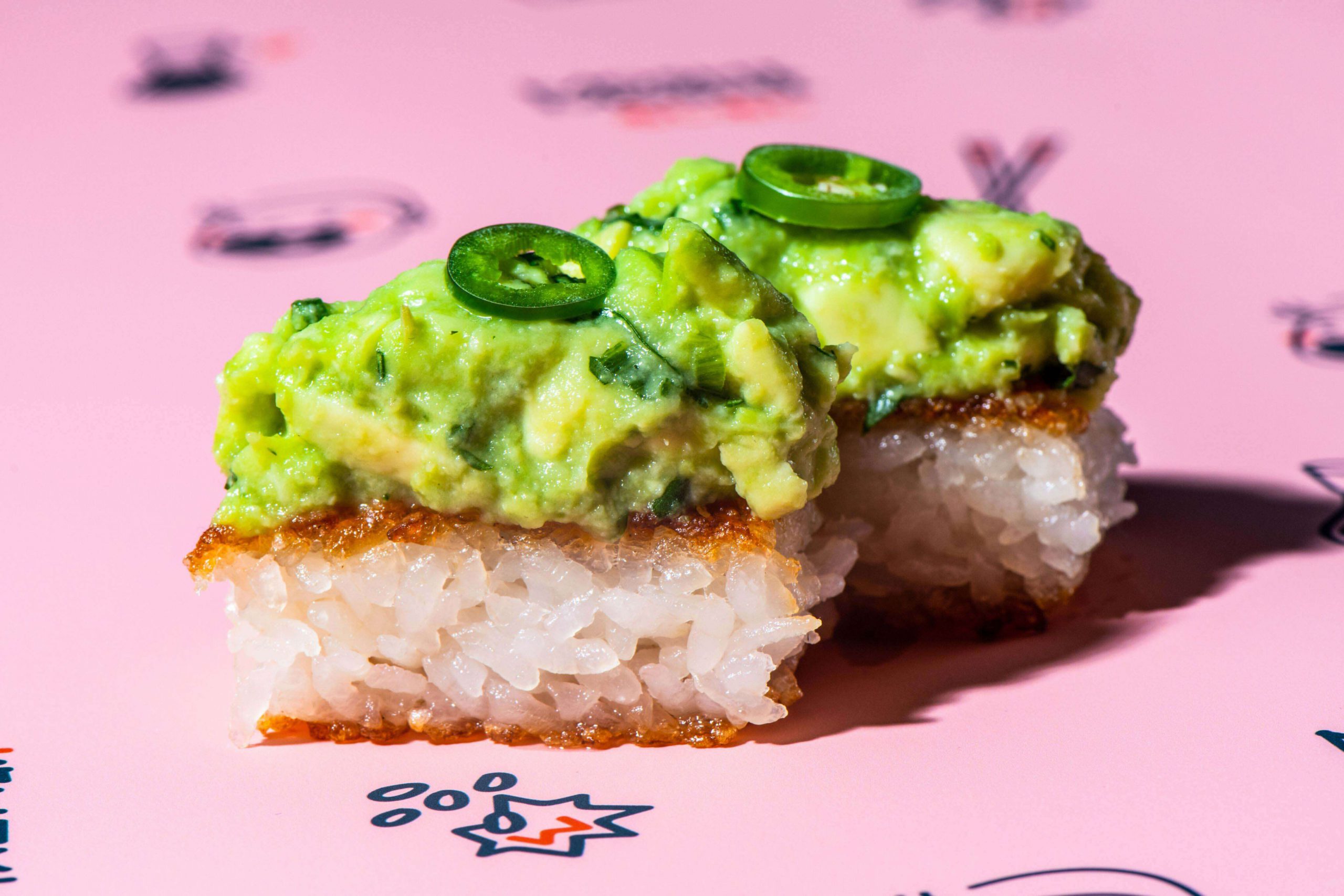 Yamashiro
Hollywood
Hollywood's famed restaurant with the most epic view has recently teamed up with Heal Los Angeles Foundation to support healthcare heroes during this time. Yamashiro is doing their part during this time by participating in the #ShareAMeal program, where for every Bento Box purchased, the legendary OG hotspot will donate a meal to one healthcare professional at a neighboring hospital. For just $12 a bento box, you'll be able to share a meal with a local hero. Write in the notes that you want the vegan option and you'll get an adorable lunch of steamed rice, cucumber salad, edamame, nigiri rice ball, veggie roll, and seasonal vegetables. This perfectly curated lunch treat will come in it's own reusable bento container, and will have you smiling at it's portability and symmetry. Yamashiro is also out here to keep you from boredom as they are now offering "Sake to Go" for delivery or pick-up orders. Add a bottle of their Nigori, a soft fruit blend with notes of cherry blossom and white grape, or up your game with the Hiro Red "Junmai," a delicate, silky blend with notes of melon, tapioca, and white pepper.
Delivery or pickup: Yamashiro's website and Caviar – Free delivery on your 1st order!
Hours: Thurs-Sat, 5-9pm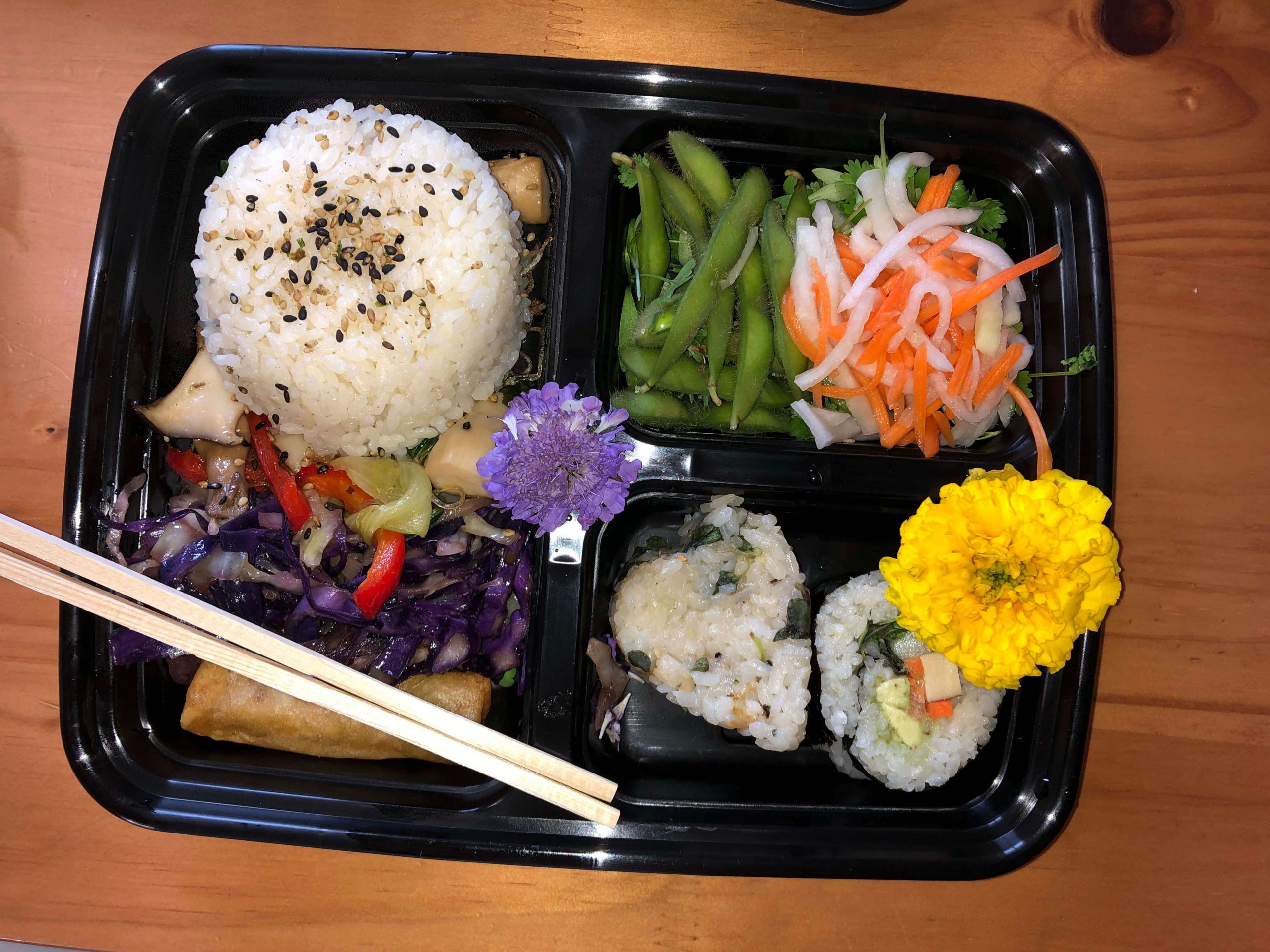 Shojin
DTLA
The OG when it comes to vegan sushi, Shojin has been serving up fire sushi that's additionally gluten-free, macrobiotic, organic, and all natural since before Impossible Burger became trendy. Delivering some of their greatest hits out of their DTLA location, choose from savory combos like the Sushi Lover #1 (Baked Crab Cake Handroll, Shojin Dynamite Roll, Crunchy Tiger, Baked California Roll) or their Lunch Bento Box 24 which lets you choose one of their bomb sushi rolls (Shojin Dynamite Roll, Pirates of the Crunchy, Baked Cali Roll, or Shojin Roll 2020), #1 side (Stuffed Shiitake Mushroom, Green Forest-half roll, Gyoza, Miso Soup, Ice Green Tea Ginger Cooler, and #2 side (Orange Chicken & Vegetable, Forest-half roll, Gyoza, Miso, or Iced Green Tea Ginger). With generous portions and unique seasonal combinations, Shojin never disappoints and always delights. Feeling the need for some variety? Add one of their comforting bowls of ramen or their famous Matcha Green Tea Cake. You'll be full, satisfied, and ready for a leisurely nap!
Delivery of pickup: In-house delivery, DoorDash, and Grubhub
Hours: Tues-Fri, 4-8pm and Sat-Sun 1-8pm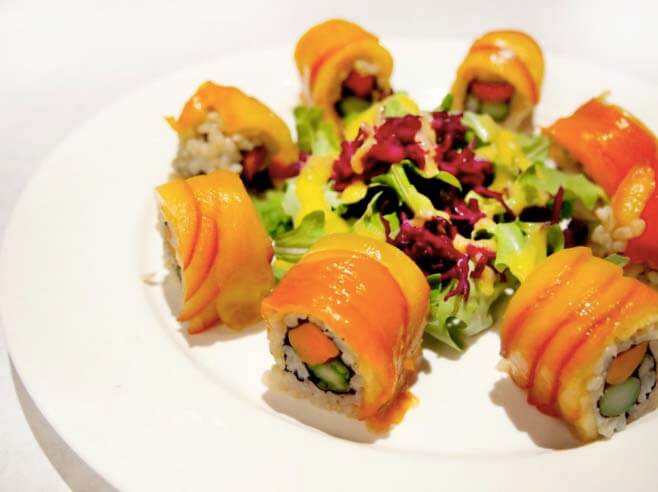 Kombu Sushi
Silver Lake
Where hipsters and trendy power-walking yoga moms get their sushi fix, family-owned Kombu is known for their staple vegetarian sushi menu (which is actually vegan). The brother-sister run restaurant provides their customers with traditional Japanese flavors with a contemporary twist, resulting in the familiar classic flavors you love with some surprises in the mix! Merging creative ingredients to craft rolls like their Hippy Roll (Shiitake mushrooms, inari, cucumber, gogbo, and scallions) and their Vruit Roll (avocado, asparagus, cucumber, cilantro, gobo, mango, serrano pepper) takes your taste buds to new places. Looking to stick to something more classic? Select local winners like the Veggie Roll (avocado, asparagus, cucumber, gobo, kalware, sprouts), or the Veggie Crunch Roll (assorted vegetable tempura roll). In addition to being available on all the usual delivery apps, the rolls are also available directly from their website, giving you their Happy Hour menu prices, like, $10 or under a roll!
Delivery of pickup: In-house delivery, Postmates, DoorDash, and Grubhub
Hours: noon-9:30pm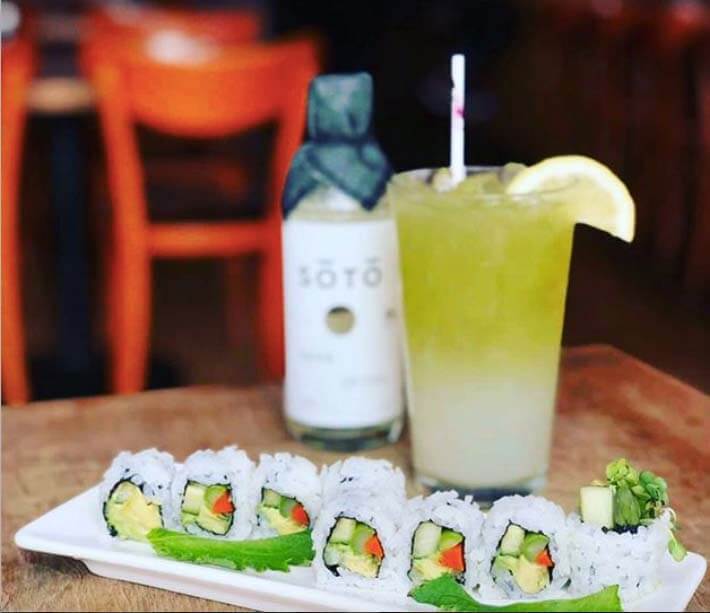 Blue Bird Sushi
Long Beach
The most vegan-friendly non-vegan sushi place you'll ever encounter, Blue Bird is a god among men when it comes to quality vegan sushi. Their vegan menu is just as extensive as their regular sushi menu and could fool even the most cunning of sushi fish connoisseurs. This local favorite attracts sushi lovers from all over LA and surrounding areas with specialties like their LB Vegan Roll (baked vegan scallop on top of their veggie roll), the Popeye Roll (spinach vegan cheese, fried shitake, veggies, avo, wrapped in soy), and their Vegan Tuna Sushi (vegan tuna nigiri on rice which will have you doing a double take). Their miso soup is fresh, savory, and out of this world, and they are constantly adding new vegan mastermind concoctions onto their daily specials list. If there was such a thing as homestyle sushi, Blue Bird would be the spot, where customers are greeted like family and treated as such. Bonus: Blue Bird is offering "buy 1 roll, get the 2nd roll 50% off" every day until the pandemic ends for pickup orders only!
Delivery of pickup: Postmates and Uber Eats
Hours: Mon, Wed, Thurs, Fri 5-10:30pm, Sat 1-10:30pm, Sun 4-10pm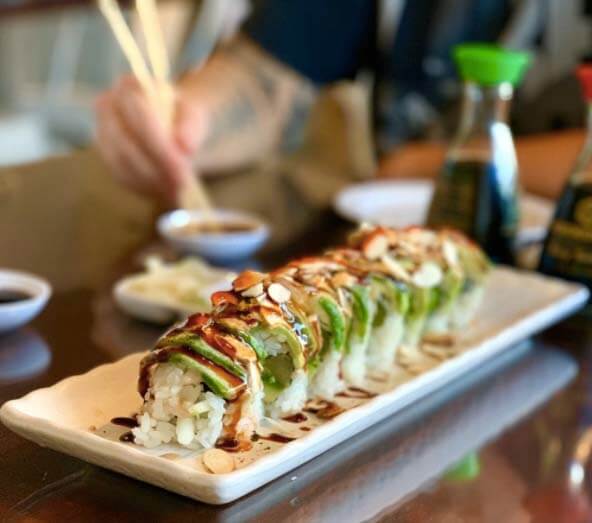 Wild Living Foods
DTLA
We can all agree that health is wealth, and at Wild Living Foods, their key focus is to provide a matrix of nutrient dense and healing plant-based foods. You'll munch away at their delightfully fresh and organic ingredients never thinking twice about the fact that everything is raw. Choose from body-loving favorites like the Dynamite Roll (cashew cheese, red cabbage, tomato, avocado, ginger, red onion, coco jerky, ranch), the Spicy Tuna Roll (almond tuna, tomato, mustard, BBQ kale chips, spicy chipotle mayo, avocado, red cabbage) and the Mango Roll (macadamia cauliflower rice, mango, avocado, spring mix). Don't forget to add a pint of their decadent dairy-free ice cream like their Chocolate Chip Salted Caramel Cookies or Bean Strawberry Mint for the perfect night in.
Delivery or pickup: Postmates, DoorDash, Grubhub, Uber Eats, Caviar, and ChowNow
Hours: Daily 9am-9pm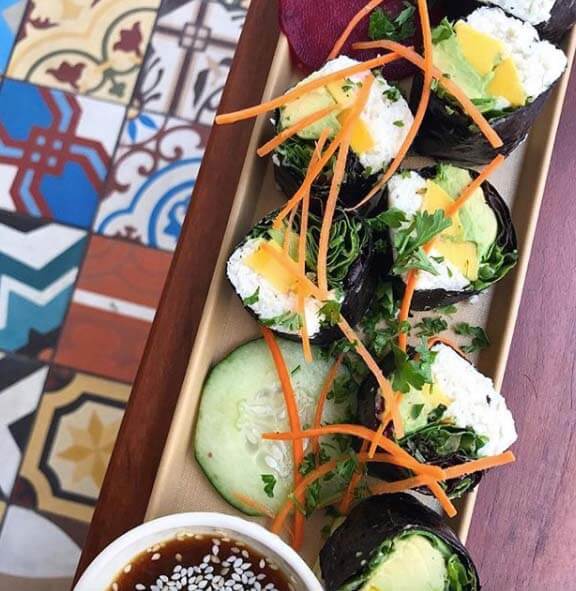 RELATED: 8 Vegan Brunch Spots in L.A. Offering Takeout and Delivery
---
Want even more LA vegan food, news, and lifestyle content? Subscribe to VegOut LA Magazine!