If you're headed to the City of Brotherly Love, chances are you'll be on the lookout for the best vegan Philly cheesesteak you can find. But, you don't have to travel to get your hands on a quality sando. There are a variety of options available across the country. So save that airfare—we've rounded up 7 places to get a vegan Philly cheesesteak nationwide.
Philadelphia, PA
Vegan
This wouldn't be a Philly cheesesteak list if we didn't do honor to one on home turf. This isn't the first rave review of the option at Blackbird Pizzeria, and certainly won't be the last, with some customers calling for wholesale and national delivery of the prized sandwich. Made with hearty seared seitan, garlic, herbs, and all the veggies, what sets this sando apart from the rest is the house-made cheese whiz that doubles as an incredible dip for the crispy fries on the side.
New York, NY
For our New England friends, there are several options across the Big Apple, but our favorite comes from Plentiful Burger. Located on the Upper East Side, the vegan selection is plentiful at this foodie paradise, but the Philly Cheesesteak makes top of the list. The Beyond Cheesesteak sandwich is made with Beyond burger, sauteed peppers, onions, chipotle mayo, and vegan provolone cheese on a toasted garlic hoagie roll.
Atlanta, GA
Vegan
Next up, we're heading south down the coast to Atlanta, Georgia. Here you can find Planted Soul, formerly known as Soul Vegan. This fully vegan spot has not one, but two Philly Cheesesteak options with the classic sando build, as well as an egg roll Philly steak option with a side of house sauce to turn the savory delight into dippable fare.
Los Angeles, CA
Vegan
We promised a coast to coast selection, so you know LA would come through for us! Cruzer Pizza is 100% vegan and 100% delicious. The Philly Cheesesteak at this spot comes piled high with vegan steak and a mountain of veggies—including peppers, onions, and mushrooms—with a layer of melty vegan cheese added on top.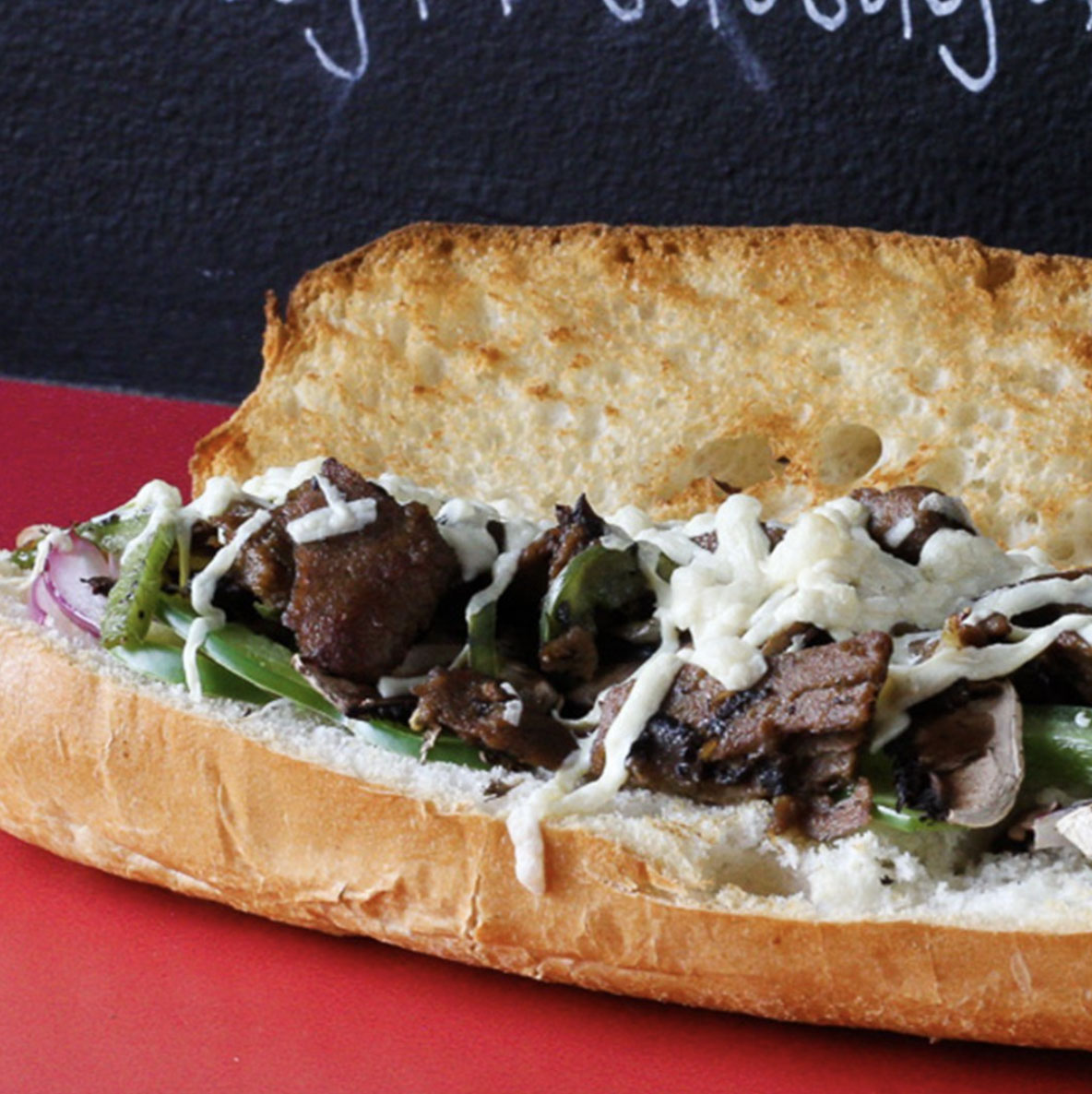 Chicago, IL
Vegan
The cheesesteak at Chicago hot spot Kitchen 17 will blow any non-believer away. Containing all of the classic toppings—with some added flair—this menu favorite brings in delicious chopped seitan, melty mozzarella, spicy giardiniera, and a creamy vegan ranch. While you're there, try one of Chicago's "claims to fame" by picking up some vegan deep-dish pizza, too. Carb heaven!
West Palm Beach, FL
Vegan
The website for Dina's Vegan Deli & Desserts proudly displays their famous vegan Philly cheesesteak front and center. Being from Philadelphia, owner Dina and her father Joe know a thing or two about a good hoagie. Diners can enjoy authentic cheesesteak flavor with her house-made seitan steak and cheese whiz packed into a sub roll with fried onions, hot peppers, and ketchup.
Portland, OR
Vegan
This all-vegan Portland pop-up delivers the cheesesteak realness in a big way. Available Friday-Monday, not only does the menu include a classic Philly cheesesteak, but also includes cheesesteak fries, and cheesesteak egg rolls. Say what? Buddy's Steaks is a must-try! Make sure you grab a cup of water ice for that sweet East Coast vibe.