Where to find plant-based breakfast handhelds in the Windy City.
Hey Chicago! Feeling brunchy? We've got the hookup on brekkie handhelds for on-the-go dining and sitdown brunches alike. Think sandos filled with vegan egg, seitan bacon, melty plant-based cheese, and spicy Hollandaise sauce—these morning classics are seriously loaded. Check out our list for the best vegan breakfast sandwiches in Chicago.
Lakeview
Vegan eats, but make it fancy—this chef-inspired cafe creates gorgeously styled and delicious plant-based fare. Looking for an upscale vegan brunch vibe? The Croissant Breakfast Sandwich from Fancy Plants Cafe is a must. It contains JUST Egg, Chao cheese, smoky seitan, and tomato slices served on a homemade croissant loaded with veggies.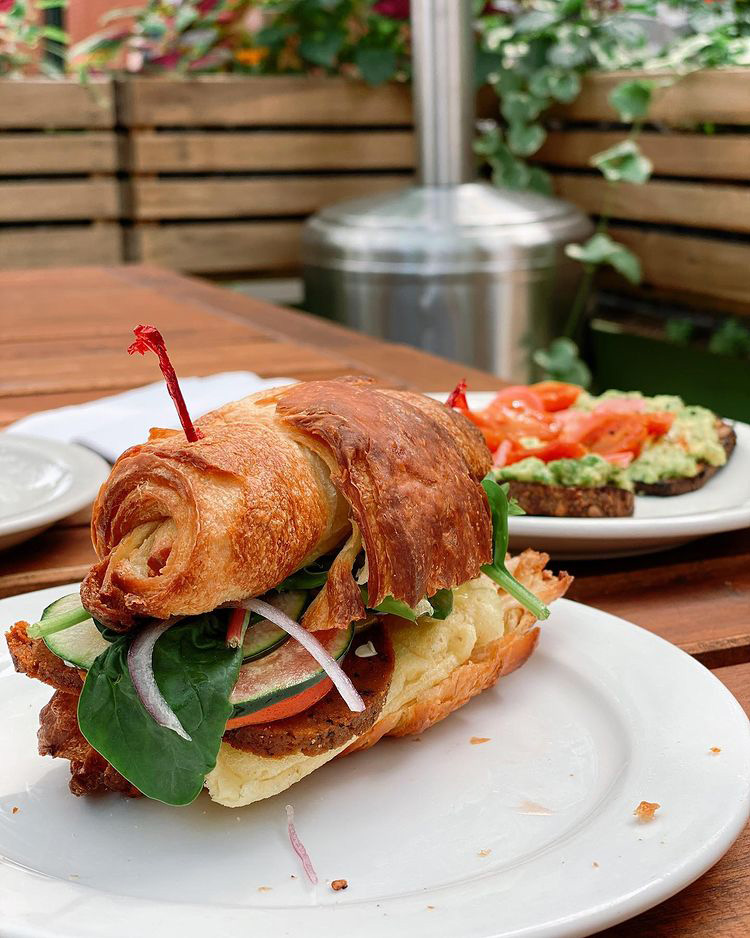 Photo credit: @anikaholt on Instagram
West Town
Brought to you by Upton's Naturals, this Chicago-based brand opened Upton's Breakroom in 2013 to feed factory staff and local customers. The menu is fully vegan and packs some epic brunch options to choose from. Be sure to snag their breakfast sandwich filled with bacon seitan, grilled tofu, cheese sauce, spinach, and tomato on an English muffin.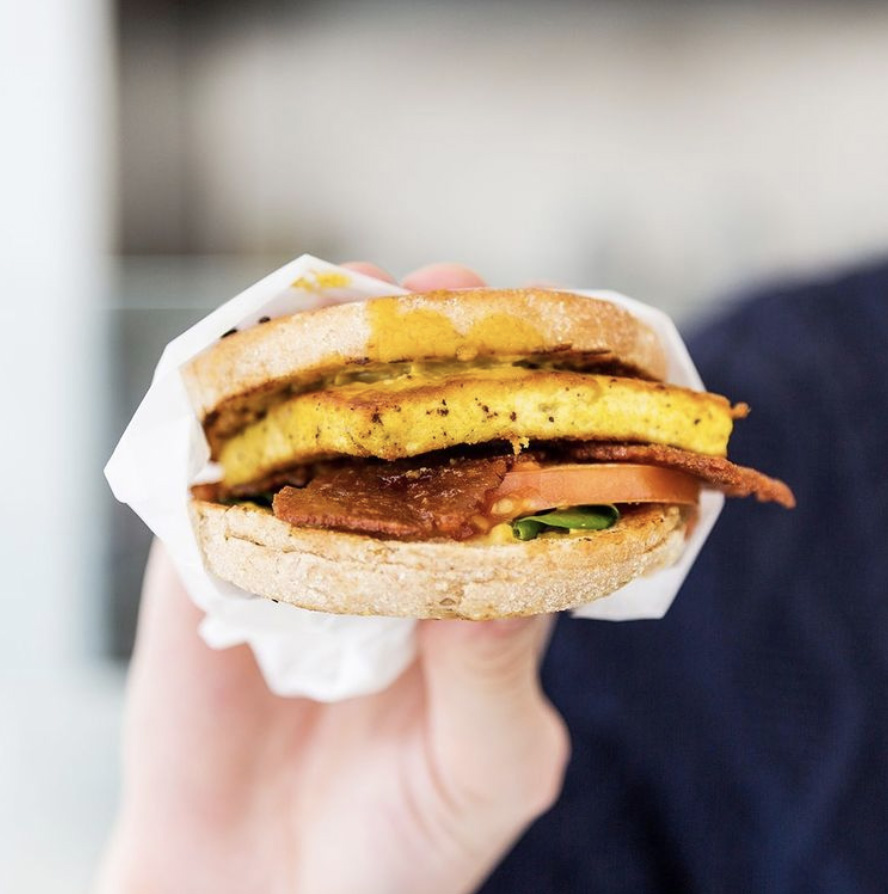 Old Town
Vegan-Friendly
Located in Old Town, 80 Proof offers patrons a unique dining-to-nightlife experience. The restaurant and bar combo offers a full vegan menu featuring cauliflower wings, mac 'n' cheese, and a craveable vegan breakfast sandwich. The brekkie handheld can be found during brunch hours and contains maple-sage seitan, American cheese, and scrambled JUST Egg atop an English muffin with tater tots.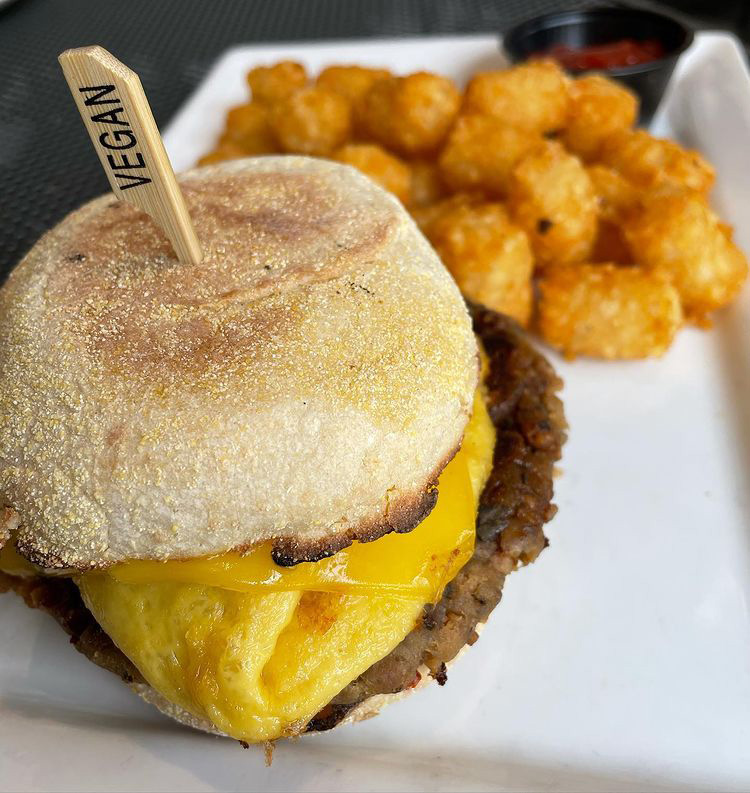 Photo credit: @mylifemoni on Instagram
Multiple Locations
Vegan-Friendly
This cafe chain offers artisanal vegan-friendly eats that pair well with all things coffee. Opt for the Everything Plant-Based Sandwich next time you're at a Peet's Coffee location. This breakfast handheld is made with Beyond Breakfast Sausage, JUST Egg Folded, and melty vegan cheddar on a toasted everything bagel thin. They're really putting the bae in bae-gel with this one.
Rogers Park
Vegan-Friendly
This casual, modern cafe is serving up a vegan version of their Green Eggs + Jam sandwich. The Vegan Green Sammie + Jam contains two seasoned and fried slabs of local Phoenix Bean tofu with house onion jam, vegan garlic chive mayo, and pan sizzled kale on sourdough bread. SmackDab offers several additional vegan options to enjoy.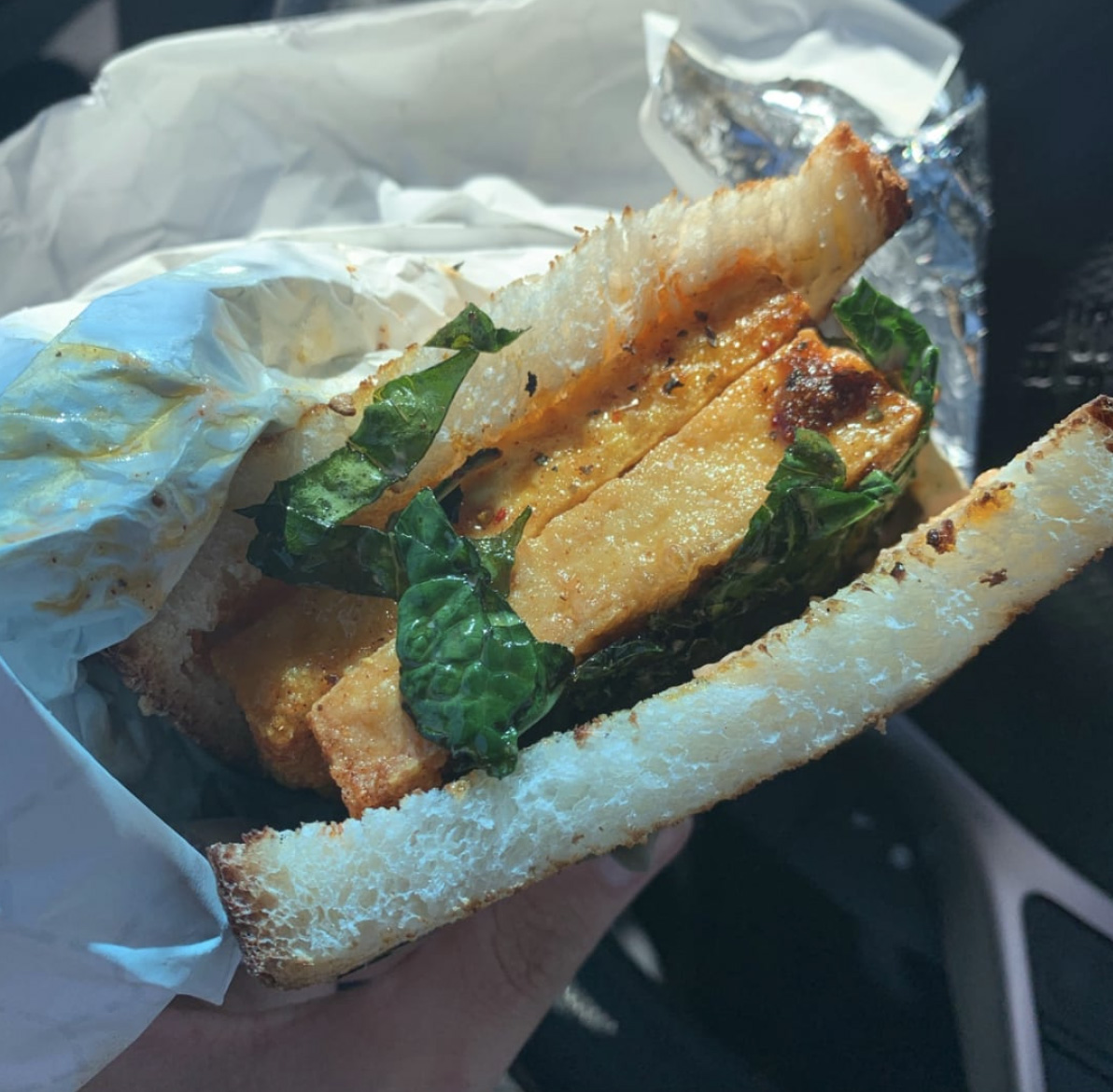 Photo credit: @morpho777 on Instagram
Lincoln Park & The Loop
Vegan-Friendly
Located in both Lincoln Park and The Loop, Left Coast Food + Juice is a must for avo toast, acai bowls, and vegan-friendly breakfast sandwiches. Snag the Surfside Breakfast Sandwich which contains JUST Egg, vegan cheddar, arugula, mojo rojo, and vegan mayo on ciabatta. Omit the breakfast sausage or sub in Impossible Burger.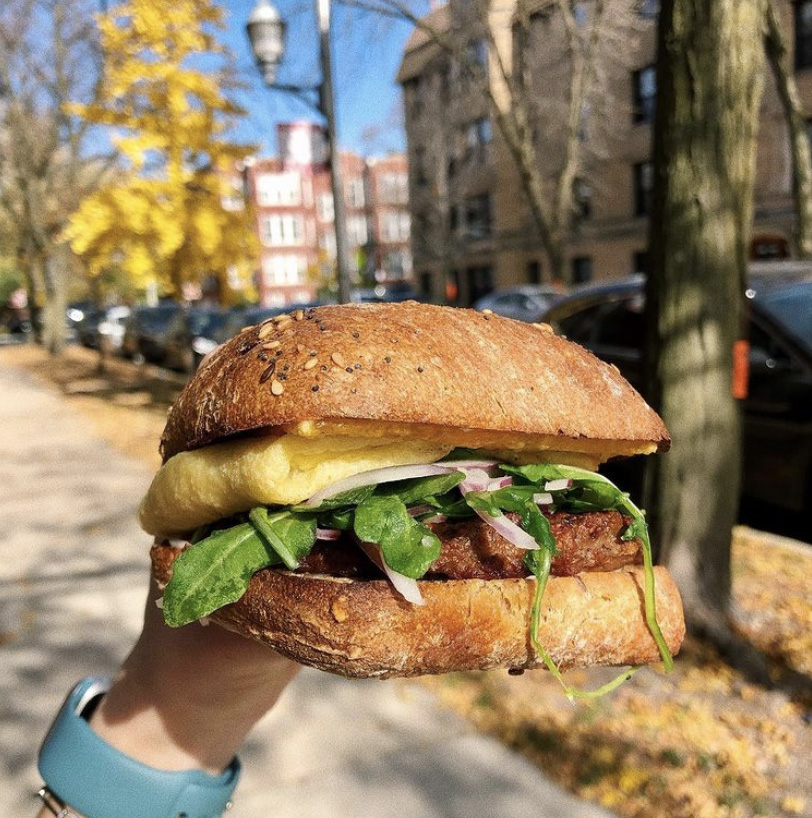 Photo credit: @pinesdines on Instagram
Wicker Park
Vegan-Friendly
The 70s rock-inspired eatery offers two vegan brekkie sandwiches. We're loving the Vegan Bodega Breakfast Sandwich. This NYC-style sando contains vegan egg, vegan sausage, and vegan cashew cheese on a grilled kaiser roll. Hash also offers a Vegan Bagel Sandwich with vegan egg, sausage, roasted peppers, arugula, and pesto mayo.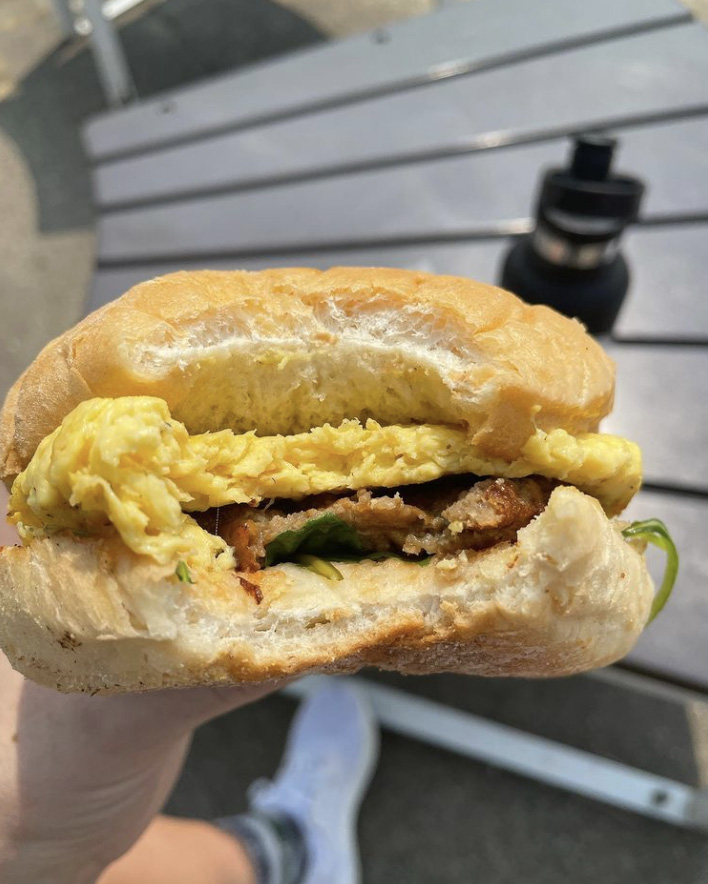 Photo credit: @mawdel2model on Instagram
Wicker Park
Vegan-Friendly
Comfort food is the name of the game at Handlebar, and this neighborhood eatery did not skimp on the brunch fare. Be sure to try the HandleMuffin which packs a hash brown patty, blackened tofu, vegan cheese, caramelized onions, and sriracha Hollandaise onto a toasted English muffin. Major bonus: This special comes with breakfast potatoes!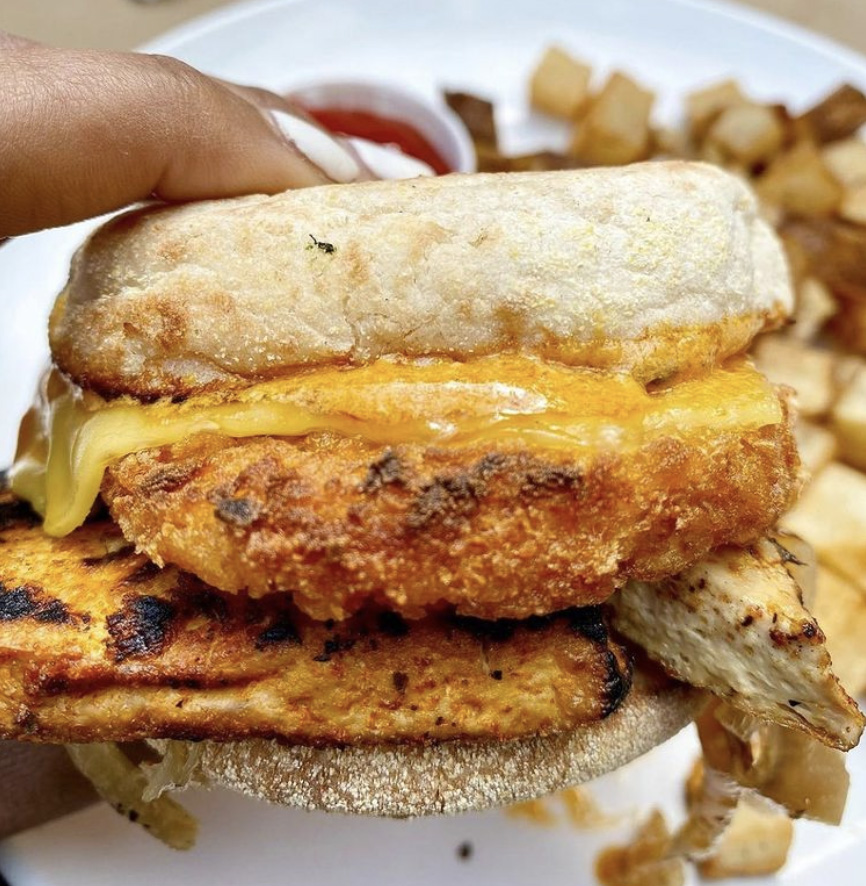 Photo credit: @leelaeats on Instagram