Find these tasty plant-based soup options at your local grocery store.
Soup is the ultimate comfort food—bring on the cozy dinners, last-minute meals, and sick-day eats! From vegan minestrone and split pea varieties to creamy potato and Vietnamese-style pho, we love to keep our plant-based pantries stocked with all things soup. Check out our list of the best store-bought vegan soups for tasty and comforting options to keep on hand.
This all-vegan company offers three delicious soup options to level up your plant-based pantry stash. Canned soup varieties from Upton's Naturals include Chick Tortilla, Italian Wedding Soup, and Chick & Noodle. We've got our eye on the Italian Wedding soup which is made with seitan and veggies. These options are inventive, tasty, and convenient—just heat and enjoy.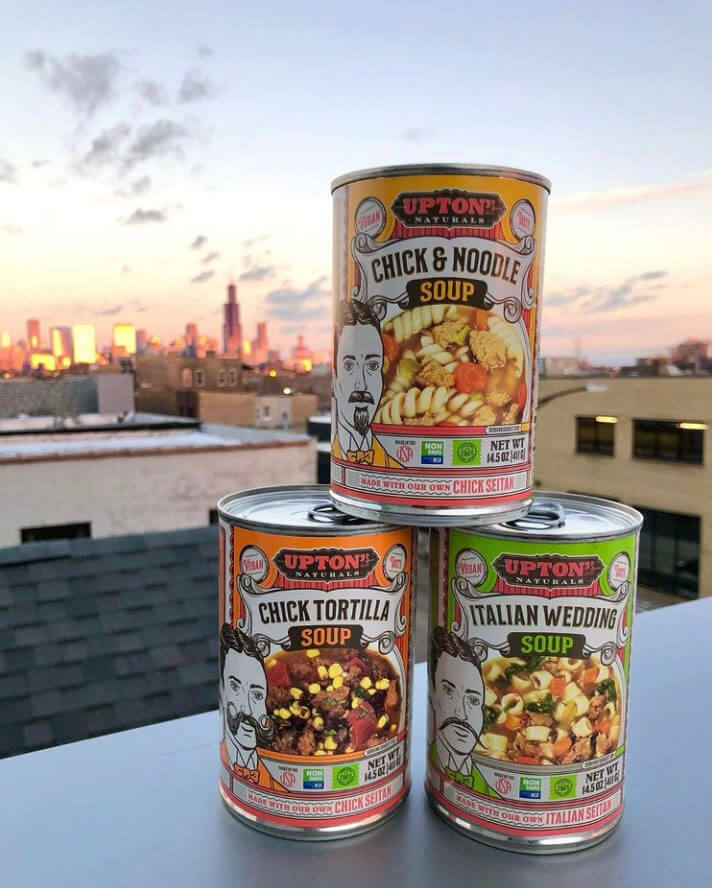 Photo credit: @veganthingsilike on Instagram
Gardein products are serious vegan staples and these plant-based soups are no exception. The brand offers six soup varieties, including Chick'n Noodl', Minestrone & Saus'ge, and Be'f & Vegetable, along with two cruelty-free canned chilis to eat and cook with. Be sure to snag a can, or eight, of these veganized shelf-stable classics.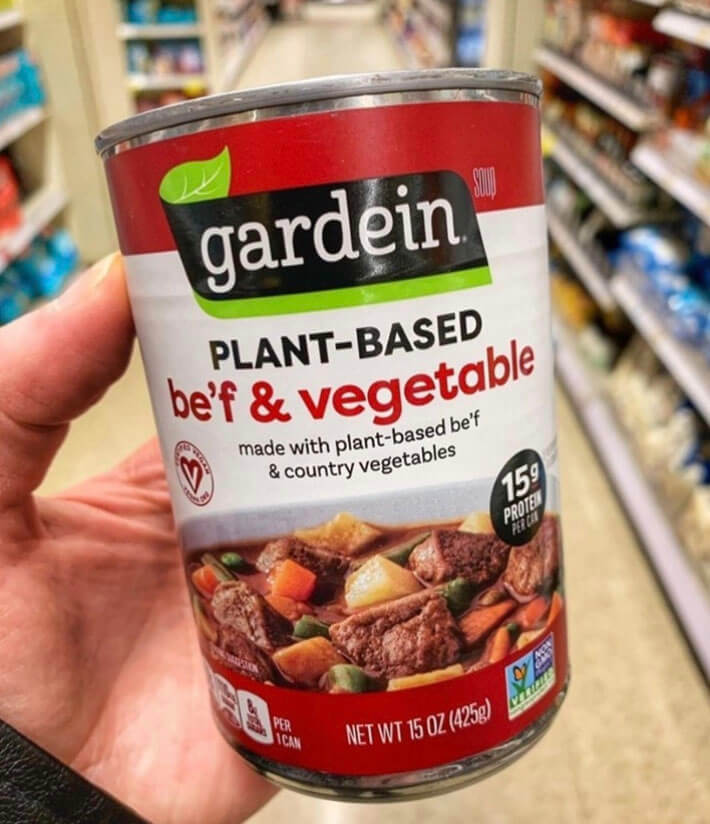 Photo credit: @theveganzombie on Instagram
Good-for-you brand Dr. McDougall's Right Foods offers microwavable soup cups in flavors like Split Pea, Tortilla, and Spring Onion. Additionally, organic soup varieties like Minestrone and French Lentil come in ready-to-serve packs. These heat-and-eat soups are a must! The brand also offers ramen and noodle cups to enjoy as well.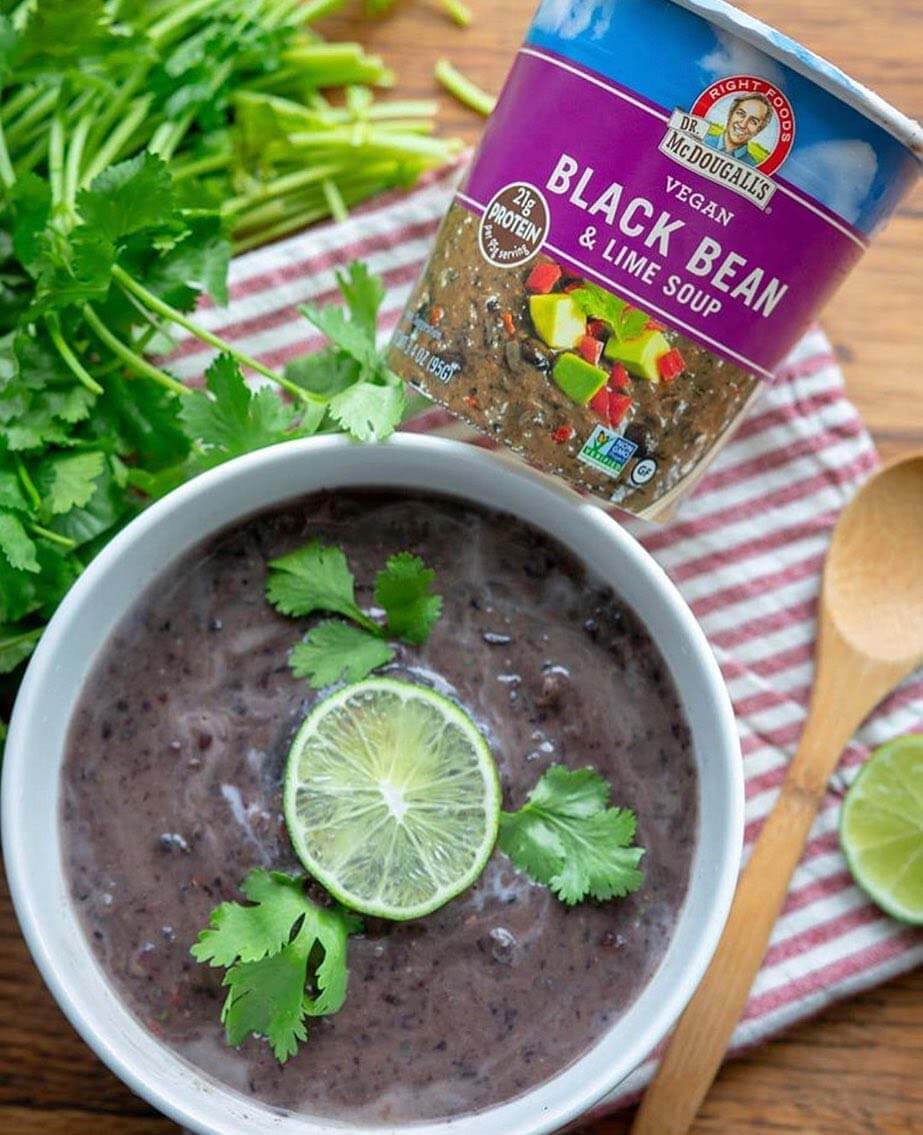 Photo credit: @thesarahsullivan
Having major miso soup cravings? Edward & Sons Trading Company offers animal-free, shelf-stable miso cups for souper easy meals and snacks. Try the Organic Traditional Miso-Cup with Tofu or the Original Golden Vegetable Miso-Cup for an instant cup of comfort. The brand also offers vegan-friendly gravy mixes, mac 'n' cheese, and breadcrumbs.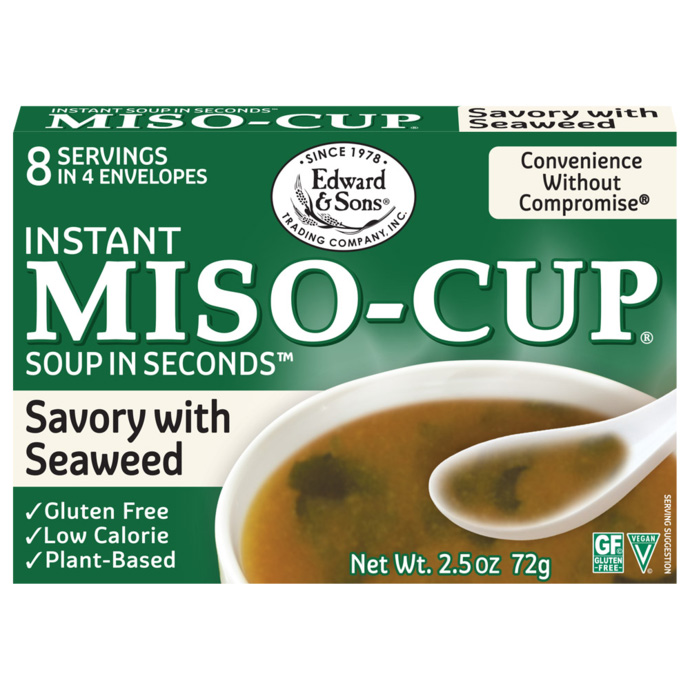 Whole Foods Market does it again! Their store brand, 365 Everyday Value, offers organic, shelf-stable soups—like Three Bean Chili—along with several cartons of veggie broth to make DIY soup at home. While you're there, check out the selection of comforting soups such as Carrot Ginger Miso and Old School Vegetable in the prepared foods section.
Signature Tortilla Soup, anyone? Packed with vegetables, beans, and corn, this organic, chef-crafted soup from Wolfgang Puck really hits the spot when you're sick, cold, or just having a busy night. We especially like our soup loaded with crushed tortilla chips, avocado chunks, and a dollop of vegan sour cream.
Vegan-friendly brand Amy's Kitchen offers a plethora of tasty canned soup options you need in your pantry. Plant-based offerings like Thai Curry Sweet Potato Lentil, No Chicken Noodle, and Chunky Tomato Bisque keep us coming back for more of these California-inspired soups. Amy's has a wide variety of other tasty convenience foods like frozen entrees and burritos.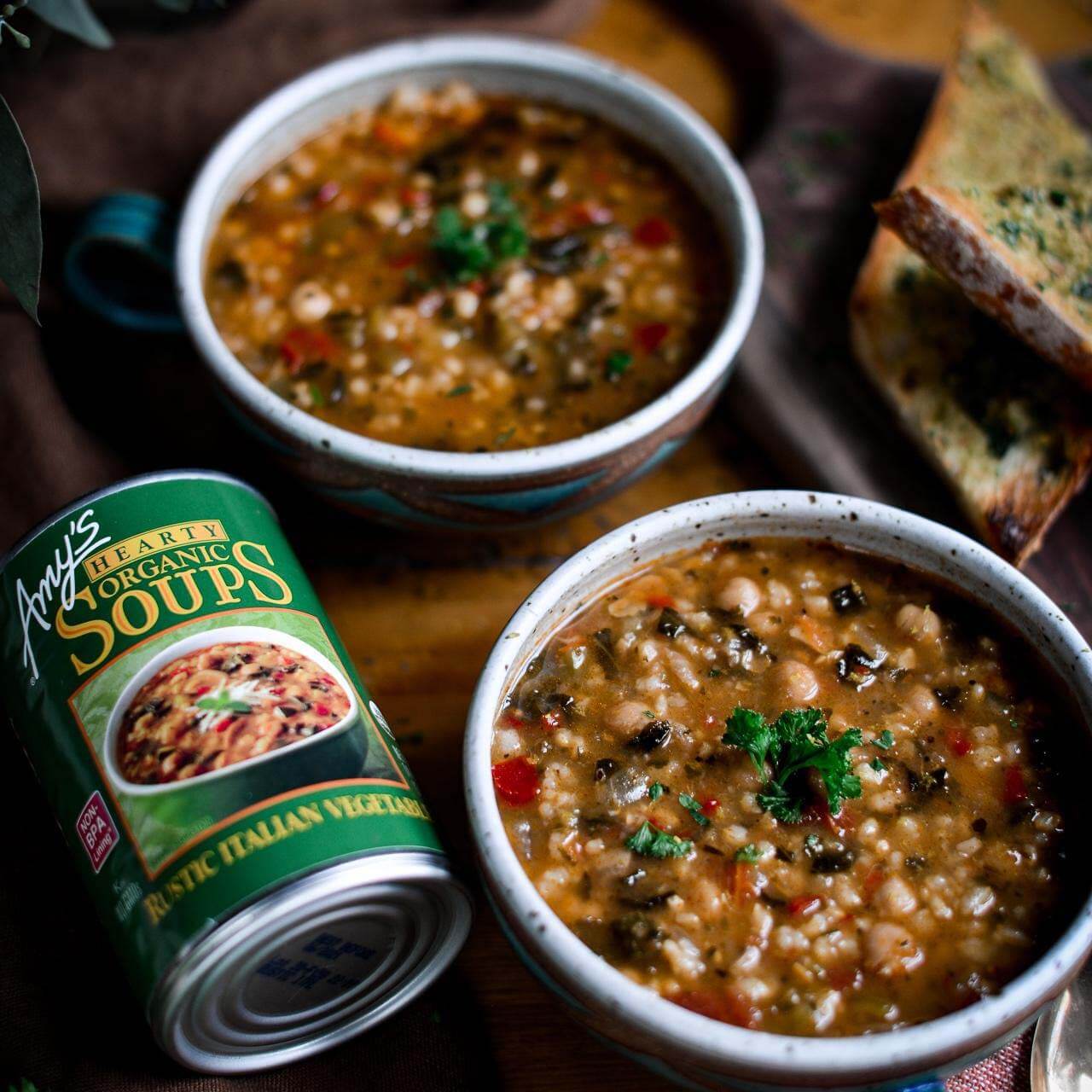 Campbell's Well Yes! offers canned plant-based soup options like Black Bean & Vegetable and Hearty Lentil with Vegetable. These delish soups are ready-to-eat, so just heat and serve. Want to take a warm thermos of soup as you grab some fresh air? Try the Harvest Carrot & Ginger Sipping Soup for no-mess, on-the-go eats.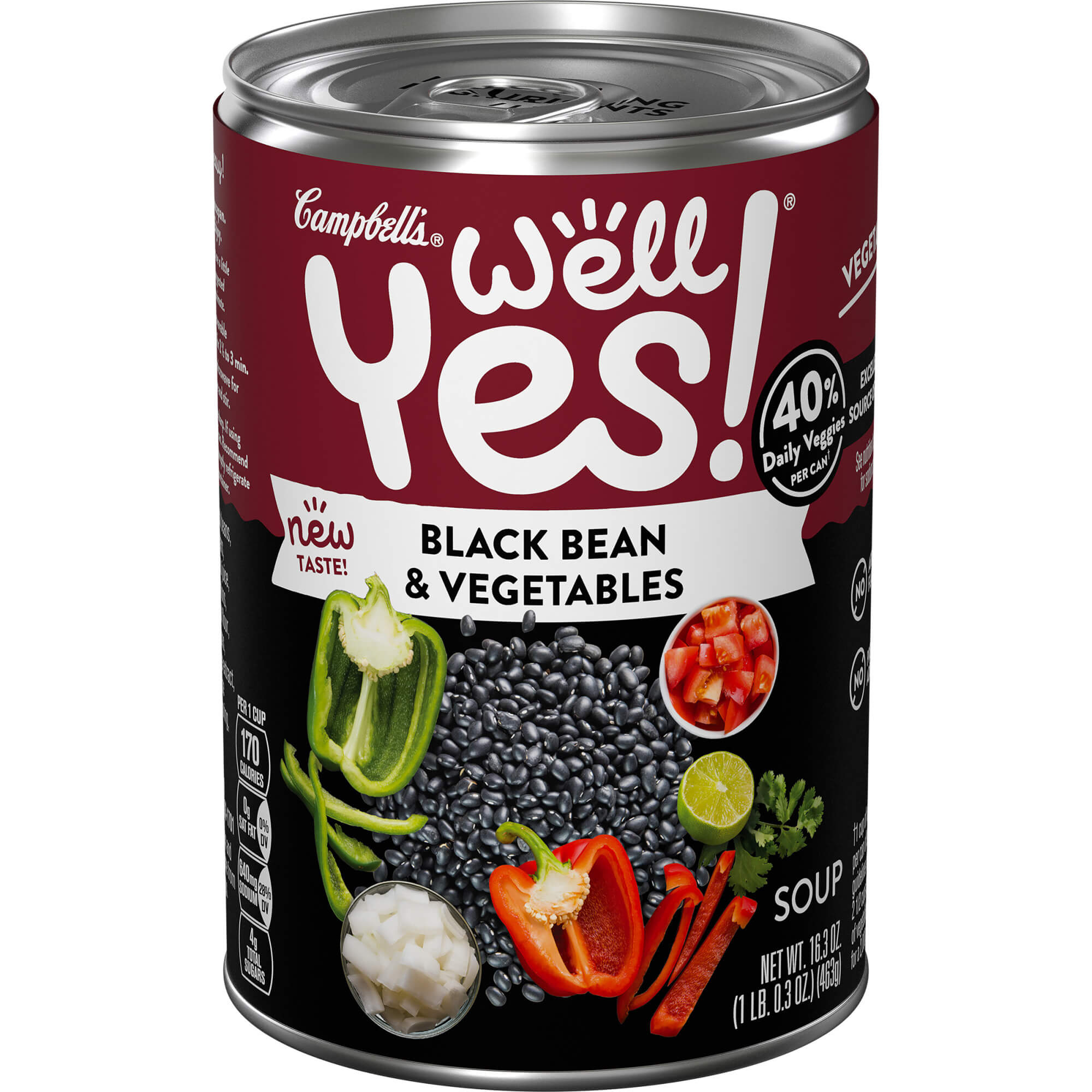 We're living for these vegan soup options from Pacific Foods. Check out the pourable tetra packs of smooth soups like Organic Creamy Garden Tomato Oat Milk Soup, cartons of chunkier varieties like Organic Vegetable Quinoa, and creamy plant-based broths like Organic Herb & Roasted Garlic Broth infused with pea protein. We'll take them all!
This ingredient-proud company offers a wide range of cruelty-free soup options to keep your pantry stocked. If creamy soups are your thing, try the Imagine Foods Super Greens or Potato & Leek varieties. If chunky soups better satisfy your hunger, pick up the Moroccan Chickpea & Carrot on your next trip to the store.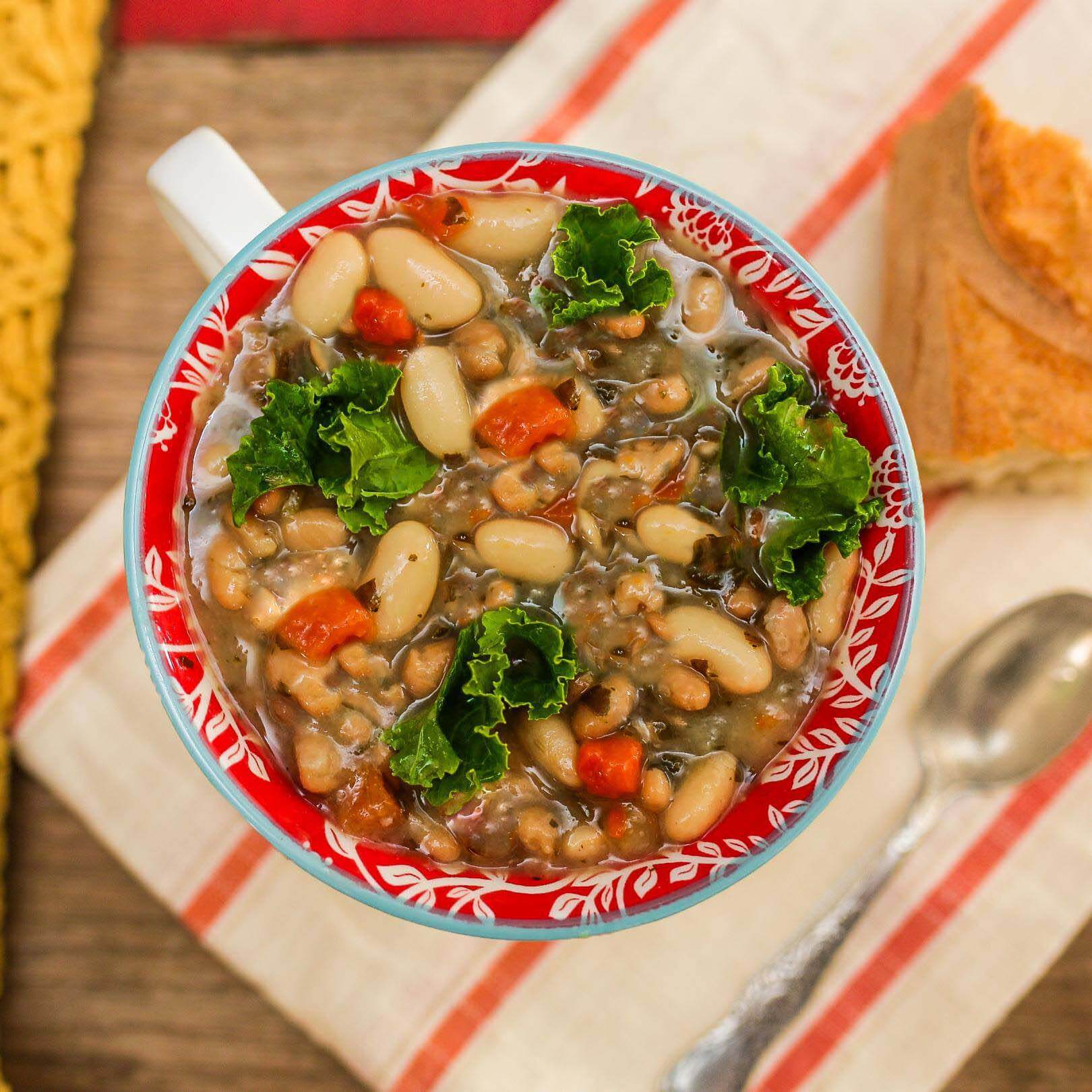 Restaurant-style soup bowls coming right up! Try Annie Chun's soup bowls in Japanese-Style Shoyu Ramen, Thai-Style Coconut, Vietnamese-Style Pho, and Chinese-Style Hot & Sour varieties. These flavor-packed bowls are ready in two minutes—hello, quick, warm, and comforting vegan goodness! We love topping these with freshly chopped green onions and spicy sriracha.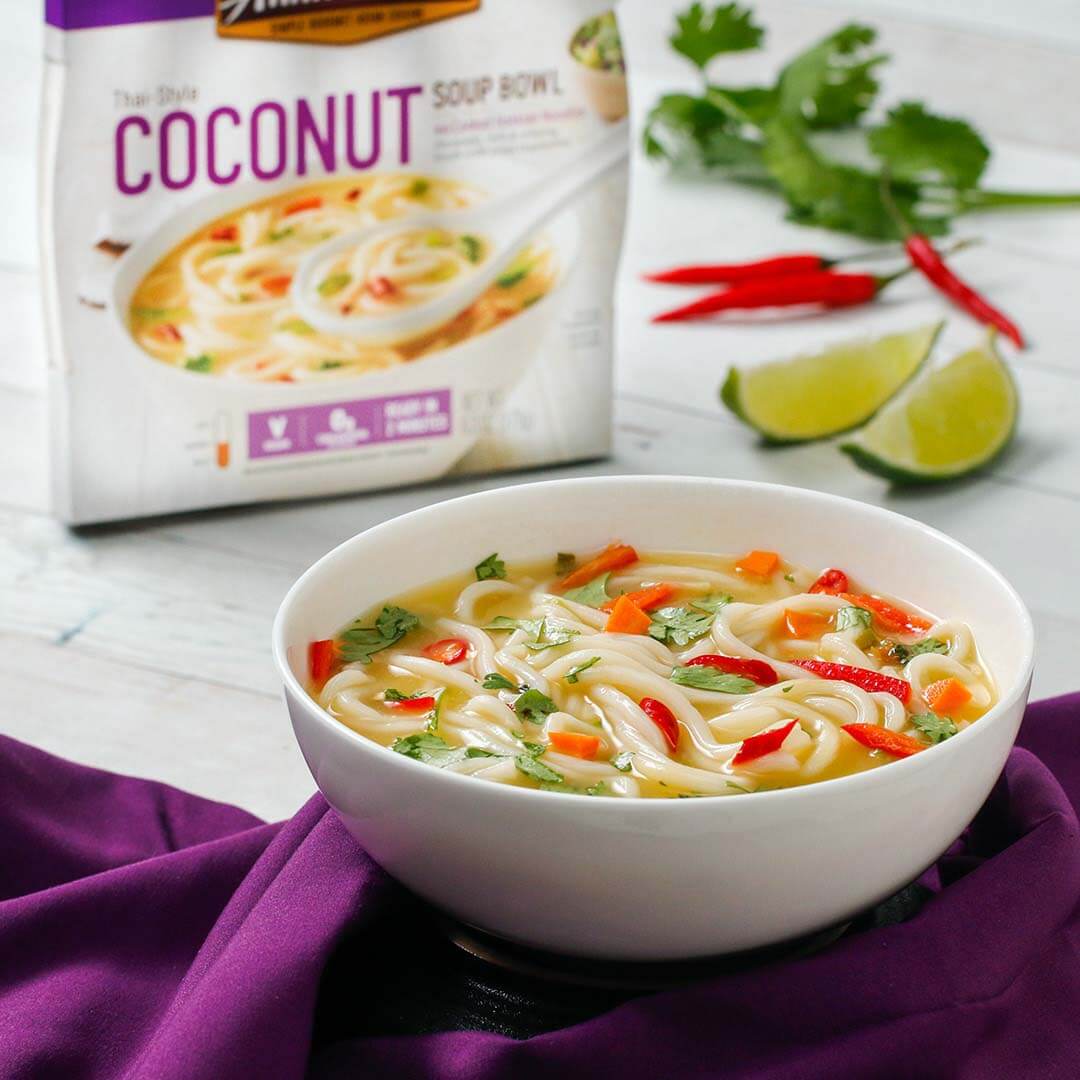 Longtime souperstar Progresso offers a "Vegetable Classics" line which includes a handful of accidentally vegan offerings. Throw a can of Garden Vegetable, Lentil, Hearty Tomato, or Vegetarian Vegetable with Barley soup into your cart next time you're out shopping for easy pantry staples and tasty convenience foods for your plant-based kitchen.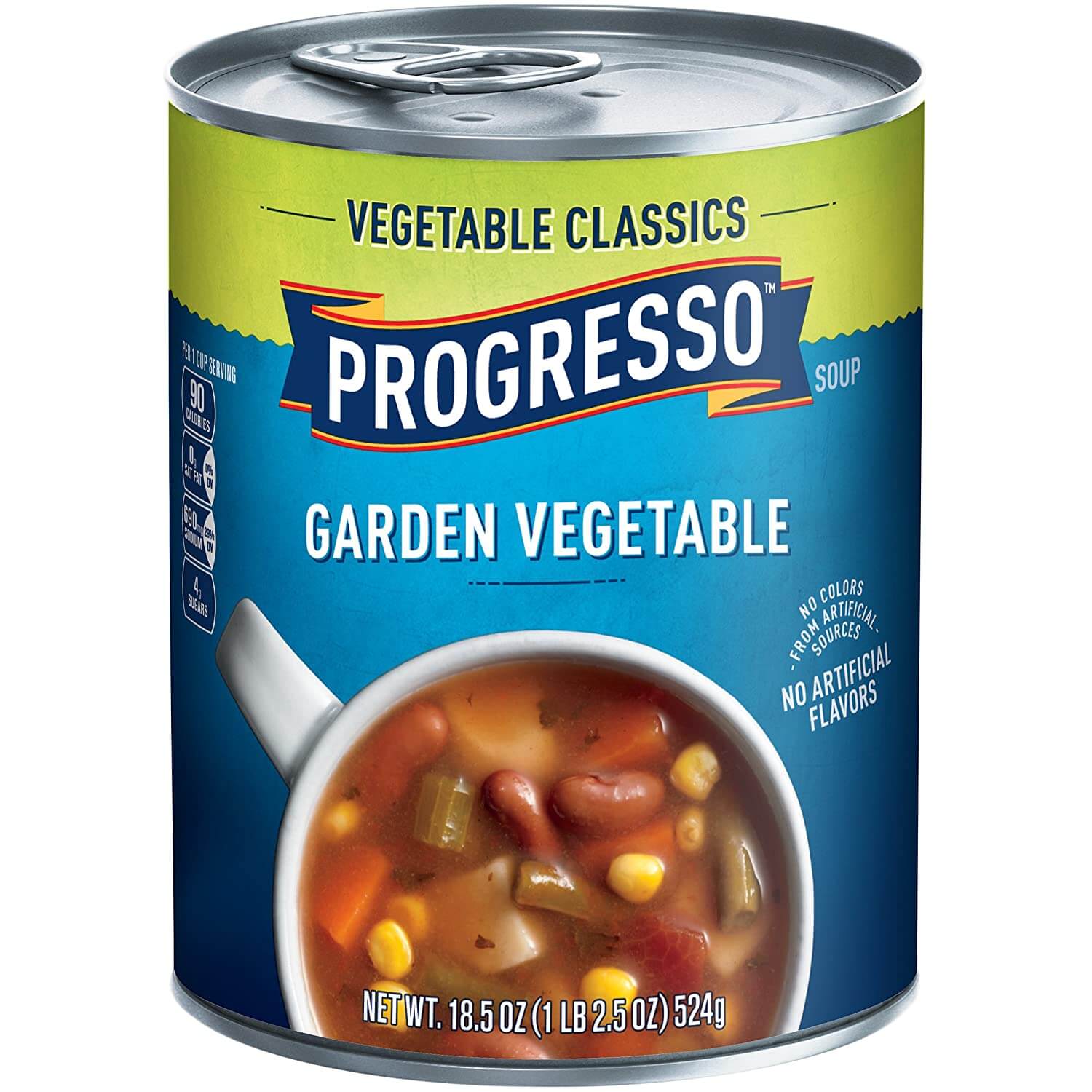 Your favorite vegan-friendly grocer has a tasty Garden Vegetable Soup that you need to try. This Trader Joe's jarred soup is filled with hearty chunks of sweet potatoes, carrots, onions, celery, tomatoes, zucchini, red bell peppers, leeks, kale, Swiss chard, and spinach in a slow-simmered veggie broth. One cup of comfort coming right up!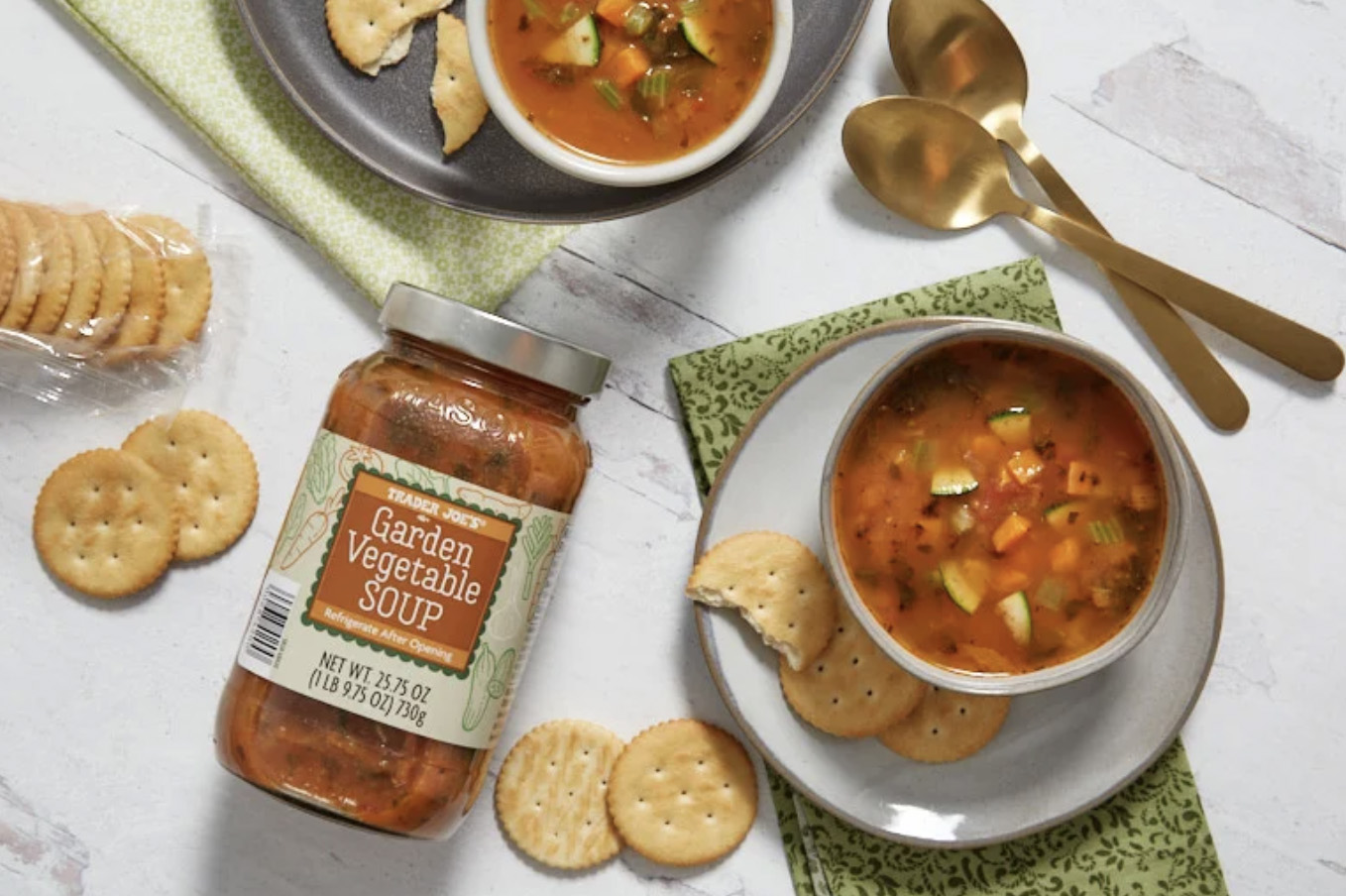 Plant-based soups on the brain? Store brand Simple Truth offers enough vegan-friendly soups to fill a shopping cart. Opt for pouches of Vegetable, Mushroom, Spicy Curry, Tomato, and Butternut Squash varieties. Also, snag individual cups of Lentil Vegetable, Creamy Lentil, Tomato & Sweet Basil, and Spicy Black Bean soups.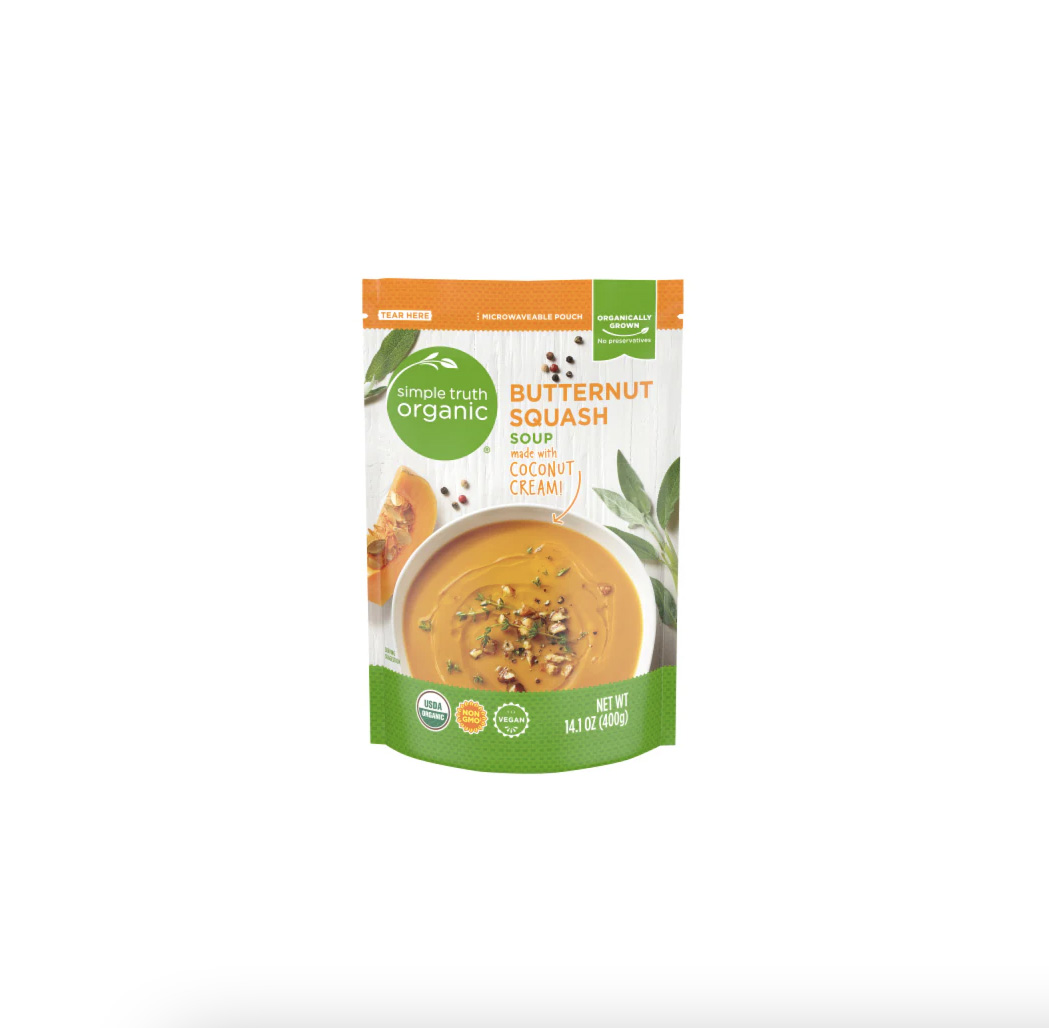 The FODMAPPED for you! brand offers products that are low in fermentable carbohydrates aka FODMAPs. The gut-friendly brand has two vegan soups in their lineup—Minestrone and Roasted Pumpkin + Hint of Sage. Each pouch of soup contains two servings and can be prepared in the microwave—hello, tasty, simple, and convenient eats!