These microwavable bowls and pouches were made for busy plant-based eaters.
Whether you're looking for shelf-stable options to keep at your desk for workday lunches, delicious and convenient go-tos for busy weeknights, or low-key products for vegan-friendly travel, these meals are for you! From protein-packed curry pouches to multigrain harvest bowls to microwavable cups packed with vegetable ingredients, the easy plant-based options are endless. Check out our list of the 12 best vegan shelf-stable meals for fast entrée inspo.
Vegan
From Vegan Chicken Flavor Ramen cups and Split Pea Soup to Organic Quinoa Vegetable Soup and Gluten-Free Pad Thai Asian Noodles, Dr. McDougall's Right Foods has the hookup on healthy variety. The brand offers microwavable cups and ready-to-serve containers of nutritious convenience foods. Throw a few in your road trip bag and go exploring.
Vegan
The plant-based meal pouches include Chipotle Black Bean, Coconut Lime, Kale Potato, and Coconut Butternut Squash. While the wholesome ingredients vary, all options include protein-rich green chickpeas. Consumers can choose to purchase these items at nationwide grocery stores or opt in for a subscription to VANA Life Foods to keep those tasty pouches coming!
Vegan-Friendly
Ready in 90 seconds, these shelf-stable microwavable Indian dishes are bringing major convenience and comforting flavor. Opt for USDA-certified organic Eggplant Curry with Steamed Rice or Vegetable Biryani from Food Earth Organic for a super quick and easy meal when you can't be bothered to cook something. Serve over mixed greens for an extra plant-based boost.
Vegan-Friendly
Looking for convenient, yet authentic, Indian cuisine? Be sure to snag microwavable pouches of Aloo Matar Delhi Potatoes, Dal Makhani Bombay Lentils, and Chana Chickpea Masala to fill your pantry and desk drawers. Saffron Road offers vegan-friendly simmer sauces for the days you have a little more cooking time on your hands.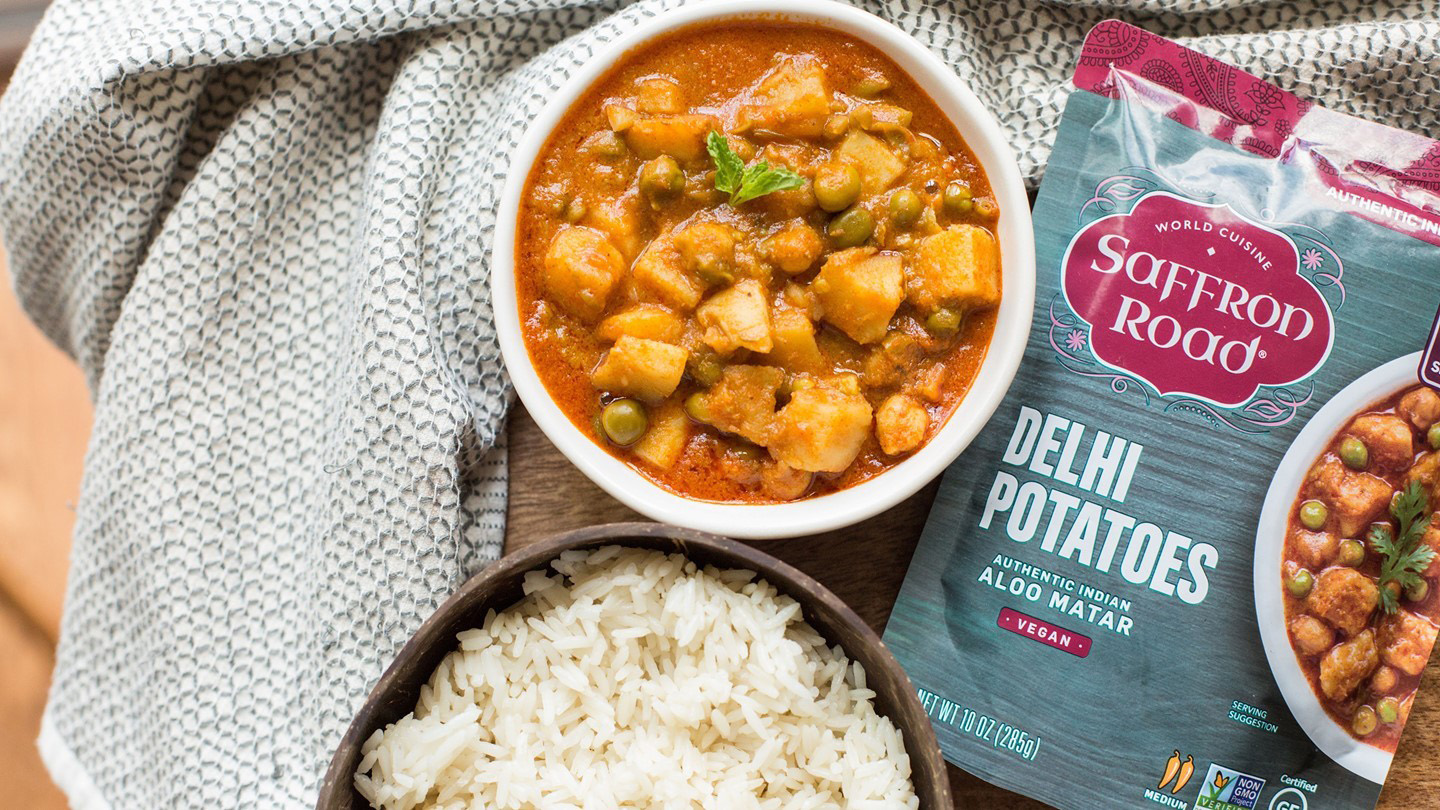 Vegan-Friendly
There's no surprise that Del Monte, the original plant-based food company, is all in on healthy convenience. This longtime brand offers a variety of shelf-stable products, including Veggieful Veggie Bowls. Each microwavable cup contains a full serving of vegetables. Vegan options include Garlic and Herb, Southwest Style Corn, Tomato Basil, and Asian Style Soy Sesame.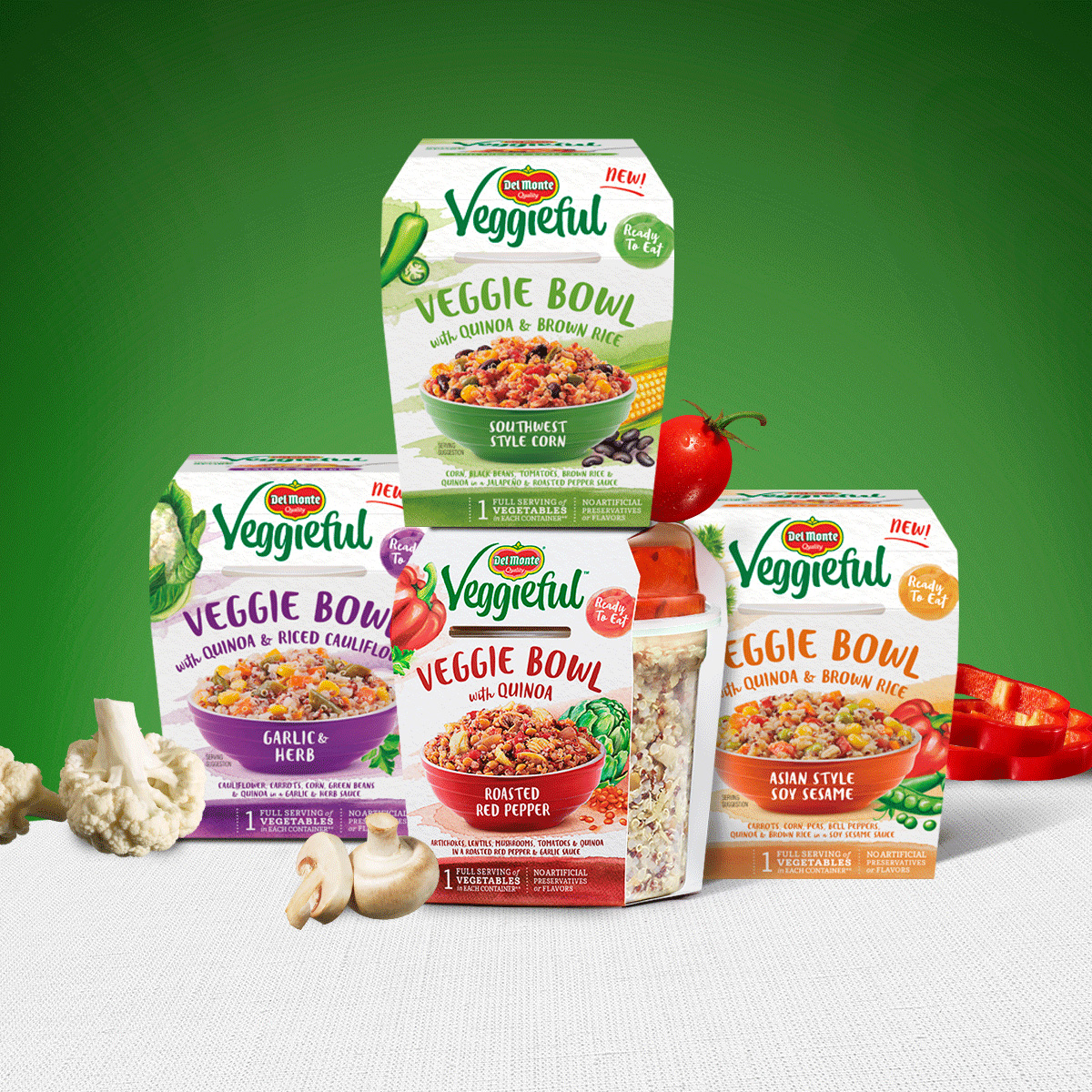 Vegan-Friendly
Kroger store brand, Simple Truth, offers a handful of Plant-Based 60 Second Bowls that you need in your busy life. Think Mediterranean Style (with chickpeas, olives, and lemon), Chipotle Pepper (with tomatoes, black beans, and corn), and Spicy Veggie Masala (with coconut milk, chickpeas, and spices). Just heat, eat, and enjoy.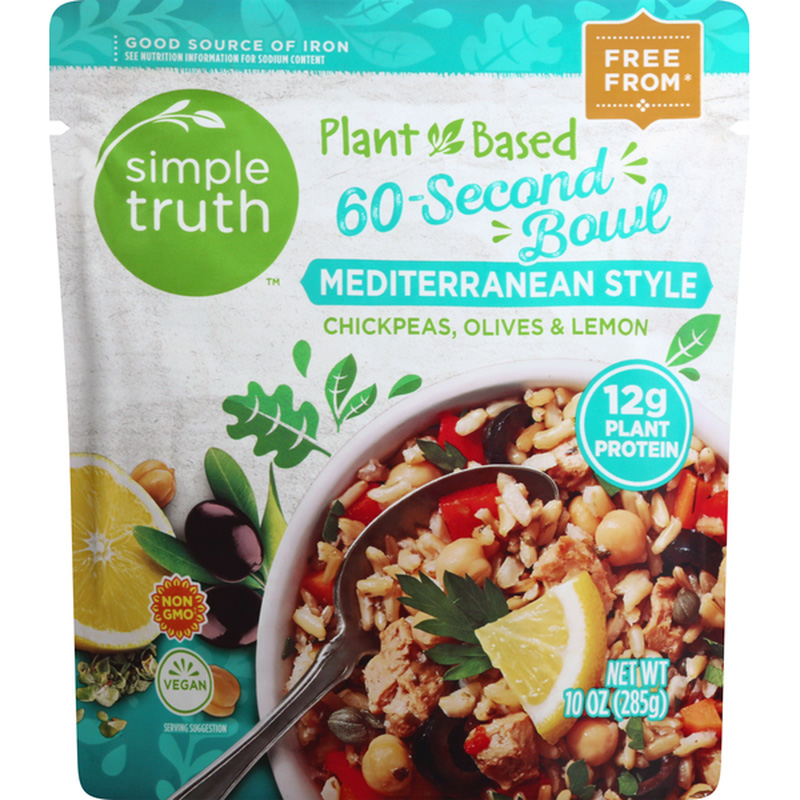 Vegan-Friendly
This family-run specialty foods distributor supplies several vegan-friendly quick cups made from quinoa, farro, and riced cauliflower. We're loving the heat-and-eat options from Kitchen & Love! Get ready to warm and enjoy options like "Peruvian Vegetable Ceviche Cauliflower" and "Artichoke, Lemon, & Roasted Garlic Farro." Good flavor has never been so convenient.
Vegan-Friendly
These ready-to-serve meal options are tasty AF—it's basically in the name. Plant-based pouches include Bombay Potatoes, Spinach Dal, Organic Three Bean Madras Lentils, and Channa Masala. Tasty Bite also offers microwavable pouches of flavored rice dishes and shelf-stable bowls like the Indian Protein Bowl packed with ancient grains, legumes, and spices.
Vegan-Friendly
While Reese is known for its canned and jarred vegetables, the specialty food brand also offers microwavable Harvest Bowls. These vegan-friendly convenience meals come available in quinoa, lentil, and wild rice varieties. We love the Quinoa Bowl packed with red and white beans, quinoa, tomatoes, corn, and an herbaceous dressing.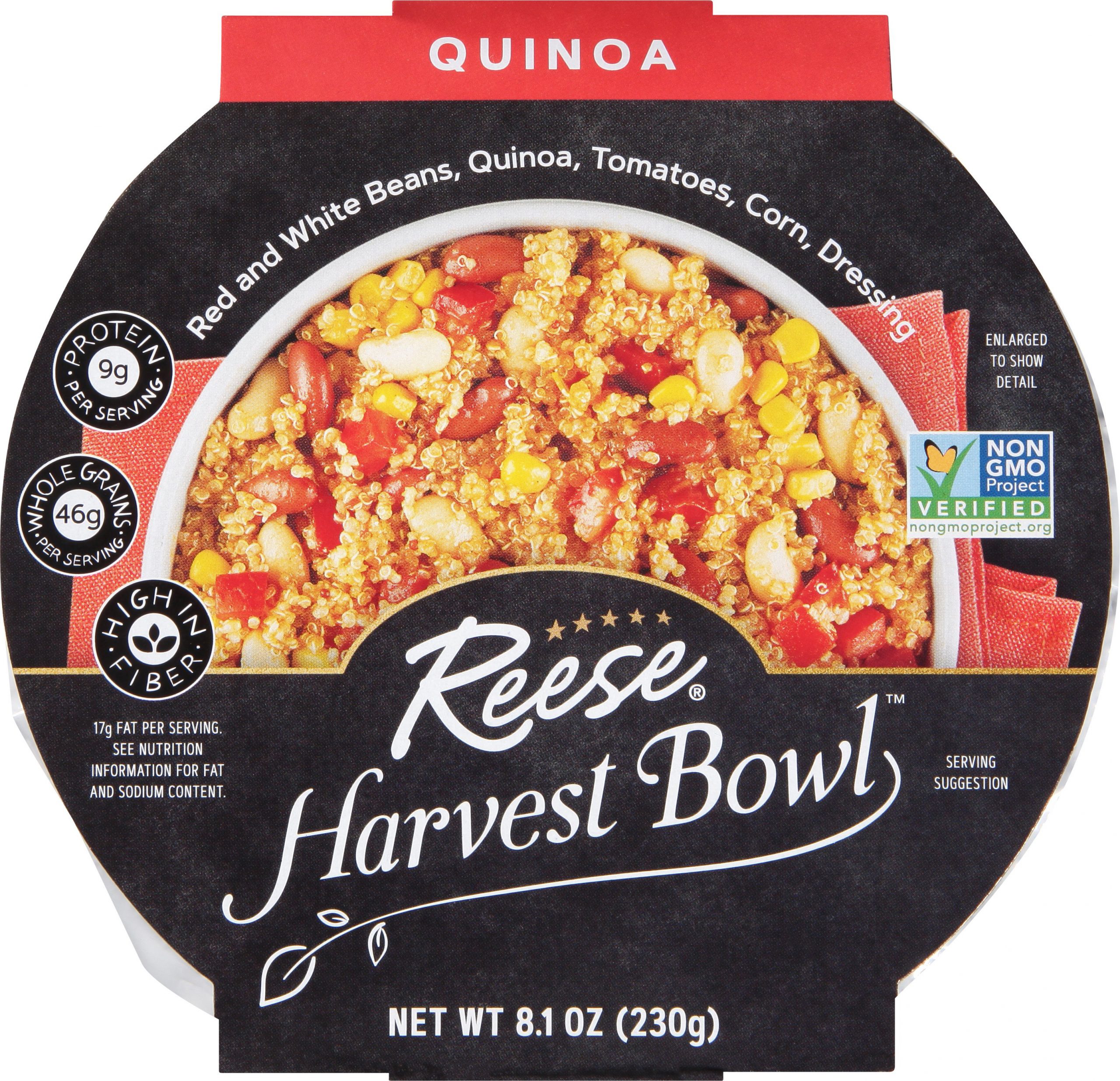 Vegan-Friendly
Annie Chun's offers a wide variety of clearly labeled vegan soup and noodle bowls to enjoy in a flash. We love the Singapore-style Soy Garlic noods along with the Chinese-style Hot & Sour Soup Bowl. These tasty dishes can be prepared in just two minutes! BRB, stocking our pantries with this easy-to-enjoy Asian-inspired cuisine.
Vegan-Friendly
VegOut fam, you must check out Maya Kaimal Everyday Dal pouches at once! Vegan dal varieties include recipes made with kidney beans, red lentils, green split peas, black lentils, and green garbanzo beans. We're really feeling the Green Split Pea Everyday Dal. This South Indian family recipe is made with spinach, coconut, cumin, and brown mustard seeds.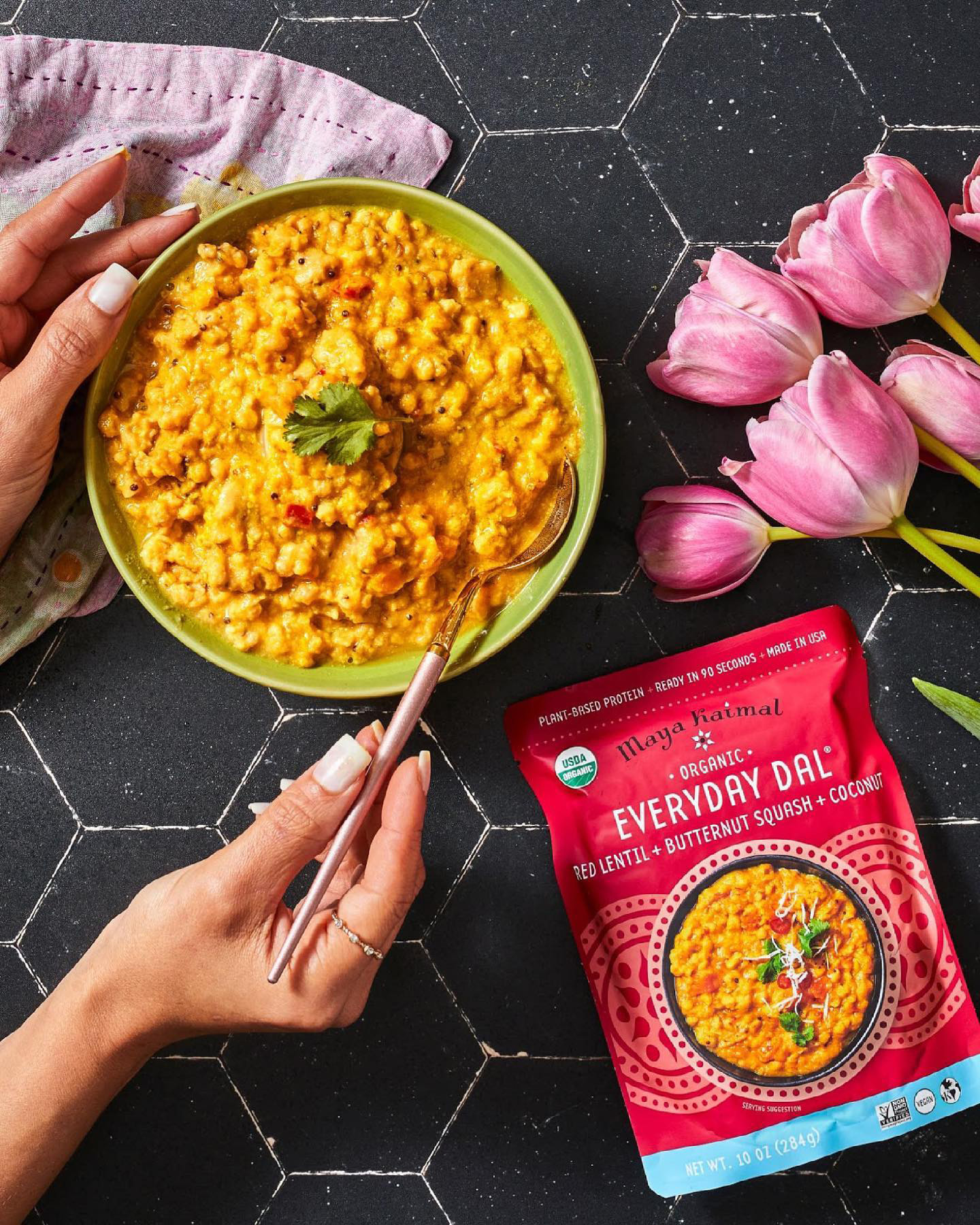 Vegan-Friendly
The Spicy Mongolian Noodle Bowl is where it's at, although the Roasted Peanut and Sesame Teriyaki Bowls are definite runners-up. The Simply Asia Noodle Bowls take only minutes to prepare but add serious comfort, spice, and flavor to those long workdays when it's too late to cook. We've definitely been there!