2020 has thrown us for a loop, but the one thing we can still count on is having fries as a vegan option. But gone are the days where you distract yourself from hunger pangs by sucking the salt off a shoestring fry while dreaming of the frozen burrito you'll heat up when you get home. These glorified potatoes are stepping up. We've got chili fries. Chili cheese fries. Carne Asada fries. Buffalo fries. We've got fries! National French Fry Day is July 13th. Here are seven spots to help you celebrate.
RELATED: 5 Los Angeles Restaurants Offering DIY Vegan Taco Kits
---
Want even more LA vegan news, food, and lifestyle content? Subscribe to VegOut LA Magazine!
Seabirds Kitchen
Long Beach and Costa Mesa
Two of the most important words you need to know going into Seabirds: Zippy Fries. These cheesy fries come piled with spicy marinated mushrooms, green onions, their house-made nacho cheese sauce (Zippy sauce), then drizzled with Seabirds sauce, which is their version of a vegan ranch that's so delicious, it will make you ask your server "Can I order a big side of this to go?" (yes, you definitely can!). While their Long Beach location is closed for the remainder of July, you can hit up either of their sites in Orange County on Thursdays for these special fries. And when Long Beach opens back up, they'll be slanging these every day.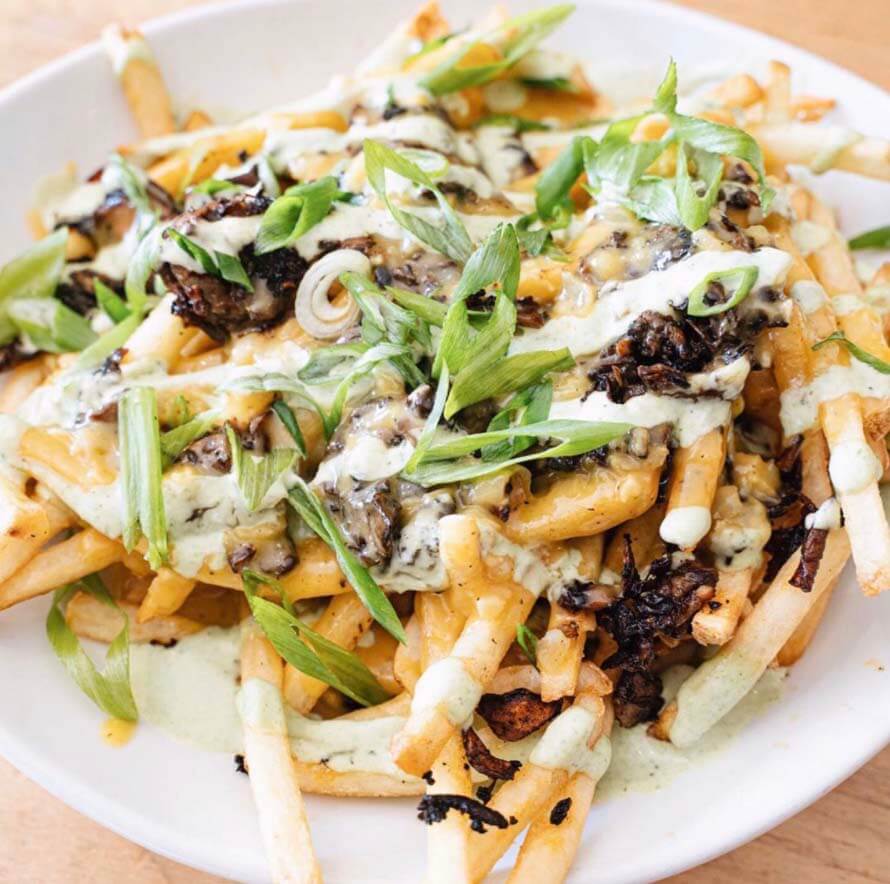 Sage Plant Based Bistro
Agoura Hills, Echo Park, Culver City, and Pasadena
Three words: Chili. Cheese. Fries. Sage's take comes loaded with housemade habanero cream cheese, garlic aioli, nacho cheese, and their fresh, house-made black bean chili. While these fries may remind you of sitting in the stands of a baseball stadium, a paper plate dripping with chili and grease in your hands, the house-made habanero cream cheese and garlic aioli catapult them out of the park. Pro tip: order a side of their pickled veggies to put on top for a crunchy, fermented finish.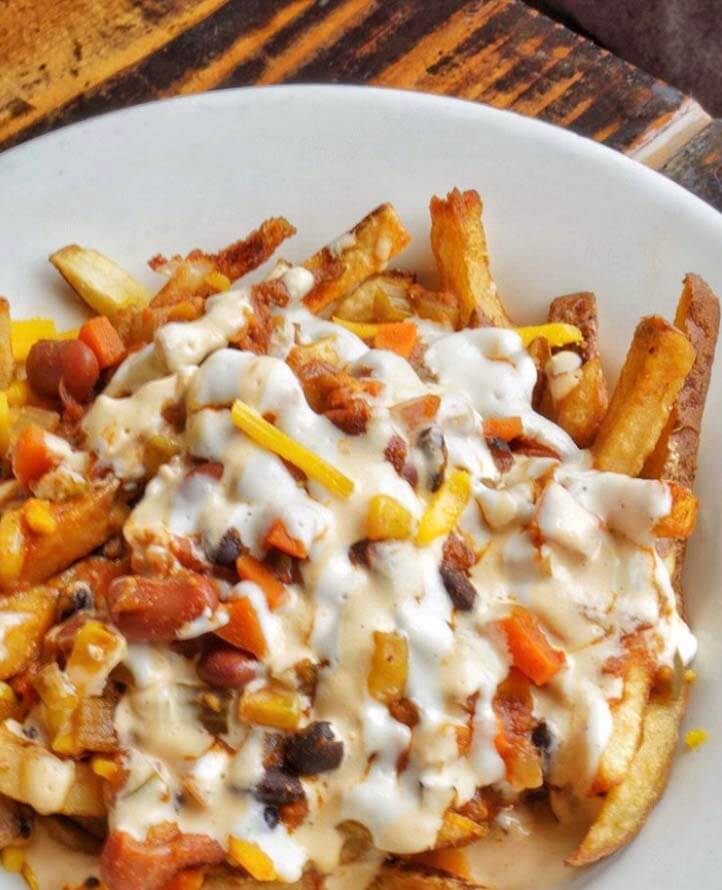 Jackfruit Cafe
West LA
Did someone say "nacho fries?" Jackfruit Cafe's "smothered fries" are like the best nachos you've ever had, but on fries instead of chips. Topped with sauteed jackfruit, Thousand Island, vegan cheese and sour cream, caramelized onions, and all the fresh guacamole and pico de gallo you could need, these fries are reminiscent of a jacked up version of In N' Out's animal fries. The difference? More bang, more flavor, and more plant power make this a dish you don't want to miss out on.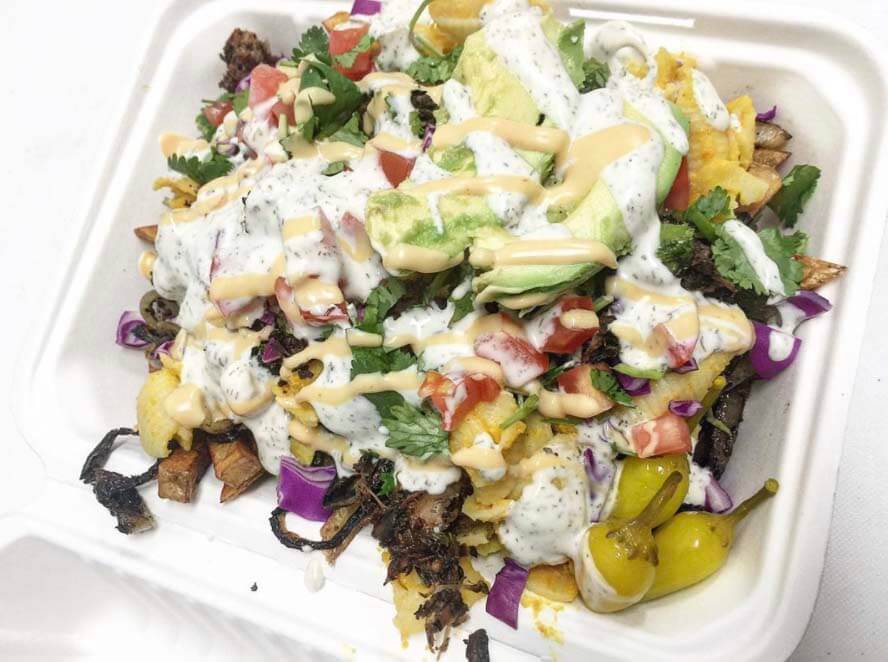 Munchies Diner
Santa Ana
If you're looking for variety, Munchie's is the place to go. A whole section of their menu is dedicated to specialty fries, with combinations you'd never think of and flavors that will blow your mind. Craving a slice of pizza but also want fries? Their pizza fries come topped with mozzarella sticks and melted provolone, marinara, and parmesan cheese. Want something spicy? Opt for their Jalapeno Chorizo fries, which come drenched in cheese sauce, chipotle aioli, and salsa verde. Mmm, mmm, munchies!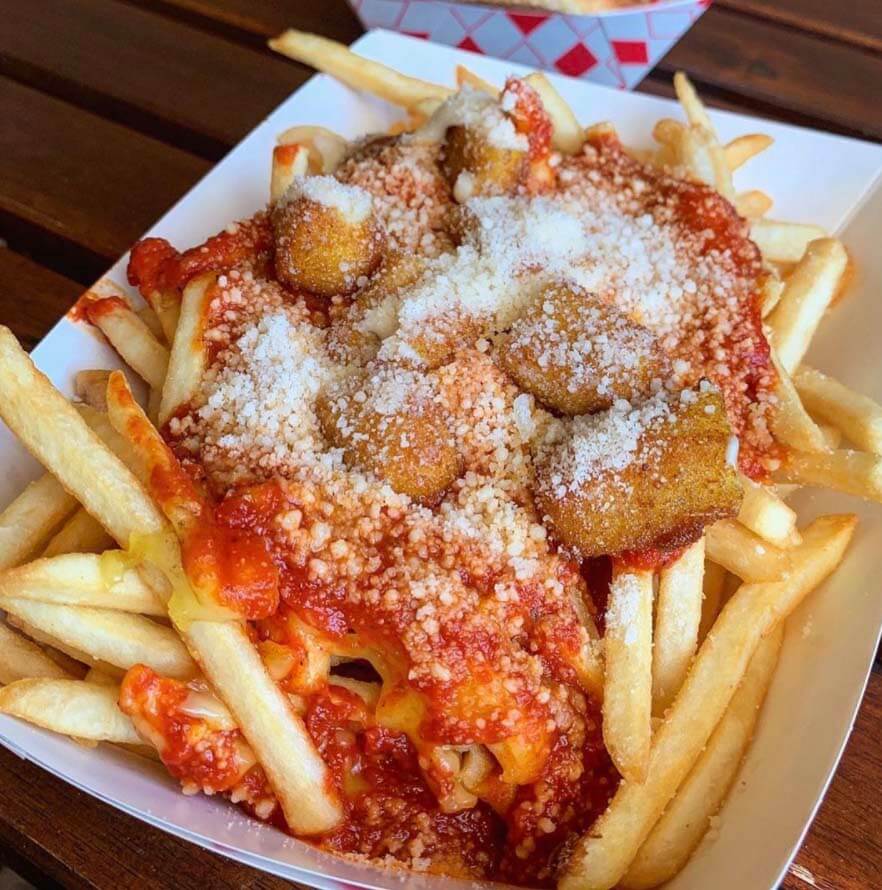 Chicana Vegana
Fullerton
Chicana Vegana isn't just a spot to grab street tacos and massive burritos. They also have a section on their menu dedicated to specialty fries, and you don't want to miss out on a chance to try these. They all come topped with your choice of plant-based protein (asada, al pastor, carnitas, or shrimp), and where you take it from there is up to you! Our suggestion? Try the MexGogi Fries, which come heaped with scallions, cucumber, jalapenos, and caramelized protein. Make sure to grab a few sides of their hot sauce before you leave!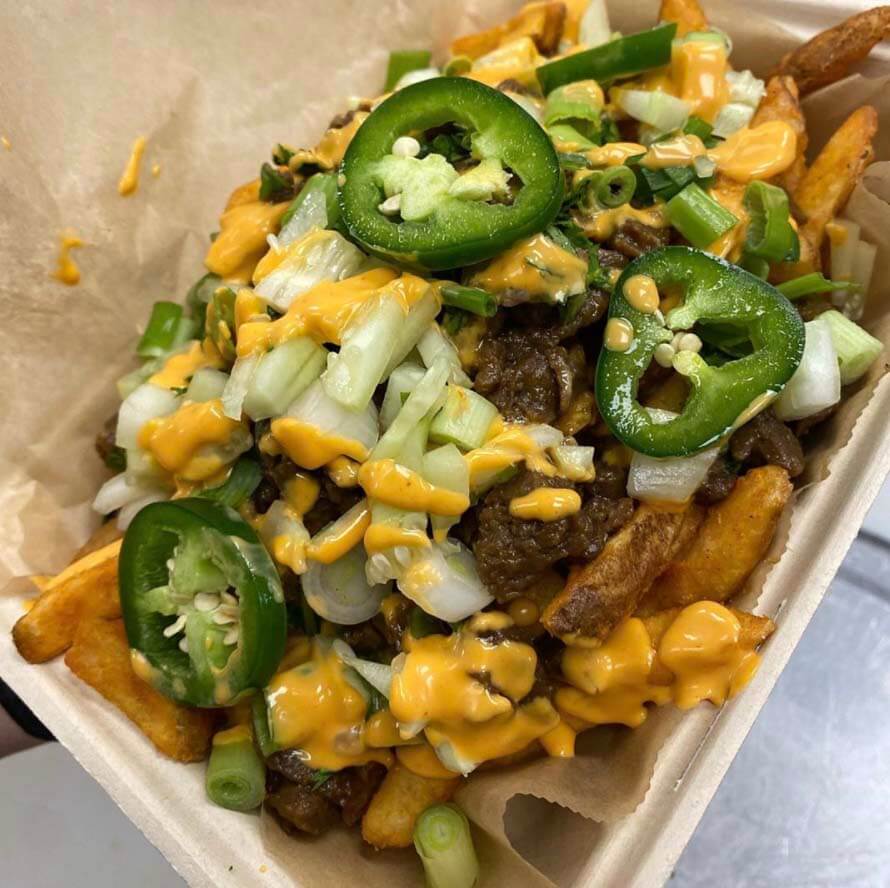 Doomie's Home Cookin'
Hollywood
Doomie's is open all night on the weekends, and what better way to satisfy those late-nightlate night cravings than with a big boat of fries dripping with house-made vegan cheese sauce? Doomie's has plenty of options to choose from when it comes to loaded fries, from classic Animal Fries to Buffalo Fries covered in creamy ranch. We're huge fans of the Bacon Cheese Fries, and you'll be hard-pressed to find a better house-made bacon out there! Crunchy, seasoned, and drowning in nacho cheese sauce, these fries will satisfy even the most dedicated meat eater!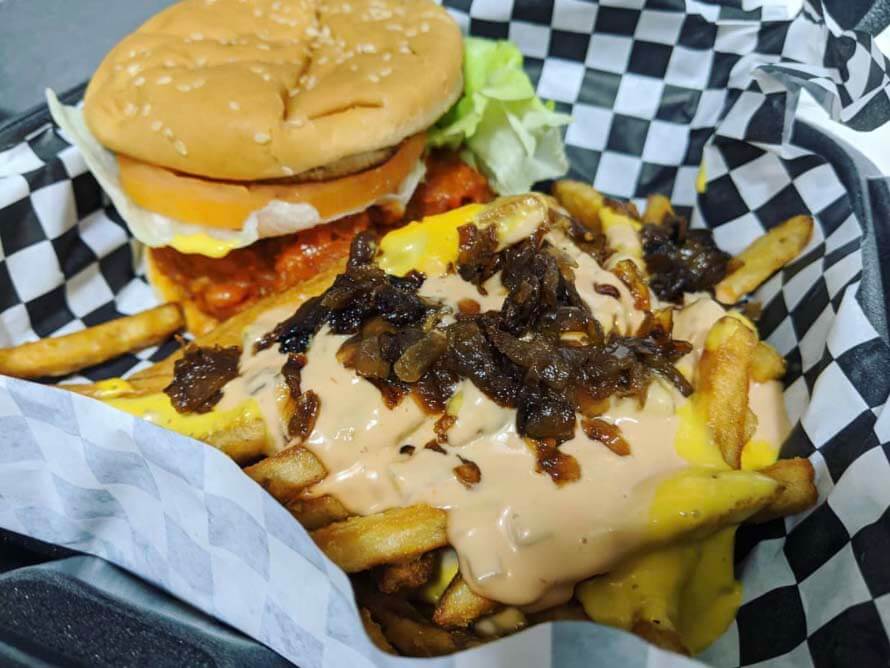 Monty's
Echo Park, Koreatown, and Riverside
Monty's is known for their simple and delicious menu: burgers, fries, tots, and milkshakes. All vegan, all delicious. But their "secret menu" is where you'll find fries and tater tots so loaded, they'll fall through the bottom of your to-go box if you don't eat them fast enough! Order your fries or tots "maxed out" for all the "animal style" fixings. And if you're feeling ambitious, order The Dog Pile, featuring fries, tater tots, two impossible patties, grilled onions, and melted cheese topped with every single one of their house-made sauces. Be sure to bring a friend, because these fries are made to share!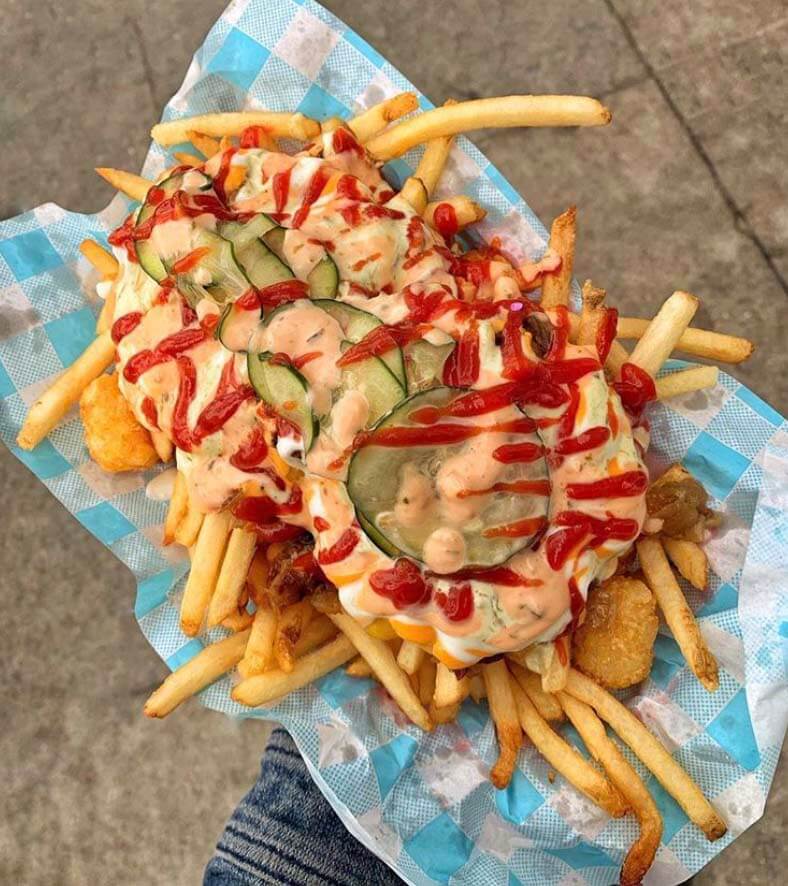 Whatever you're looking for on your loaded fries, this list is sure to have it. As always, make sure to tag us on Instagram in all your vegan food pictures!
Feature image photo credit: @thebaconprincessblog