The Impossible Bowls will be available at select Walmart locations nationwide this week.
The latest innovation from the alternative meat brand drops this week! Impossible Foods just debuted its new single-serve frozen vegan meals.
Single-Serve Frozen Vegan Meals Available at Walmart
The new Impossible Bowls from Impossible Foods are the brand's first foray into frozen entrees. Additionally, each single-serve bowl is ready in under five minutes. So, it is the perfect meal for the dinner rush.
The new plant-based bowls come in eight flavors. Each one uses an Impossible Foods' signature vegan meat. Bowls made with vegan chicken, for example, are the Teriyaki Impossible Chicken Bowl and the Spicy Enchilada Bowl. Impossible's vegan beef is found in the Pasta Bolognese with Impossible Beef & Pork Bowl and the Burrito Bowl. The brand's latest innovation, then, vegan pork, is the main feature in the Sweet & Sour Bowl, the Chili Mac with Impossible Pork Bowl, and the Barbeque Impossible Pork Bowl. And, finally, if you can't get enough of Impossible meatballs, the Spaghetti and Impossible Meatballs Bowl is for you.
Each 9oz bowl packs 10-13g of plant-based protein and contains 0mg of cholesterol. The vegan single-serve entrees will launch at more than 4,000 Walmart locations across the country. The American- and Asian-inspired bowls hit the shelves this week. The Italian- and Latin-inspired bowls will debut in October.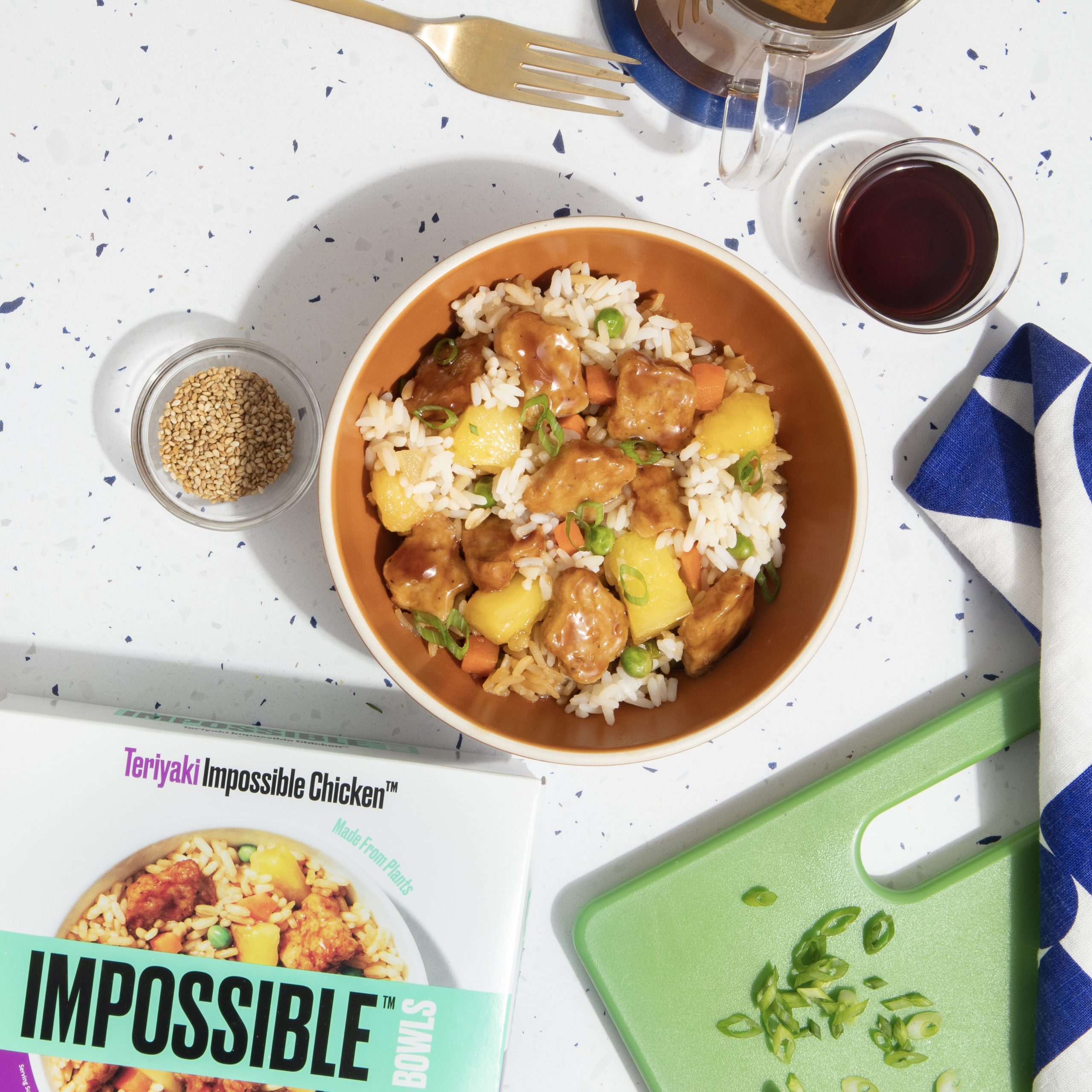 Impossible Foods Makes More Foodservice Partnerships
Impossible Foods is one of the leading alternative meat brands in the world. Its products range from the original burger patty to animal-shaped chicken nuggets and ground sausage.
Restaurants across the country, including big brands such as Starbucks and Fatburger, use Impossible products in their menus. Recently, the brand announced another partnership with Burger King. This one debuts a vegan-friendly version of the fast-food chain's famed Original Chicken Sandwich. The Impossible Original Chick'n Sandwich can be ordered vegan by omitting the mayonnaise. For more info on Impossible Foods and its latest releases, be sure to visit ImpossibleFoods.com.