Keep your spirits high all winter long with these 18 vegan beverages.
Whether you're planning a chill day curled up by the fire or are looking to add some holiday cheer to your winter routine, we've got you covered with our must-add list of vegan drinks. From sweet and spicy vegan nogs and peppermint mocha spice lattes to refreshing holiday-inspired probiotic elixirs and seasonal coffee creamers, check out our top 18 store-bought vegan drinks to sip on this season. Enjoy these vegan-friendly festive drinks all winter long.
Original Soy Nog & Holiday Creamers
It isn't quite the holidays without Silk brand Original Soy Nog—we love this wintertime sipper. Additionally, the brand is serving up festive coffee creamers to celebrate with. Add Dark Chocolate Peppermint Almond Creamer and Maple Brown Sugar Oat Creamer to your morning joe for a delicious way to celebrate each morning.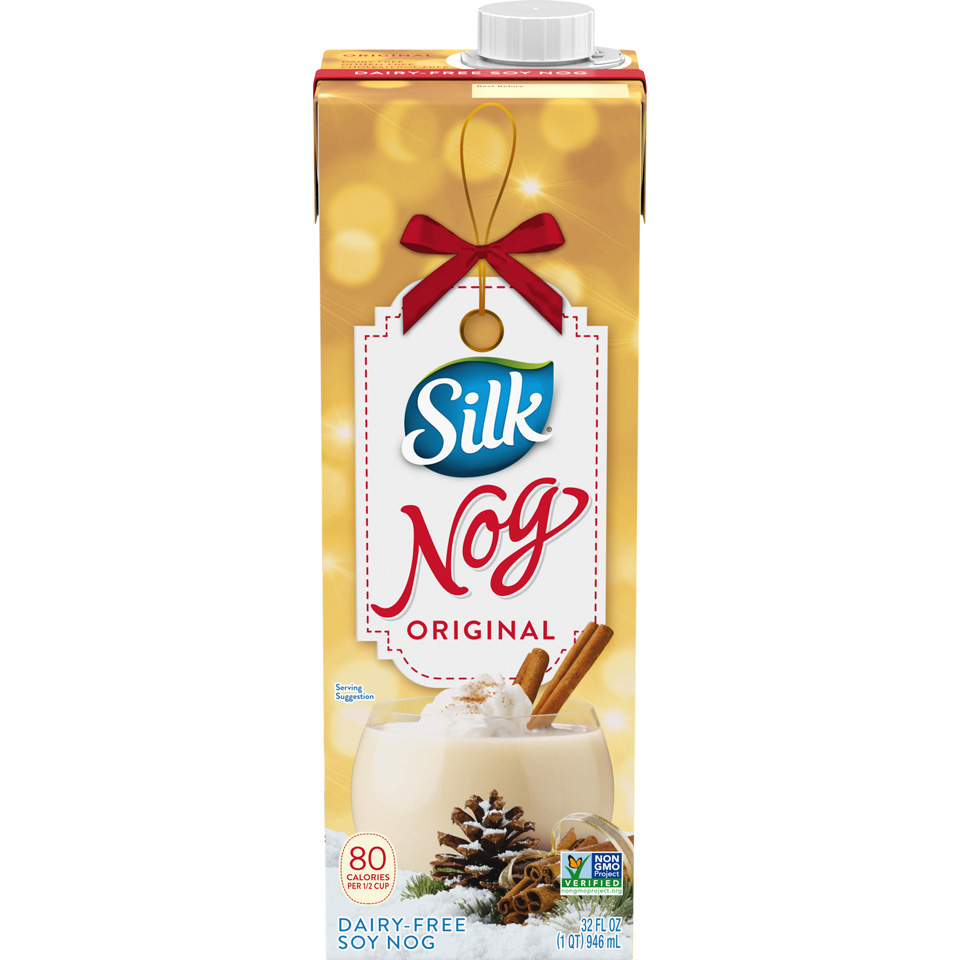 Holiday Cheers Kombucha
It's the holidays—bring out the bubbly! With hints of ginger, clove, allspice, and cocoa, the Health-Ade Holiday Cheers Kombucha is a crisp and refreshing addition to your stock of festive seasonal vegan beverages. We love sipping this festive probiotic tea between courses of our indulgent holiday favorites during Christmas parties and get-togethers.
Holiday Nog
Smooth and creamy coconut meets spicy nutmeg for a delightful sip of wintertime nostalgia. The well-balanced Holiday Nog from So Delicious lives up to its brand name, especially when topped with So Delicious Cocowhip. The brand also offers a Snickerdoodle Oatmilk Creamer as a year-round mainstay, but we love the extra cookie vibes this season.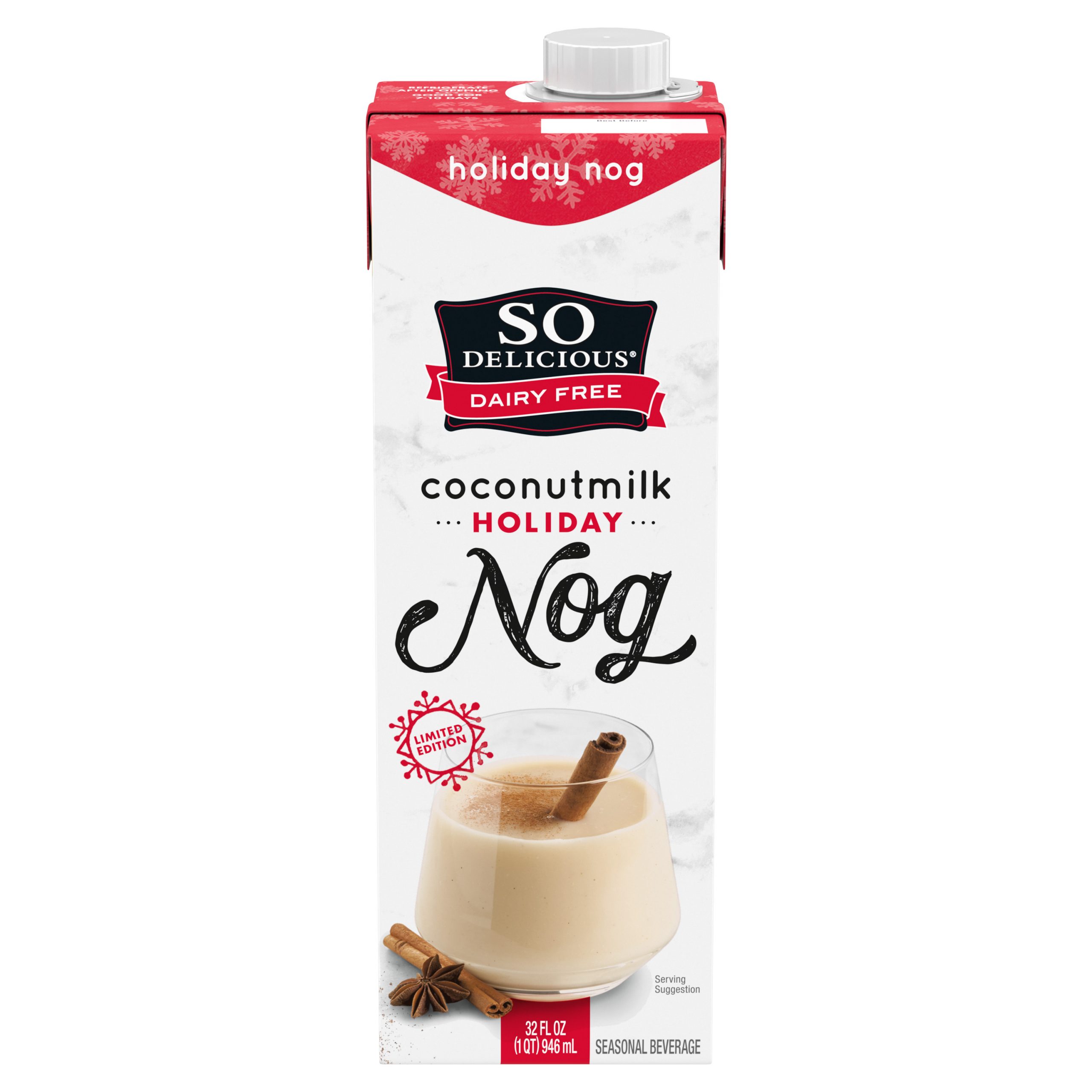 Holiday Lattes, Nog, & Creamers
Be prepared to be wowed with holiday lattes, nog, and creamers! Califia Farms has the hookup on all the holiday sippers. Snag a bottle of Peppermint Mocha Cold Brew Coffee or Holiday Nog for a pre-made favorite. The dairy-free brand offers several seasonal creamers, like Peppermint Mocha and Dark Chocolate Truffle.
Holiday Nog
Your favorite flax milk brand also offers seasonally inspired flavors like Holiday Nog. This creamy drink is the perfect way to ring in the festive season. Serve Good Karma Holiday Nog over ice for a simple sipper or get creative with fancy homemade vegan beverages to share with guests during your upcoming get-togethers.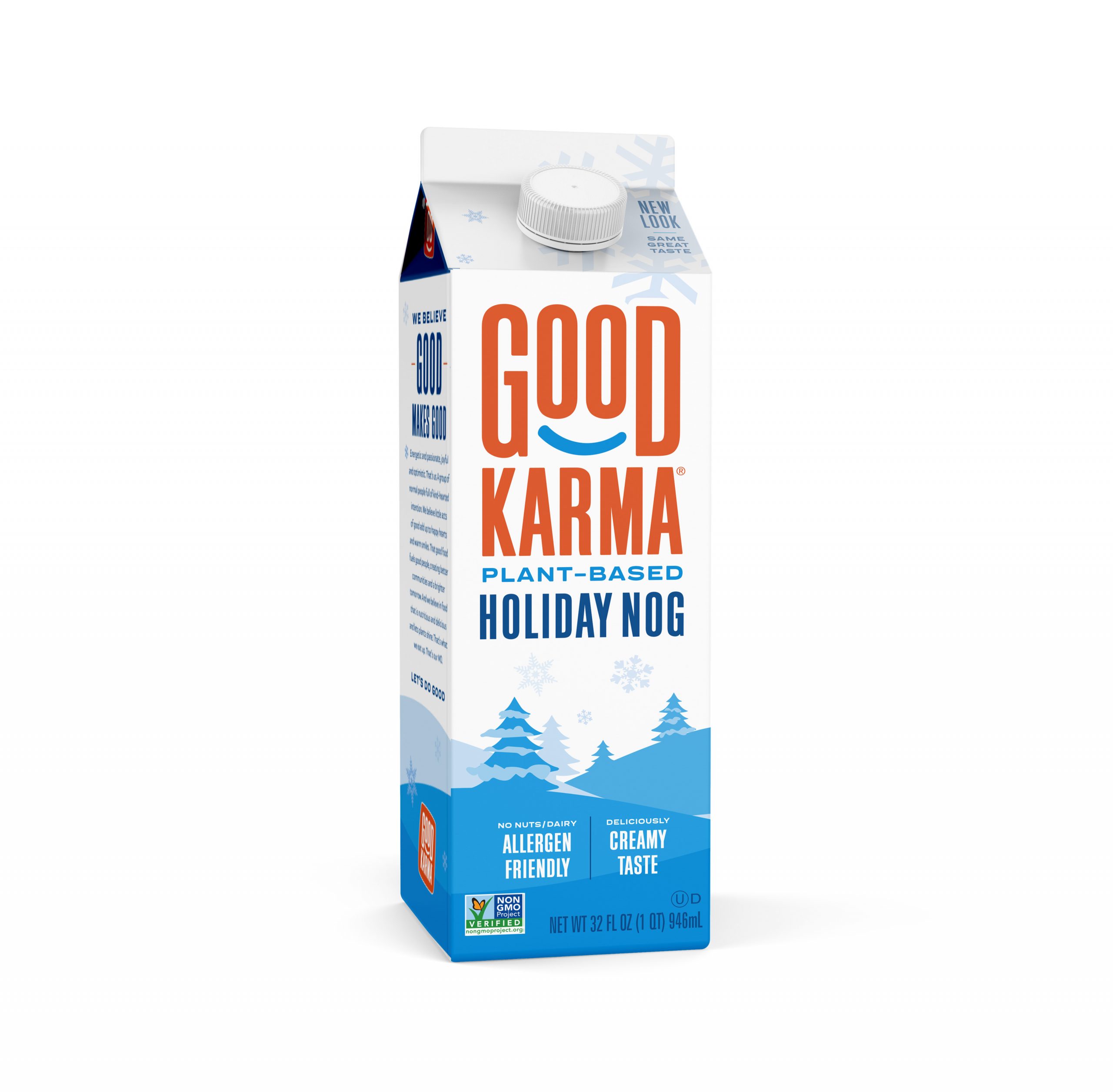 Almondmilk Nog
Long list of holiday to-dos? Add "sip Almond Breeze Almondmilk Nog" to your tasks for a festive way to relax and enjoy the winter season. This holiday exclusive tastes great when paired with festive classics like Christmas cookies and other winter treats. Spread some seasonal cheer with this cruelty-free nog.
Photo credit: @bigboxvegan on Instagram
Holiday Creamers
'Tis the season to spice up that morning joe! Nutpods offers several coconut- and almond-based holiday coffee creamers to enjoy including Peppermint Mocha and Holiday Nog. Add these special editions to plain, black coffee, or get creative with fancy iced barista creations to share with your friends and family over the holidays.
Oatmilk Holiday Nog & Peppermint Hot Cocoa Mix
Get your red shopping cart ready for this limited-edition seasonal drink. The Target Good & Gather Oatmilk Holiday Nog is a must-try this year! Serve this tasty vegan beverage with a dollop of plant-based whipped cream and a cinnamon stick to wow your guests. And keep your eyes peeled for the Peppermint Hot Cocoa Mix from this inclusive store brand as well.
Veggnog & White Chocolate Peppermint Cocoa
We see your plant-based eggnog, and we raise you a peppermint cocoa sipper. Milkadamia is sleighing the store-bought holiday drink game this year with not one, but two, seasonal vegan beverages to fall in love with. Try out the Veggnogg and White Chocolate Peppermint Seasonal Delight made from macadamia milk. We'll definitely drink to that!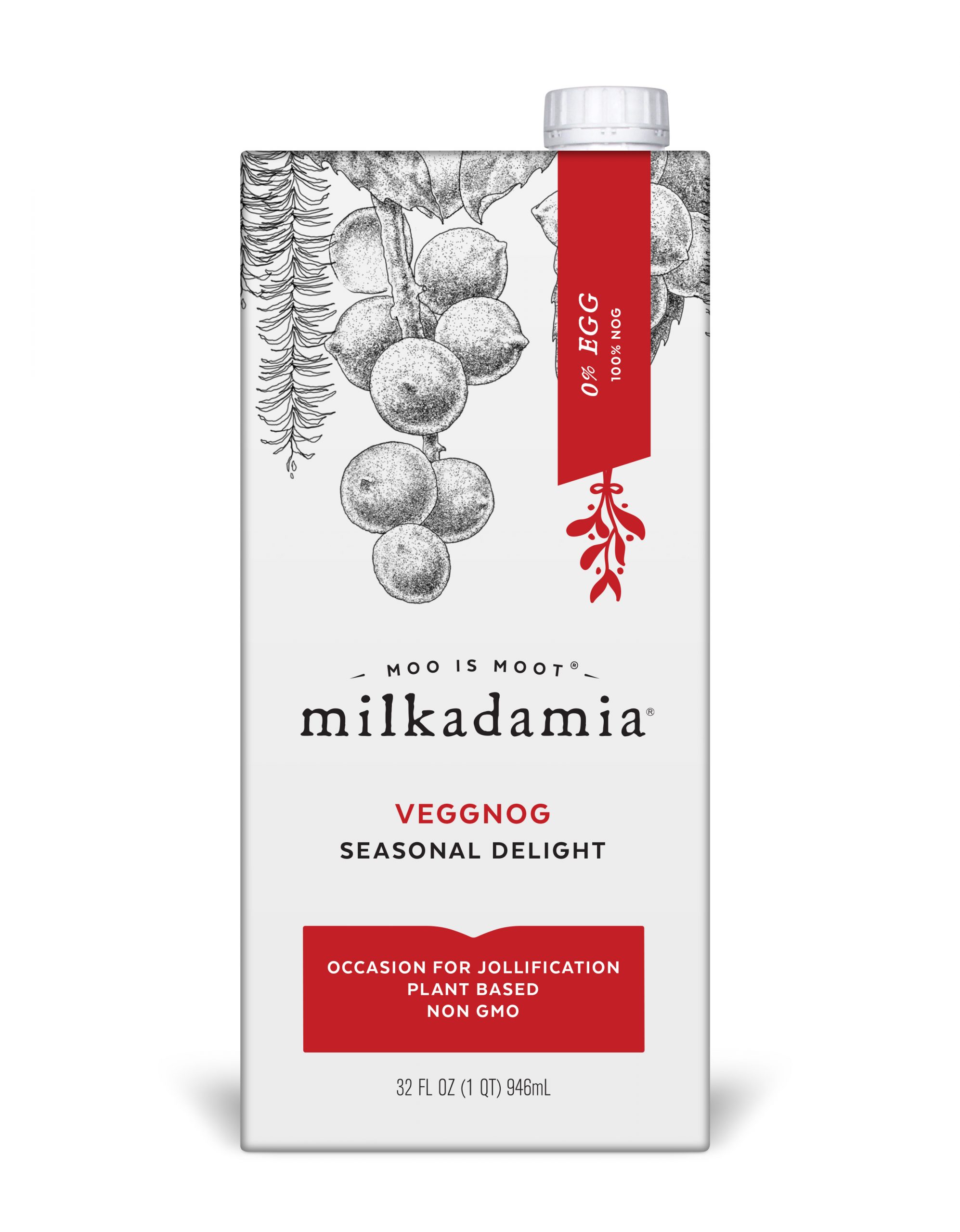 Pure Love Kombucha
We love these fermented bubbles all year round, but the limited seasonal additions are giving us life. The Pure Love Winter Edition offers notes of blood orange, hibiscus, and rose, and we are here for it! We love sipping GT's Kombucha from champagne flutes while we catch up with our favorite friends and family.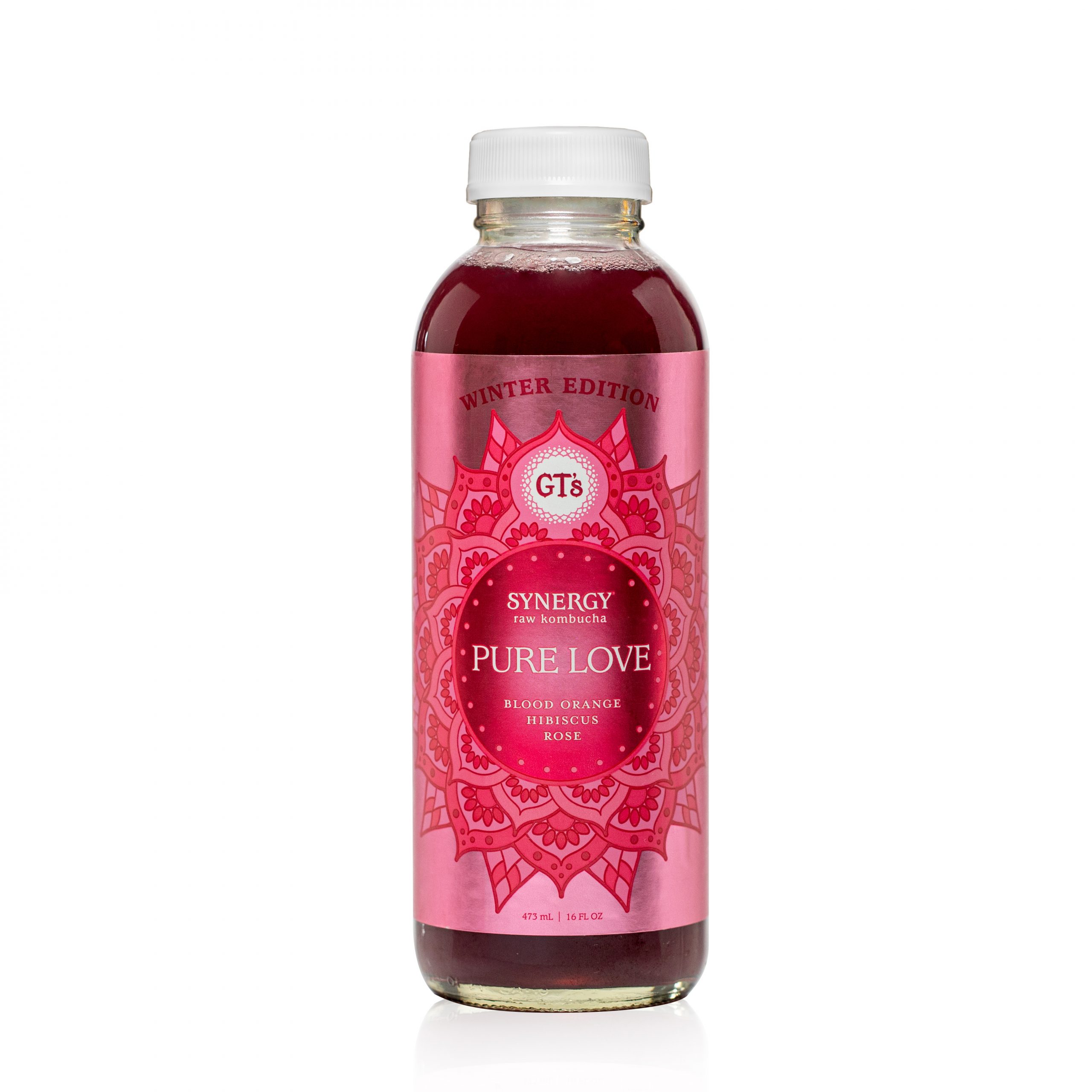 O'Nog
Leave it to TJ's to give us an oat nog to sip on all winter long. The Trader Joe's O'Nog is a must-buy this season. Made with oats, cane sugar, and nutmeg, this new seasonal treat hits the spot. Bring this to your upcoming holiday parties as one of your festive non-alcoholic vegan drinks to share with friends and family.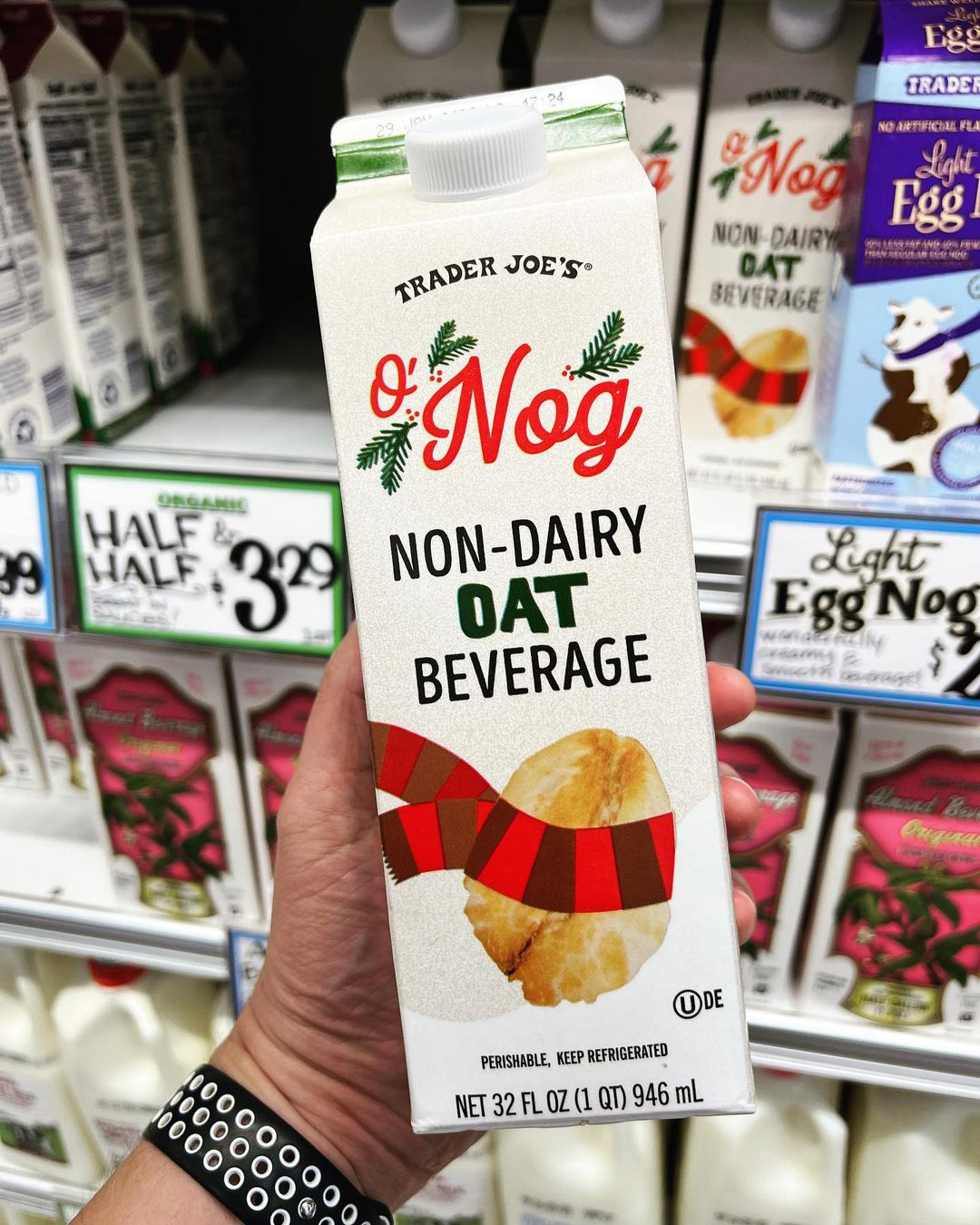 Photo credit: @bigboxvegan on Instagram
Almond Nog
Whole Foods has us covered when it comes to vegan-friendly nog. The 365 Whole Foods Market Almond Nog is one of the many holiday treats this specialty grocer has to offer. Serve it chilled with a dash of cinnamon and a side of Christmas cookies after a cruelty-free family feast.
Photo credit: @bigboxvegan on Instagram
Peppermint Mocha Creamer & Almond Nog
Taking a trip to Aldi for a little holiday shopping is always on our to-do list, and this year we definitely won't be leaving without some tasty vegan beverages. The Aldi Friendly Farms Peppermint Mocha Creamer and Almond Nog are back for the season! Grab these festive faves while you can.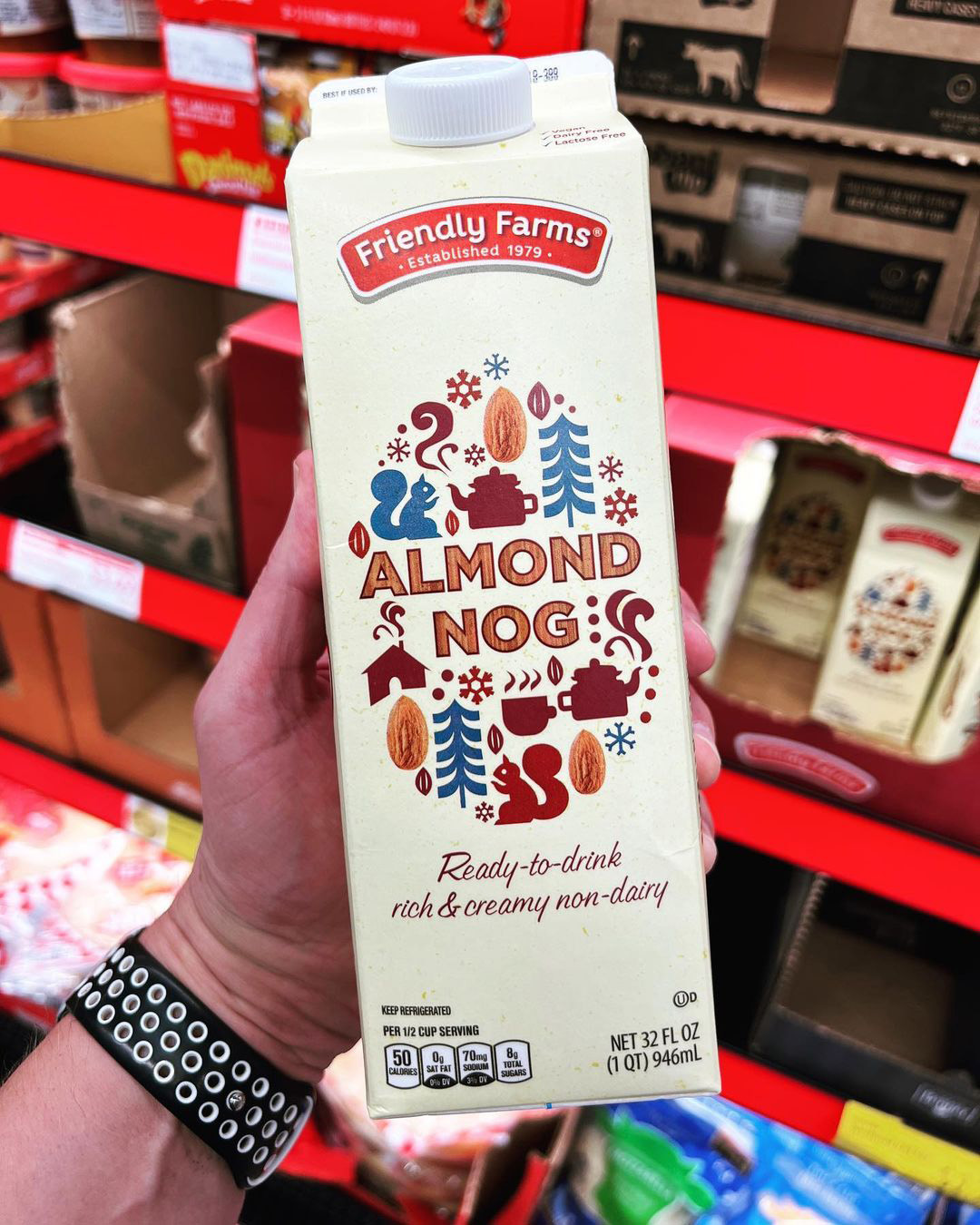 Photo credit: @bigboxvegan on Instagram
Oat Nog & Oat Peppermint Mocha Creamer
Start your holiday off on the right foot with a piping hot cup of coffee mixed with Chobani Oat Peppermint Mocha Coffee Creamer. This limited-batch barista favorite adds a hint of indulgence to morning holiday prep and seasonal shopping alike. Be sure to snag the Chobani Oat Nog this season as well.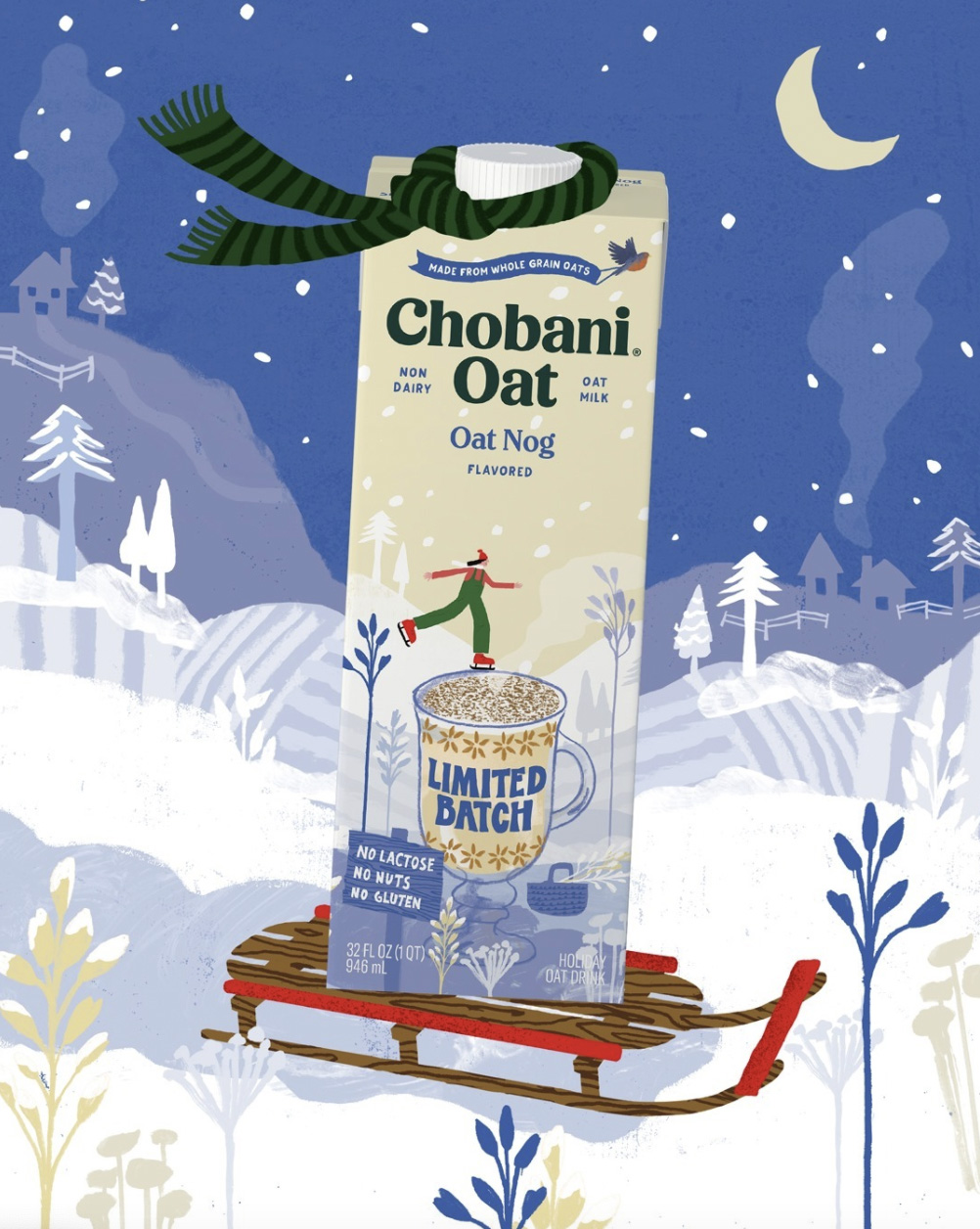 Oat Nog
Elmhurst Oat Nog is made with simple ingredients, and this rich and creamy nog is perfect for plant-based eaters. Made from both oats and cashews, this luxurious sipper brings the best of both worlds. Enjoy this treat on its own or mixed into DIY holiday coffee vegan drinks to share with friends.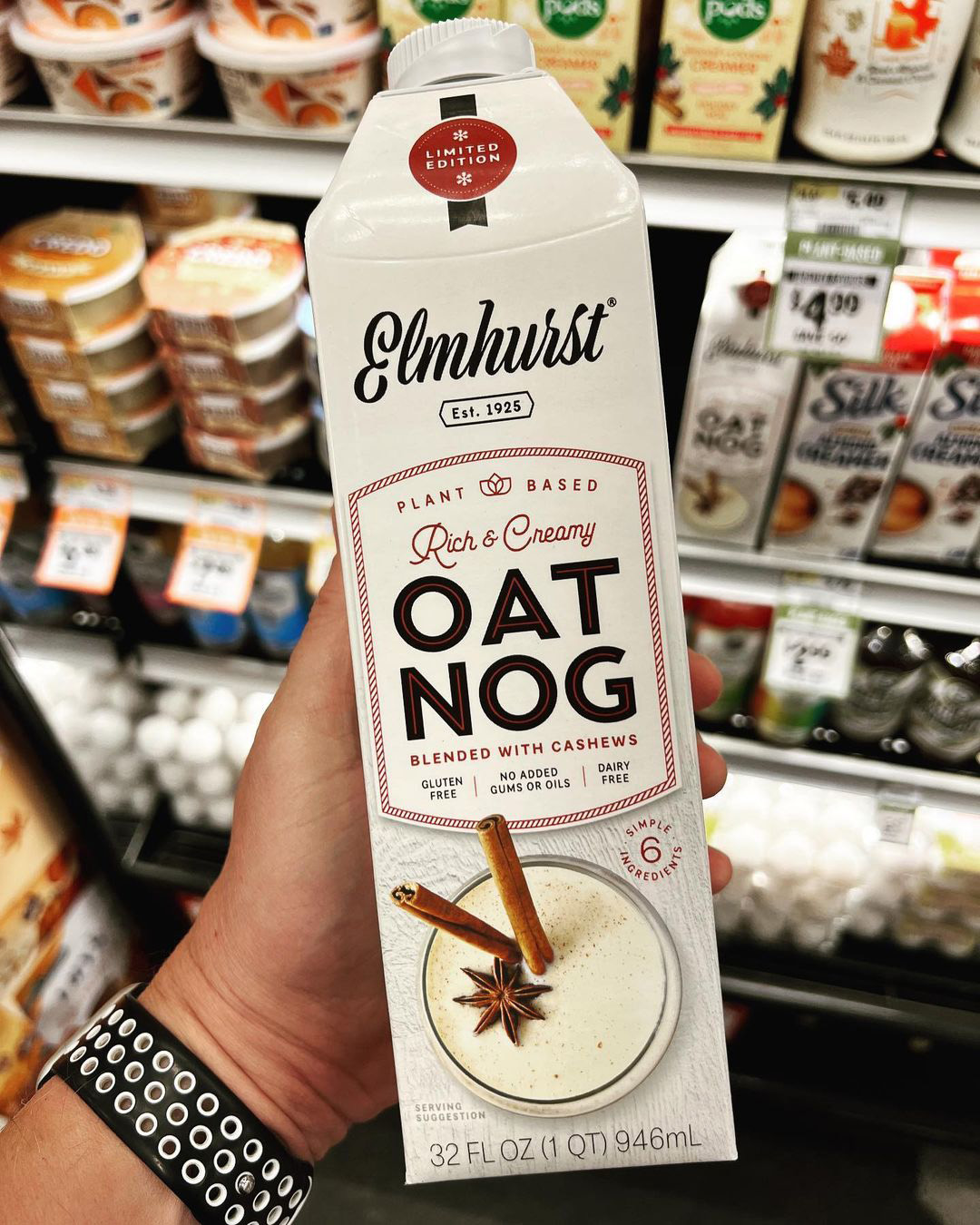 Peppermint Mocha Oat Milk Latte
For a pour-and-go morning pick-me-up, opt for the Chameleon Peppermint Mocha Oat Milk Latte. This ready-to-enjoy cold brew concoction is the limited-edition vegan beverage you need in your fridge this season. Infused with cane sugar and flavors of peppermint, this sweet drink will certainly add a little pep to your cozy morning routine.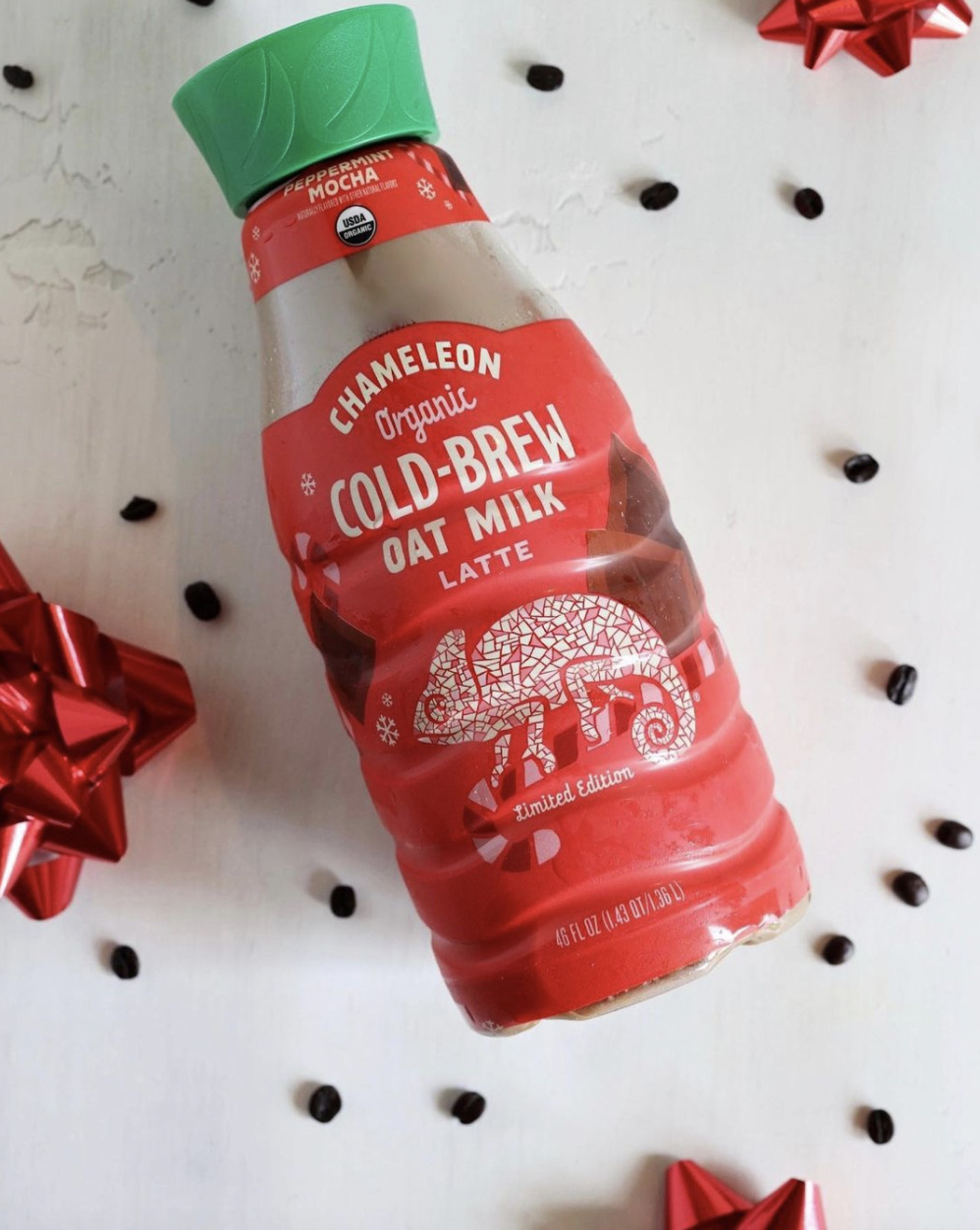 Organic Oatmilk Nog
We've got another store-brand nog coming at you. Don't miss out on the Sprouts Organic Oatmilk Nog next time you're out shopping. This vegan-friendly sipper was made to enjoy while sitting around the fire swapping stories with friends and family. Pair it with Christmas cookies, and you've got the perfect combo.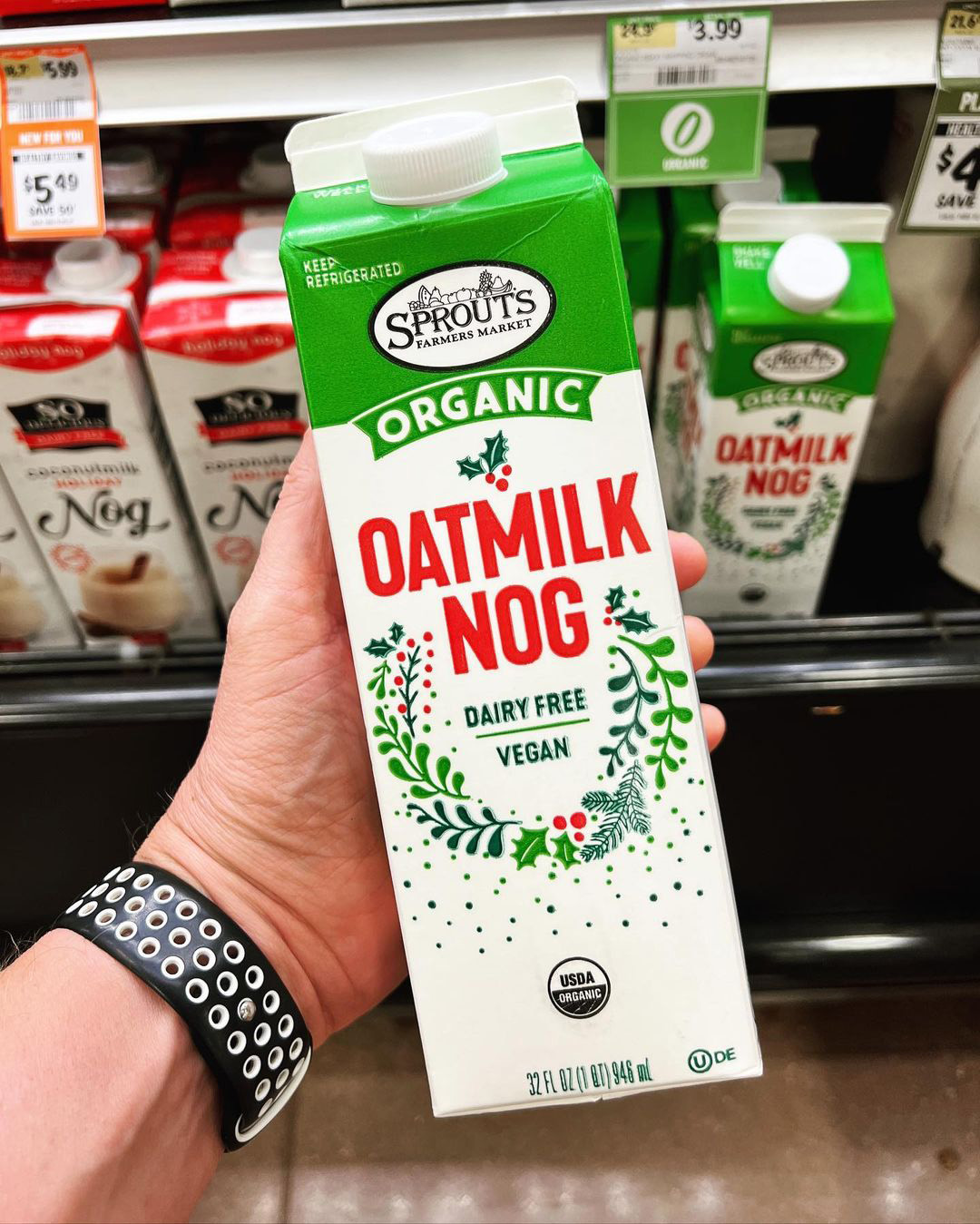 Photo credit: @bigboxvegan on Instagram
Winter Cheer Cold Brew
Made for those who love cold brew and plant-based nog, this creative vegan drink combines two of our faves. Made with Oatly oat milk and Stumptown Coffee Brewers cold brew, the Winter Cheer Cold Brew is sure to be your new seasonal go-to. Serve over ice, and enjoy this delicious partnership. The brand also offers a couple other Oatly-based cold brew mixtures.