On a blazing summer day or biting cold winter evening, to slurp with chopsticks or shovel in with a fork, versatility is what makes noodles magnificent. All around the Bay Area, you can find noodles of different shapes and sizes, dressed up in a nearly infinite amount of ways. From served in a bowl surrounded by a hot broth to sold by the pound for you to take home and create your own masterpiece, here are six vegan noodle dishes that are some of the best in the Bay Area.
RELATED: Black-Owned Vegan Restaurants to Support in the San Francisco Bay Area
---
Want even more vegan news, food, and lifestyle content? Subscribe to VegOut LA Magazine or VegOut NYC Magazine!
Bánh Cuốn at Lo Banh Cuon Thanh Tri
San Jose
Drive East away from the tall buildings of Downtown San Jose, and keep an eye out for what some may consider an unassuming storefront compared to its "more modern" neighbors some blocks West. Enter the shop's doors, and behold the treasures hidden behind: freshly-made bánh cuốn. Lo Banh Cuon Thanh Tri is one of the only places in the Bay Area specializing in making these thin and silky—some may say slippery as it can test a person's chopstick skills—rice flour-based Vietnamese noodle sheets. There are two vegan options to choose from: plain (bánh không) or with fried shallots folded in (bánh hành). Purchase by the pound to take home and top it with some sliced fried tofu, fresh mint, cucumber, and vegan fish sauce.
Vegan Ramen at HiroNori Craft Ramen
Santa Clara
After bringing its slurp-worthy bowls of ramen up the coast from Southern California, HiroNori Craft Ramen has expanded their dedicated fan base to the Bay Area. While vegan Japanese-style ramen can be difficult to come across, HiroNori Craft Ramen's vegan ramen swoops in to prove that vegan ramen can have as bright of a spotlight as its meat counterparts on a menu. Their noodles are made fresh with flour imported from Japan, and the luscious sesame miso broth of the vegan ramen is a blend of five kinds of miso, which are also shipped over from Japan.
Laksa at Azalina's
San Francisco
Tucked inside The Market is where you can order a comforting bowl of laksa with turmeric noodles submerged in a lemongrass coconut milk broth and topped with a medley of fresh herbs and vegetables. Chef and owner Azalina Eusope, a Penang native who grew up surrounded by the Chinese, Indian, and Polynesian/Malay-influenced Malaysian food culture, opened Azalina's in 2015. Since then, her laksa with a broth featuring a festival of spices and chewy noodles has been a hit.
Koshari at Pharaohs Mediterranean Sandwiches
San Francisco
Pharaohs Mediterranean Sandwiches is an Egyptian, family-owned restaurant in Lower Nob Hill and one of the few places in the Bay Area serving up koshari. Pasta noodles are combined with rice and lentils to form the base of Pharaohs' koshari. Ladled on top is a garlic tomato sauce, and garbanzo beans and crispy fried onions are piled on as the ultimate finishers to a very filling bowl of different flavors and textures.
Sizzlin' Skillet Mac & Cheeze at Souley Vegan
Oakland
When noodles meet pesto, vegan cheese, and jalapenos on a hot cast iron skillet, you know it's going to be a party to not pass on. Souley Vegan's Sizzlin' Skillet Mac & Cheeze provides a fun time with its contrasting flavors—the jalapenos sprinkled on packing a punch while the creamy pesto "cheeze" sauce coating each rigatoni inside and out comforts. With Souley Vegan's expansion from its original Jack London Square establishment to other parts of the Bay Area (and Los Angeles), we're excited for the party around this mac & cheeze to get bigger and bigger.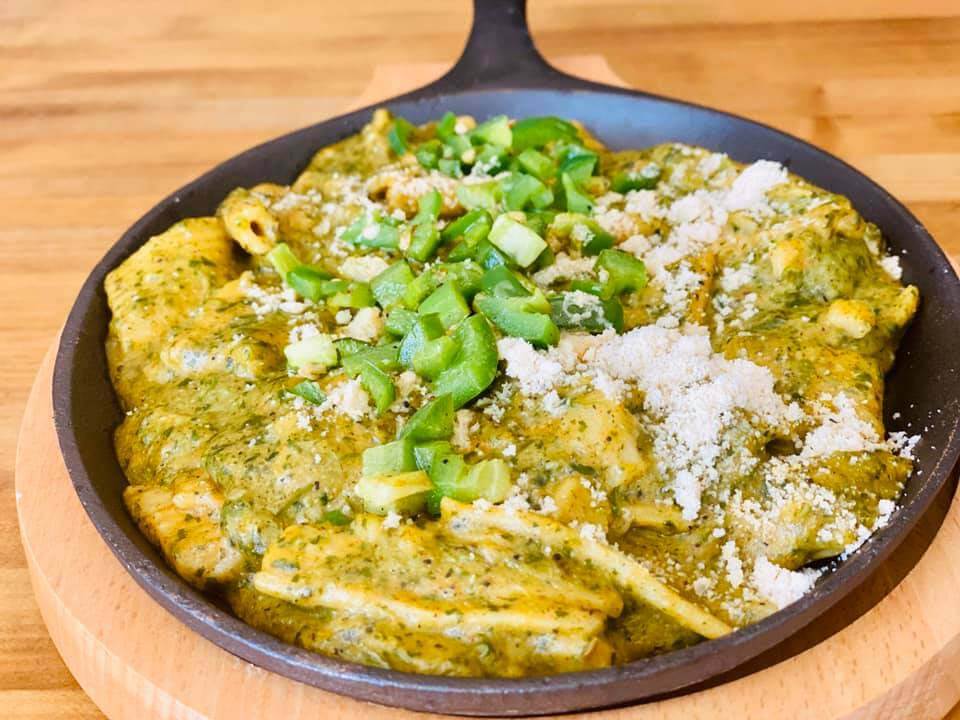 Mo Mil Kong Guk Su at Pyeong Chang Tofu House
Berkeley and Oakland
On hot summer days, what is something cold and creamy that should be one of the top things to come to mind? That's right, Kong guk su, a Korean chilled soy milk noodle soup. Sadly, it's not commonly found in many restaurants in the Bay Area (yet), but a cooling bowl awaits every summer at Pyeong Chang Tofu House. Regular kong guk su with wheat noodles are offered, but the buckwheat noodles of the Mo Mil Kong Guk Su gives an added nutty flavor to the dish. At Pyeong Chang Tofu House, the buckwheat noodles are surrounded by a creamy and refreshing soy milk broth—thick and rich from soybeans that are soaked, cooked, and then blended—and finished with julienned cucumbers and a scattering of toasted sesame seeds.