What better cure for a case of the Mondays than some comfort food? Covered in syrup, of course! It's the perfect way to jump into your week after conquering the Sunday scaries. For National Waffle Day, we're rounding up some of the best places in Los Angeles to indulge in our favorite nostalgic treats—sweet or savory, morning or night.
RELATED: Vegan Versions of Your Favorite Childhood Meals: LA Edition
---
Want even more LA vegan news, food, and lifestyle content? Subscribe to VegOut LA Magazine!
Gegen
East Hollywood
A fully vegan restaurant, their vegan waffle is topped with fresh berries and creamy coconut whipped cream. Available for delivery or pickup daily from Gegen's East Hollywood location. They often run specials for new customers, too!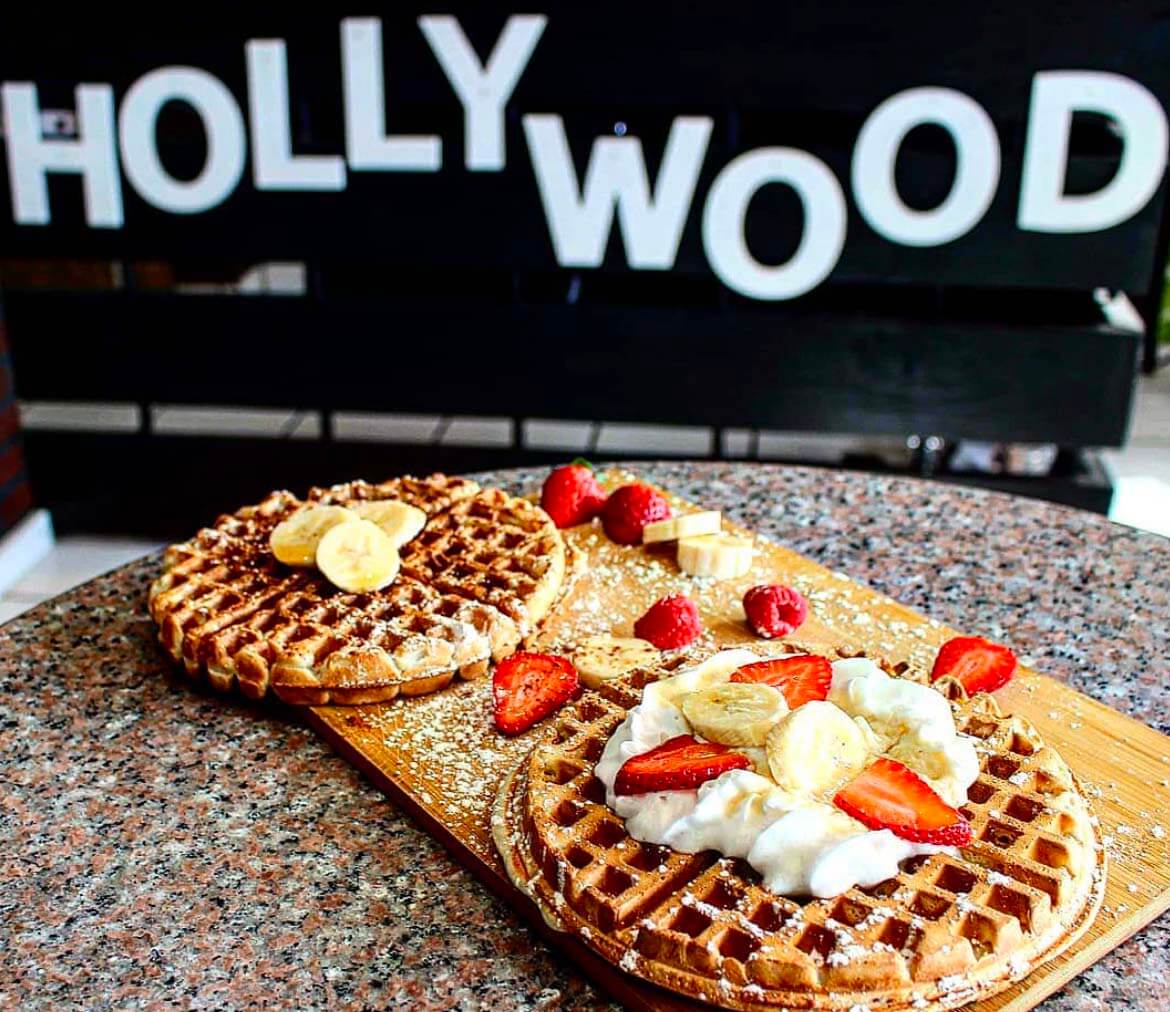 The Waffle
Hollywood
Of course we had to include this Sunset Blvd staple, with the prize right in the name! With a vegan-friendly menu, they offer a vegan and gluten-free waffle option served with plant-based butter and maple syrup. Pro tip: Add a side of their country potatoes and one of their $8 double-sized mimosas. Open for pickup, delivery, and outdoor dining.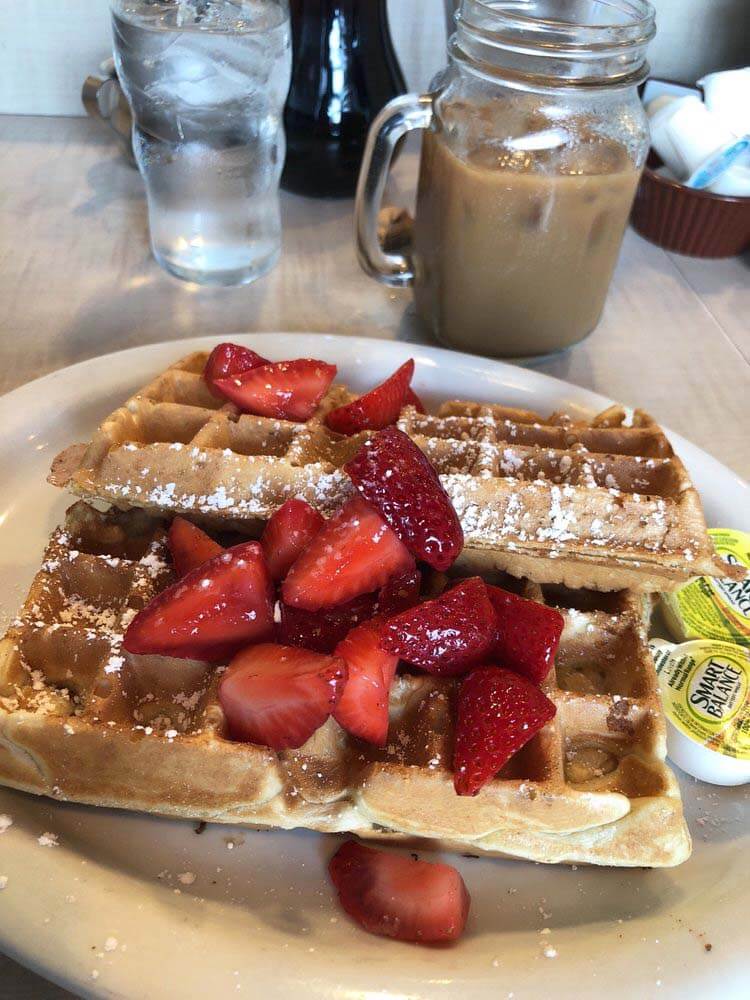 Crossroads Kitchen
West Hollywood
A local favorite for date night, Crossroads offers vegan fried "chicken" and waffles, served with warm maple hot sauce to spice up this savory dish on their brunch and daily lunch menus. Open for delivery, pickup, and patio seating via reservation.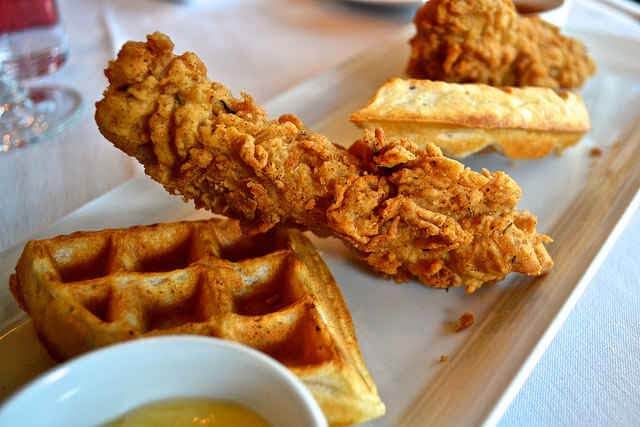 Counterpart Deli
Echo Park
This Echo Park hot spot serving up vegan comfort food has a heavy focus on sustainability. Try their Matcha Waffle for a special sweet treat, with mashed banana, coconut creme, and matcha. Open for delivery, takeout, and dine-in daily from 9am-6pm.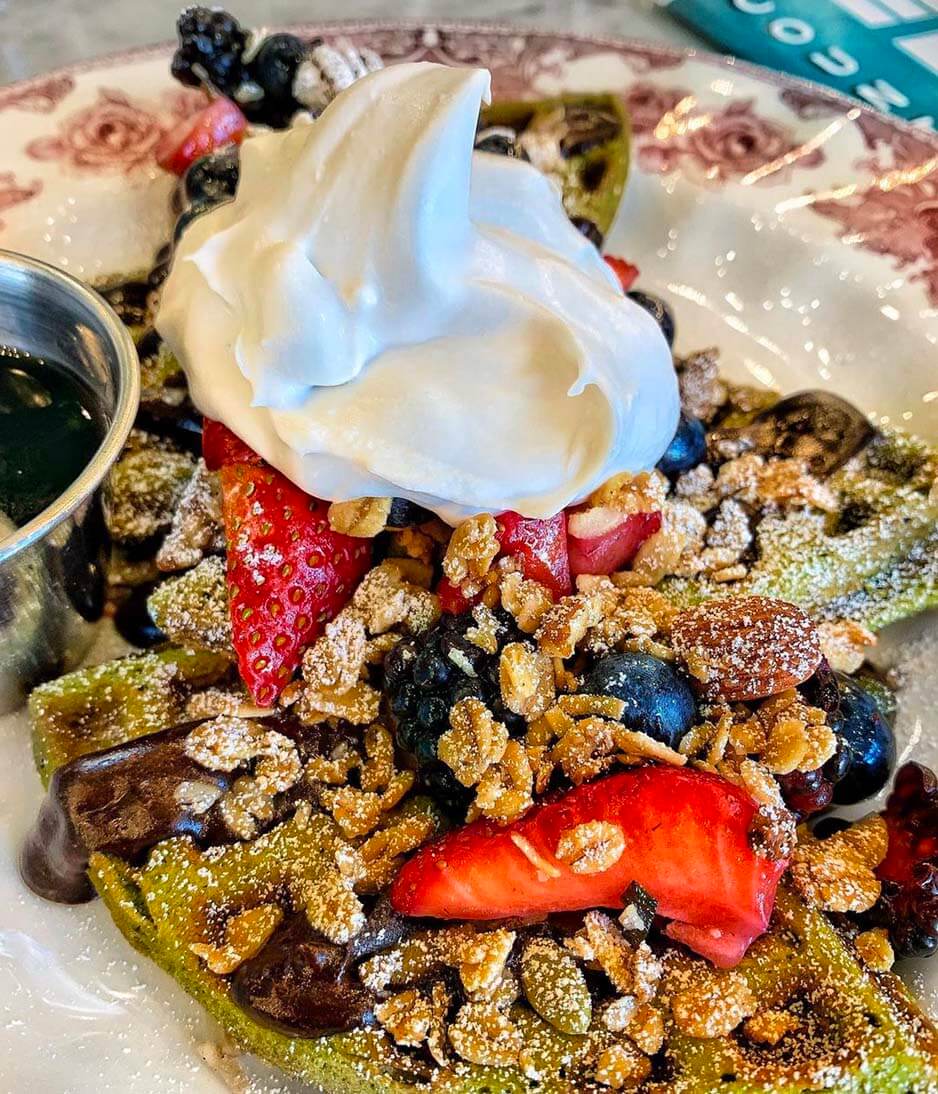 The VTree
Hollywood
If you want to start National Waffle Day early (because who's counting), try out the Chic'n & Waffles served with 100% maple syrup from this new Black-owned spot that offers vegan soul food perched above Hollywood inside Yamashiro. Note: The VTree is closed on Mondays.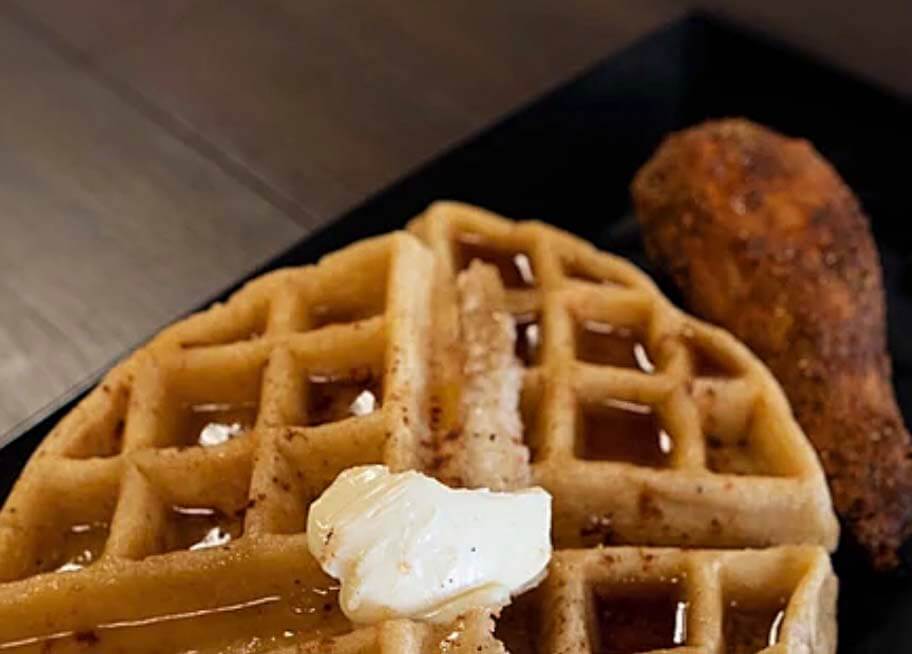 Munchies Diner
Santa Ana
Another restaurant closed on Mondays, but worth the look on Sunday is OC's first original vegan diner, Munchies. This Black-owned eatery is worth the drive to OC and has some of everyone's favorite nostalgic food, including their incredible Chicken & Waffles featuring a whole Belgian waffle and seitan fried "chicken" with 100% maple syrup on their brunch menu. Brunch is served Sunday from 11am-4pm.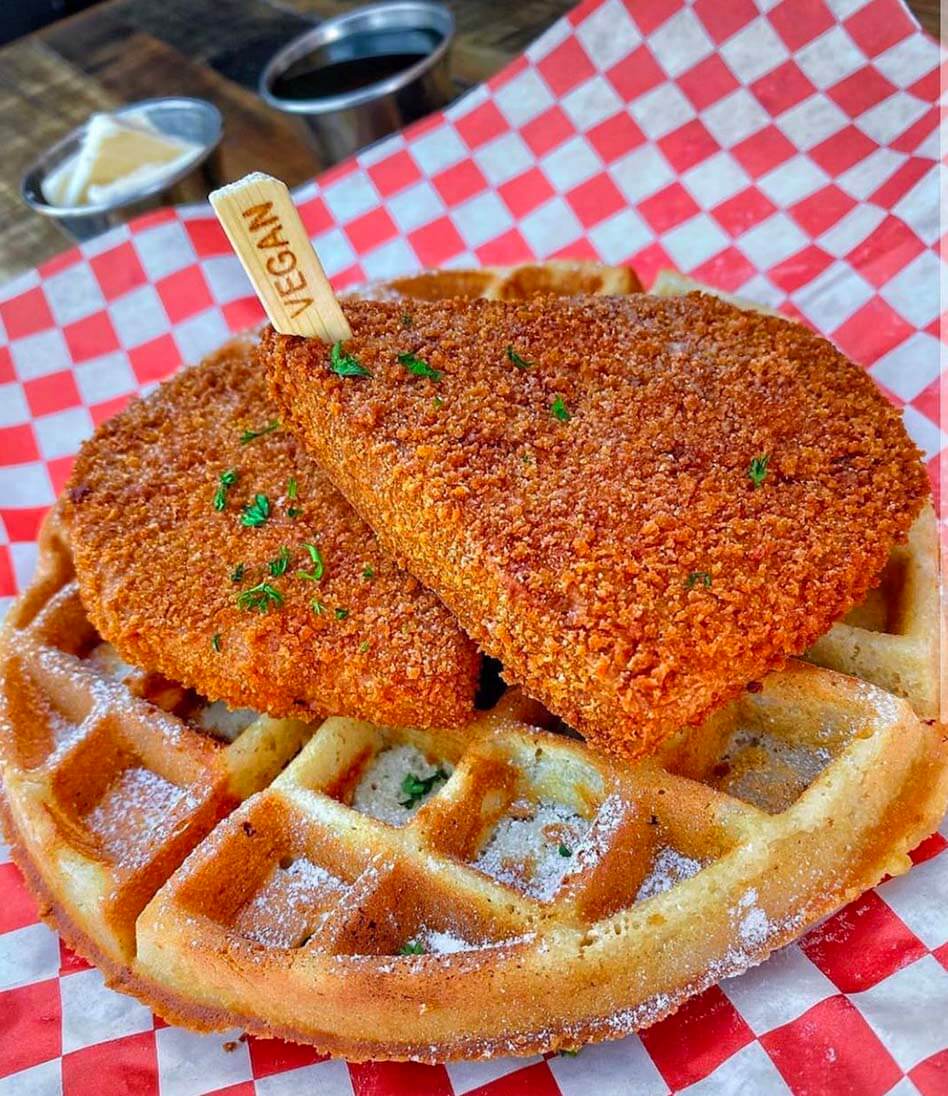 Photo credit: @noleftovereats on Instagram
Met Her At A Bar
Mid-Wilshire
This hip neighborhood cafe offers a fairly customizable menu, with vegan and vegetarian options clearly labeled, and swappable! Their daily breakfast menu serves up an indulgent Salted Caramel Waffle with toasted coconut, a must try anytime you're in the area. With safety in mind, they are open for dine-in and have a QR menu code on every table for easy ordering. Simply hover over the code with your camera phone, then click the link and order straight from the menu.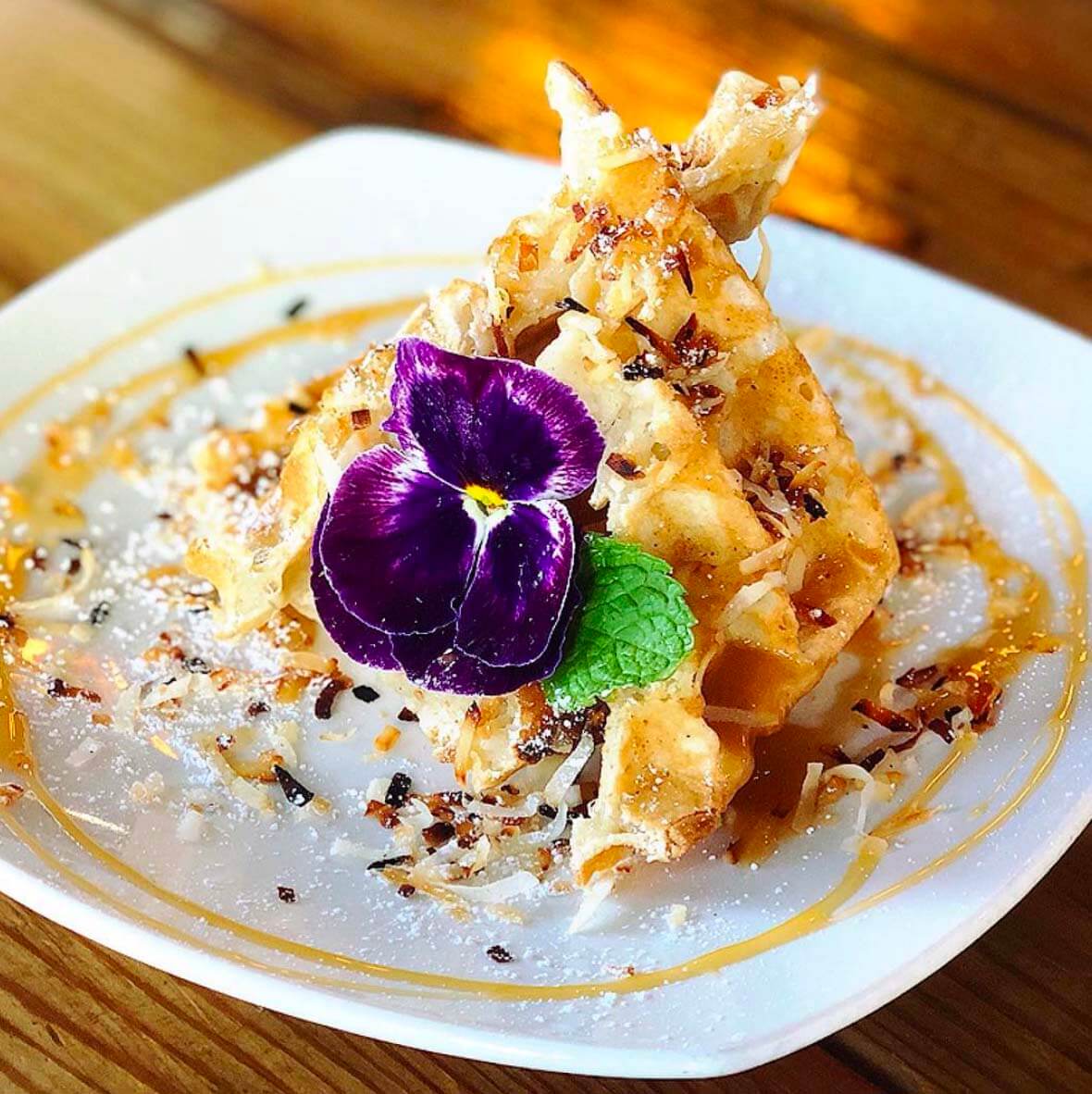 Millie's Cafe
Silver Lake & Pasadena
With two locations in the LA area, Millie's has an entirely separate vegan menu, featuring waffles of savory and sweet varieties—a savory waffle stuffed with bacon bits and a yummy sweet version with blueberry compote, strawberries, carob chocolate chips, bananas, or walnuts on top. Or go with a combination of your choice, served with vegan butter and real maple syrup. Gluten-free options are available as well.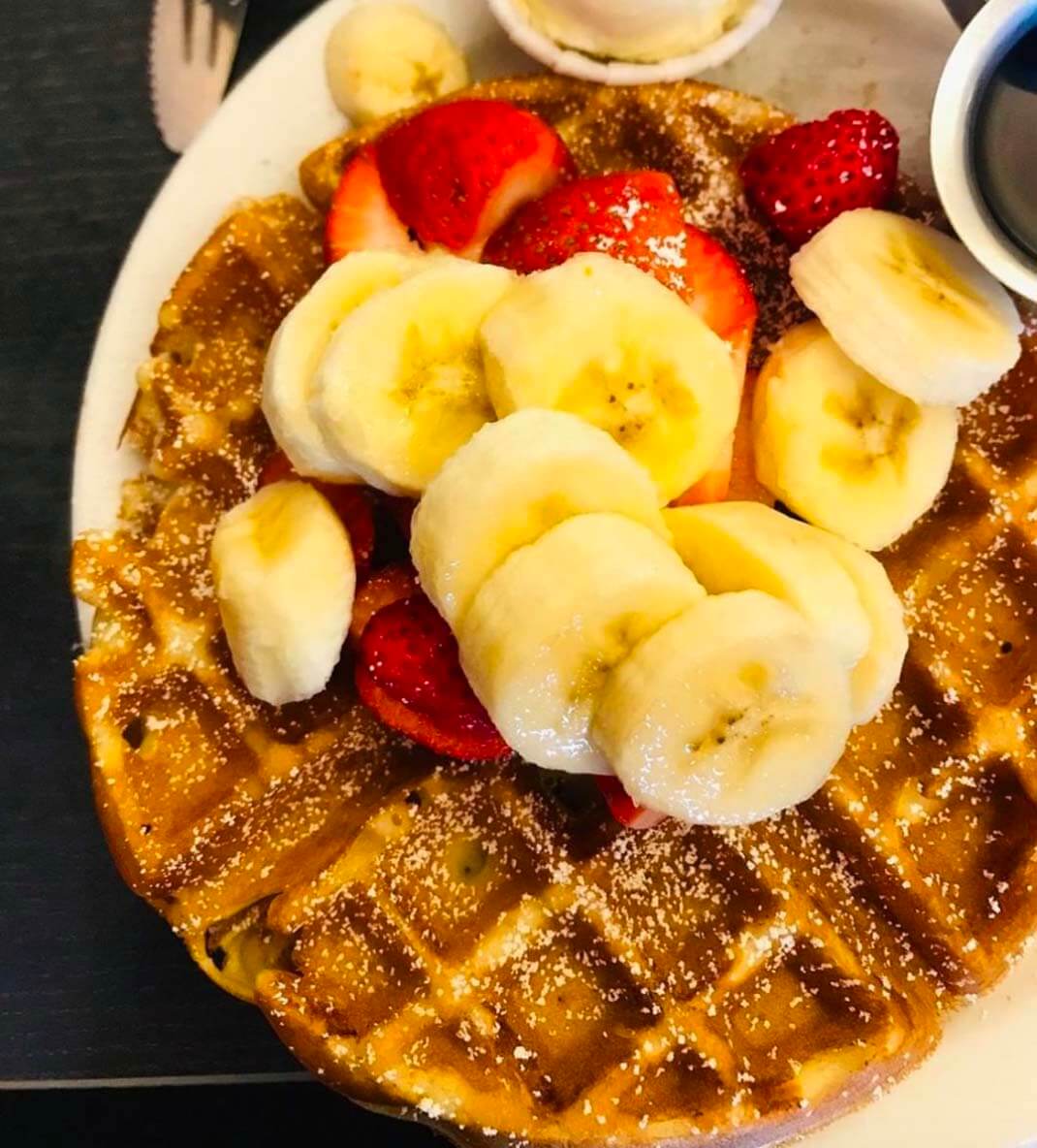 Photo credit: @senzaglutineava on Instagram
Plant Food + Wine
Venice
Have your waffles on a beautiful outdoor patio and garden at the newly renovated Plant Food + Wine for brunch a day early, on Sunday. Their menu features a picturesque Hazelnut Waffle served with blackberries and spiced syrup. The camera definitely eats first here!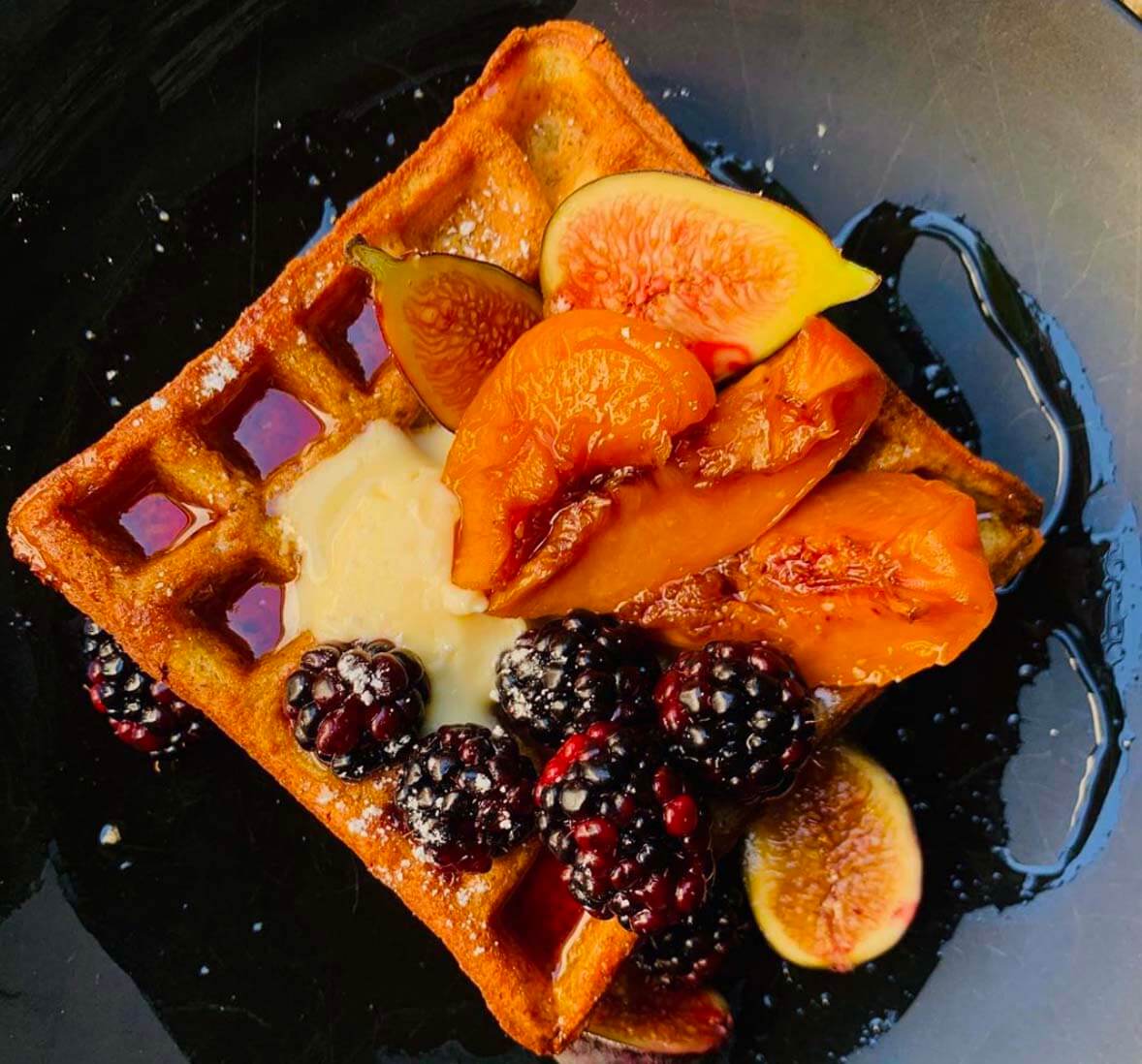 Plant Power Fast Food
Multiple Locations
Check out one of Plant Power Fast Food's seven SoCal locations on National Waffle Day and celebrate with a 'Chicken' and Waffle Sandwich. Crispy breaded 'chicken,' maple 'aioli' and 'bacon' between two crispy waffles make this breakfast of champions portable! Combo it with a coffee and hash brown. Breakfast served daily from 7am-11am.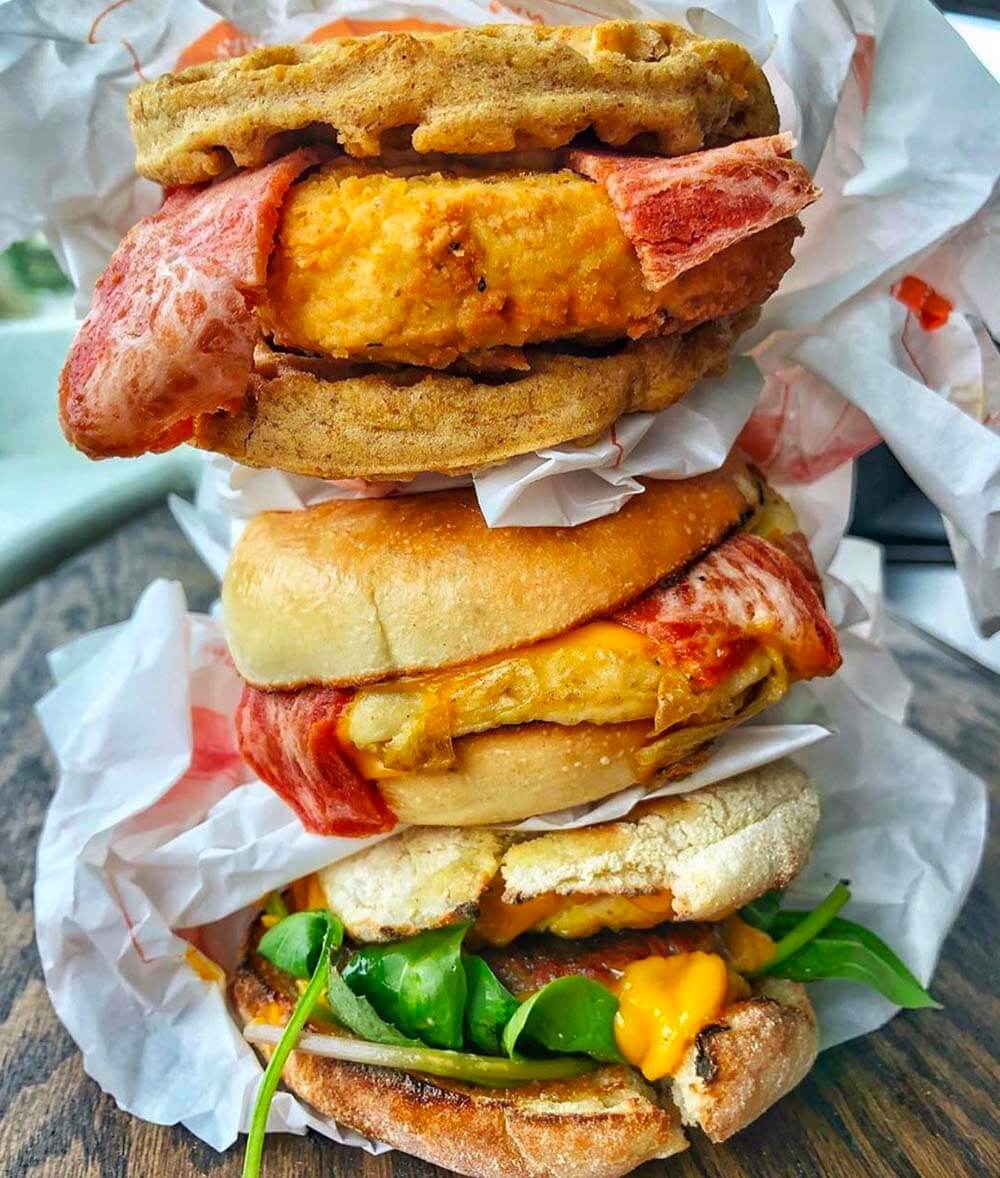 Photo credit: @rollercoastervegan on Instagram
SunCafe
Studio City
Another spot to hit up early on Sunday for brunch is SunCafe, serving up Sunday Funday from 10am-3pm. Try their vegan and gluten-free Belgian waffle, topped with coconut cream, maple syrup, and seasonal fruit.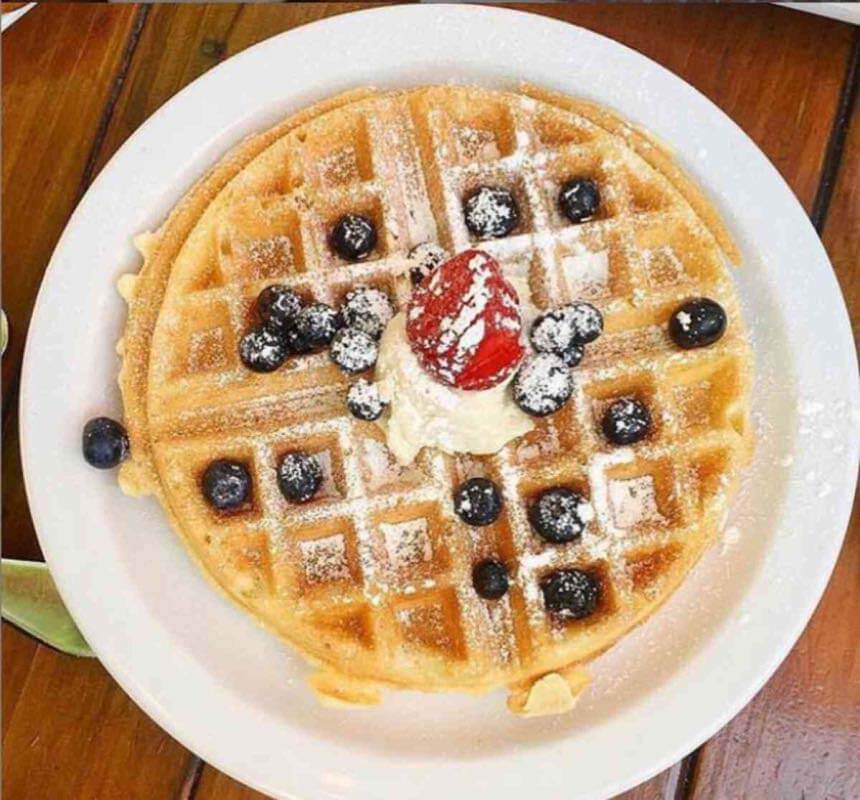 Yoga-urt
Echo Park & Glendale
Serving up house-made gluten-free, vegan waffles, "Yoga-urt in the Morning" is open at their Glendale location on Sunday from 9am-1pm, with a variety of toppings, including any of their amazing and creative soft-serve flavors (think: Birthday Cake, Mango Sunrise, or Peanut Butter Prana). Or for an unconventional celebration on Monday, get your waffle served up cone-style with your favorite flavors and toppings at either location.