These mind-blowingly delicious meals will leave you saying, "I can't believe it's vegan!" Whether you're transitioning to a more plant-based diet or have been vegan for years, you're bound to experience a craving or two for a meal that's not traditionally vegan. You're not alone! We've been there, done that, and got the t-shirt. From Panda Express Orange Chicken and In-N-Out Burgers to Taco Bell Crunchwraps and Little Caesars Crazy Bread, here's a list of vegan substitutes that taste just like those meals you used to enjoy pre-vegan.
RELATED: Here's Where to Find Vegan Flan in Los Angeles
---
Want even more LA vegan news, food, and lifestyle content? Subscribe to VegOut LA Magazine!
McDonald's Chicken Nuggets
Beleaf Burgers
Chino Hills
Although it may not be your proudest moment, it's okay to admit that you used to eat chicken nuggets from McDonald's. If you're ever in the mood for these savory dippable bites, take a trip to Beleaf Burgers! The chicken nuggets from this all-vegan spot are made without any scary ingredients––just pure, plant-based goodness! Dunk 'em in one of their many drool-worthy vegan sauces like Buffalo, Tangy BBQ, or Honey Mustard.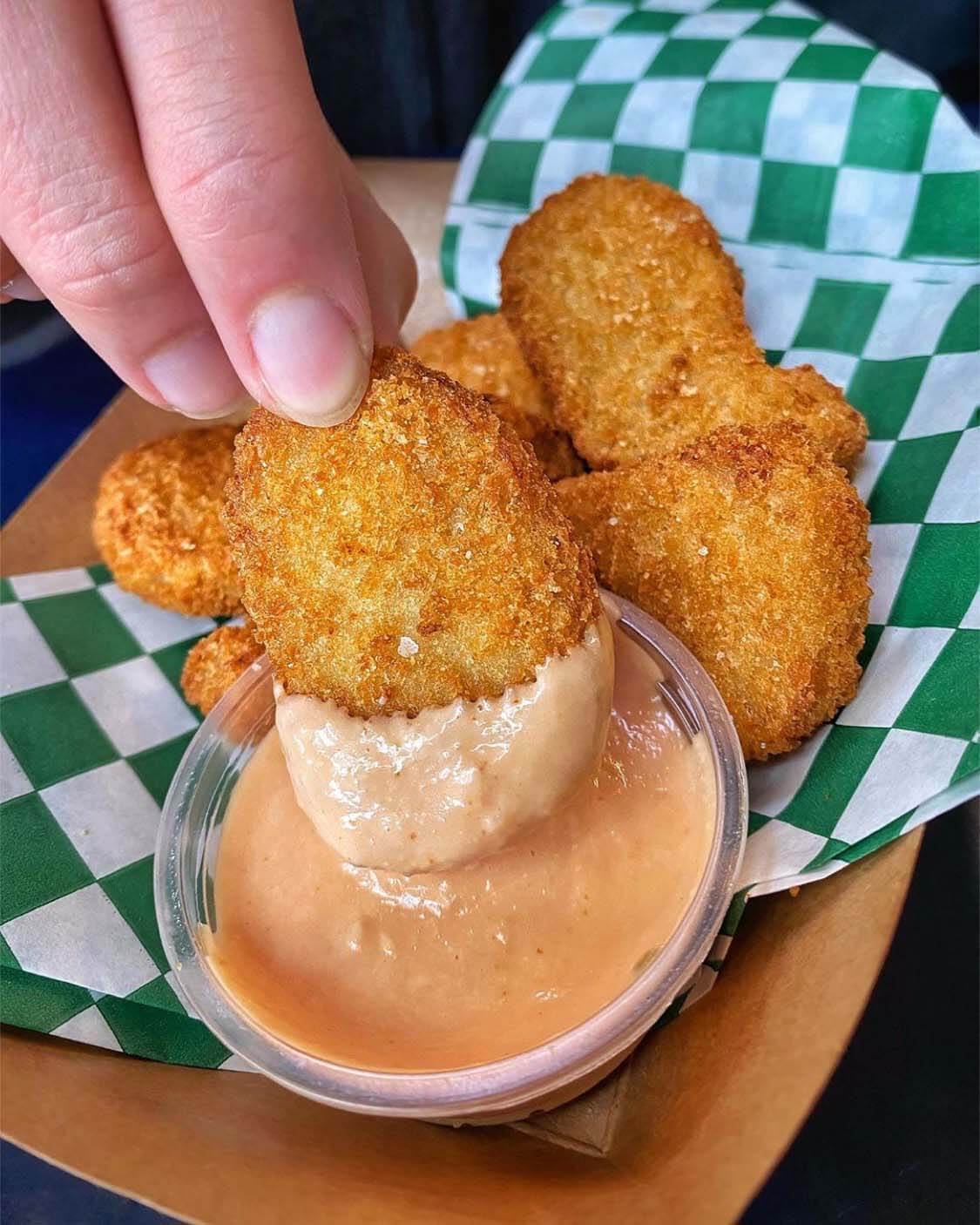 Taco Bell Crunchwrap
Word of Mouth
Food Truck
Remember those days when the Crunchwrap Supreme from Taco Bell was your go-to grub? Word of Mouth's Munchwrap is even better––and all-vegan, of course! This heavenly handheld contains layers of refried beans, potatoes, house-made nacho cheese, onions, tomatoes, lettuce, ranch, and a crunchy tostada all wrapped up in a flour tortilla! And it can be made gluten-free upon request.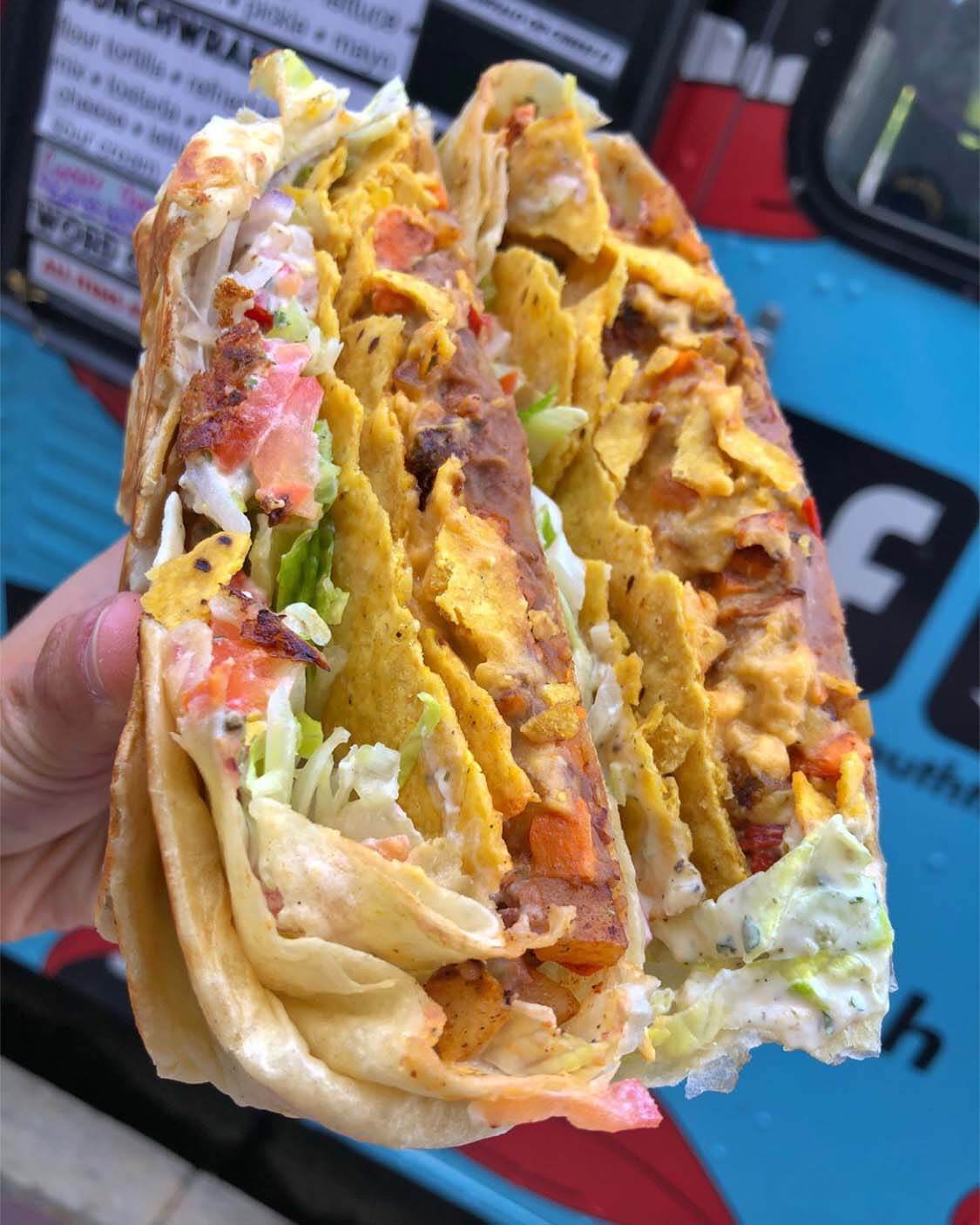 In-N-Out Burger
Monty's Good Burger
Koreatown, Echo Park, and Riverside
In-N-Out is one of the most iconic fast-food spots in California. Sadly, they don't have a burger for us vegans––well, unless you like buns with lettuce. No thanks. Where should you go instead? Monty's Good Burger! This wickedly popular plant-based destination has been described as a vegan In-N-Out many times. But the menu items from Monty's are even tastier and more innovative! Their "have it your way" motto lets you customize any dish to meet your liking. Load up your burger with as many vegan patties, cheese, veggies, tater tots, fries, and sauce as your heart desires!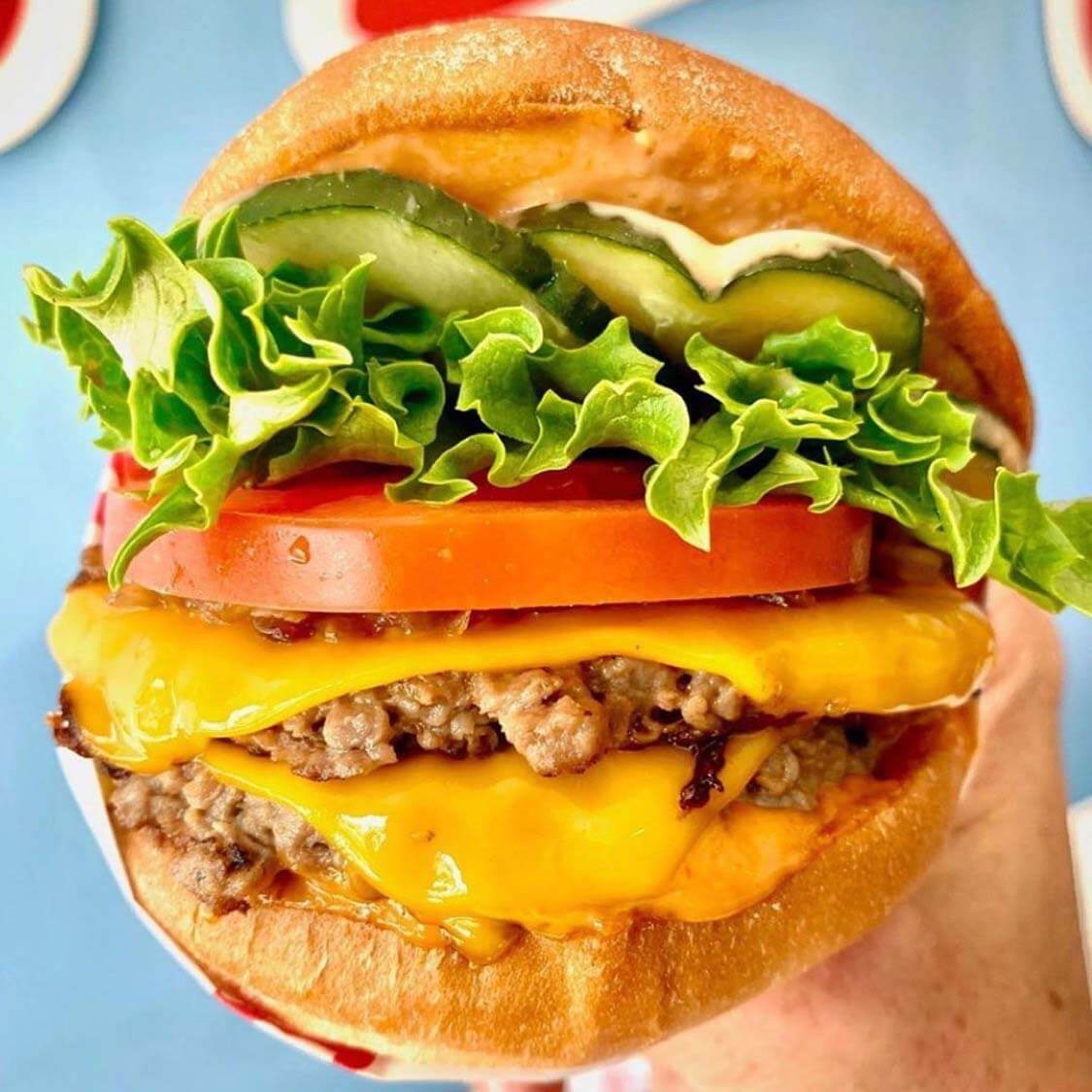 Panda Express Orange Chicken
Pots N Woks
Whittier
Your days of scarfing down copious amounts of orange chicken from Panda Express may be long gone, but if you ever find yourself craving those sweet and savory morsels, make Pots N Woks your next stop! This vegan-friendly Chinese restaurant serves quite the variety of plant-based noms that are WAY better than Panda Express. Their Vegan Orange Chicken Combo with Chow Mein hits the spot every. dang. time. You can also find Vegan Broccoli Beef, Walnut Shrimp, Egg Rolls, Cream Cheese Wontons, and more on their separate vegan menu. Who's hungry now?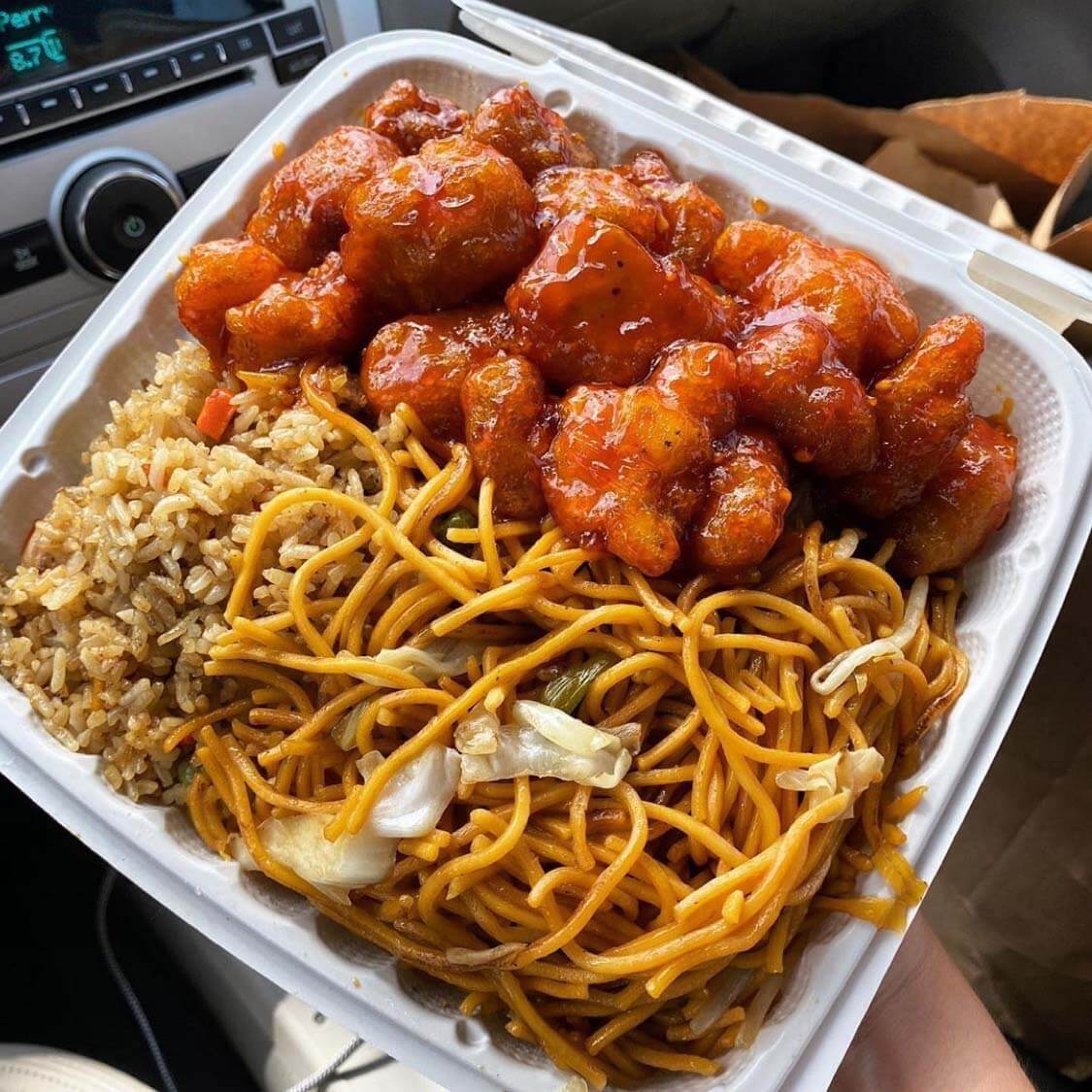 Kraft Mac and Cheese
Jackfruit Cafe
West LA
Vegan mac 'n' cheese is one of our many guilty pleasures. Whether you used to obsess over the Kraft, Velveeta, or Kid Cuisine cheesy noodles as a young tot, vegan mac 'n' cheese is a billion times tastier and healthier, yet just as nostalgic. There are so many places to order this drool-worthy dish in Los Angeles but today we're craving the Mac and Cheese Bowl from Jackfruit Cafe! Dive your fork into a creamy, cashew-based mac that's topped with avocado slices and grilled plantains. And by ordering from Jackfruit Cafe, you'll be supporting an all-vegan Black-owned restaurant. It's a win-win!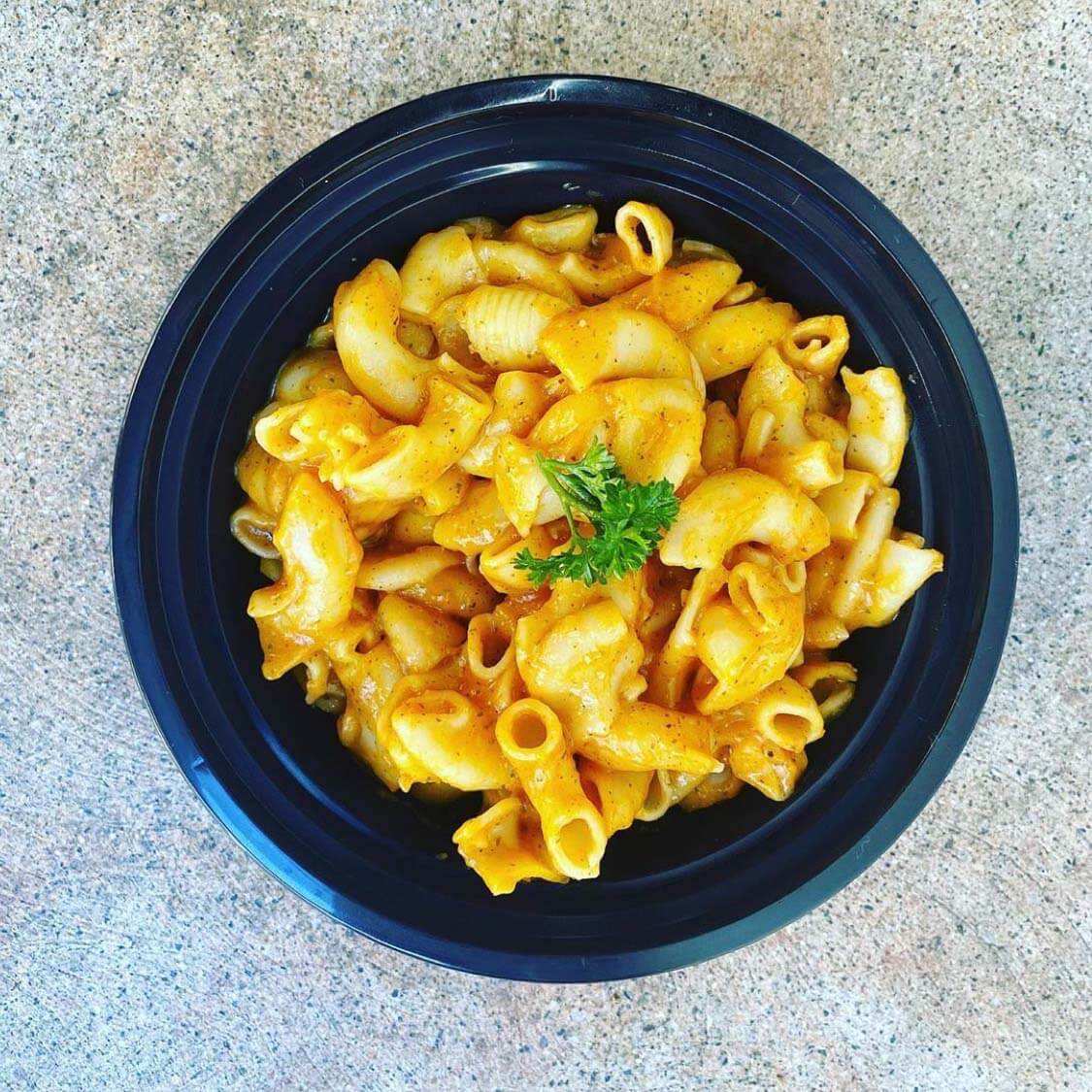 Little Caesars Crazy Bread
Cruzer Vegan Pizza
Los Feliz
In this day and age, it's fairly easy to make or find vegan pizza, but what about cheesy breadsticks? Whatever your favorite mainstream pizza spot offered (i.e. Little Caesars Crazy Bread, Domino's Stuffed Cheesy Bread, or Pizza Hut Cheese Sticks), these Cheese Breadsticks from Cruzer Vegan Pizza are sure to fill that void. These soft sticks of carby goodness are packed with Daiya cheese, rolled in garlic and olive oil, and served with a side of marinara sauce. Sign us up!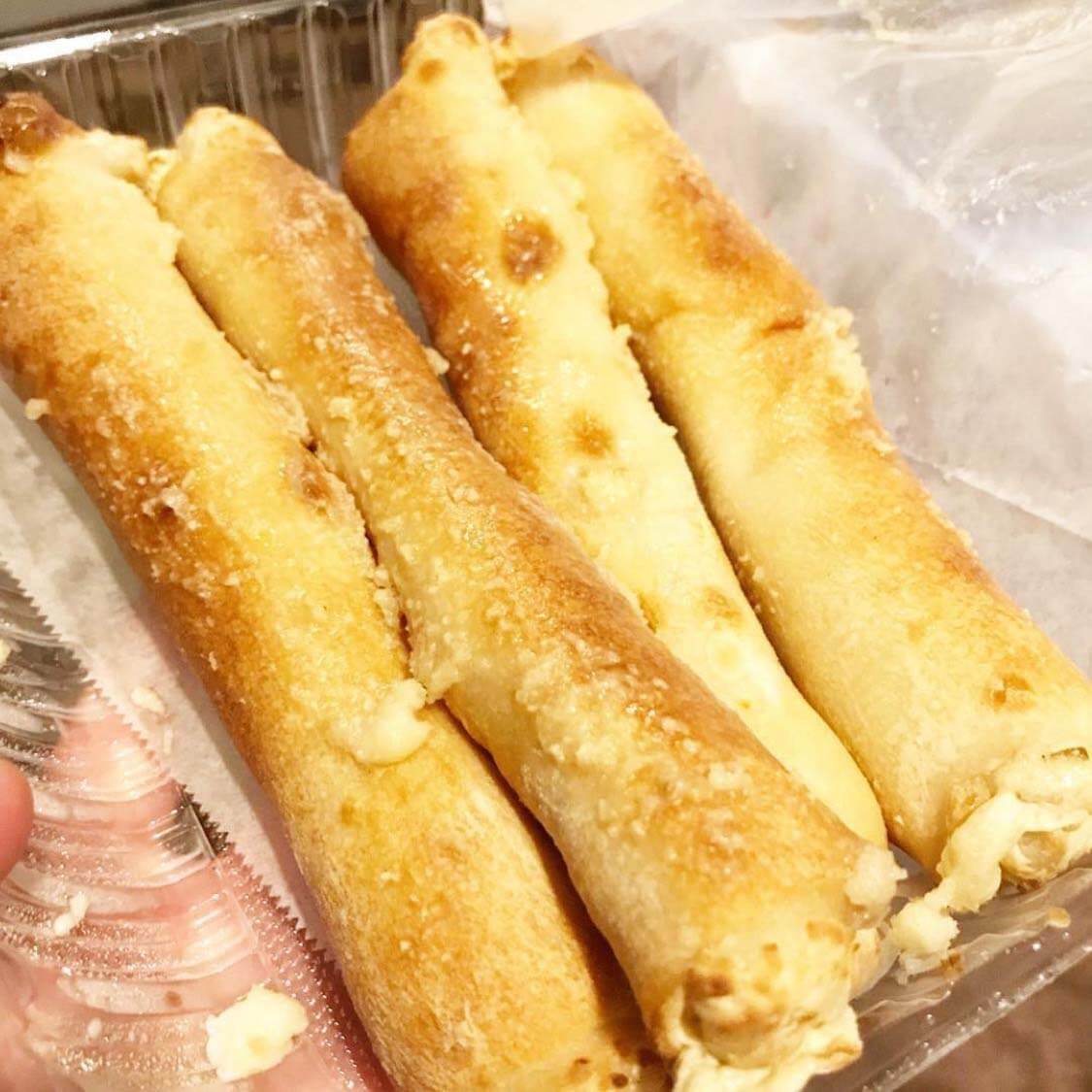 McDonald's Breakfast Sandwich
Munchies Diner
Santa Ana
If your stomach is calling for a vegan breakfast sandwich, Munchies Diner is the perfect response! Their VcGriddle comes with your choice of bacon or sausage, a fried egg, a slice of American cheese, and a beautiful golden hash brown. Oh, and did we mention it's served with maple syrup and sandwiched between GLUTEN-FREE PANCAKE BUNS? Shook! If you're unable to swing by during their breakfast hours, their VcMuffin is served all day! It's a similar dish, just sandwiched between an English muffin and served with ketchup.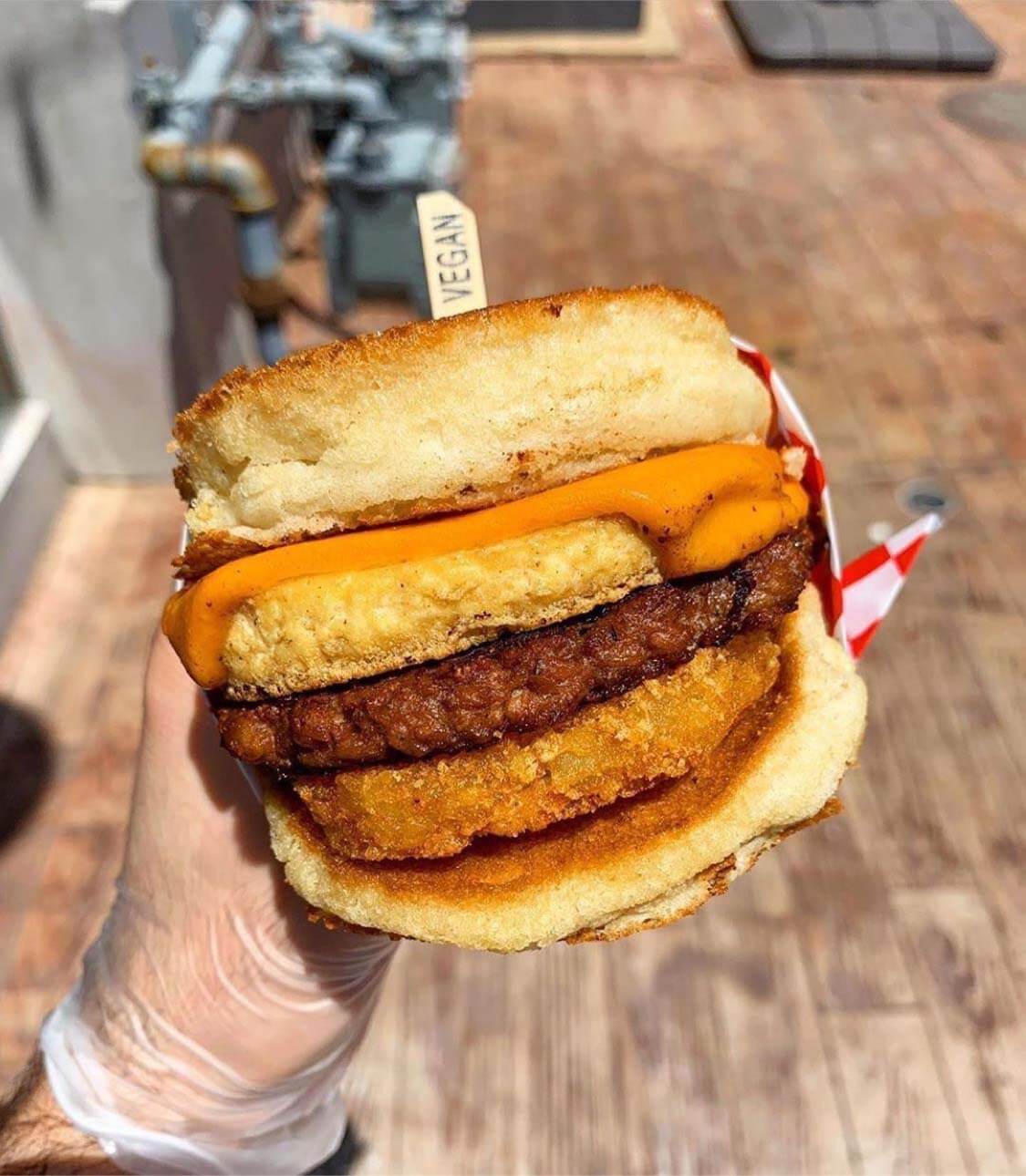 Chili's Baby Back Ribs
Compton Vegan
West LA
Did anyone else just sing the Chili's jingle in your head? Whether you're just a big fan of The Office or actually used to eat those ribs, there's a vegan version for that! Yep, in the vegan world, anything is possible and one of the best spots in LA for vegan ribs is hands down Compton Vegan. This Black-owned spot has mastered a flavor and texture that's reminiscent of ribs using jackfruit. And if you order the BBQ Jackfruit Ribz Plate, you'll also get collard greens, mac 'n' cheese, baked beans, and cornbread on the side. Chili's who?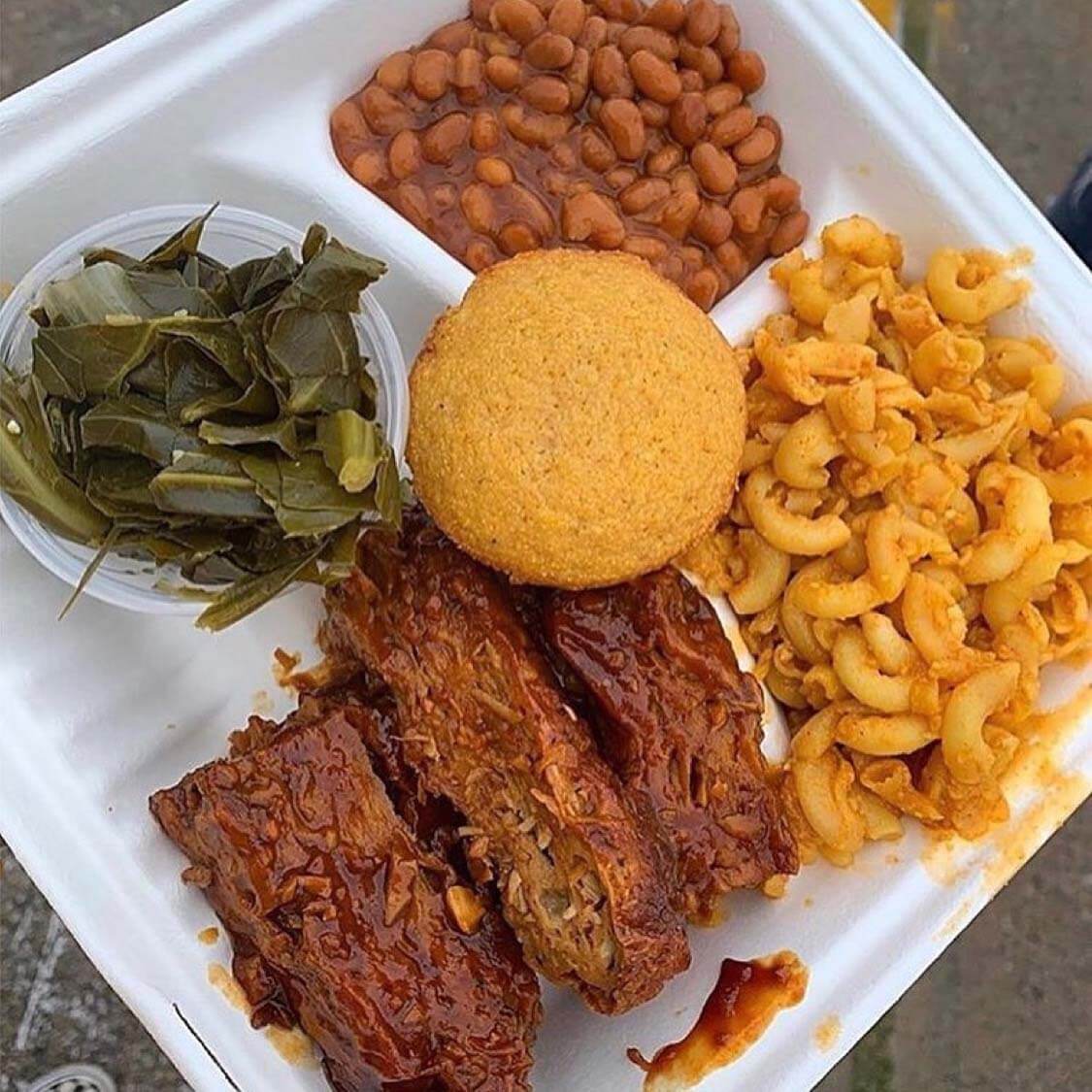 Photo credit: @alliexdanielle on Instagram
Sonic Jalapeño Poppers
Doomie's Home Cookin'
Hollywood
They're cheesy, spicy, and fried to perfection! If you haven't guessed it already, we're talking about the Jalapeño Bites from Doomie's. These bite-sized breaded beauties are made from scratch with loads of vegan cheese and a side of ranch––what more could we ask for? Oh yes! Fried Oreos for dessert!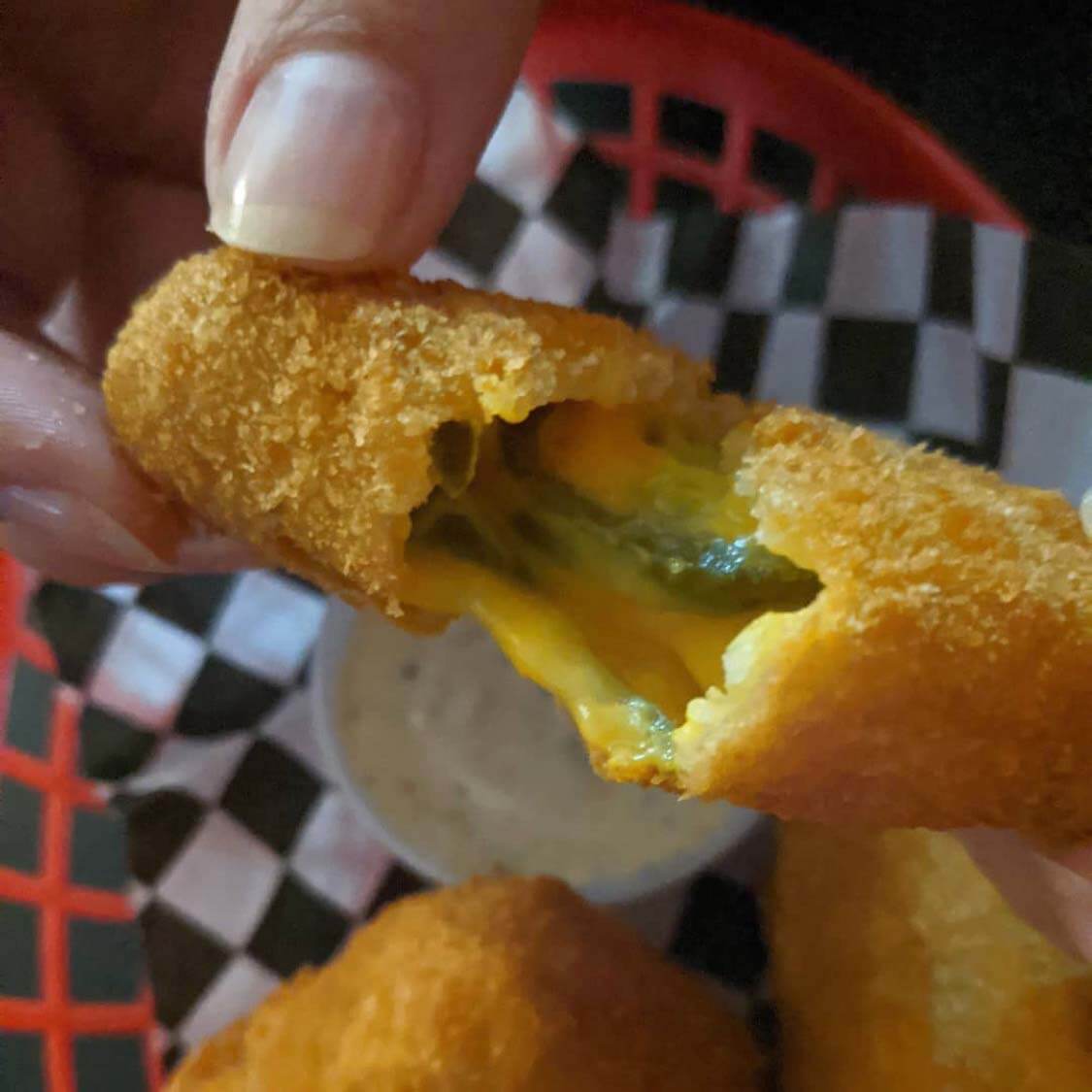 Photo credit: @bus_troubler on Instagram
Wingstop Wings
The VTree
Hollywood
Hungry for wings? These Vegan Drumsticks from this Hollywood hotspot are so dang good, you'll be wishing you went vegan ages ago! Choose between the original or spicy variation and get a side of Buffalo or Sweet Heat Sauce. These wings are seasoned with Chef Velvet's 32 spices, so things are definitely not lacking in the flavor department!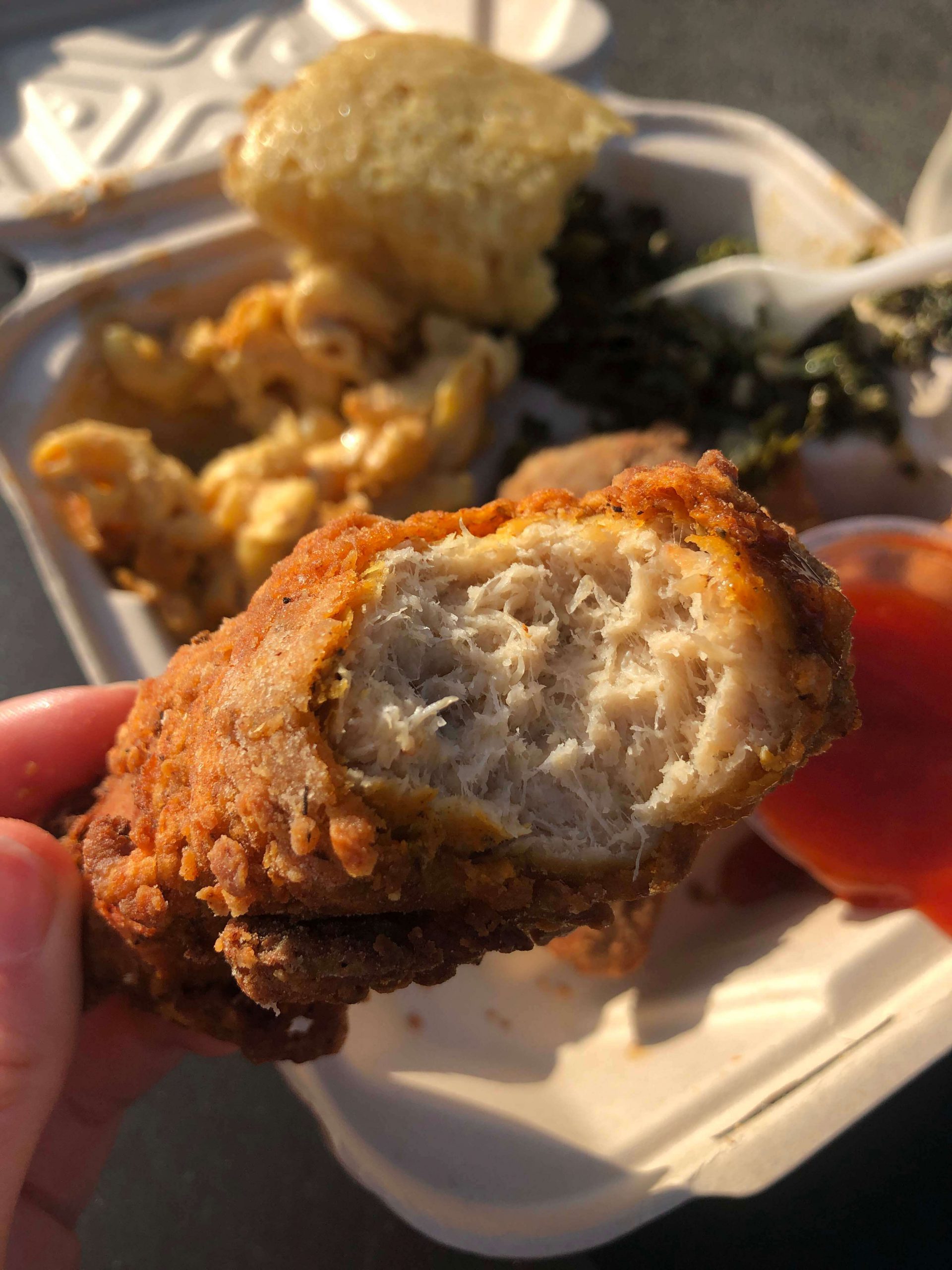 KFC Popcorn Chicken
Vinh Loi Tofu
Reseda & Cerritos
This vegan popcorn chicken from Vinh Loi Tofu will give you flashbacks of pulling up to KFC or Sonic back in the day. These mouthwatering morsels are crispy, savory, and best of all, 100% vegan! When you place your order, we'd recommend adding on a few of their S'mores Cookies for dessert!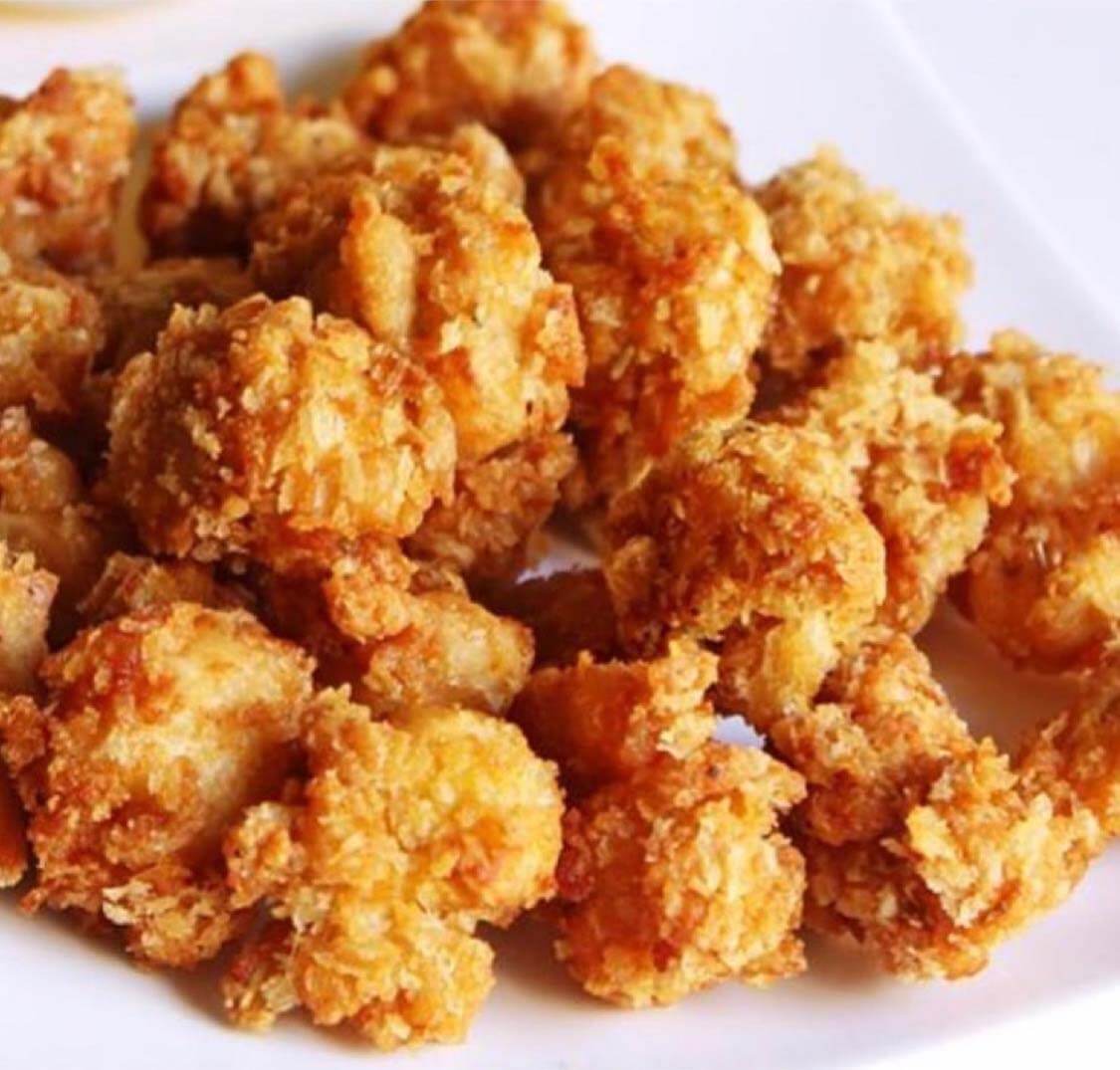 Grilled cheese from literally anywhere (preferably made at home by your childhood babysitter)
SunCafe
Studio City
This next dish is made up of two of our favorite things––carbs and vegan cheese! Grilled cheese sandwiches are so comforting and classic! SunCafe's All Grown Up Grilled Cheese Sandwich is a fancy, more delectable version of the nostalgic dish. It's composed of Dave's Killer Bread, Follow Your Heart Provolone cheese, onions, mushrooms, pico de gallo, and tempeh bacon. Mmm!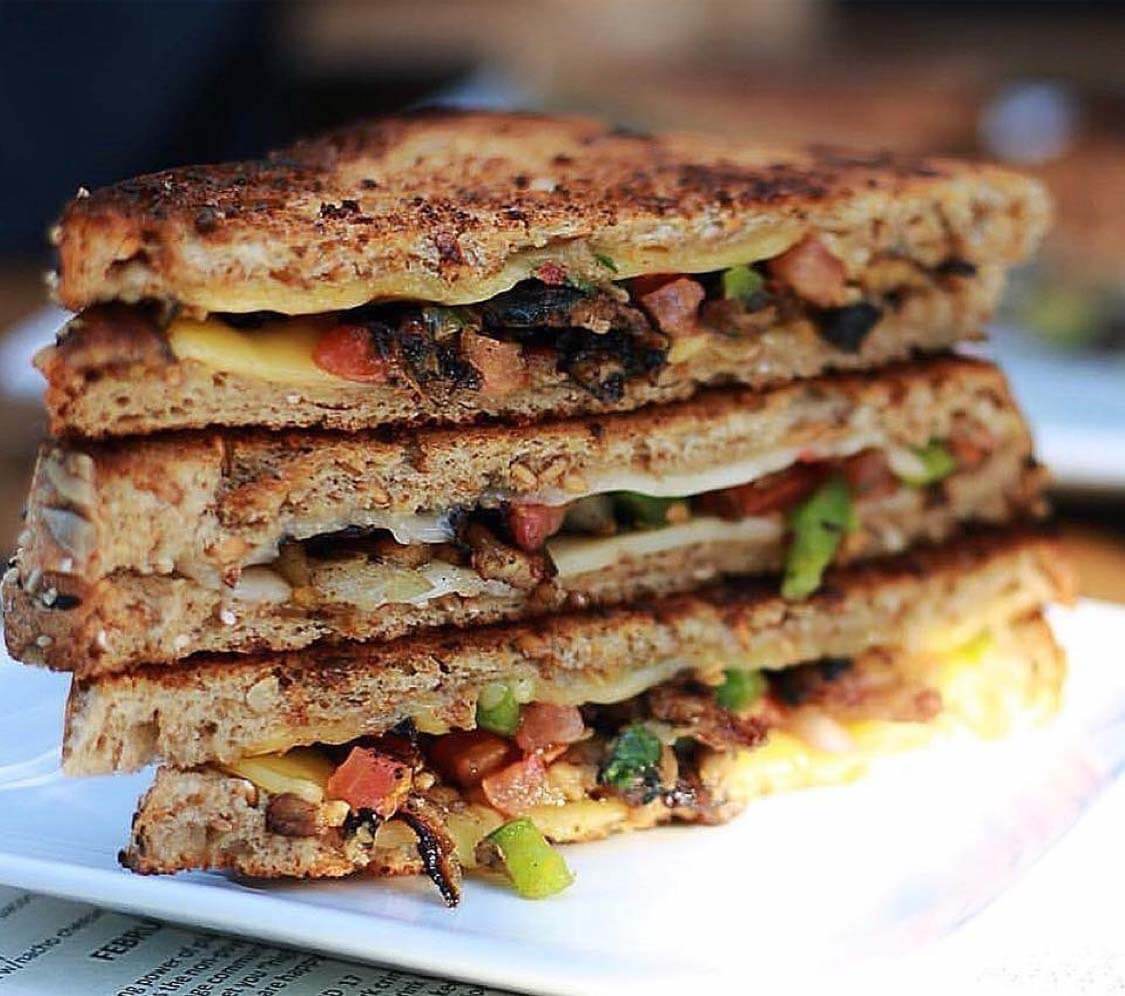 Bagel Bites
Rachel's Cosmic Cuisine
Sold at select stores in Southern California & online via GTFO It's Vegan
Speaking of childhood favorites, you've got to try these vegan pizza bagels from Rachel's Cosmic Cuisine. They come in two varieties, Two Cheese and Pepperoni, and pair wonderfully with vegan ranch! These circular snacks are free from dairy, nuts, palm oil, and GMOs. Preheat the oven and get ready for deliciousness!