The LA vegan food community is resilient, and nothing proved that more than the number of restaurants that took on the uphill battle of opening their doors in the midst of a pandemic. In case you missed it, here are some of the vegan food concepts that have opened in LA during the last year.
Van Nuys
Your "Best New Restaurant" Winner in the 2021 VegOut Awards, El Cocinero opened up in Van Nuys over the summer. The concept evolved from the beloved pop-up Vegatinos, which chef and founder Alex Vargas built from the ground up using traditional recipes passed down from his mom and grandmother. Sadly, Vegatinos ceased operations in 2020, but El Cocinero has picked up right where they left off, becoming the first fully vegan Mexican restaurant in the San Fernando Valley. The restaurant has plenty of soy-free and gluten-free options, and we can't recommend the Chicharrón Tacos enough (seriously, one of the best tacos in town!). El Cocinero is open Tuesday-Sunday from 1-8pm.
Canoga Park
Jamin Vegan is winning over hearts and taste buds with their island-inspired vegan food. Jamin Vegan is next door to JamaFo Xpress (it's non-vegan counterpart), and while they share a kitchen, everything is prepared separately, so there's no cross-contamination. Customers can get fully veganized versions of all of the classic Jamaican entrees like jerk chicken, curried beef or tofu, fried plantains, and coconut rice & beans. Jamin Vegan is operating as a digital-only takeout and delivery service, so order ahead online, or download their app so you can start earning points by becoming a loyal customer!
West LA
Ciao Verde Italia is a virtual vegan Italian dining experience that is operating as a ghost kitchen for pickup and delivery only. Think fine dining without the actual dining in. They make their own pasta and ravioli from scratch daily, and they import their spaghetti straight from Italy! Everything at Ciao Verde is 100% vegan, and they offer plenty of gluten-free and nut-free options as well. We can't get enough of the Pinsa, which is a Roman-style wood-fired pizza made with dough that takes three days to prepare. When you're ready to carb it up, head over to ciaoverdeitalia.com to order for pickup or delivery.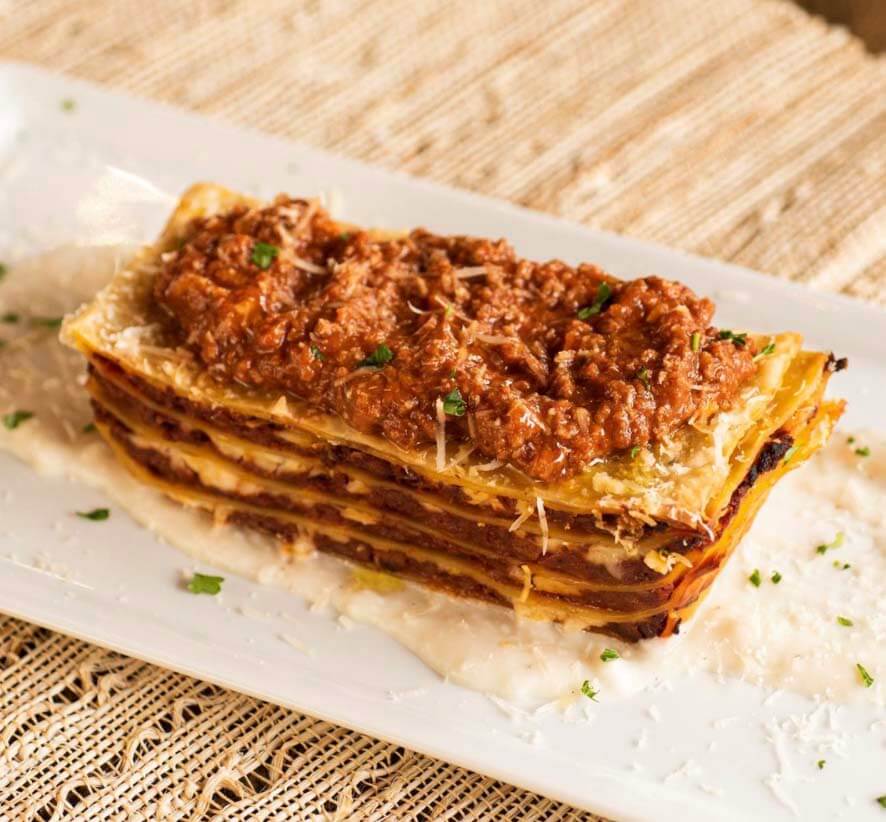 Fairfax
Whole food-based Mexican food? Sign us up! Taco Vega just opened a month ago in the Fairfax neighborhood and is already making a name for itself in the community. This fast-casual vegan spot has all of the classics you'd expect to find at a Mexican restaurant—nachos, potato tacos, taco salads, and California burritos—and they're all made with locally sourced, unprocessed, organic ingredients. Taco Vega is open for takeout and delivery, and their patio is open for outdoor dining, so stop by for some quinoa and potato taquitos or oyster mushroom asada tacos next time you're craving some Mexican food!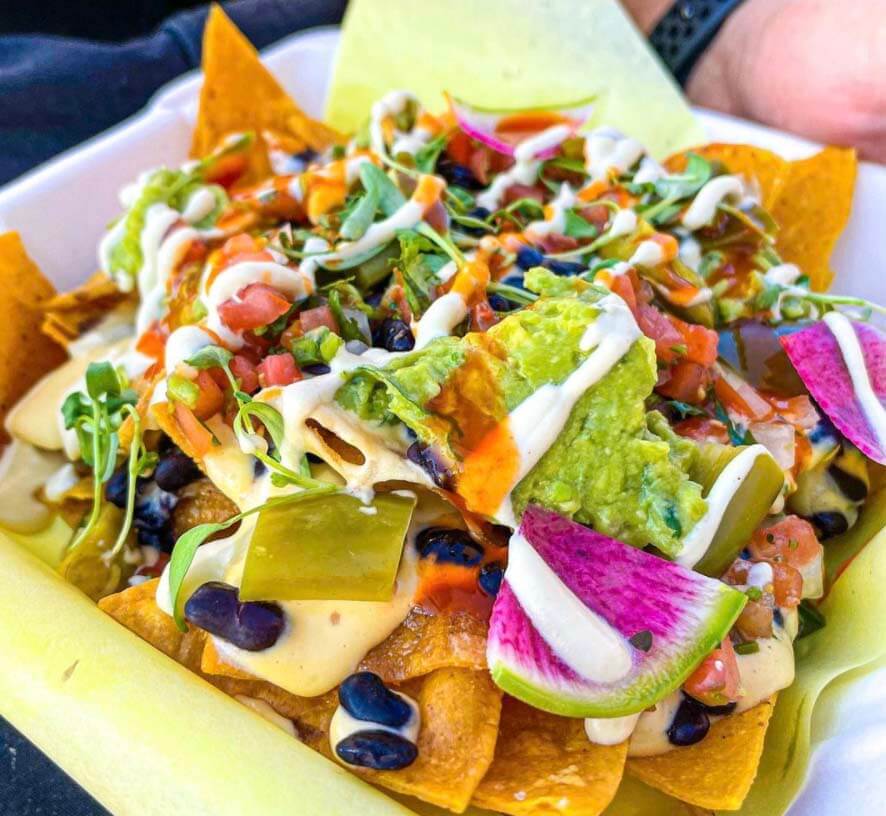 Photo credit: @elizabethward
Fairfax
All-vegan Extra Market opened at the end of last summer in LA's Fairfax neighborhood. This spot doubles as a small shop and offers a variety of marketplace goods alongside burgers, salads, and fries on the menu at the restaurant. They make fresh corn salsas, veggie mixes, and slaws daily, and carry products from other local businesses in the market, including Nowhere Bakery's Tagalong cookies and fresh-squeezed juices from The Juice. Check out their "Extra Special" board for some killer collaborations with other local businesses such as Uncle Paulie's Meatball Parm—meatballs, parmesan, marinara, and melted provolone cheese served up on a toasted Uncle Paulie's baguette. The market is open from noon-4pm daily.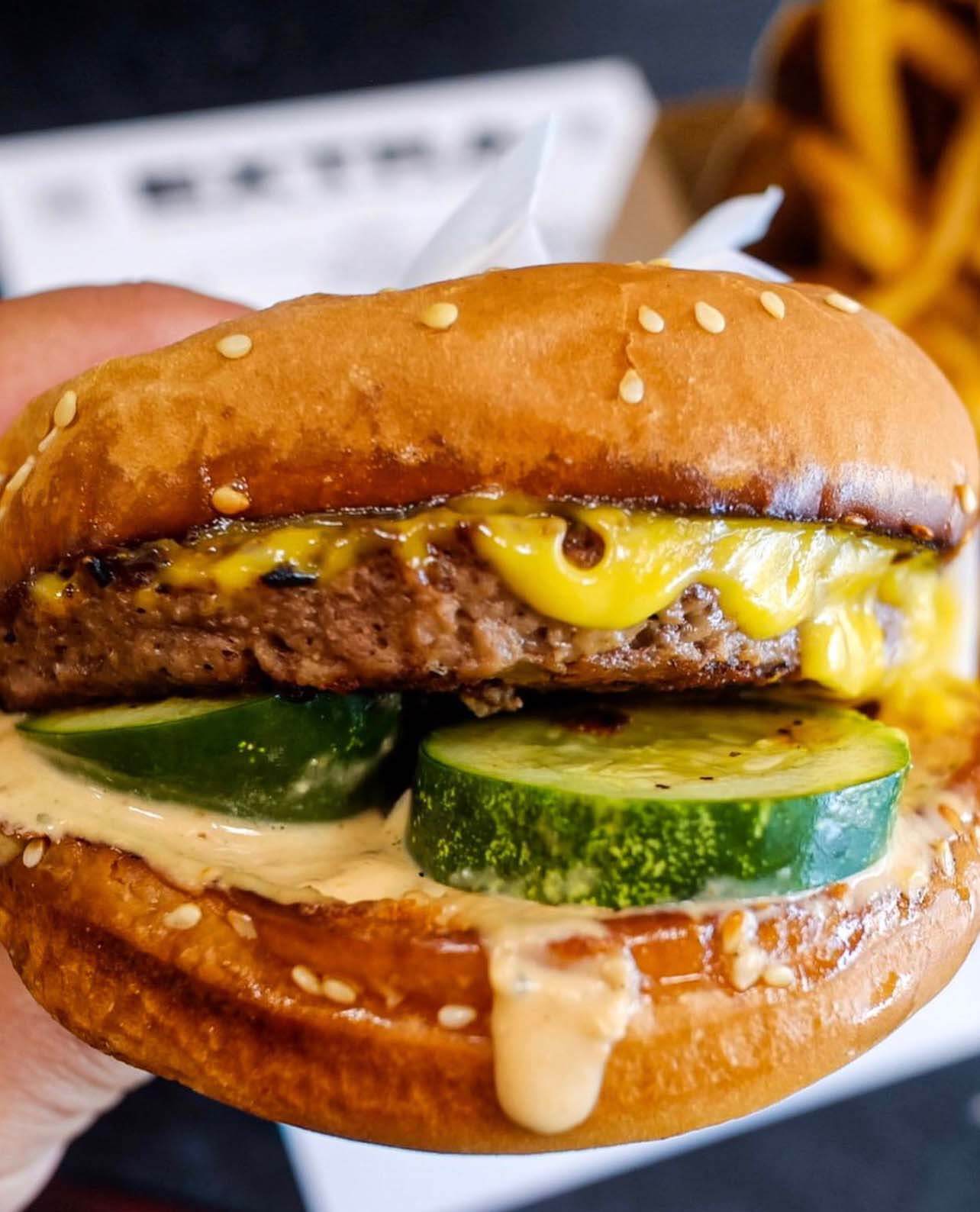 Photo credit: Liz Ward
Larchmont
A standard in the name of the Oakland plant-based community, the restaurant has been serving up some of the best authentic Louisiana Creole cuisine in the area since 2009. Last year, Souley Vegan opened at a food court on Western and Melrose in LA, joining the flock of businesses turning to takeout-only concepts in shared kitchen spaces. With dishes like Creole Spaghetti, Coconut Etouffee, and Raw Collard Wraps, there's something on the menu at Souley Vegan for everyone, no matter if you're looking for hearty, light, or something in between. Everything is made in-house, down to the sauces and seitan, and they work with most major delivery platforms.
Highland Park
From the minds behind Rockin' Hot Chick-Un and Block Party Highland Park, Wolfie's is one of the best places in town for a vegan spicy chicken sandwich. With plenty of homemade sauces and creative takes on the cult classic sandwich, like the "Korean" (slathered with gochujang glaze, kimchi slaw, and chili garlic aioli), Wolfie's should definitely be on your list of must-try new restaurants in town. The brick-and-mortar restaurant launched in September at 5050 York Blvd and is open 11am-10pm Tuesday-Sunday.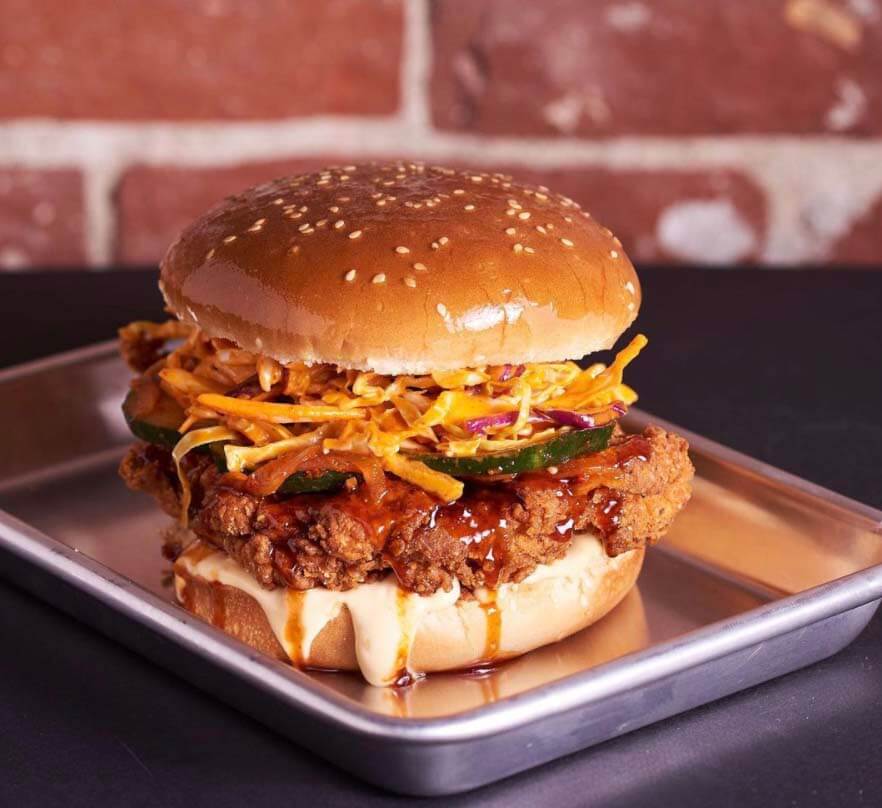 Silver Lake
Home of Donut Friend's own vegan ice cream, Creamo opened its doors at 3534 Sunset Blvd in the peak of 2020's summer heat wave and has been serving up cones, shakes, and ice cream sandwiches ever since. Creamo offers sixteen flavors of vegan ice cream, and they even carry some of the most popular Donut Friend donuts you can order along with your scoops for an epic donut ice cream sandwich. Creamo is open Tuesday-Sunday from 1-8pm.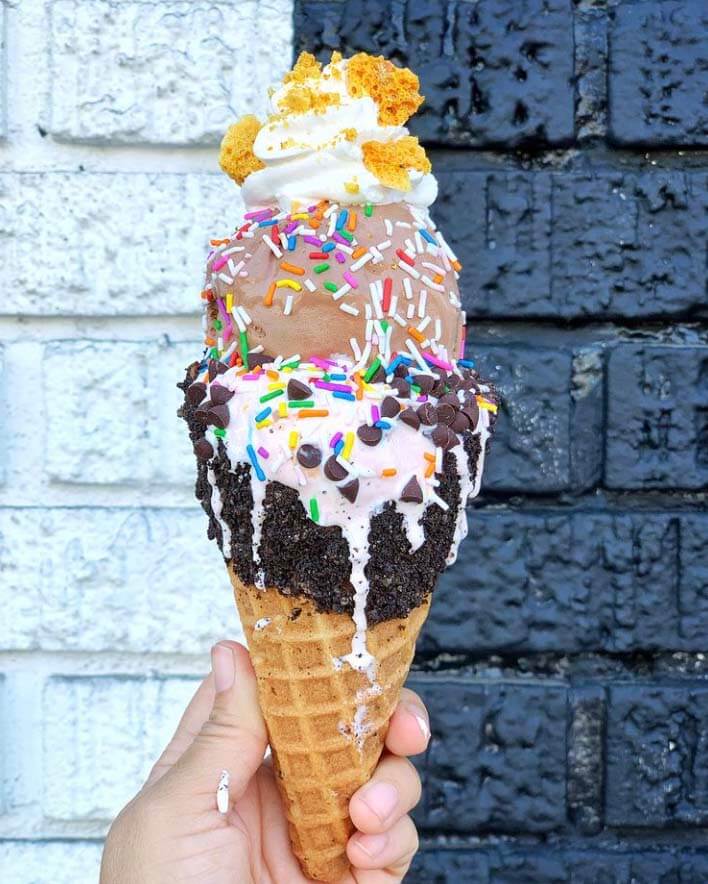 Photo credit: @janettefernandez
Frogtown
A fully vegan bakery with plenty of sweet and savory options is just what we needed in 2020. After developing a loyal following through local pop-ups and custom orders, Justine Hernandez of Just What I Kneaded opened in Frogtown last summer. The shop's hours are 8am-4pm (or until they sell out!) Tuesday-Sunday, with daily offerings including cookies, cinnamon rolls, pop-tarts, and loaded breakfast sandwiches. Check out their Instagram @justwhatikneaded.la for the daily menu, or order custom cakes via their website.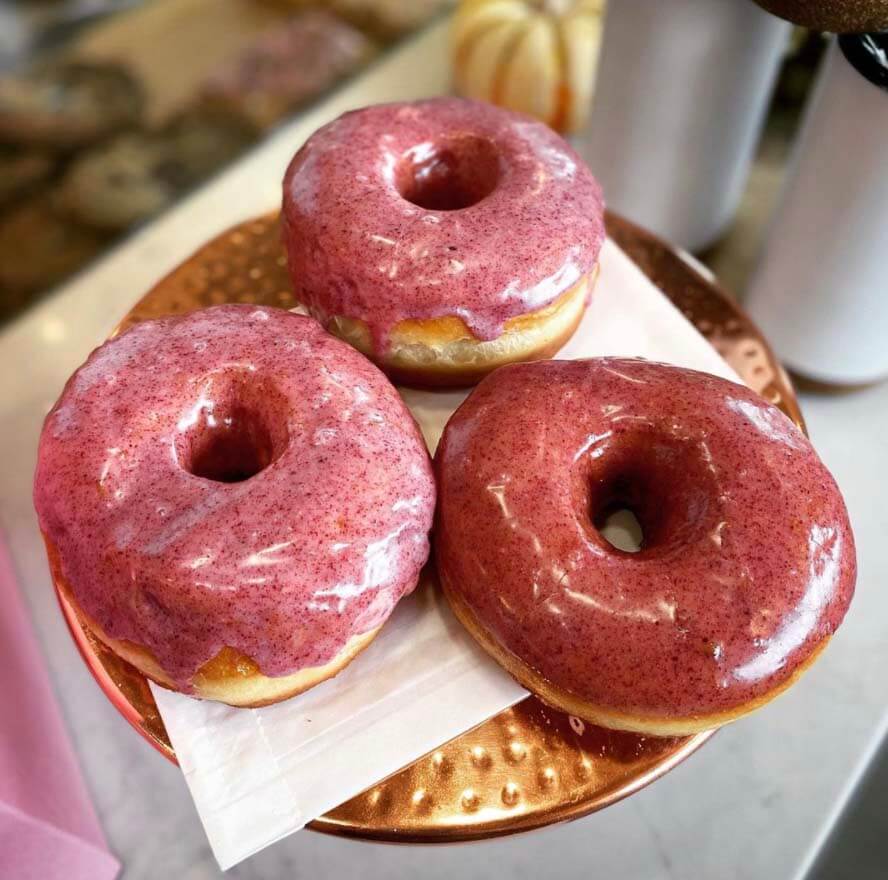 Downtown LA and Highland Park
Burgerlords has always had a solid vegan menu and has served up quality food to omnivores and vegans alike at its Chinatown spot since 2015, but last July, the restaurant made the switch and is now 100% vegan! Leading the menu is their house-made burger patty (made from veggies, grains, and nuts) and their custom tahini milkshakes. What they don't make in-house, they source from local companies like Follow Your Heart and Grillo's Pickles. Burgerlords is open Thursday-Sunday from noon-8pm.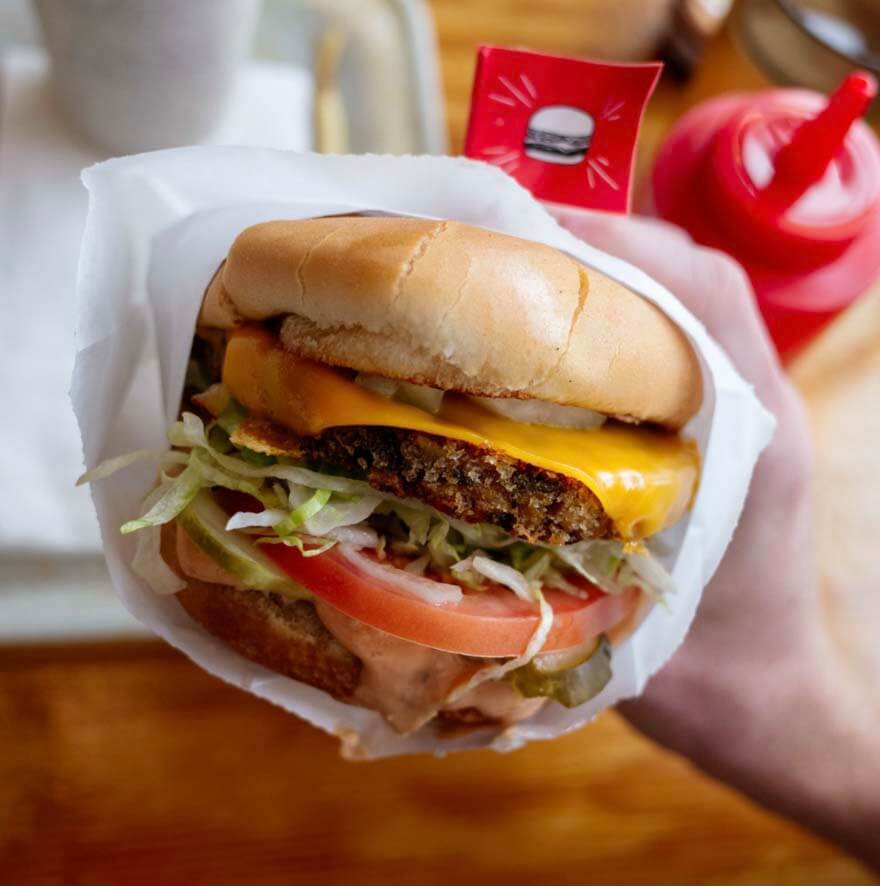 West LA
T&T opened up at The Colony (a commercial kitchen space housing about 25 restaurants) in April of last year. Years of success in the pop-up scene helped Chef Tete and her team navigate a tough opening through the start of the pandemic, and they've come out on top. Their Ethiopian Twist Tacos are filled with lentils, mushrooms, potatoes, and a slew of unbelievable homemade sauces that are guaranteed to have you dreaming about Taco Tuesday every day. T&T also offers catering and meal-prep services, so give them a follow at @tandtlifestyle on Instagram to see what they're working on next.
Photo credit: @pooohjaa