These items are sure to brighten your dad's day!
Stumped on what to get your dad this Father's Day? VegOut to the rescue! Check out this vegan Father's Day gift guide featuring our top recommendations of vegan, eco-friendly presents your dad will love.
Cozy Earth
Is your old man still wearing PJs from the '90s? Do him a favor and get him a pair of Cozy Earth's Bamboo Stretch-Knit Pajama Pants! With these cool and comfy bottoms, composed of 100% viscose fabric made from bamboo, your dad will sleep better than ever. They're designed to last a long time—so no need to worry about pilling!
OCA
If your dad likes energy drinks, we'd recommend getting OCA's plant-based energy drink subscription on Amazon. OCA makes their natural vegan energy drinks from organic green coffee infused with tapioca straight from the Amazon rainforest. The tapioca helps sustain the energy kick without the crash and burn. In the flavors of Guava Passion Fruit, Mango, Berry Açaí, and Prickly Pear & Lime, these drinks are too good to resist.
Definite Articles
Socks are always a safe bet! Definite Articles crafts sustainably made socks in a variety of styles. The Men's Ankle Sock 3-Pack includes three pairs of socks made from sustainable nylon, cotton, recycled polyester, and Spandex. With a cushioned heel tab, seamless toe, moisture-wicking properties, and stellar arch support, these socks are the best in class! There are also crew and no-show options if that's more your father's vibe.
Will's Vegan Store
Want to pay your dad back for all those times you broke his wallet growing up? Treat him to a brand new wallet! The Slim US Billfold ID Wallet from Will's Vegan Store features all the essential compartments for IDs, cards, and cash. Handmade using Italian vegan leather from plants, this vegan wallet is certified carbon neutral!
Louisville Vegan Jerky Company
For the snack-loving dad, Louisville Vegan Jerky Company's Variety Pack is the way to go! It includes five droolworthy flavors of gluten-free, vegan beef jerky made from non-GMO soy. From Smoked Black Pepper and Buffalo Dill to Perfect Pepperoni, Carolina BBQ, and Maple Bacon, this hearty vegan snack is bound to be a hit with your pops!
Monos
Upgrade your dad's travel or business bag with Monos' Metro Duffel! The sleek, versatile duffel bag is composed of water-repellent nylon twill and vegan leather. It comes with a Metro Classic Kit, which is a smaller organizational bag that fits inside. Perfect for switching bags or keeping the essentials in one place.
Skagen
What time is it? Time for your dad to get a new watch! In case you missed it, Skagen launched a sustainable watch collection. The Grenen Three-Hand Date Charcoal Stainless Steel Mesh Watch, made partially from recycled stainless steel, has a classic look that will go with any outfit!
Elda's Kitchen
For the grill-obsessed dad, Elda's Kitchen's Best Selling Variety Pack is the perfect gift! It includes three of the brand's best-selling sauces—Jamaican Jerk, Theo's Steakhouse, and Black Pepper. Elda's Kitchen's small-batch, artisan-made sauces are sure to expand your pop's flavor palate.
Feelgoodz
Help your dad kick off summer in style with Feelgoodz's Men's Zensole Kinders. Composed of vegan leather, natural rubber, and recycled rice husks, these sustainably made flip flops are the real deal. With ultra-soft cushioning and a sculpted footbed with amazing arch support, your old man will feel like he's walking on cloud nine.
Pact
Does your dad need some new shirts? Refresh his wardrobe with a few of Pact's Weekend Pocket Tees! These comfortable, versatile tops feature organic cotton manufactured in a GOTS-certified and fair trade factory based in India. With a wide neck, short sleeves, trendy front pocket, and a worn-in look, this shirt is sure to make your dad the belle of the vegan barbecue.
Better Booch
Get your dad hooked on kombucha with a subscription from Better Booch! The Best Sellers Variety Pack is a great option. It includes Better Booch's Morning Glory, Ginger Boost, and Golden Pear flavors. Each variety is vegan, raw, organic, kosher, non-GMO, and verified non-alcoholic.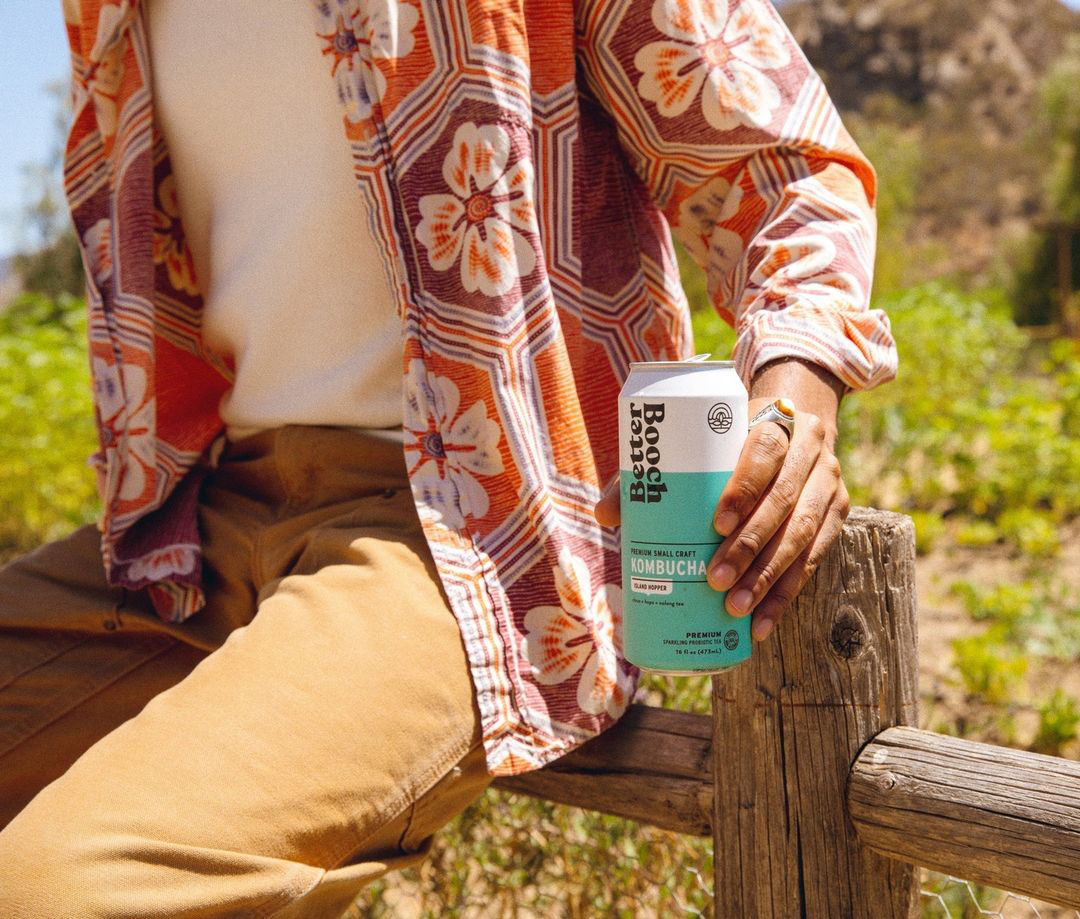 Disco
Show your dad the wonders of vegan skincare products with Disco's Basics Kit! The set includes a Charcoal Face Cleanser Stick, Body Wash, and Natural Deodorant in a refreshing eucalyptus scent. All three items are made from simple ingredients that have a variety of benefits for the skin.
Maya's Cookies
What better way to end this epic Father's Day gift guide than with droolworthy vegan cookies? This year, Maya's Cookies offers the option to order any collection in a limited-edition Father's Day tin. Our top pick is the Premium Collection featuring White Chocolate Macadamia, Brown Sugar Butterscotch, Espresso White Chocolate, Famous "Everything" Cookie, Caramel Pecan, and Drunken Grandma flavors.
At VegOut, we curate the best of the best vegan products, so you don't have to. Our picks are all selected by our amazing team of writers and editorial staff. We may earn commission if you purchase one of these great products by clicking the links above.