Dreaming of a tropical vacation, or perhaps a weekend getaway? While you may not be able to take a trip just yet, you can still prepare for that next vacay with functional, stylish, and eco-friendly luggage. We've selected a list of brands that sell vegan travel bags, and have highlighted our favorite pieces from each, so you can plan your future journey in cruelty-free fashion. Bon voyage!
Nomad Lane
Whether you're a jet-setter taking off for your next vacation or someone who travels a lot for work, Nomad Lane has you covered with their eco-friendly Bento Bag. The carry-on-sized tote opens down the middle like a suitcase, has a padded laptop sleeve to protect your electronics, and even offers an easy access charging port for your devices within the bag, which is 100% TSA-approved! You'll also find a stretchy water bottle loop inside, perfect for preventing beverages from spilling while in flight. Choose from 4 colors—Jet Set Black, Nomad Navy, Juniper Green, or Positano Plum, and bronze or silver for the hardware. Each is made with premium nylon and vegan leather, and Nomad Lane takes special care to ensure that the partners they choose to manufacture their products abide by strong ethical standards in their workforce. The bag costs about $178, and with it's sturdy design should see you through many future vacations.
Use promo code VEGOUTMAG for $10 off your purchase at nomadlane.com!
Nomad Lane is a member of BRANDS x BETTER, a coalition of companies working to support Coronavirus efforts, and is currently donating 2% of all sales to aid those affected by the virus.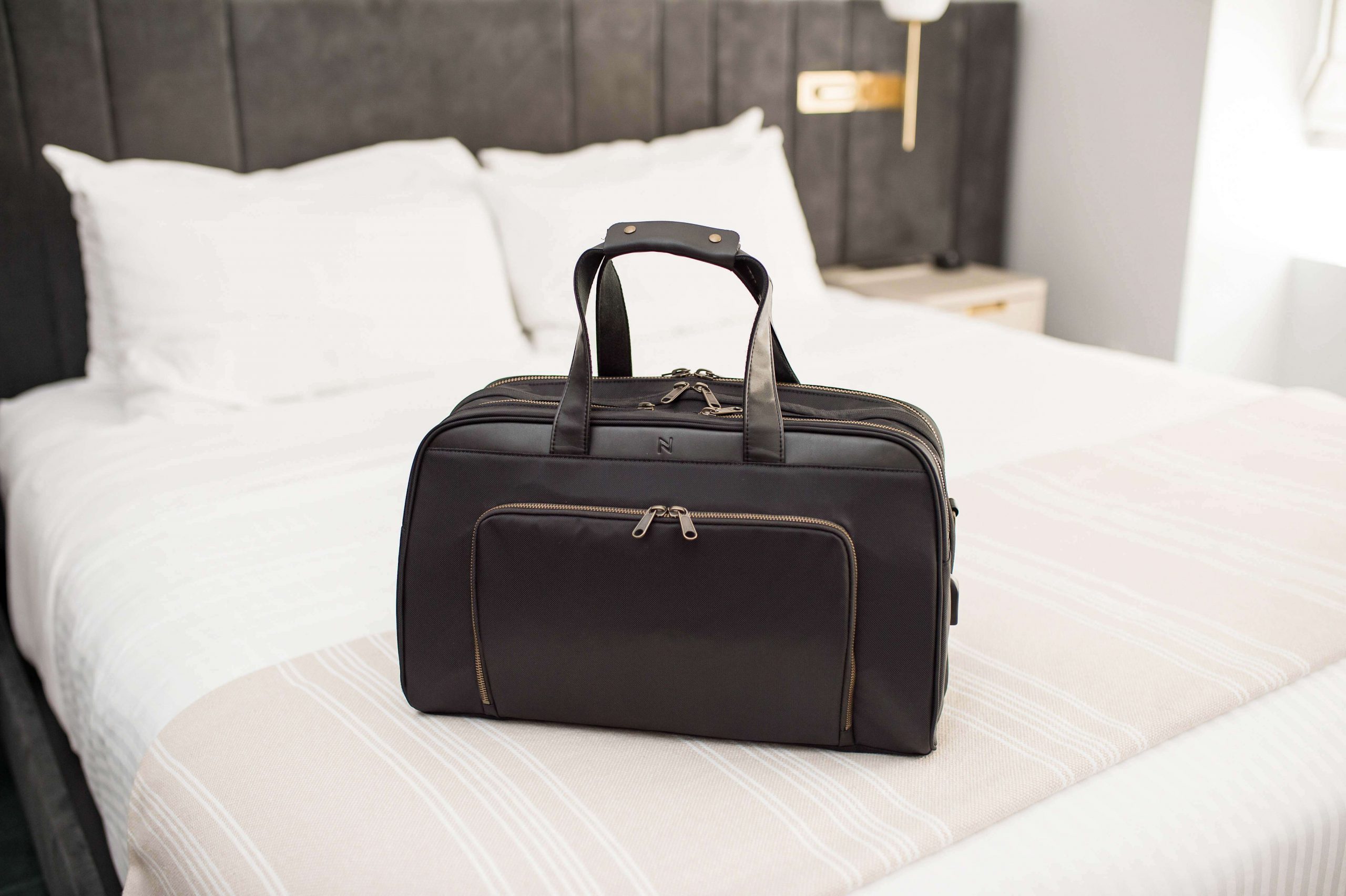 Matt & Nat
Headquartered in Montreal, Canada, Matt (Mat(T)erial) & Nat (Nature) is a 100% vegan and cruelty-free brand that has been crafting posh handbags, accessories, and outerwear since 1995. Sustainable materials such as recycled plastic bottles, cork, and rubber are used to create gorgeous luggage, backpacks, totes, weekenders, and more. The COAST Carry On Luggage comes with an extendable easy-carry handle, so you can move smoothly and swiftly when you're in a hurry to catch a connecting flight. The inside of the suitcase includes a zip-around zipper compartment, a double interior, and a removable snap pouch to hold things like keys and toiletries. The sleek, black "leather" exterior design allows you to travel in style, and is durable enough to get you through many weekend getaways and adventures.
Heys
Founded in 1986 as a small family-run business in the suburbs of Toronto, Heys has now grown into a global travel company that makes innovative luggage, backpacks, bags, and accessories. If you're a tech-savvy traveler, this is the brand for you. The airline-approved Smart Luggage Collection was developed in conjunction with the Heys Smart Luggage app, which allows you to control functions like locking or unlocking your suitcase from your mobile device, and also features a proximity alarm that alerts you when you're a distance away from your belongings. Best of all, 100% polycarbonate materials are used in the production process, making these suitcases a vegan-friendly choice.
BAGGU
In an effort to design products that have long, useful lives while also minimizing waste in the process, BAGGU creates eco-friendly travel gear you'll want to bring on your next excursion. The Travel Cloud Bag has plenty of room to store all of your essential items, and is made from 100% heavyweight nylon. It is also equipped with a detachable inner zip pocket for storing essential items like make up, and most importantly, vegan snacks. There are also Go Pouch Sets available that come in fun designs like Fancy Animal, Butterfly, or Leopard, and are great for organizing your belongings within your travel bag or suitcase. Most of these items will only set you back about $76, so if you're looking for a reliable bag that won't break the bank, this is a great brand to try.
BAGGU is currently donating masks to healthcare workers, and most recently donated 40,000 surgical masks to New York hospitals through Masks4Medicine. You can make a $5-$100 donation by visiting the company's website.
Doshi FCSA
Born from the idea that being fashionable doesn't have to be at the expense of animals, Doshi FCSA (Fine Clothes Shoes and Accessories) offers stylish, vegan leather handbags, briefcases, backpacks, belts, and accessories to environmentally conscious fashionistas, professionals, and jet setters. The brand has even created an initiative called First Five for the World, a program that delegates 5% of net sales to nonprofits like Farm Sanctuary and Toronto Vegetarian Food Bank. Show off your cruelty-free style with the fashion forward Doshi Lux Ribbed Backpack, made with high quality microfiber leather, and nylon around the shell. There is also a built in laptop sleeve to ensure that your electronics stay safe and secure while on the road or in flight. If you're an adventurer who enjoys nature walks or spending long hours at theme parks, the Doshi Pro Sport+Backpack will become your new best friend. This durable sack features multiple interior and exterior pockets, a removable chest strap, and a padded and ventilated back. The Pro Sport+bag is also made with microfiber leather and heavy duty nylon around the shell, making it tough enough to withstand many excursions.
Made for the minimalist traveler, Monos designs affordable suitcases using materials such as high-grade aluminum for the handle, unbreakable polycarbonate for the outer shell, and vegan leather in the details. There are 3 carry-on sizes available, as well as medium- and large-sized luggage. Choose from 8 different colors, (2 limited edition also available), like Rose Quartz and Storm Grey, which show off your personal taste without too much gaud. A TSA-approved lock is also built into each suitcase, keeping your personal items safe from being lost or stolen. The Luggage ranges from about $225-$295 in price, a fraction of what most high-end designers charge for same-level quality travel pieces.
Bellemonde
Based in Tuscaloosa, Alabama, Bellemonde is a certified vegan brand that produces everything from home decor to sophisticated and functional luggage. Their best seller is the Rolling Duffle, which is crafted with faux suede material and features reinforced handles and trim to make the bag more durable. In addition to the roomy interior, the duffle also includes an outside pocket, perfect for stowing any souvenirs you pick up while traveling. We also love the Jetsetter Tote in Bermuda Pink, which exudes Elle Woods vibes and is perfect for use as a carry-on or gym bag.
Incase
Incase has been designing eco-friendly luggage for the modern techie since 1997. Their ICON Backpack was released in 2014 and has since become the most sought after piece of travel gear. Designed to fit popular Apple products like the MacBook Pro, the interior includes a soft, faux-fur lining that gently cushions devices, and features multiple compartments to keep your items organized and safe from damage. If you're looking for a larger travel bag, we recommend the EO Roller, which also includes a tech compartment as well as organizer pockets for chargers, cables, clothing, and toiletries.
RELATED: 5 Sustainable Vegan Sneakers to Order Online
---
Want even more vegan news, food, and lifestyle content? Subscribe to VegOut LA Magazine or VegOut NYC Magazine!