The chain makes vegan versions of fast-food classics from breakfast to dessert!
Earlier this year, vegan fast-food restaurant Plant Power Fast Food announced several new openings in cities on the West Coast. As of this month, Plant Power Fast Food's Las Vegas location is now open—and it's already a hit with locals and visitors alike!
The Vegan Restaurant Chain's Tenth Location
Plant Power Fast Food Las Vegas is the vegan restaurant chain's tenth location and its first outside of California. Positioned right off Interstate 95 in North Las Vegas, the spacious mid-century modern building features a huge spinning burger sign perfect for attracting customers. There are both indoor and outdoor seating options, self-order kiosks, traditional counter service, and a convenient drive-thru for customers who want a bite to eat on the go. After all, isn't that what fast food is all about?
In efforts to achieve maximum growth, Plant Power Fast Food's Las Vegas location is a franchise built in partnership with the hospitality and commercial retail real estate group Scale x 3 Management. "Scale x 3 embodies everything we'd hoped for in a franchisee, both in terms of their commitment to the mission and also the experience and infrastructure required to operate a high-volume concept like Plant Power Fast Food," said Zach Vouga, president and chief operating officer of Plant Power Fast Food.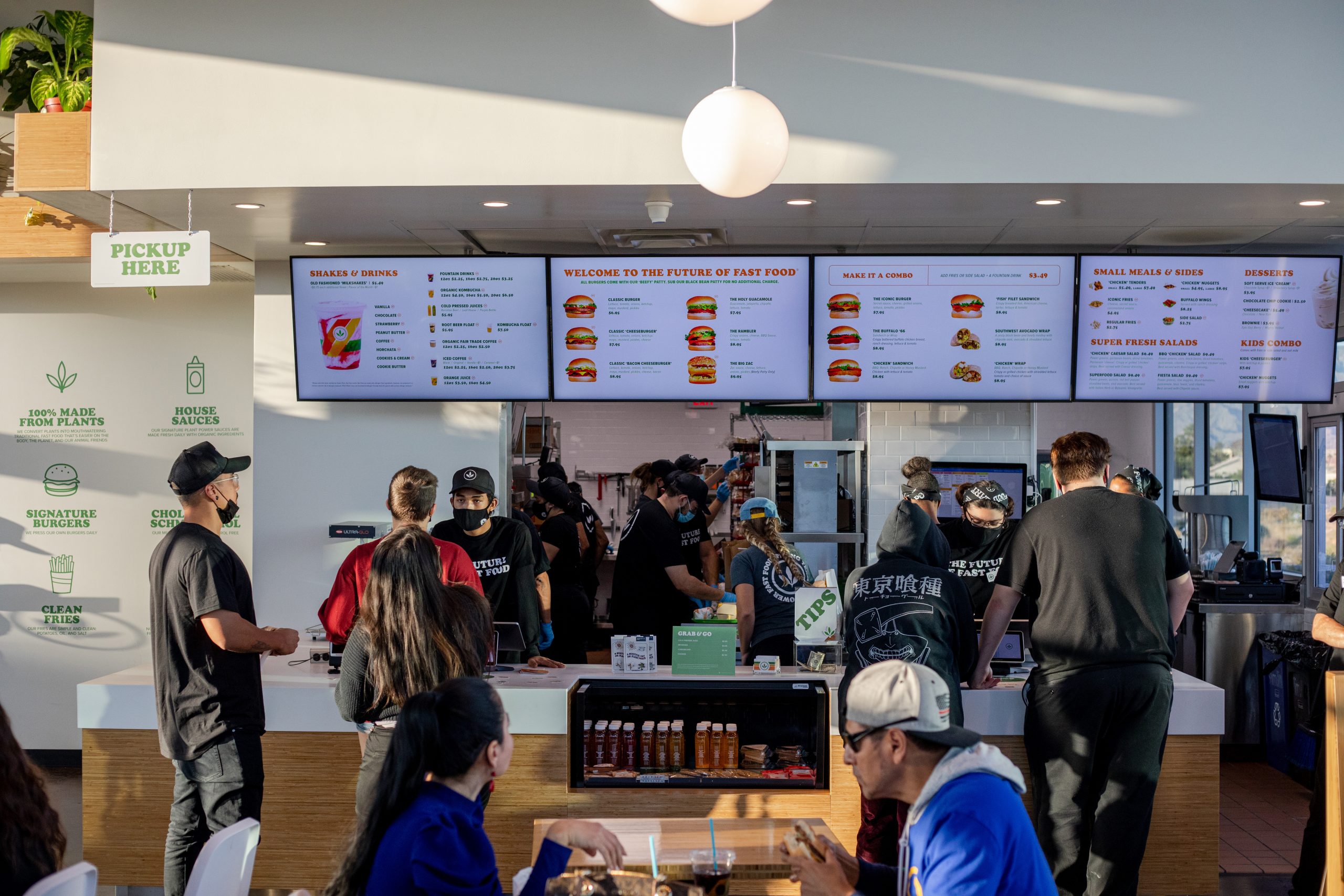 Plant Power Fast Food Las Vegas Is Now Open
Plant Power Fast Food opened its Las Vegas restaurant on October 15, which became the highest-grossing Opening Day in the company's history. Plant Power Fast Food Las Vegas is now open daily from 7am to 10pm at 7090 W Craig Rd, Suite 120, Las Vegas, NV 89129. Keep an eye out for more updates about the chain, including a new opening in Los Angeles, California very soon.
Co-founder and chief executive officer Jeffrey Harris stated, "We're grateful to see major chains adding plant-based options to their menus, but there's no doubt that consumers are seeking out progressive new brands with an authentic commitment to taste and sustainability. The massive growth that we've experienced since we started in 2016 is proof that the time is right for a major 100% plant-based, cruelty-free, sustainable, and healthier option in the fast-food segment."
For more information, visit PlantPowerFastFood.com.