The vegan fast food chain is making its offerings more accessible to college students!
The menu at Plant Power Fast Food features vegan fast-food classics like burgers, chicken tenders, and milkshakes as well as more fresh and nutritious options such as juices, salads, and wraps. That sounds like the perfect quick lunch or dinner stop for college students, right? We agree! This is why we're so excited to announce that Plant Power Fast Food just opened at University of California San Diego (UCSD).
The Future of Fast Food Plant Power Fast Food was founded in San Diego in 2016 by a group of entrepreneurs who set out to create "The Future of Fast Food." Over the past few years, Plant Power Fast Food has opened six more locations in Southern California, as well as one in Sacramento. Earlier this summer, the company announced plans to open a few more locations on the West Coast—including one at the UCSD campus.
Plant Power Fast Food's UCSD Location
Plant Power Fast Food's UCSD location is the chain's ninth restaurant to date, and the second one to open on a college campus. The new spot can be found at the North Torrey Pines Living and Learning Neighborhood development on campus. The newest Plant Power Fast Food location features indoor and outdoor dining, mobile ordering, and pickup and delivery through third-party apps like Uber Eats and Postmates.
"Today's Generation Z comprises the most highly educated college students in history. It's only natural that they would demand a plant-based, sustainable, and cruelty-free diet which has proven to be best for both human health and our ecosystem and we're thrilled to have a location at this world-class university," shared Plant Power Fast Food Co-Founder and Co-CEO Mitch Wallis.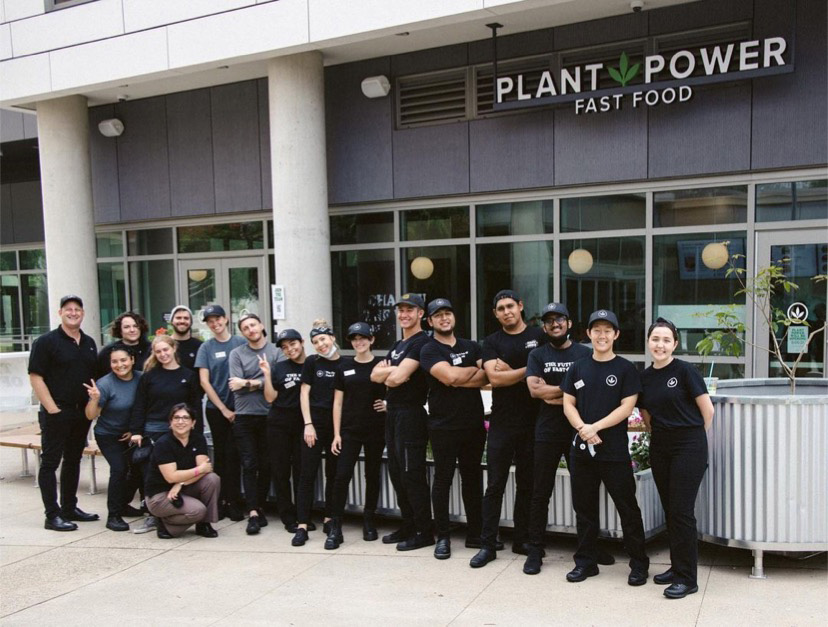 Vegan Fast-Food Restaurant Chain
Plant Power Fast Food's newest opening puts the vegan fast-food restaurant chain on track for its goal of opening 15 restaurants by the end of 2022. The next locations to welcome the futuristic vegan fast-food joint include Las Vegas (2), Hollywood, Carmel Mountain San Diego, San Clemente, and Laguna Hills.
Until then, you can stop by the UCSD Plant Power Fast Food at 9685 Scholars Drive North, Suite CT0121, La Jolla, CA 92093. For more information, visit PlantPowerFastFood.com and follow @plantpowerfastfood on Instagram.