Costco shoppers can now create cheesy recipes with Violife Just Like Mozzarella shreds.
Attention Costco shoppers, add vegan mozzarella cheese to your shopping list! Big box retailer, Costco, is lining its shelves with Violife Just Like Mozzarella Shreds in all Midwest locations. For a limited time, Violife mozz can be found in Illinois, Indiana, Iowa, Kansas, Kentucky, Michigan, Minnesota, Missouri, Nebraska, North Dakota, Ohio, South Dakota, and Wisconsin.
Violife Just Like Mozzarella Shreds
The Violife Just Like Mozzarella Shreds are sold in larger, 26.5 oz bags at this vegan-friendly wholesaler. Made with filtered water, coconut oil, potato and corn starch, sea salt, vegan mozzarella flavor, olive extract, beta carotene, vitamin B12, and powdered cellulose, these cruelty-free cheese shreds are free from common allergens such as gluten, nuts, and soy. Violife products are Non-GMO Project verified and certified kosher. The inclusive cheese formulation literally feeds their slogan: 100% vegan—enjoyed by everyone!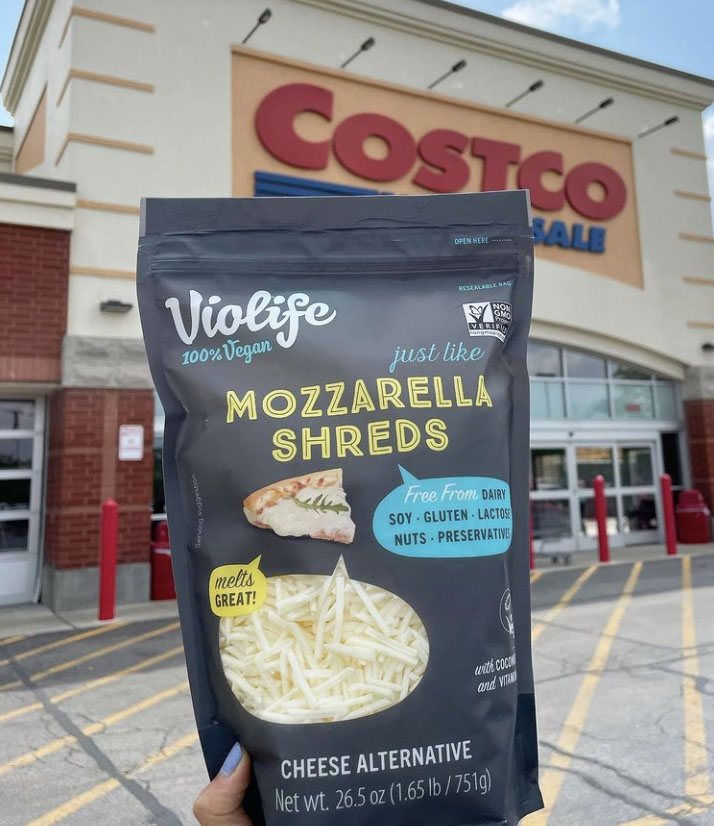 Photo credit: Mohini Patel
Summer and Back-to-School Vegan Recipes
This versatile, plant-based cheese is perfect for summer and back-to-school vegan recipes alike. We're talking veggie pizzas, homemade quesadillas, loaded burritos, grilled burgers, and comforting casseroles. Short on inspiration? Check out Violife's website for a collection of drool-worthy recipe ideas. Think: quesadilla verde, legume farcies, and deep-dish pizza made with Just Like Mozzarella Shreds, EPIC Mature Cheddar Flavor block, and Just Like Parmesan. While we love Violife straight from the pack, these cheesy vegan recipes are supplying the creative boost we need.
Award-Winning Vegan Cheese
Violife is a vegan-dedicated global company based in the beautiful surroundings of Thessalonica in Greece. The brand has been perfecting dairy-free eats since the 90s for vegans, vegetarians, flexitarians, and cheese lovers alike. The Violife line is composed of award-winning vegan cheese shreds, blocks, slices, and spreads—all the cheesy goodness! The brand even offers unique products like creamy vegan feta and spreadable cheddar cream cheese. We love to see the fun variety!
New Violife Innovations
Can't get enough of this cheesy company? Violife Just Like Cheddar Shreds will also be available in Midwest Costco locations toward the end of August through mid/late October. For a limited time, the mozz shreds can be found in the Northwest region Costco locations through September and the Just Like Mature Cheddar Slices will be popping up in California and Hawaii starting in late August through mid/late October. Beyond the Violife Costco additions, keep your eyes peeled for new Violife innovations. The brand will be launching two new vegan cream cheese flavors, Mexican Style shreds, and American cheese slices in limited retailers this month.