Craving sushi? Well, you have an excuse to grab your favorite rolls on June 18th, because it's International Sushi Day! We want you to celebrate in the most delicious way possible, which is why we've compiled a list of 11 vegan and vegan-friendly sushi restaurants in NYC. Read on to find out which spots we recommend!
RELATED: Black-Owned Vegan Restaurants to Support in NYC
---
Join VegUP and Using My Privilege to take a stand against racism. Click here to learn more and donate now.
Kimbap Lab
Brooklyn
Located inside the Williamsburg Whole Foods market, Kimbap Lab serves veg-friendly sushi with a Korean twist. Vegan options include the Yubu Roll (white or brown rice, seaweed, yubu, carrots, pickled radish, red leaf lettuce, cucumber, sesame oil, and sesame seeds), and the Mushroom/Avo Roll (white or brown rice, seaweed, shiitake mushrooms, avocado, carrots, cucumbers, pickled radish, red leaf lettuce, sesame oil, and sesame seeds), both of which are also gluten-free. Complete your sushi day feast with a side of the Bibim Guksu, a gluten-free Korean noodle dish made with thin somen noodles, gochujang sauce, sesame oil, sesame seeds, and topped with cucumber, shiitake mushrooms, yubu, and nori.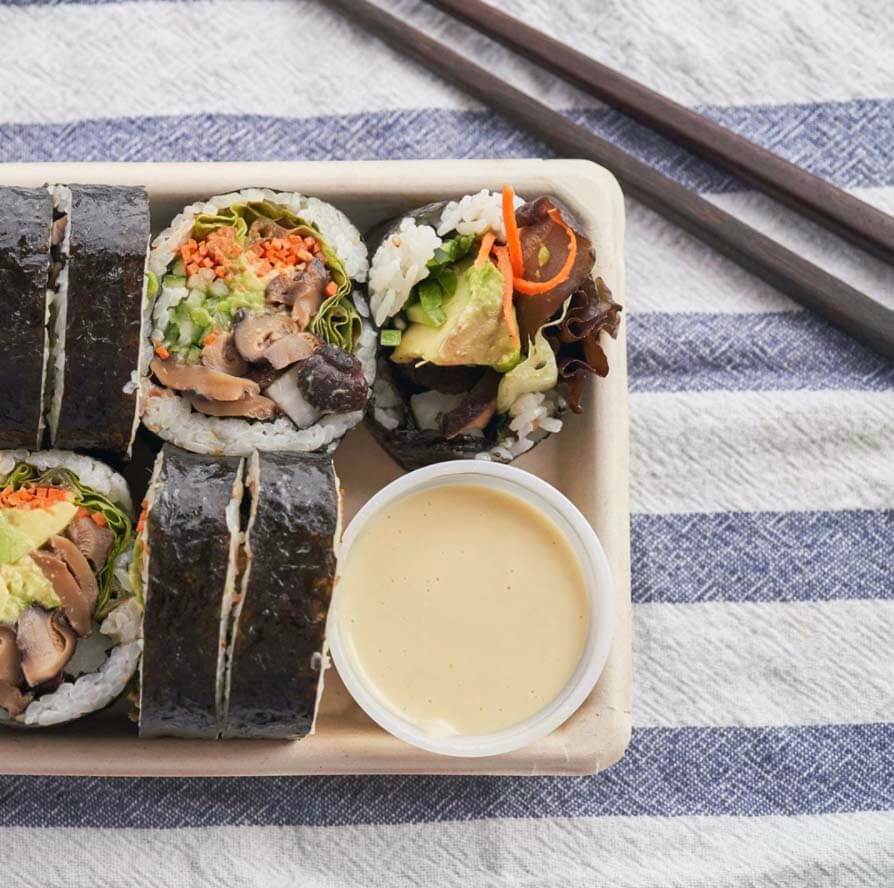 Buntopia
Brooklyn
Do you love sushi, but also crave the flavors of Meditteranean or Mexican cuisine? If you answered yes, then Buntopia is the sushi spot for you! Choose from vegan and gluten-free rolls like the Flamenco (black rice, avocado, and mango, topped with spicy vegan puree, and served with sriracha romesco sauce), or the Zesty Green (black rice, avocado, asparagus, and cucumber, topped with marinated edamame and chickpea puree, and served with vegan matcha tzatziki sauce). Plant-based ramen dishes, smoothies, acai bowls, and rice bowls are also available, like the delicious Crunchy Zen bowl, which is made with juicy vegan ham, marinated king mushroom, oshinko (Japanese pickle), yama-gobo (Japanese pickled burdock root), spinach, 6-grain rice, bedded with fresh greens, and served with black truffle sesame sauce.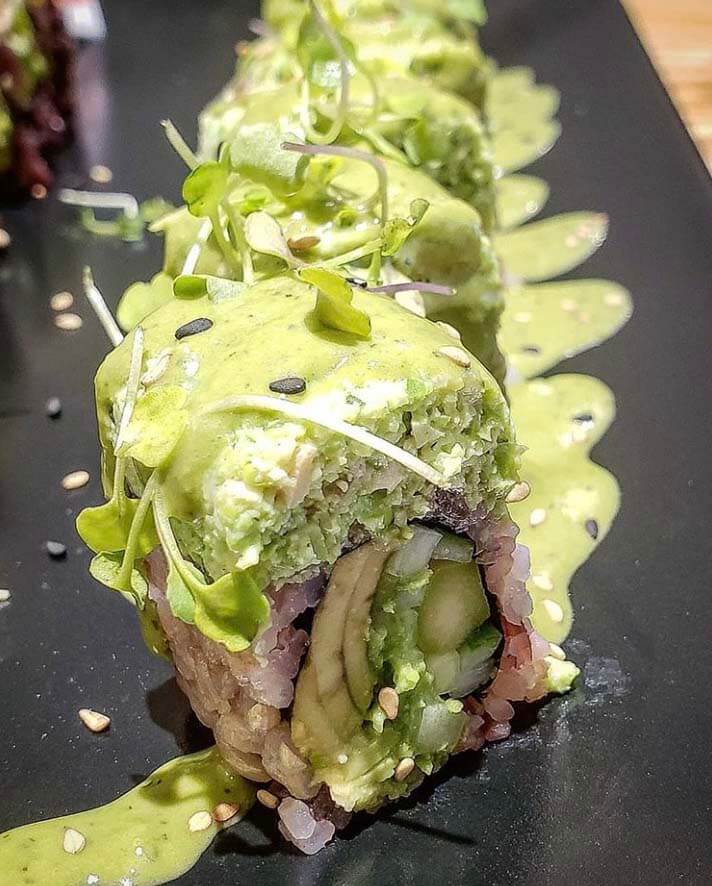 Ceetay
The Bronx
This sushi eatery offers a variety of plant-based traditional dishes, such as edamame, seaweed salad, veggie spring rolls, and vegetable sushi rolls. The Vegetable Spring Rolls are the perfect starter to your meal and come served with pineapple sauce for a fruity kick. Vegan sushi roll options include the Avocado Roll, Sweet Potato Roll, and Mixed Japanese Pickle Roll to name a few. Veg-friendly drinks are also available, like Sapporo Beer and Gekkeikan House Sake.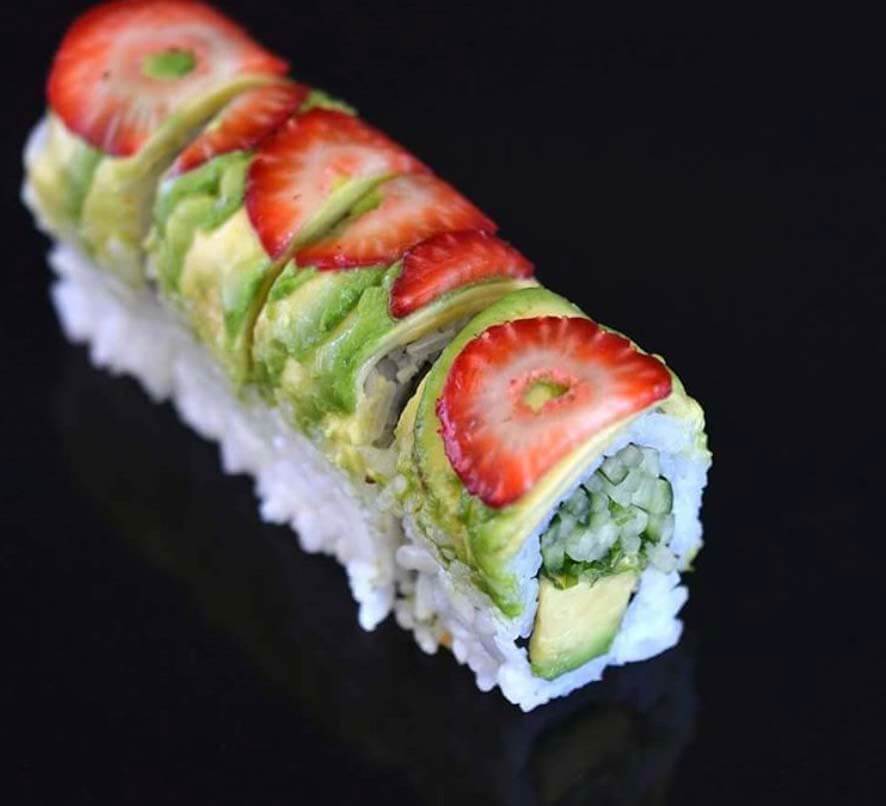 Photo credit: @nycfoodphoto on Instagram
Momo Sushi Shack
Brooklyn
An East Williamsburg staple, Momo Sushi Shack offers a variety of vegan sushi rolls as well as Japanese small plates. Accompany your sushi with one of the veg-friendly appetizers, like the Handmade Vegan Gyoza, which comes packed with oyster and cremini mushrooms, napa cabbage, chives, and is served with rayu (chili oil), and ponzu (citrus soy) sauces. If you're feeling adventurous, go for the Mina Roll, which combines tofu cream cheese, fresh shiso (a leafy green that offers notes of spearmint, basil, anise, and cinnamon), and crunchy chopped vegetables.
Catch NYC
Manhattan
Vegan options at a steak and seafood restaurant? You bet! This popular Manhattan spot offers a few different plant-based plates, including vegan sushi. Choose from tasty bites like Asparagus Nigiri, Portobello Nigiri, and Eggplant Nigiri. Many dishes can also be made vegan upon request, like the Eggplant Skewers (eggplant topped with miso glaze and toasted sesame), Mushroom Spaghetti, and Parmesan-Truffle Fries served with vegan truffle aioli.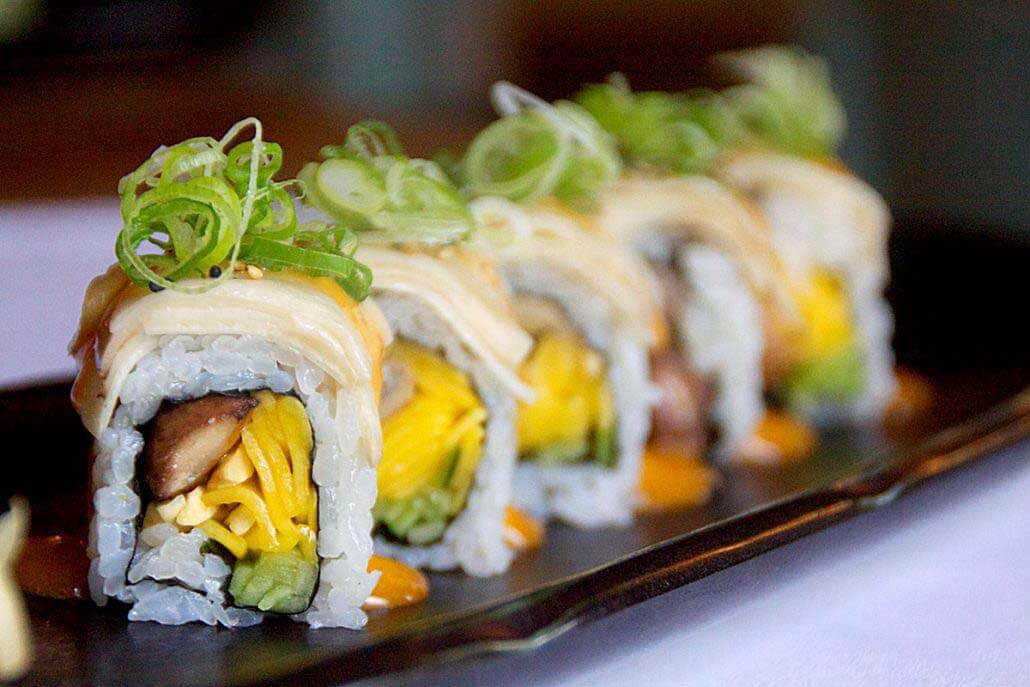 Peacefood Cafe
Manhattan – Uptown Location
With a variety of daily soups, sandwiches, salads, burgers, and more to choose from, this Upper West Side spot has become a go-to for vegans and non-vegans alike. Not only do they offer American comfort food favorites like Chili with Corn Bread and Fully Loaded CheezeBurgers, but they also make fresh vegan sushi as well. The Raw Sushi Roll is made with walnut pate and seasonal julienned vegetables, and comes served with a jicama-carrot medley as well as avocado—yum!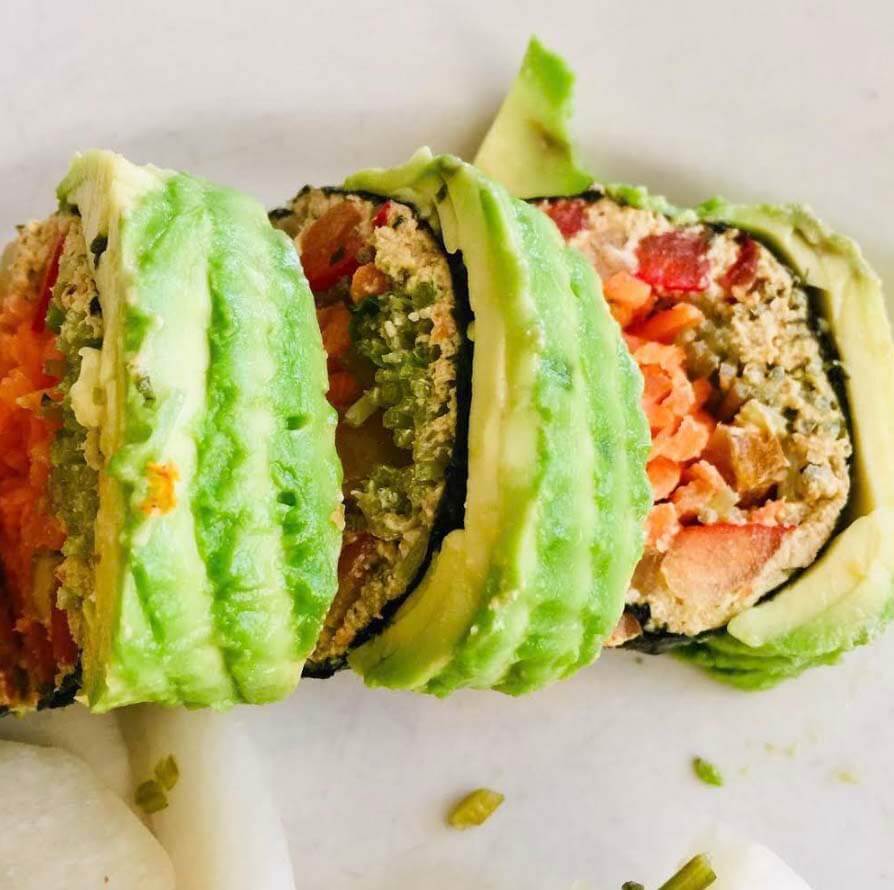 Photo credit: @dlitzhealthytips on Instagram
Beyond Sushi
Multiple Locations
When we think vegan sushi in NYC, Beyond Sushi is one of the first spots that comes to mind. This 100% vegan eatery offers a variety of unique sushi rolls, such as the Smoky Jack (black rice, pickled cabbage, hickory smoked jackfruit, watercress, mint, dehydrated olives, tomato, and guajillo sauce), and the Sunny Side (black rice, fennel, sun dried tomato, avocado, butternut squash, and pumpkin seed pesto). With six different sushi roll options, it's hard to pick just one, so we suggest trying them all!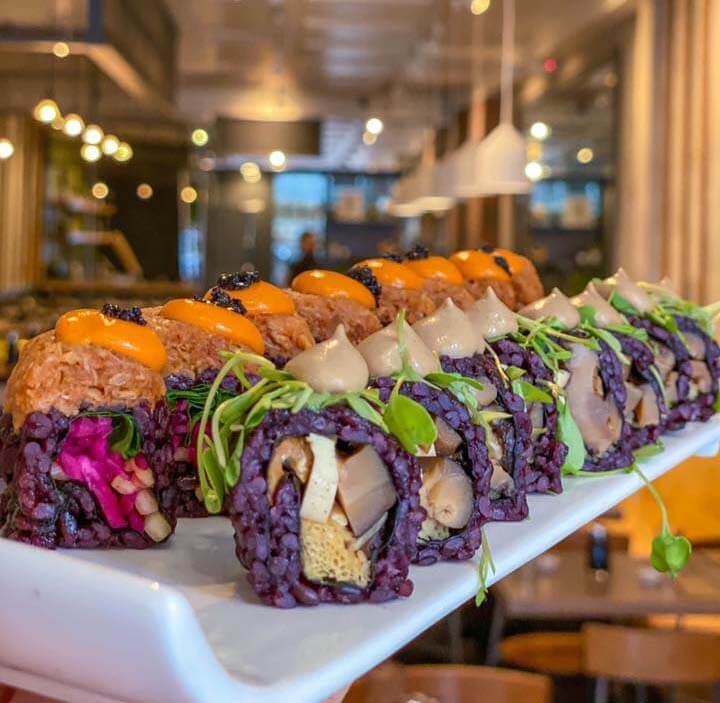 Go Zen
Manhattan
Known for their modern interpretation of classic Asian dishes, Go Zen is a 100% vegan eatery that offers everything from Green Curry to Bar-B-Q Seitan w. Yakisoba Noodles—as well as, you guessed it, sushi rolls. The New England Rolls are packed with cabbage, enoki mushroom, soy protein, and snow peas, and pair perfectly with a side of creamy Mushroom Soup. Don't forget to check out the dessert menu, where you'll find mouthwatering desserts like Hazelnut Napoleon (alternating layers of hazelnut wafers and soy vanilla cream), and Cake Of The Day (call the restaurant for the daily selection).
New Mizu Sushi
Manhattan
This sushi eatery offers traditional Japanese sushi rolls, a few of which are vegan-friendly. Choose from classics like the Peanut Avocado Roll, Cucumber Roll, and Sweet Potato Avocado Roll, or add some fire to your sushi day with the Veggie Dragon Roll, made with sweet potato, jalapeno, cucumber, and topped with avocado.
Go Vegan Cuisine
Manhattan
Get your sushi on with the fresh and delicious plant-based eats from Go Vegan Cuisine. The Summer Rolls are a fan favorite and come packed with carrot, purple cabbage, lettuce, and avocado, all wrapped up in a gluten-free rice wrapper, and served with peanut or ginger sauce. If fruity and sweet is your jam, go for the Mango Roll, made with organic mixed greens, mango, carrots, and purple cabbage, wrapped in a gluten-free rice wrapper, and served with ginger dressing or peanut sauce.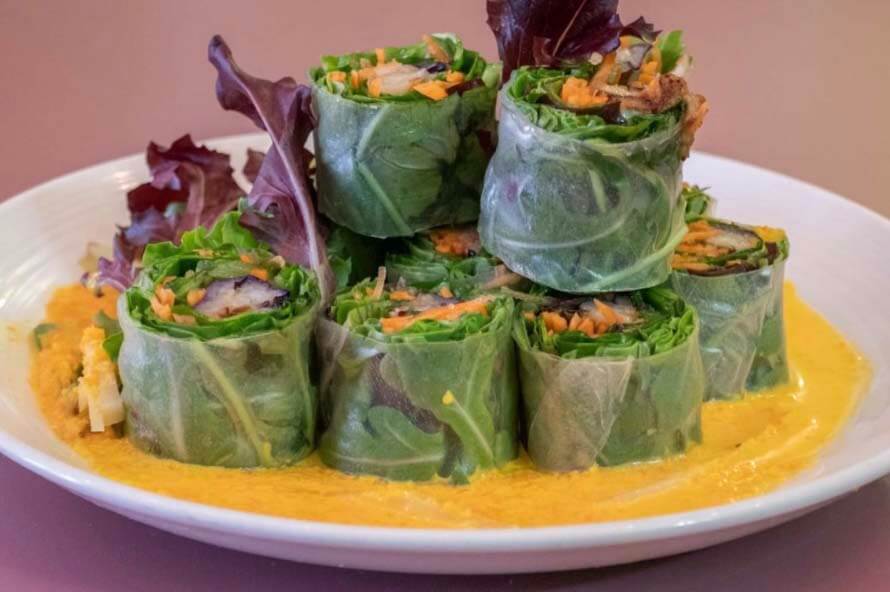 Pure Ktchn
Manhattan
Prefer your sushi in a bowl? Pure Ktchn has you covered! The Hell's Kitchen-based restaurant offers two vegan and gluten-free sushi options—a Rainbow Sushi Bowl (rice blend, avocado, mango, cucumbers, ginger, sesame seeds, and spicy cashew sauce) and a Philadelphia Sushi Bowl (rice blend, cashew cheese, avocado, cabbage, mango, nori strips, ginger, sesame seeds, and cashew sauce). Although listed under the "Salads" section of the menu, we think that the Summer Seaweed Salad is also a viable sushi day option, as it comes packed with kale, mango, cabbage, avocado, sesame seeds, ginger, nori strips, and miso dressing.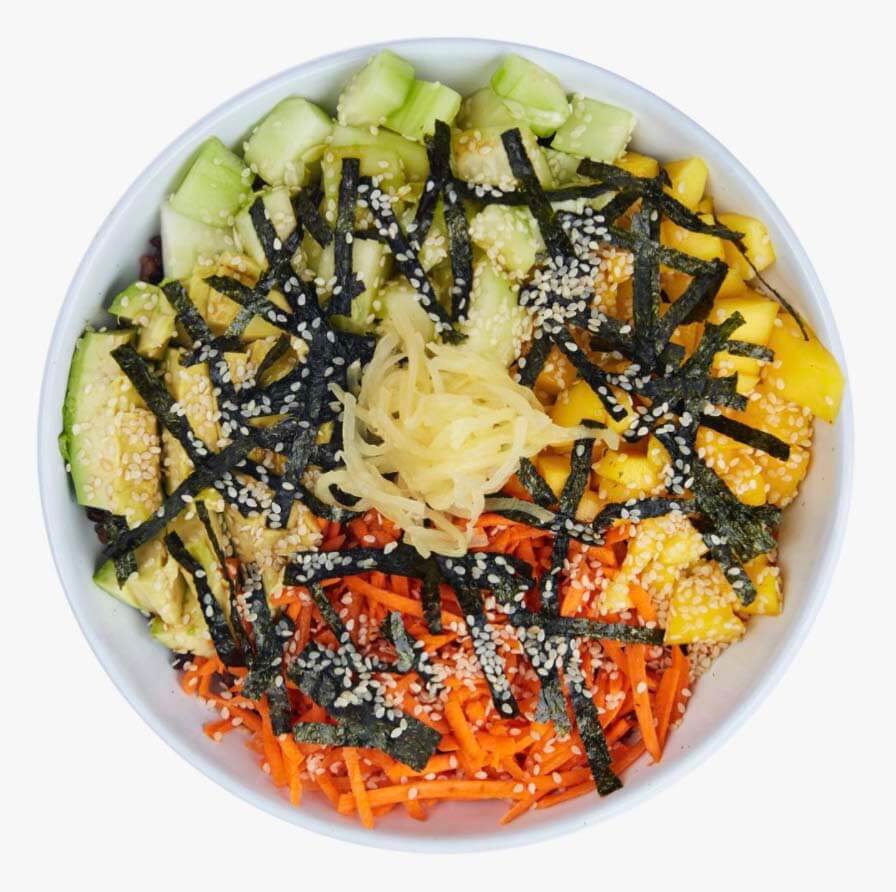 Feature image: Beyond Sushi