Wishing you could hit up your favorite brunch spot? While you may not be able to dine in at your beloved vegan and vegan-friendly restaurants, many are still open for pickup or delivery, so you can enjoy tasty mid-morning eats in the comfort of your own home. Here are seven spots to order from for your next weekend brunch.
The Butcher's Daughter
Multiple Locations
When we think vegan brunch in NYC, The Butcher's Daughter is usually one of the first spots to come to mind. While the name alludes to a meat shop, this restaurant is quite the contrary. Touted as a "vegetable slaughterhouse," the 100% vegetarian eatery also has many vegan and gluten-free options available. Plant-based brunch items include Classic Avocado Toast, an Acai Bowl, and our personal favorite the Butcher Pancakes, which are fluffy rice flour pancakes made with almond milk and topped with whipped coconut cream and berry sauce for good measure. Coffees, teas, cold-pressed juices, kombucha, and alcoholic beverages are also available to accompany your brunch order, like the Mexican Cacao Elixir, a blend of raw cacao powder, mushroom powder, maple-cayenne, and almond milk. Orders can be placed for delivery or pick up at all three NYC locations via Caviar, Uber Eats, Grubhub, or by calling the restaurant directly.
Since many local markets in NYC are facing food shortages, the Butcher's Daughter has transformed each of their locations to Butcher's Bodegas, offering everything from fresh produce to their signature pantry items. Stock up on essentials like granola, Butcher's Blend Coffee, soup, and bread. Smoothie kits, pancake/waffle mix, olive oil, and gluten-free dried pasta are also available. If there's something you're looking for that's not listed, the restaurant advises calling to ask if they have it in house. Grocery items can be found by scrolling to the bottom of the carryout and delivery menu.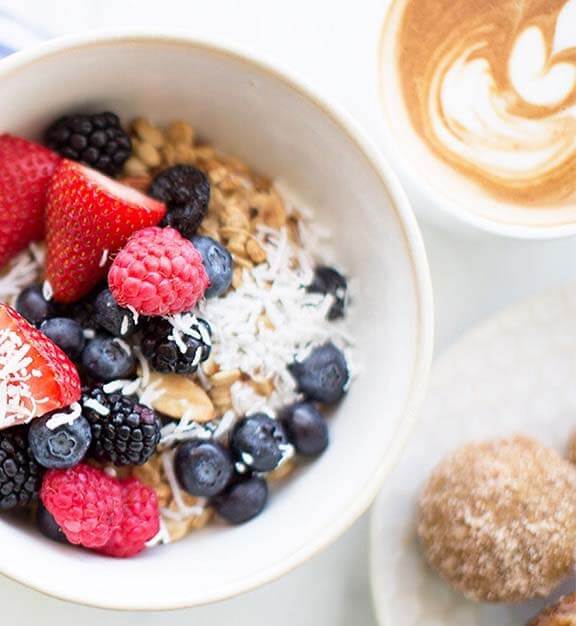 Delice & Sarrasin
Manhattan
A taste of France in the West Village, Delice & Sarrasin is a family owned and operated restaurant that specializes in authentic French cuisine, including crepes and galettes. And the best part is, it's all vegan! Let's start with the crepes, which are a great choice for any meal, especially brunch. You can choose from savory crepes like the La Chantou—egg (algae), Pairisian ham (soy), Parisian mushroom, emmental cheese (cashew based)—or sweet crepes like the La Bordelaise made with salted caramel and roasted apple. There are also many traditional dishes to try, such the Ceufs Brouilles Au Crabe, Epinards Et Puree d'Avocat—vegan scrambled egg with crumbled crab cake, sauteed spinach, and avocado puree. The Truffle Fries make a perfect addition to your order, but if you're looking for a low-carb side option, go for the Vegan Bacon. Delice & Sarrasin is taking pickup and delivery orders through Seamless, Grubhub, and Postmates, so you can impress your friends at the next Zoom brunch with some unique and delicious French eats.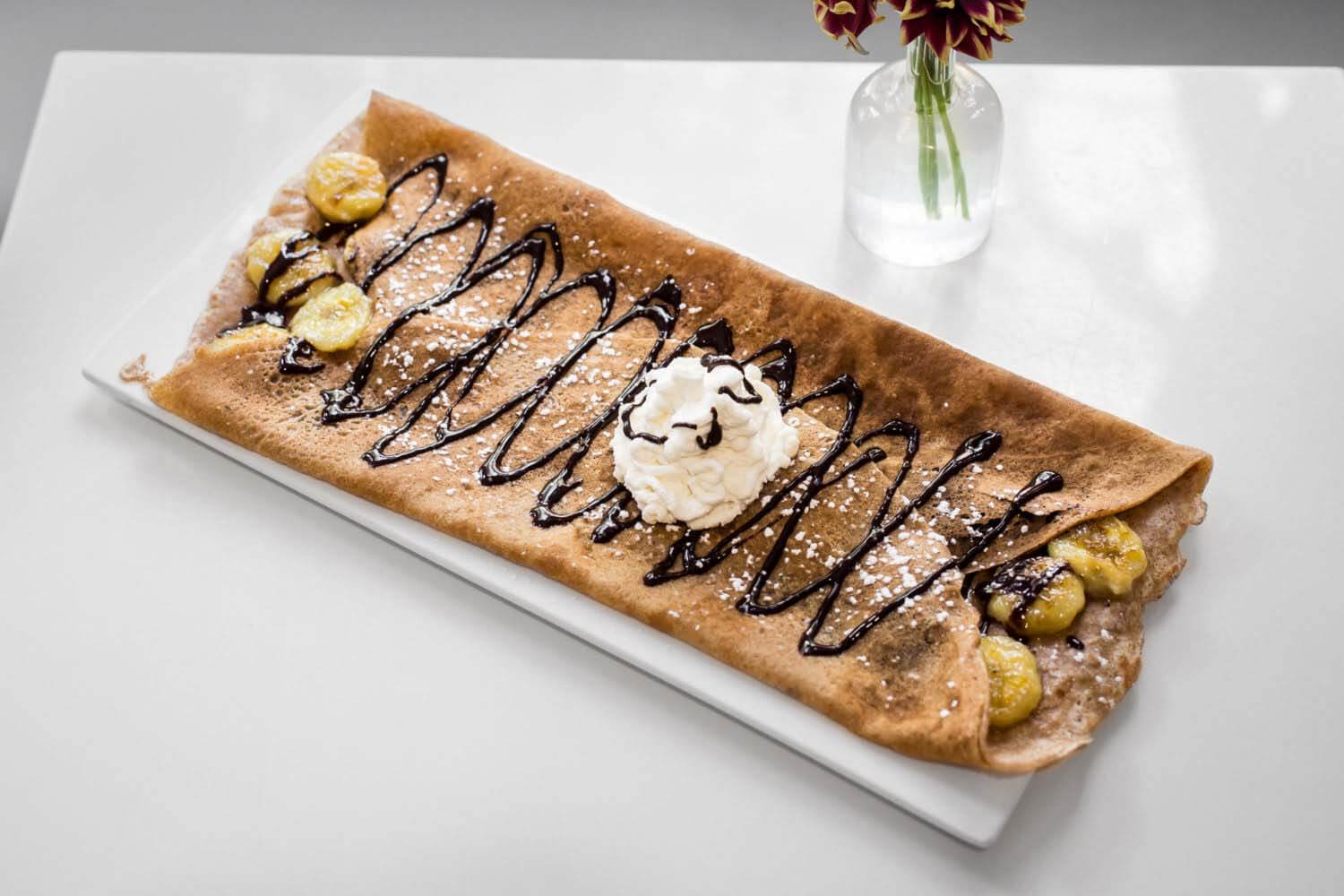 Sacred Chow
Manhattan
Kindness to ourselves, animals, and the environment begins on our plate, and this restaurant is here to spread that message. Sacred Chow is dedicated to offering food that not only tastes great but is also cruelty-free, vegan, and good for the mind, body, and spirit. As vegans we know how good it feels after we eat a nourishing plant-based meal, which is why we had to add this spot to our brunch list. On a regular day Sacred Chow offers a Bottomless Brunch special that includes one entree + one hour of cocktails, but since we can't dine in for the time being, the restaurant is bringing these delicious entrees to you. Start with the Tapa Tower, where you can pick from 3 tapa options like the Mexican Latkes, Indonesian Tempeh, and Mama's Meatball Parm—talk about diversity! If you're like us, you know that burgers are a perfectly acceptable brunch plate, so for the main course we recommend ordering the Masala Burger, made with a chickpea veggie patty and topped with caramelized onions, Dijon dressing and served with pickle chips. Be sure to save room for dessert, as there are some decadent sweets available, such as gluten-free Chocolate Truffle Cake filled with berry jam and topped with almond milk ganache. While alcoholic beverages are not currently listed on the delivery and pickup menu, they do have fresh-pressed juice, coffee, lattes, tea, smoothies, and milkshakes available. Orders can be placed through DoorDash and Postmates. They also post "COVID Cafe" recipes on their website and Instagram, so if you need some meal ideas check them out at @sacredchowvegan or sacredchow.com.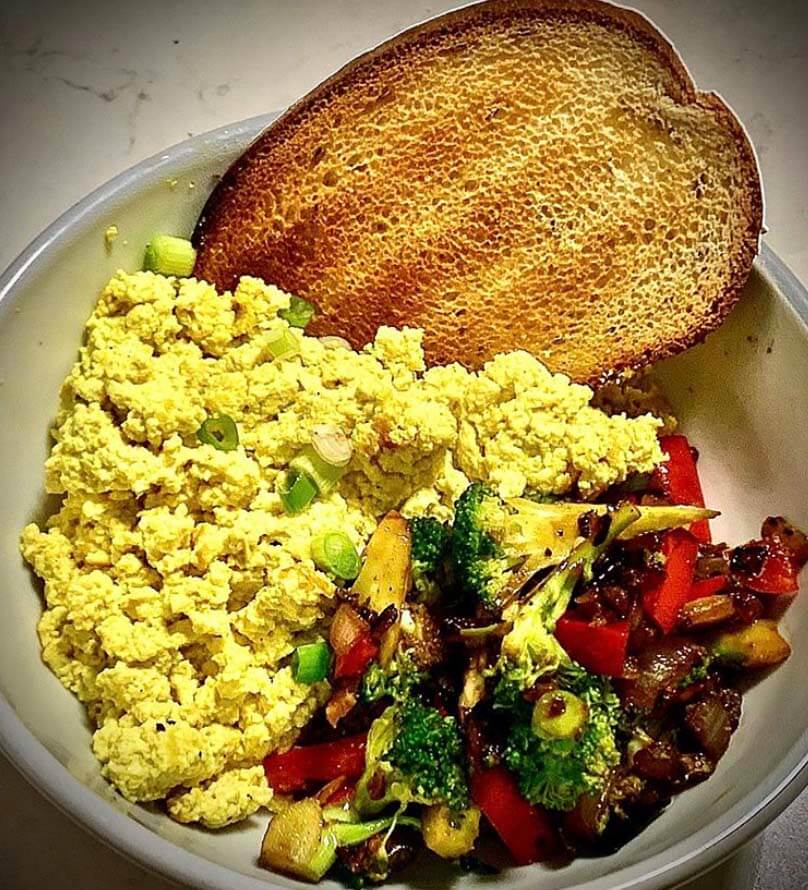 Jajaja
Multiple Locations
Take your brunch south of the border with Jajaja Mexicana's vegan eats. The plant-based restaurant serves Mexican street food with a New York City flair, so while you'll find traditional bites like Mexican Street Corn and Enchiladas Mole, you'll also find items with a modern twist, like the fan favorite gluten-free Buffalo Flower Tacos. The Breaky Burrito is perfect for brunch as it's packed with veg-friendly sausage, guacamole, vegan eggs, coconut queso and fermented black beans. While some may argue that midmorning is too early for dessert, the sweets section of the menu is worth taking a glance at, as they offer everything from Caramel Flan to Raspberry Cheesecake—sold! Takeout cocktails, beers, wine, horchata, kombucha and the popular Mexican soda Jarritos are also available. Order for pickup or delivery through Caviar, Doordash, Postmates, Grubhub or Seamless.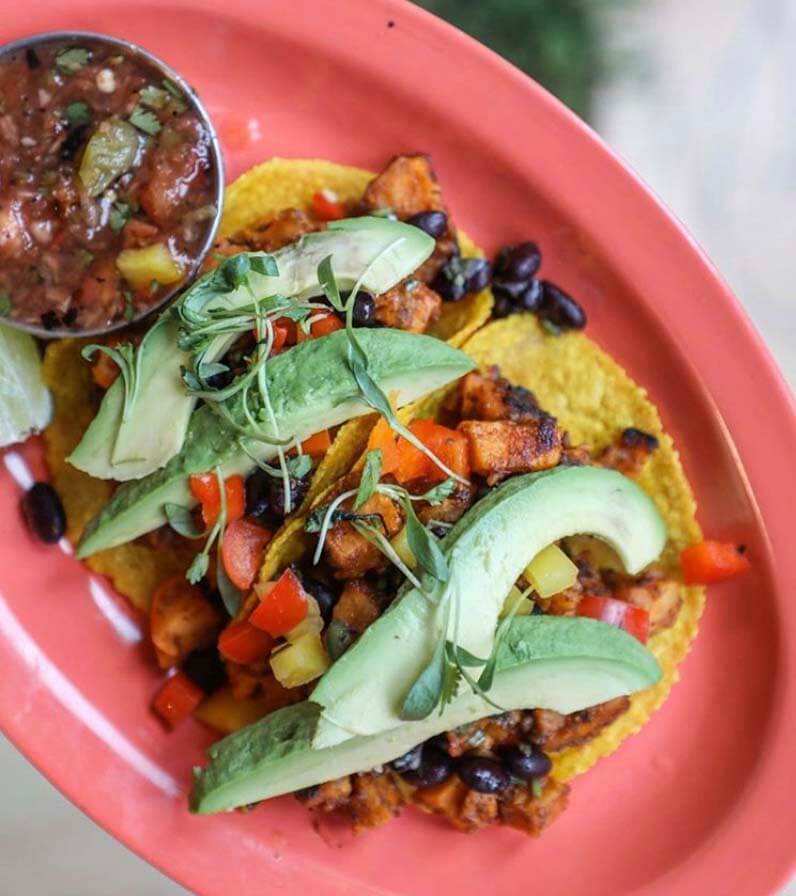 Thyme & Tonic
Manhattan
Formerly known as Natural Spring Kitchen, Thyme & Tonic is a hit with vegans and non-vegans alike. While not fully plant-based, the restaurant offers many veg-friendly options. The menu reserves a seperate section for brunch salads, bowls, and burgers, so you can easily locate the perfect entrees for your mid-morning feast. The Arugula Salad is packed with beets, avocado, crispy quinoa, and tahini dressing, perfect for those looking for a light option. The Impossible Burger can be found under "Brunch Burgers", and comes topped with braised onions, mushrooms, and, special sauce with a side of hand cut or sweet potato fries. Drink options include a Brunch Signature Elixir that comes in Mango Lemonade and Ginger Beer flavors, as well as fresh-pressed juices, and wine. Order for pickup or delivery via Chownow, Postmates, Seamless, or Grubhub.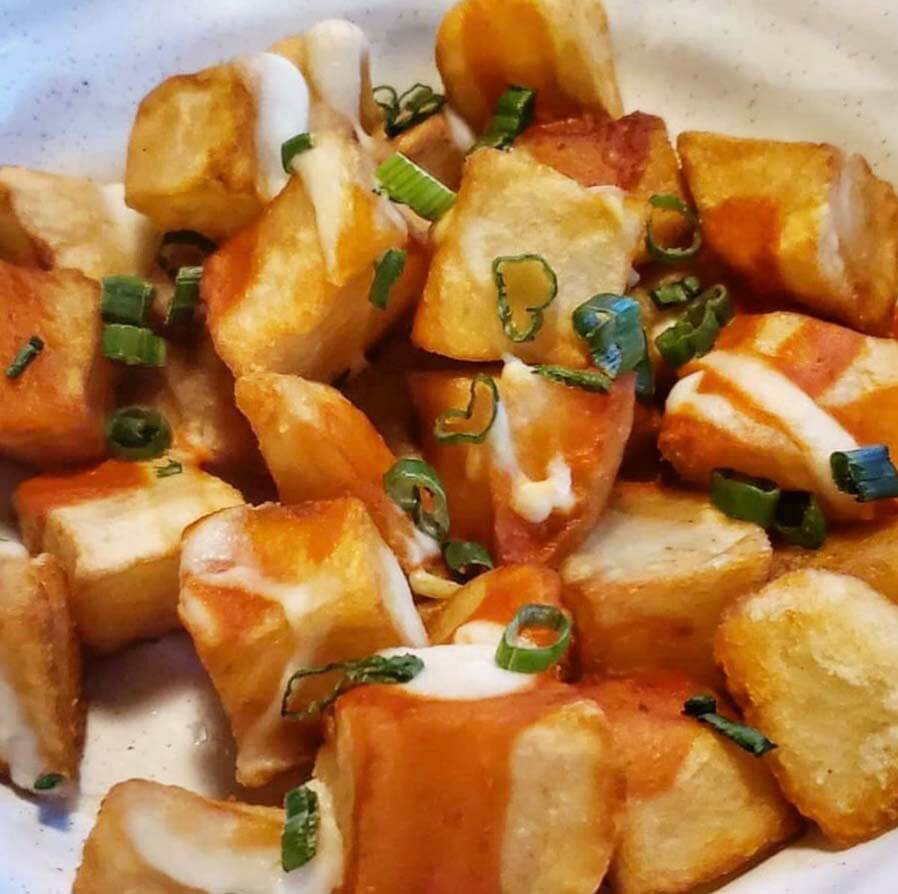 Urban Vegan Kitchen
Manhattan
Looking for Southern-style comfort food in the Big Apple? Urban Vegan Kitchen is your answer. This 100% vegan spot serves soul food favorites that make excellent brunch entrees, like the Chick-un & Waffles, a Belgian waffle topped with Southern-fried seitan, sauteed garlic kale, and maple mustard aioli. The Breakfast Sandwich is another delicious option, which consists of crispy tofu rounds, avocado, kala namak (Indian black salt), shiitake bacon, hollandaise aioli, arugula, and red onion piled together on an multi-grain English muffin. The sandwich also comes served with a side of marinated kale, home fries, and ketchup. Boozy beverages are often one of the best parts of brunch, so don't forget to check out the beer, hard kombucha, wine, and elixirs available for pickup and delivery. You can place your order on Postmates, Grubhub, Seamless, or ChowNow. If you order through ChowNow, you'll also be able to purchase t-shirts with cool vegan phrases on them, so you can spread the word about a cruelty-free lifestyle and also quarantine in style.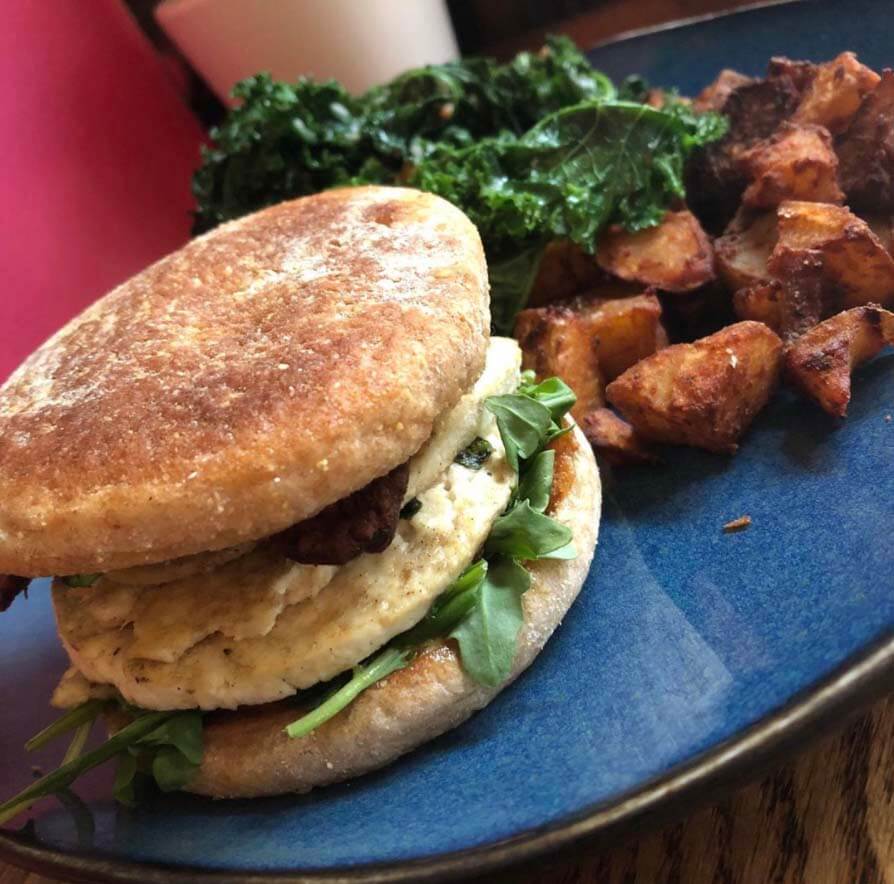 Petisco Vegano
Manhattan
This 100% plant-based eatery offers fresh Meditteranean dishes and a wide variety of brunch options. The menu offers your customary plates like vegan omelettes, pancakes, sausage, and bagels, but you'll also find unique entrees like the Shakshuka Breakfast, made with tofu slices in spicy tomato sauce, drizzled with tahini and zaatar and served with pita bread. You can also substitute a vegan fried egg for an additional charge. We think that pizza is a viable choice any time of the day, so if you agree, go for the Pizza Malawach, which is topped with marinara sauce, mozzarella, ricotta, Italian-style sausage, garlic, and broccoli. You can also add a cocktail, espresso, latte, tea or wine to complete your order, which can be placed through Seamless, Caviar, or Grubhub. Happy brunching!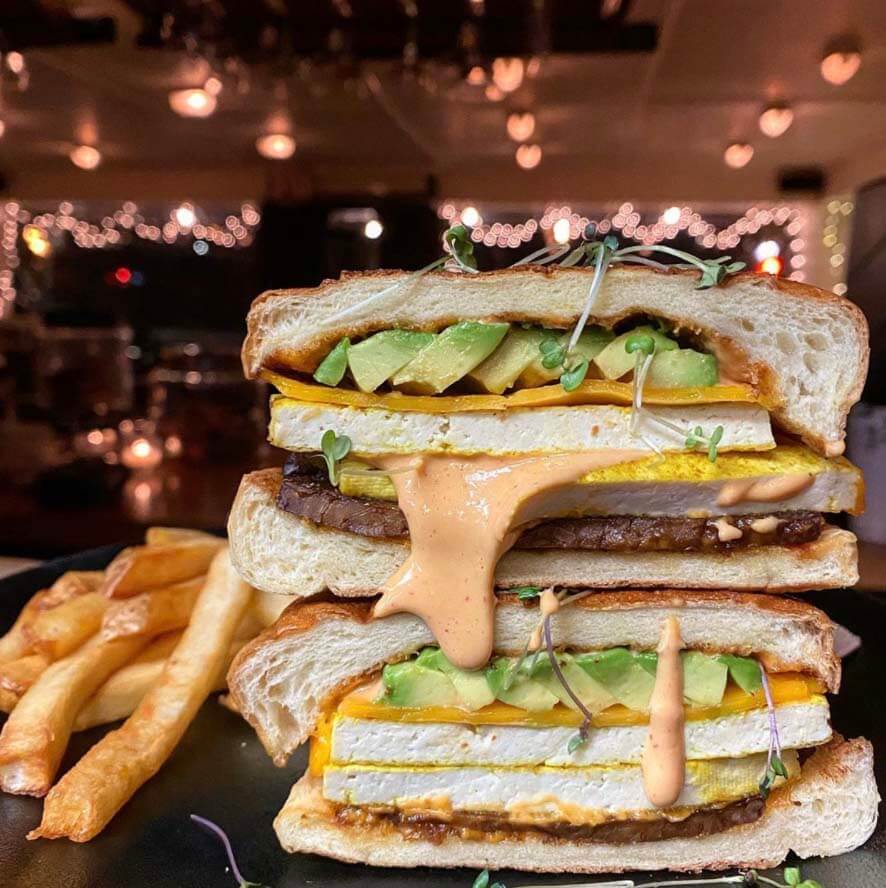 RELATED: Best Vegan Pizza Delivery in NYC
---
Want even more NYC vegan food and lifestyle content? Subscribe to VegOut NYC Magazine!