Sudden craving for a hot slice of pizza? We are known for our thin New York-style pizza and now is the time to sit back, put on a good movie and enjoy a slice or two! Here are eight pizza places in NYC that will deliver while you practice social distancing!
Cafe Viva
Upper West Side
Cafe Viva is open for delivery through @ubereats! We love a good thin crust pizza and the Mother Earth ( topped with soy meatballs, mushroom, red peppers, broccoli, sauteed onions and mild tomato sauce) on a wheat crust sounds like the perfect pie after a day full of vegan snacks!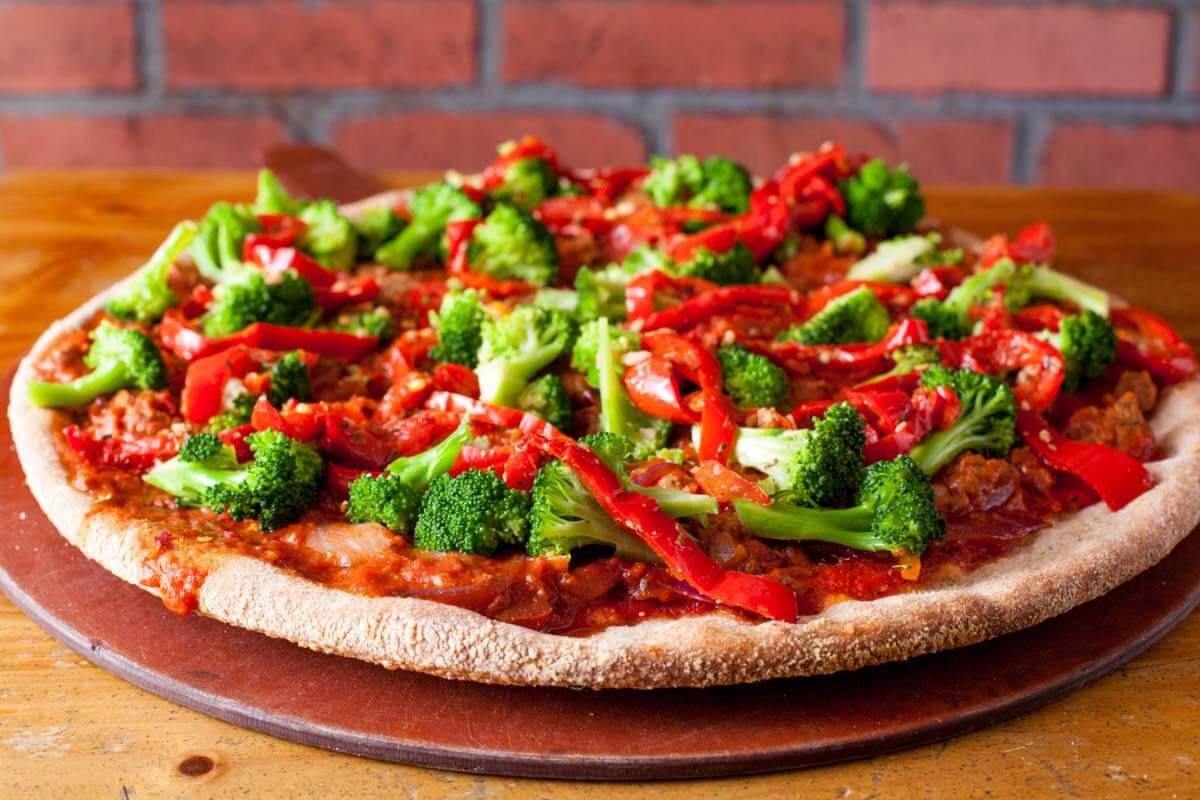 Screamer's Pizzeria
Greenpoint and Crown Heights
Want to change up your pizza game with something a little different? Screamer's Pizzeria will take you on a pizza adventure with slices such as the much loved Mac and Cheese pizza. Check out @screamerspizzeria for the most updated information on hours! As of now, the Greenpoint location will only be open for whole pies (delivery) from 4-9pm and Crown Heights from 1-9pm with a limited selection of slices, including free cheese slices for kids until 3pm (for delivery).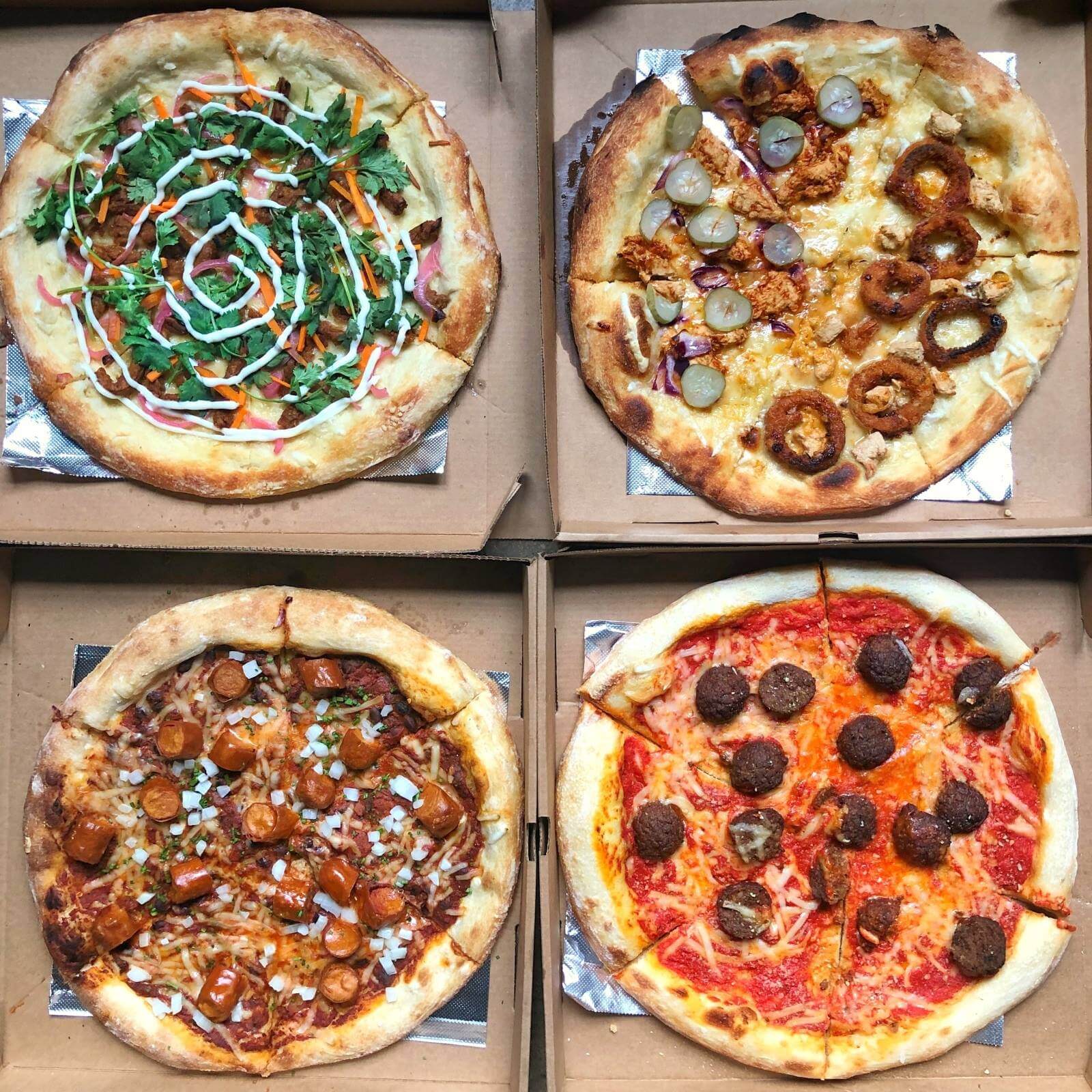 Motorino Pizzeria
Williamsburg
Order the new vegan pizza on the menu for takeout or delivery using @chownow. The La Vegana (with plant-based fennel & garlic sausage, tomato sauce, broccoli rabe, chili, onions and olives) uses the famous "Blackbird" vegan meats and no cheese!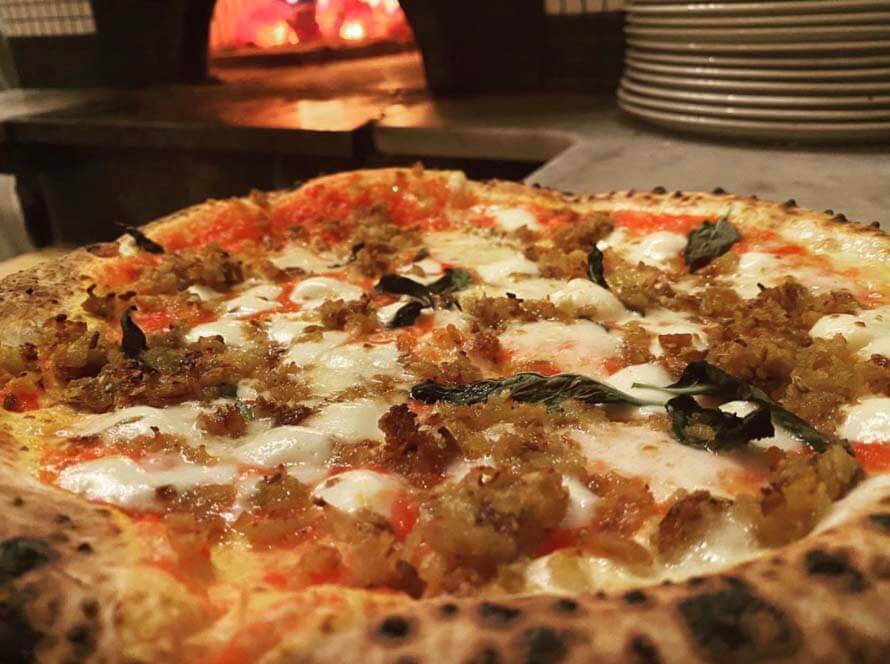 Double Zero
East Village
Double Zero by Matthew Kenney is still serving up wood-fired plant-based pizza for delivery and takeout in NYC. The shop uses seasonal ingredients and nut-based cheeses to bring you fancy vegan pies! They have the full menu available on @postmates so make sure you order a Chopped Salad and Chocolate Cake to accompany your pizza of choice!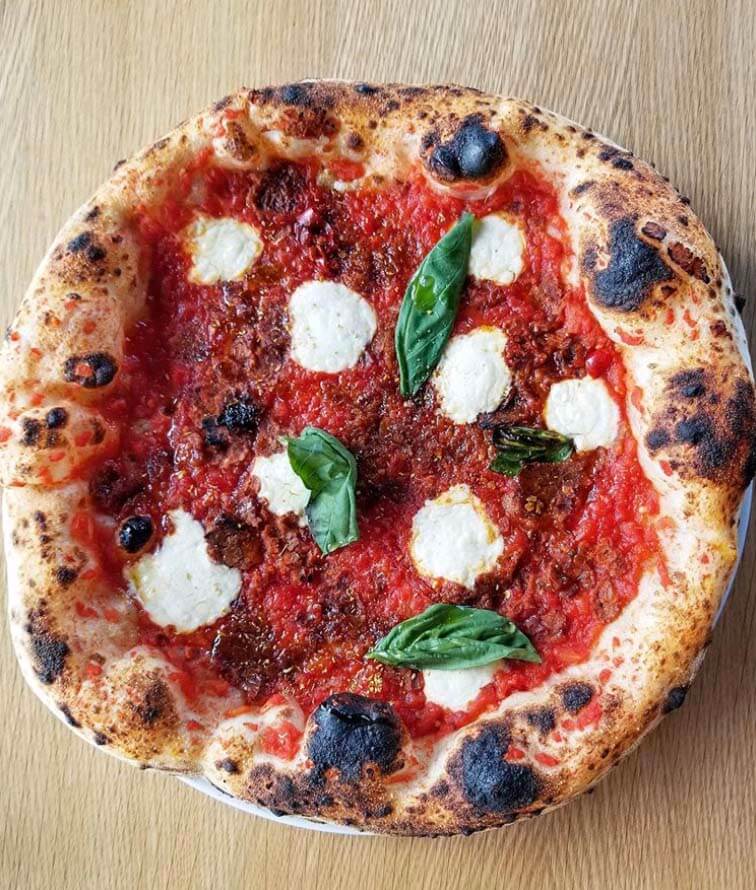 Two Boots
Williamsburg, East Village, Greenwich, and Park Slope
Two Boots has an extensive menu of vegan pizza available for takeout and delivery! You'll find specialty vegan pies such as the Super Vegan ( broccoli, artichokes, red onions, shiitake mushrooms, basil pesto, sweet red pepper pesto, Daiya cheese, & a homemade vegan ricotta) and Vegan Cleo (vegan sausage, roasted peppers, red onions, and Daiya cheese) as well as an array of vegan calzones. Each pie can be ordered in small, medium, or large!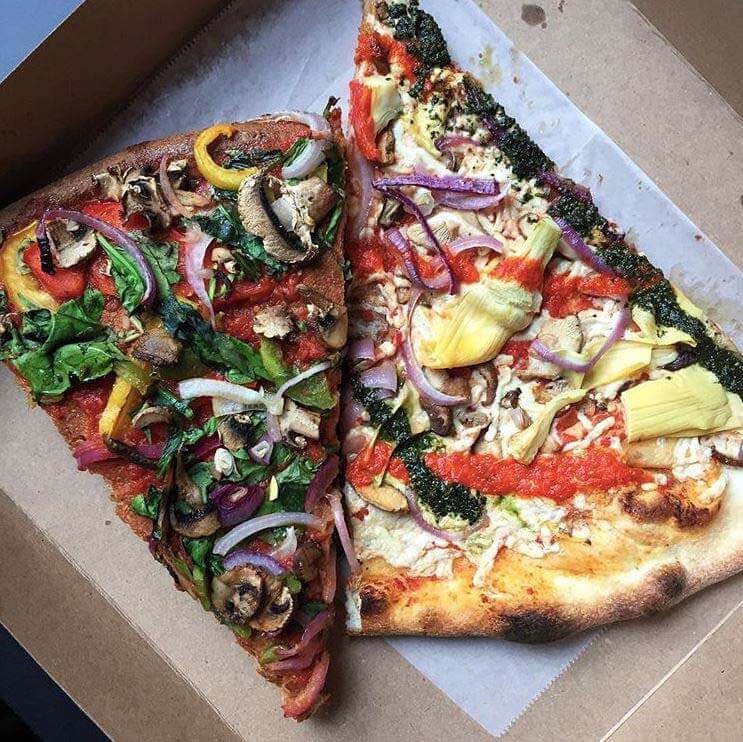 Photo credit: @aisforaubergine
Paulie Gee's Slice Shop
Brooklyn
Though the wood-fired locations are closed, Paulie Gee's Slice Shop is open for takeout or delivery with @caviar. Choose from 4 vegan pies such as the Vegan Freddy Prince (an upside down sicilian with Numu vegan mozzarella, Beyond Meat vegan sausage, tomato sauce, Follow Your Heart vegan Parm, and a sesame seed bottom)!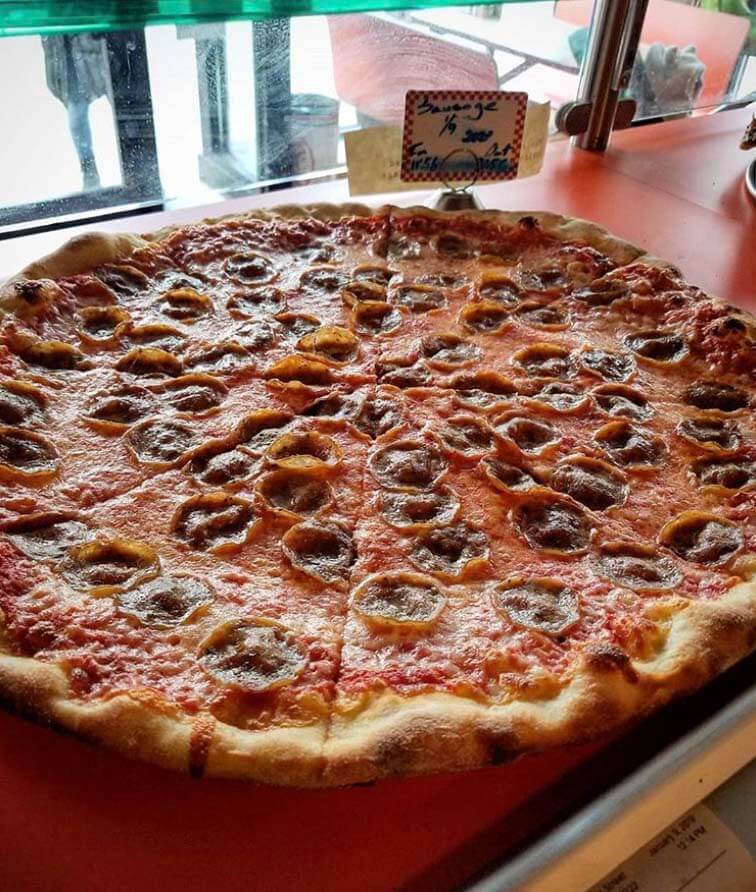 Williamsburg Pizza
Williamsburg, Lower East Side, Upper West Side, and Crown Heights
Order The Vegan (Violife vegan mozzarella, marinated artichokes, basil, roasted red peppers, red onions, spinach, garlic & tomato sauce) available at all locations of Williamsburg Pizza for takeout & delivery (by the slice too!). Use @toasttab for delivery and check out @williamsburgpizza for the latest updates!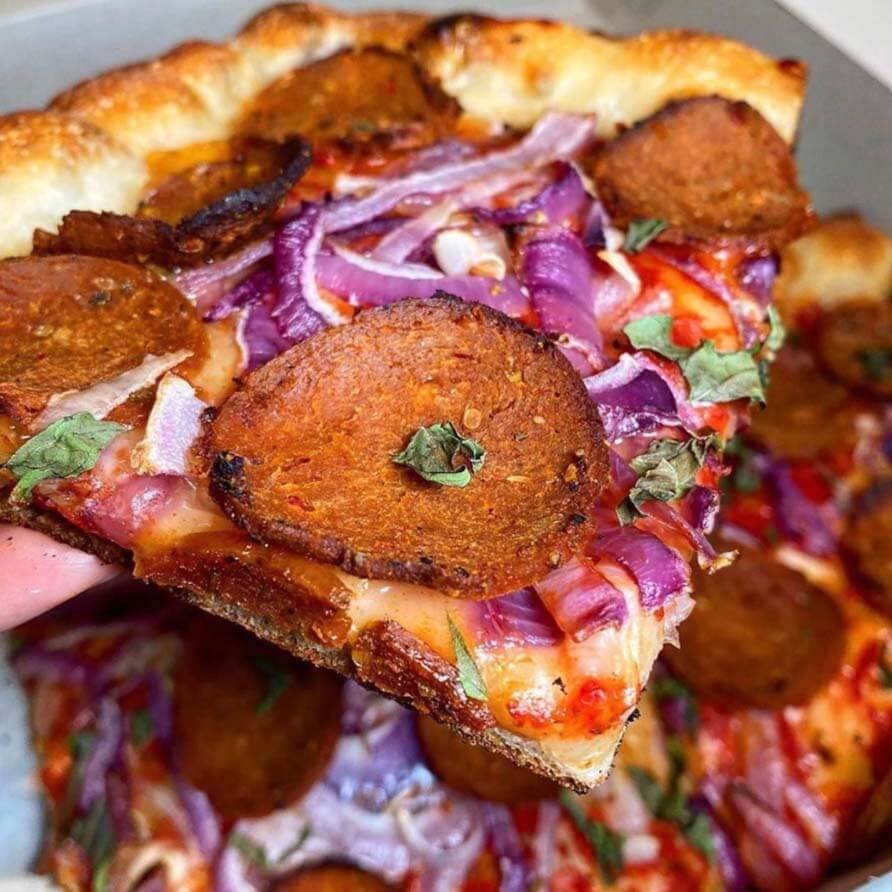 Photo credit: @williamsburgpizza
Vinnie's Pizzeria
Brooklyn
Vinnie's Pizzeria in Brooklyn has a section on the menu dedicated to vegan pies! Order innovative vegan specialty pies such as the Danielle's Treat (with 100% vegan sliced ham, pineapple, mozzarella and cheddar), Parma Initiative (baked breaded eggplant, marinara sauce, mozzarella and cheddar) or Spicy Slicey (spicy chicken, diced jalapenos, mozzarella, cheddar, hot sauce) for delivery with @chownow. Visit @vinniesbrooklyn for the most up-to-date information regarding services!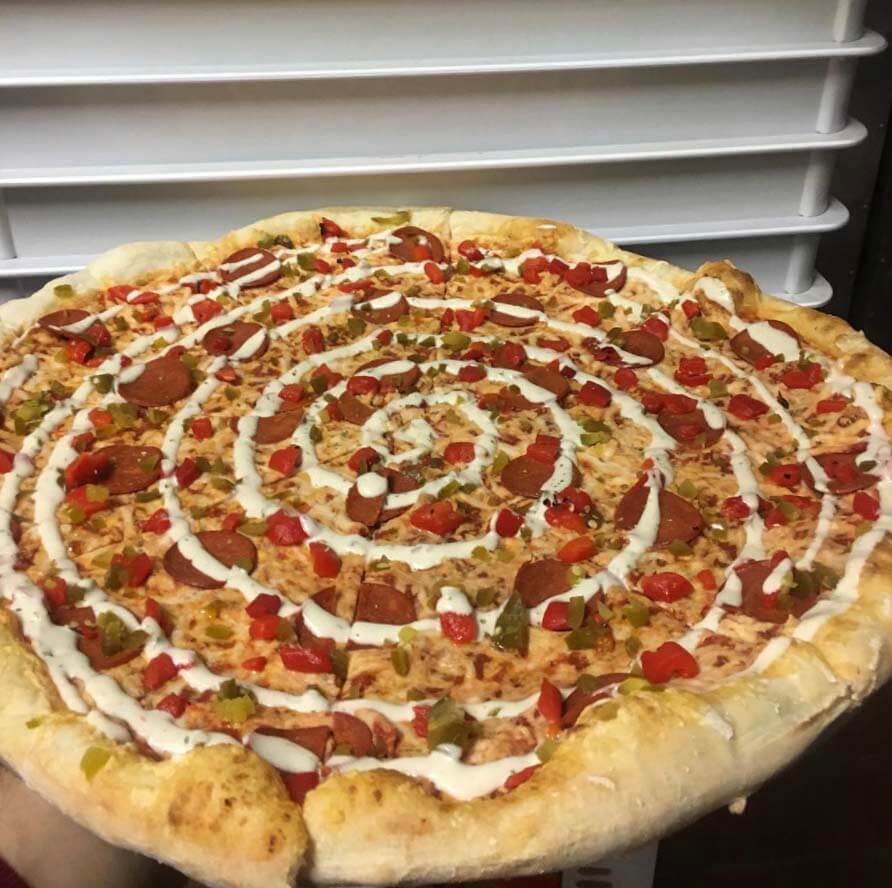 RELATED: Your Guide to NYC Vegan Restaurants Open for Takeout and Delivery During the Coronavirus Pandemic
---
Want even more NYC vegan food and lifestyle content? Subscribe to VegOut NYC Magazine!