Whether you celebrate Easter or not, you're gonna want to get your hands on these festive vegan treats in LA! Pastel colors, chocolate bunnies, and baskets full of candy? It must be that time of year already! Yep, spring is in full swing and Easter is right around the corner. Do you know what that means? Another holiday where it's tradition to stuff your face with sweets! Here are the most festive vegan desserts we could find this Easter in LA.
Drink Leche
Delivery
There are so many plant-based milks out there! Almond, soy, coconut, hemp, banana, oat––the list goes on and on. Now, most of these beverages come in unsweetened, vanilla, or chocolate flavors. Boring! Drink Leche revolutionizes the way we think of vegan milk alternatives with over 40 varieties of dairy-free milks made with organic oats, nuts, seeds, and fruit! Their Easter Pack comes with Carrot Cake and Jelly Bean milks as well as two Easter eggs filled with treats. Score!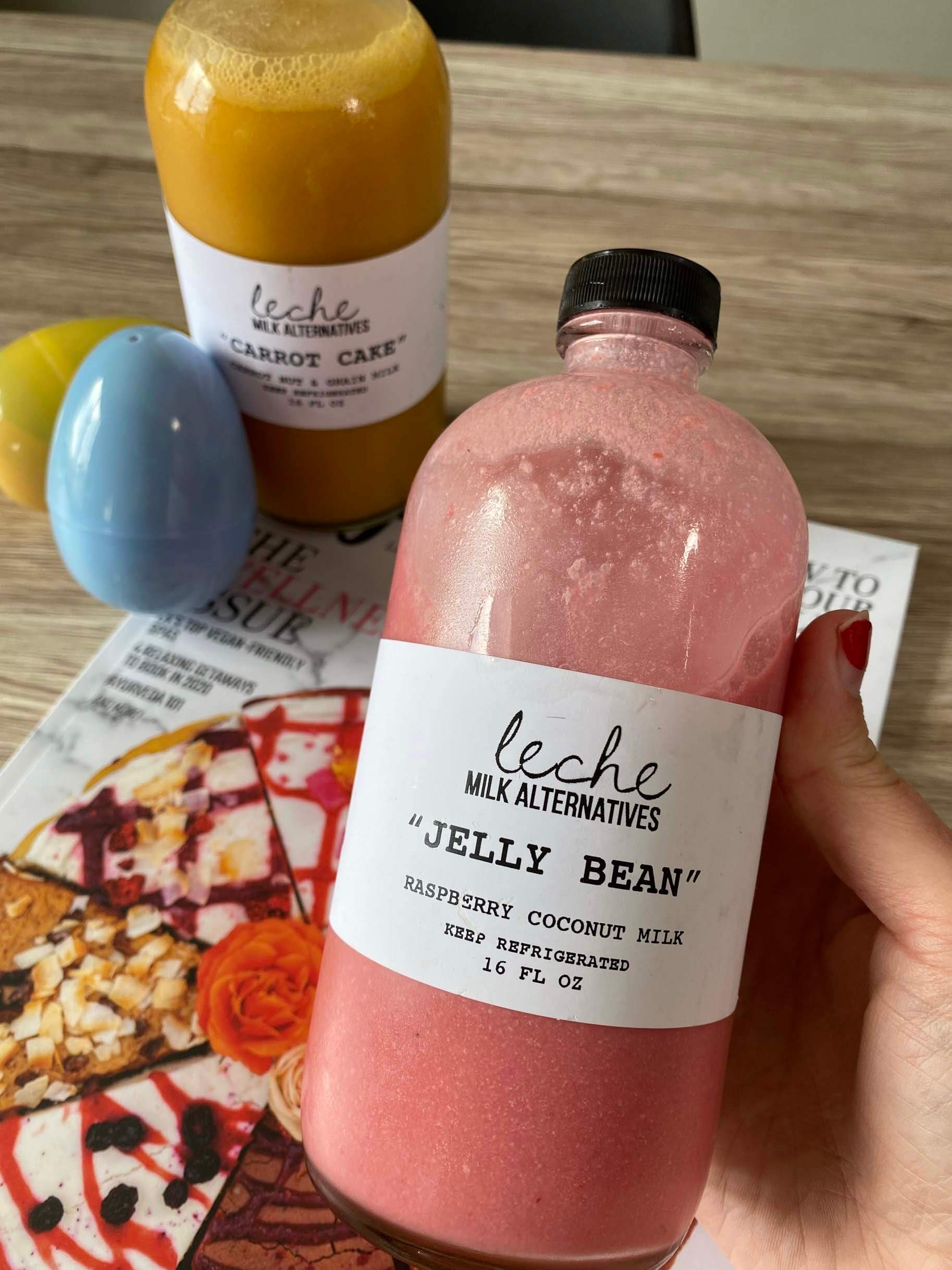 Karma Baker
Westlake Village and Delivery
You may have eaten carrot cake before, but have you eaten carrot cake in a jar? This crafty dessert is one of the many Easter specials you can order from Karma Baker. Dive into layers of gluten-free carrot cake and vanilla frosting, festively topped in a bunny butt! Other specials include Easter Bunny Butt Donuts, Easter Egg and Baby Chick Cake Pops, Bunny Sugar Cookies, and Chocolate Eggs filled with cream or peanut butter! We repeat: Chocolate Eggs filled with cream! If you're familiar with the oh-so-nostalgic Cadbury Cream Eggs, you'll know why that's a big deal!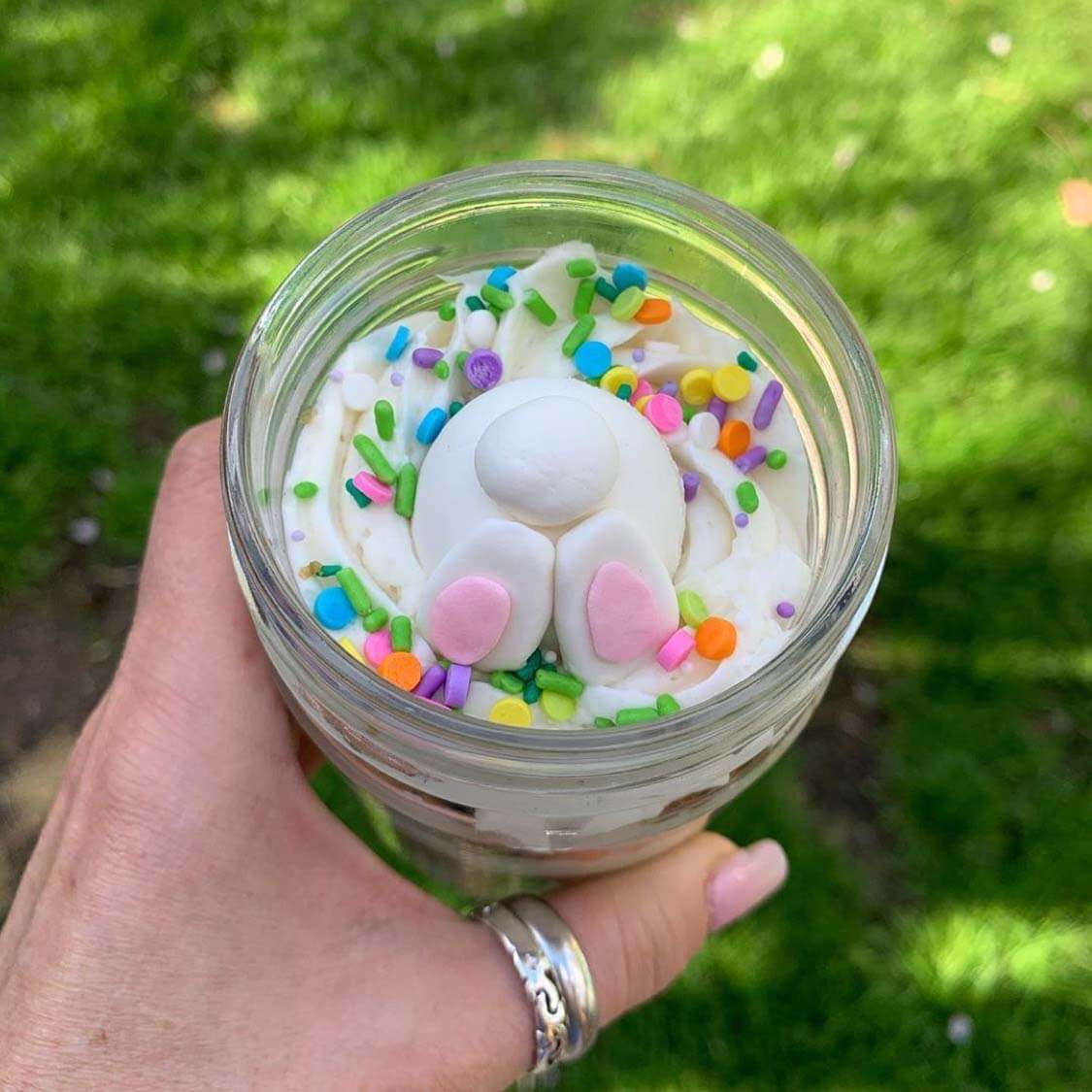 Hello Cake Girl
Boyle Heights
Ditch your Easter basket and get an Easter Donut Box from Hello Cake Girl! Open this angelic box to find Vanilla Sprinkle, Baked Raspberry, Lemon Poppy, and Strawberry Sprinkle Donuts! They're all vegan, gluten-free, soy-free, and nut-free––but definitely not flavor-free! Pre-order your box online.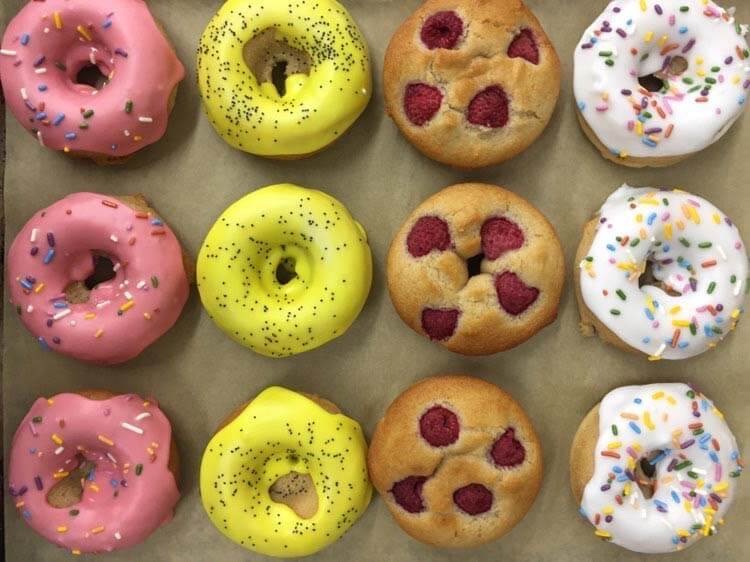 Baked Vegan Sweets
Pop-up (Long Beach storefront opening soon!)
There's nothing that screams "Easter" more than fluffy and colorful Peeps––but wait, that can't be vegan! While most marshmallows (including Peeps) have gelatin in them, the "Peep" Pops from Baked Vegan Sweets are completely vegan and gelatin-free! Their other adorably delicious Easter items include Macarons, Easter Egg Truffles, Funfetti Cupcakes, a gluten-free Mini Hummingbird Bundt Cake, and more! Can't decide? Get the Easter Pastry Box to try a little bit of everything!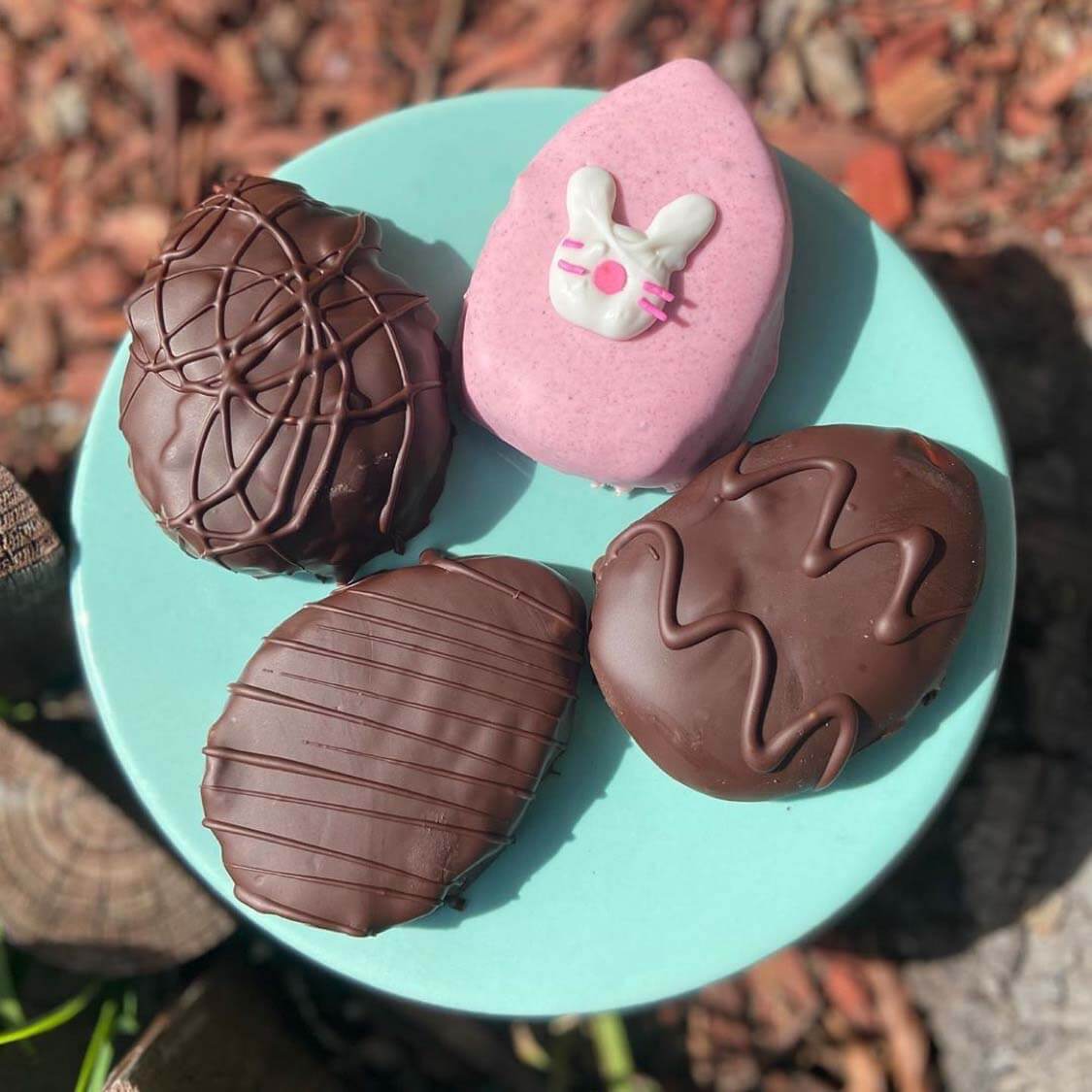 Baked Vegan Vixen
Pop-up
From the masters of the tastiest Strawberry Pop Tarts, Slutty Brownies, and Nutty Bars, you can enjoy fresh and fruity Easter Cupcakes! The Lemon Blackberry or Strawberry Shortcake flavors are bright, beautiful, and baked to perfection. We can count a strawberry-flavored cupcake as a serving of fruit, right?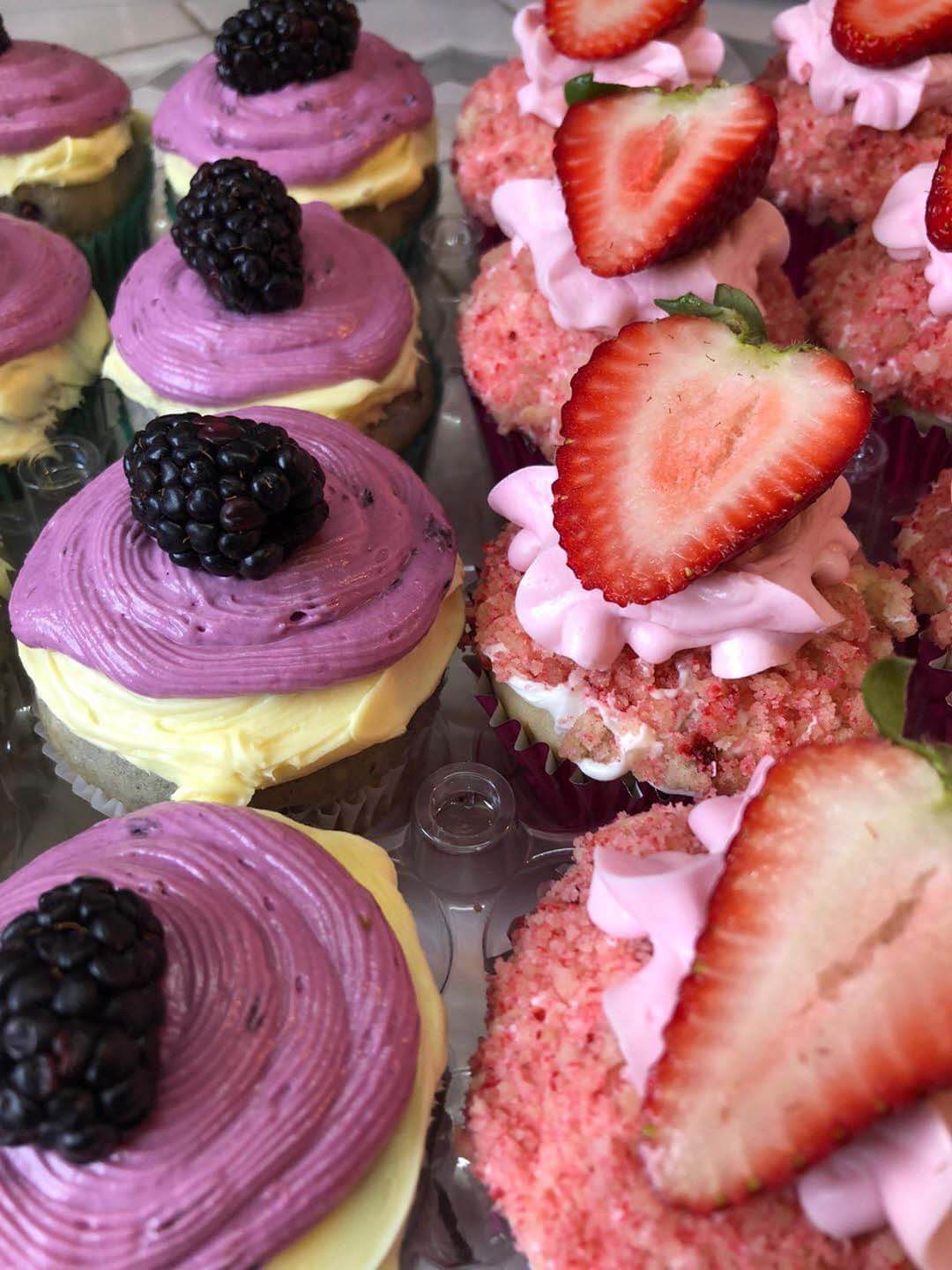 Erin McKenna's Bakery
Larchmont, Santa Monica, and Delivery
Who else thought Hot Cross Buns was just the title of a childhood piano song? Nope, they're an actual pastry that exists! These scone-like treats with raisins are one of Erin McKenna's Easter confections you can order alongside Mini Bunny Donuts, Sugar Cookies, Coffee Cake, and more. If you're feeling crafty, the Sugar Cookies come with frosting for you to put your designing skills to the test!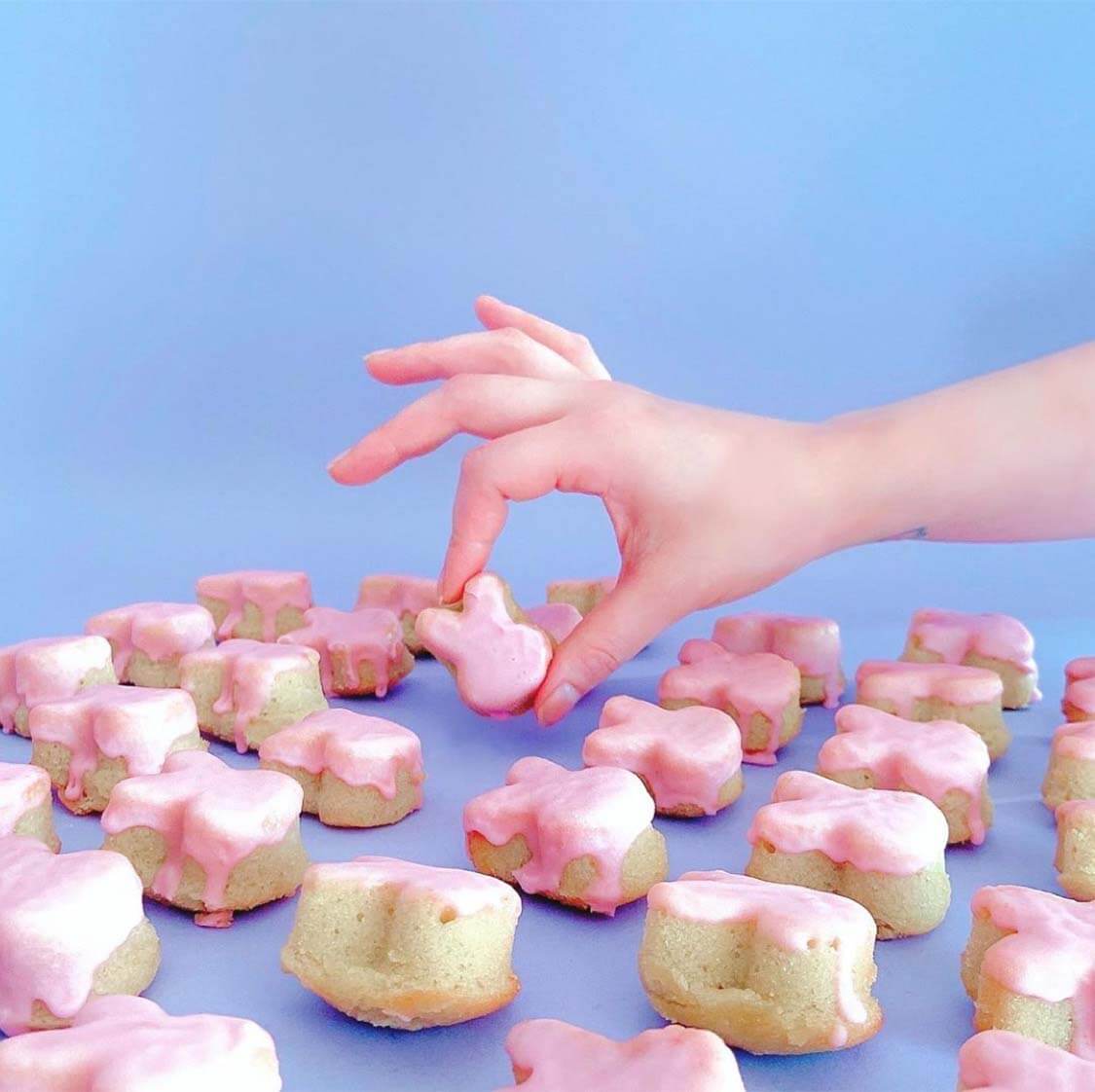 Photo credit: @punk_police on Instagram
Primo's Donuts
West LA
This vegan-friendly donut shop is pulling out all the stops this season with their Easter donuts! These limited edition pastel donuts can be made vegan upon request! Reserve them online for in-store pick up or get them delivered on Doordash, Grubhub (Use promo code AFF7 for $7 off your purchase of $12 or more!), Uber Eats, and Postmates. What a great way to kick off your Easter Sunday!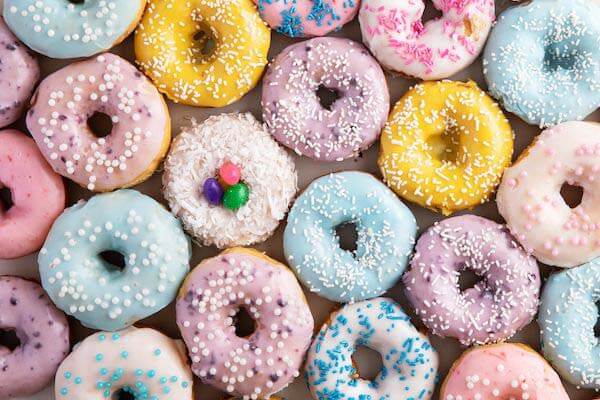 Photo credit: Erica Mae Allen
Yoga-Urt
Echo Park and Glendale
For a perfectly-chilled pastel treat, order a swirl of Yoga-Urt's Strawberry Serenity and Ganesha's Sweet Greens soft serve! These cold and creamy swirls are organic, fresh, and made from scratch daily. Decorate it in sprinkles, coconut, or strawberries to ring in the spring season!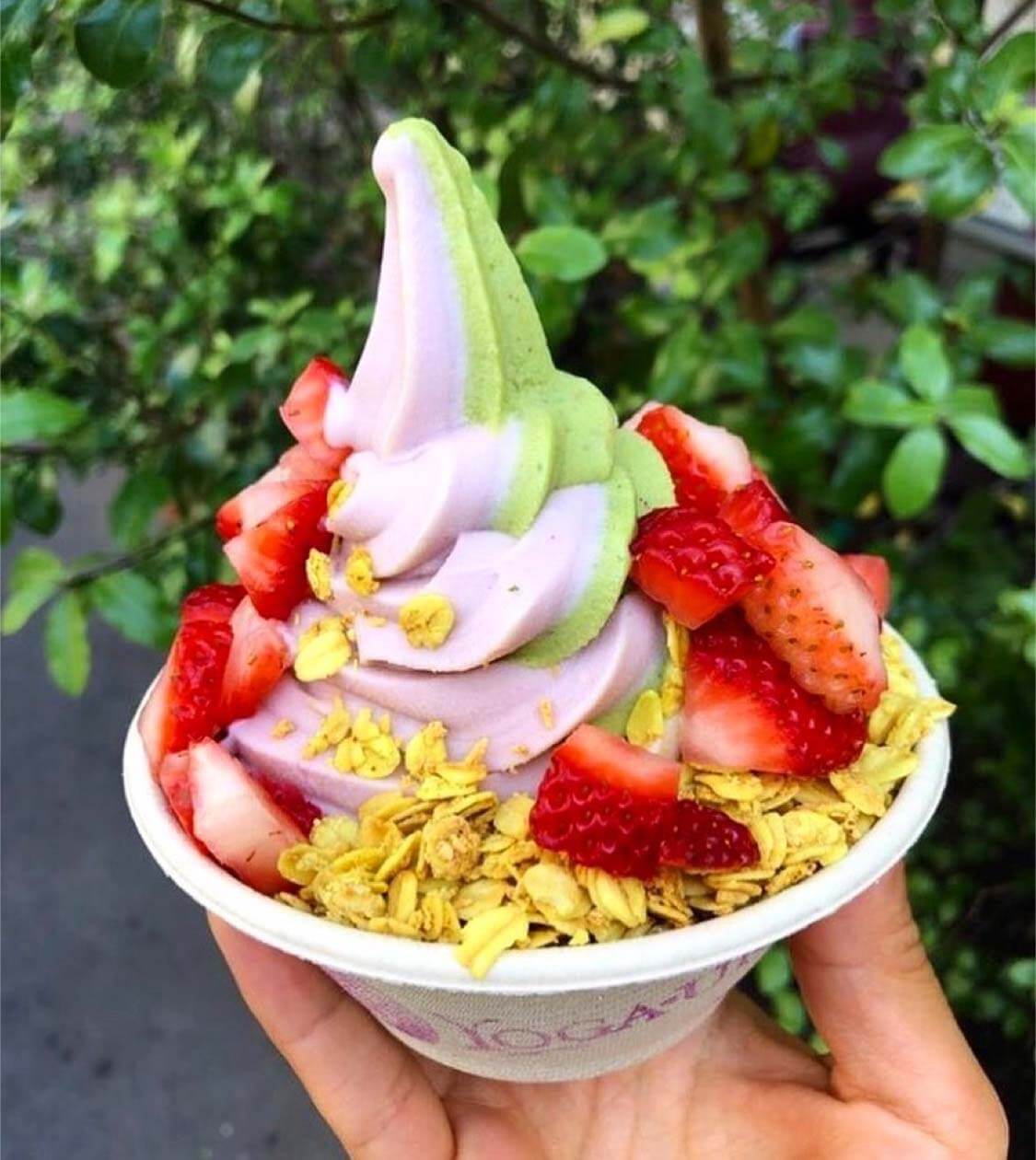 RELATED: 8 Vegan Donut Shops Open for Pickup and Delivery in Los Angeles
---
Want even more LA vegan food, news, and lifestyle content? Subscribe to VegOut LA Magazine!