Craving a donut, but don't know where you can find a quality vegan one amidst the chaos of the coronavirus pandemic? Then read on for a list of places where you can find that sweet treat you so desire for takeout and delivery.
Donut Friend
DTLA and Highland Park
Donut Friend is the totally-vegan donut shop that goes all out. They have donuts with names like Srirachosin (peanut butter, strawberry jam, coconut bacon, and a bit of sriracha inside a raised donut) and Nutellavision (chocolate hazelnut spread and a dash of olive oil inside a raised donut, topped with vanilla glaze and a pinch of sea salt). Plus, they have DIY donuts too–you can customize a donut by choosing a donut type, fillings, and toppings.
Open everyday from 10am to 8pm for takeout and delivery via Postmates, GrubHub (Use promo code AFF7 for $7 off your purchase of $12 or more!), Uber Eats, and DoorDash.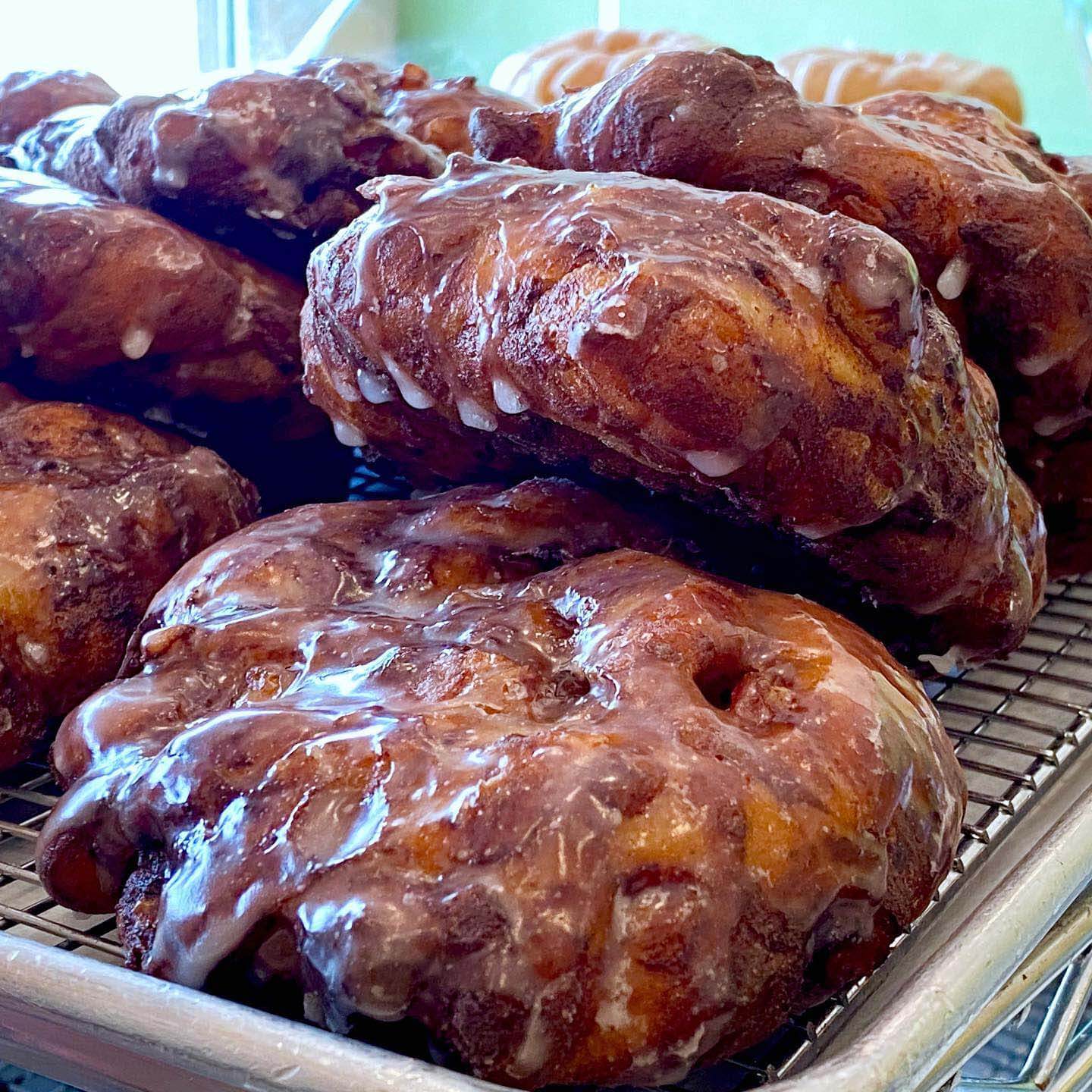 Erin McKenna's Bakery
Larchmont and Santa Monica
Everything at Erin McKenna's is vegan, gluten-free, and soy-free. So, along with their other baked goods, it's the perfect option if you're a vegan with allergies who's looking for good donuts. Head there for flavors like their Powdered Sugar Blueberry Donut and Cinnamon Sugar Donut.
Order for pickup, delivery via Postmates, and nationwide shipping on their website.
The Donuttery
Huntington Beach
If you're in Orange County, and craving a donut, make a stop at The Donuttery. They have lots of options for vegan donuts, from traditional raised flavors, to cake donuts, to fancy flavors like PB&J and Cinnamon Roll, and even jelly donuts and Long Johns.
Open 24/7 and available for takeout or delivery via Uber Eats, Grubhub (Use promo code AFF7 for $7 off your purchase of $12 or more!), and DoorDash.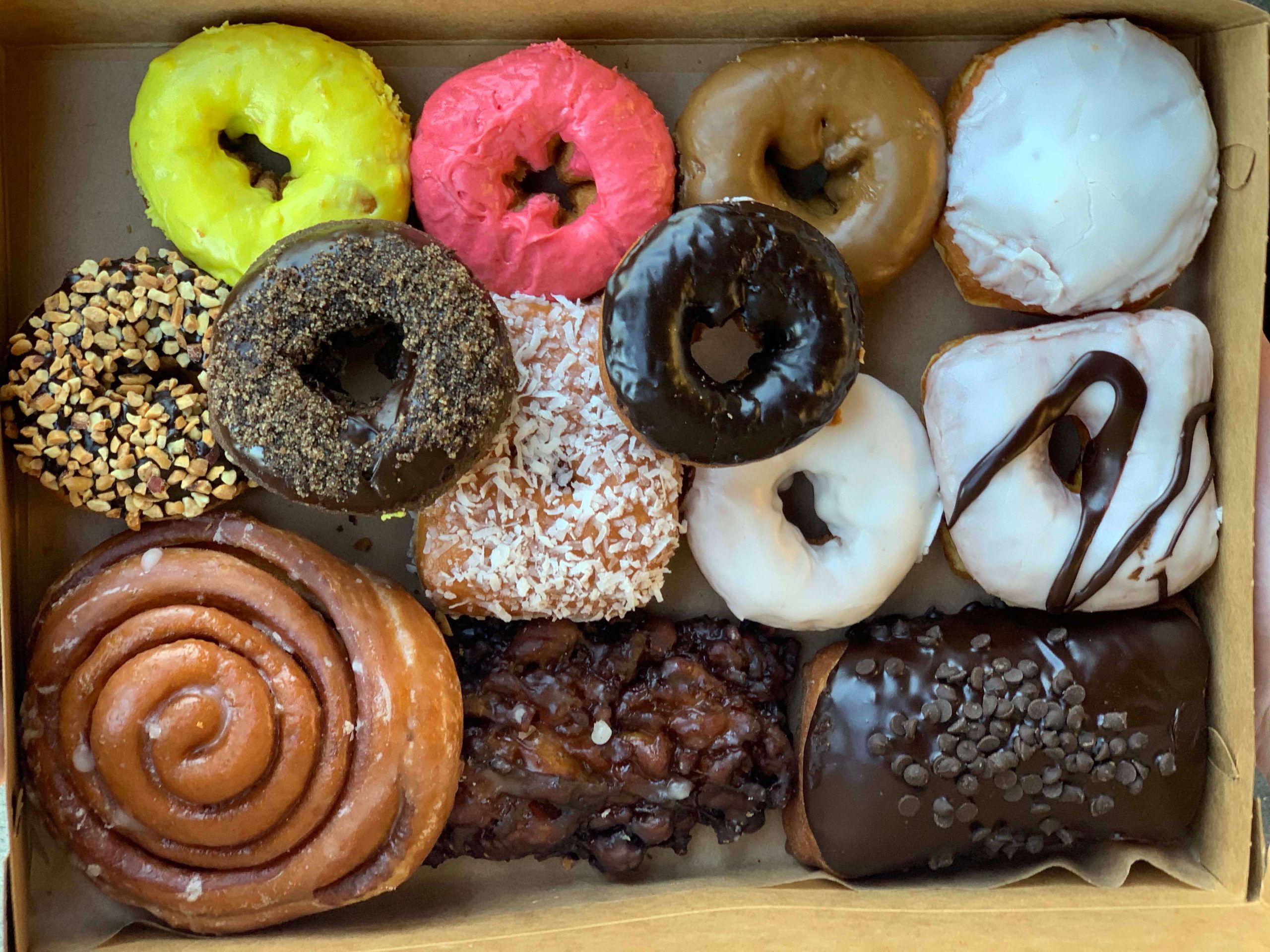 Karma Baker
Westlake Village
Karma Baker in Westlake is a fully-vegan and gluten-free bakery with donuts like Cookies and Crème and their Unicorn Donut. They also have a special monthly-rotating donut, which in the past has included flavors like February's Red Velvet and March's Easter Donut.
Open from 10am-5pm for to-go orders and via nationwide shipping on their website.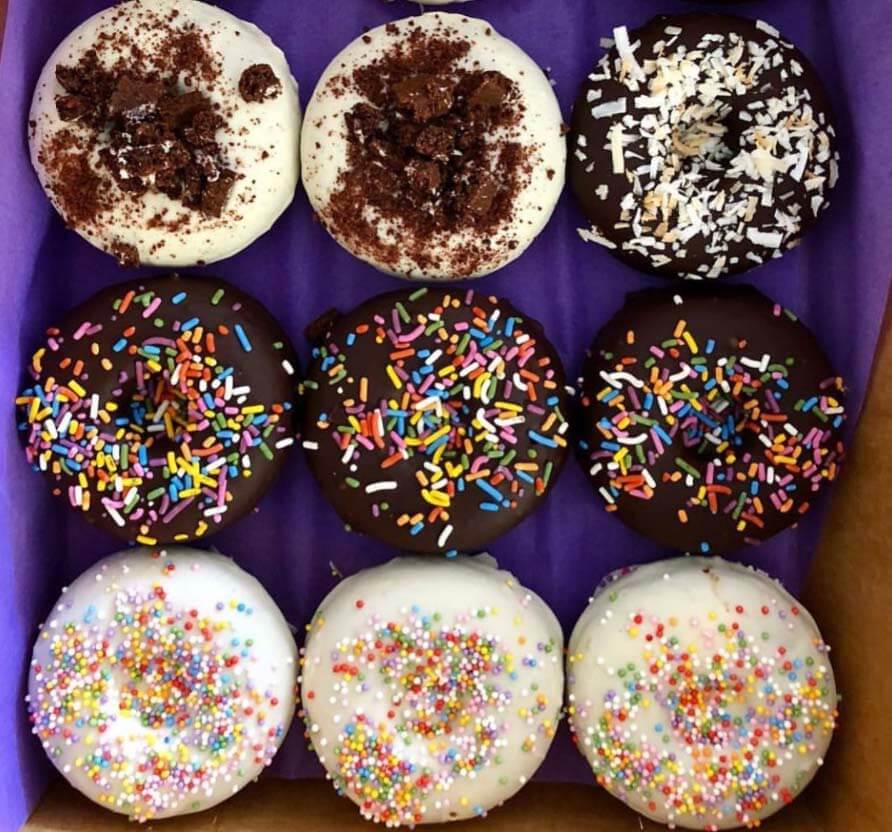 Kettle Glazed
Hollywood Hills
Kettle Glazed is a vegan-friendly donut shop that has a daily selection of vegan cake donut options that have included blueberry lemon, apple cinnamon, vanilla bean, plus more.
Go to their website to place your order for pickup or get delivery via Postmates, GrubHub (Use promo code AFF7 for $7 off your purchase of $12 or more!), and Uber Eats.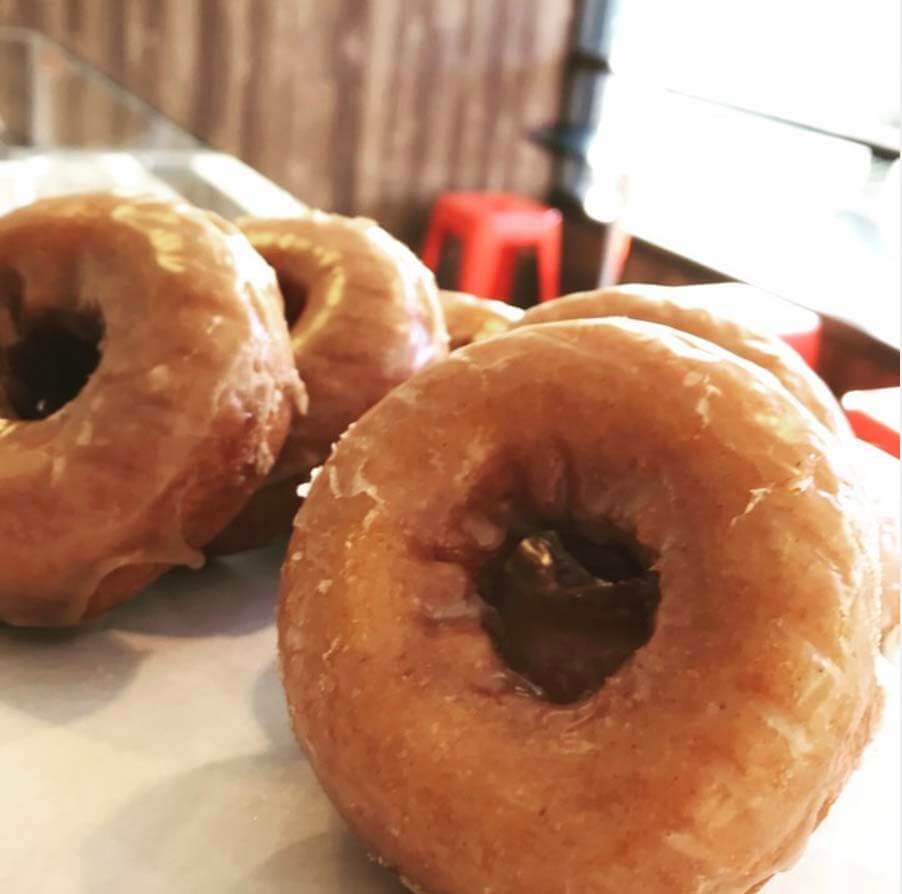 Donatsu
Little Tokyo
This all-vegan donut shop with a ton of fun and exciting offerings. Just a few of their flavors available include Biscoff, Samoa, Oreo, Ube, Churro, and Crème Brûlée.
Available for pre-paid orders only (place Monday-Friday via call or text), which are to be picked up curbside on the weekend between 9am and 12pm.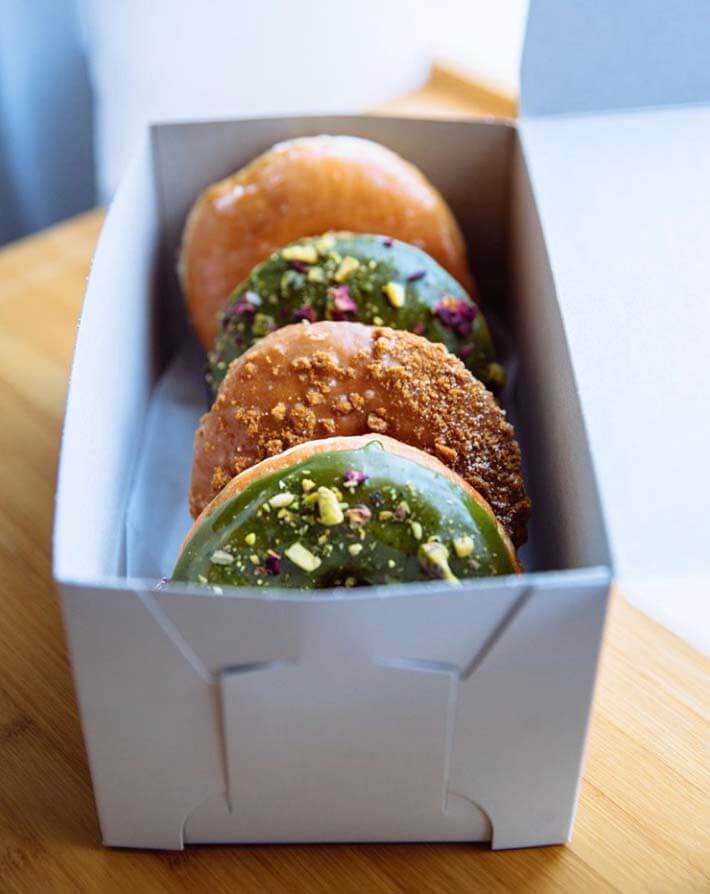 Sweet Retreat Donuts
Long Beach
Vegan shop Sweet Retreat has a variety of flavors, such as Red Velvet, Strawberry, Banana, Chai Spice, and Hibiscus. Cake donuts are available everyday and raised are available Friday-Sunday.
Open for takeout only—phone orders and pickup available.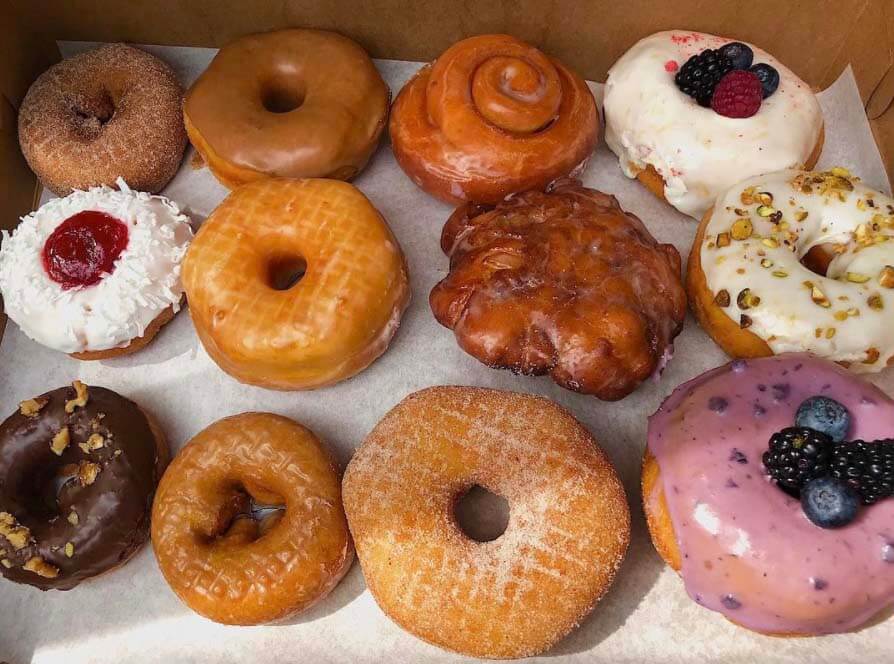 Yvonne's Vegan Kitchen
Online
Available online only, Yvonne's Kitchen offers an array of vegan desserts, which includes donuts. Order their Chocolate-Covered or Pink Donuts, or even look into their Donut Subscription Box.
Order online at yvonnesvegankitchen.com for nationwide shipping.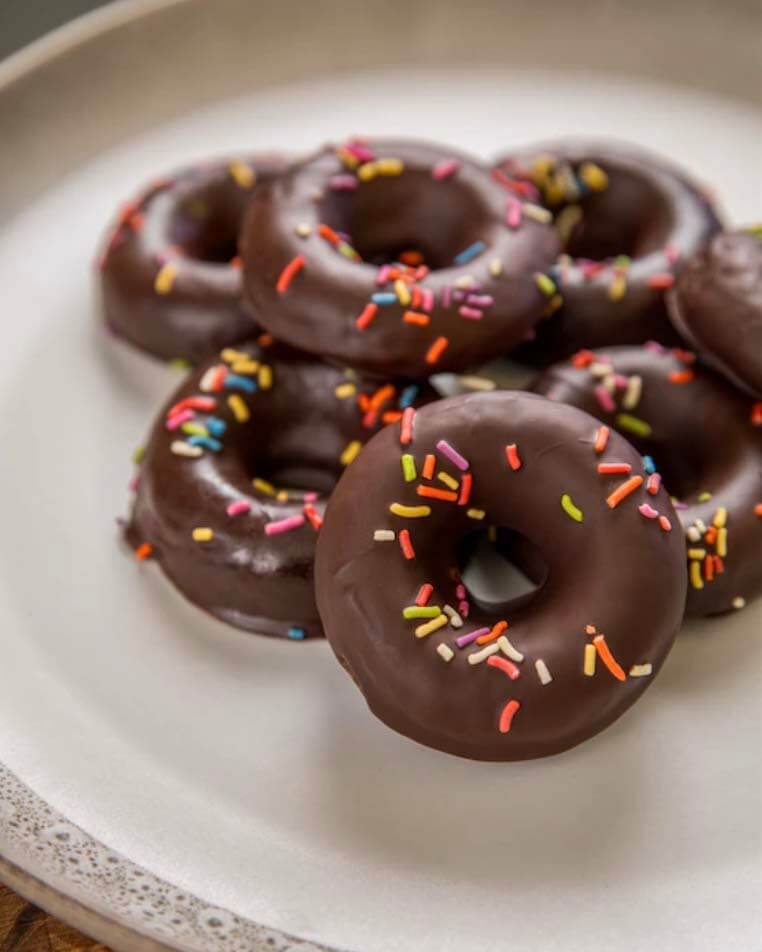 RELATED: 10 Spots for Vegan Pizza Delivery in Los Angeles
---
Want even more LA vegan food, news, and lifestyle content? Subscribe to VegOut LA Magazine!