NYC is known for having some of the best deli-style sandwiches around, and these vegan and vegan-friendly eateries are no exception. From Bacon Egg & Cheese handhelds to Philly cheesesteaks, there's sure to be a plant-based version of all of the classics you crave. Here are 10 spots to get plant-based deli sandwiches in NYC!
Manhattan
New York delis call to mind sandwiches piled high with meat and dairy products, but Sarge's Delicatessen and Diner is breaking the mold as they offer a 100% plant-based corned beef option, created by Jenny Goldfarb of Unreal Deli. Order the plant-based corned beef on rye bread with sauerkraut for the real deal.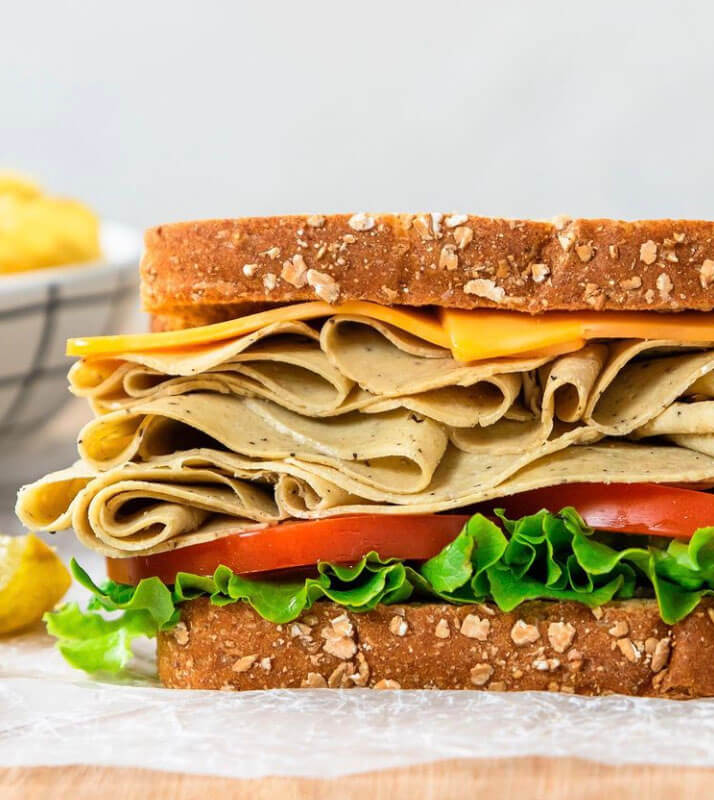 Manhattan
Freshco offers both grocery and deli items, and there's no shortage of vegan handhelds on the menu. Their unique plant-based options include a vegan ginger chicken cubano, Atlas vegan club sandwich (vegan turkey, vegan bacon, tomato, spinach, and vegan cheddar), and vegan tofu salad on multigrain to name a few. The plant-based sandwiches are made on baguettes or multigrain bread. Freshco also carries many vegan grocery items such as Beyond Meat products, vegan ice cream, and even Louisville Vegan Jerky—YUM!
The Bronx
Vegan Grill is a New York corner deli with a twist—everything is always 100% plant-based. You can order anything from a Bacon Egg & Cheese for breakfast to a Beyond chopped cheese sandwich for lunch. The deli also offers appetizers, salads, burgers, bowls, smoothies, juices, and more!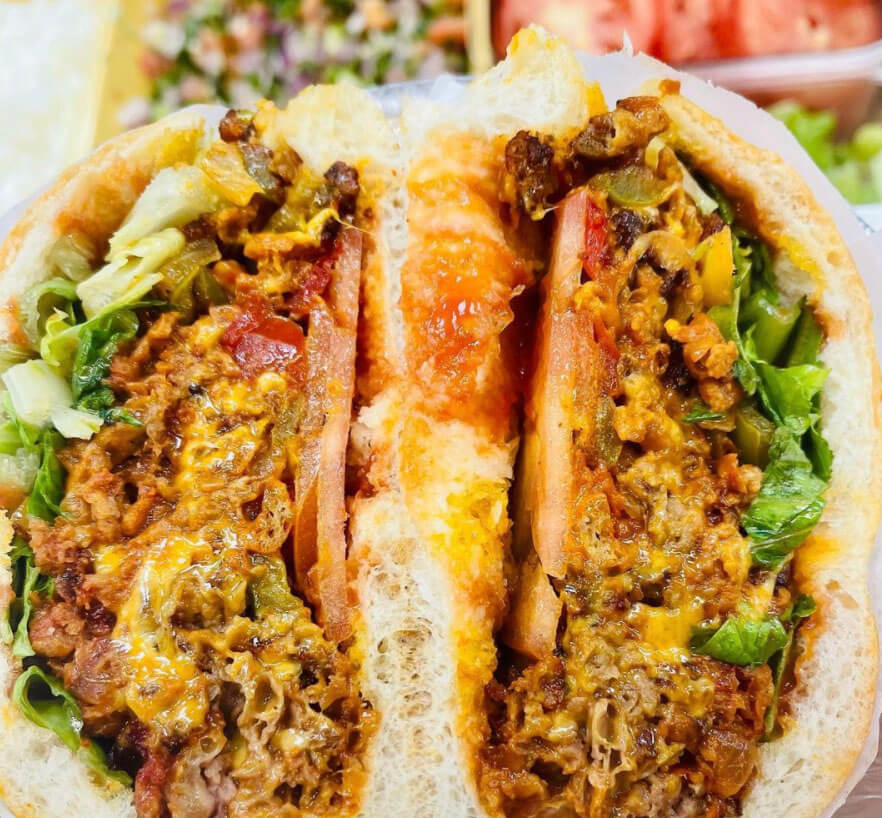 Hana Food
Brooklyn
Hana Food is a Brooklyn deli and grocery store all in one. The sandwich menu offers a separate "Sandwiches for Vegetarians" section, where you'll find lots of vegan options as well. Vegan-friendly bites include items like the My Girlfriend Sandwich (vegan pesto chicken salad, vegan bacon, vegan cheese, sprouts, and cucumber served on a spinach wrap) and the Pretty Woman Sandwich (vegan bacon, vegan cheese, sprouts, tomato, and guacamole on whole-wheat bread). We think Julia Roberts would be proud! If you do go with the Pretty Woman Sandwich, modify it to be made without the crab cake as this comes on the unmodified version and is not a vegan ingredient.
Brooklyn
Toad Style is a 100% vegan sandwich spot that serves soy-free, palm oil-free, and non-GMO eats. The menu features unique handheld options like the BBQ pulled jackfruit sandwich and the breakfast bun made with a maple glazed sausage patty, chickpea tofu scramble, almond mozzarella, house-made ketchup, and hot sauce on … you guessed it … a bun. You can also opt to make any sandwich on gluten-free waffles for a sweet and savory taste experience.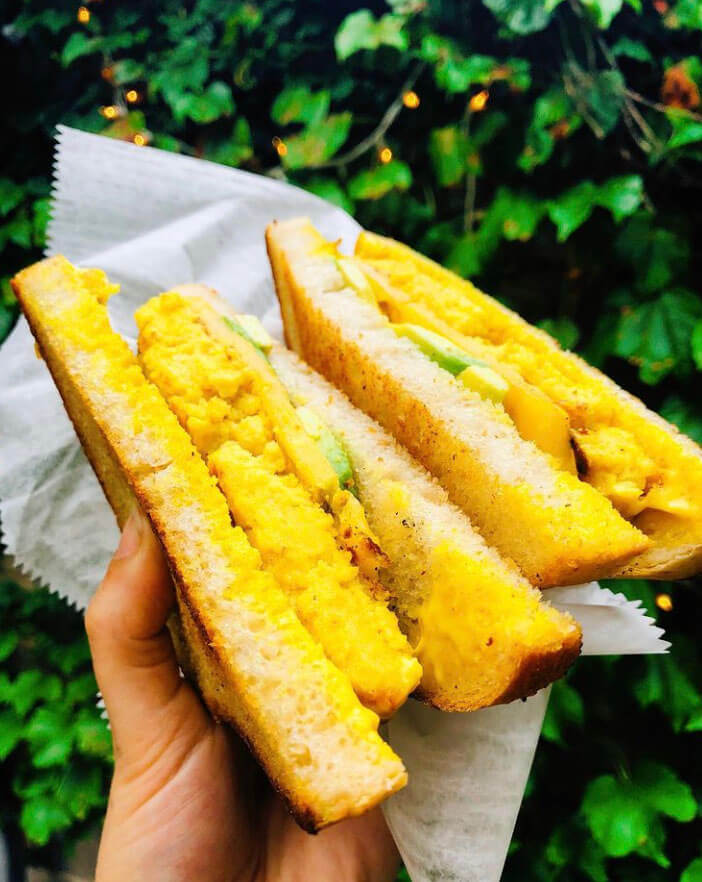 Queens
ikraveit is here to satisfy your vegan sandwich cravings, as there are a variety of plant-based options on the menu. Vegan items have their own sections, so you can easily identify the vegan-friendly dishes. Start your day with the vegan Tex-Mex breakfast wrap, or order a vegan chicken cheesesteak for lunch. ikraveit also offers plant-based treats like cakes, cookies, and whoopie pies.
Manhattan
LifeThyme offers "wonderfully natural" products to help you feel your best self. Deli options include a spicy seitan wrap made on a whole wheat tortilla and packed with homemade seitan, spinach, cucumber, and spiced with tomato and chipotle peppers for a kick. LifeThyme also offers vegan sides like oil-free tempeh and baked potato fries. Their market section includes vegan grocery items such as Miyoko's Creamery cheese and Gardein meatless meatballs.
Manhattan
Sisters Sara and Erica Kubersky pay homage to delicatessens of NYC's past through Orchard Grocer, an all-vegan deli and grocery store located in Manhattan's Lower East Side. The eatery is offering a special Passover menu (available now through Sunday, 4/4) that includes items like savory matzo brei (JUST Egg, organic matzo, caramelized onions, scallions, sour cream, beet horseradish, and dill), sweet matzo brei (JUST Egg, organic matzo, apple-walnut charoset, coconut whip, and maple syrup), and an apple-walnut charoset sundae with vanilla soft serve. Don't forget to check out the milkshakes, which come in vanilla caramel and strawberry flavors!
Brooklyn
At Terms of Endearment—an elevated cafe and patisserie that opened its doors this past September—food is an intimate expression of love, especially when sharing with family and friends. The plant-based menu features an array of deli-style breakfast items such as the Bacon Egg & Cheese (scrambled JUST Egg, bacon, cheese, Everything seasoning, greens, and crème fraîche) and classic sandwiches such as the Lox (beet lox, scallion cream cheese, capers, red onion, and greens on a croissant). Sweets such as pastries and cakes are also available and are baked on-site.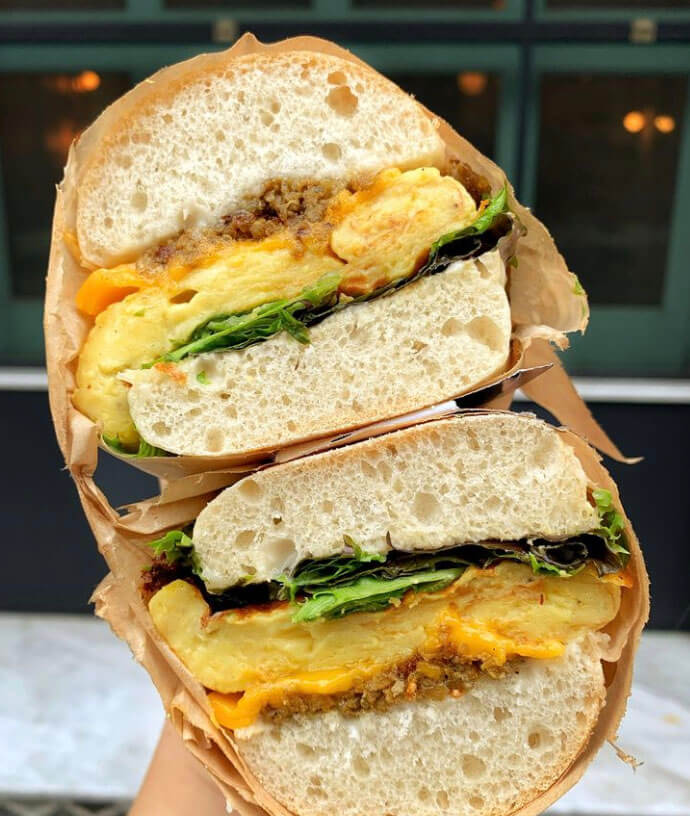 Brooklyn
What began as a pop-up has now made a permanent home in the Dumbo neighborhood of Brooklyn. Vodega is a vegetarian-style bodega that offers a variety of plant-based deli sandwiches, including "sausage" egg & cheese on a roll, Philly cheesesteak, and the NYC staple, chopped cheese. You can also choose from sides like mixed greens salad with vegan ranch, jeweled grains, smoked mac 'n' cheese, and curry hummus & veggies. Be sure to specify that you'd like your items made vegan, as they offer dairy options as well.