Break out your brunch-eating attire, corral your crew, and head to these hot-spots for vegan chicken & waffles in LA! Modern-day brunch culture is outrageously over-the-top, but we absolutely love it! Weekend brunch has turned into an Instagram photoshoot and bottomless mimosa hangout that lasts until the late afternoon––like when is it too late to consider a meal "brunch?" Whatever you call your early afternoon weekend meal, we can all agree that chicken & waffles is the ultimate way to get your fix of sweet and savory! Here are our top picks on where to find vegan versions of this comforting dish in SoCal.
Crossroads Kitchen
West Hollywood
Whether you're celebrating something special or are simply in need of a bangin' brunch menu, this elegant vegan restaurant is the perfect place to tack onto your weekend itinerary! Order the Chicken & Waffles and plunge your fork info fried "chicken" atop a bed of warm waffles with a drizzle of warm maple hot sauce on top. For other outstanding brunch items, try their French Toast, Impossible Breakfast Sausage Sandwich, Savory Crepe, or Mike's Shakshuka!
Cafe Gratitude
Larchmont, DTLA, Venice, and San Diego
For those days when you're craving the indulgent savors of weekend brunch but can't make it in, Cafe Gratitude has you covered! Their new breakfast menu is available seven days a week (8-11am on weekdays and 8am-1pm Saturdays and Sundays.) Do you know what that means? Chicken & Waffles to cure your Monday blues! Tell your server "I'm feeling hospitable," and they'll bring you out a plate of chicken-fried oyster mushrooms with maple syrup and cashew coconut whipped cream. And if you're not into their fancy way of ordering, feel free to ask for the Chicken & Waffles and they'll know what to do.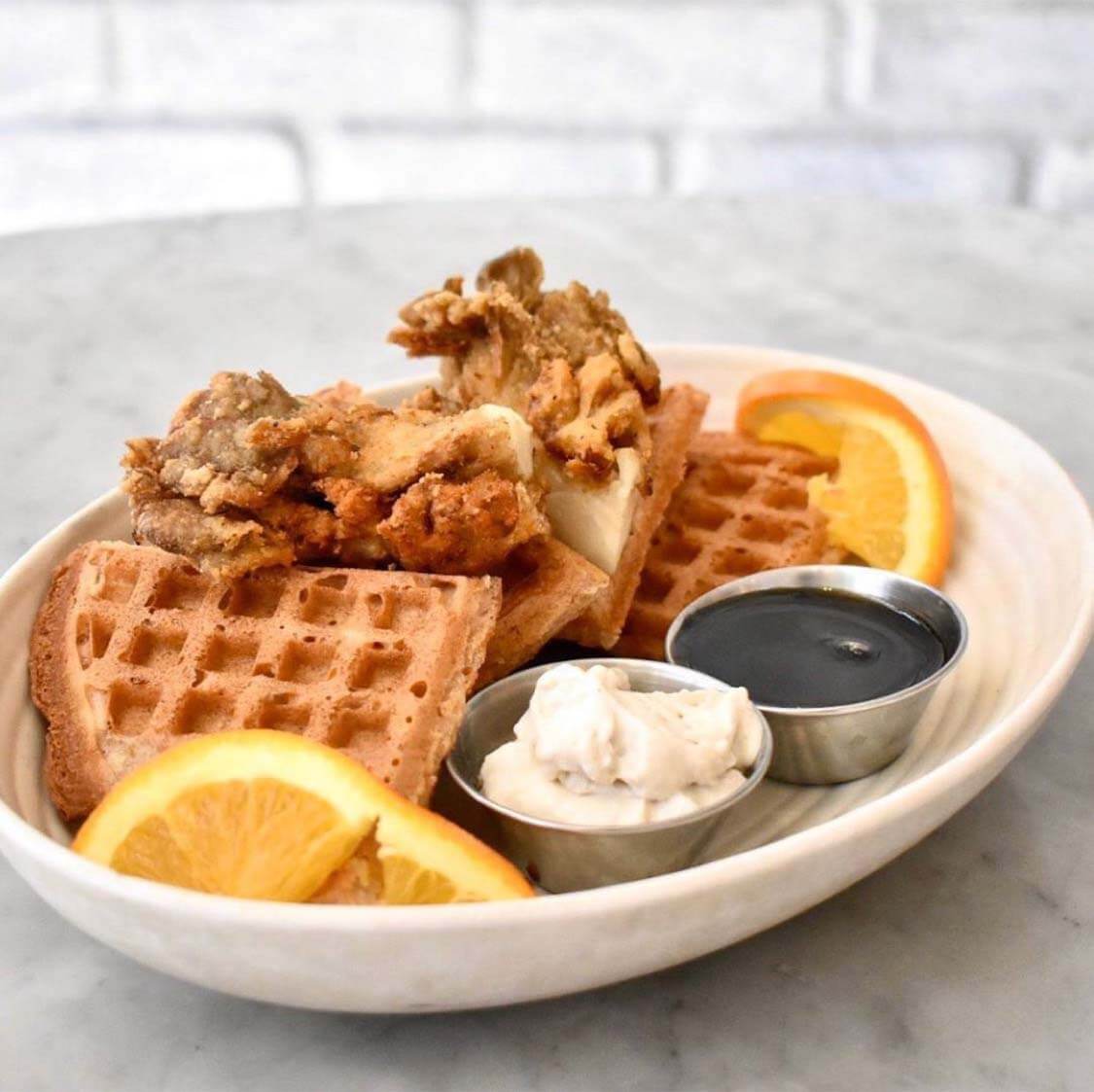 Flore Vegan
Silver Lake
If you're up-to-date with the most recent happenings in the LA vegan scene, you've heard the devastating news that Flore Vegan would permanently close their doors. But this sadness didn't last long, as no vegan Angeleno liked the thought of living without Flore's Chik'n & Waffles. Thanks to the support of their community, Flore is now able to relocate to a new restaurant space in the area! What does that call for? Chik'n & Waffles every. damn. day. Hey, it's for a good cause! A pile of mashed potatoes is perfectly positioned under a bed of beautifully breaded and seared "chicken" with mushroom gravy on top! Complete with a crispy banana waffle, soy butter, and maple syrup. We're so glad we don't have to live without Flore!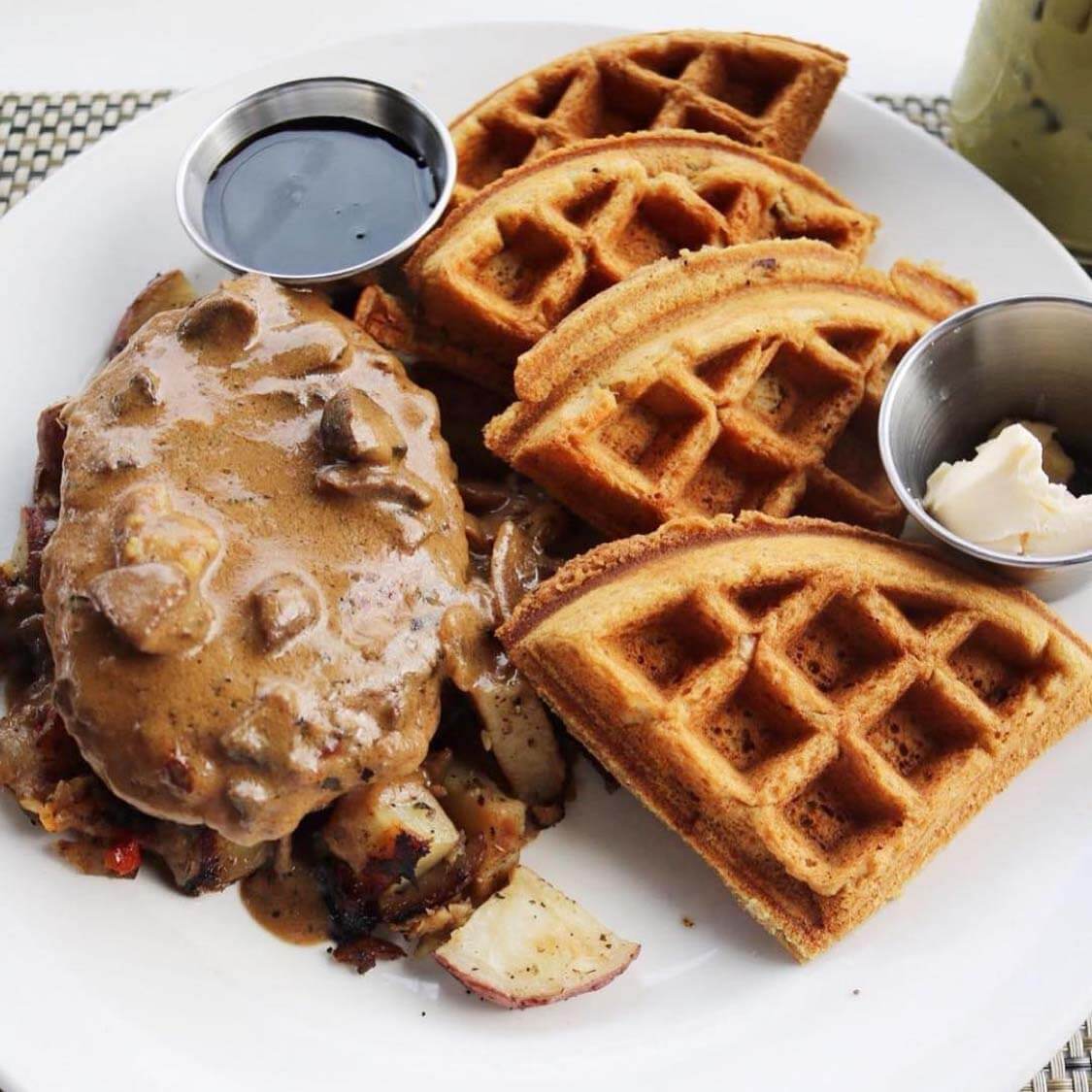 Mohawk Bend
Echo Park
Did you know it snows in LA? By that, we mean snowfall of powdered sugar upon vegan Chicken & Waffles at Mohawk Bend. We got you there for a second, didn't we? Instead of a soy or tempeh meat-substitute, these house-made waffles are finished with slices of sunflower cutlet! Never heard of a sunflower cutlet? More reason to stop by and try it! Trust us, you won't regret it––that is unless you don't like good food!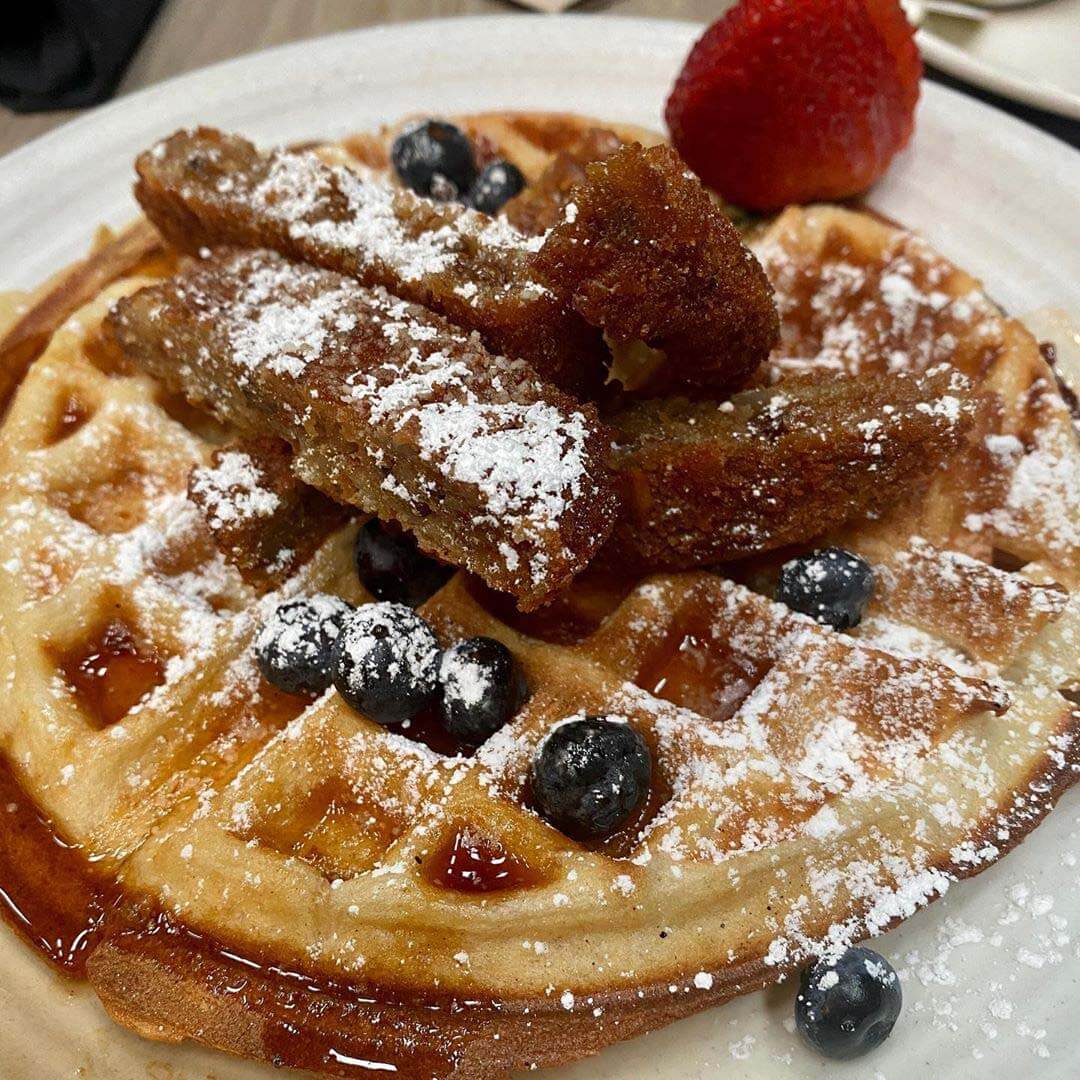 Real Food Daily
West Hollywood and Pasadena
Before the days of vegan meat and dairy substitutes, there was Real Food Daily. This all-vegan restaurant has graced the food scene in SoCal since 1993! If you can imagine, over 20 years of service must result in the most masterfully crafted dishes, including their Waffles and Seitan! Who wouldn't want waffles topped in crispy seitan and maple syrup with a side of fruit? Stop by Saturday or Sunday from 10am-4pm to dig in.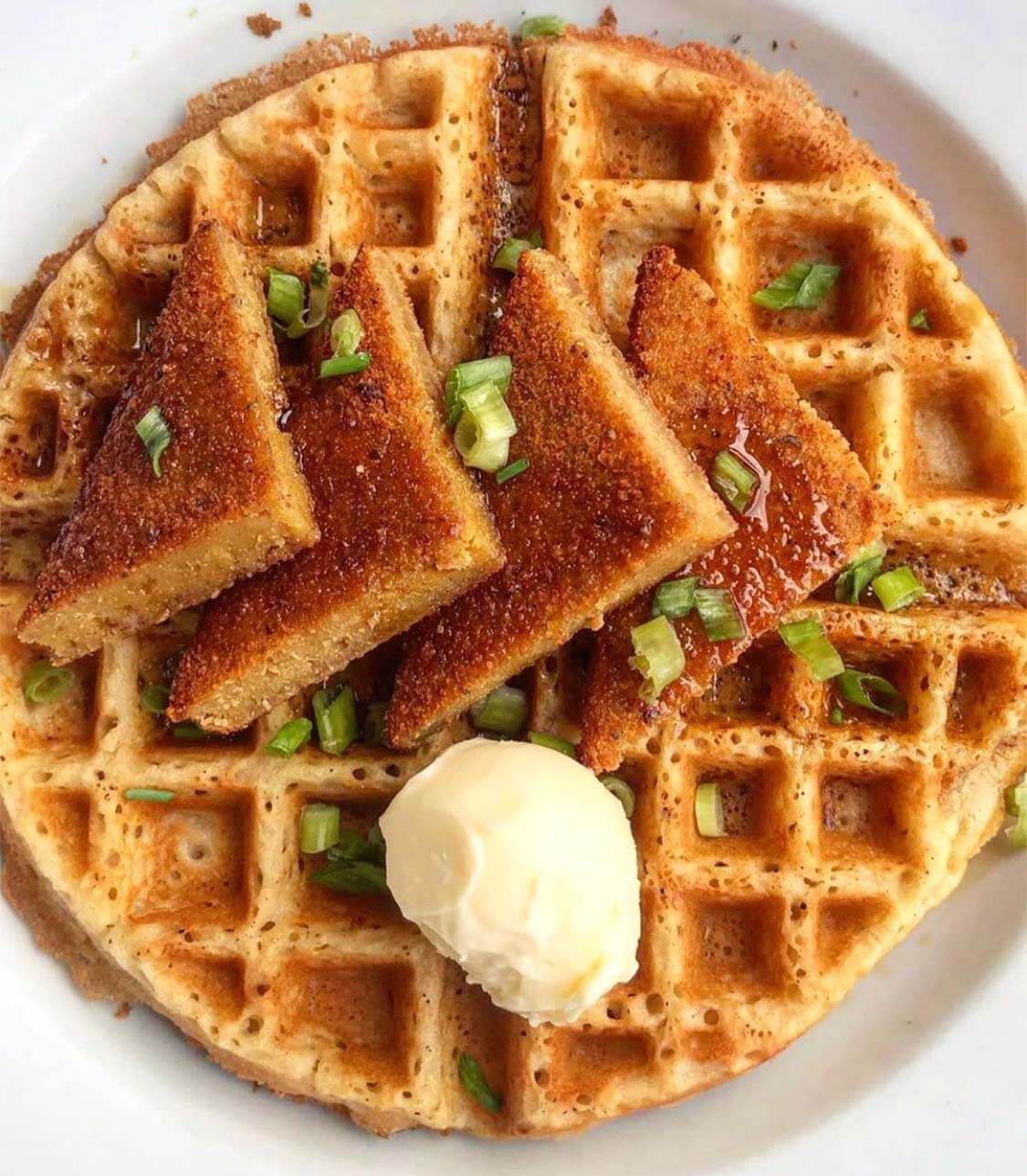 Compton Vegan
West LA
Follow the smell of perfectly-crafted vegan comfort food all the way to this hot spot! Tuesday through Sunday, treat your taste buds to Compton Vegan's new breakfast menu! Since they specialize in comfort food, it's only natural that Compton Vegan dishes up Chicken & Waffles. What's it gonna be on top––butter, hot sauce, or maple syrup?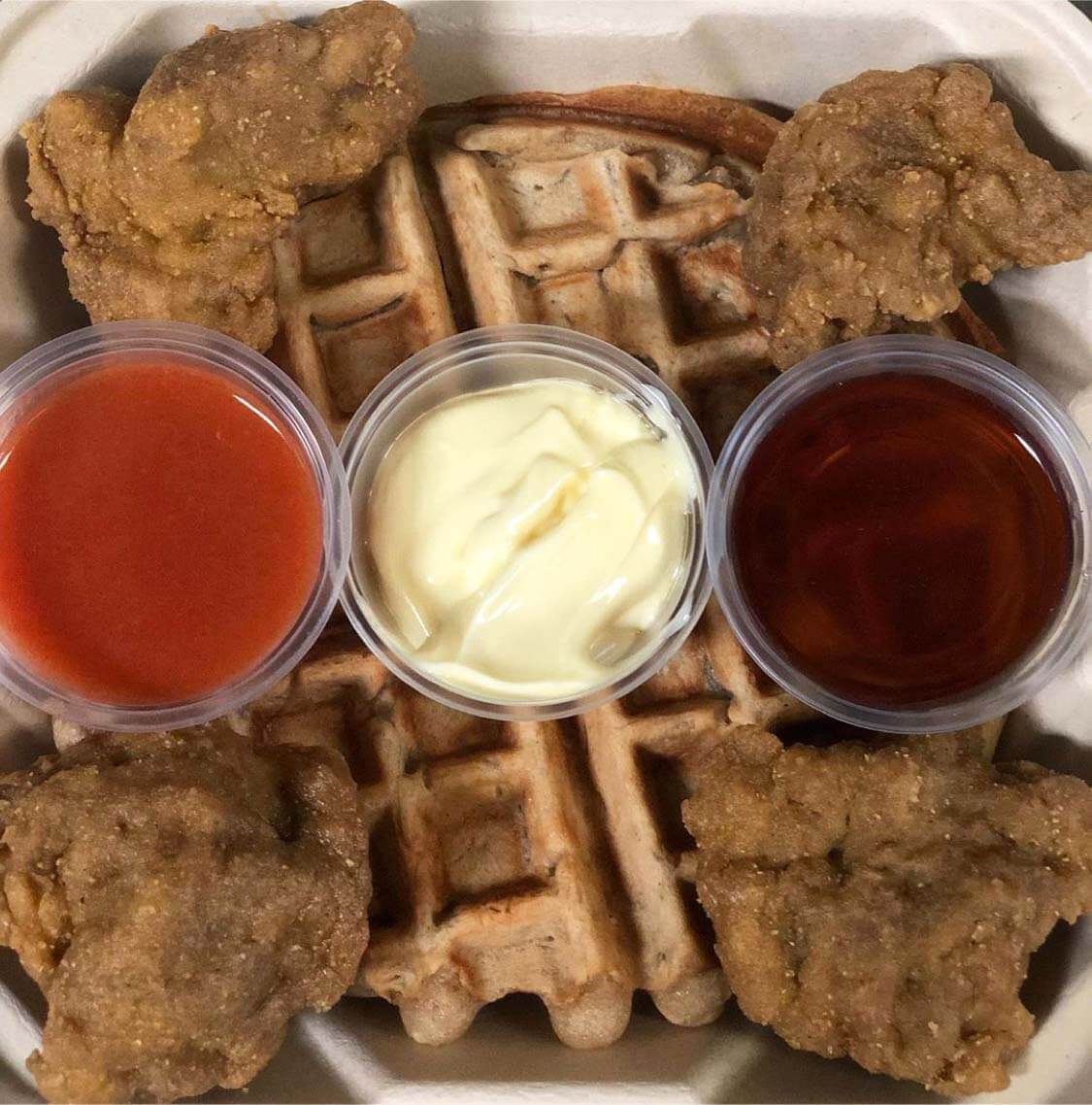 Plant Power Fast Food
Long Beach, Redlands, Riverside, Encinitas, and San Diego
If you read about this spot in our article on Vegan Fried Chicken Sandwiches, you probably drooled quite a bit over their fried chicken offerings. While Plant Power is well-known for fried chicken, they're even more famous for their breakfast sandwiches! What if we told you there was a way to experience both saliva-producing stars in one menu item? That's not a hypothetical question––we ARE telling you! The 'Chicken' & Waffle Sandwich (available daily from 7-11am) is a handheld hybrid of a classic comfort brunch dish and quick, on-the-go morning bite! Between two crispy waffles, bite into their rave-worthy "chicken" alongside maple "aioli" and "bacon." Set your alarms, you won't want to miss this one!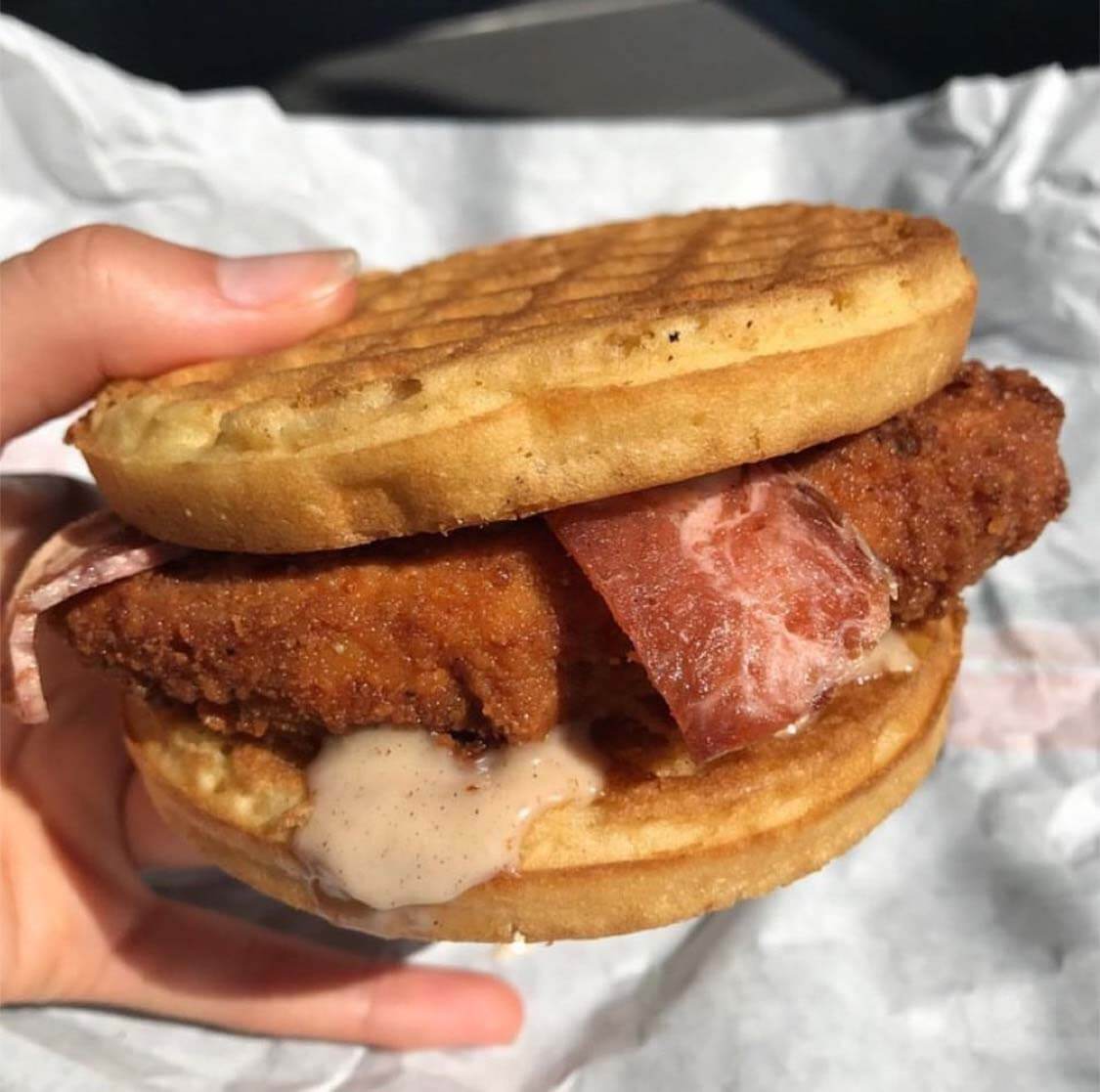 Broxton
Westwood
From the land of vegan Biscuits in a Bucket with maple butter, Chickpea Chili, and BBQ Burgers, there's bound to be Chicken & Waffles! Broxton's rendition of this hearty brunch dish has a bit of a twist, thanks to Chef Kyle Brown's Southern influence. Here's the twist: croissant-style dough. Yep, that means flaky and crispy waffles are the base for their Hot Honey Chicken & Croissant-Style Waffles! Request it to be made vegan (to replace the fried chicken and hot honey with vegan chicken and maple butter) and pair it with a Strooong Coffee brunch-tail––that's really the name of the drink! Sip on bourbon, Calwise spiced rum, house-made cold brew, Licor 43, Angostura bitters, ginger, and aquafaba. See you there!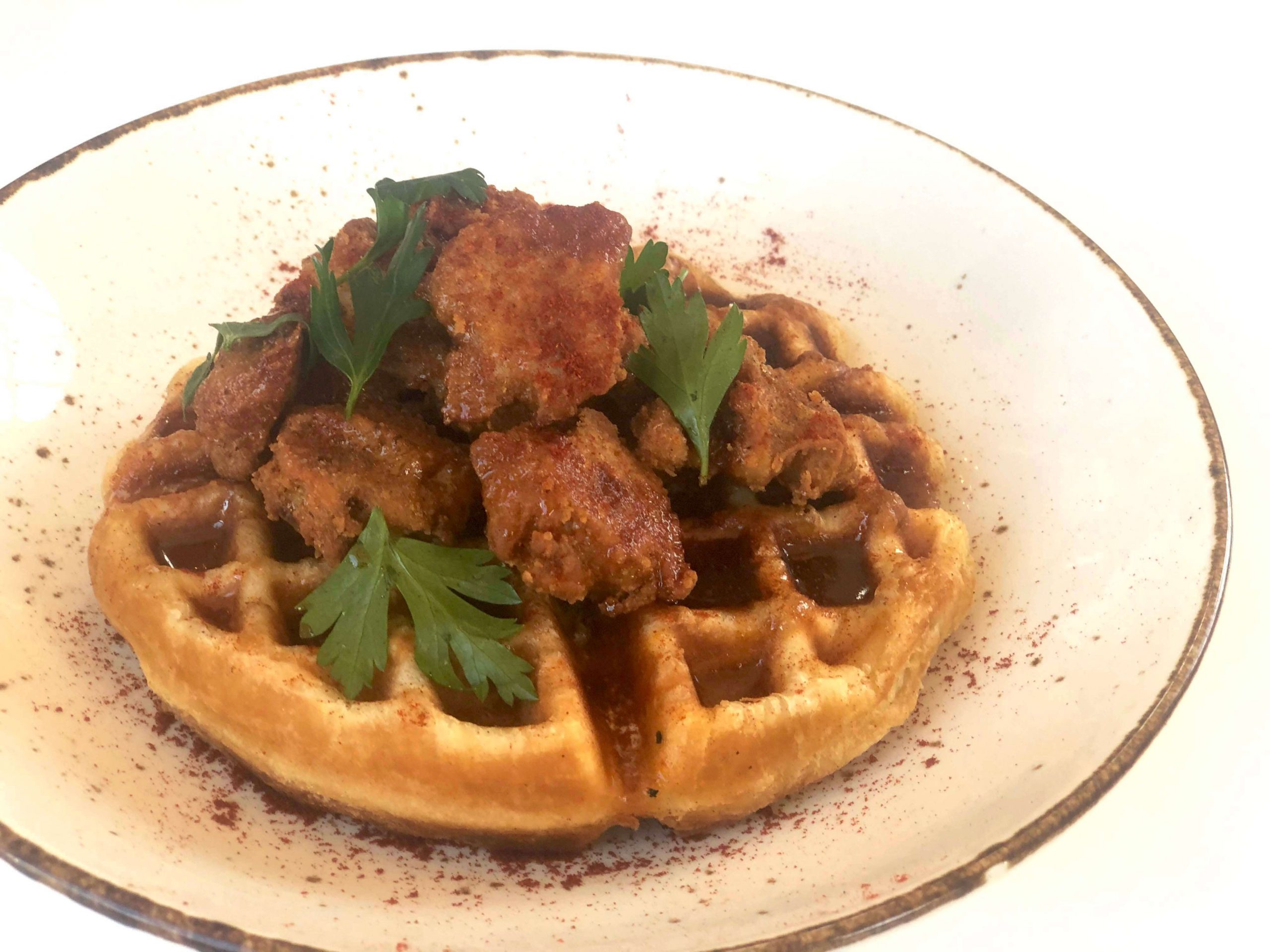 Little Pine
Silver Lake
The most recent addition of chicken & waffles to the LA vegan food scene is this Sweet Chili Tofu and Waffles from Little Pine. This all-vegan foodie sanctuary revamps the traditional dish with scallion waffles, pickled fresno peppers, and a togarashi crunch! And … this one is officially approved by Yolandi the vegan chihuahua!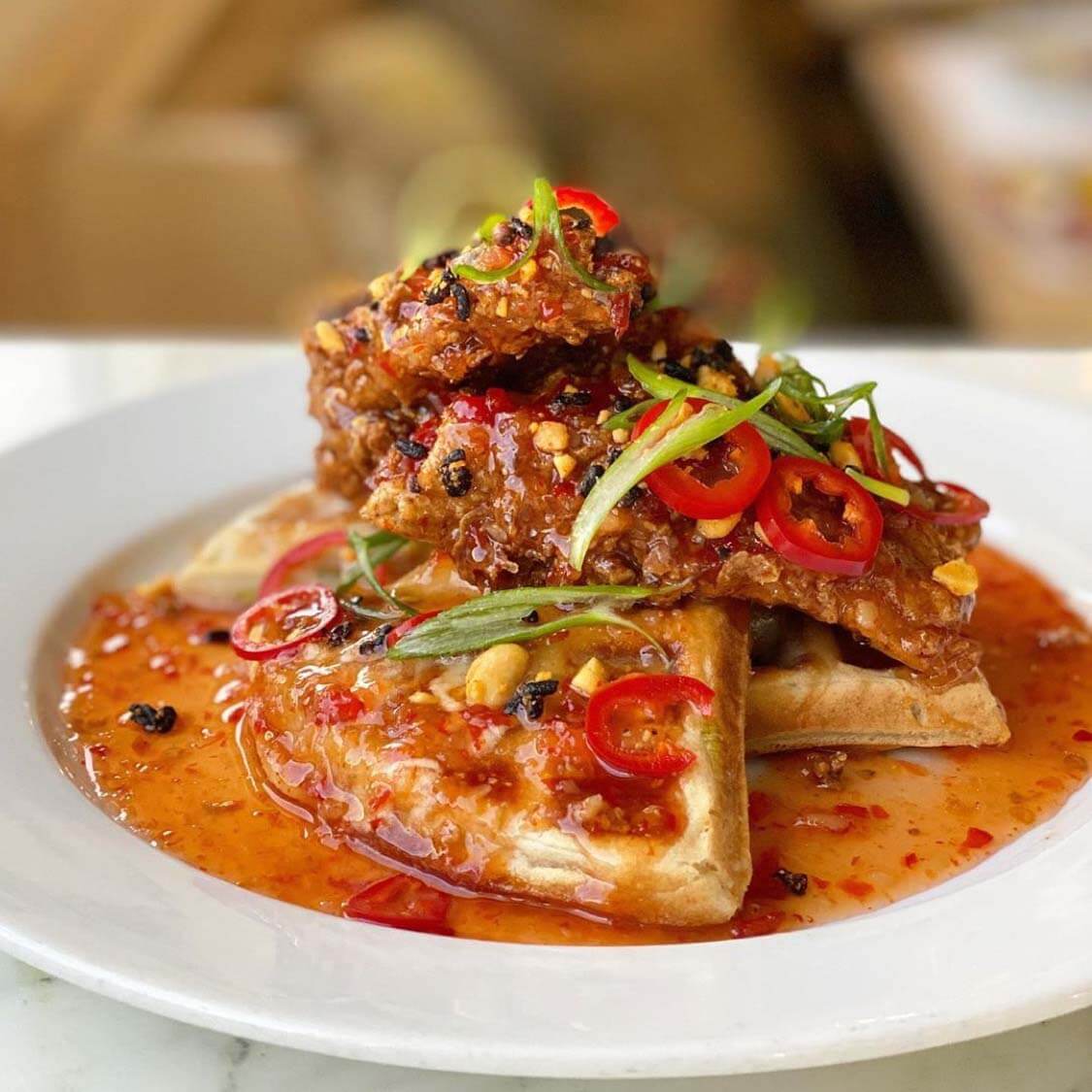 Hinterhof
Highland Park
While we're on the topic of unique Chicken & Waffle renditions, let's stop by Hinterhof! This all-vegan German kitchen breaks out Schnitzel & Waffles for weekend brunch. What is it made of? A house-made seasoned seitan cutlet, crispy waffle, poached pear, arugula salad, and maple syrup! Other culturally charged brunch dishes by Hinterhof range from Pretzel Bread French Toast and Pretzel Croissants to their house-made Bratwurst!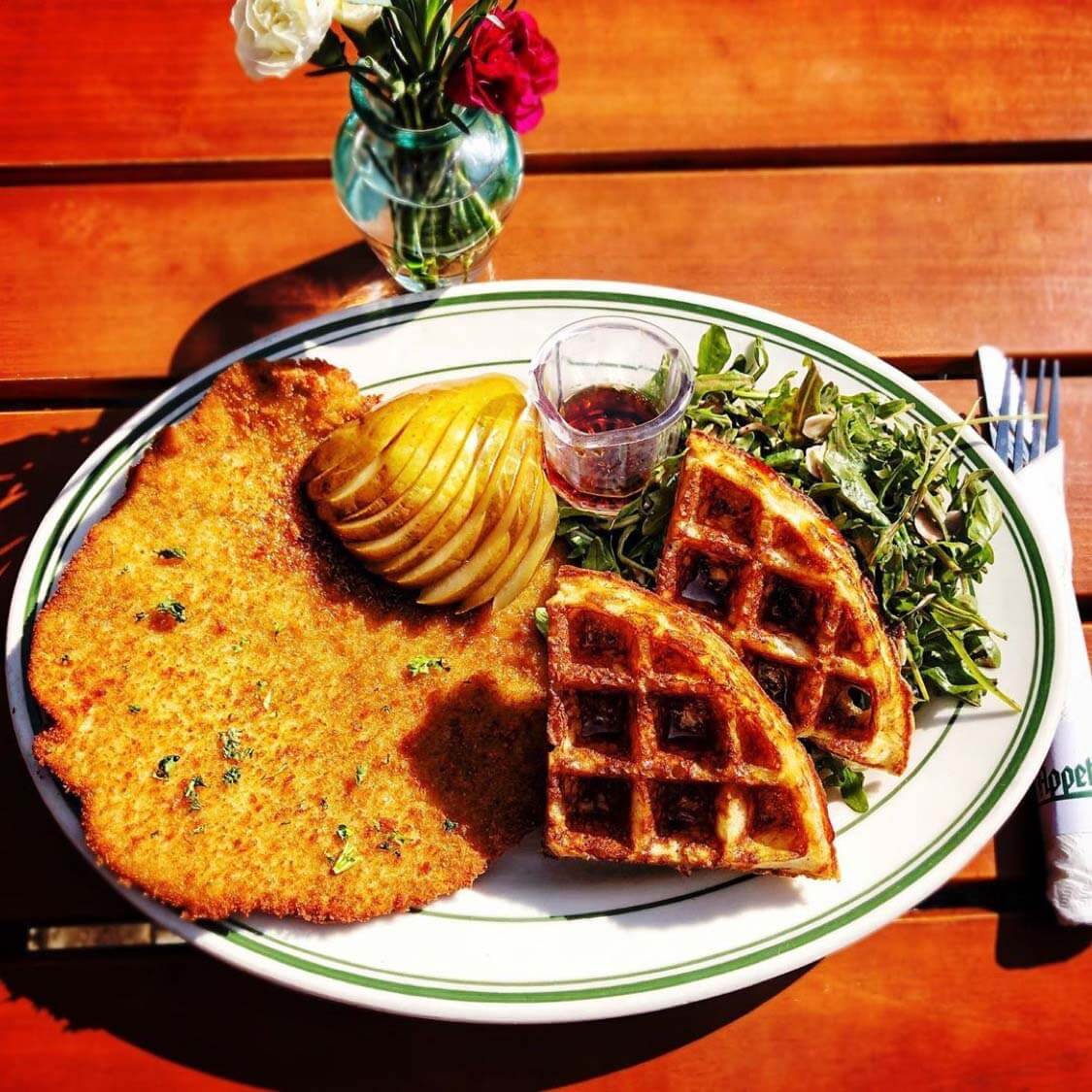 RELATED: 10 Places to Get Vegan Ramen in Los Angeles
---
Want even more LA vegan food, news, and lifestyle content? Subscribe to VegOut LA Magazine!