We're obsessed with the vegan noods at these ramen spots in LA! Whether it's 50, 75, or 100 degrees outside, a warm bowl of ramen is always the move. While the traditional Japanese dish is made with meat- or fish-based broth, there's a wide variety of vegan options available. Here's a list of some of our favorite plant-based ramen varieties around town.
Multiple Locations
Most of the broths served at this ramen spot are plant-based so it's super easy to order your bowl vegan. You can also substitute kale noodles if you need some extra greens in your life! The Vegan Quartz ramen comes with noodles, umami shiitake mushrooms, green onions, corn, and tofu in their creamy veggie-based broth. Craving something on the spicier side? Order the Vegan Spicy Garnet bowl which is up-leveled with sesame paste, black pepper, and spicy miso sauce! Aside from bowls of ramen, RAKKAN offers vegan buns, gyoza, rice, edamame, and Brussels sprouts.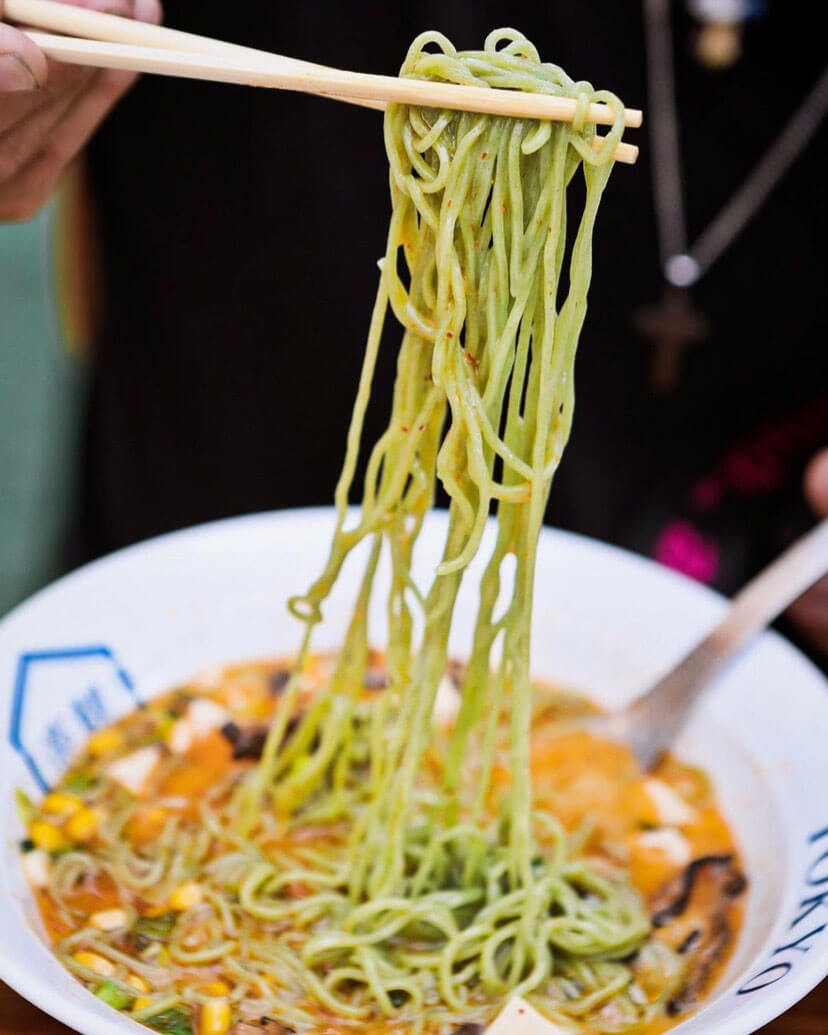 Photo credit: @plurrichy on Instagram
Studio City
At this vegetarian hot spot, you can either pick a preset ramen bowl or get creative and build your own! From curry, mushroom, and garlic jalapeño to spicy udon, pineapple, and kabocha, the ramen varieties are endless. For an extra flavor boost, add on some of their extras such as Beyond Meat, tofu, or miso sauce. And no trip to Gokoku is complete without a roll or two of vegan sushi!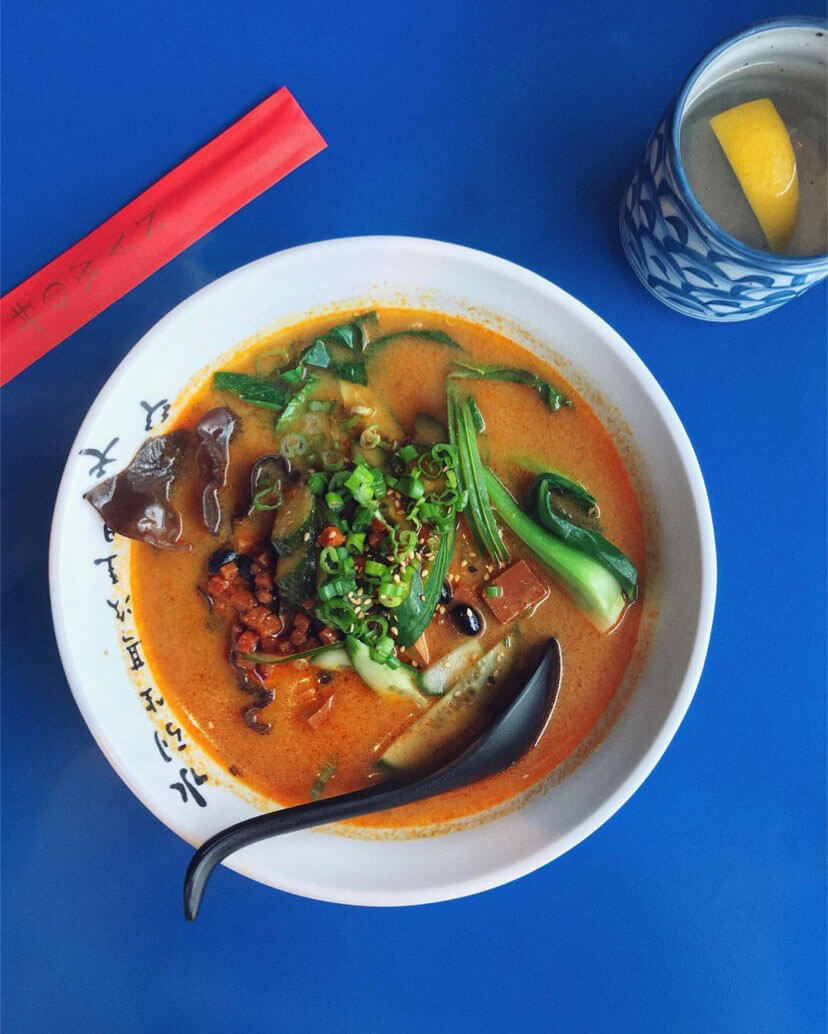 Photo credit: @alessandrataryn on Instagram
Hollywood
We're obsessed with the many vegan bowls from this ramen joint! The Vegan Tantan Men showcases a creamy vegan broth with spicy soy-based meat, bok choy, bean sprouts, green onions, sesame seeds, and fried burdock. The other vegan options include the Spicy Vegan Ramen, Maitake Vegan Ramen, Avocado Roll, Cucumber Roll, and more.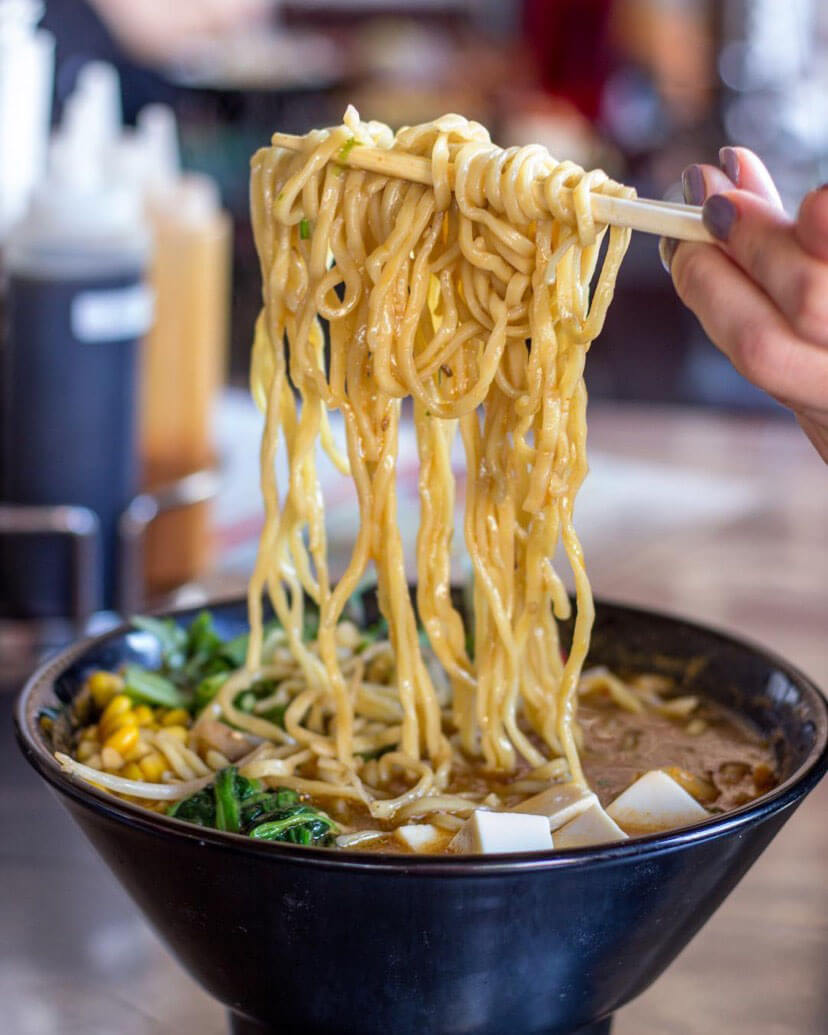 Multiple Locations
Jinya has three vegan ramen variations on the menu—Spicy Creamy Vegan Ramen, Vegetable Soup Ramen, and the Flying Vegan Harvest. The latter of the three is made with vegan miso broth, thick noodles, soy meat, tofu, bean sprouts, broccolini, green onion, corn, red onion, crispy garlic, and chili seasoning. So basically we're ordering a bowl once we finish writing this article! They also just added two new limited-time vegan dishes.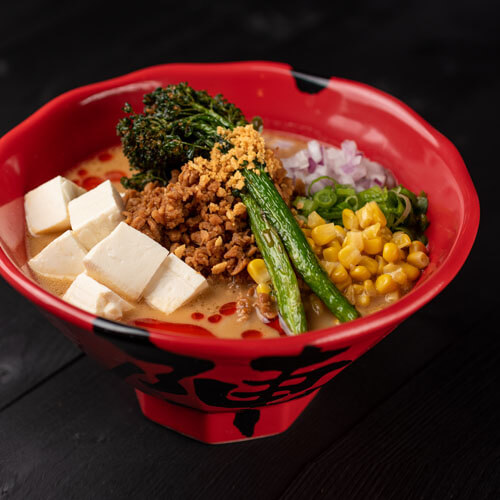 Multiple Locations
The Veggie Ramen from this vegan-friendly joint is one of our favorites! The bowl is filled to the brim with a vegetable broth miso and loaded with bean sprouts, corn, mushrooms, tofu, broccolini, baby greens, kale, red cabbage, and avocado mixed in. Is anyone else salivating just by the thought of it?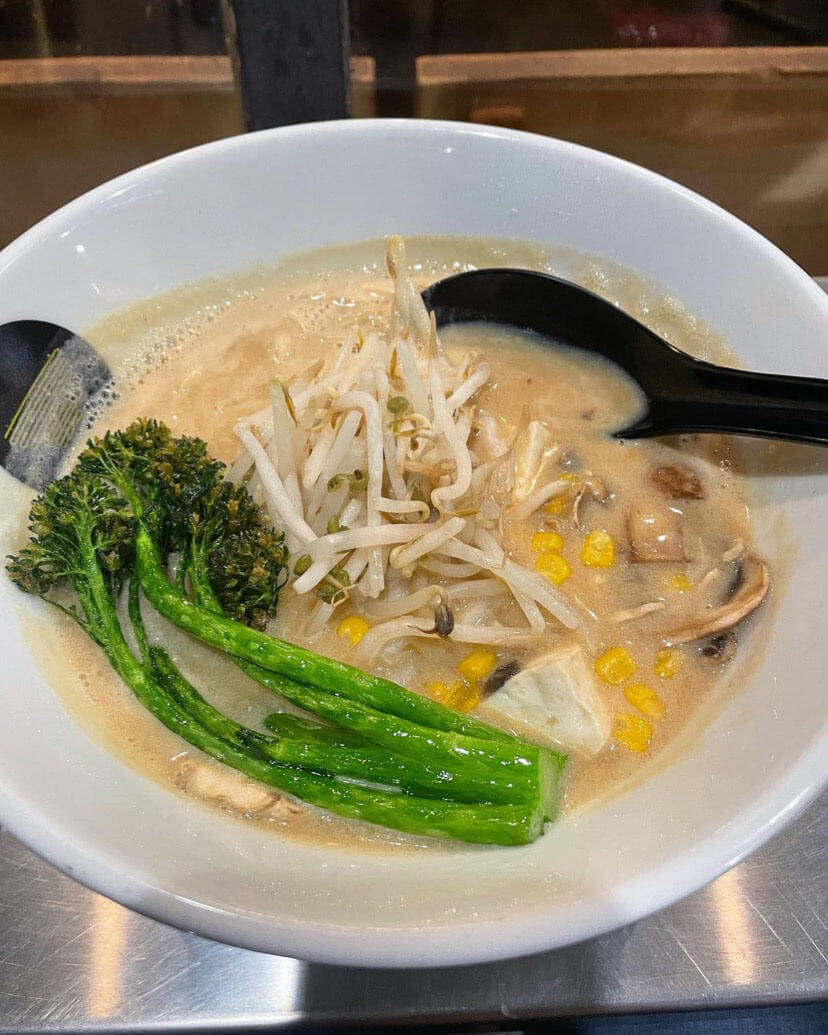 Photo credit: @veganfoodsla on Instagram
Downtown LA
This all-vegan ramen spot is quite the talk of the town! Their menu showcases classic, spicy, and garlic ramen renditions as well as a cold smokey ramen dish with chilled buckwheat noodles. Each option is made with a sunflower seed broth and can be topped with a vegan egg if you'd like. We repeat—A VEGAN EGG! Other noms enlist Togarashi tater tots, banh mi poutine, and ahi "tuna" crisps.
Photo credit: @veganyackattack on Instagram
Koreatown
The Vegetable Ramen from this vegan-friendly joint is a super tasty way to stay warm and get your veggies in! It comes with vegetable broth, tofu, cabbage, sweet corn, wood ear mushrooms, bok choy, bamboo shoots, bean sprouts, and white onion. Pro tip: Add jalapeños for a kick of spice!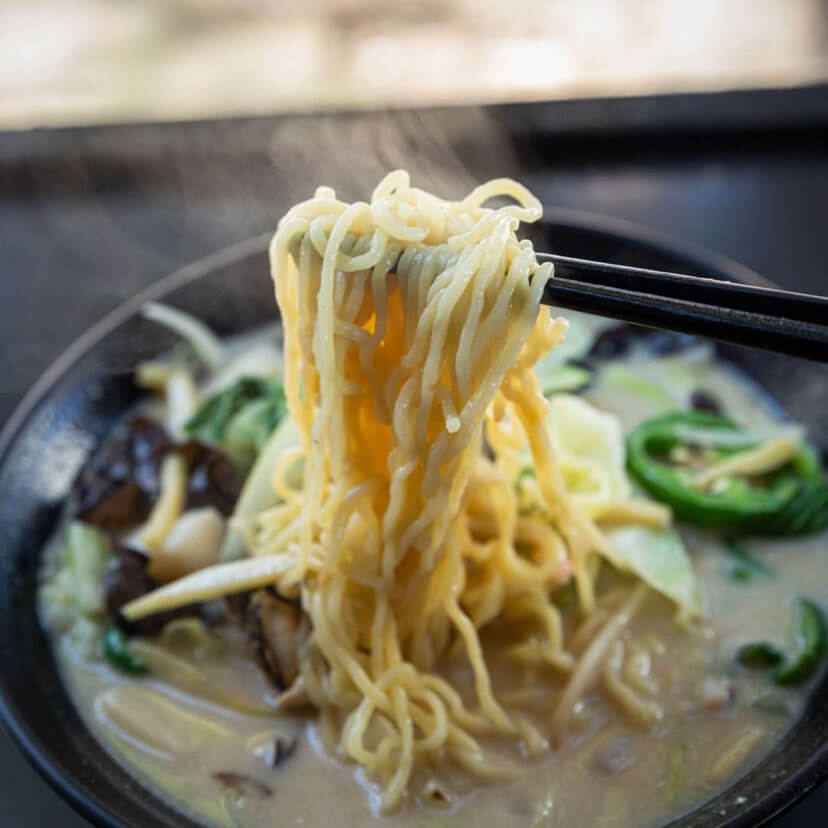 Sawtelle, Melrose, & Pasadena
Take a trip to Tatsu for a warm bowl of flavorful vegan goodness! Their Hippie Ramen features a house-made vegan broth with curly noodles, spinach, scallion oil, fragrant sweet onion, and a hint of ginger—just order it with organic tofu to make it vegan. The Naked Ramen is a broth-less dish that can be requested vegan by omitting the egg and adding organic tofu.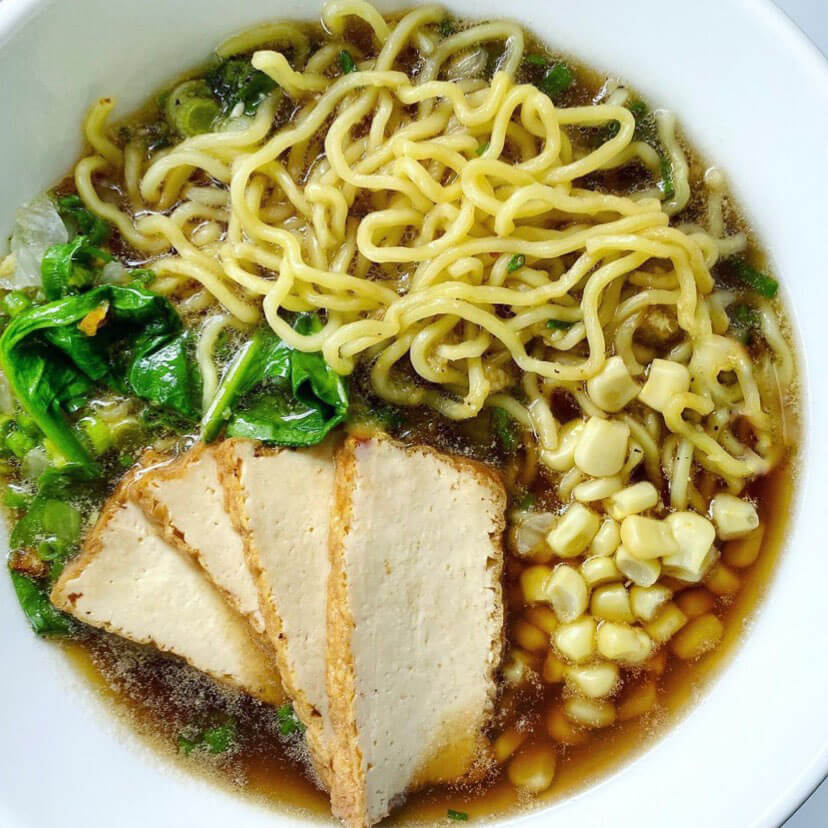 Photo credit: @joesveganfoodgram on Instagram
Koreatown, City of Industry, & Buena Park
Pick your broth, toppings, and sides, and get slurpin'! This DIY ramen bar has quite the selection of vegan ingredients to fill your bowl with. Start with their seaweed and mushroom-based broth, add the vegan noodles, and get creative with your toppings! From tofu, broccoli, and bean sprouts to mushrooms, corn, and grape tomatoes, there's bound to be a combination of veggies that will satisfy your craving.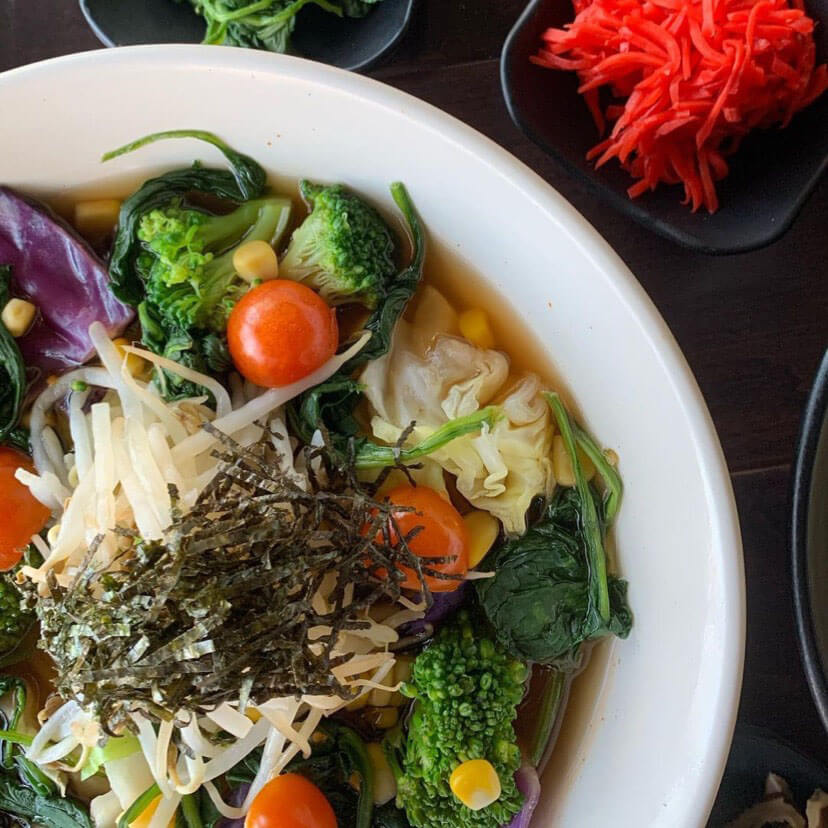 Culver City & DTLA
This all-vegan restaurant specializes in macrobiotic Japanese food like sushi, gyoza, tempura—and ramen, of course! If you'd like to go the classic route, order the Shojin Ramen which contains tamari-based broth, brown rice noodles, teriyaki tofu, kale, carrots, and a vegan egg. If you'd like to venture down the spicy path, order the Spicy Ramen Revolution which comes with spicy miso broth, brown rice noodles, kogashi black garlic oil, chili oil, kale, tempura flakes, and vegan ground beef. Both options are free from gluten, dairy, garlic, and onions.