Check out this lineup of the best places to find delicious vegan sandwiches in Metro Detroit.
There is nothing quite like a creamy grilled cheese with a hot cup of tomato soup on a cold day or a savory TLT (tomato, lettuce, tempeh) to jazz up your lunch. No matter your preference, there are loads of creative and delicious sandwiches to grab when you're on the run or enjoying a leisurely afternoon. Check out our list of where to find the best vegan sandwiches in Metro Detroit.
Royal Oak
Move over traditional deli fare—make room for the vegan menu at this Royal Oak shop! You can't go wrong with vegan pastrami (layers of vegan pastrami meat with cheese, lettuce, tomato, onion, and dijonaise on rye) or an "egg" salad sandwich (crushed chickpeas with vegan mayo, onion, dill, and lettuce on sourdough). If neither of those piques your interest, check out Oak House Deli's lineup of subs, which includes pizza and Italian (complete with vegan pepperoni!).
Midtown Detroit
This vegetarian hot spot in the heart of Detroit is home to some of the most savory sandwiches in town. It's tough to decide between their tempeh Reuben (filled with sauerkraut, vegan cheese, chargrilled tempeh, and Thousand Island dressing) or a classic double-decker Seva club (Tofurky, vegan aioli, and crispy smoked coconut bacon layered on the softest white bread from Avalon Breads). Whatever you choose, don't forget to add a side of crispy yam fries!
Royal Oak
Eating your veggies has never tasted so good, especially when they're covered with creamy vegan cheese and pesto! Nosh Pit is home to classics you'll remember from childhood, only better. Check out their Jaelyn PB&J (with house-made banana jam), O.G. grilled cheese, or Denise sandwich (a take on a sloppy Joe, using savory lentils). Don't miss out on one of their house-made sodas to wash down your delicious meal.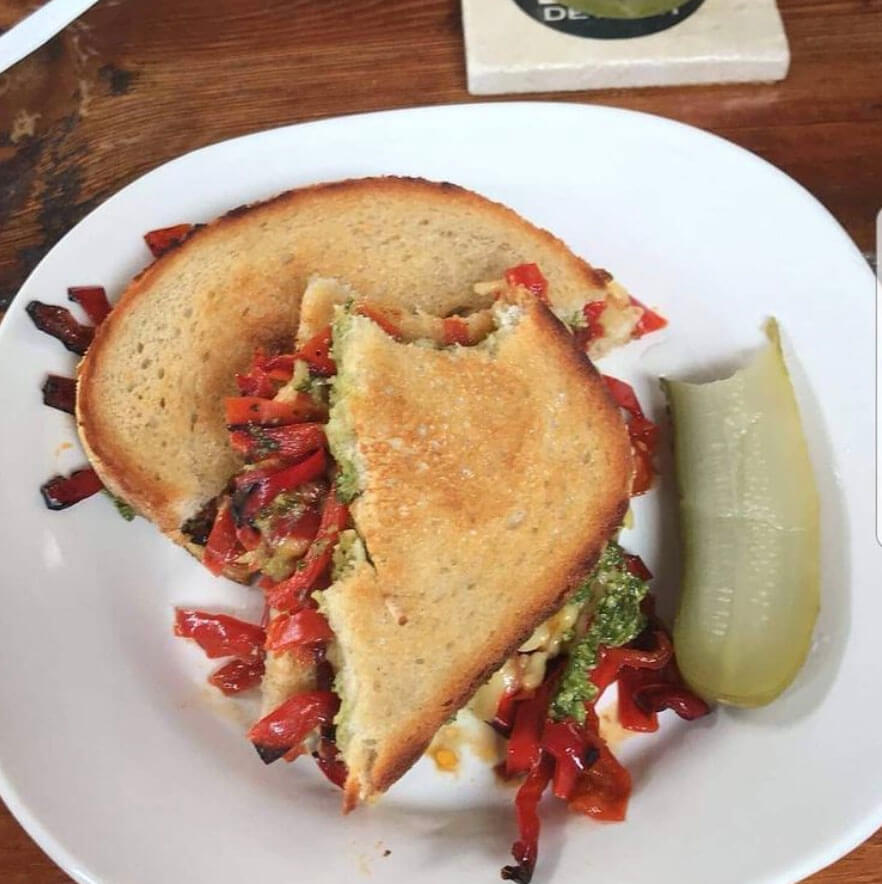 Midtown Detroit (Pop-Up)
If you're looking to treat yo'self, look no further than Street Beet. Their menu of delicious vegan sandos is epic! How do you choose between a Fake Chicken Parmie (fried vegan chicken with marinara and Violife on a garlic-buttered bun) or a Sesame Sando (fried vegan chicken tossed in sesame-ginger oil and topped with pickled purple cabbage and everything sauce)? No sandwich is complete without an order of fully loaded Cheezy Party Potatoes (fried potatoes covered in cashew nacho cheese).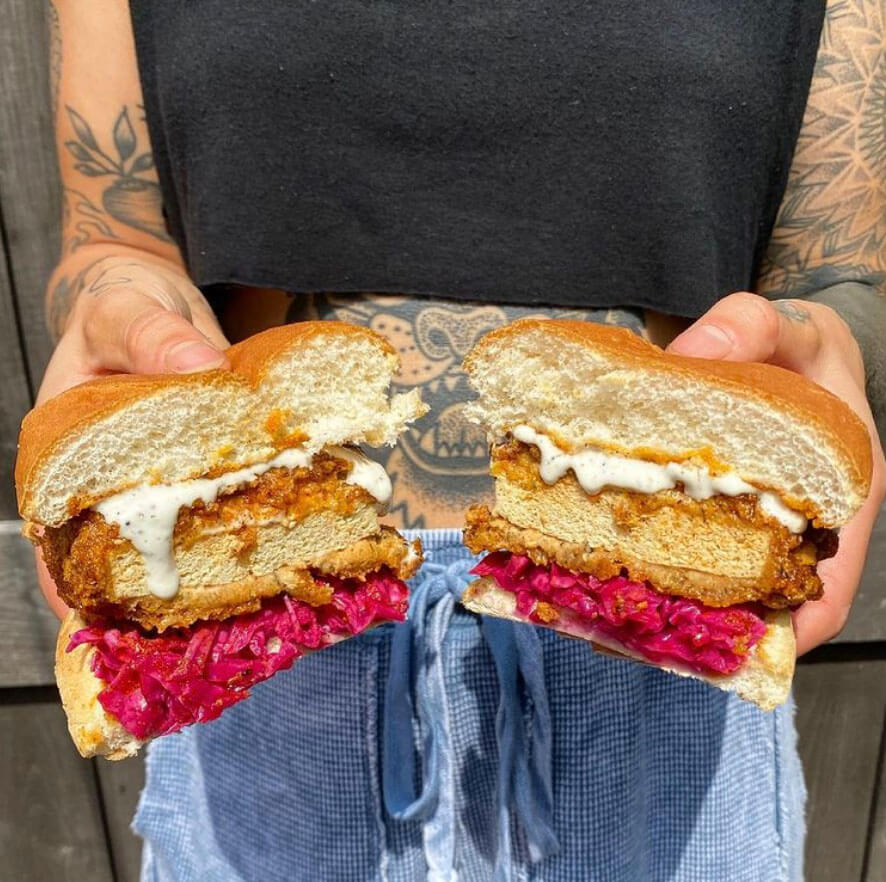 Ferndale
Out of this world, creative sandwiches are on the menu at Space Cat V-Stro! Kick off your day with a Breakfast Bomb (house-made maple sausage patty, caramelized onions, garlic greens, and cheese sauce on a jalapeno biscuit) or a Hot Mess (grilled seitan with peppers, onions, and house-made cheese sauce on a hoagie). They are only open for breakfast and lunch, so hurry to place your order!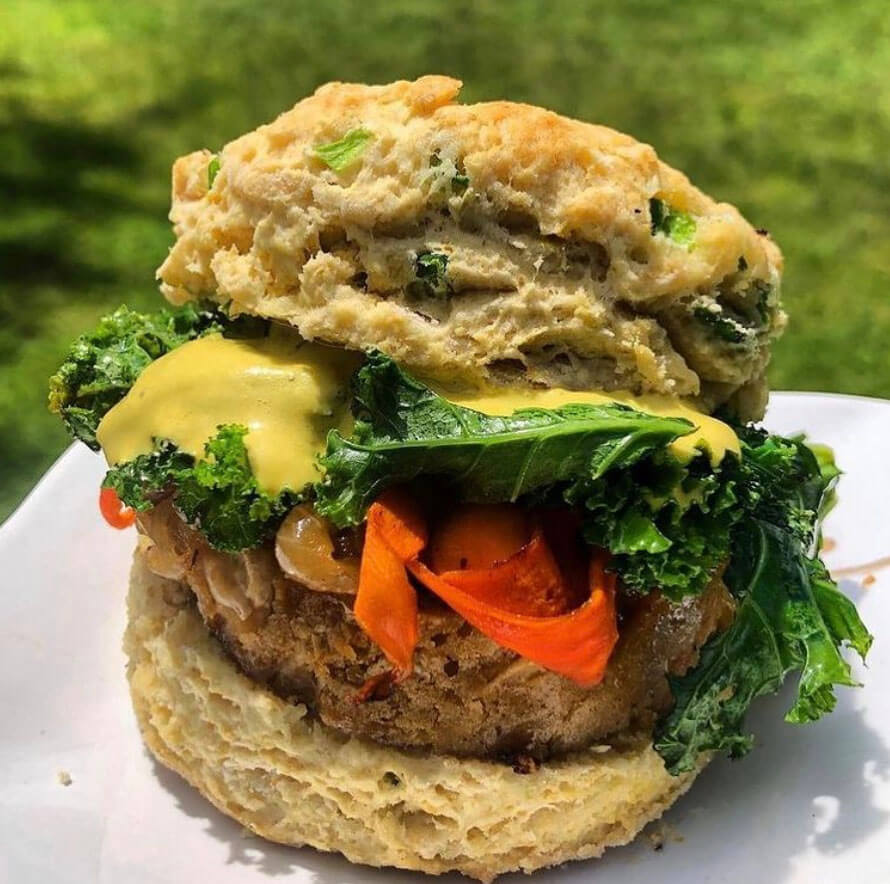 Farmington
The list of delicious vegan sandwiches at this grab-n-go deli is so long it's hard to decide what to choose! You can never go wrong with a Midnight Miami (maple seitan, vegan cheeses, and pickles on toasted sourdough) or a Chickie Katsu (panko-crusted chickie seitan with slaw, jalapenos, and Tonkatsu sauce). We're also loving their house-made Reuben on marble rye with seitan corned beef and caramelized onions—see what we mean about having a difficult time deciding? Just remember that all orders must be placed online, with pickup available Tuesday through Saturday.