You don't have to be a math whiz to celebrate Pi Day (3/14). All you have to do is decide whether you want to eat half or the whole thing. That's simple enough math for anyone! We're rounding up LA's best spots to pick up a PIE today, no calculating required.
Silver Lake, Highland Park, & Tarzana
You may have had ice cream cake in birthdays past, but have you had ice cream pie? There are always several vegan soft serve pie options in rotation at Magpies Softserve, including the OG fried pie flavor. It's made from corn almond-flavored soft serve layered with fudge, vegan honeycomb, and topped with non-dairy whipped cream and fried candied cornflake streusel. Other flavor options include birthday cake, dark chocolate, and strawberry shortcake.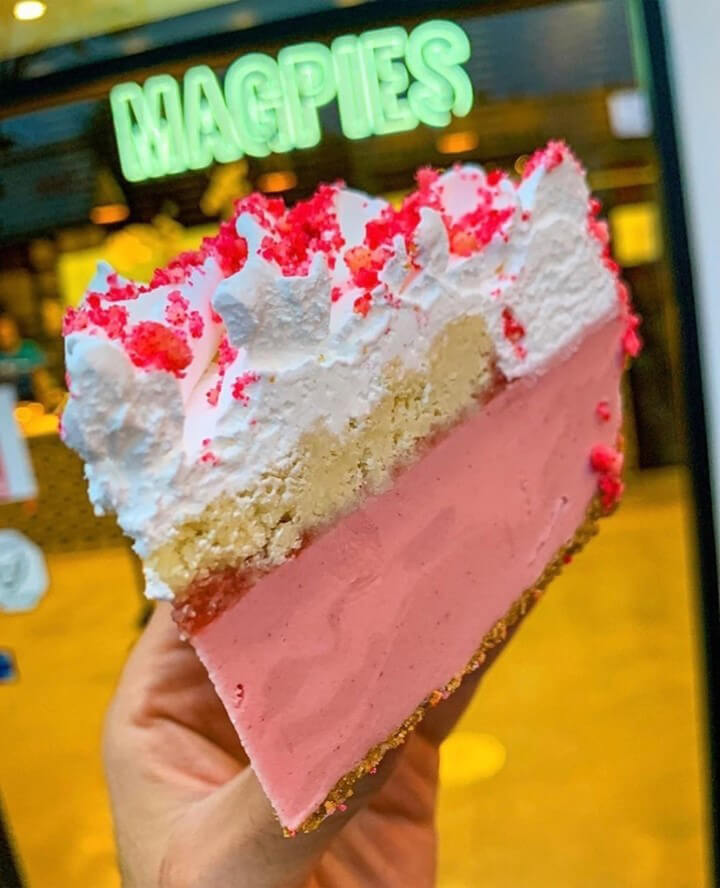 Photo credit: @veganfoodplug on Instagram
Brentwood & West Hollywood
All of the fruit pies at Winston Pies, including the apple, blueberry, and fan-favorite, cherry pie, can be custom-made vegan in advance, but both locations will be offering several vegan pie options day of, too. The famous strawberry rhubarb will be back along with the monthly special—winter citrus crostata. Grab a slice, a 5-inch mini, or a full one, but get there early, they will sell out!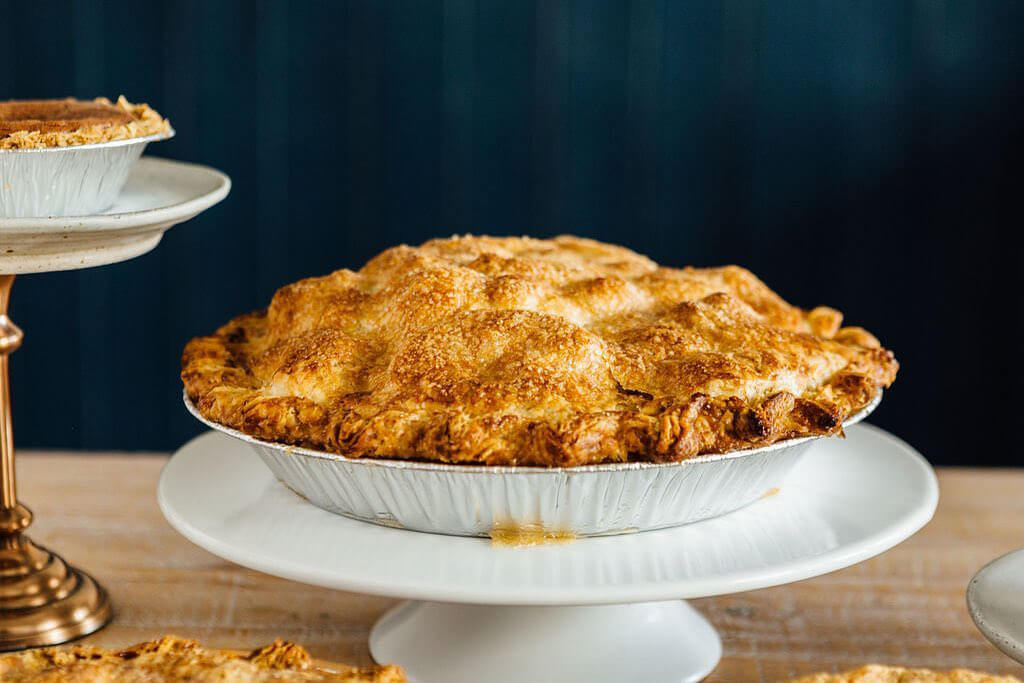 Multiple Locations
Always serving up deliciousness and ready to make you feel your best, the team at Cafe Gratitude offer two uplifting vegan pie varieties at their locations throughout the city. The "I Am Awakening" is an avocado custard pie with whipped cream and agave inside a pecan crust. Or go for more of a nostalgic flavor with the "I Am Harmonious" apple pie.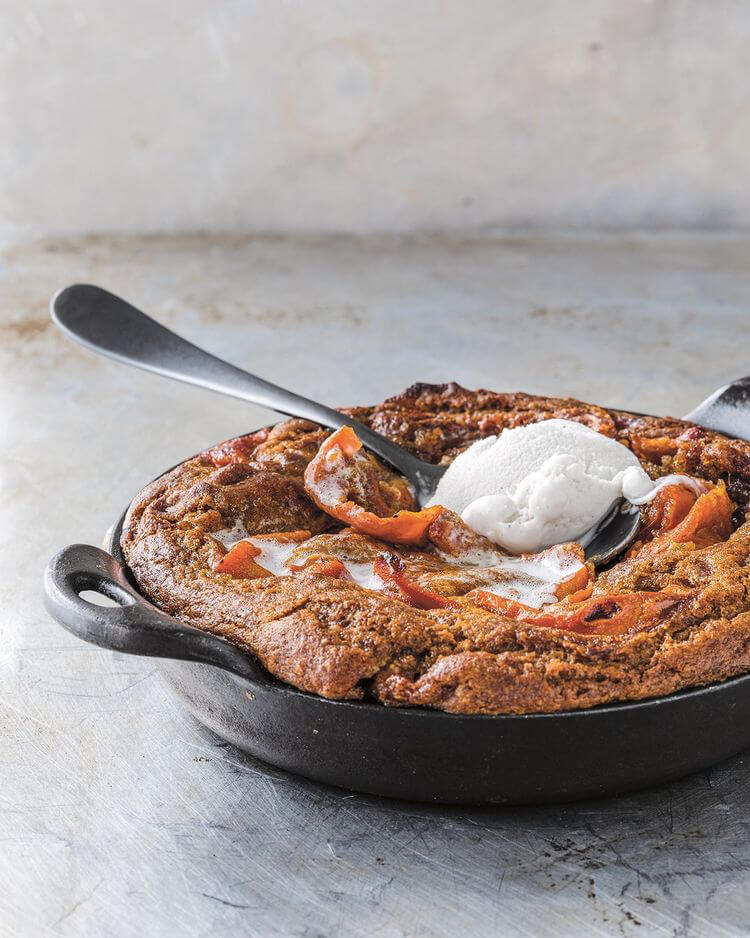 Photo credit: @lisaromerein on Instagram
Pop-Up
Cobblermania is back at farmers markets across SoCal, and on Pi Day the pop-up will be at the Hollywood Farmers Market serving up 10 different flavors! Just a few cobbler options include apple, strawberry rhubarb, peach, ginger-pear, and sweet potato—all true to their slogan, "So good you'll want to slap somebody!" Be sure to stop by and support this all-vegan and WOC-owned pie and cobbler spot!
Silver Lake
Sunday Funday! After brunch, enjoy a slice of sweet banana cream pie, indulgent chocolate pie, or bend the rules a little and savor a slice of cheesecake at Little Pine. Ever since reopening in recent months, the atmosphere is unmatched, with a sprawling outdoor patio filled with twinkle lights and places for polite pooches to rest while their owners dine comfortably outdoors.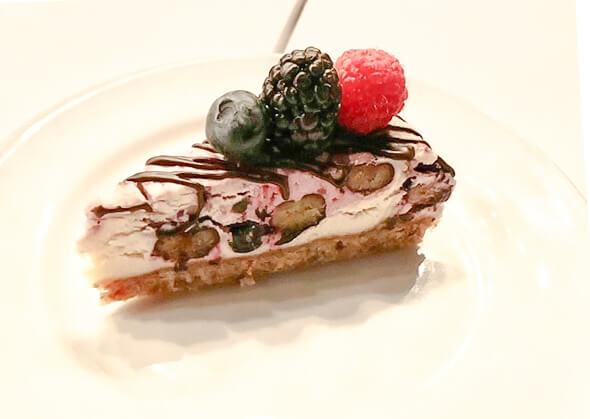 Local Delivery and Nationwide Shipping
Nothing tastes better than grandma's cooking, and at Gertie Kay's the pie recipes have been passed down through generations from founder Monique Johnson's great-great-grandmother. With love in every bite, mini vegan pie flavors include sweet potato, apple, or pecan. The vegan-friendly business also has an ongoing initiative to send pies to queer individuals feeling isolated by their families and COVID. Those in need are listed on the website, just use promo code ALLIES and Gertie Kay's pays for shipping to bring a smile to someone's face.
Long Beach
Whether you prefer sweet or savory, Hungry Angelina has a pie to celebrate Pi Day for anyone! Choose from a hearty sweet potato, tempeh, and kale hand pie, or an indulgent s'mores pie, no campfire required. Both options are available à la carte or can be added to any meal. Be sure to plan your visit or order in advance, as this special is one day only.
Echo Park
Pancake's Pies has been serving up plant-based pies out of the Monty's Good Burger location in Echo Park every Wednesday since February. Inspired by a cute kitty named Pancake, the message behind the business is just as sweet as the pies. Pancake was born with a developmental condition, and Pancake's Pies aims to bring yummy vegan desserts to LA while bringing awareness to animals with special needs. Pick up some warm apple pie a few days late on Wednesday, March 17th. The pie is served up à la mode in a cup with or without dairy-free whip.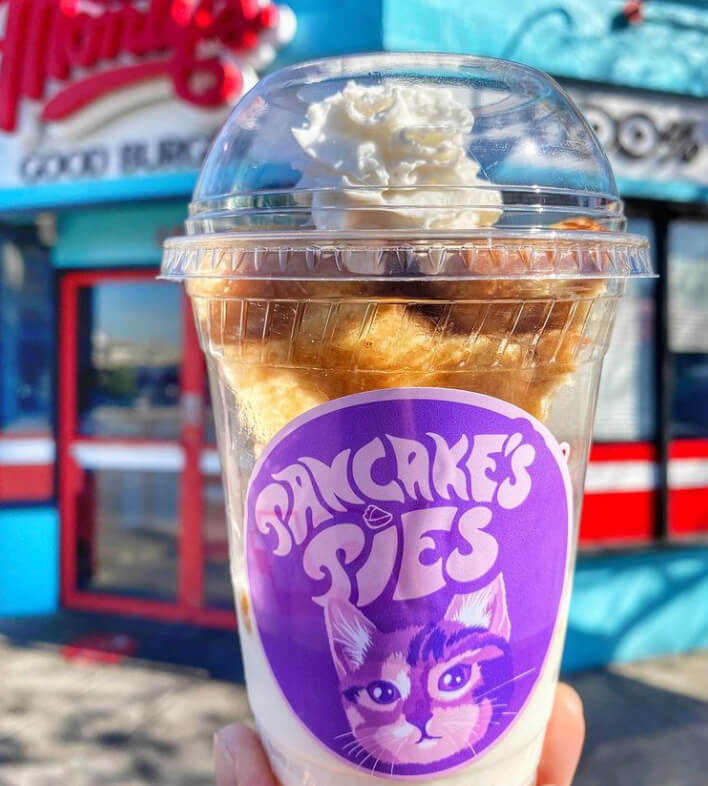 Multiple Locations
Pick up a slice of savory pie at The Pie Hole. Flavors vary by location, but most carry their take on a veggie Thai curry made with coconut milk, cauliflower, carrots, peas, and potatoes—warm, hearty, and filling, all encompassed in a perfectly crispy and flakey crust.