Sit back, relax, and leave the cooking to the professionals! Whether you never got around to planning your Thanksgiving spread or burned the stuffing, here's a list of vegan restaurants in LA open for the food-centric holiday.
RELATED: Where to Pick up a Vegan Thanksgiving Feast in L.A.
---
Want even more vegan food, news, and lifestyle content? Subscribe to VegOut Magazine!
Plant Food + Wine
Venice
Matthew Kenney's lavish Venice restaurant is open on Thanksgiving day from 12pm-8pm with a limited-edition prix fixe menu! Gobble down heirloom corn grits, Brussels sprouts agrodolce, honeynut squash, cannellini bean stew, savory koginut custard, and a pecan tart! The menu is $85 per person with an optional wine pairing for an additional $35. Visit their website to make a reservation!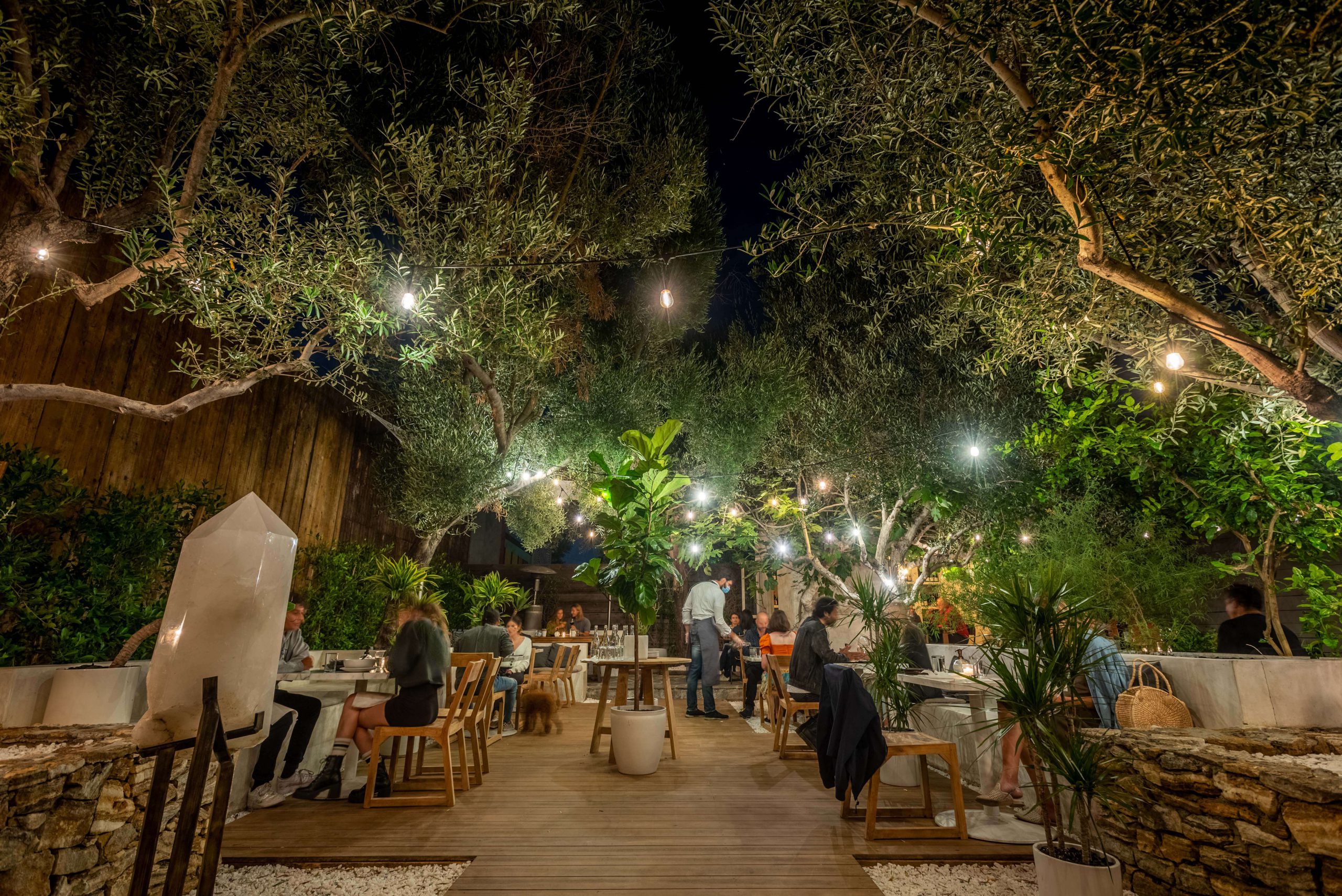 Crossroads Kitchen
Beverly Grove
Ditch the potluck idea, grab your quarantine fam, and treat yourself to a fancy three-course meal at Crossroads! For the pre-show, dig into an autumn chopped salad decked out in apples, persimmons, candied pecans, and a flavorful vinaigrette. The main act showcases your choice of spiced lentil tempeh or scallopini with cherry cabernet sauce alongside mashed potatoes and gravy, stuffing (gluten-free option available), Brussels sprouts, and sweet potato biscuits. For the grand finale, sweeten things up with their pumpkin mousse cheesecake or cranberry sorbet. After reading the line-up, there's no way you're going back to that potluck plan! Crossroads is open for al fresco dining from 11am and 8pm on Thanksgiving Day. Email reservations@crossroadskitchen.com or call 323-782-9245 to secure your table.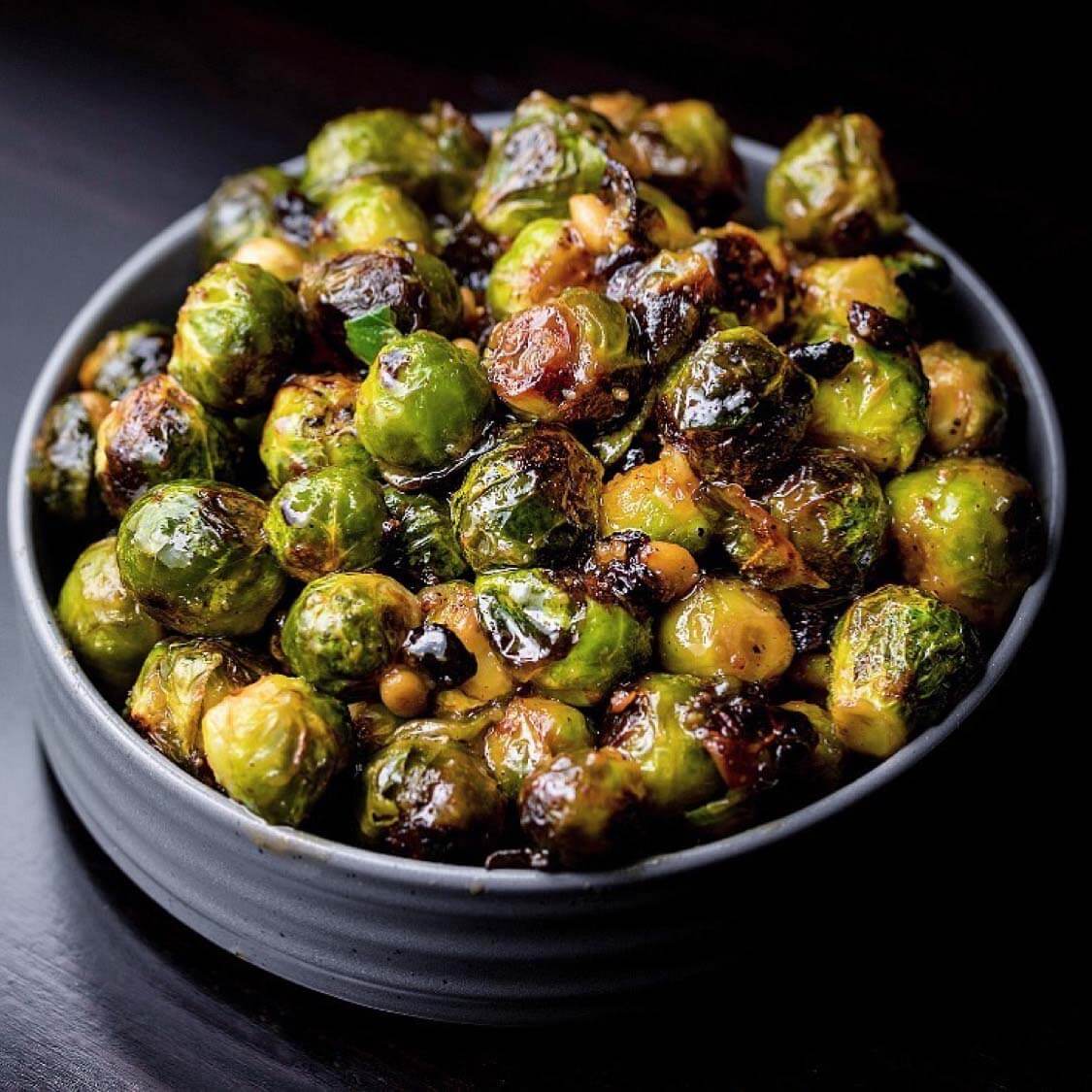 Shojin
DTLA location only
This fan-favorite vegan Japanese restaurant is open this Thanksgiving for a special rooftop drive-in dining experience. Their limited-edition holiday menu is $95 and serves two people. You'll get to taste some of Shojin's most popular dishes like the baked crab cake hand roll and dynamite roll in addition to seasonal plates like the meatloaf Wellington and maple-glazed Brussels sprouts. What's for dessert? A slice of apple pie with vanilla ice cream on top. We're sold! Shojin is accepting reservations for the holiday menu from Wednesday, November 25th to Sunday, November 29th. Email shojinathome@gmail.com to reserve your spot today!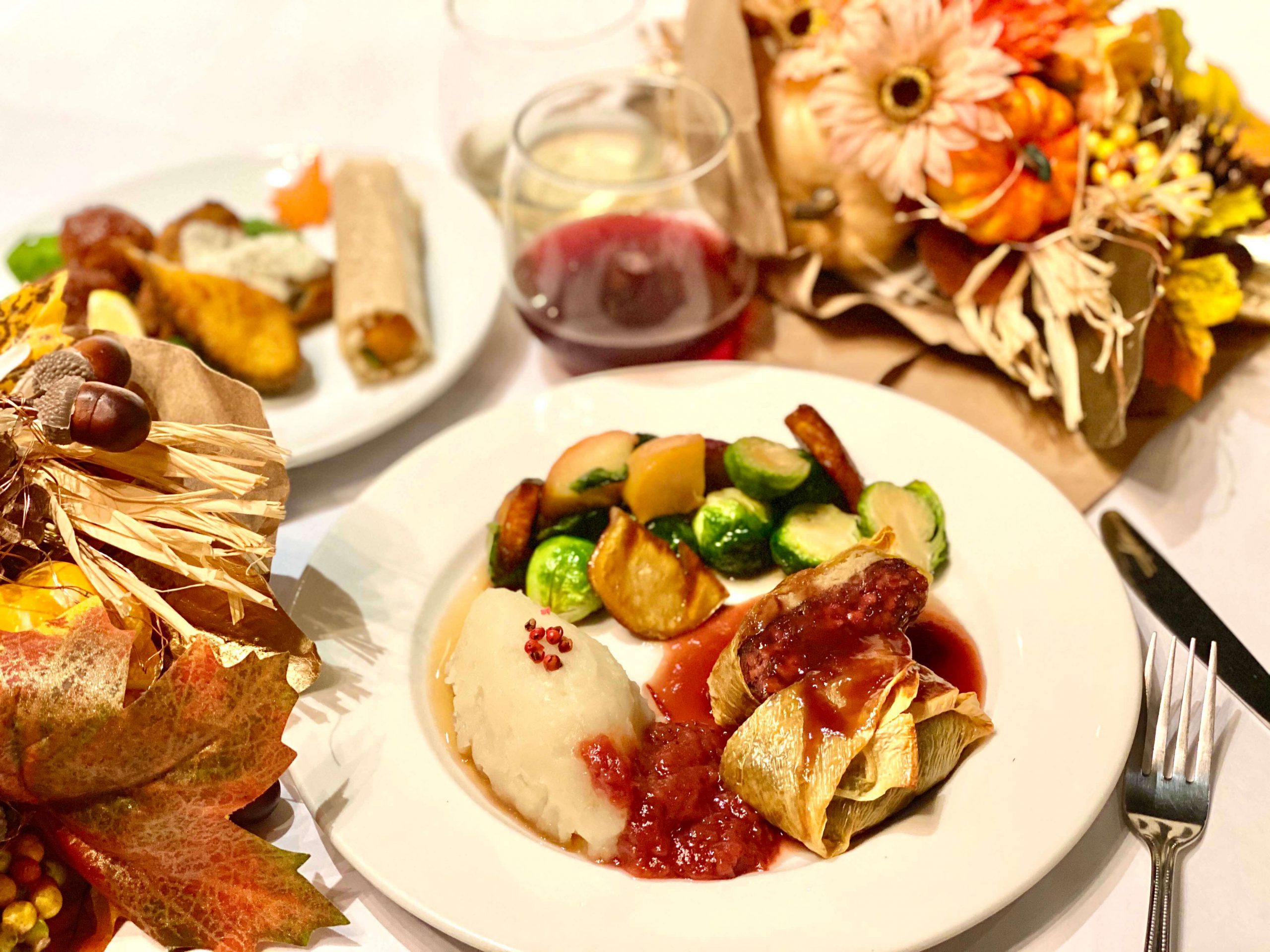 Follow Your Heart Market & Cafe
Canoga Park
Follow Your Heart to this spot for a dine-in Thanksgiving experience––see what we did there? The restaurant will be open from 9am-3pm to serve up their Complete Thanksgiving Dinner for just $22.99 a person! Your plate comes loaded with sliced vegan turkey, rosemary and thyme stuffing, mashed potatoes, gravy, steamed green beans with toasted almonds, glazed oven-roasted yams, and orange cranberry relish. If you'd like to avoid gluten, request the gluten-free harvest loaf for your entrée, and a gluten-free version of their stuffing! Feel free to add soup and a glass of chardonnay or pinot noir to complete your meal. Call 818-348-3240 to make a reservation.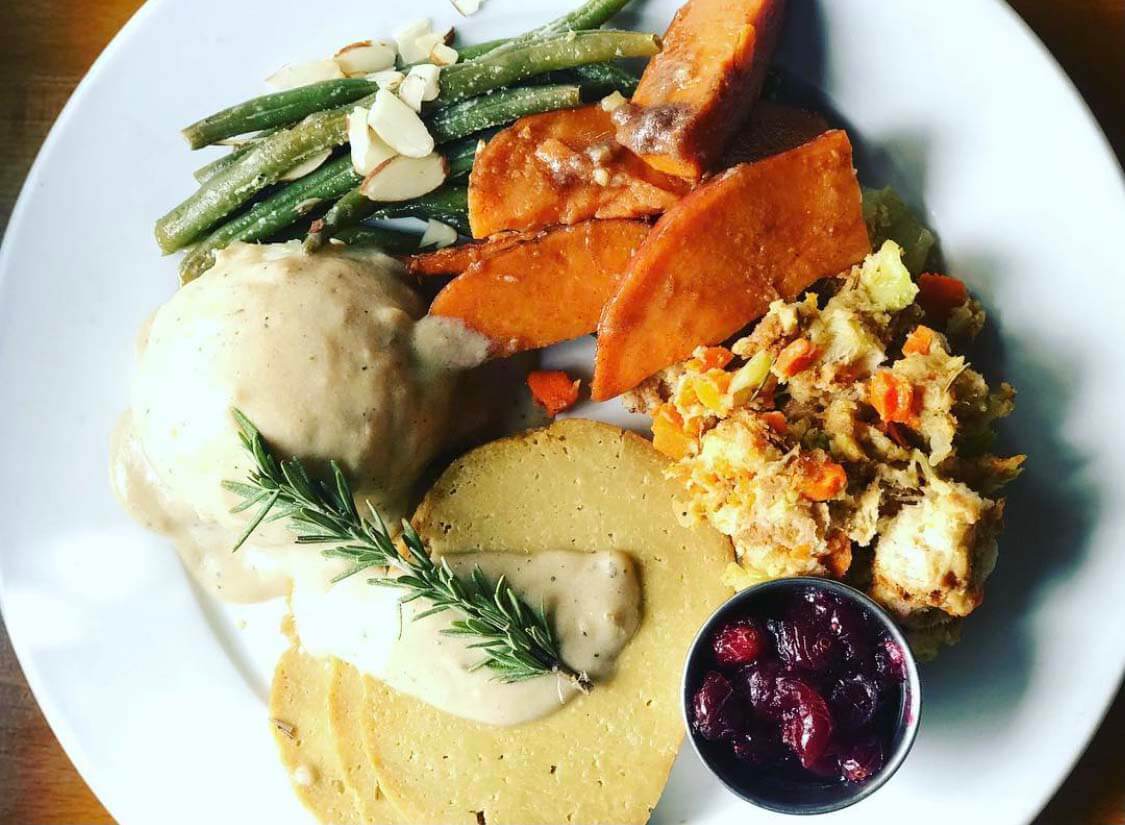 Real Food Daily
Pasadena and West Hollywood
Real Food Daily is back for another year with their Thanksgiving Teaser! Splurge on pecan praline yams, sage walnut corn stuffing, hickory maple-carved jackfruit, sautéed broccolini, mashed potatoes with gravy, and cranberry sauce! Real Food Daily will be open from 12-8pm on Thanksgiving day (last seating is at 7pm). To make a reservation, visit RealFood.com.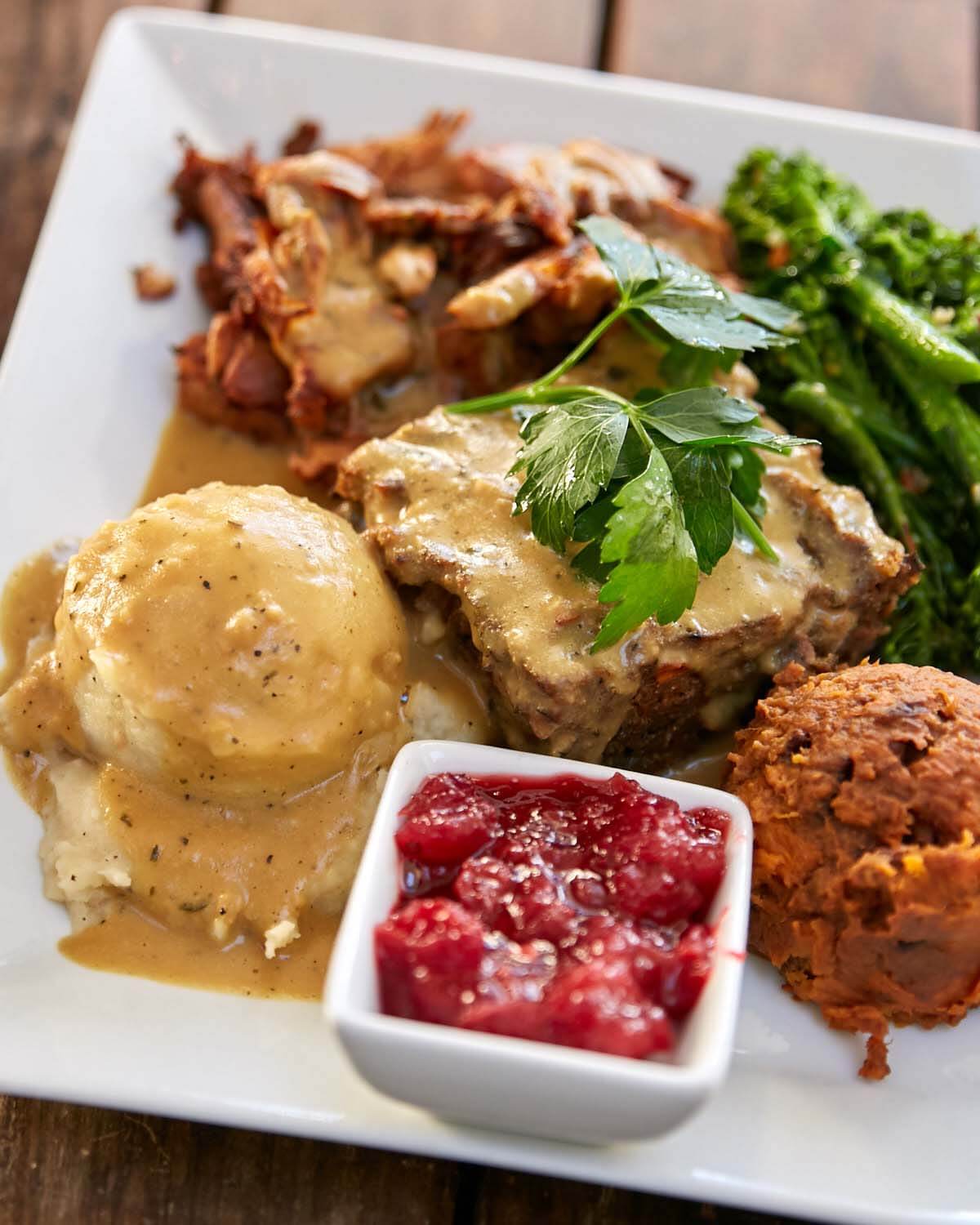 Doomie's Home Cookin'
Hollywood
From late nights to holidays, Doomie's Home Cookin' is always there for us! The vegan comfort food joint is open this Thanksgiving from 11am to midnight with a special (and affordable) holiday meal available for outdoor dine-in and takeout. Nosh on vegan turkey, mashed potatoes, gravy, stuffing, corn, yams, cranberry sauce, and a biscuit with vegan butter. Oh, and did we mention the dish is only $20? Don't forget to grab a slice of cake for dessert!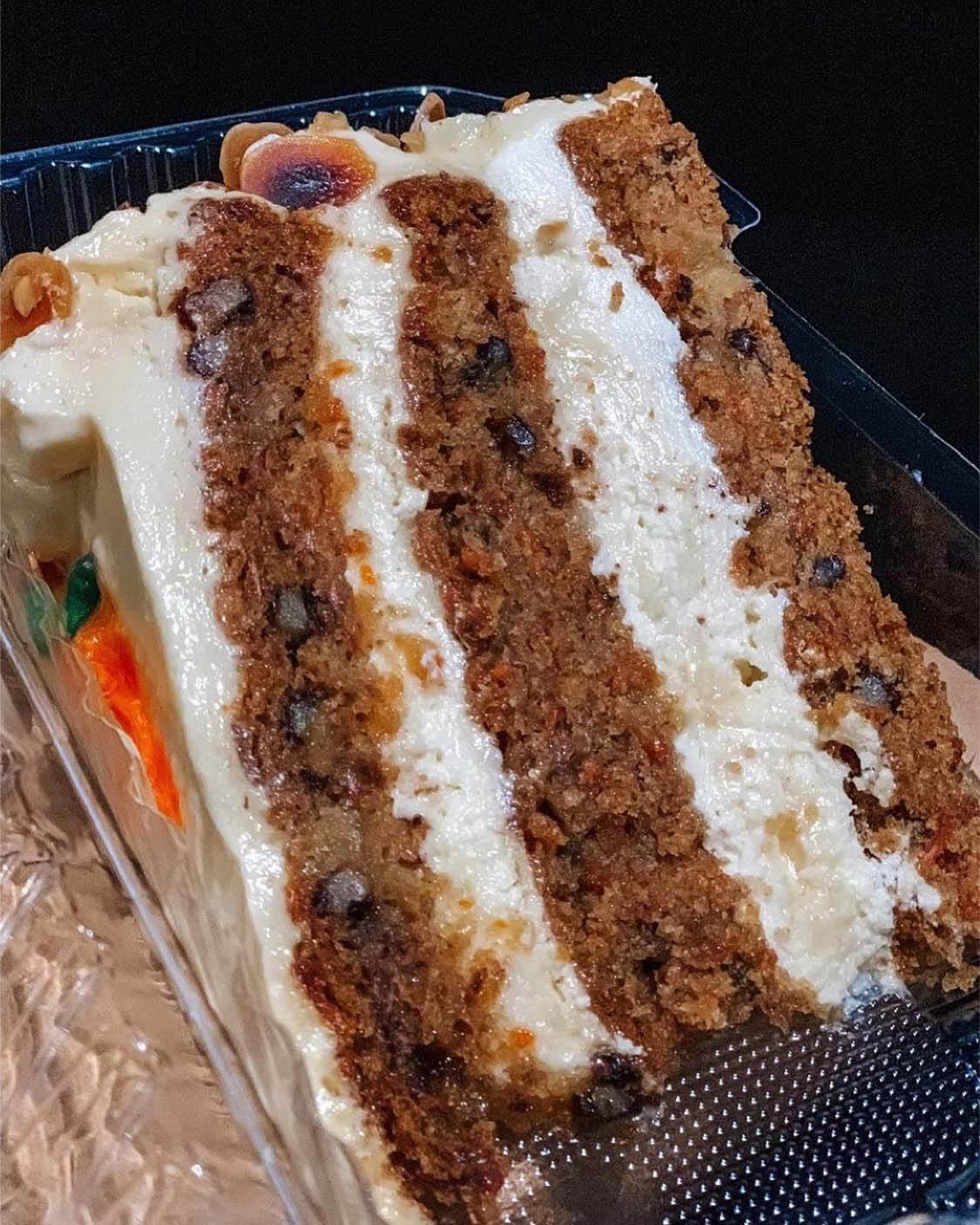 Munchies Diner
Santa Ana
The plant-based peeps at Munchies never stop––not even for the holidays! In fact, the popular vegan diner is calling their limited-edition dish the November 26th Chef Special to support those who do and don't support the actual holiday. To order, choose any sandwich or entrée and add mashed potatoes, gravy, cornbread, and mac 'n' cheese for just $8! A portion of the proceeds will be used to make meals that will feed around 250 people in the homeless community that evening. Munchies Diner is open from 11am to 3pm on Thanksgiving day.
The Grain Cafe
Mid-City, Culver City, Long Beach, and Redondo Beach
All four of The Grain Cafe's locations are open from 9am-5pm with a limited-time Holiday Feast Meal! The dish is piled high with vegan turkey, mashed potatoes, gravy, stuffing, garlicky vegetables, and cranberry sauce. For dessert, pick a slice of cake from their big, beautiful pastry case. You know what to do––type "The Grain Cafe" in your GPS and get to getting!