Spread love this Valentine's Day with decadent vegan chocolate from these brands!
As Valentine's Day approaches, you might be on the hunt to find the perfect gift for your significant other, your galentine, or just yourself. Look no further—we've got you covered with these vegan chocolate companies! From heart-shaped truffles to creamy chocolate-covered caramels, there is something perfect for every valentine in your life. Here are our picks for tasty vegan chocolate for Valentine's Day.
Nelly's crafts organic candy bars made with nutrient-dense whole foods coated with fair-trade Italian dark chocolate. The brand sells its chocolate bars in packs of nine, in varieties like Caramel Nougat, Chunky Almond Butter, Coconut, Nutty Nougat, and German Chocolate, perfect for gifting to the fair-trade chocolate lover in your life.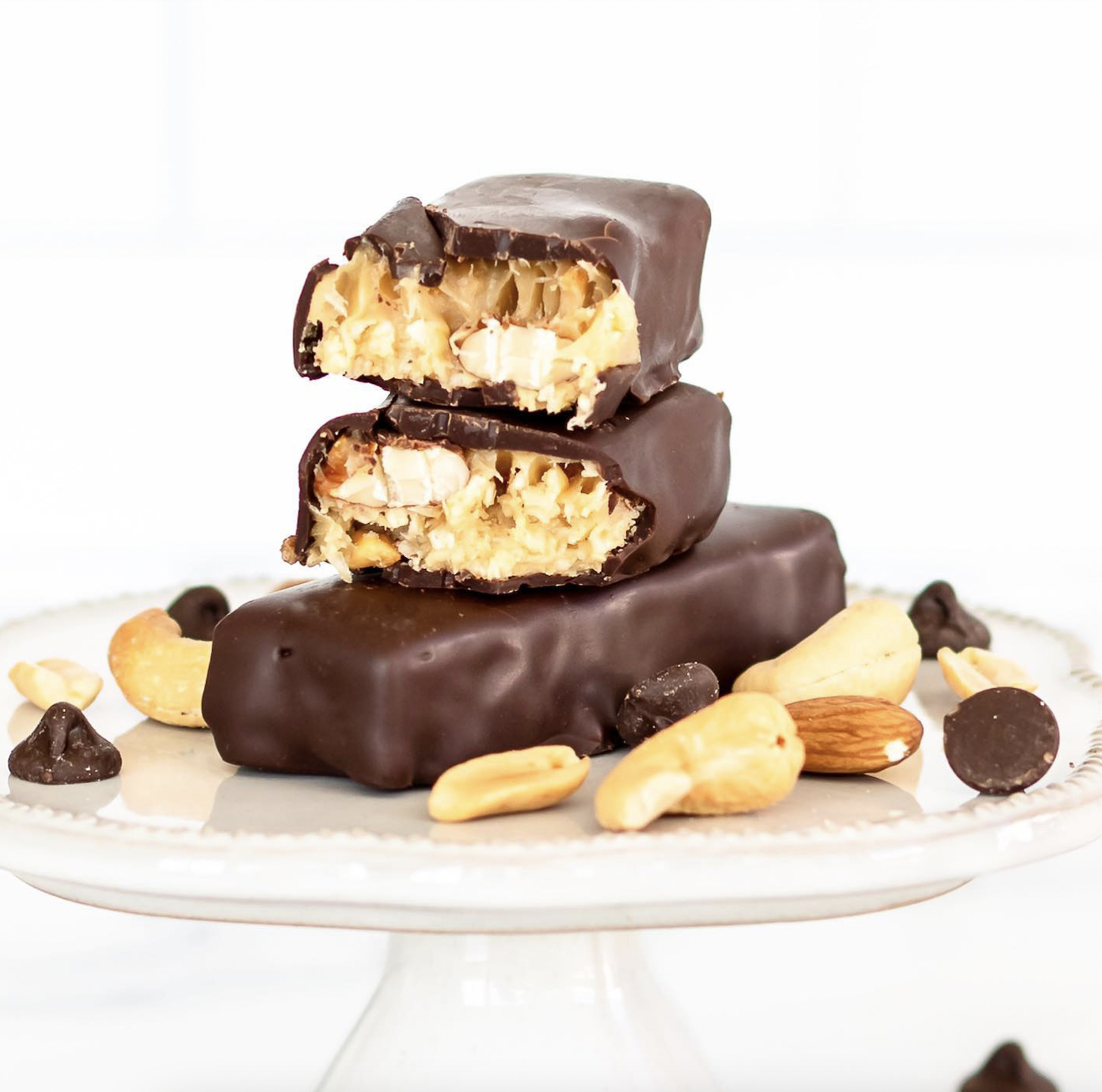 Photo courtesy of Nelly's Organics
Raaka is a Brooklyn-based company that specializes in unroasted, single-origin dark chocolate—ideal for a valentine who prefers a more fruit-forward flavor. This February, the brand is offering a Valentine's Day Collection complete with fruity, floral flavors made in collaboration with the New York Botanical Garden. Check out their Hibiscus Cinnamon, Rose Cardamom, and Jasmine Mint, in addition to their original Strawberry Swirl and Pink Magic bars. Each flavor can be purchased as a single bar for $8, a Library Box (set of 8 bars priced at $51), or an NYBG Botanical Collection Set (set of 3 bars priced at $18).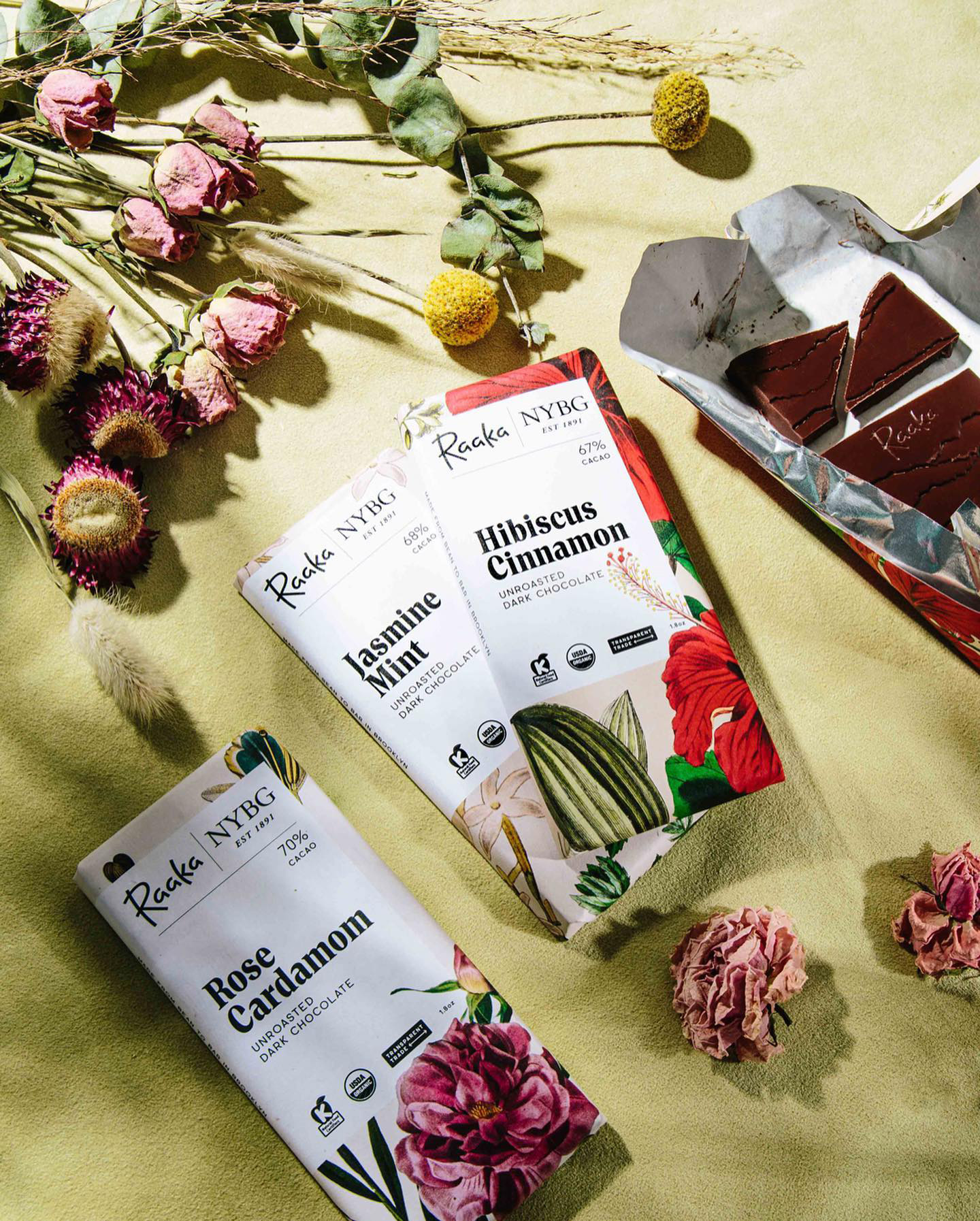 Photo courtesy of Raaka
If your loved one is sensitive to food allergens, No Whey! Chocolate is an excellent choice. The brand offers chocolate bars that are 100% vegan and free from the common nine allergens, including gluten, soy, tree nuts, sesame, and artificial colors and preservatives. Choose from vegan chocolates like the Heart Chocolate Truffle Box, No Tricks Caramel Cookie Bars, Pea "Not" Butter Cups, Chocolate No No's (think vegan version of M&M's), and No Whey! Candy Bars filled with vegan caramel and the brand's famous PeaNOT nougat.
Photo courtesy of No Whey!
This chocolate shop is based in Williamsburg, Brooklyn and specializes in crafting artisan, organic 100% plant-based chocolate bars, truffles, spreads, and more. Their Valentine's Day 2022 collection features a variety of decadent gift boxes priced between $28-$135, including their Valentine's 24-Piece Truffle set (features 24 creamy, velvety chocolate truffles) and their Star Crossed set (includes a 24-piece mixed truffle box, a Sea Salt Chocolate Bar, a 70% Dark Chocolate Bar, a Raspberry Chocolate Bar, a Hazelnut Butter Chocolate Bar, an Espresso Chocolate Bar, and an Oat Milk Chocolate Bar), as well as individual chocolate bars priced between $5-$10.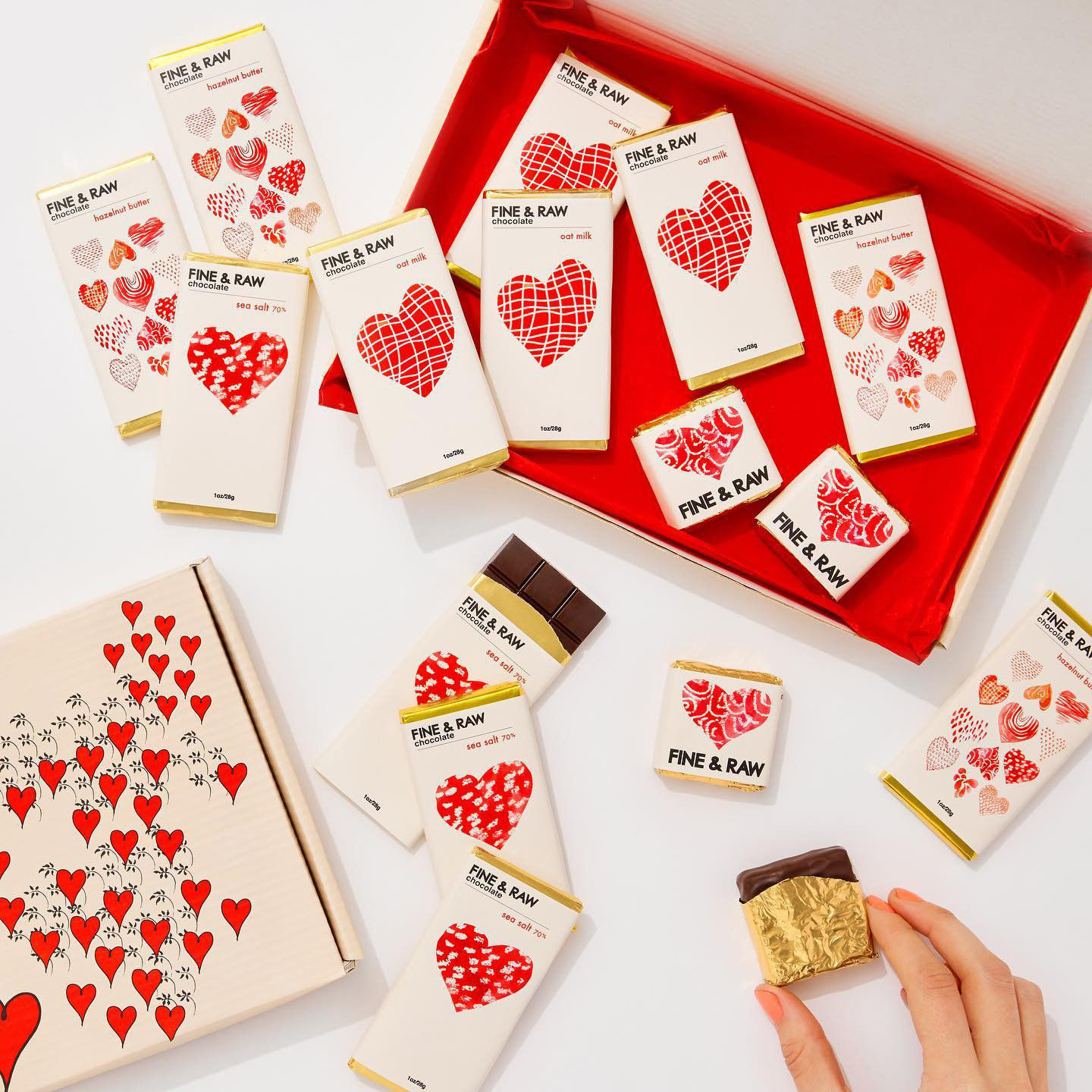 Photo courtesy of Fine & Raw
Perfect for the health and wellness enthusiast in your life, Hu is offering a Valentine's Day Collection box complete with four chocolate bars, including Cashew Butter + Pure Vanilla Bean, Cashew Butter + Raspberry Dark Chocolate, Almond Crunch, and Hazelnut Butter varieties. In addition, the Simple & Salty Collection also makes a great Valentine's Day gift and includes two dark chocolate bars and two salty dark chocolate bars.
Photo courtesy of Hu
Trupo Treats specializes in crafting vegan versions of classic chocolate bars. Give your valentine a sense of childhood nostalgia with the Vegan Valentine's Day Bundle, which includes six Mylk Chocolate Bars (one Classic, one Rice, and four Candy Cane Crush), three organic lollipops by YumEarth, one vegan cinnamon roll blondie by Greyston Bakery, one bag of vegan gummy bears by Vegobears, and one Valentine's Day card. The box is priced at $34.99, and a portion of the proceeds will go to an animal sanctuary in need.
Photo courtesy of Trupo Treats
Give your valentine a moment of chocolaty joy with the vegan chocolates from Cocomels. The brand offers a Chocolate Covered Cocomels gift box complete with eight creamy coconut milk caramels infused with a hint of sea salt and enrobed in 70% dark chocolate. The Vanilla Chocolate Covered Cocomels and Espresso Chocolate Covered Cocomels also make delicious Valentine's Day gifts and can be purchased in packs of 15 for $30.99.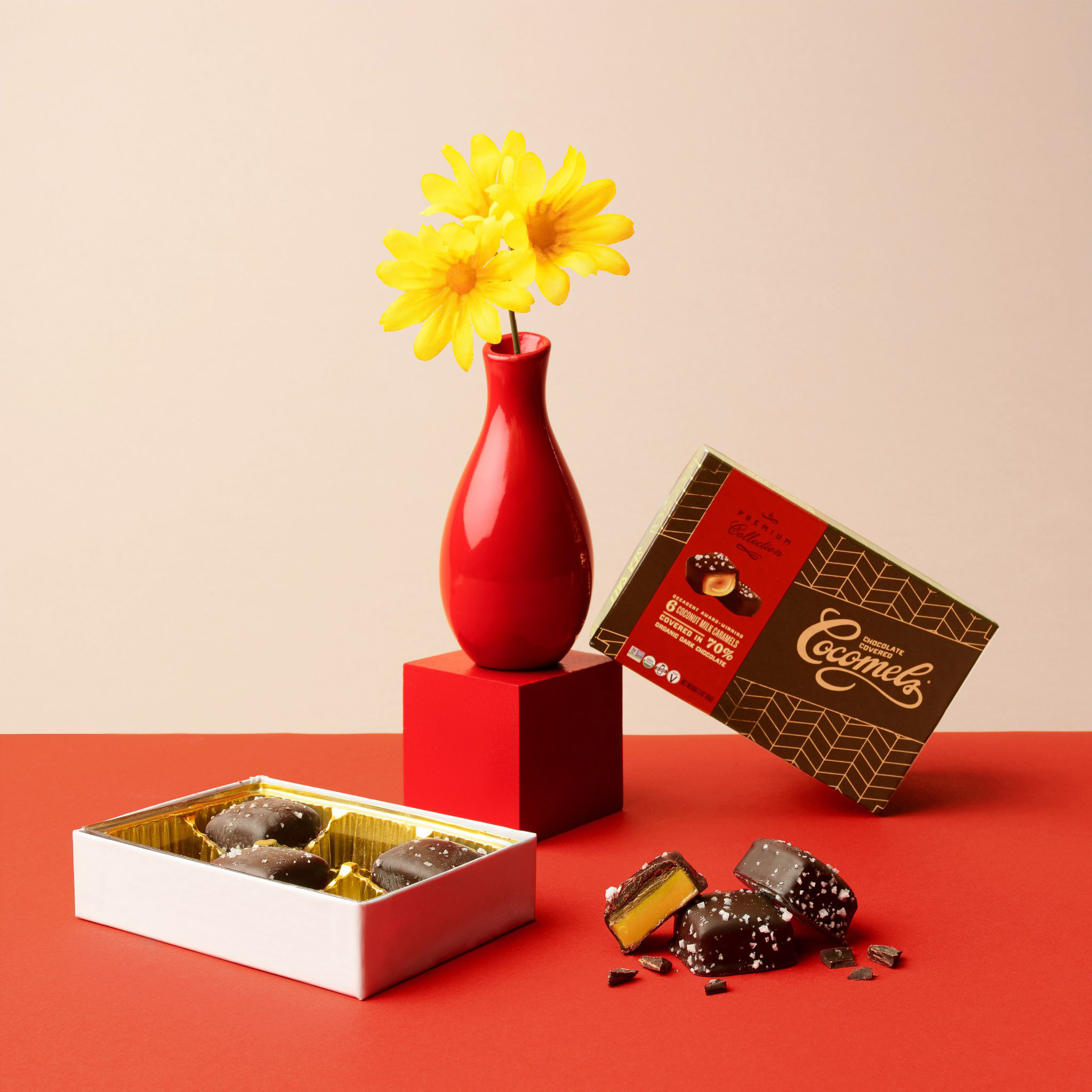 Photo courtesy of Cocomels
This family-owned company makes handcrafted vegan chocolates that are sure to melt your lover's (or your own) heart. Sjaak's Valentine's Day offerings include Cherry Dark Chocolate Hearts, Green Tea & Lemon Dark Chocolate Hearts, Lavender Dark Chocolate Hearts, and Maple Sugar Caramel Coconut Milk Chocolate Hearts. You can also choose from Melk Heart Lollipops, Cupid's Kisses (vegan white chocolate with almond butter and coconut flakes), and a Classic Heart Valentine Assortment, complete with a variety of limited-edition truffle flavors, like White Chocolate Lemon Champagne, Coconut Milk Chocolate Passionfruit, and Dark Chocolate Banana Cream.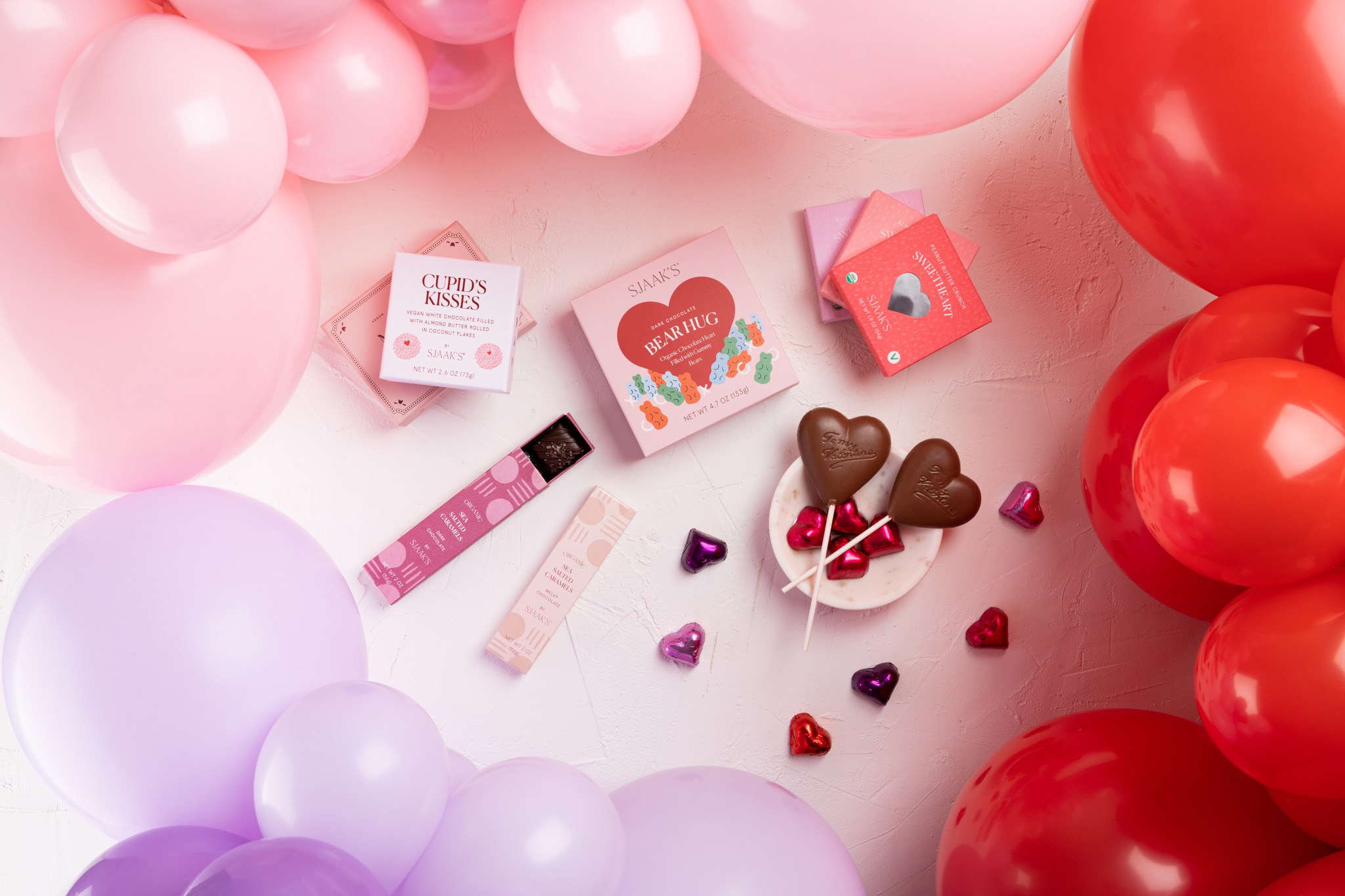 Photo courtesy of Sjaak's
Cocacao crafts vegan, paleo, gluten-free, and certified organic chocolate bites that are made with simple ingredients like cacao powder, coconut nectar, and coconut oil. Spice things up with the Cayenne + Cinnamon bites, or make Valentine's Day a little sweeter with a box of Blueberry bites.
Photo courtesy of Cocacao