Navigating the aisles of Trader Joe's can be overwhelming, mostly due to the endless array of vegan options in every section of the store mixed in with non-vegan options. It can feel like a bit of a scavenger hunt, and while worth it, we've taken out some of the guesswork and have rounded up a few of our many favorites from each area of the store. Truly, we could easily double this list! All vegan, all delicious, and all approved by the most experienced TJ's connoisseurs.
Frozen
Cauliflower Gnocchi
We keep a couple bags of cauliflower gnocchi on hand for those lazy, quick, but tasty dinner nights. Hot tip: Use the pan-fried method when cooking to ensure a nice crispy texture on the outside, then cover with your favorite marinara or pesto pasta sauce and some quick-cooked veggies.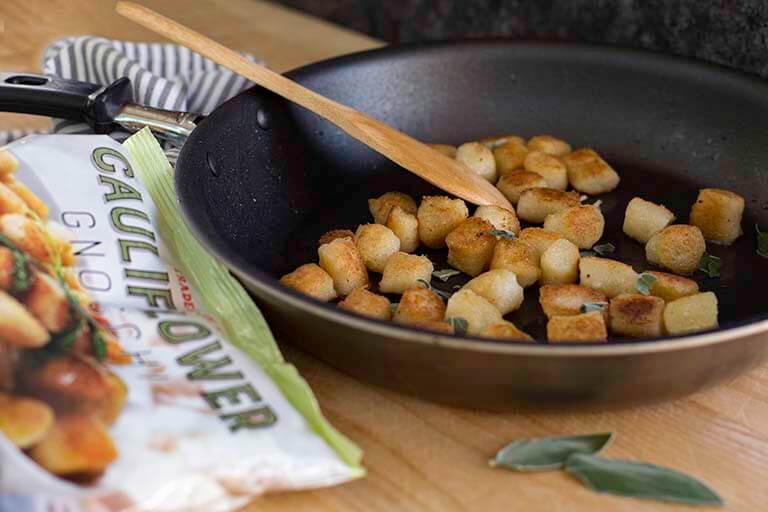 Cherry Chocolate Chip Soy Ice Cream 
TJ's is known for its fun and quirky flavors, and their ice creams are no exception. The cherry chocolate chip is a winner in our book. Sweet chocolaty chips mixed in and a full quart size, perfect for an evening of Netflix binging with friends.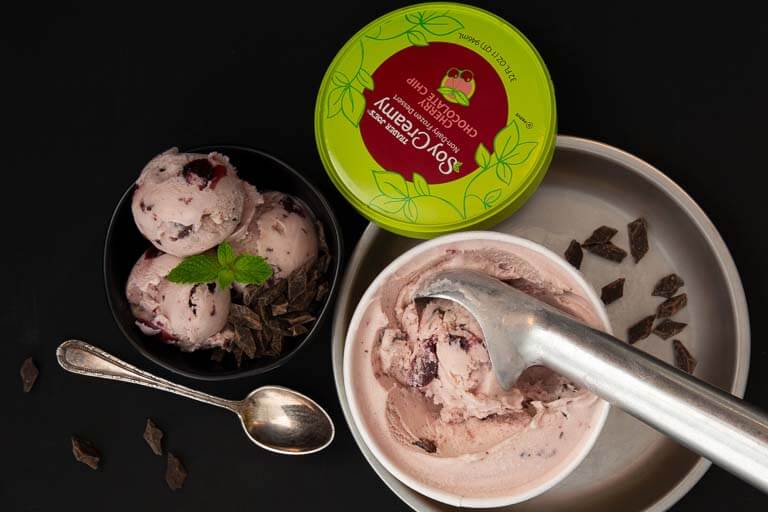 Chicken-less Mandarin Orange Morsels
The non-vegan version of this frozen favorite ends up on all of the "best of" lists online, and this meatless version is just as tasty! Tangy, sweet, and super easy to make, we love this over a bed of broccoli and rice. It'll look like you put in way more effort for dinner than you actually did.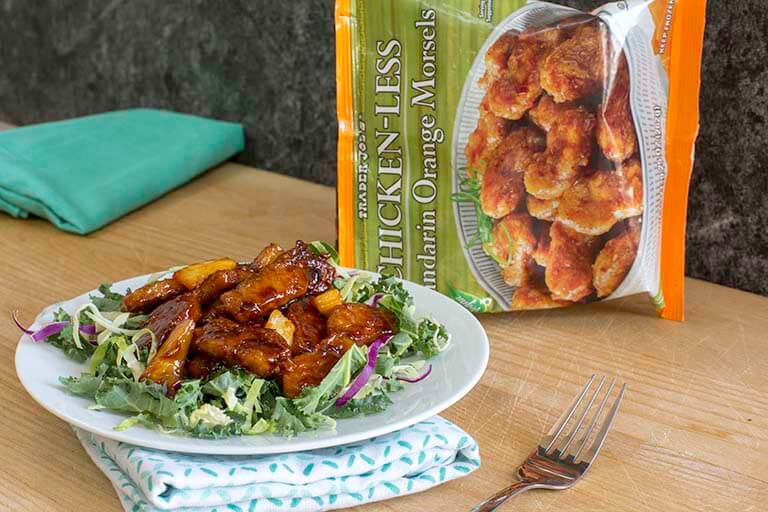 Strawberry Non Dairy Oat Frozen Dessert
If oat-based is more your speed, the ice cream options include a classic strawberry flavor that is out of this world. Super creamy with bits of strawberries and a hint of almond brittle, this dessert tops our list.
Vegan Tikka Masala
Deliciously seasoned, with a nice kick, the vegan tikka masala is a match made in frozen food heaven and always hits the spot. Be sure to double-check the packaging, because TJ's carries a non-vegan version, too.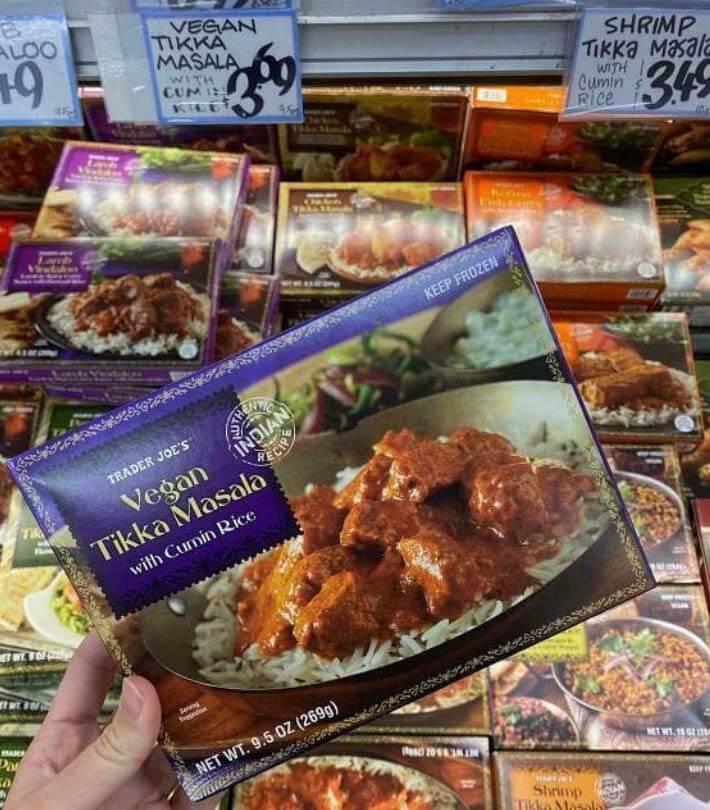 Organic Açaí Bowl 
TJ's has a perfectly portioned and perfectly priced acai bowl for all the fruit-based breakfast lovers out there. No need for the $15 fancy bowls here, just pre-thaw and it's ready to go.
Snacks
Chili & Lime Flavored Rolled Corn Tortilla Chips
Coated in chili and lime seasoning, these rolled tortilla chips are just the right amount of crunchy and spicy, reminiscent of Takis but with a more mild level of heat.
Vegan Banana Bread
A year-round staple for weekend mornings, enjoying Trader Joe's banana bread is easier than waiting for your bananas to get to the necessary level of overripeness in order to bake. 
Jalepeño Seasoned Corn & Rice Puffs
We dare you to try and not eat an entire bag of these! Crunchy, booming with flavor, and with fun puffed shapes—it'll be hard to put these down.
Chile & Garlic Cashews
Trader Joe's has tons of dried fruit and nut options at more affordable prices than some other grocery stores. These are no different, but they come with the added bonus of chile and garlic flavoring, just one of many seasoned options. 
Vegan Trail Mix Cookies
There are a few grab-and-go cookie options, but our favorites are the unique trail mix variety. Soft-baked, there's a hint of crunch from the nuts and some extra sweetness from the raisins. Your friends won't even know these are vegan! 
Vegan Vanilla Cupcakes
Brand new and only local to SoCal stores, for now, these come with a vanilla base and topping—sprinkles added for a layer of pizzazz to these handheld treats.
Organic Almond Beverage Chocolate Bar
If you're missing the "milk chocolate" taste that's rare in vegan chocolate, this is the perfect alternative, made with Trader Joe's own almond beverage.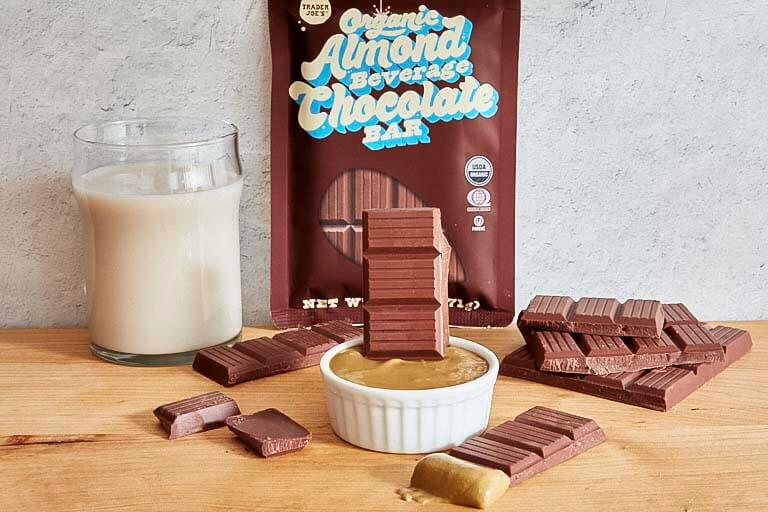 Scandinavian Swimmers
Scandinavian Swimmers are a wonderful gelatin-free gummy candy that is in stores year-round. Additionally, seasonal favorites can be found on shelves timed to several holidays.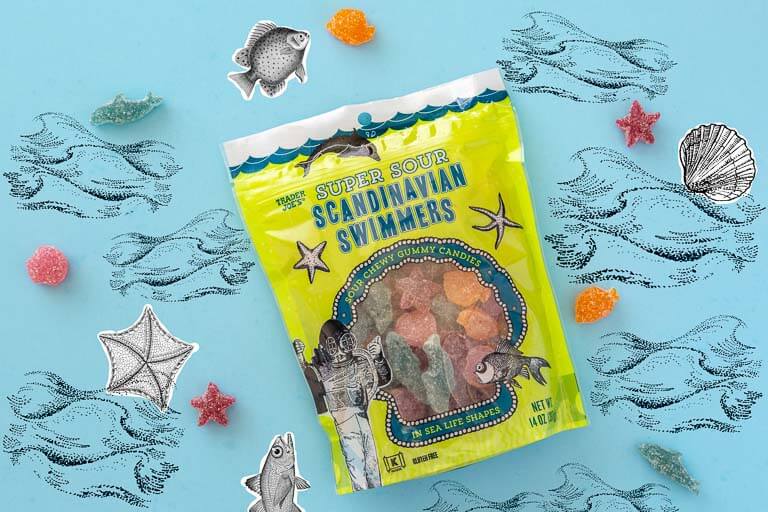 Seasonings
Everything but the Bagel Sesame Seasoning Blend
Though TJ's wasn't the first to hop on the everything-but-the-bagel trend, they surely seem to be responsible for its wide fame. It's a cult favorite among shoppers and for good reason—it's perfect on anything from toast, to salad, to stir fry.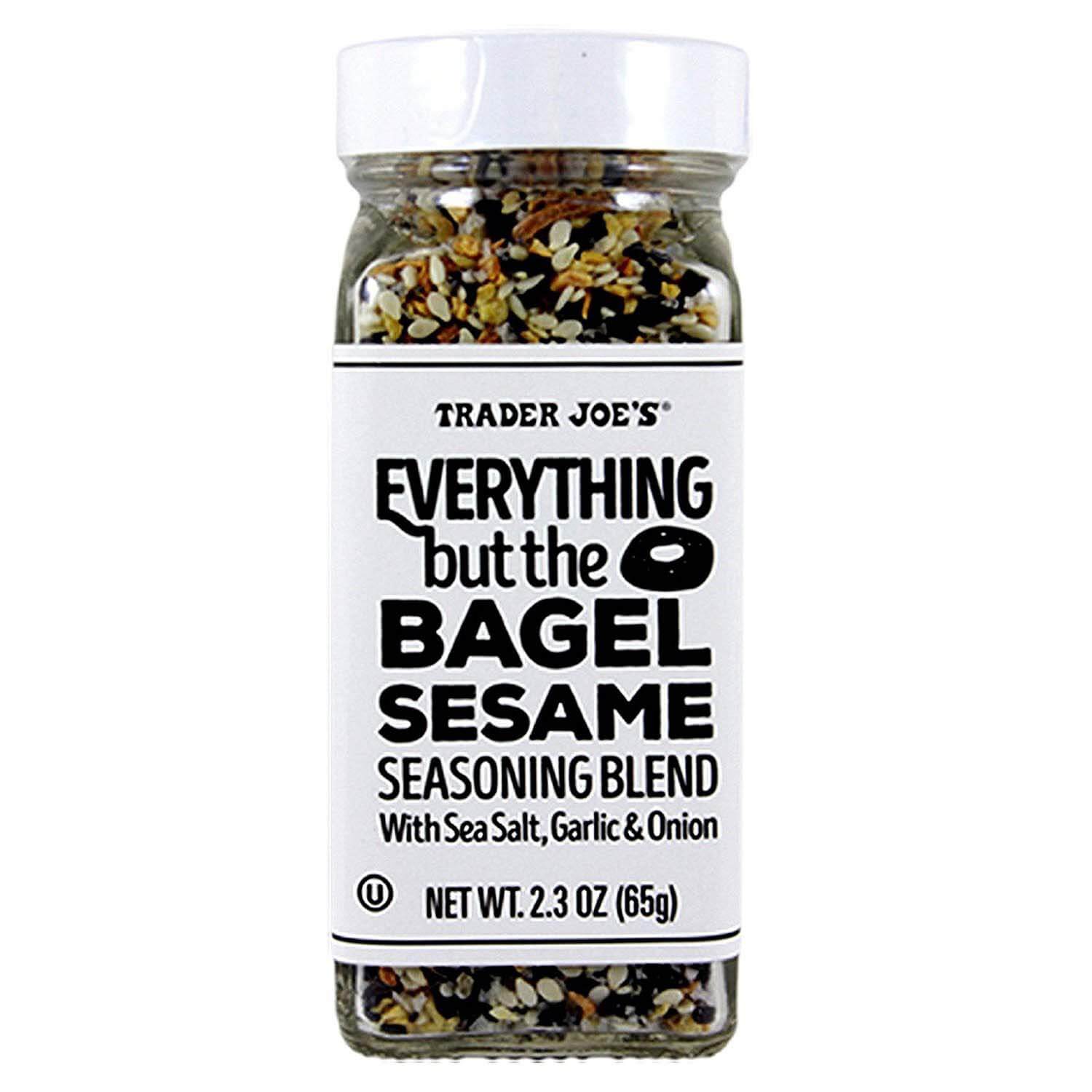 Vegan Chicken-less Seasoning Salt
A blend of sea salt, onion, garlic powder, turmeric, and other spices, this seasoning has that "tastes like chicken" feel, without the real thing.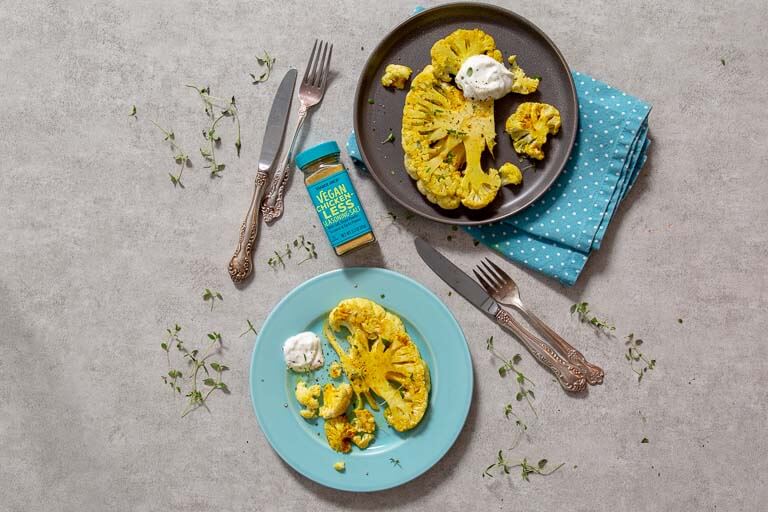 Chili Lime Seasoning Blend
Grab two of these! It's best used on summer fruit, french fries, grilled vegan meats, and anything that needs a tangy kick.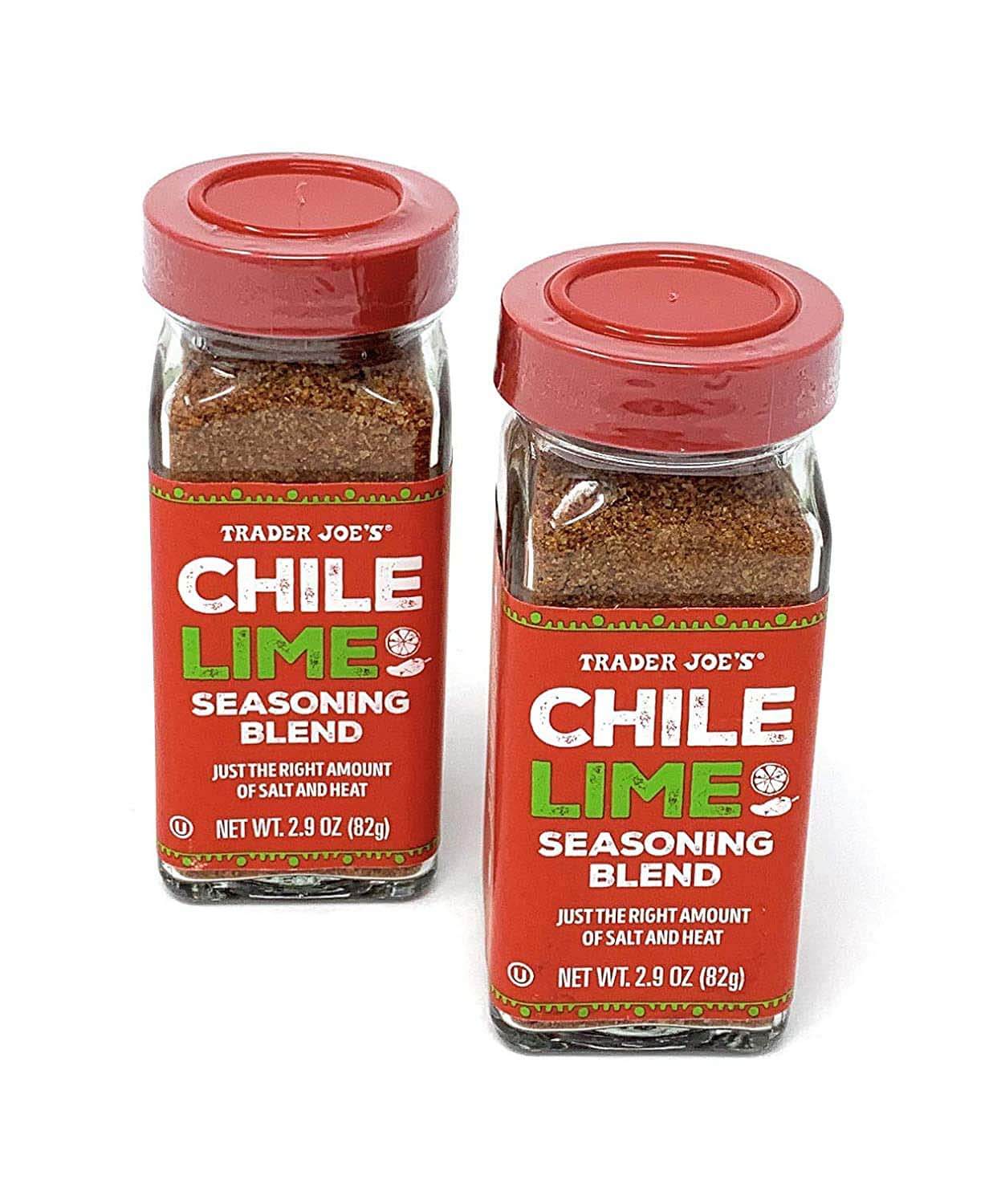 Multipurpose Umami Seasoning Blend
Just as the name suggests, this seasoning is multipurpose and can doctor up any savory dish—avo toast, soups, mac 'n' cheese, veggies, and anything that calls for a "meaty" flavor.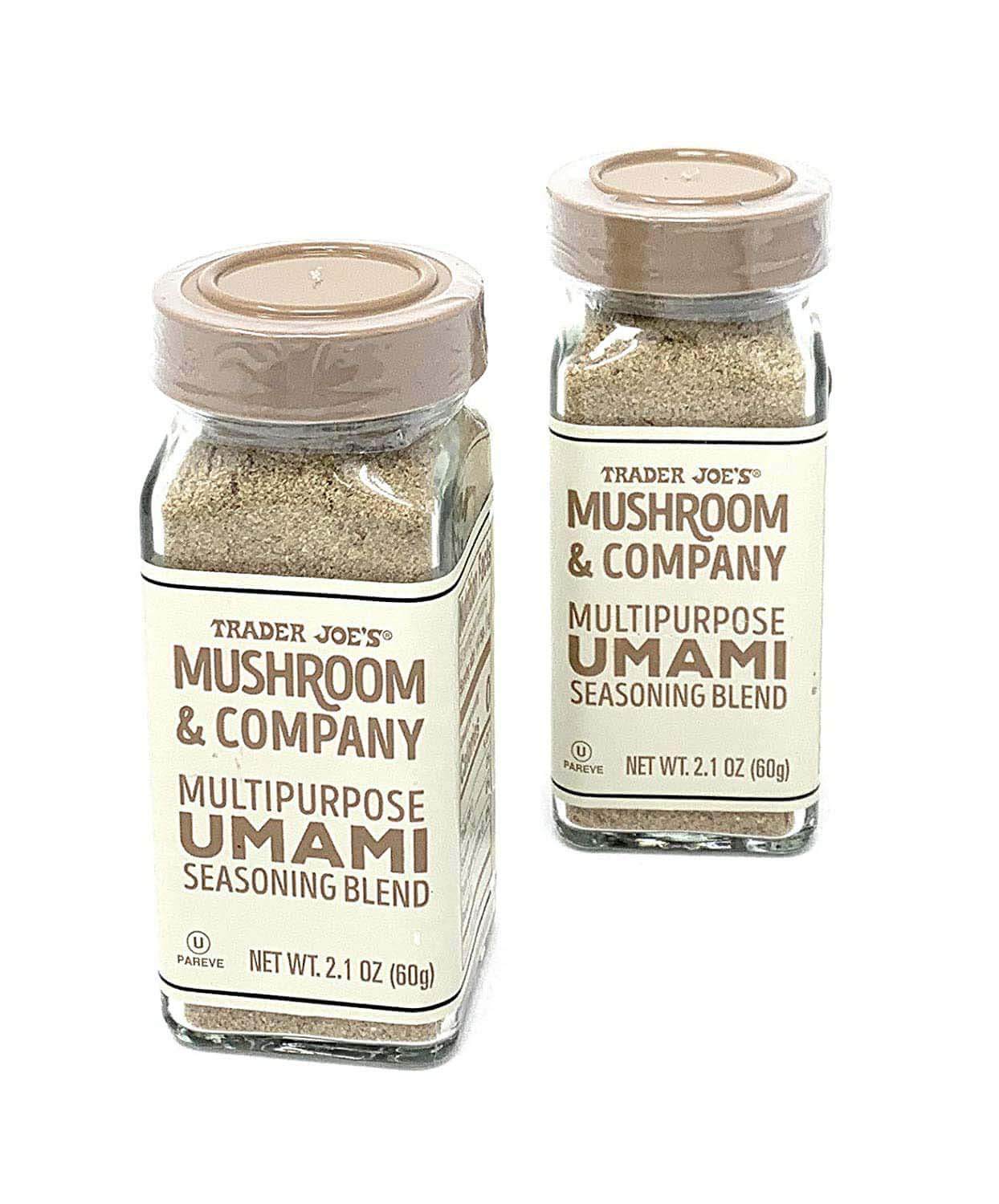 Grab-and-Go 
Super Spinach Salad
Many of TJ's salads are vegetarian, but the spinach salad is vegan all on its own. This option is plenty hearty to keep you full as a snack between meals or as a light lunch. 
Vegetable Samosa Burrito
New and hopefully here to stay, this is a hefty burrito ready in minutes in the microwave and easy to make between Zoom calls or on a quick lunch break—no prep required. It's robust and satisfying, with a hint of spice.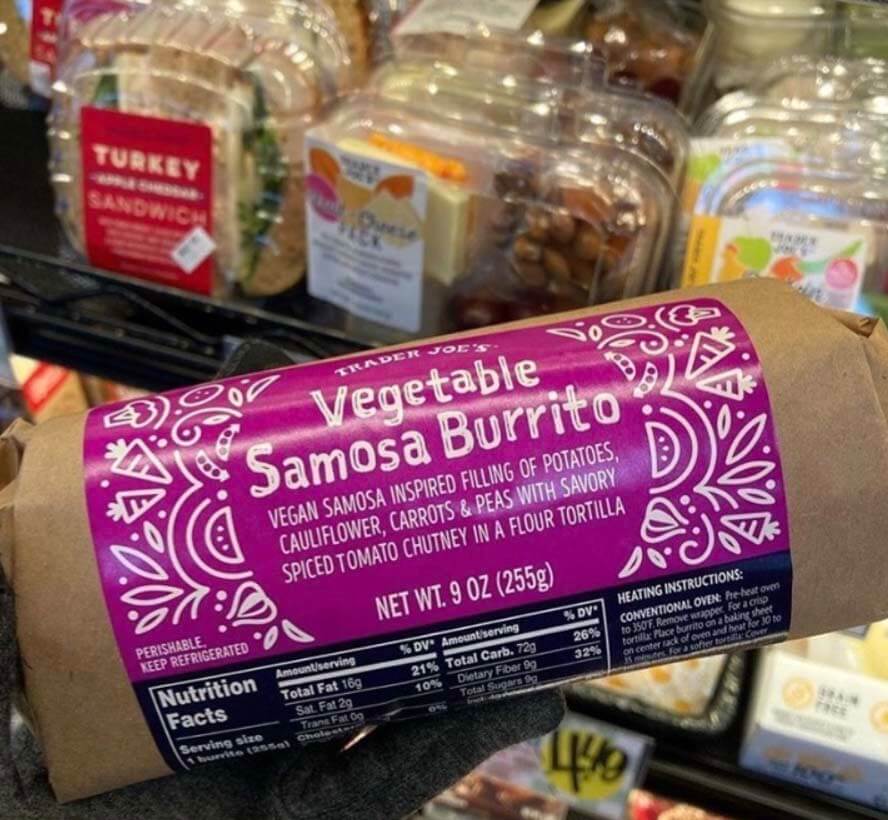 Rainbow Wrap
Taste the rainbow! No, really. This rainbow wrap is almost too pretty to eat, but it's packed full of veggies and healthy goodness to keep you feeling great all day. 
Spicy Lentil Wrap
New wrap, different day. This one-ups the heat and comes with a delicious tahini sauce. It's especially good on those cooler afternoons.
Teeny Tiny Avocados
We always grab a bag of these before heading to the checkout. These avocados are sized for snacking, easy to add to any lunch, dinner, or as is with some of the seasonings mentioned above. 
Mock Meats & Cheeses 
Turkeyless Protein Patties 
Coming in at an impressive 23g of protein per patty, the Turkeyless Protein Patties are amazing if you're looking for something that tastes a little lighter than the average meat burger replacement.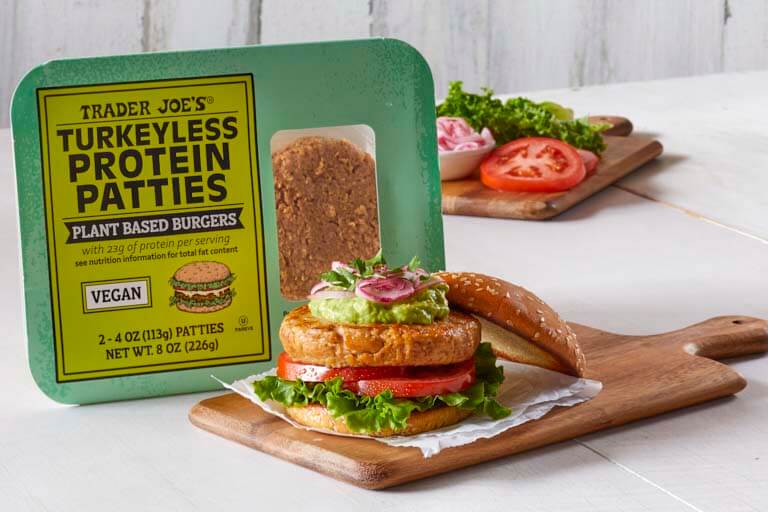 Impossible Burger 
You can find Impossible burgers at nearly any grocer these days, which is amazing for the accessibility for vegans everywhere, but Trader Joe's consistently has some of the lowest prices around.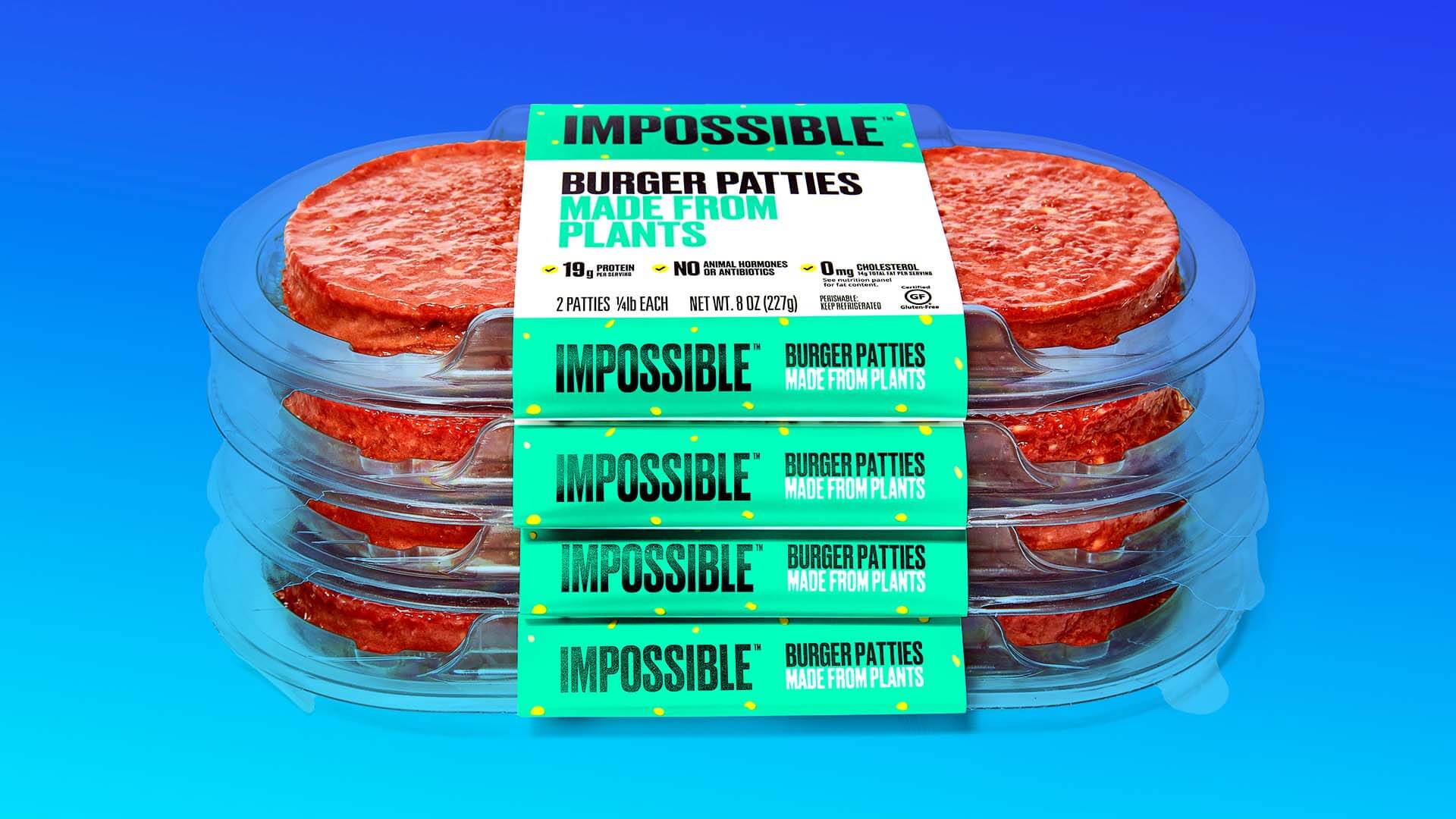 Cheddar Style Slices
There are so many great vegan cheese options emerging from a variety of brands, and these slices from Trader Joe's definitely make our list. They're best as a quick staple to have on hand for sandwiches or burgers, or to stock for your homemade charcuterie board.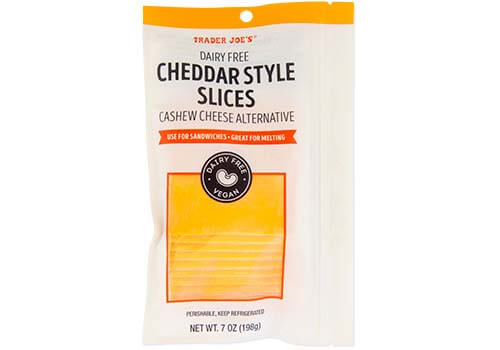 Soy Chorizo 
A fan favorite among vegans and non-vegans alike, the soy chorizo makes our list for how versatile it is to cook with. Breakfast, lunch, or dinner, this sausage is spicy, zesty, and so easy to make.
Vegan Cream Cheese 
You cannot beat this vegan cream cheese for the price! Coming in at less than half the cost of some other top alternatives, this spread measures up and then some. 
Dressings & Dips 
Sweet Chili Sauce 
Tangy with the perfect kick to spice up any stir fry, the sweetness in this sauce ties everything together. This one pairs well with any rice or veggie dish, and looks pretty, too.
Cashew Fiesta Dip 
Easily one of our favorite multipurpose sauces! You can use this dip as a snacker with veggies, or warm it up and drizzle over nachos for a late-night bite. Try it on some steamed broccoli with Everything but the Bagel seasoning, or use it as a yummy cheese sauce for fries.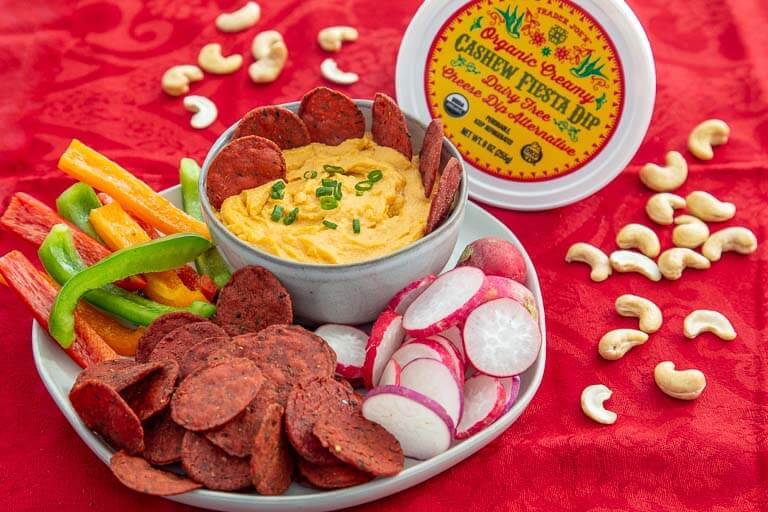 Speculoos Cookie Butter
We all know TJ's has nut butters aplenty, but the cookie butter is a true standout. Great on toast, mixed into oatmeal, or by the spoonful, you can't go wrong with a jar of Speculoos.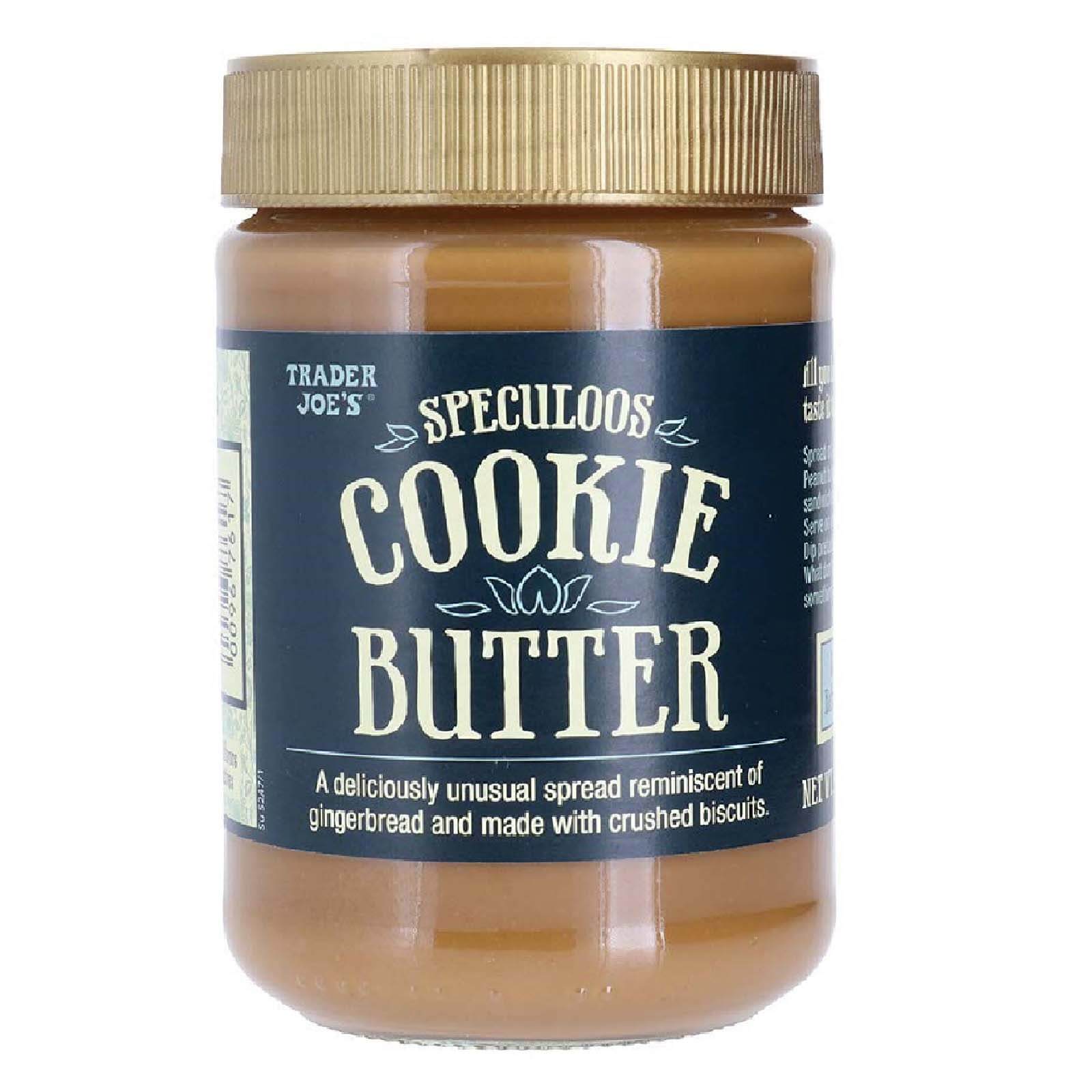 Vegan Kale, Cashew & Basil Pesto
Of course, you can make your own pesto, but if you're in a pinch, this is the perfect solution and a great way to sneak in some extra greens to your pasta. As if we need another excuse to make noodles! 
Vegan Ranch Dip
For the snack attack nights and sports watching afternoons, the vegan ranch dip is a must-grab! Once part of a TJ's veggie platter, it now stands on its own as a fan favorite. Made from a coconut cream base and seasoned to perfection, this dip is just the right consistency for dunking anything from carrots to potato chips, and everything in between.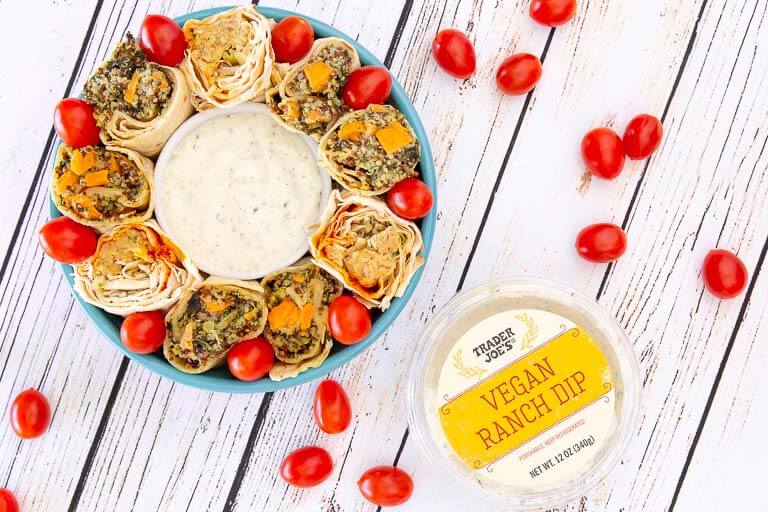 Beverages
Non-Dairy Milk
Oat beverage, almond beverage, hemp, and more—the chain has continued to expand their non-dairy milk options in recent years. The almond beverage also comes in matcha and lavender flavors, while the oat beverage recently added chocolate to its selection.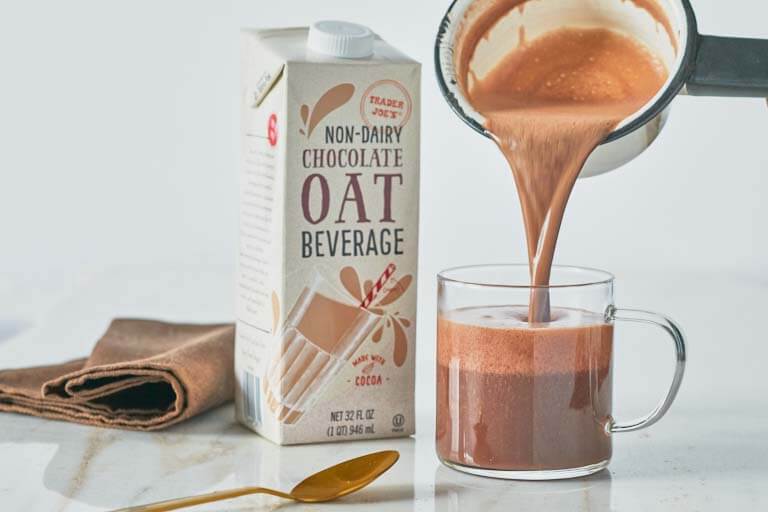 Coconut & Almond Vanilla Creamer
There are a few dairy-free creamer options on the shelves, but something about the coconut almond variety makes it the ideal choice for your morning cup of joe. 
Vegan Wines 
Trader Joe's offers a wide array of options and wine pairings for all of your dinner and snack cravings above, including Justin's Sauvignon Blanc and the cheekily nicknamed Two Buck Chuck (Charles Shaw red varieties).